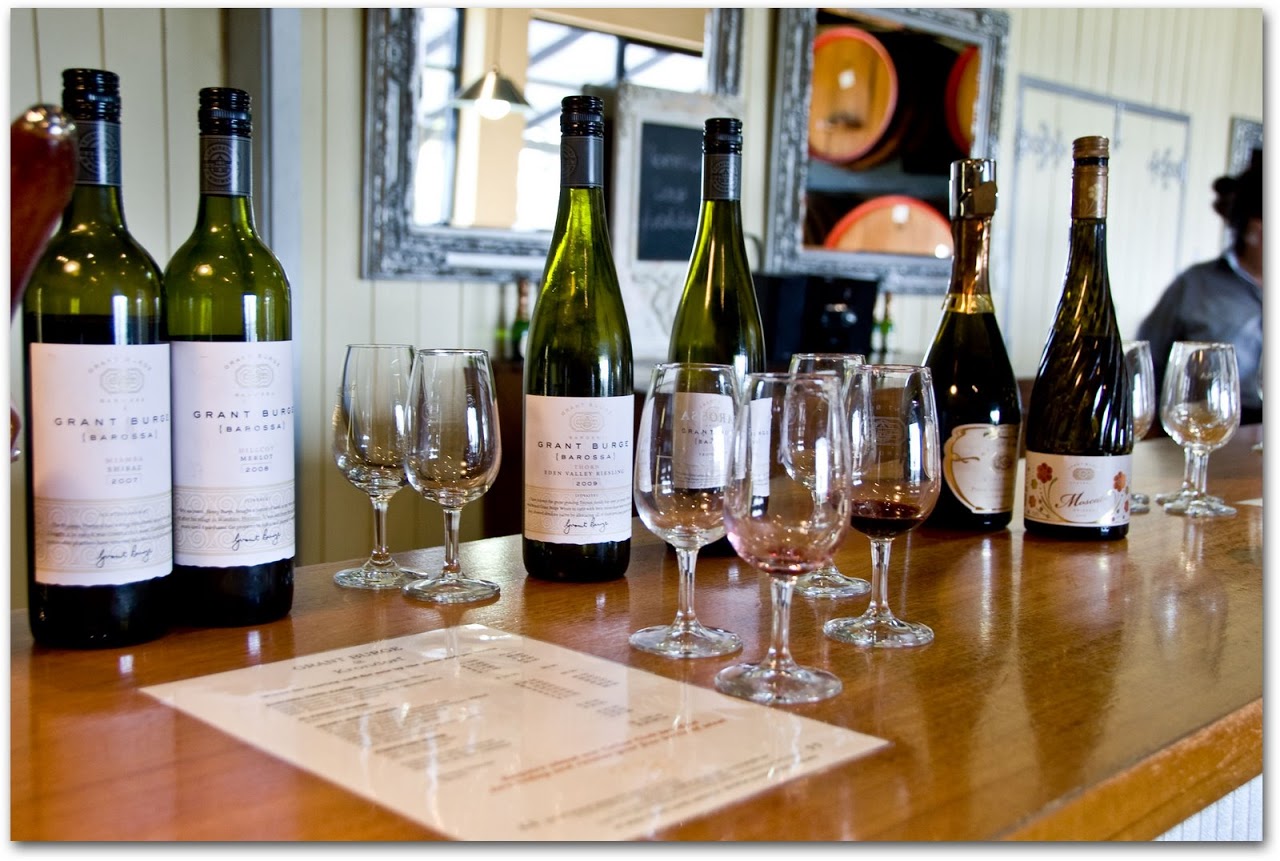 Wines and glasses stacked up at Glen Burge, Barossa Valley
You might have noticed that we haven't talked about Australian cuisine since we left Sydney .  As it turns out, except for what we cooked , the cuisine in the Whitsundays, Port Douglas, and the Red Centre had one central item in common: french fries.  Goodness, if I never see a french fry again, it will be too soon.  Patrick primarily subsisted on burgers for the last few weeks so, of course, fries were a part of every meal, but I thought I escaped by ordering pasta dishes.  Nope.  Turns out that my carb-laden lasagna wouldn't be complete without a heaping pile of greasy fries.
Barossa Valley vineyards
We drove into the Barossa Valley and immediately heaved a sigh of relief.  Bakeries, wine bars, and vineyard cafes lined every street.  The creamy, steaming cauliflower gratin soup at the Wine Bar in Angaston tunneled through our bodies and left us feeling less oil-laden.  Of course, we went ahead and destroyed all that good work by popping into the Barossa Valley Cheese Company and taking some of their Petit Prince sheep's milk brie in a little picnic container.  I would like to tell you that we savored it slowly, but that would be a lie.
Cauliflower gratin, lavender fields, sheep, and Barossa Valley cheese produced from sheep's milk
Our initial foray into healthiness disappeared once we found Linke's Bakery in Nuriootpa.  I am not even ashamed to tell you that we ate there every morning we were in the Valley because it was so darn good. Patrick loved their jam doughnuts but I found the jam to be too sweet.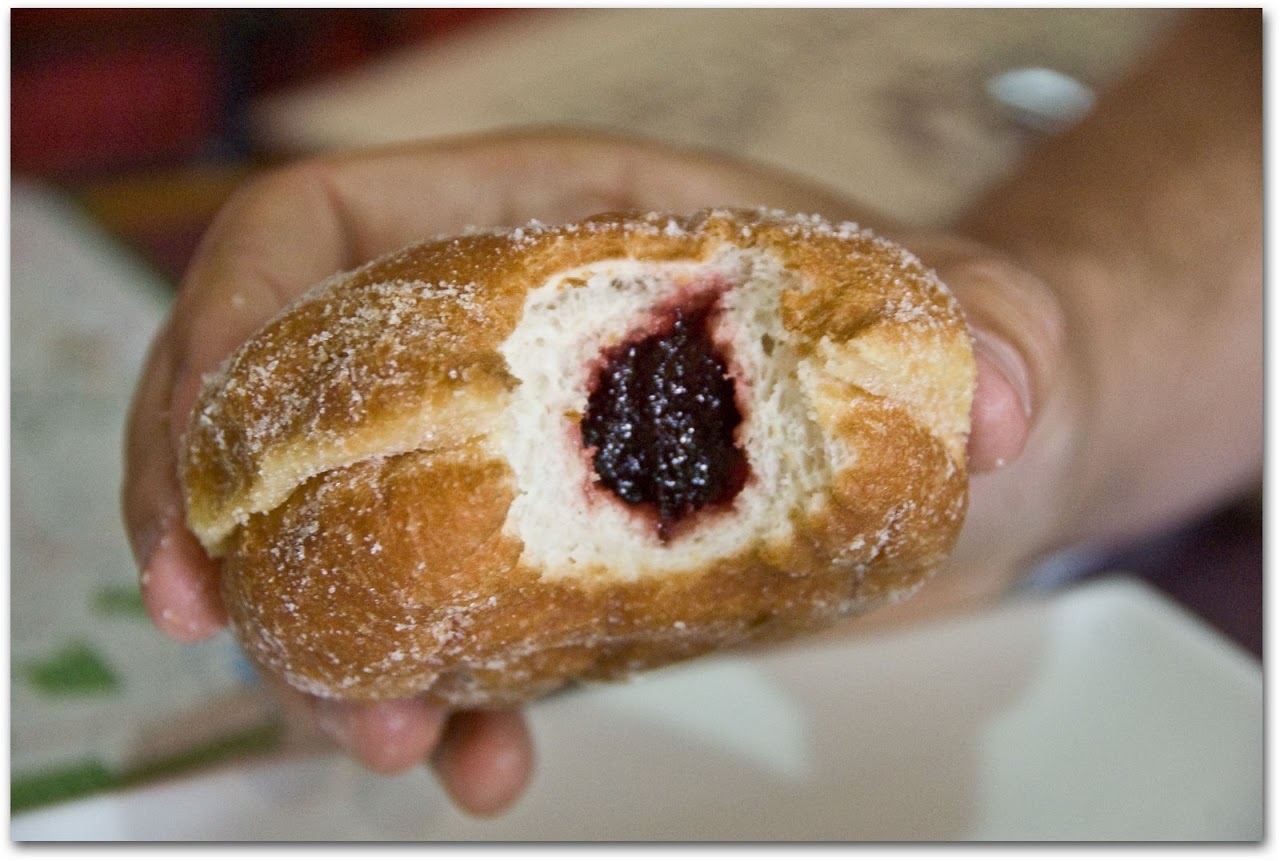 Jam doughnut, Linke's Bakery, Nuriootpa
(This, by the way, is a constant complaint of mine.  Australians make their desserts too sweet for our American tastes and I have given up on finding ice cream that I actually like.  I won't even tell you about the abominations that they call marshmallows because it gets me into a bit of a fury.)  I, on the other hand, could eat one of Linke's Kitchener buns, filled with perfectly whipped unsweetened cream and a dollop of sweet jam, every single day of my life.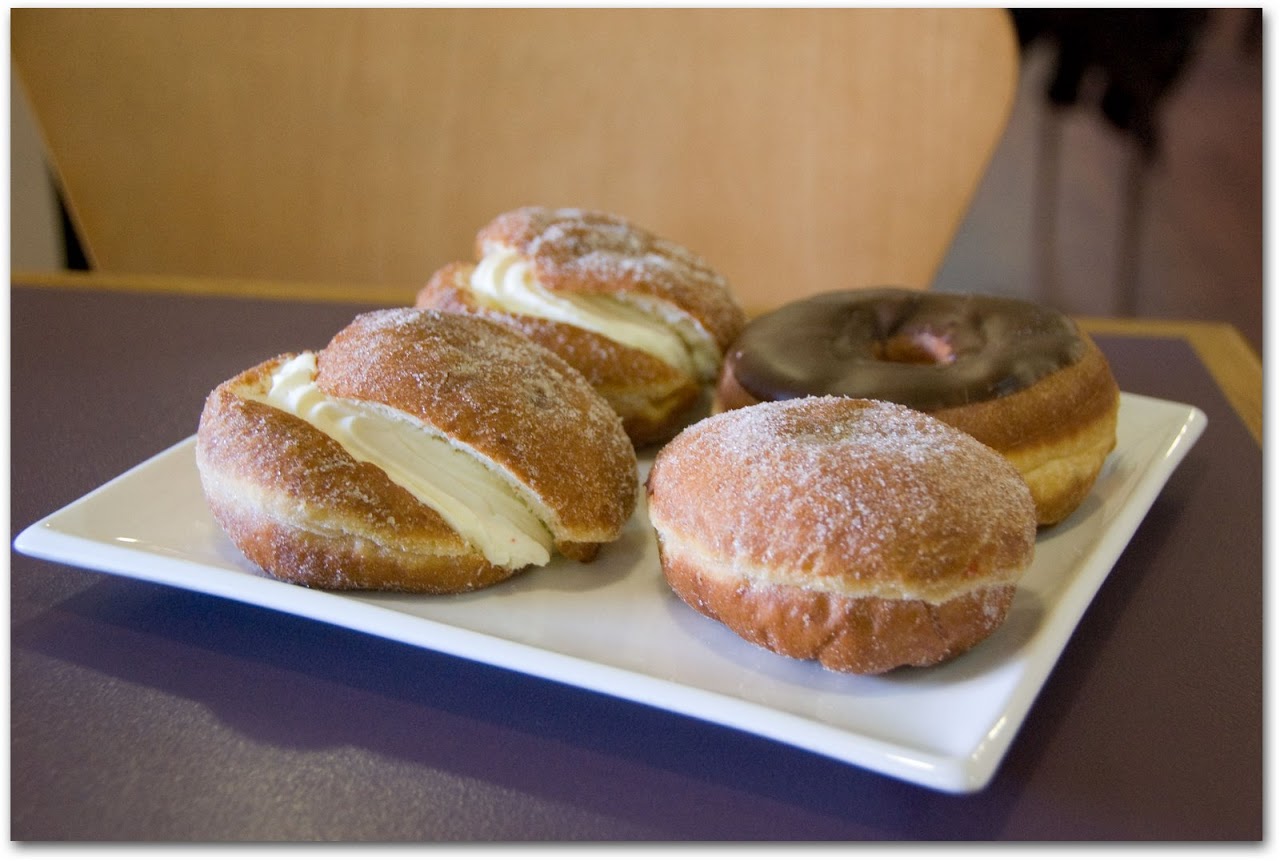 Breakfast, Linke's Bakery, Nuriootpa
And, then, came the wine.  Unlike the wineries in Tuscany which spread out into vast areas, in the Barossa Valley, seventy wineries pack into a tiny 50-mile circumference and all have free tastings.
Penfold's Wines, Saltram wine tasting
There came a point when I had to start refusing wine so that I could drive home safely; even then, I ended up backing into a tree because I once again forgot that we drive on the left side of the road in Australia.  (Don't worry, Mom, the only damage done was to my pride because Patrick spent the rest of the day making fun of me.)

Pewsey Vale Riesling, Charles Melton Shiraz (and, yes, that Charles Melton glass is empty)
The best of the ten wineries we visited was Charles Melton.  Rich with strawberry and flowers and a dry kick, Charles Melton's 2009 Rose of Virginia is hands down the best Rose we have ever drunk.  We understand why Jamie Oliver purchases it exclusively for his Melbourne restaurant because we took away one bottle but wanted to ship a box home to the United States.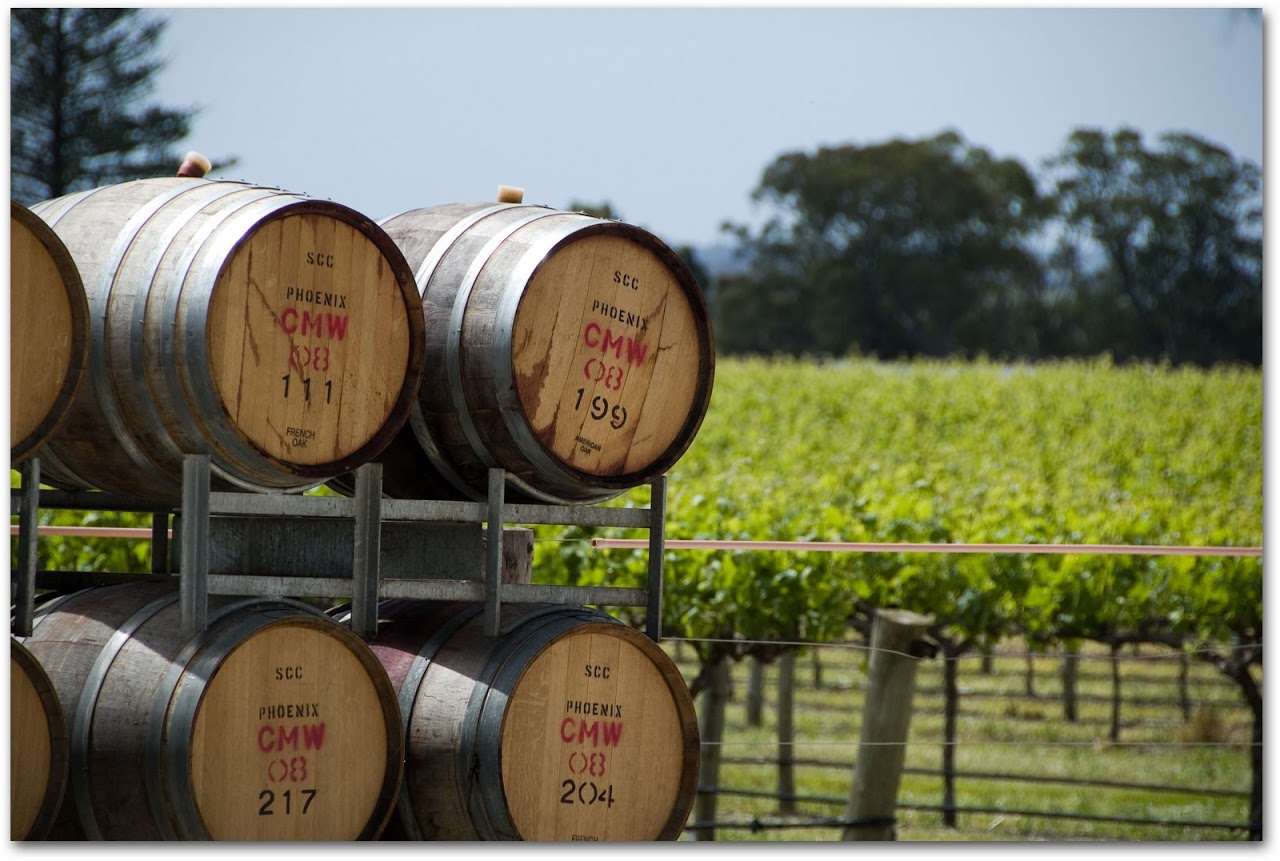 Charles Melton wine barrels
Details
On weekdays, the Barossa Valley seemed practically empty but we imagine that on weekends, the place is hopping.  Restaurants closed around 9:00 p.m. and all cellar door tastings closed at 4:30 or 5:00 p.m.
We recommend visiting:
•    Elderton, whose 2005 Command Shiraz impressed us with its long flavor and strong finish
•    Saltram, whose Pepperjack Shiraz has won accolades but made us happy because its soft tannins and clean flavor made it easily drinkable
•    Yalumba, whose 2009 Pewsey Vale Eden Valley Riesling was one of the few whites that we actually enjoyed.  Unfortunately, Australian whites are not up to par with New Zealand white wines.
•    Bethany, whose White Port made with Frontignac grapes surprised us with its sweet, floral essence
•    Charles Melton, an absolute must in the Barossa Valley.  Don't miss this one.  Every single wine we tasted was exceptional.  Charles Melton only ships to Bluewater Wine Company in the United States, which disappoints us, but if we find ourselves in Massachusetts, you can be assured that we will be trying to find some Charles Melton Rose.
•    Kabminye, whose wines were generally of poor quality but the interior building was designed by the owner-architect and provided beautiful views of the surrounding vineyards.
We stayed at the reasonable and quiet Top Drop Motel, Kalimna Road, Nurioopta, where we were cheered to find free Wi-Fi, always a bonus in our books.