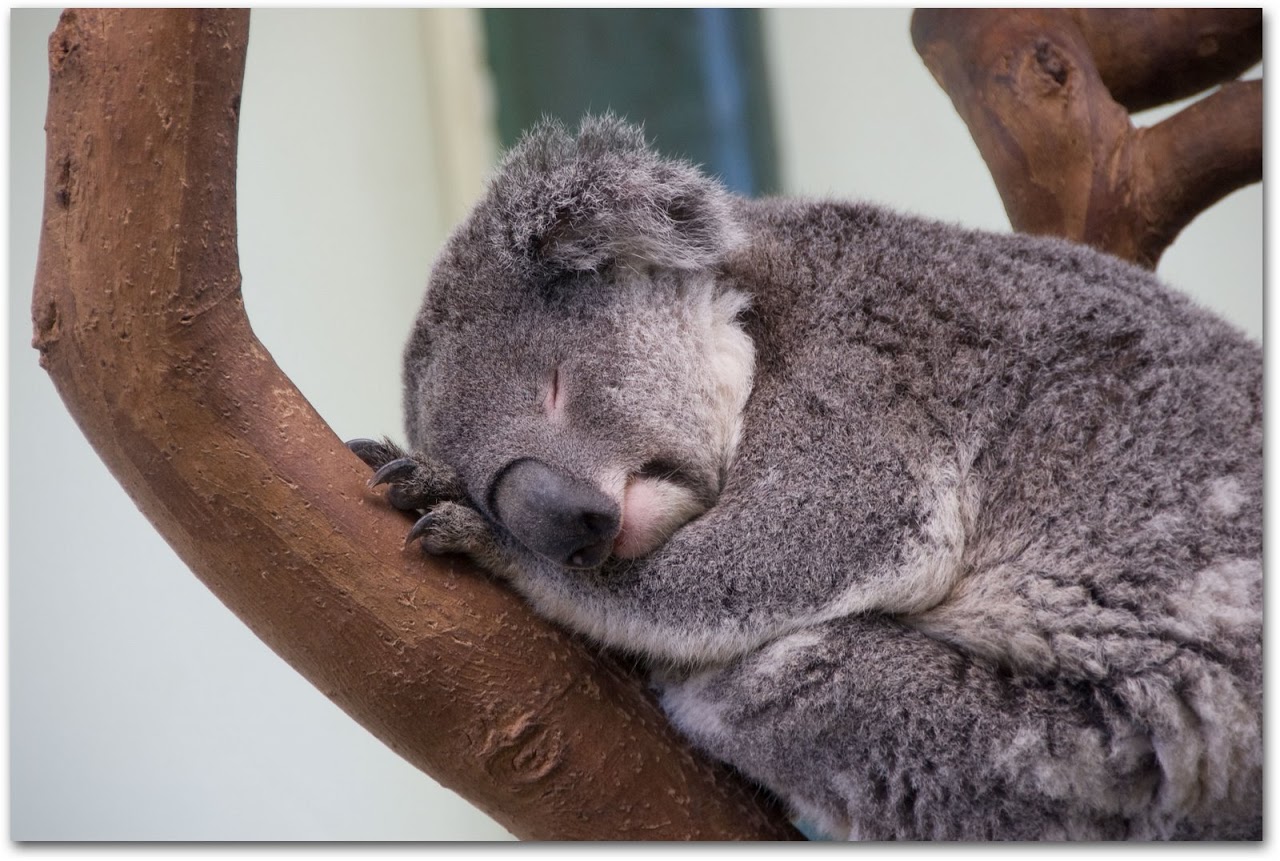 Koalas may be the pinnacle of evolution on this planet.  Biologists may disagree but consider the compelling evidence we have gathered below.
First, koalas sleep for 18 to 20 hours per day.  I would love to get that type of rest.  Wouldn't you?
| | |
| --- | --- |
| | |
They have no natural predators because they stay in the upper reaches of the trees and their gray fur blends in with the tree trunks.  In fact, do you see the baby koala in the first picture?  Look a little bit closer and you'll see him.  His mother abandoned him one month ago so he is still a baby.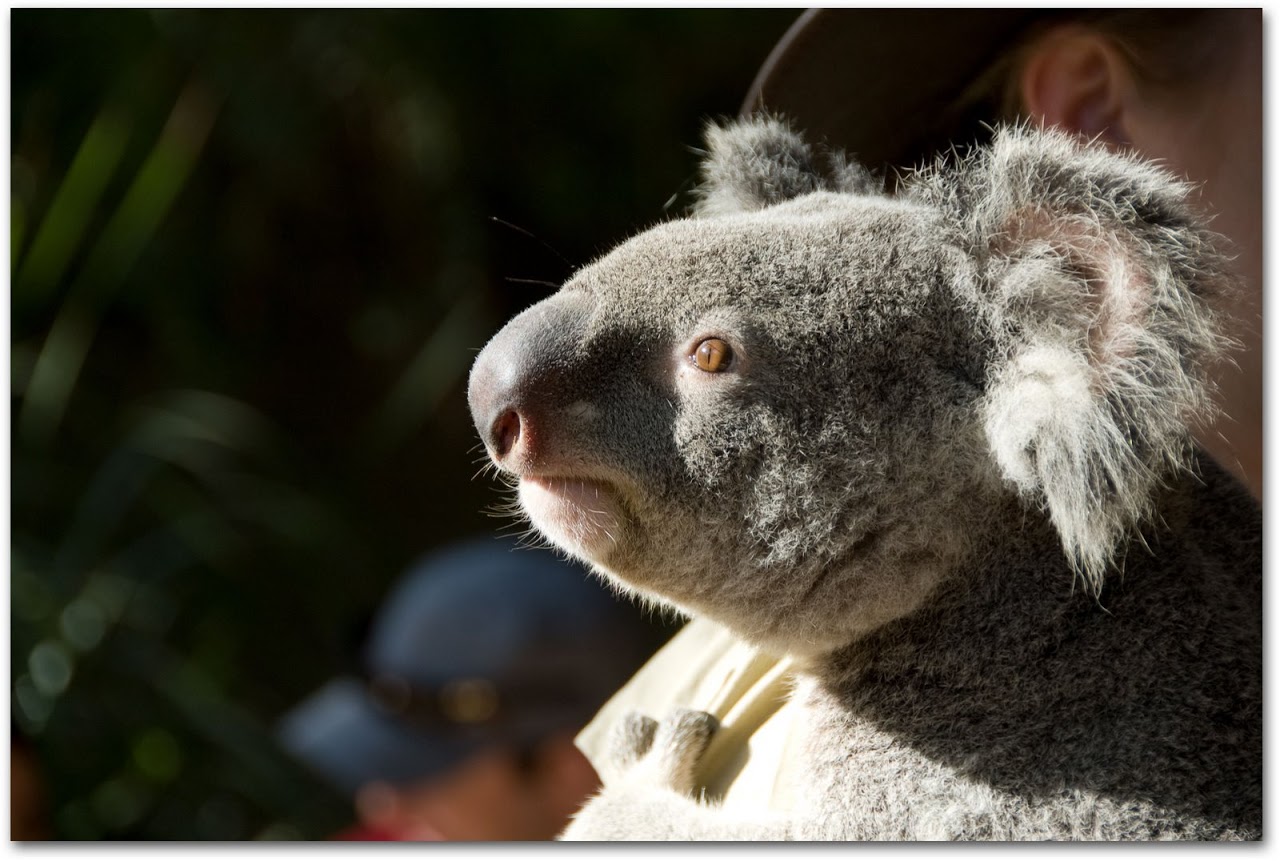 Humans obviously can spot koalas but no human should hurt something so darn cute.  If you get close enough to touch one, then you will immediately fall in love because their soft, curly fur feels like it was made for a teddy bear.  I give you Exhibit A - Patrick enamored by a koala: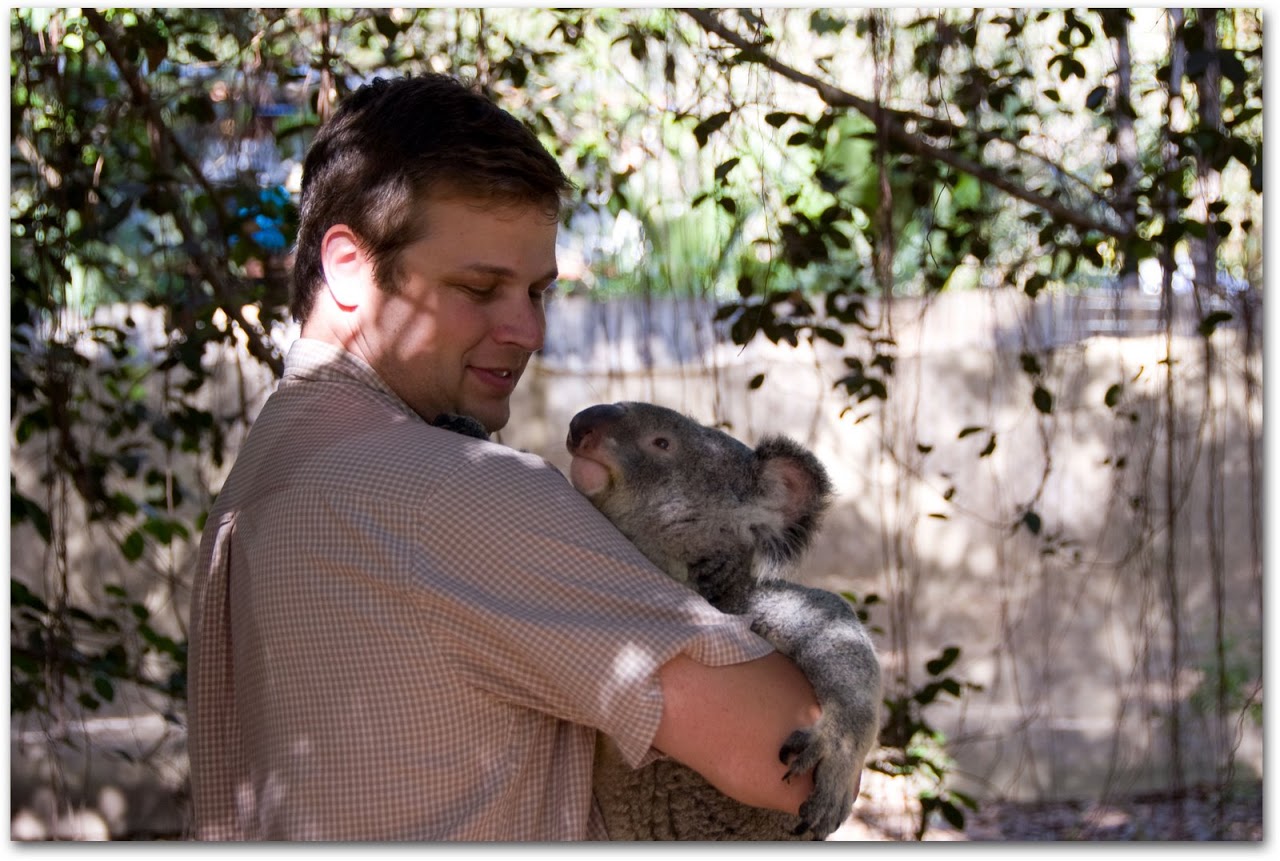 They know what they like to eat, too; they prefer several types of eucalyptus tree to the many hundreds of species found in Australia.  (Do you see the very cute baby clinging to its mother's back in the pictures below?  We were in raptures.)

And, then, they have two thumbs while we only have one.  At first, we couldn't figure out why this was an evolutionary advantage but then it dawned upon us: video games.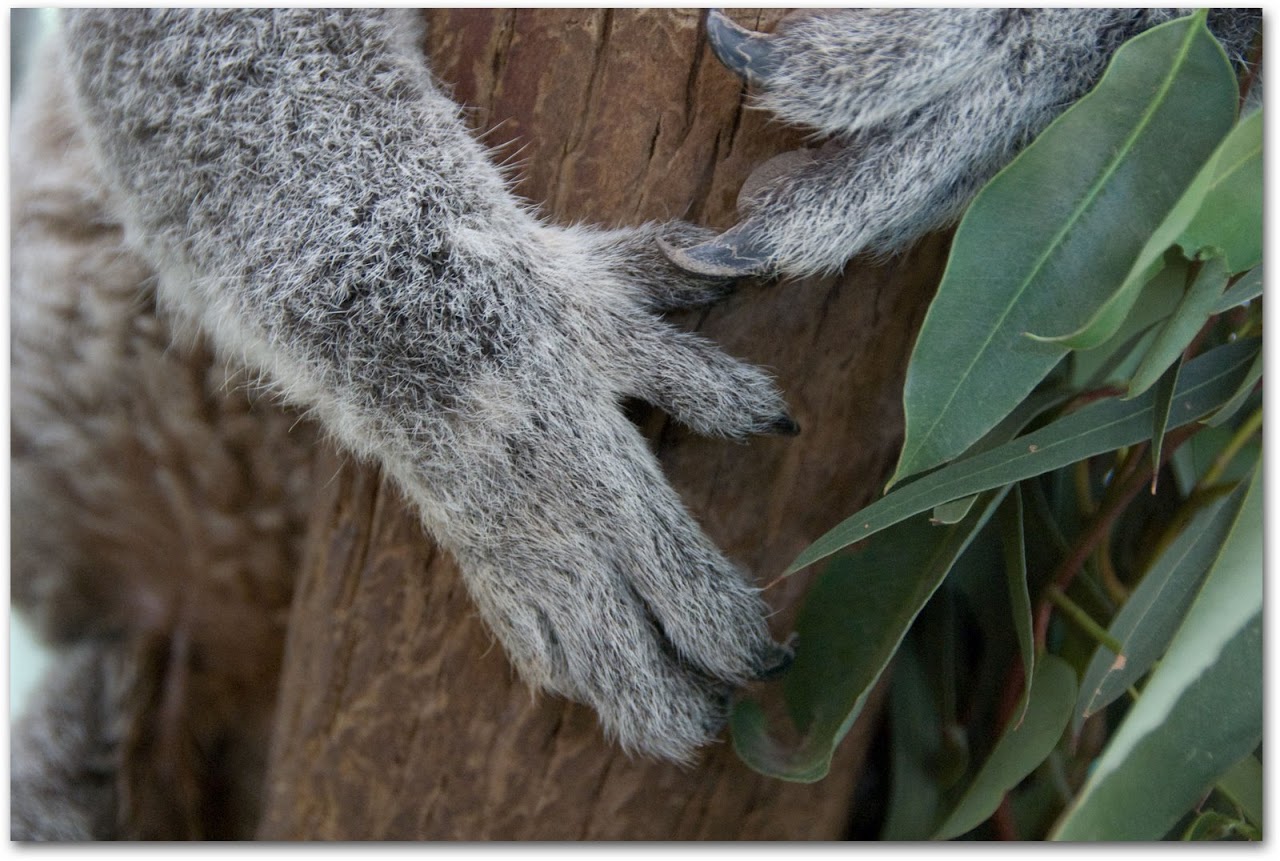 [I am going to ignore for the moment that the koalas mimic a dysfunctional reality TV show because the males rape the female koalas, come back 30 days later to ensure that they will impregnate the female and rape the females again, and then abandon the females.  In turn, once the baby koala is old enough to start wandering on his own, his mother leaves him to fend for himself.  I am also going pretend that baby koalas don't eat their mothers diarrhea for several days after leaving the womb because I can't see how that would be an evolutionary advantage.  Let's just focus on how cute they are, shall we?]
We have spent the last few weeks trying to turn ourselves into koalas by strategically sleeping a lot.  No success so far.
Details

Every zoo, wildlife park, and animal refuge in Australia includes the koala.  If you want to see them in the wild, we highly recommend that you head to Magnetic Island, which has one of the largest populations of koalas living in the wild.  After our
disappointing trip
to the Whitsundays
, we were worried that Magnetic Island would be another typical resort town.  To our pleasant surprise, the majority of the island has been designated a natural park, few (if any) resorts are located on the island, and everything on the island closes by 9:00 p.m.  In this unspoilt habitat, we were lucky enough to find a mother and two baby koalas lounging about in eucalyptus trees by the side of a road and a walking trail.
We stayed at Bungalow Bay Village, an eco-friendly establishment.  Each A-frame bungalow includes a comfortable bed, small refrigerator, and fan.  We opted for a double room with air conditioning; the twin rooms have cots and no air conditioning.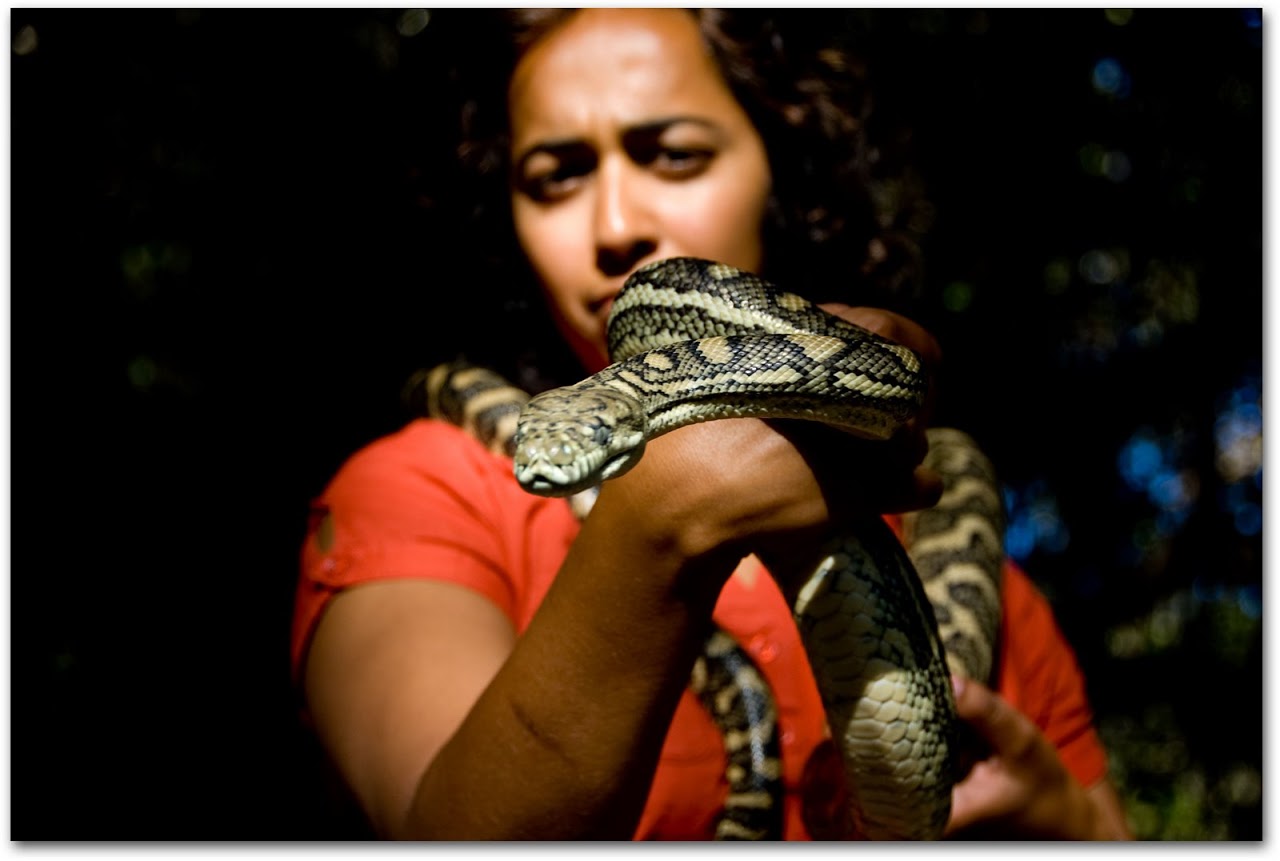 The Village is attached to a koala reserve, where Patrick and I had the opportunity to hold a koala, cockatoos, and a python.  In the afternoon, lorikeets landed on our heads and possums and wallabies jumped out of the bushes at night as we walked through the hostel.
We wish we had brought our car from Townsville onto Magnetic Island.  Because we didn't, we rented a moke --- a car that looks like a tropical-colored 1980s Ford Escort with the doors removed --- and a four wheel drive jeep during our stay.  The moke was useless because the bus service went to all the same places.  But, our four wheel drive jeep helped us get to the tip of the island to watch the sunset.