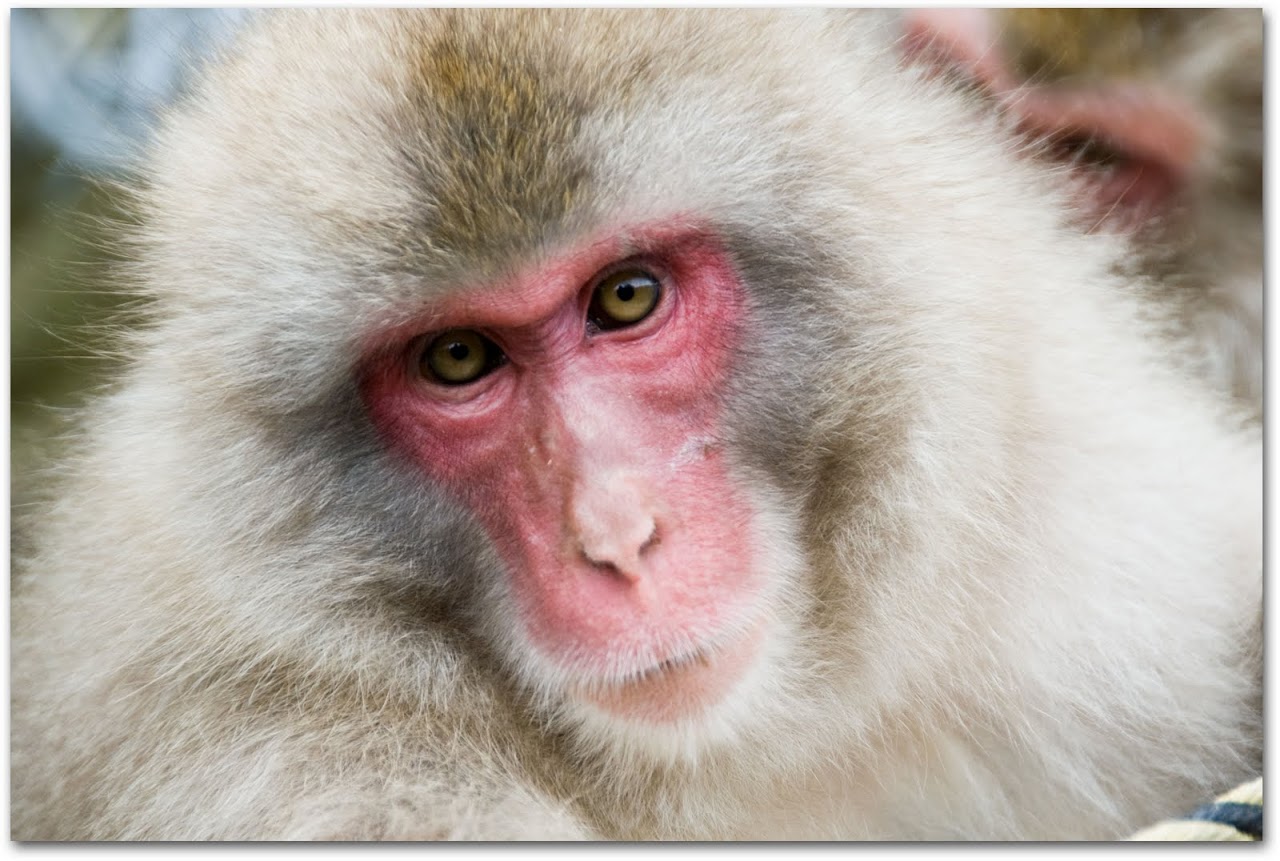 Japanese macaque
I was all set to regale you with a clever anecdote or perhaps a jaunty joke about monkeys and hot tubs, but a stomach virus that developed on a really bad travel day has, luckily for you, quenched my editorial flourishes today.  So, let me just cut to the chase.  This here is a monkey.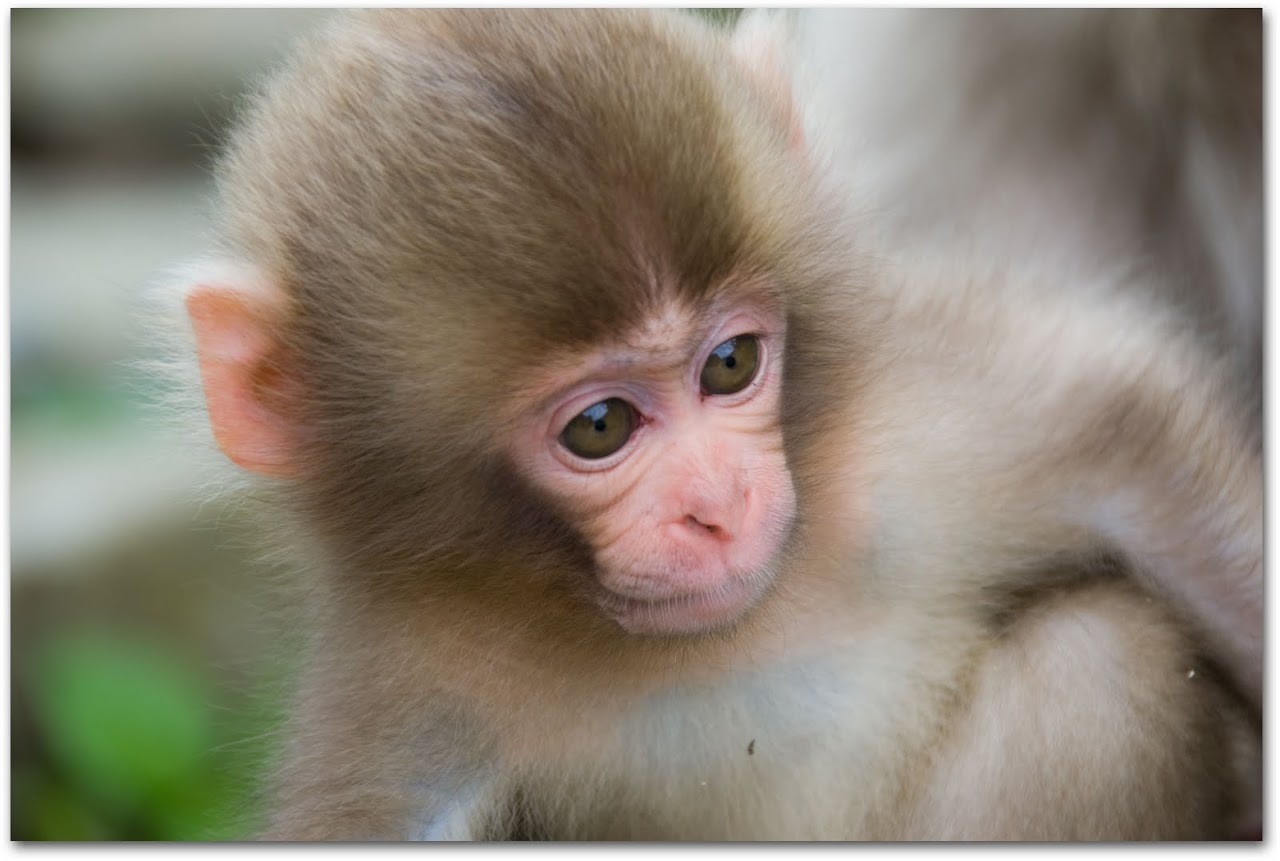 Baby monkey
This here is a baby monkey.  [Cue the "awwws."]
Lush forest in Joshinetsu Kogen National Park
These monkeys live with their families, extended families, and friends at Jigokudani Monkey Park in the Nagano Prefecture.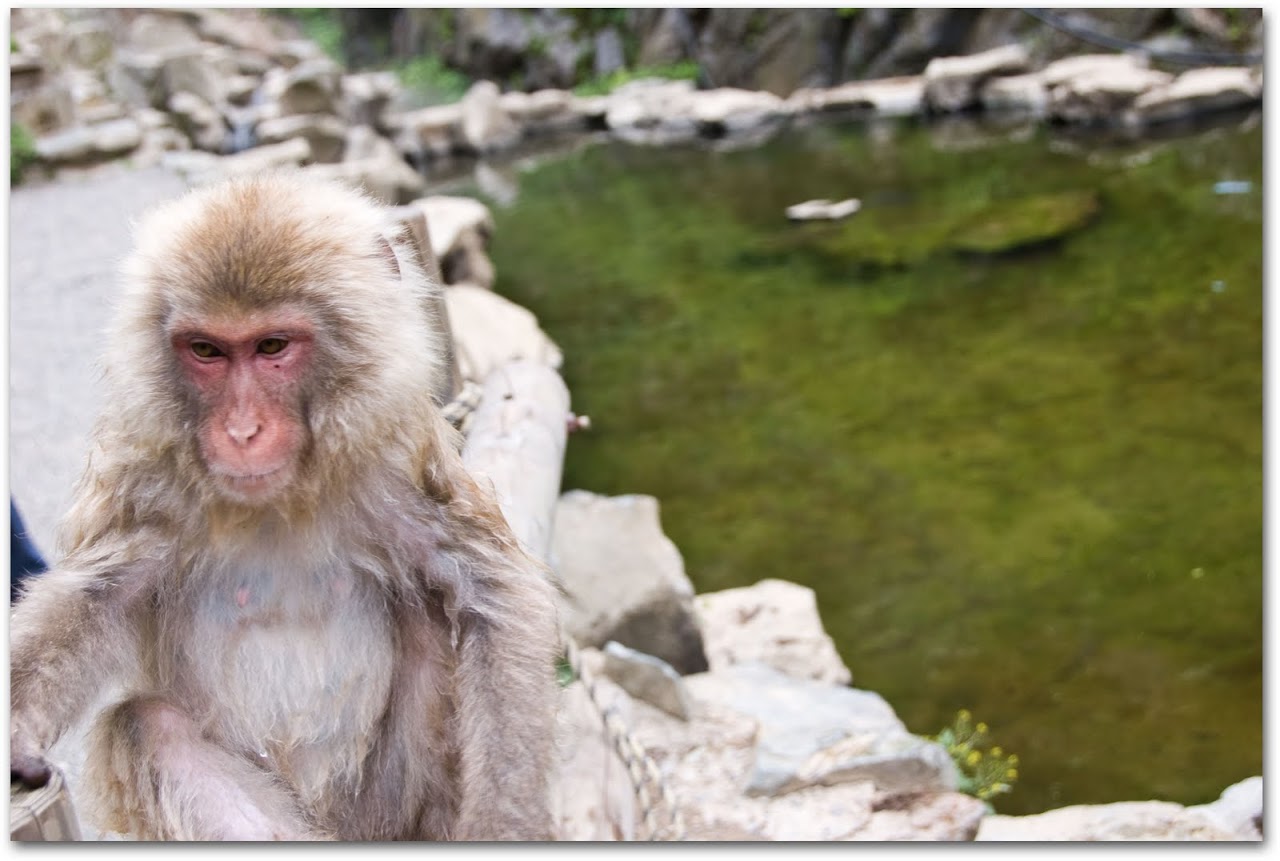 Monkey next to the Jigokudani hot springs
This guy wakes up in the morning in the lush landscape of the Nagano mountains, hops out of the trees, and then makes his way to the mineral springs of Jigokudani.
Drinking and contemplating in front of the river
The Japanese are really into hot springs.  The onsen , as they call the hot springs, are considered the ultimate form of relaxation and, like we develop beach towns in the United States, the Japanese develop onsen towns.  The strip of land in the center of Honshu island surrounding the mountainous Japanese Alps is chockful of these onsen towns where there is little more to do than wrap yourself in a robe, walk through the town to soak in the steaming mineral baths and foot baths, and eat noodles and drink sake.
Shibu onsen town and Hamesei Ryokan in Chikuma City
We didn't mean to wind up in the midst of hot springs and monkeys.  We left Nikko and didn't want to take a 9 hour train to Nara, so we broke up our journey in Chikuma City, in the Nagano prefecture.  We delved into traditional Japanese hospitality with a stay at Kamesei Ryokan , a lovely old Japanese inn run by Tyler, a 6-foot tall American expat who stood out in the crowds of the teeny tiny Japanese people.  [Seriously, I feel so tall in this country.  It's awesome.]
Dripping monkey at mineral springs
And, this is where the monkeys come into the story.  Because it's not just the Japanese people who love the hot springs; the monkeys are big fans of the steaming, soothing waters, too.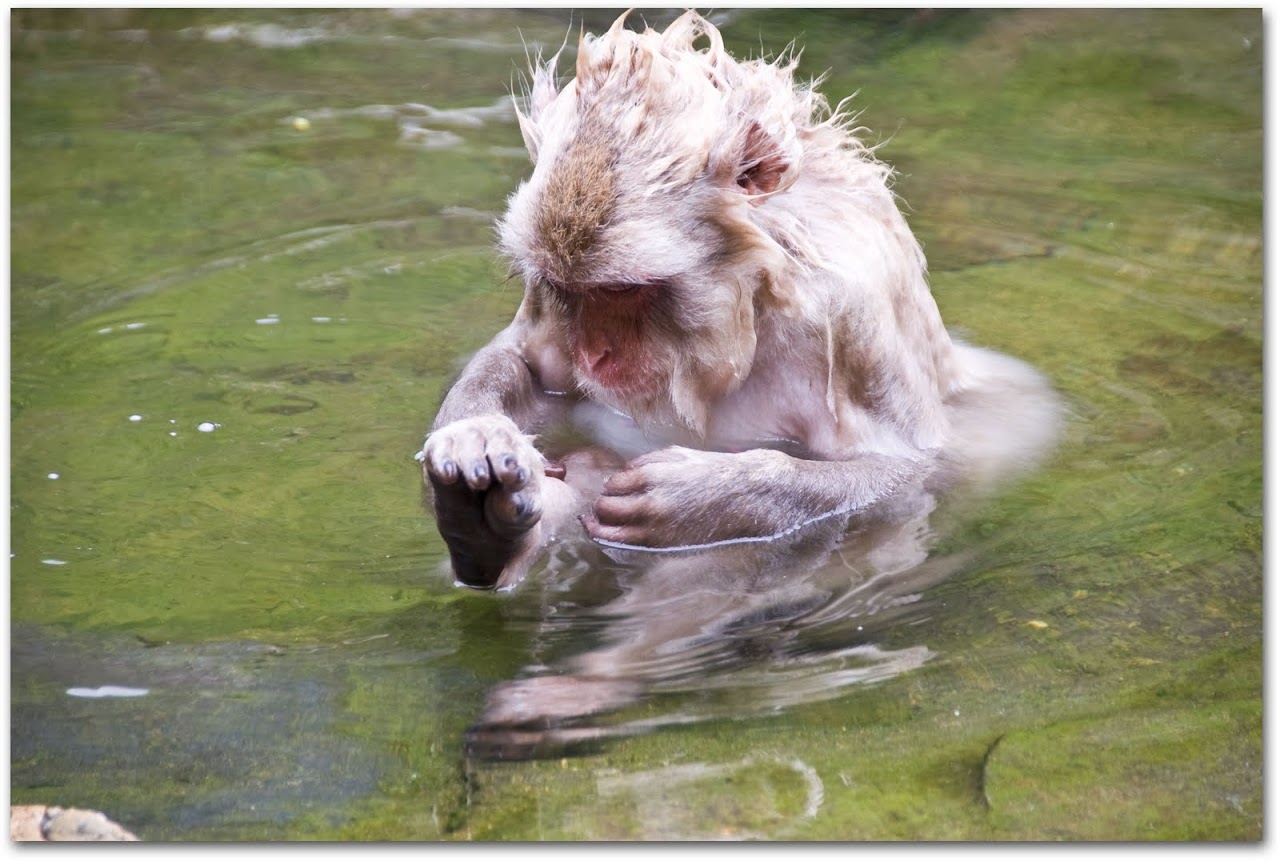 Checking out his feet in the onsen
Hands, lounging, looking at hands, investigating camera
Hundreds of adult monkeys lounge, eat, swim, and play near the Jigokudani onsen.  Their human-ness (or, perhaps, our monkey-ness) surprised and weirded me out, at the same time.  They walked into the bath as I walk into swimming pools, carefully to let their bodies slowly absorb the heat.  They investigated their hands and feet in the bath to make certain that there was no dirt or food remaining on their body.  Up close, their hands are quite similar to our own, perfect for picking up food, climbing over fences, grabbing each other, and peering into the Snow Monkey Livecam , as one cheeky little guy discovered.
Baby monkey playing with flower, eating food, and climbing
The babies were almost like human babies, curious and interested in everything that they could touch and smell.  Soft fuzz surrounded their wee bodies and I wanted to pick one up in my arms and hold it.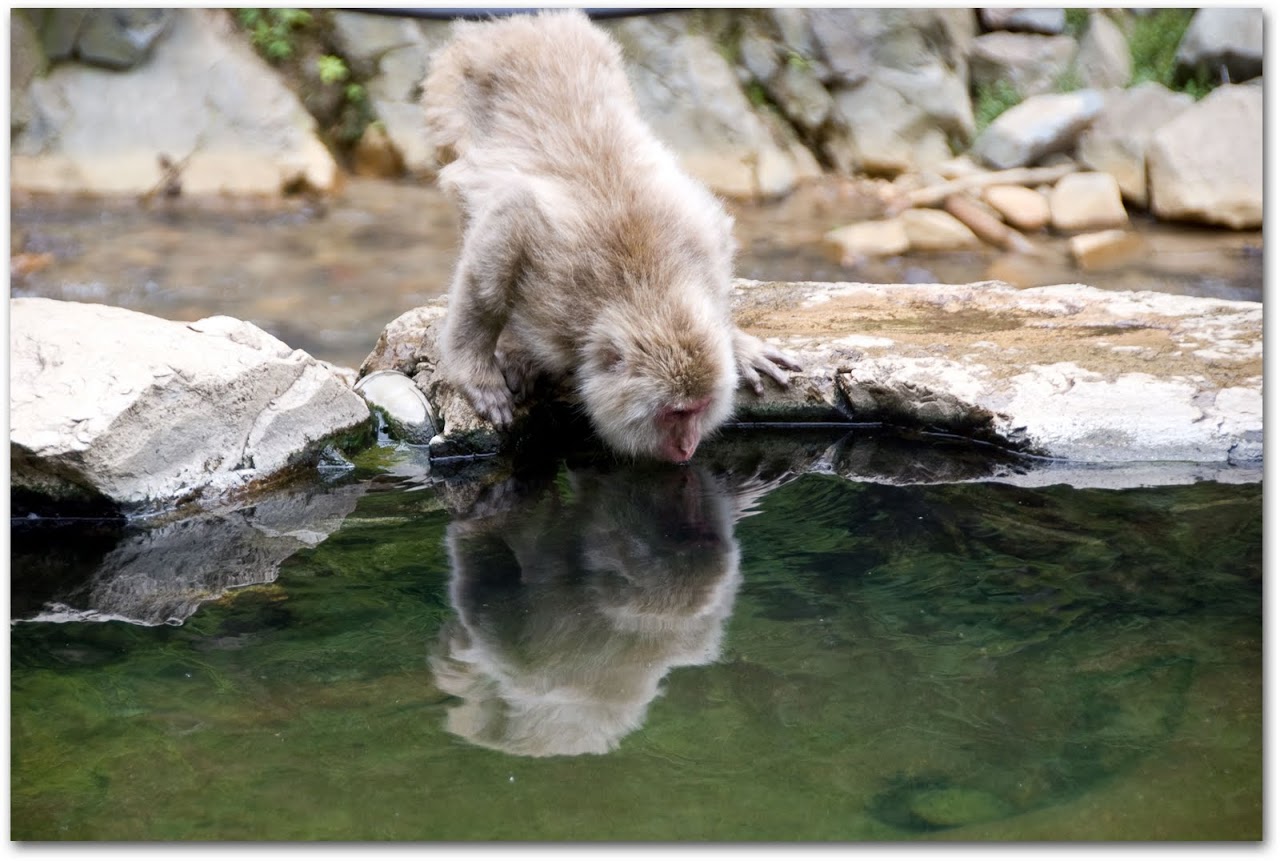 Reflection of monkey drinking
As we walked away, we laughed that these hot tubs didn't transport anyone back to the past, nor were there any aging '80s movie stars around, but, we would watch a movie about the monkeys at Jigokudani any day of the week.  "Hot Tub Monkey Machine," anyone?  [Oh goodness, I just realized that I went back on my word and made a lame joke anyway.  I couldn't help it, I tell you.]