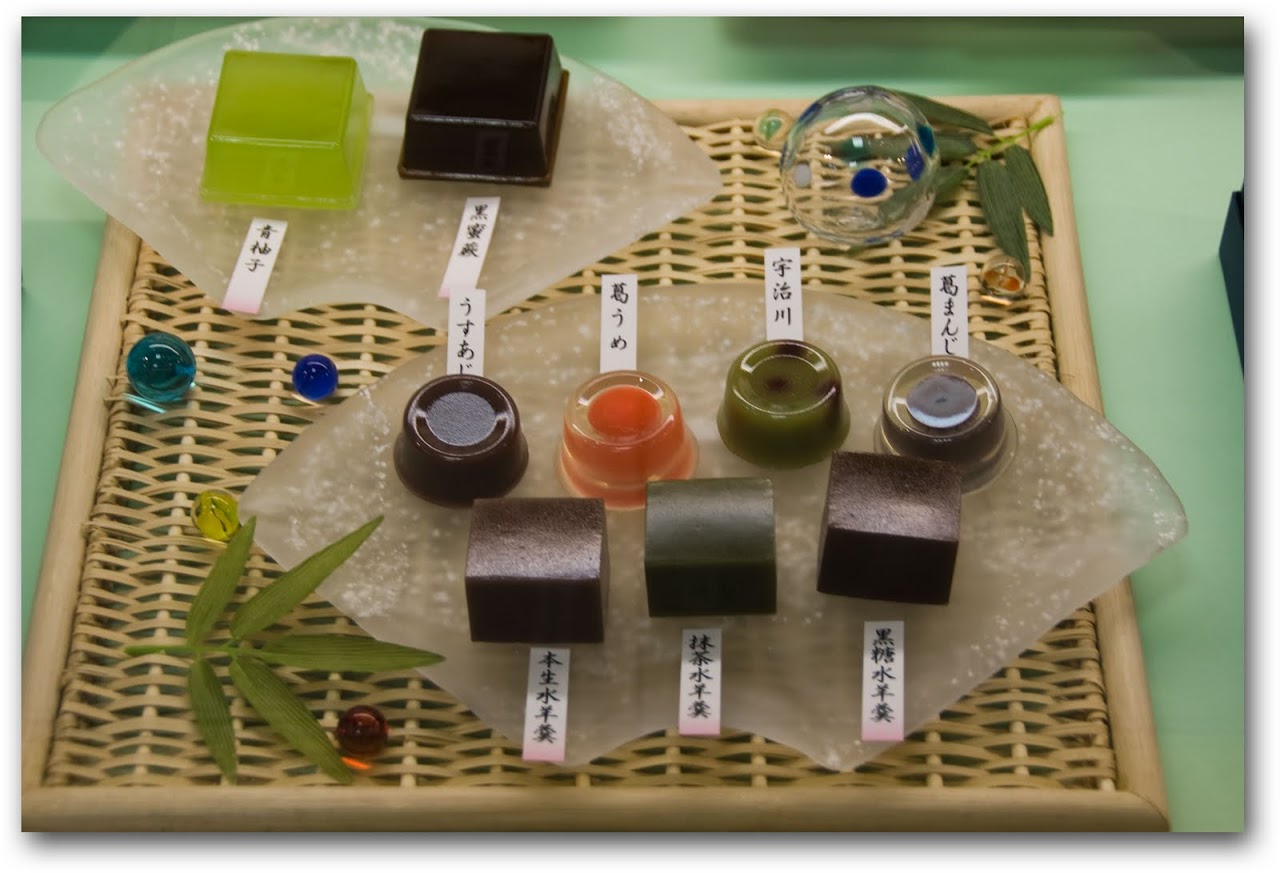 Gummy desserts
I know, I know . . . another Japanese food post.  I can't help myself.  We see the food, we want to eat it, then we want to photograph it, and then I want to tell you about it.  Then, we walk around, eat a bit more, and, of course, have to photograph.  I have never seen such beautiful food --- the colors, the smells, the strange shapes!  And, I've saved the best for last: Japanese desserts, an amalgamation of sweet and squishy, in every color of the rainbow.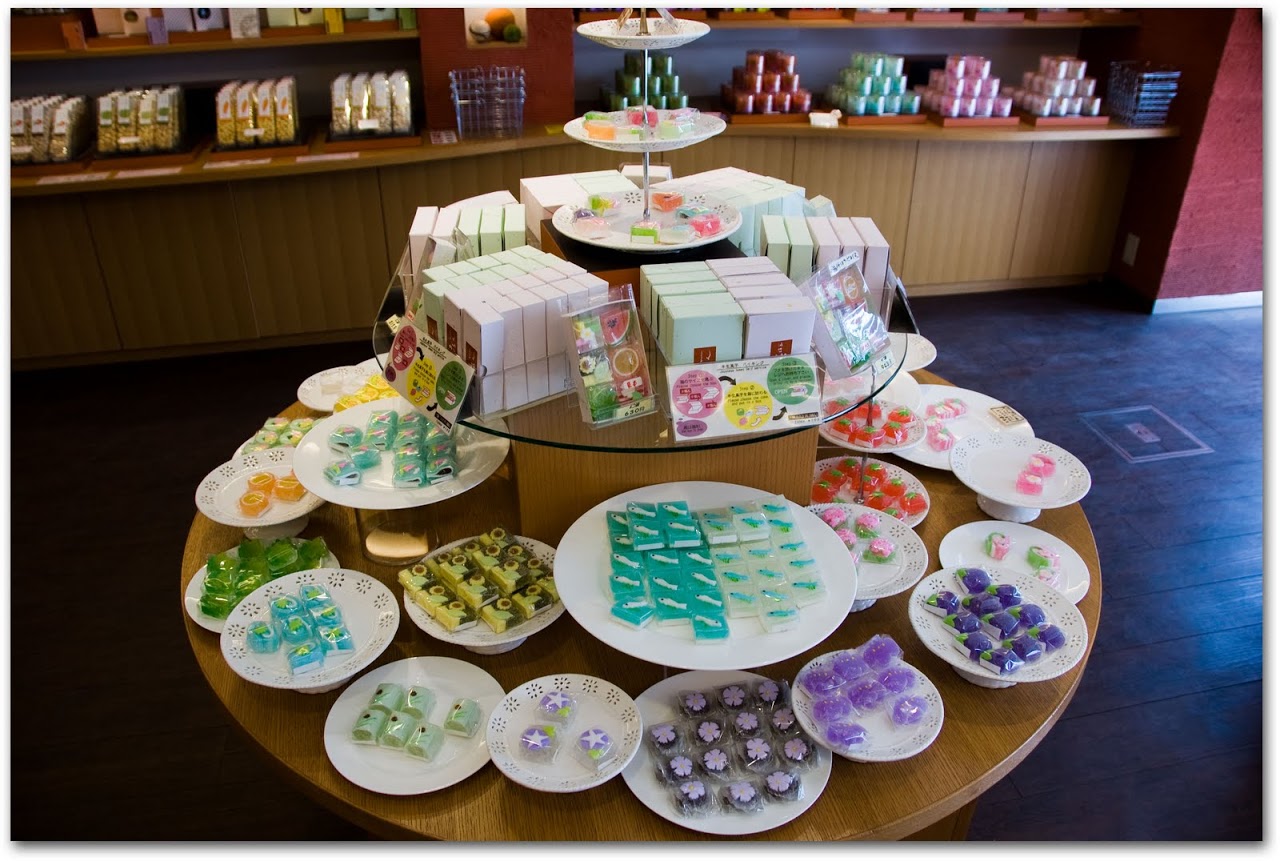 Gummy candy
Gummy candy: Forget gummy bears; in Japan, there's gummy fish, flowers, fruit, and even gummy sushi that make the perfect gifts to take home . . . assuming you don't eat them on the way back to your hostel.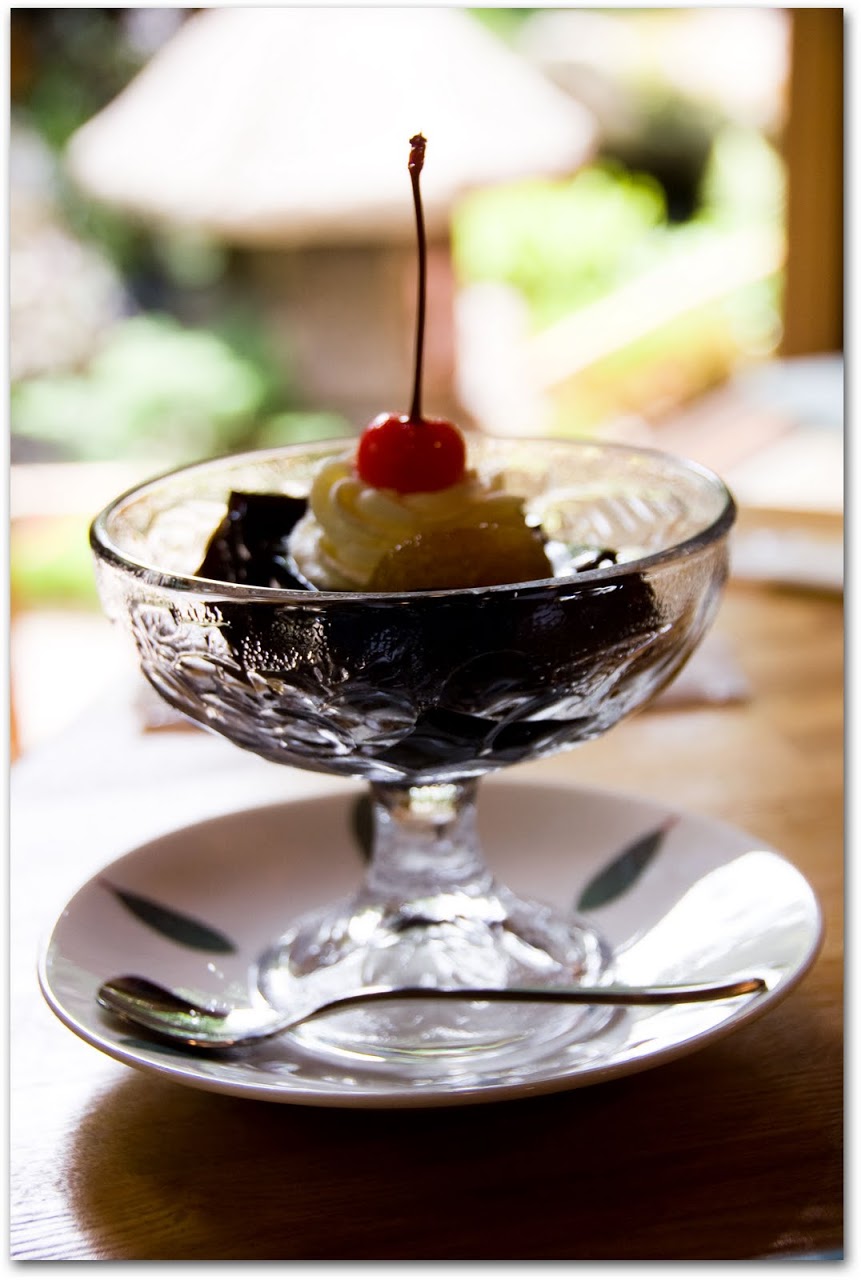 Coffee jelly : Expanding on the gelatin desserts, nearly every coffee shop in Japan sells coffee jelly which, as far as we can tell, is considered an acceptable substitute to drinking a cup of joe in the morning.  In fact, because Japanese coffee tends to be fairly weak, coffee jelly packs a stronger punch for those early mornings.
Warabimochi
Warabimochi: Warabimochi is a cooling jelly-like dessert made from bracken starch and dipped in sweet, nutty kinako, a toasted soybean flour.  A Kansai specialty, in Kyoto and Nara , this is the summertime dessert and in the hottest months, warabimochi trucks patrol the streets.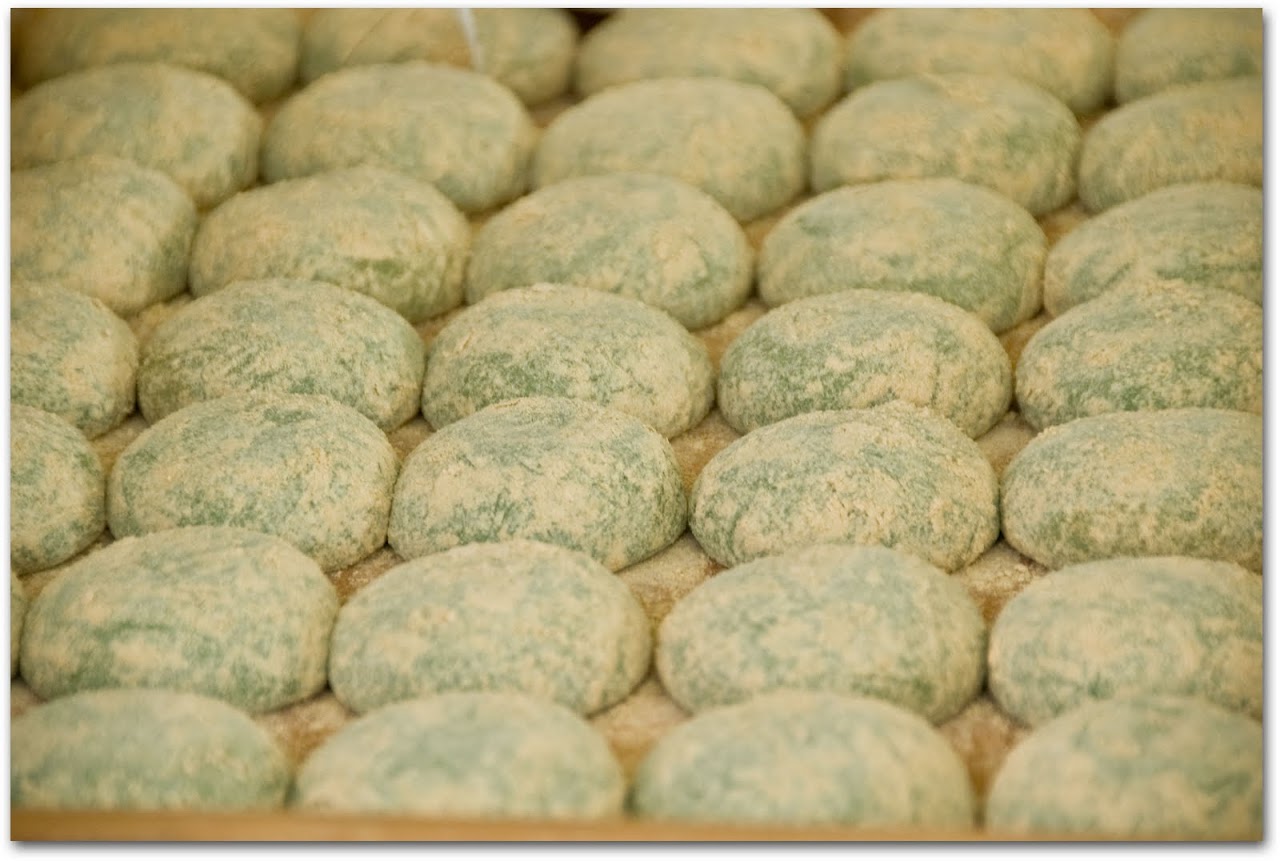 Warabimochi
Perhaps our favorite dessert in Japan, we can't wait to try making it at home using Clotilde's recipe at Chocolate & Zucchini.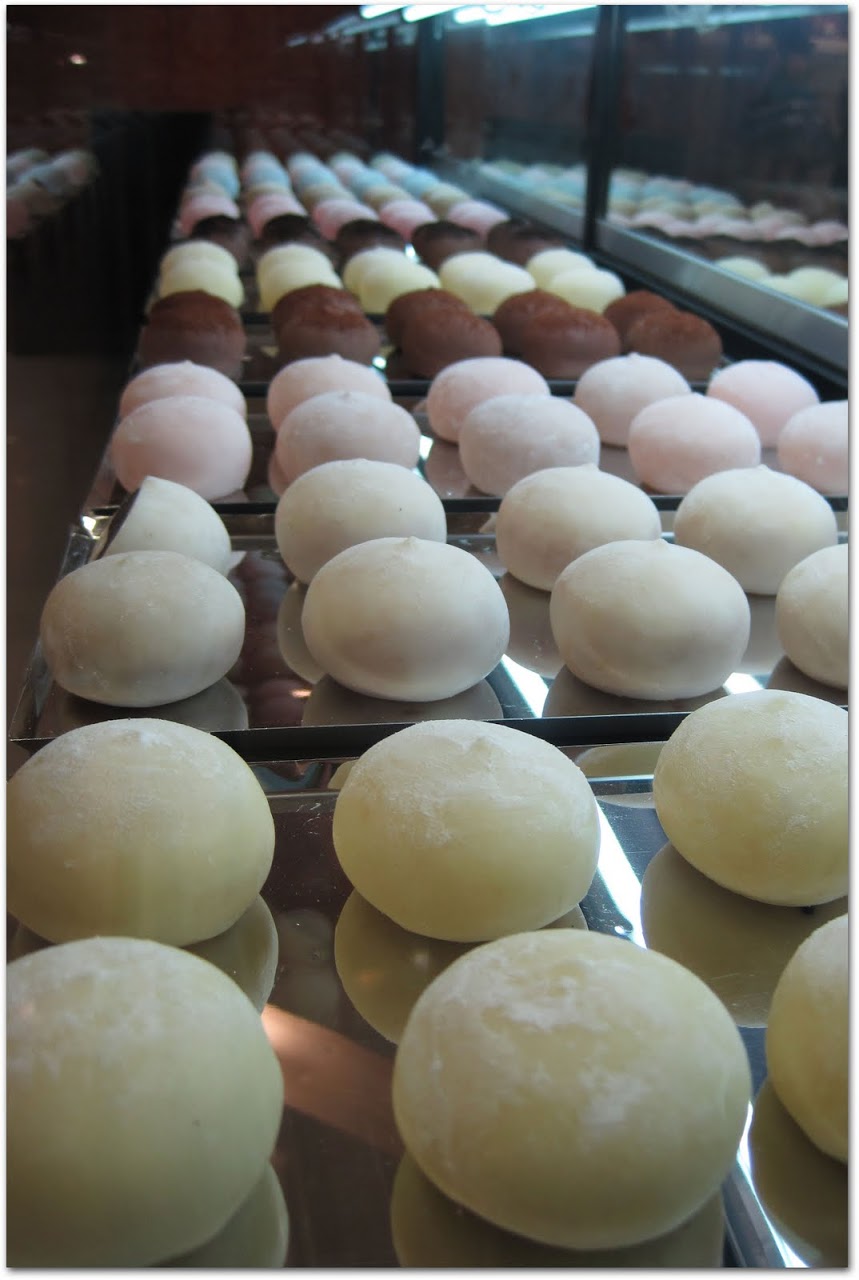 Mochi
Mochi: The quintessential Japanese dessert, mochi is a round dumpling made from ground glutinous rice flour , often stuffed with jelly, jam, pastes, or ice cream.  The most common filling is a slightly sweet red bean paste but we have seen exotic flavors like cherry blossom (sakura), mango, passion fruit, and others.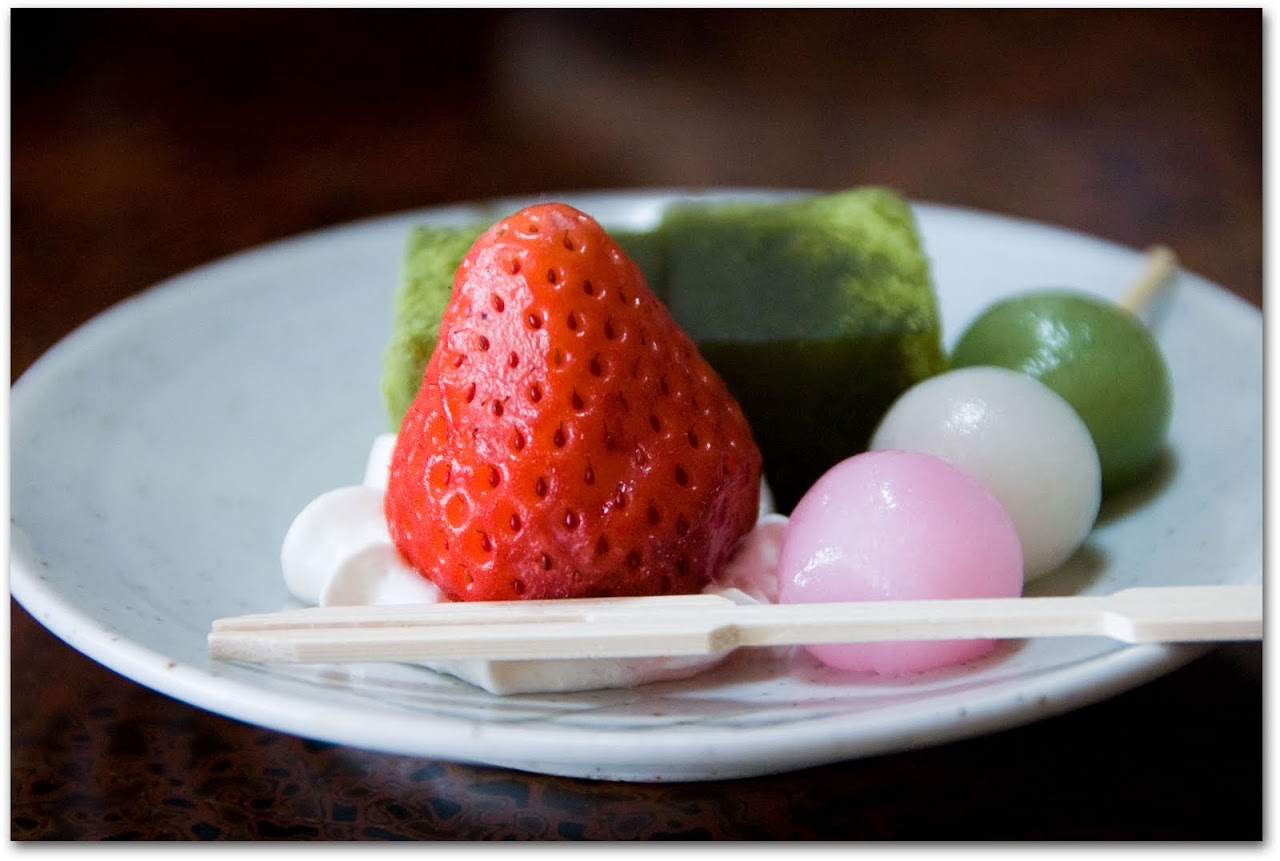 Dango
Dango: Dango are related to mochi in that both are made from glutinous rice flour.  Dango, however, tend to be dense, sticky, and not stuffed with fillings.  The version shown here is boccan dango, colored with red beans, eggs, and green tea.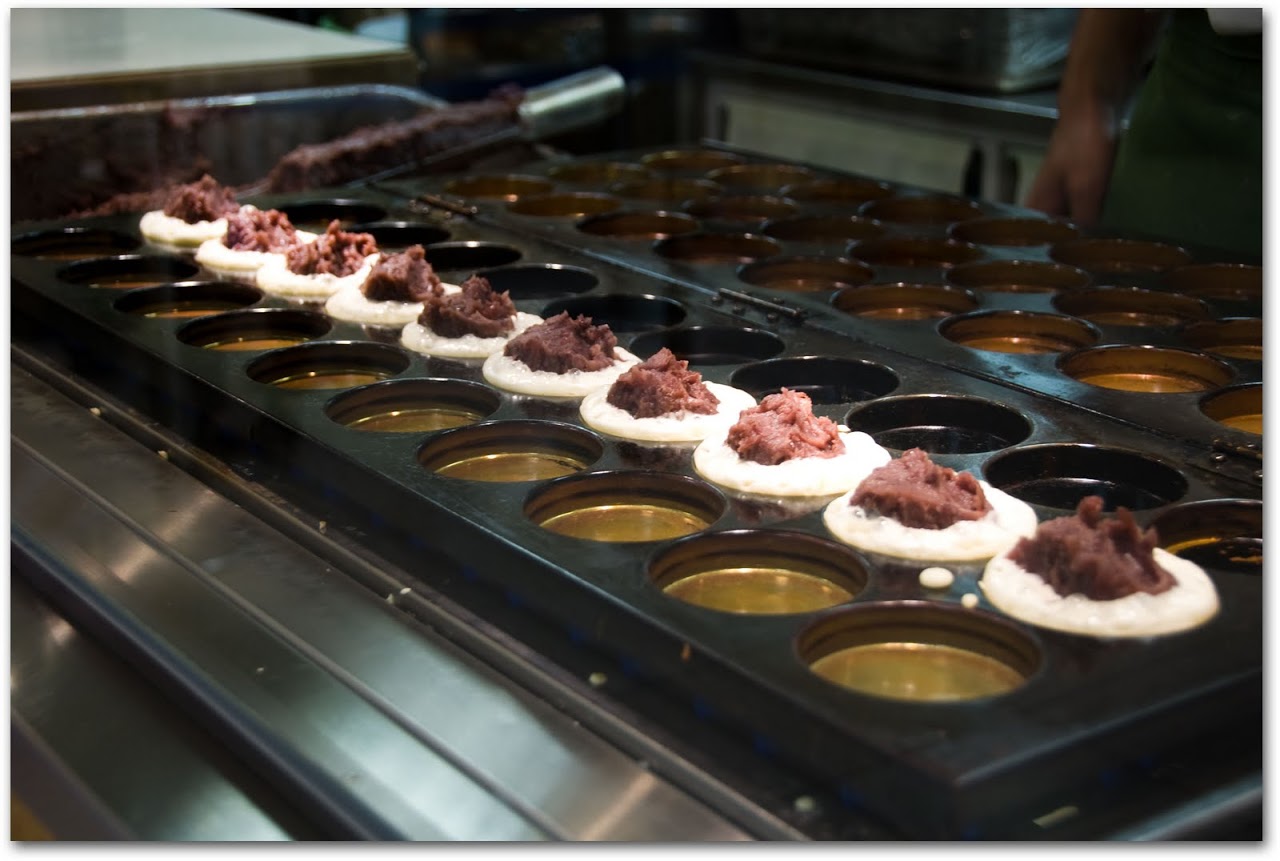 Cookies with red bean filling
Cookies: When the Japanese travel, they shop for meibutso , a local food specialty, as a souvenir to take home.  In Hiroshima and Miyajima, the Japanese opt for cookies shaped like maple leaves and stuffed with a thick red bean paste.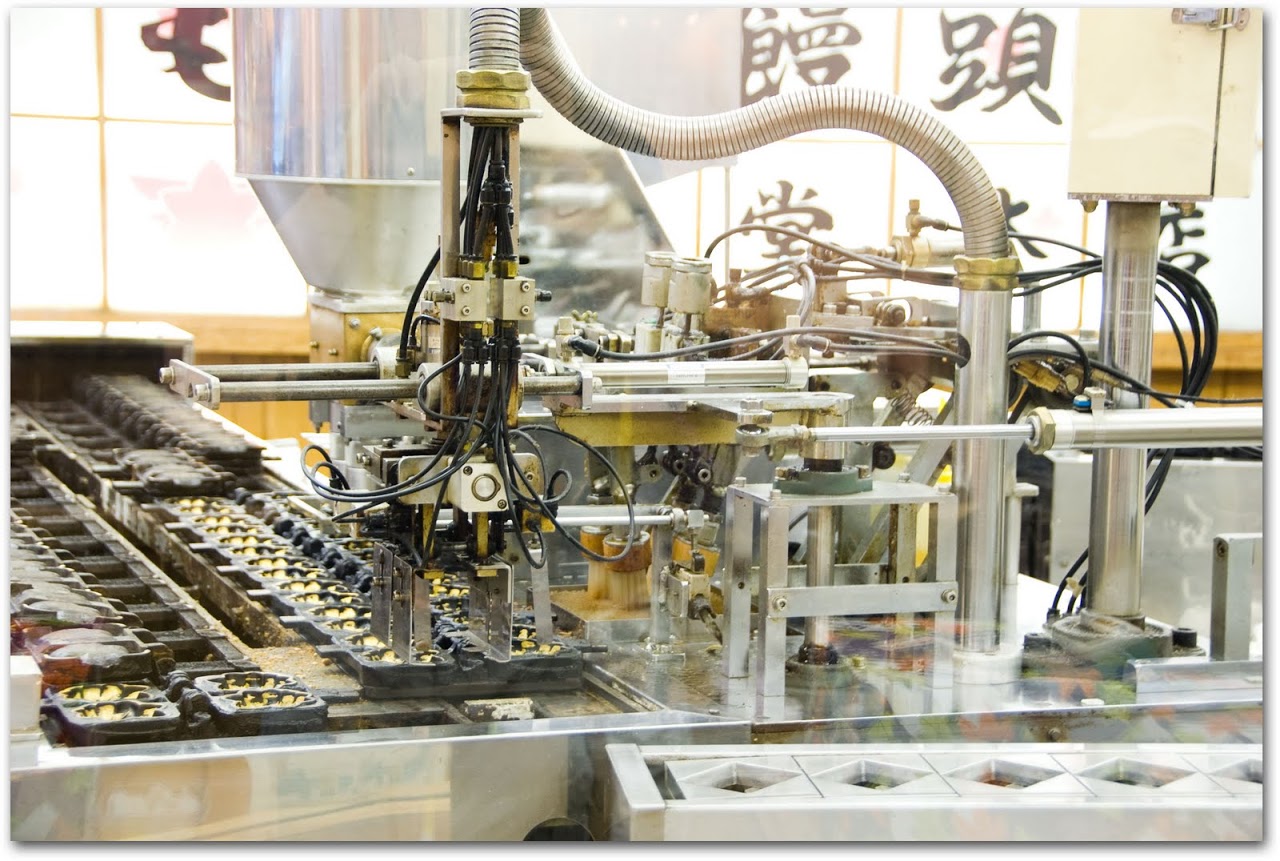 Maple cookie machine
Find a place that makes the cookies in huge conveyor belts and ask for yours to be served piping hot so the filling melts into the steaming cookie.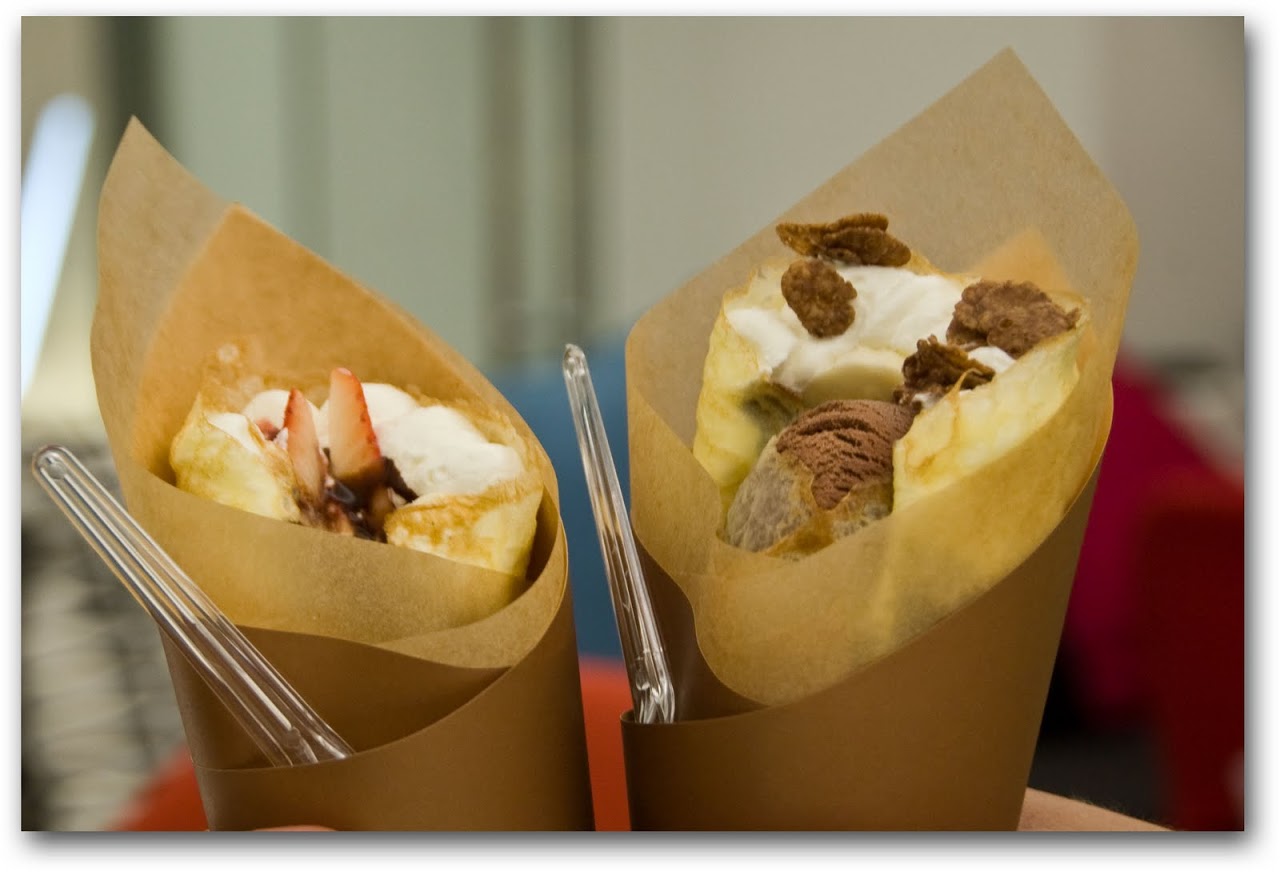 Japanese crepes
Crepes: Crepes in Japan are often folded in triangular cones to be eaten standing up and sold in stands facing the street.  However, you will never see a Japanese person eating one while walking because eating and walking is considered rude.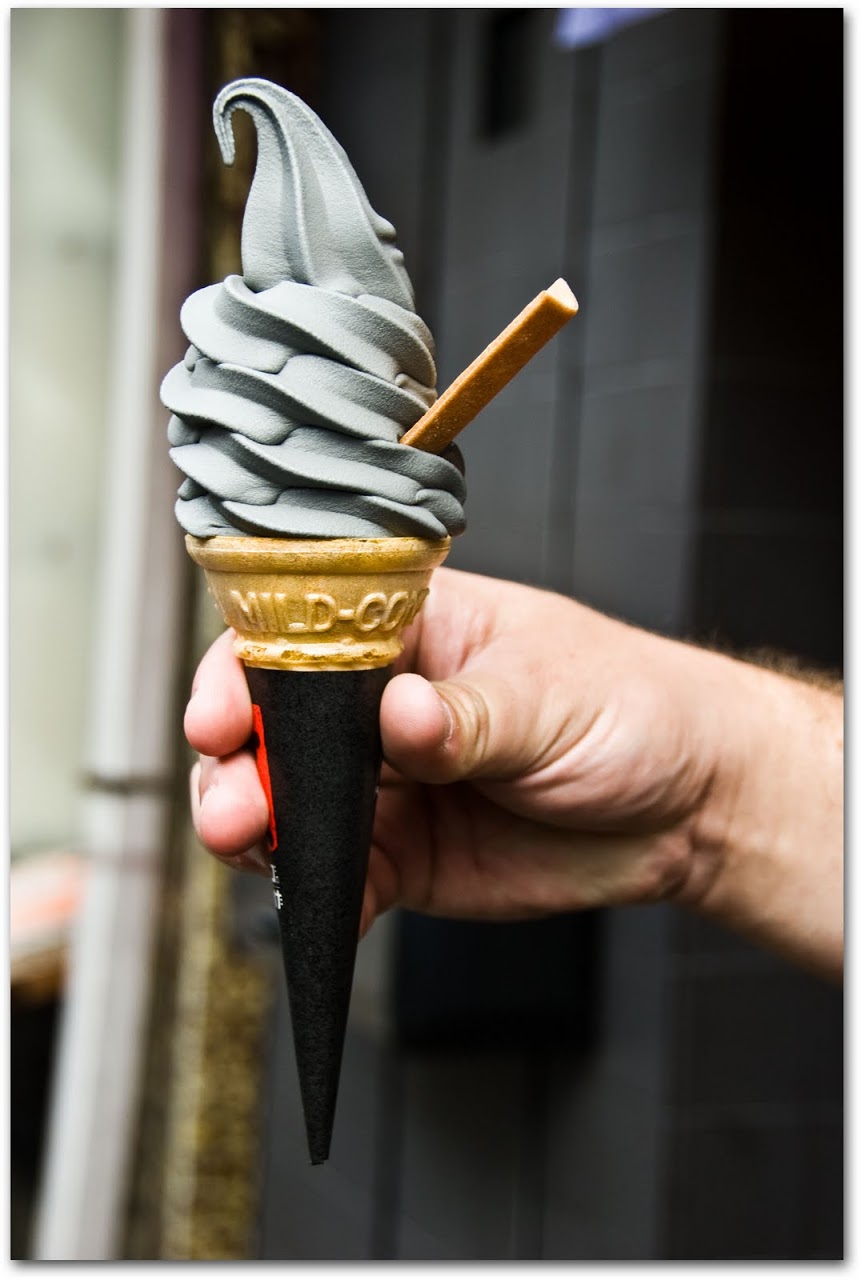 Ice cream: Ice cream is a Western import that has invaded Japan.  There are ice cream stores everywhere and most convenience stores have a huge display of ice cream bars to pick up and eat.  We particularly liked the unappetizing looking but delicious tasting black sesame ice cream and the variety of Japanified flavors from Haagen Dazs like burnt sugar ice cream, green tea and cookies, and raspberry and cream cheese.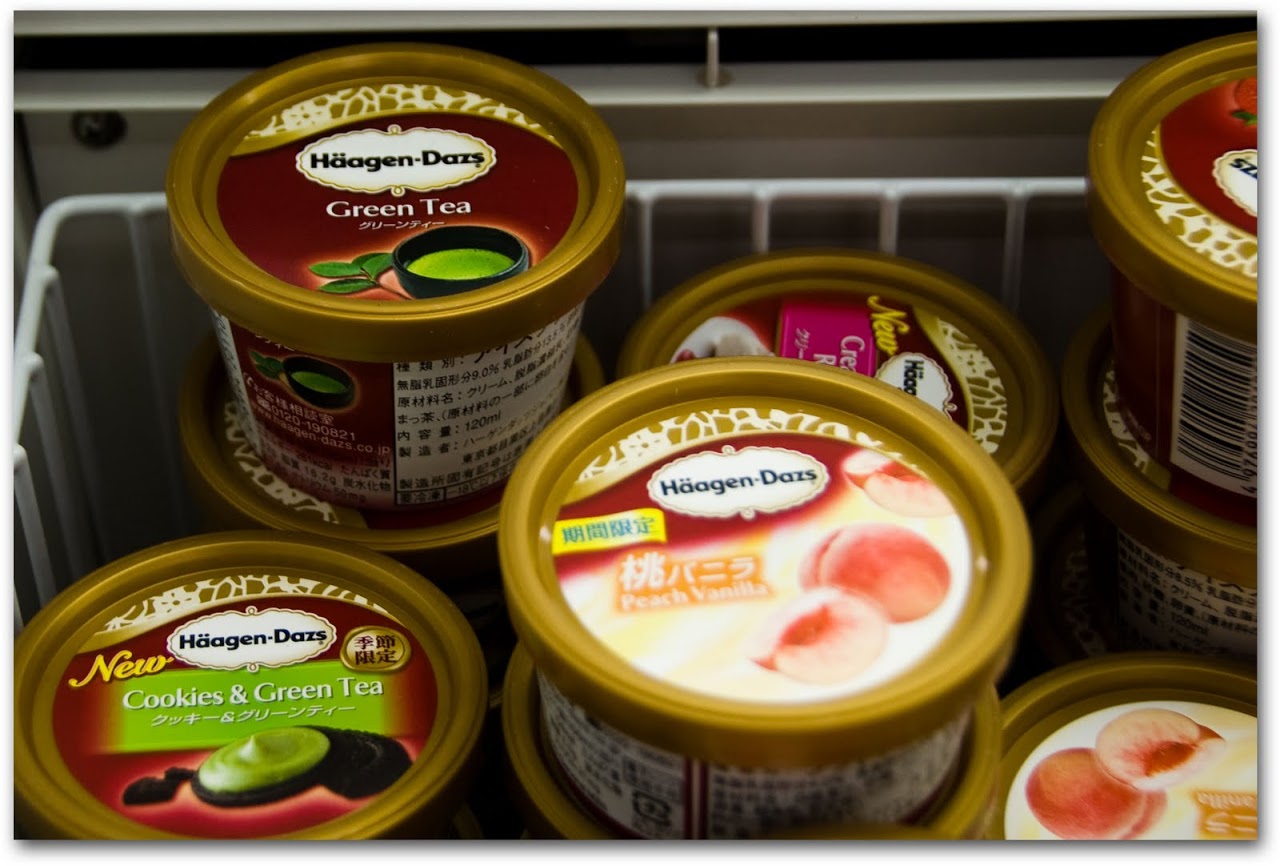 Haagen Dazs ice cream flavors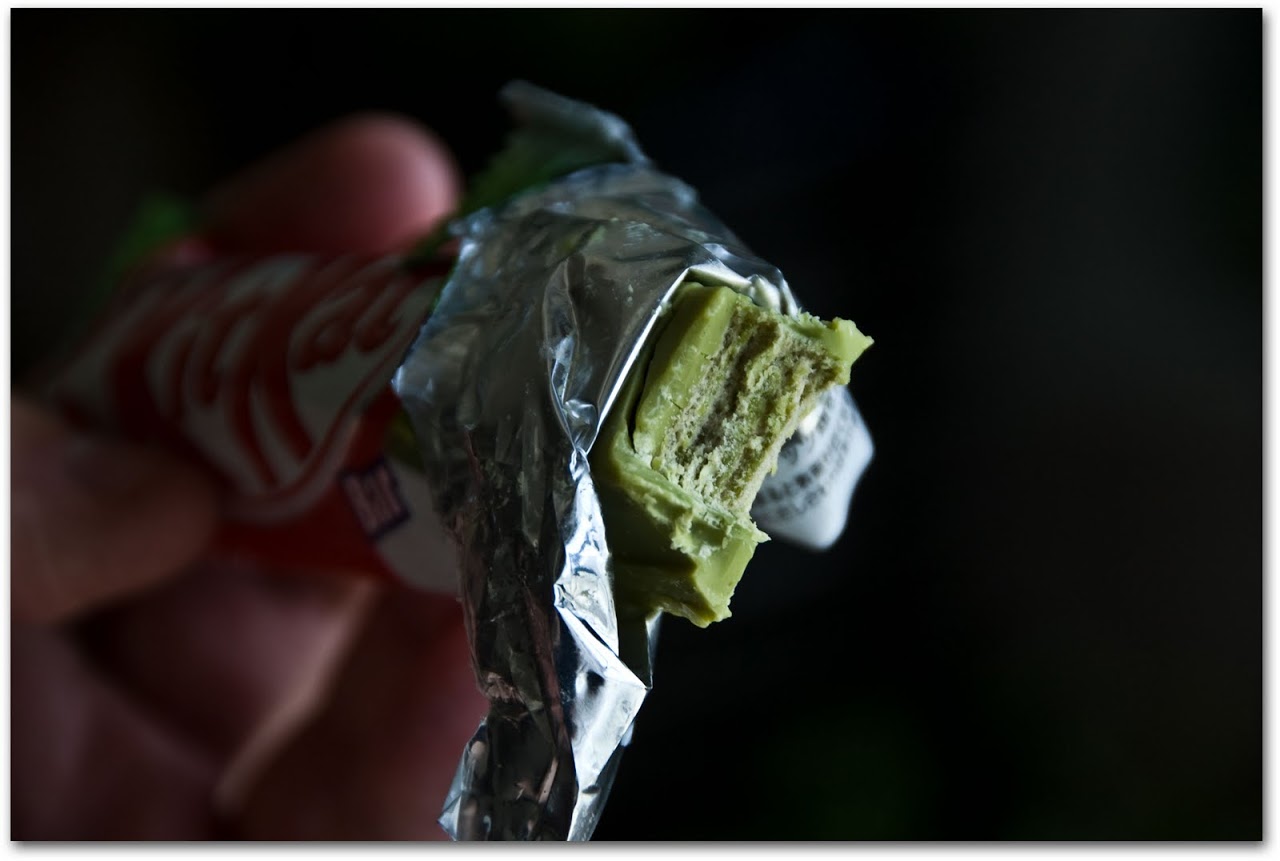 Green tea Kit Kat
Green tea everything :  The Japanese love green tea and it is used in just about every type of dessert.  We found green tea Oreos, green tea crackers, green tea ice cream, green tea mochi, and green tea Kit Kats.  Like all things, some of it was good (the Kit Kats and mochi) and some not so good (the Oreos and ice cream).