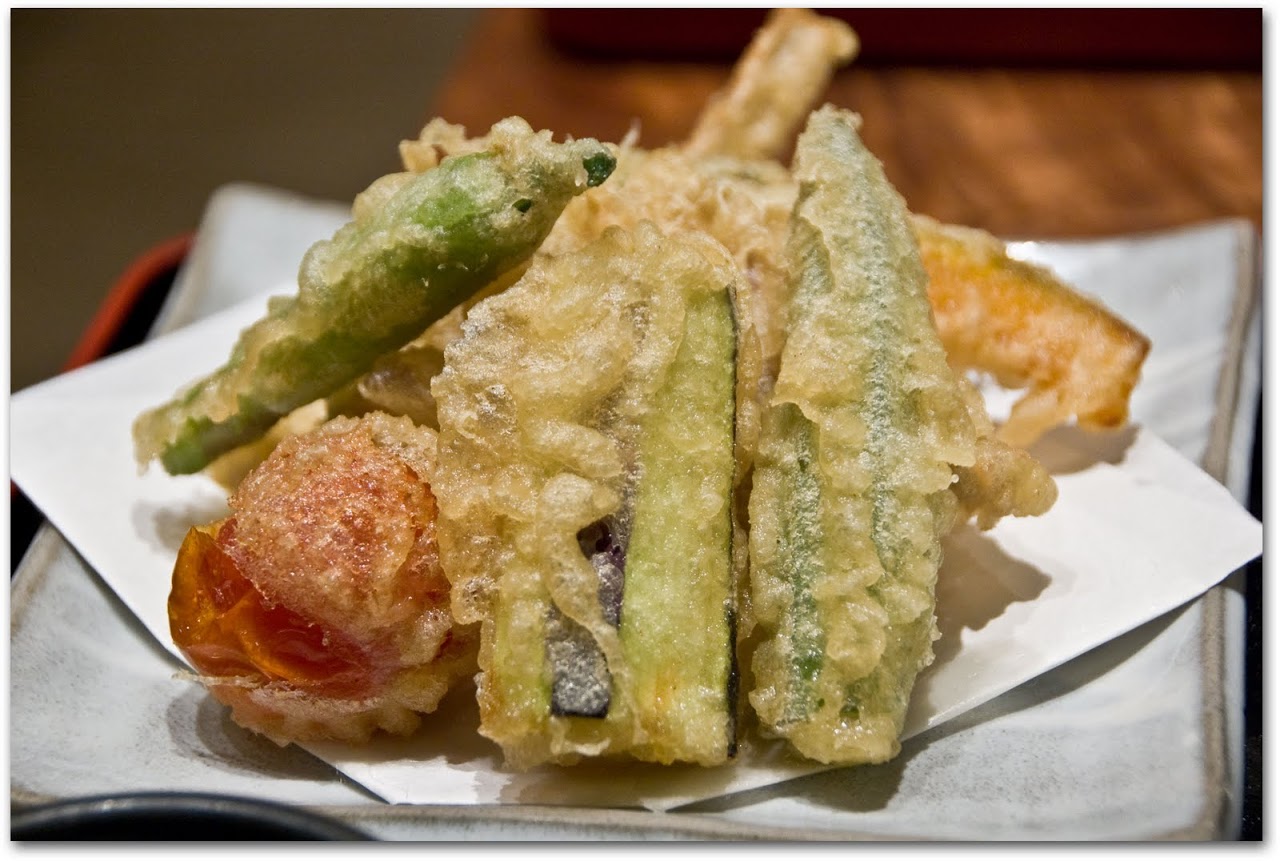 Tempura
With the abundance of cheap eats in Japan , it is easy to avoid more expensive restaurants.  But, we did not fully appreciate the depth and beauty of Japanese cuisine until we splurged a little.
Tempura: At a tempura restaurant, the chef will carefully prepare a thin batter, quickly dip the vegetables or meats into the batter, and then drop it into boiling canola oil.  The resulting dish is flaky, light, and not greasy.  Tempura is typically served with rice (tempura donburi) or with soba (tempura soba).  We have been served tempura with soy sauce and just with salt and chile pepper.  If possible, find a tempura restaurant where the chef makes the tempura in front of you.  We were amazed by their fast hands and meticulous focus on frying the food.  Meals range from 1500 to 2000 Yen per person (about $16 to $22 USD).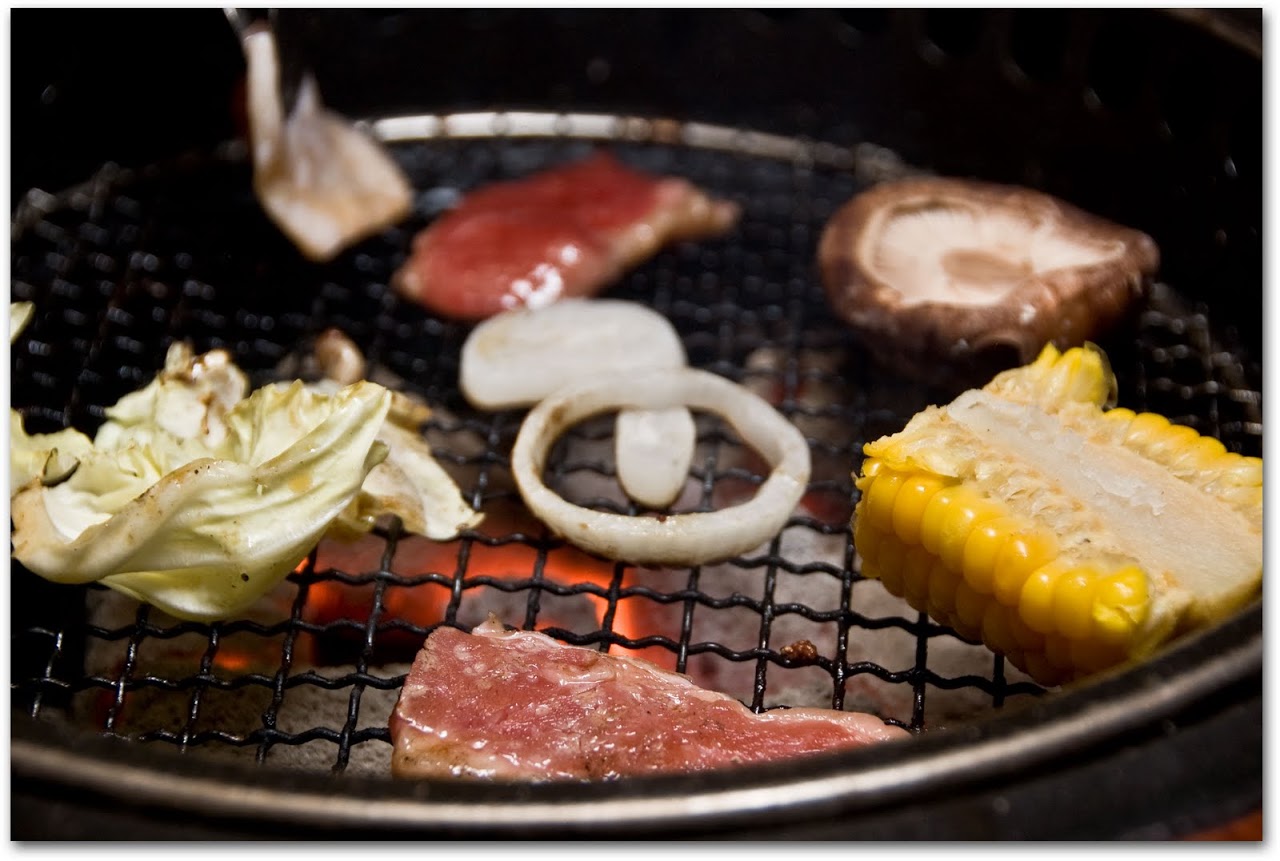 Yakiniku
Yakitori/yakiniku: Yakitori is vegetables and meat grilled in skewers over a charcoal fire.  Yakiniku, on the other hand, is meat cut into small pieces and grilled over a charcoal fire.  There are many types of yakitori and yakiniku restaurants --- from tiny cheap nooks where a cook hunches over a small grill to expensive, sit down places where diners sip sake and wine.  Many restaurants also serve do-it-yourself yakiniku where the diner lays meat and vegetables on the grill.  Yakitori skewers are often served in izakayas, pubs that serve beer and small plates of food for cheap.  Most yakitori skewers are around 300 Yen (about $3 USD) so a meal runs about 1500 to 2100 Yen (about $16 to $23 USD).  A yakiniku meal costs about the same.
Tofu: You don't need to hear me go on and on about tofu again, so let me just say, "Go. Find yourself some fantastic tofu in this country."   Meals range from 2000 to 4000 Yen per person (about $22 to $44 USD).
Shabu shabu (and, sorry, for these unappetizing photos - we didn't have our flash with us)
Shabu shabu/sukiyaki: As shabu shabu literally means "swish swish," it should come as no surprise that at a shabu shabu restaurant, we dip vegetables and thin slices of beef into a broth.  Sukiyaki, or vegetables and beef grilled on a teppan, is often served at shabu shabu restaurants, as well.  Many shabu shabu/sukiyaki restaurants provide an "all you can eat option," for around 3000 to 6000 Yen (about $33 to 65 USD) each, depending on the type of beef that you request.  Patrick was sorely tempted by the All You Can Eat Wagyu Beef option but chose a less expensive meat and was satisfied.
* This is a good time to mention that Japanese "steakhouses," as we Americans consider steakhouses, are not common here.  Beef is usually cut into thin slices and grilled on a teppan or used in shabu shabu.  At some of the finer French establishments and Japanese restaurants focused on foreign clientele, the restaurant will prepare a thick cut beef steak, but these are few and far between.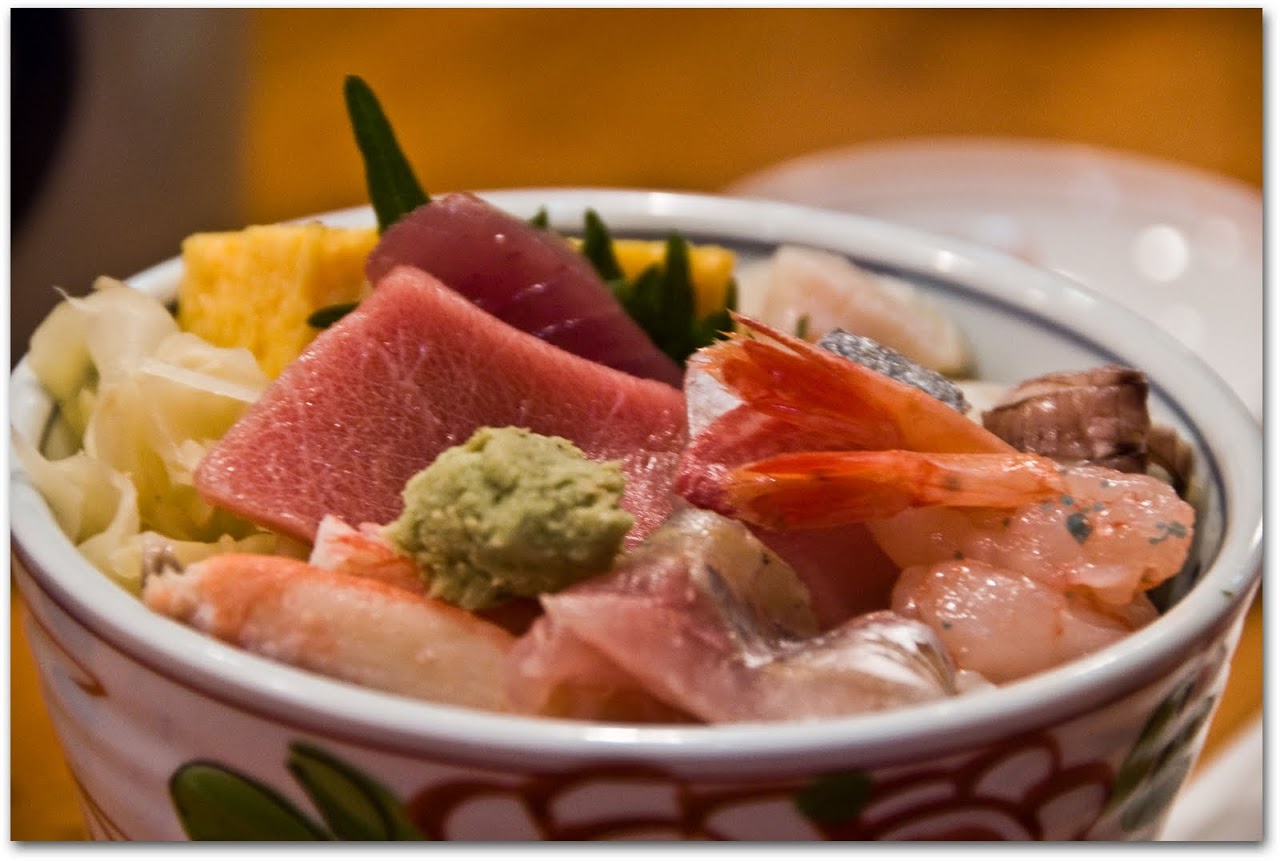 Sashimi bowl
Sushi/sashimi: Sushi in Japan is an art.  Sushi chefs find the freshest fish, slice them thinly, and then wrap and present them beautifully, creating a rainbow of colors on a plate.  It is possible to get cheap sushi at kaiten-sushi where the sushi is served on conveyor belts (around 100 Yen for one piece of sushi) but these typically tend to be poorer quality and the fish may not have as rich of a flavor.  The best sushi Patrick had in Japan --- and his favorite meal in Japan --- was at Tsujiki Fish Market in Tokyo because the fish were literally pulled out of the ocean that morning.  A meal at Tsujiki Fish Market was 3500 Yen (about $39 USD.)
* Some tips on eating sushi: Wasabi is traditionally included in rolled sushi.  Wasabi is usually placed on top of the sushi/sashimi rather than in soy sauce.  It is considered rude to place the rice in sashimi into the soy sauce because you are supposed to dip the fish side of the sashimi into the soy sauce.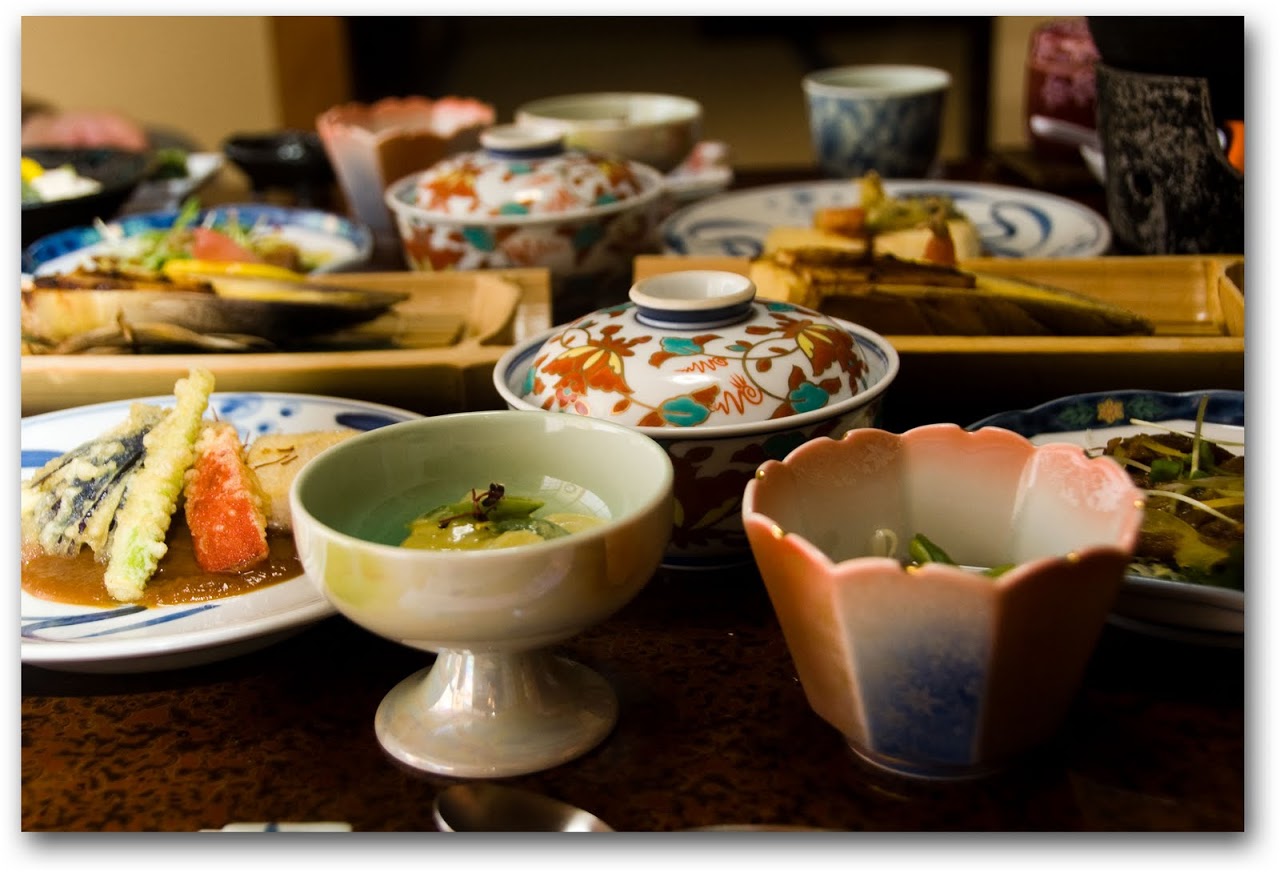 Kaiseki meal
Kaiseki :  Kaiseki is the ultimate Japanese dining experience.  Both preparation and presentation are set to a fastidious standard and a dozen or more dishes are presented.  The use of dishes and placement of dishes in the meal is set to a specific order to balance the taste and texture of the food.  Kaiseki dinners are served at ryokan, traditional Japanese inns with onsen (mineral springs baths), and upscale (often invitation-only) restaurants at which geisha may be present.   We had our kaiseki meal during our stay in the Nagano prefecture at Kamesei Ryokan , a beautiful, traditional inn.
Some of the parts of our kaiseki meal; a very full Patrick after dinner
We began with spring onions sautï¿œed and creamed in a spicy wasabi miso paste and lightly fried tempura vegetables and creamy tofu.  Typially, the hot pot will contain meat dumplings but our dish contained a wheat gluten based dumpling with mountain vegetables.  The salad course typically contains beef or pork but the chef substituted a chewy barbequed tempeh for the top of the salad.  A beautiful custard with yuba (tofu skin), tofu, and a savory berry sauce blurred the lines of tart and savory.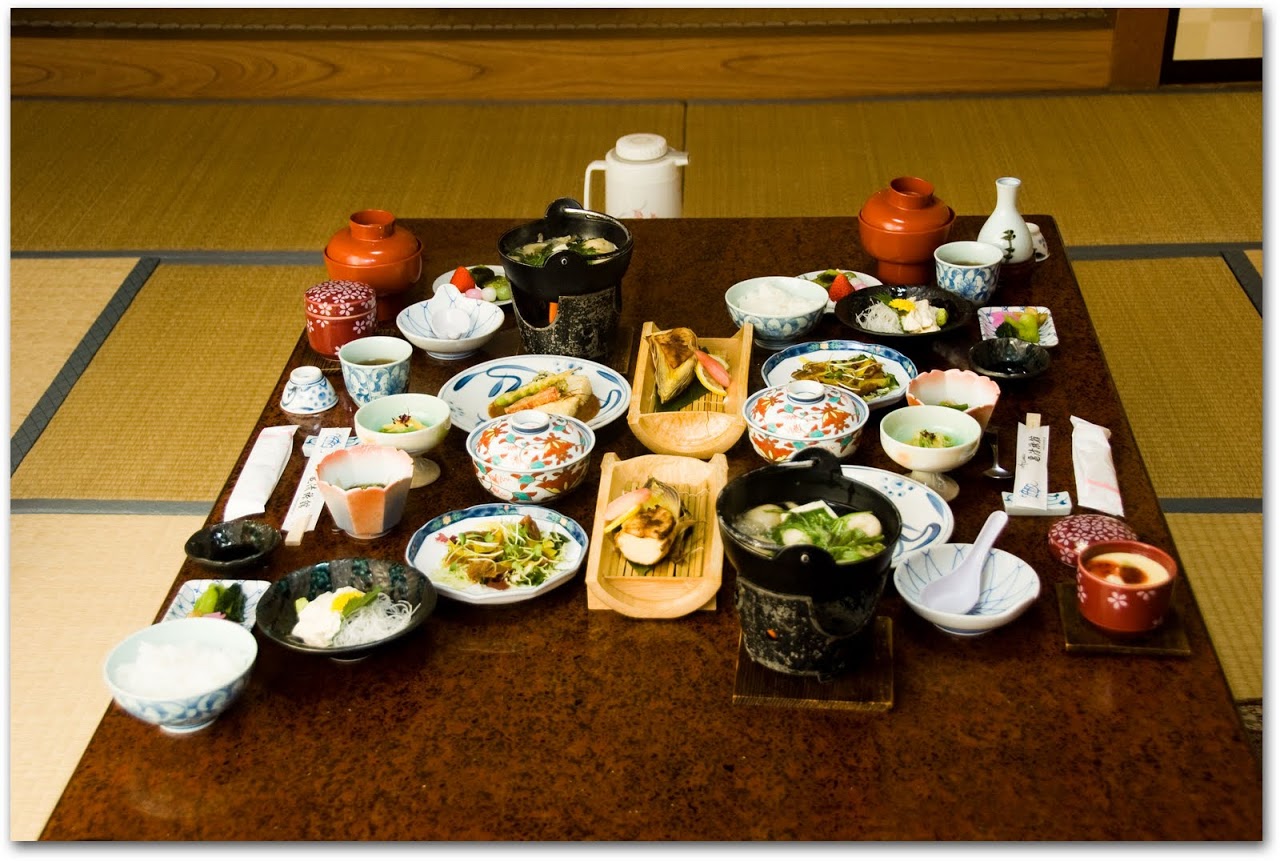 Everything in the kaiseki meal
My favorite dish was an creamy yuba (tofu skin) with soy sauce and Patrick's favorite was a whole bamboo shoot grilled and steamed with miso paste, which tasted like a firm but tender artichoke heart.  We were surprised by a daikon radish, steamed and then stuffed with goat cheese, which was complemented by a selection of vinegared nori, rapeseed tsukemono (pickled vegetable), and a glass noodle soup.  We barely made it to dessert, a delicious warabimochi, made from bracken starch.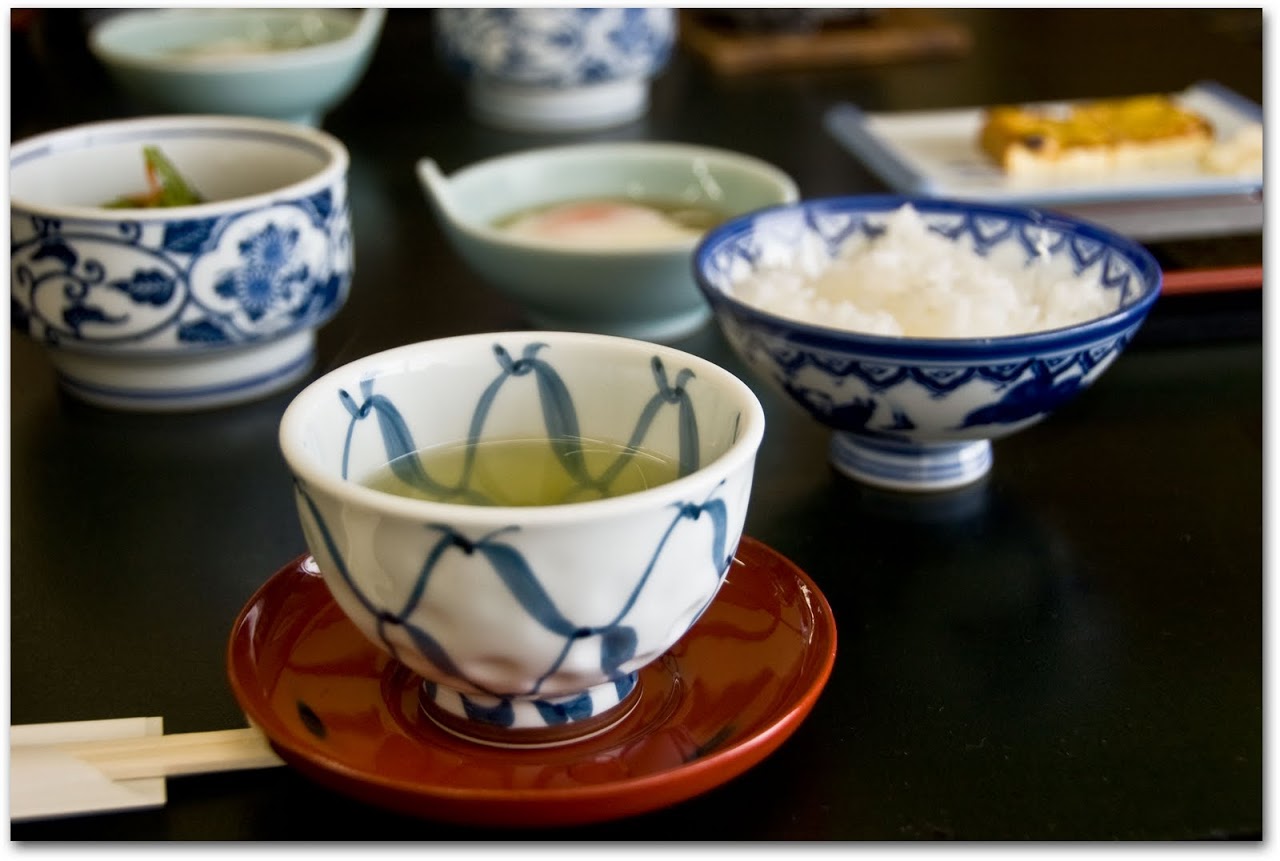 The next morning, though we had gorged the night before, we woke up to a traditional Japanese breakfast.  For breakfast, we had an umeboshi, a super-vinegared sour plum that made our mouths pucker.  We ate nameko mushrooms on grated daikon radish, sautï¿œed spring vegetables, fried tofu with a custard sauce, and boiled tofu and eryngi mushrooms.  Ryokans traditionally serve onsen eggs, an egg boiled in mineral springs water, which cooks the white but not the yolk.  We mixed the egg with the rice and then used sheets of nori to scoop the rice and egg into our mouth, which tasted something like sushi but without the rice.  We finished with miso soup and matcha, green tea.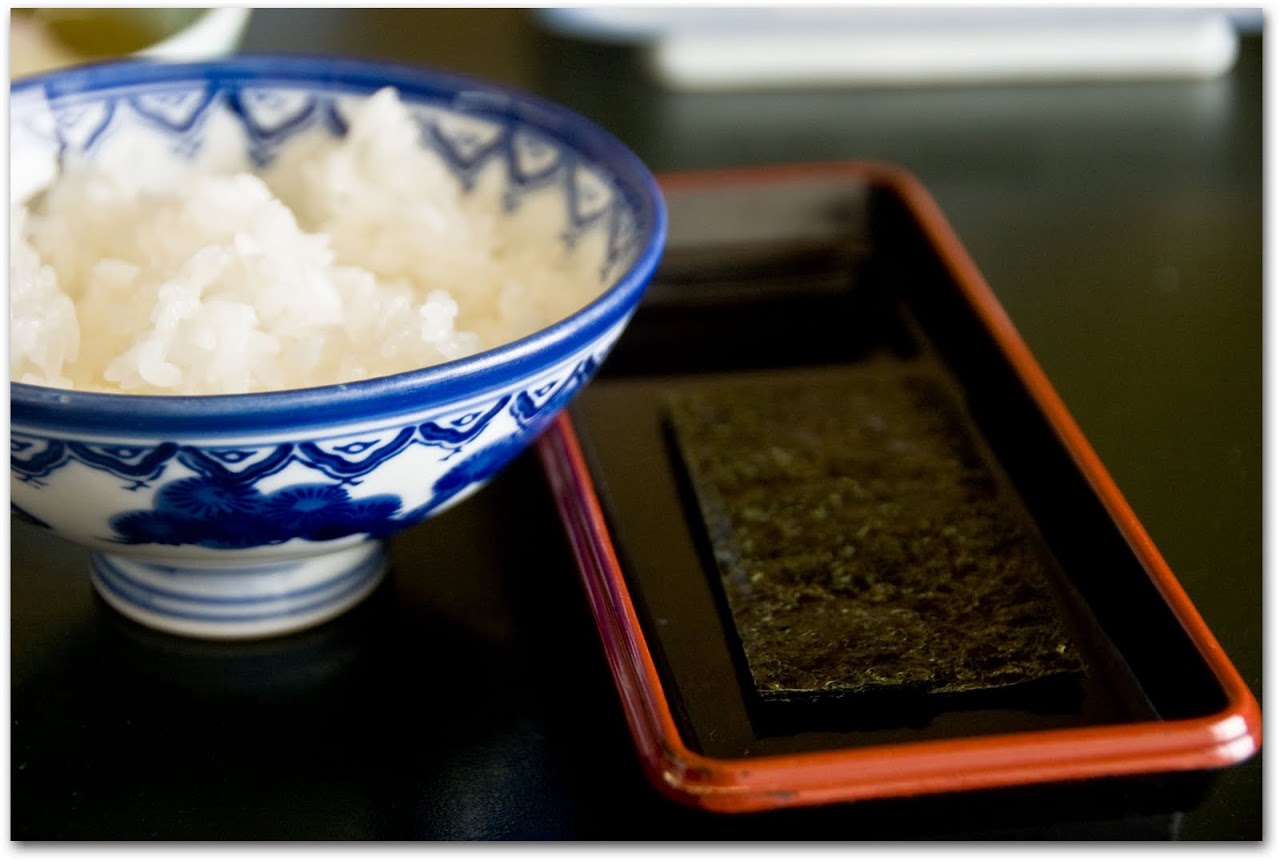 Unsurprisingly, the ultimate Japanese meal is pricey and ours cost 5000 Yen ($56 USD) per person for both the kaiseki dinner and breakfast.  We actually thought Kamesei's prices were reasonable in comparison to many other ryokans we investigated which charged more like 8000 Yen ($90 USD) per person for dinner and breakfast.  The price is worth it, though.  It was my favorite meal and Patrick's second favorite meal in Japan.  We splurge proudly.