about
We are Akila and Patrick. Our minds (and waistlines) expand as we travel, cook, and eat our way around the world with our two dogs.
Our travels inspire our cooking. Join our feast around the world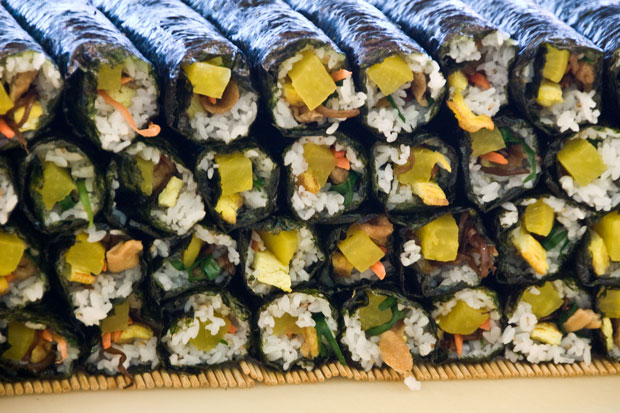 the transnational fast food theorem
The deliciousness of chain restaurants is inversely related to the distance from its home location. South Korea was our proof.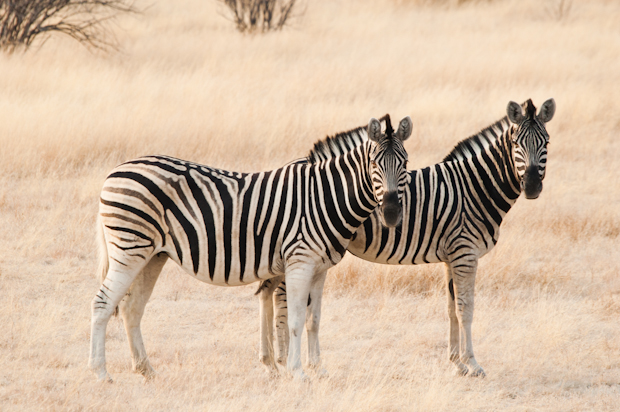 down by the watering hole
The ups and downs of finding wildlife at Etosha's watering holes.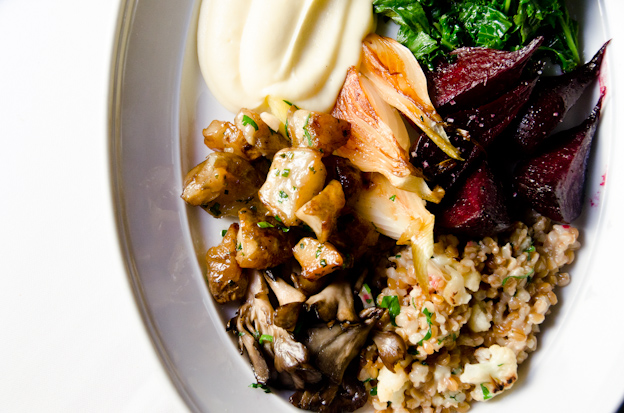 fig charleston
One of the best meals we have had in the last year.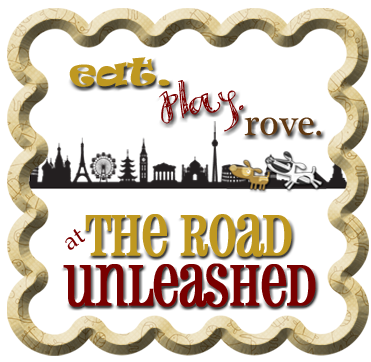 Five Random Links from our Blogroll :

Kalyn's Kitchen
Final Transit
Backpacking Matt
13 Months
Mahanandi
May 6, 2010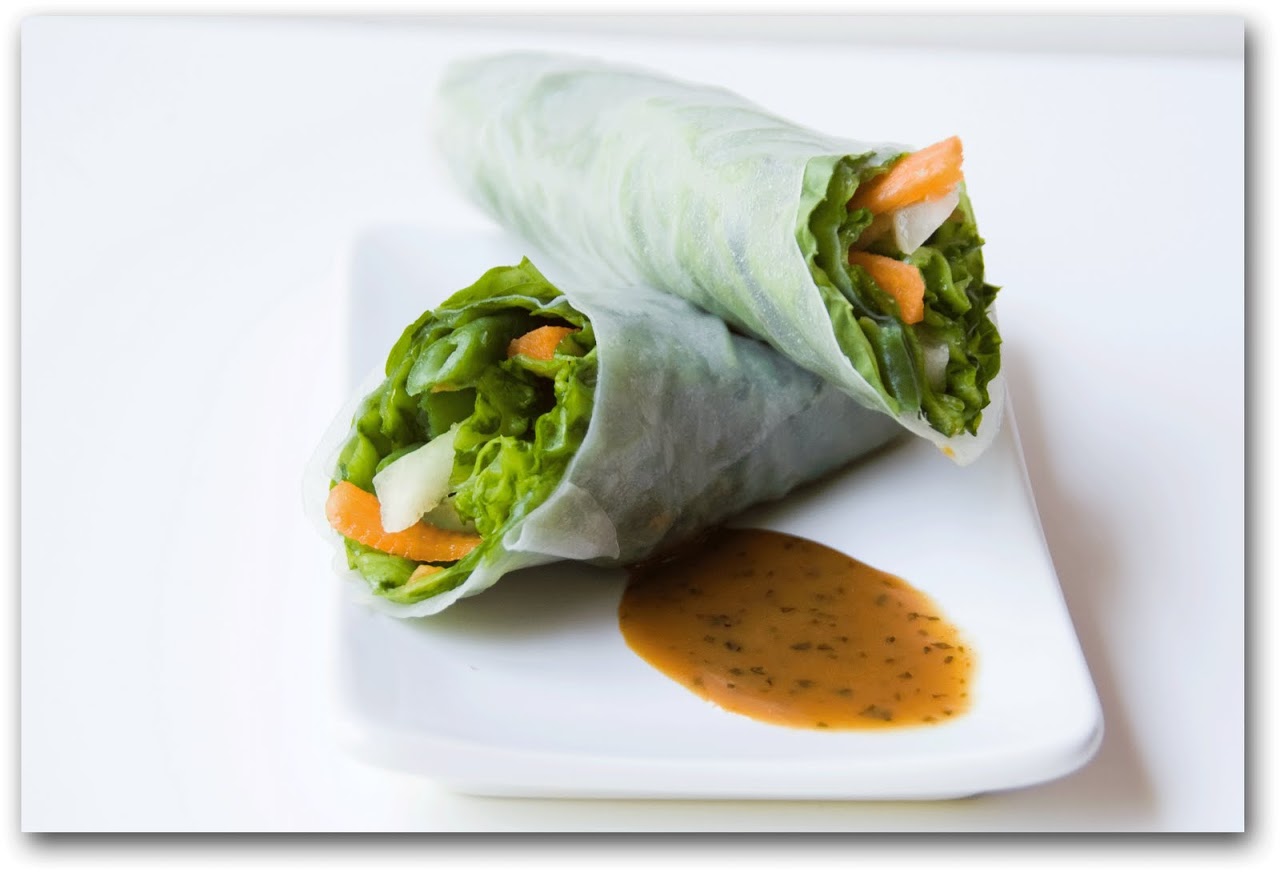 Summer rolls
These summer rolls came together in about fifteen minutes to form a satisfying, healthy, and light lunch today.  But, before I went to the grocery store and bought the rice paper wrappers and the vegetables to make them, someone on the other side of the world labored for four months so I could make this dish.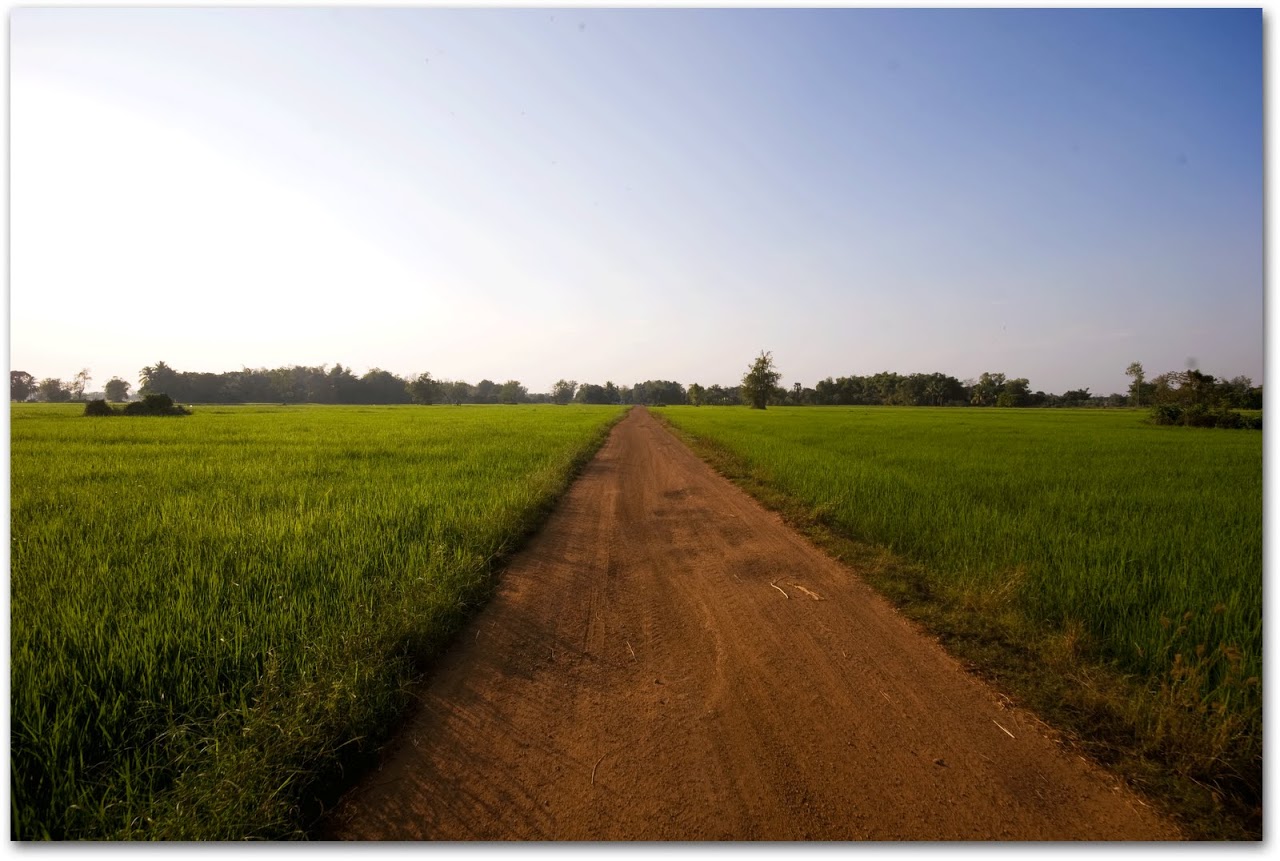 Rice plantation
The summer rolls started here --- or somewhere similar to here --- in a rice plantation in Chok Chai Thanya Kit, a village about fifteen miles from Sukhothai , Thailand, where the sapphire sky collapses into strings of ultra-green rice plants.
Close up of rice plants (the kernels are located in the feathery part)
Farmers plant rice twice a year and crops are rotated in the off-season.  It takes three months for the rice fields to reach maturity.  The stalks in the pictures above are about a month old.   The rice kernels clump together in the feathery end of the rice stalk (if you click on the picture, you can see them close up.)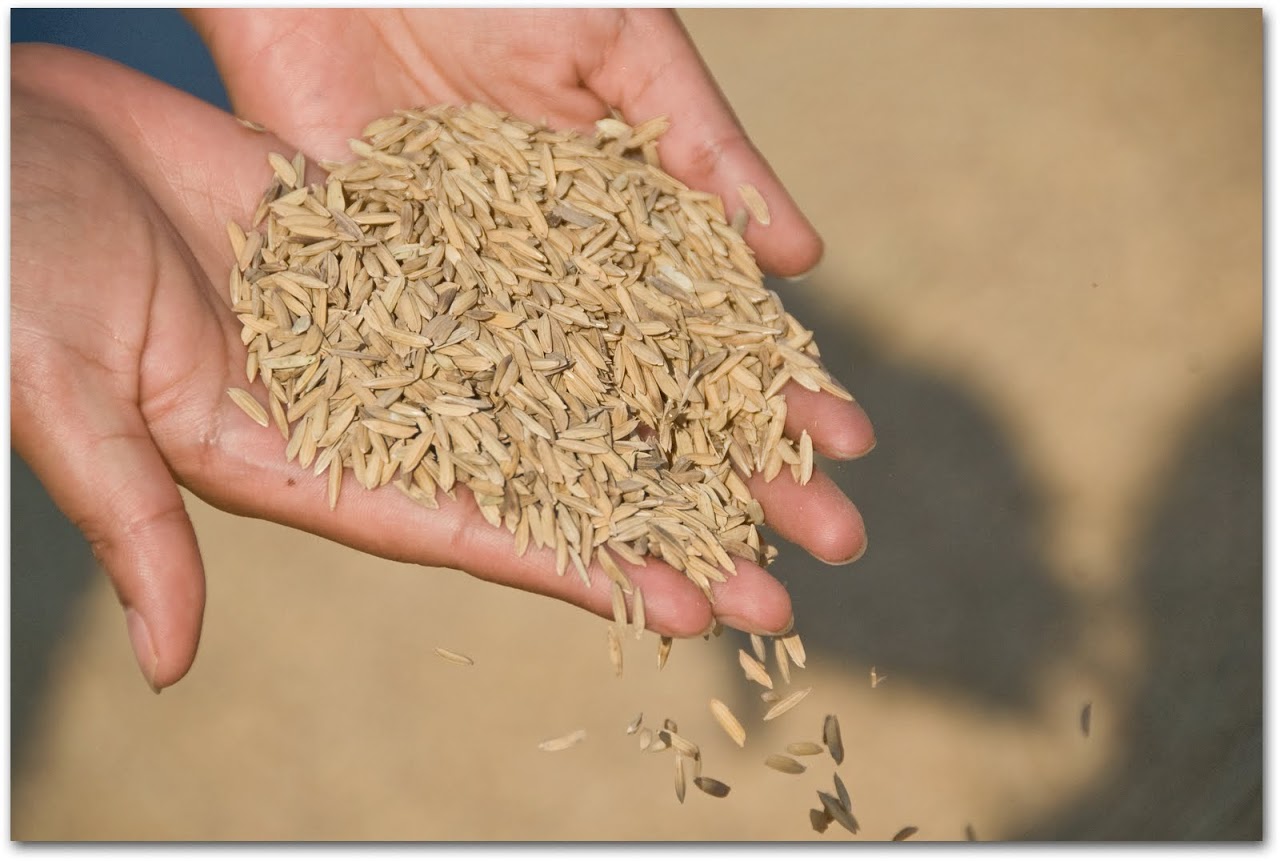 Dried rice kernels
Once the rice plants become tall and brown, farmers sell the rice to the rice mill to be dried and hulled.  The rice mill we visited is the largest in Northern Thailand with 122 employees.  Our guide at the rice mill explained that 80% of the workers are Burmese refugees and the Thai people work in the office because, according to him, "Thai people don't like to work hard."  What he didn't mention is that the Burmese work for lower wages than the Thai because most Burmese are escaping poverty and brutal conditions.
Dried rice kernels, white rice
The workers send the dried rice kernels through giant machines that shake and strip the kernels from the grain, resulting in pure white rice.  The Sukhothai region produces 6 million tons of rice each year, an astonishing 20% of the rice produced in all of Thailand.  Our guide proudly stated, "Sukhothai feeds Thailand and Sukhothai feeds the world."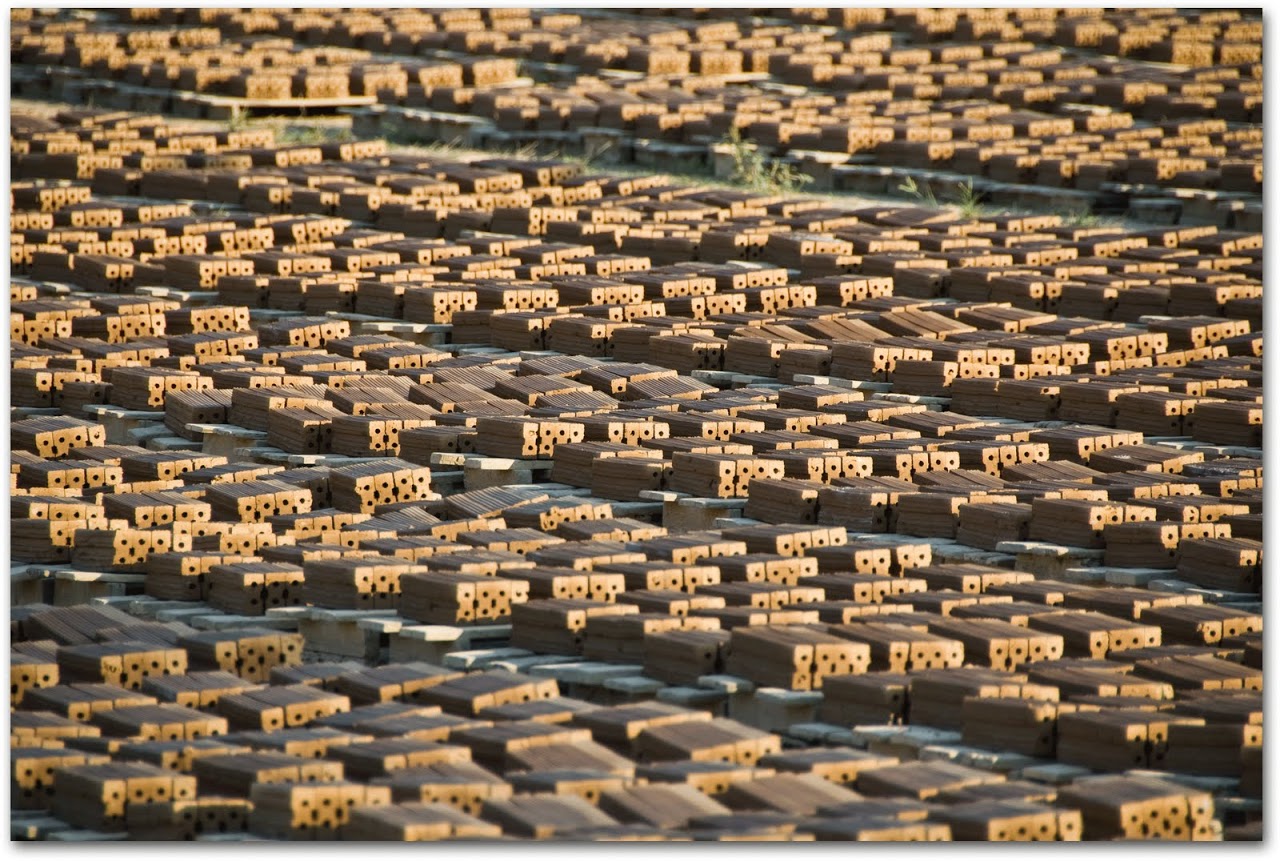 Bricks made from clay in rice fields
In a way, he is right.  Thailand is the largest exporter of rice in the world because 25% of its land is arable and used primarily for rice production.  After the devastating effects of the earthquake in Haiti, Thailand shipped 20,000 tons of rice to assist in aid efforts.
Bricks from clay in rice fields; brooms made from dry stalks
Nothing is wasted from the rice fields.  A family-owned brick company digs out the clay from the neighboring rice fields, shapes the clay, and fires the clay into hard bricks by burning the used rice hulls.  Houses are built from those red clay bricks and those houses are swept with brooms made from dried rice stalks.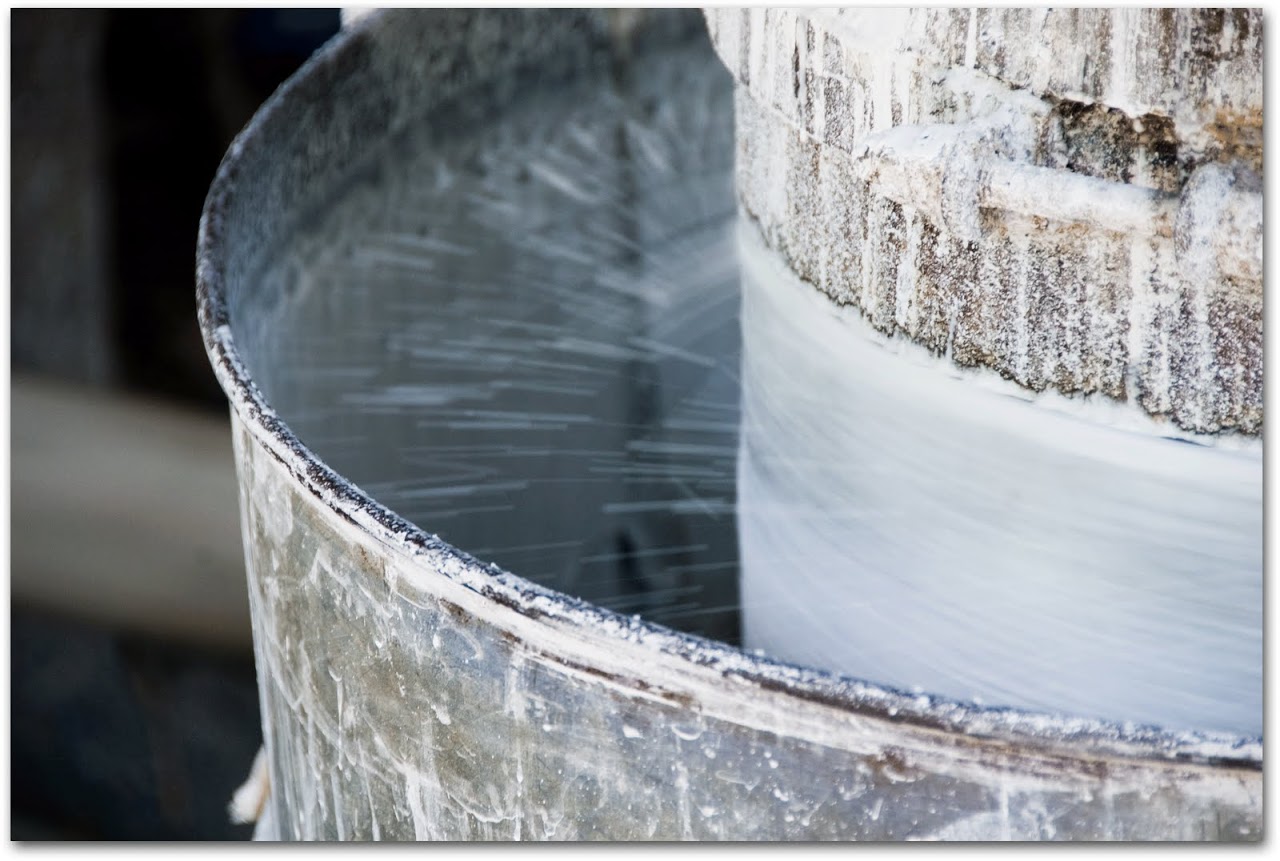 Rice paper roll liquid being ground
Eight hundred kilometers away, in a village outside Battambang, Cambodia, three women soak the rice in vats of water.  Once soaked, they grind the rice into a smooth paste using a manual-powered grinder.
Rice soaking; rice paper liquid poured; cooking rice paper; wrapper drying on bamboo rack
A woman stands at a small station and rapidly drops a circle of the rice paper liquid onto a thin skillet and flips it quickly.  Her daughter removes the cooked rice paper wrapper from the skillet using a thick piece of bamboo and rolls the rice paper wrapper neatly onto a bamboo rack.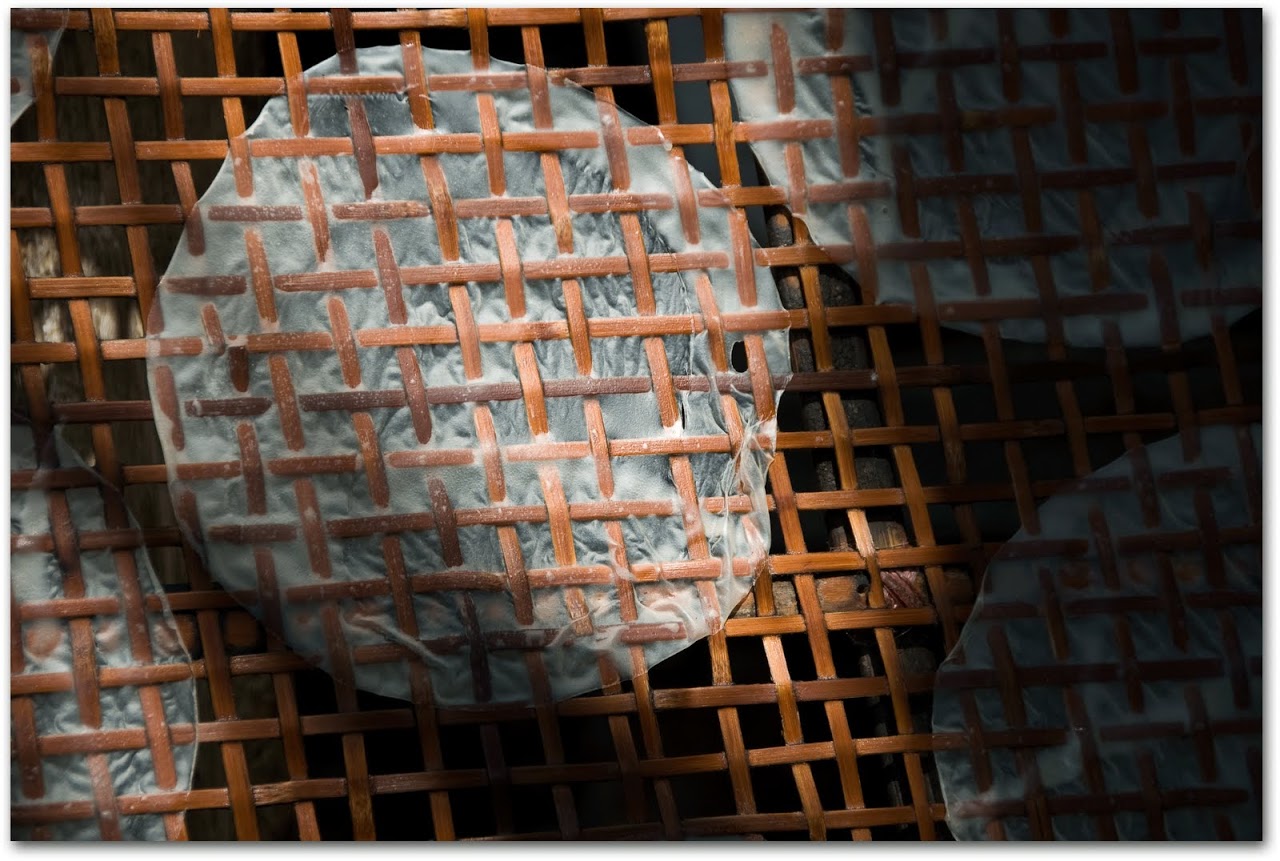 Rice paper wrapper drying on bamboo rack
The rice paper wrappers dry on the bamboo rack for about 10 hours until they are dry enough to fall off the rack.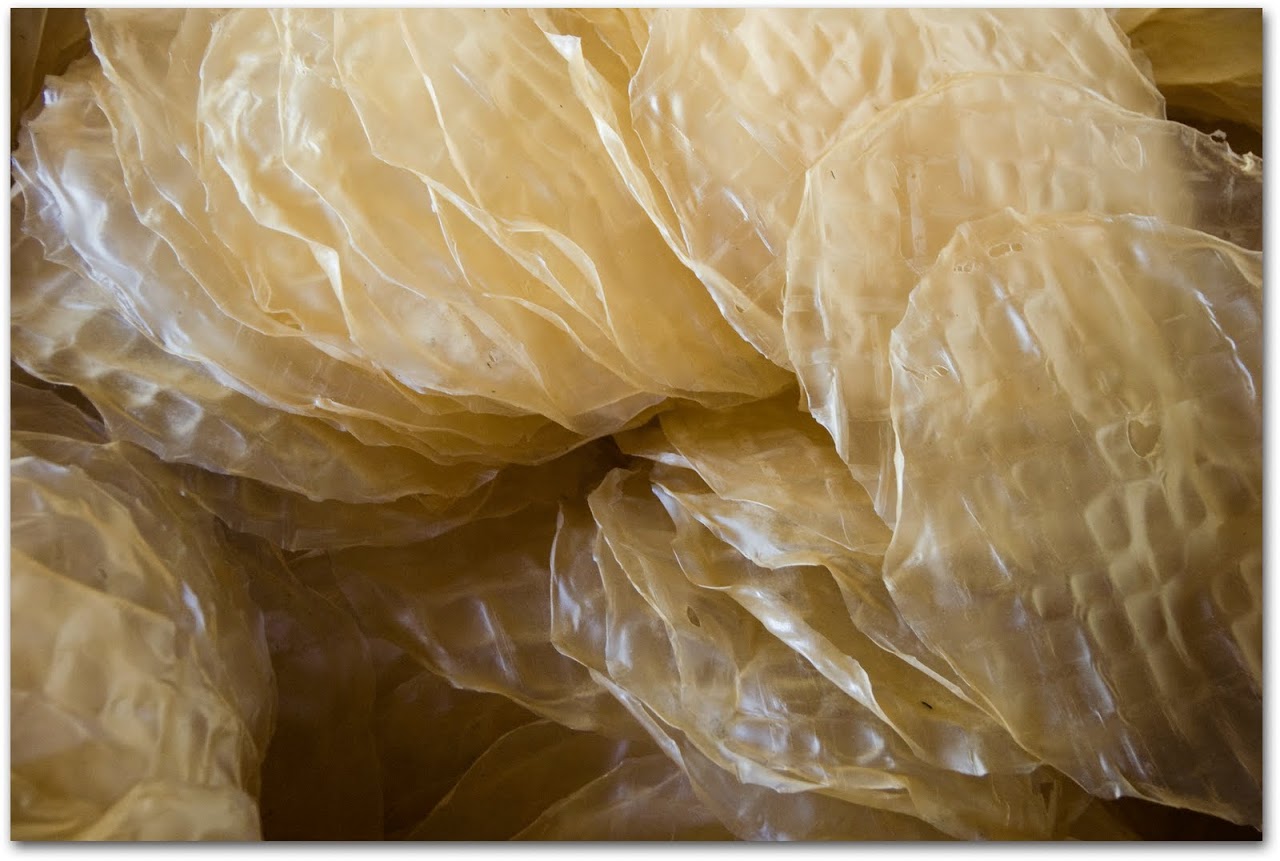 Rice paper wrappers
Three people make about 200 rice paper wrappers per day which are sold in the Battambang market for $15 USD.  That's a pretty long workday for only $5 per person.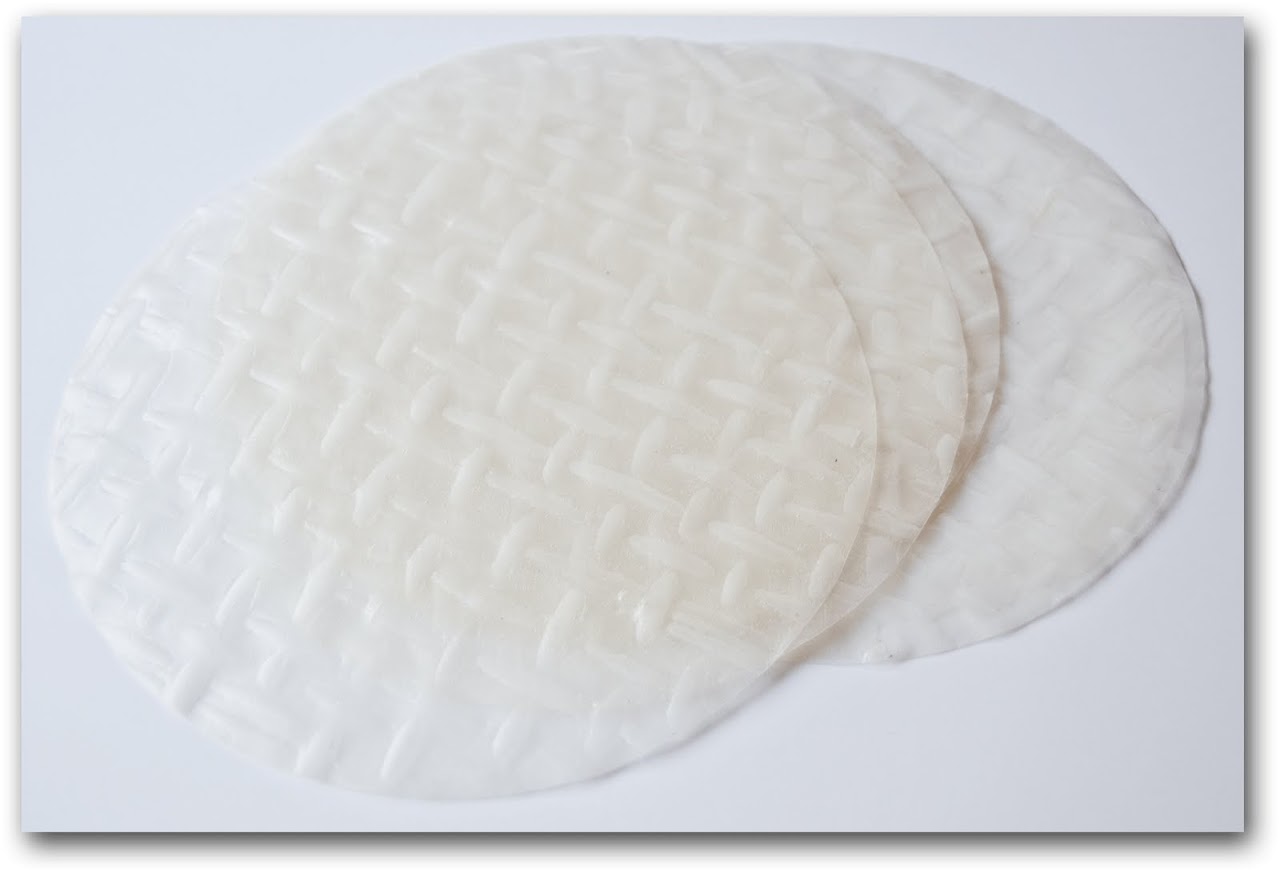 Store-bought rice paper wrappers
I bought these rice paper wrappers at my local grocery store in Atlanta (Publix, but I know that Kroger, Ingles, and others sell them): $5 USD for 20.  These were obviously made by a machine rather than by hand because they are smooth, straight, and perfectly circular.  The bamboo lines are probably imprinted onto the rice paper wrappers because they look even and symmetrical.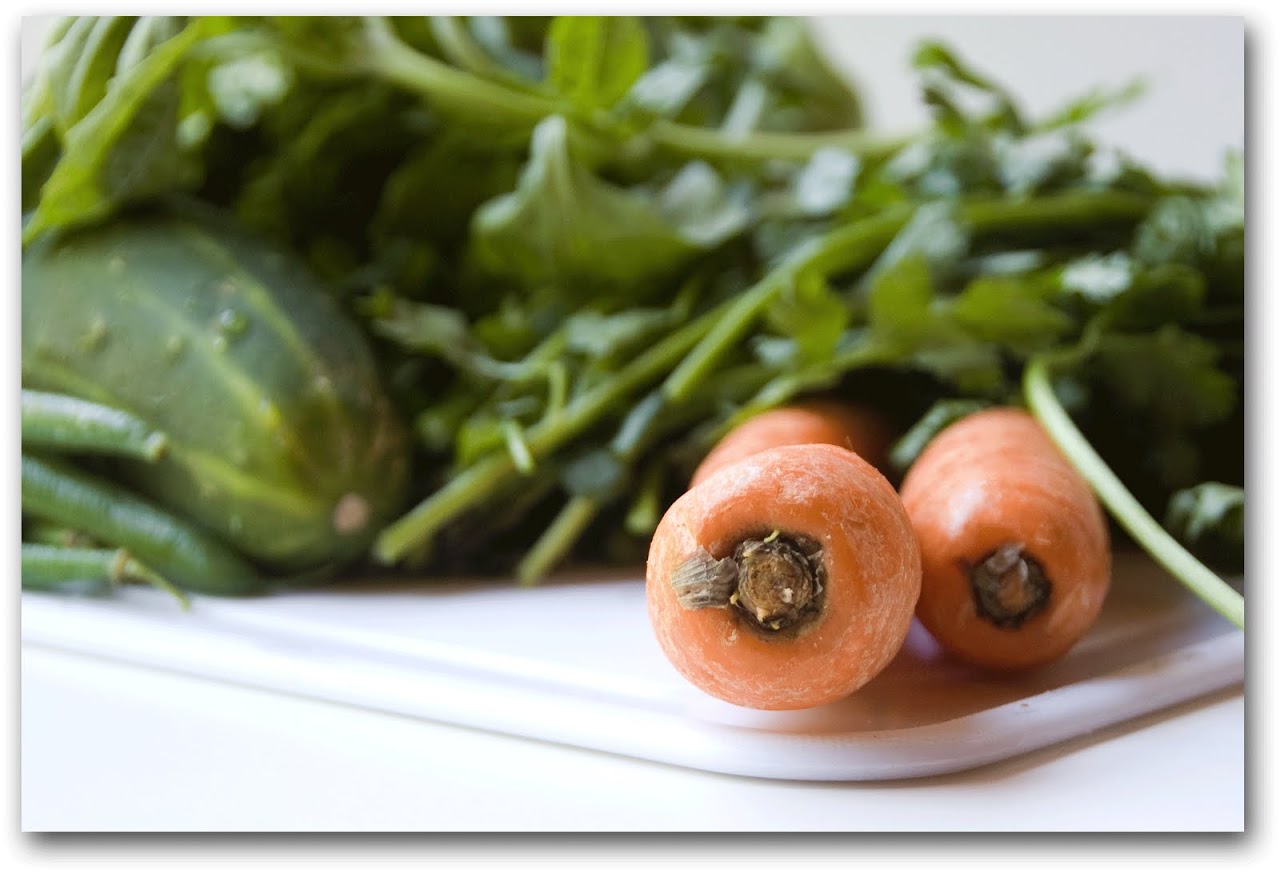 Vegetables for summer rolls
After all of these other people have done so much work, it's my turn --- not that it takes me that much effort to pull these together.
Summer rolls work station (please excuse the pan - I didn't have a large enough bowl to dip the wrappers); summer rolls being rolled up; summer rolls with dipping sauce
I wash some lettuce, basil, and cilantro, julienne some carrots and cucumber, and blanche some green beans.  Then, I dip the rice paper wrappers into some hot water (and, please note that I said dip --- if you soak the wrappers, then you will get a mushy mess), and roll the vegetables into it burrito-style.  I pull a quick slice through the middle and add some soy sauce and peanut sauce on the side and I've got lunch.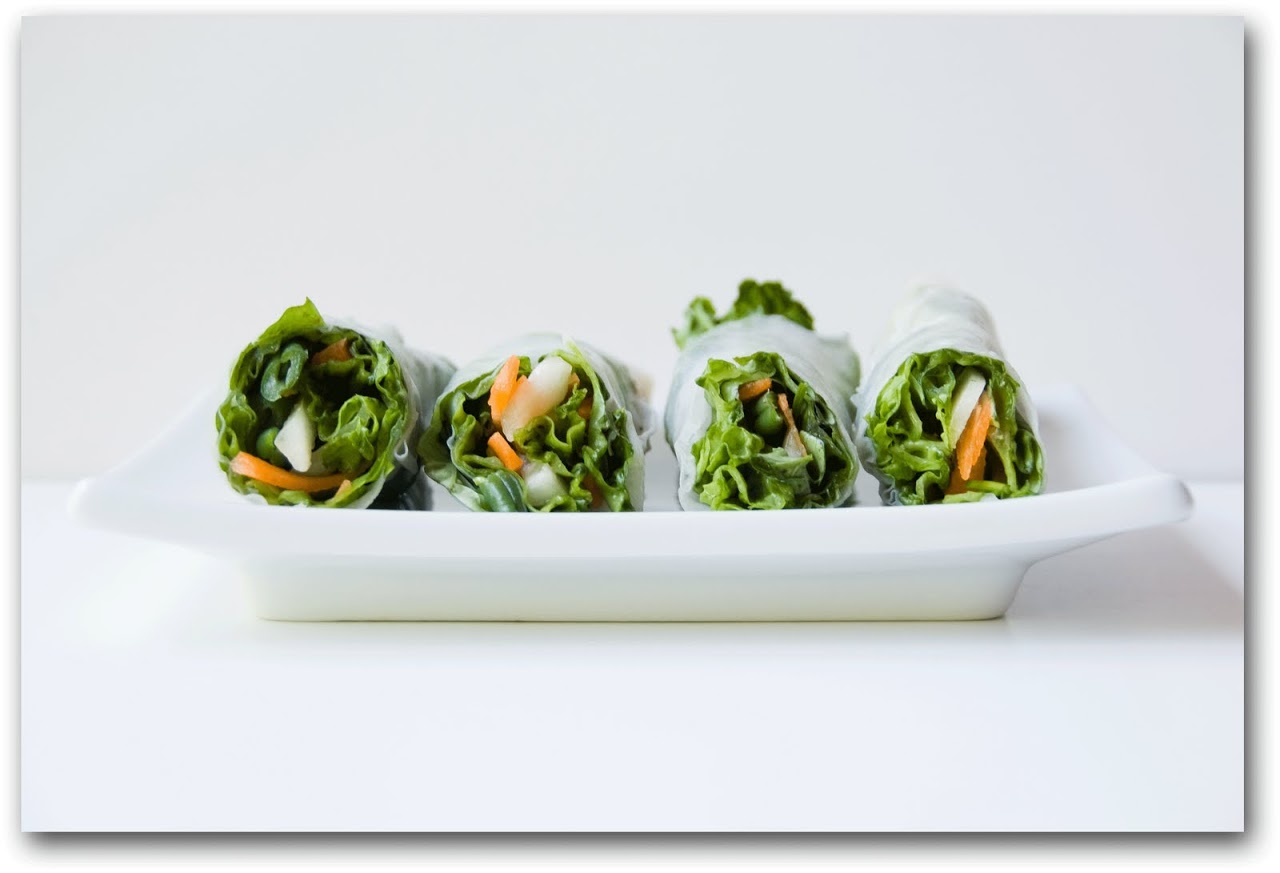 You wouldn't even guess that it took four months for these summer rolls to get from the field to my plate.
Vegetable Summer Rolls
This is less of a recipe and more of a guide because you can put many fresh vegetables, herbs, and meats into these summer rolls.  I wanted to use asparagus but they had died a slow death in the back of my refrigerator so I used green beans instead.  I didn't have scallions but they would be lovely in these.  And, if you have some tofu  or shrimp at hand, try frying it up into small pieces and tossing it in.  Traditionally, these are made with mint but I didn't have any.  In Cambodia, we snacked on summer rolls with shredded green papaya and shredded green mango.  In Vietnam, these are made with rice vermicelli.  I am yet to meet a version I don't like.
Adapted from Mark Bittman's How to Cook Everything Vegetarian
, Summer Rolls
Time: 15-20 minutes
Serves: 2 people
4 sheets rice paper, 10 or 12 inches in diameter
4 tender lettuce leaves, like Boston, washed, dried and torn
1 carrot, finely julienned or grated
1/2 cucumber, peeled and finely julienned or grated
a handful of green beans, blanched and shocked
1/4 cup fresh cilantro leaves
1/4 cup fresh basil leaves, preferably Thai

1.  Set up a work station: Lay out a damp kitchen or paper towel and a large bowl of hot water from your tap.  You need a bowl that is wide enough so your rice paper rolls will comfortably fit inside them.  (I didn't have a large enough bowl so I used a wide saute pan).  Dip a sheet of rice paper in the hot water, turning once, and take it out.  The trick here is not to let the rice paper soak in the water because it will soften as it sits on the counter.  Five seconds on each side should be enough.
2.  Remove the rice paper wrapper and lay it on the towel.
3.  On the bottom third of the rice paper, spread a 1/4 of each of the vegetables except the basil and cilantro.  Fold in the bottom edge and the bottom side and roll tightly once over.  Place the basil and cilantro into the wrapper once you fold it over and then continue wrapping like a burrito.  The rice paper will adhere to itself quickly.
4.  Serve immediately or wrap in damp paper towels and plastic wrap and serve within an hour or so, with a dipping sauce.  I went the easy route and served it with soy sauce and San-J Peanut Sauce but you could also make a peanut dipping sauce like this one .