about
We are Akila and Patrick. Our minds (and waistlines) expand as we travel, cook, and eat our way around the world with our two dogs.
Our travels inspire our cooking. Join our feast around the world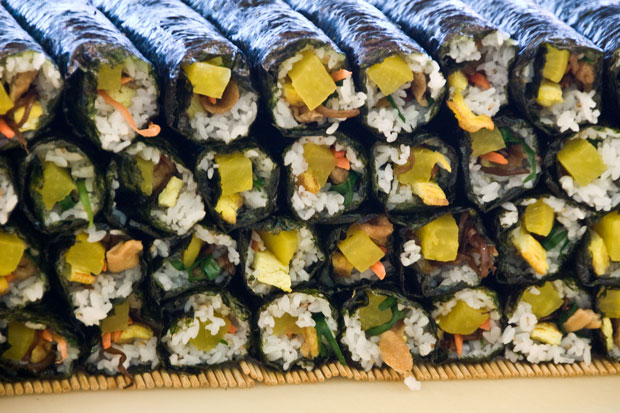 the transnational fast food theorem
The deliciousness of chain restaurants is inversely related to the distance from its home location. South Korea was our proof.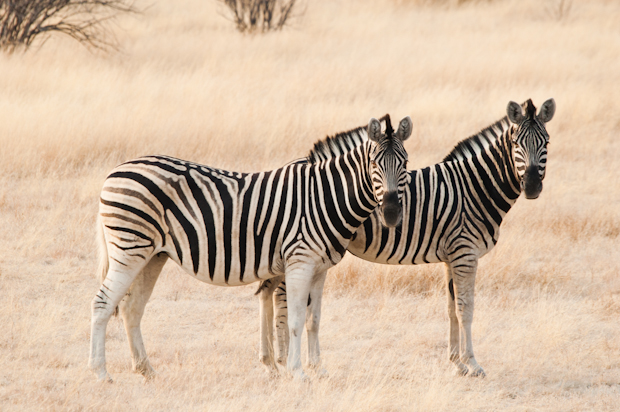 down by the watering hole
The ups and downs of finding wildlife at Etosha's watering holes.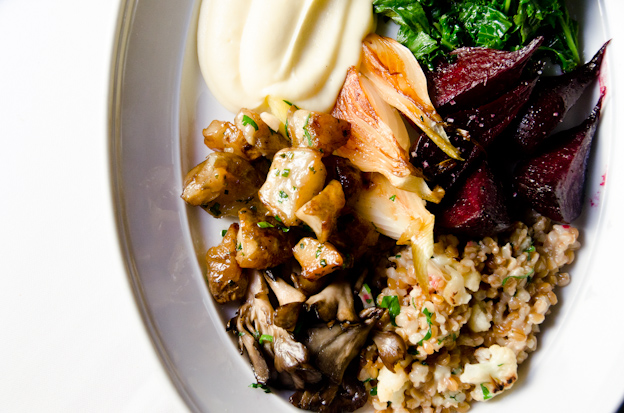 fig charleston
One of the best meals we have had in the last year.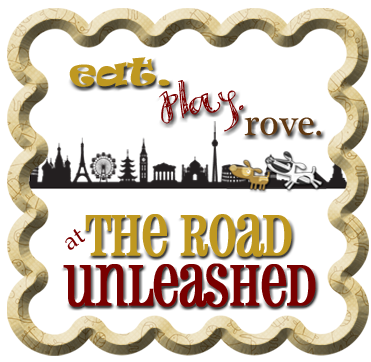 Five Random Links from our Blogroll :

Camels and Chocolate
David Lebovitz
Wired 2 The World
The Big Fat World
Simply Recipes
April 30, 2010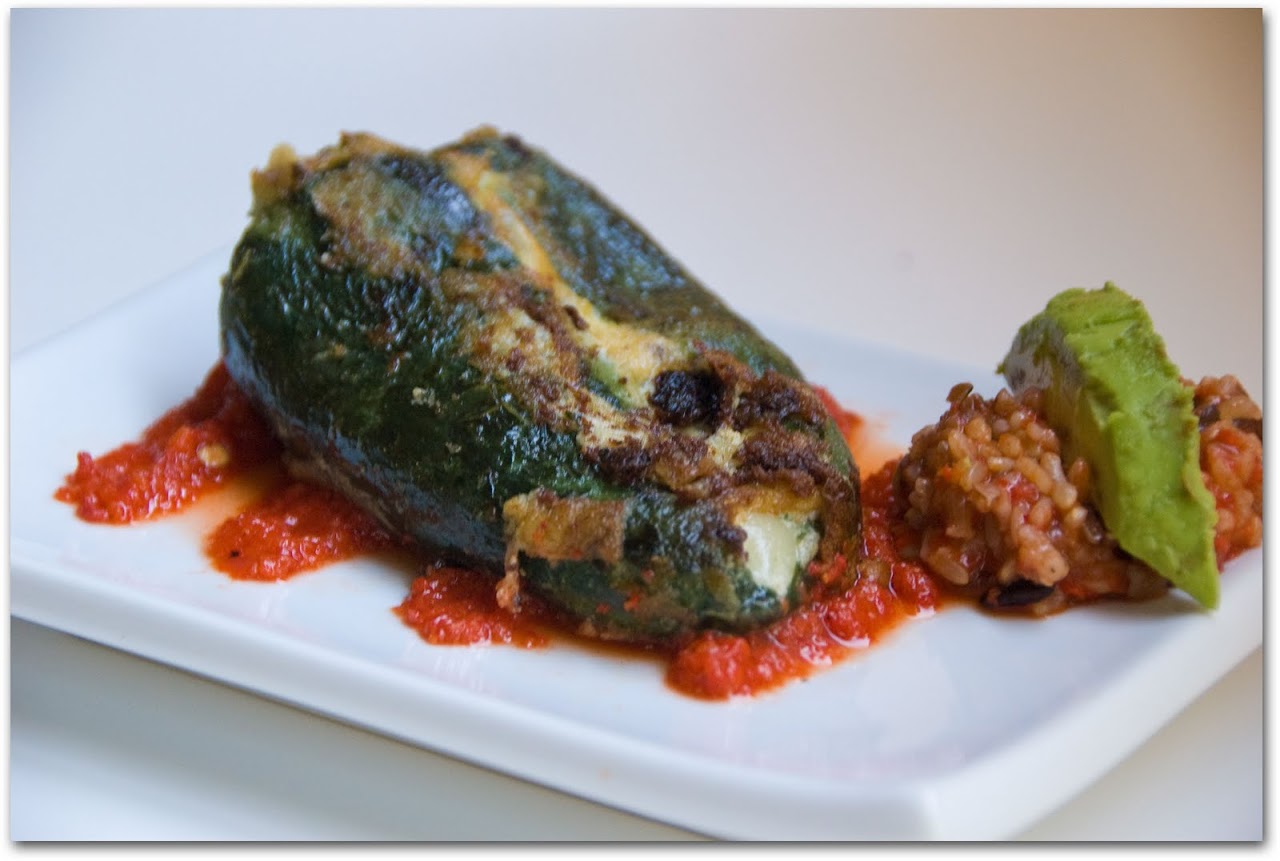 Chile rellenos
The problem with food---or perhaps the problem with life in general---is that we always crave what we don't have.  When I am in the States, I yearn for soft, melting pillows of pasta from Italian trattorias and mango with sticky rice from Thai street vendors.  Patrick and I have twenty-minute conversations about coconut water from India , Maui gold pineapple , and hot chocolate from Spain.
Raw ingredients
Of course, the opposite is true when we are elsewhere.  We met so many Americans in Southeast Asia who told us they hankered after salads with hunks of lettuce, tomatoes, and croutons.  We met others who desperately wanted a real New York style pizza or a big thick juicy hamburger.  All that was fine but what we really wanted, what we spent afternoons dreaming about, was Mexican and Tex-Mex.
November 19, 2009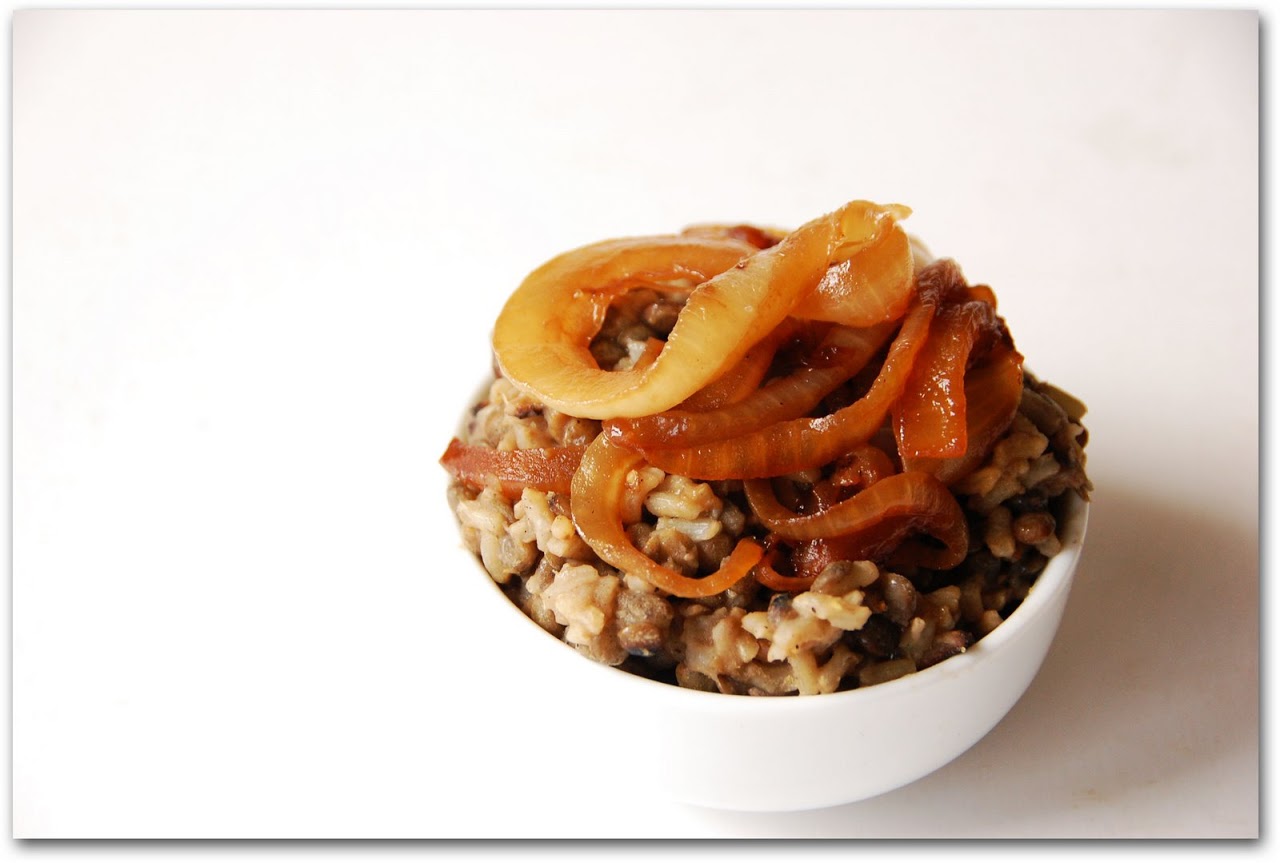 Mujadara
We fell in love with New Zealand the moment our plane crossed the Pacific Ocean and we set our eyes on what the Maoris named Aotearoa, the land of the clouds.  We had seen Lord of the Rings and heard from Kiwis and foreigners alike that we would be amazed by New Zealand, but, still, we did not expect the raw unimagined beauty of this nation.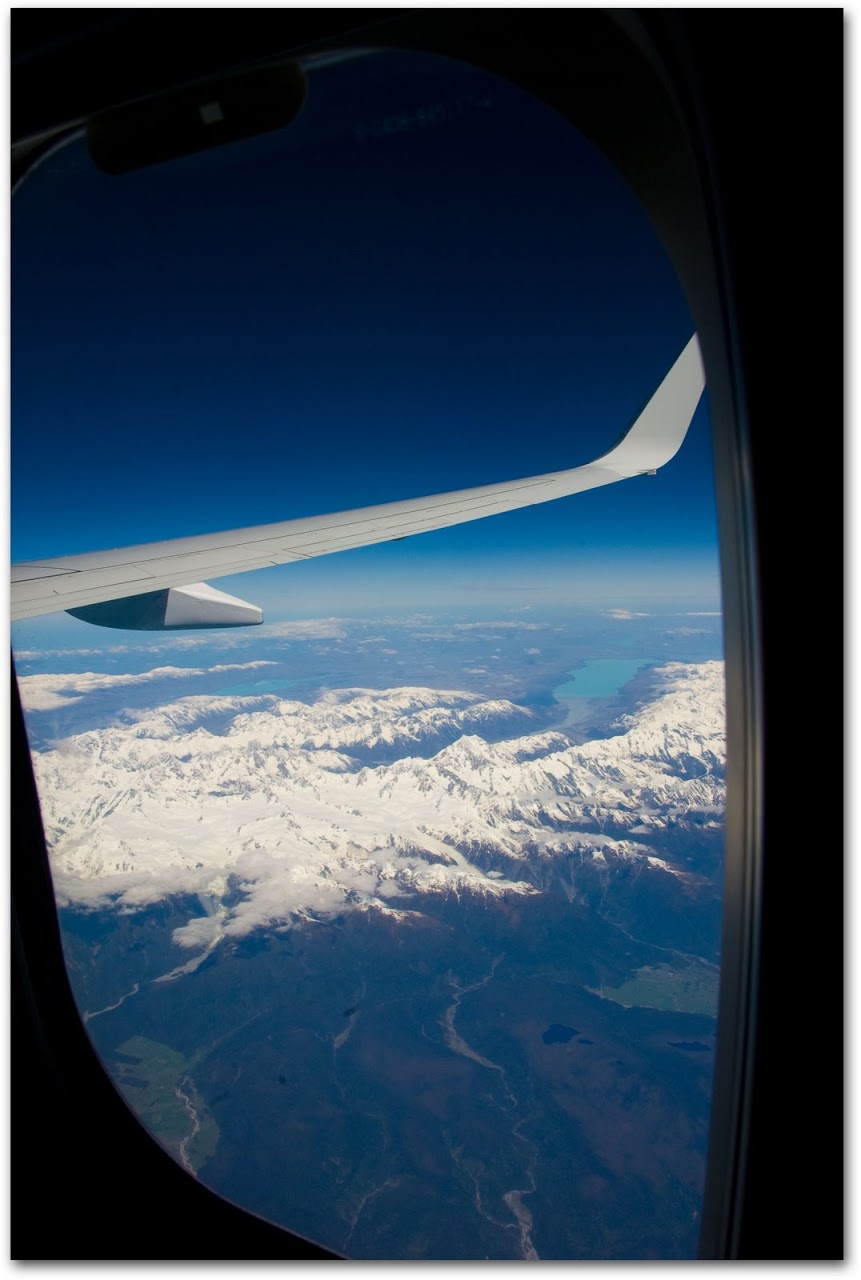 New Zealand Western Alps From the Plane
Don't worry.  This post is not going to be me rhapsodizing on and on about crystal clear waters, snow-capped mountains, and the lush green valleys.  Nor, am I going to tell you about the bizarre places that make New Zealand unique, like the granite boulders that resemble dinosaur eggs on the coast of Moeraki.
Moeraki boulders
Instead, I am going to tell you about our new digs.  If it looks small from the pictures that is because it is.  We now drive, live, cook, and eat in a 20-foot campervan, inexplicably named "Doc."  There are mornings when I wake up and my back aches from sleeping on the thin foam cushions that constitute our bed and I tell Patrick, "I hate this thing.  I don't want to sleep here anymore."  And, because I am blissfully ignorant as to the ways of manual shift, Patrick spends long, tiring days driving our "bus," as we have come to call it, through mountainous passages and rounded valleys.
| | |
| --- | --- |
| | |
| | |
Our campervan
But, then, there are days when it is all worthwhile.  On Patrick's birthday, when the brightest rainbow we had ever seen crossed above our campervan, at a site that nestled between a river and a ridge, we were happy that we chose this way of traveling through New Zealand.
We also love having a "kitchen," consisting of a miniscule fridge, a two-burner stove, and a baby sink over a cupboard that contains our pantry.  Often, we cook in the commercial-grade kitchens found in New Zealand holiday parks but, sometimes, we cook over a campfire.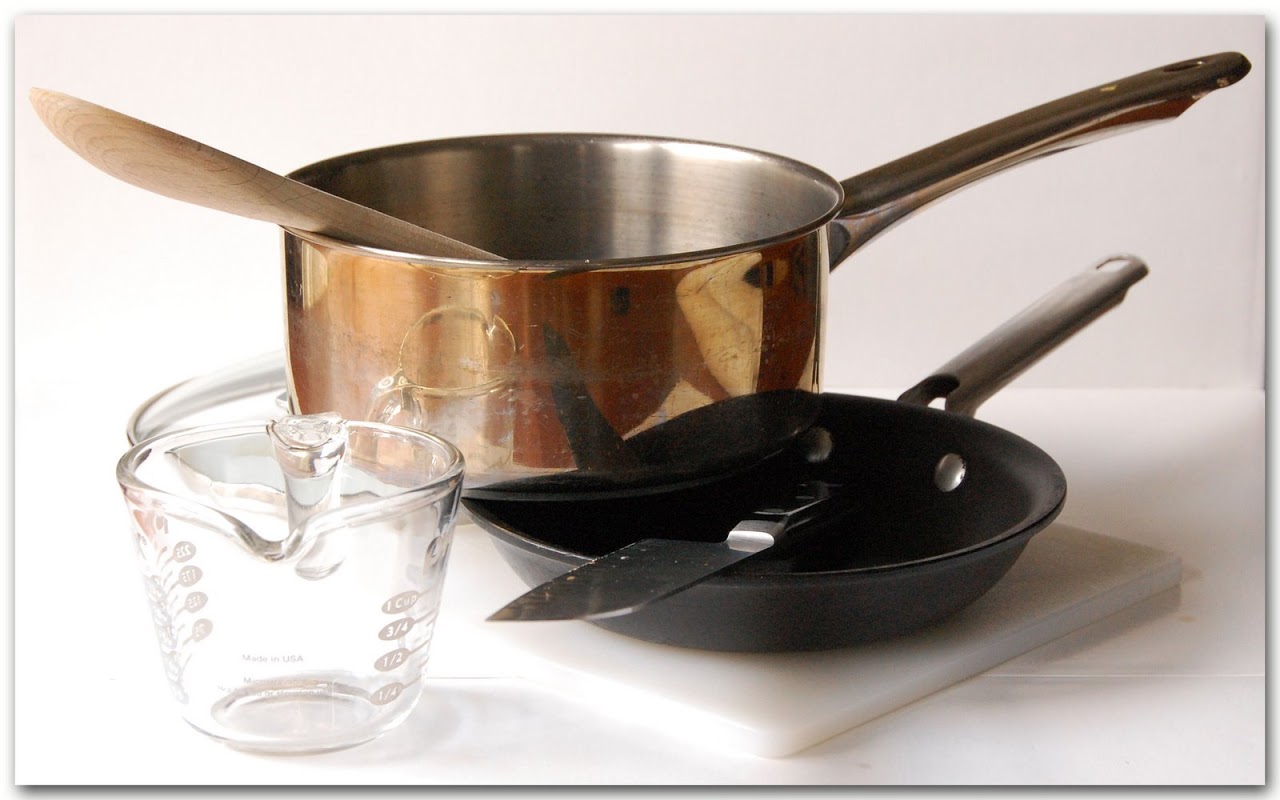 All you need for mujadara: a knife, cutting board, skillet, pot with lid, measuring cup, and spoon
This leads me to my dilemma.  I desperately want to help some of our fellow campers who don't seem to know how to cook.  The other night, we saw a woman make for dinner a plate of unseasoned boiled carrots with three boiled eggs while her husband ate a plate of plain boiled pasta with butter.  I wanted to go over and share some of our food but I thought that would be quite rude.  Instead, I will share with you our hostel/campfire/really-darn-easy recipes in the hopes that when you are stuck out in a hostel in the middle of New Zealand, you won't resort to rabbit food.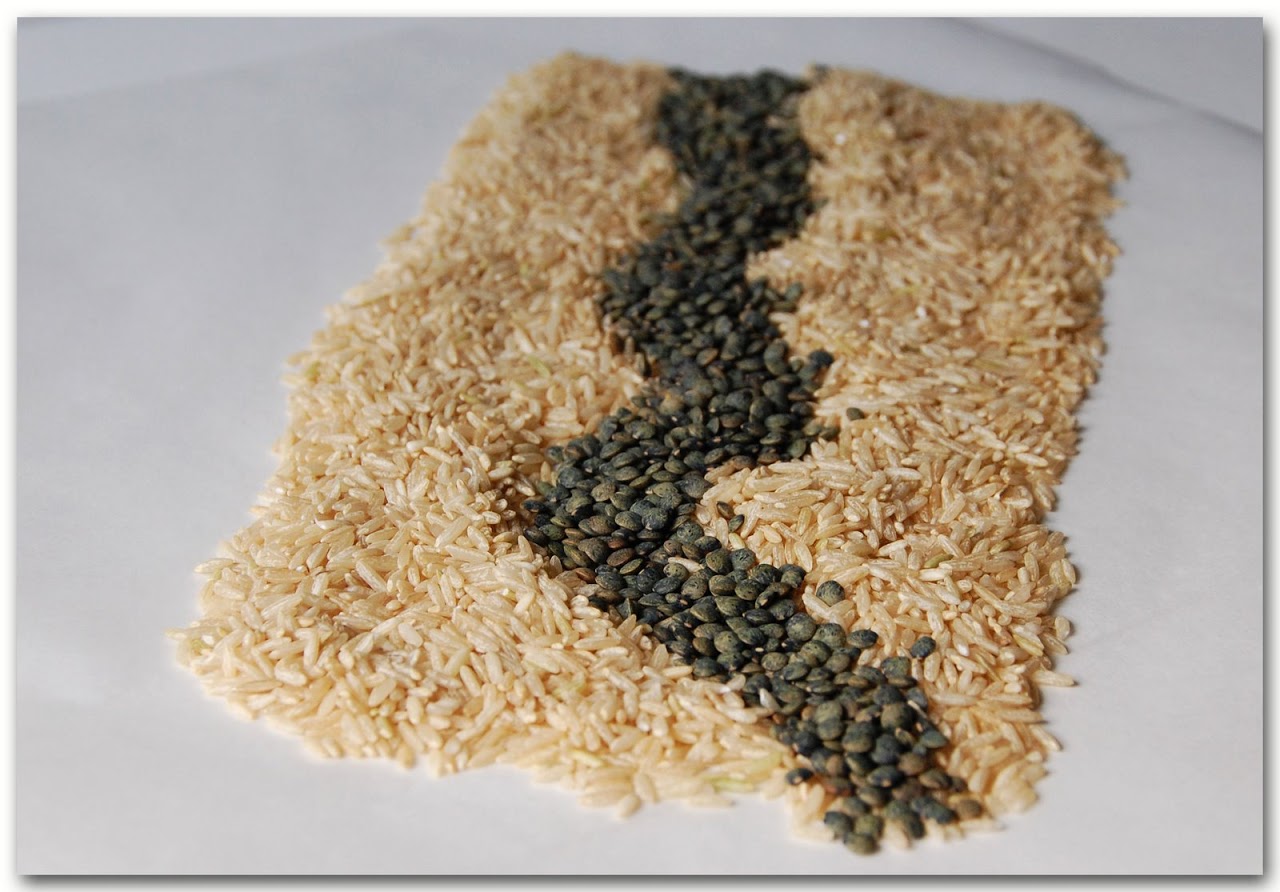 Lentils and brown rice
One of our favorite cheap and easy standbys is the Egyptian mujadara, a humble concoction of brown rice, lentils, and caramelized onions.  The rice and lentils match perfectly together resulting in a dish that far exceeds its individual parts.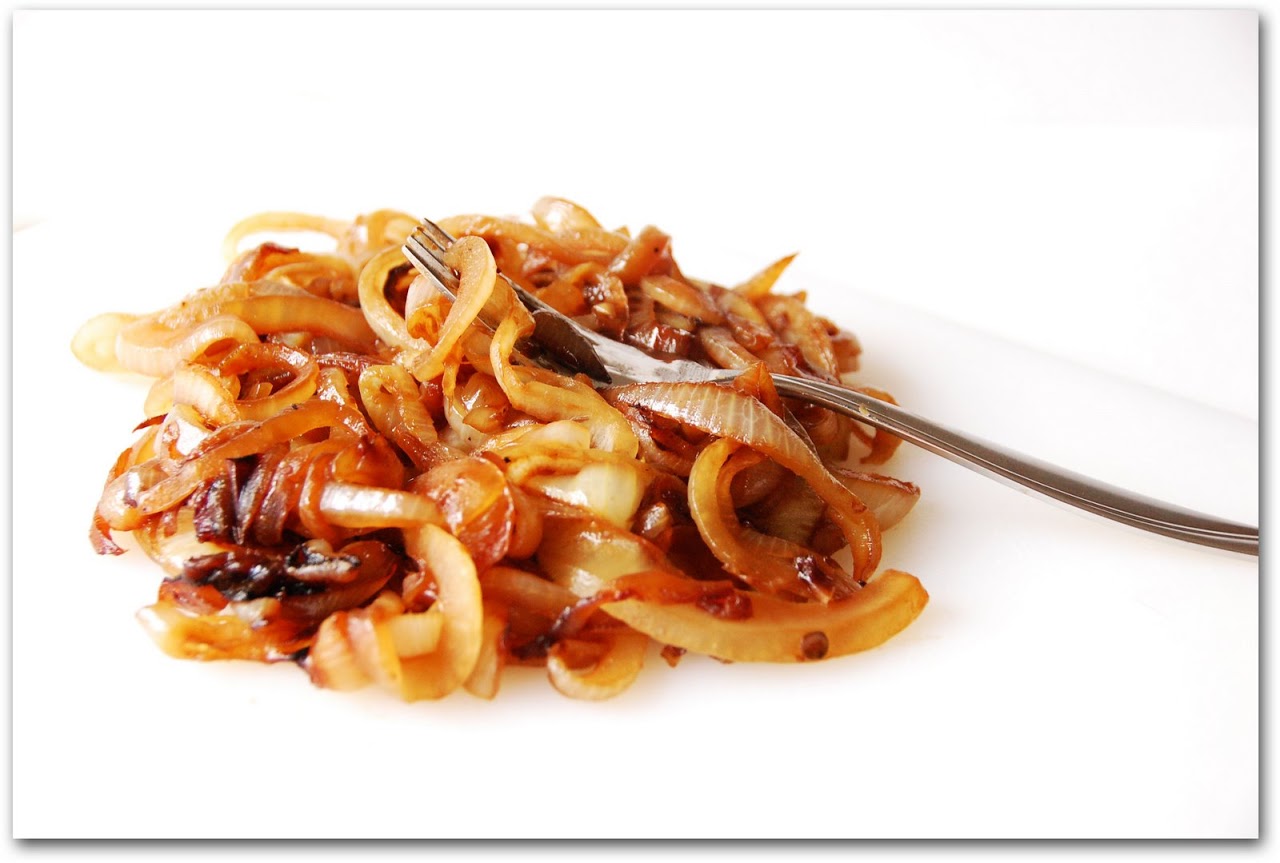 Caramelized onions, oh baby

And, people, even if brown rice and lentils sound unappealing to you, just think about onions slowly sautï¿œing in a pat of silken butter, melding into rich brown, almost-burnt slivers of caramelized goodness.  Mmmmm.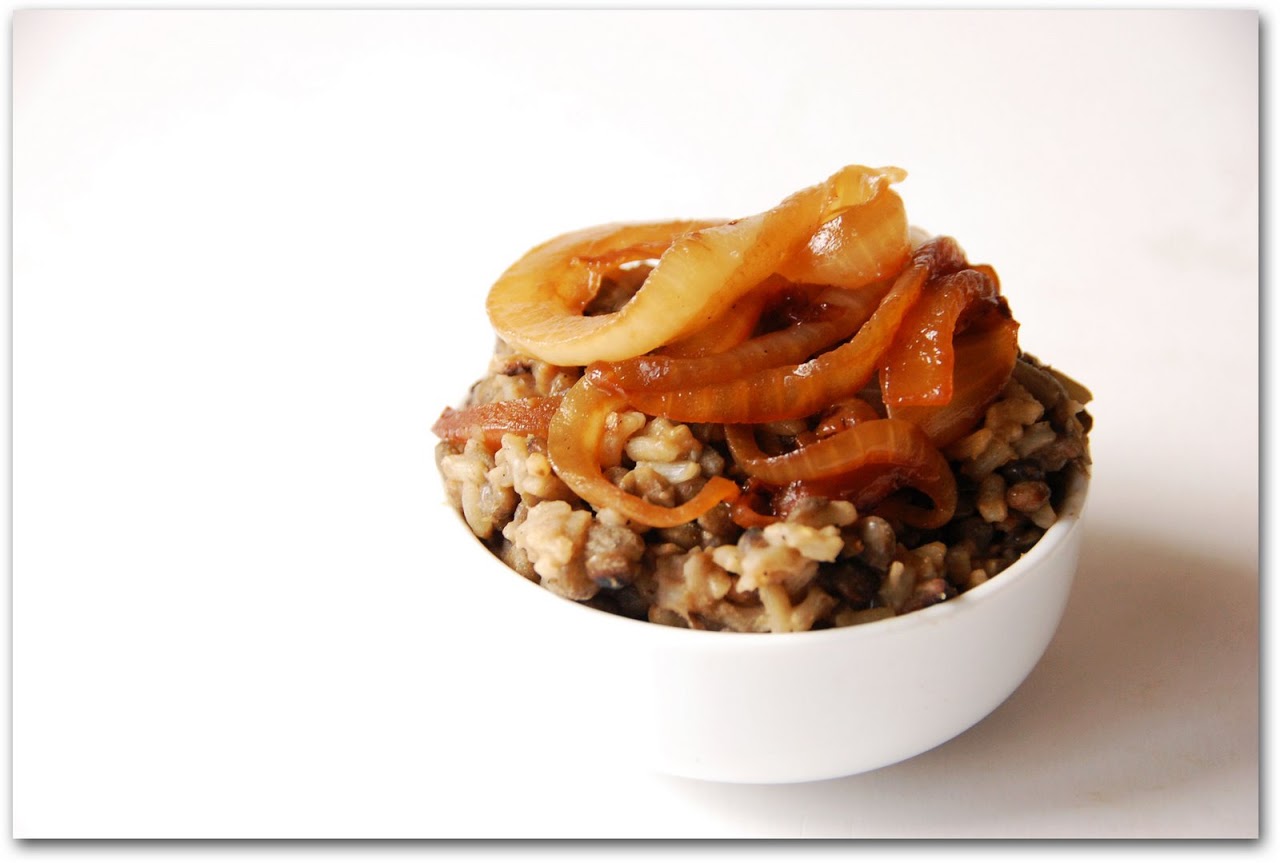 The best part of this meal is that no one will believe that you put it together in less than an hour, with minimal ingredients and minimal kitchen tools.  I promise, I won't tell.
August 18, 2009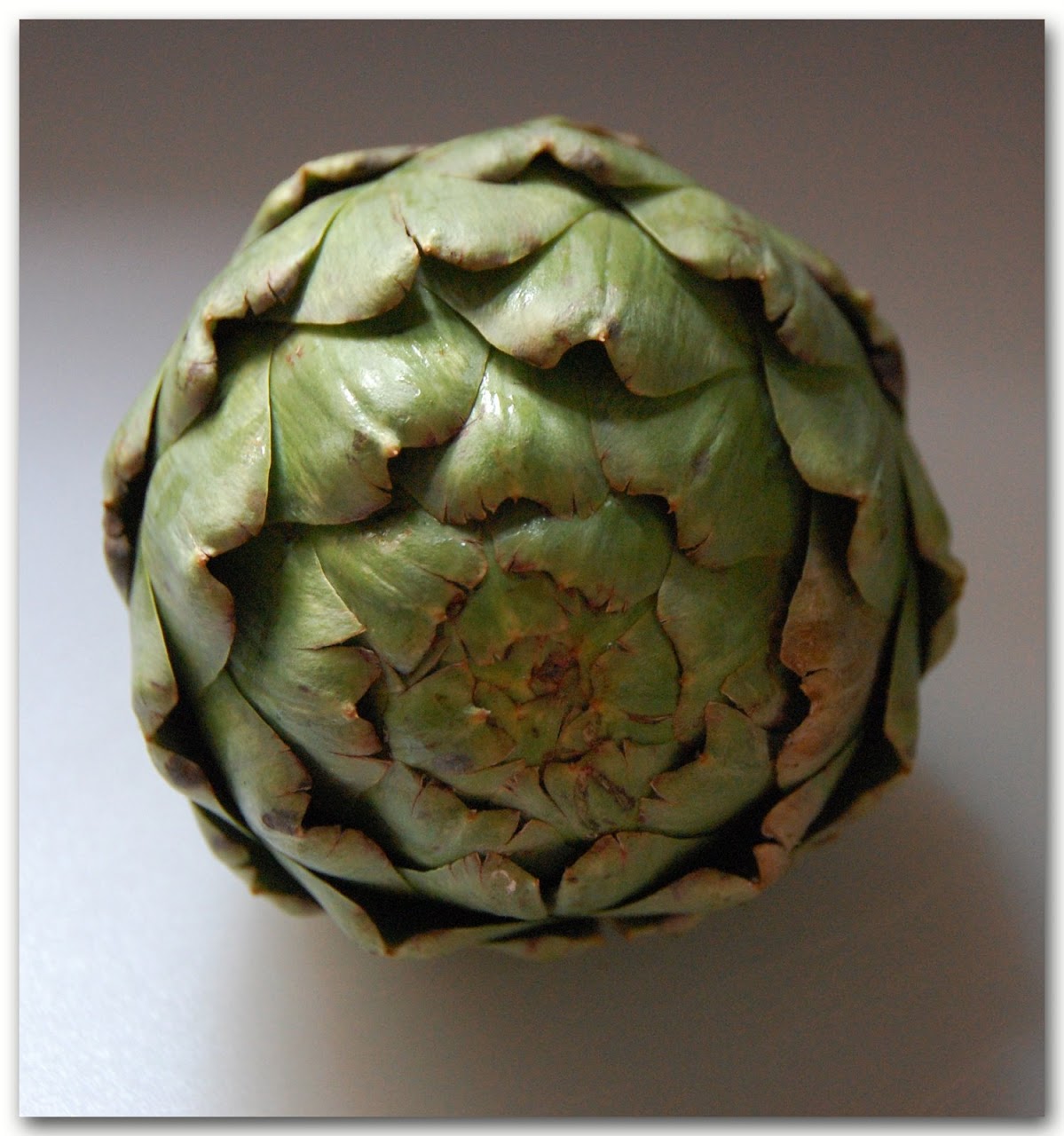 I could write odes to the majesty of the artichoke.  They are chock full of antioxidants, vitamins, and fiber, and naturally low fat.  (I read an article at the doctor's office today that eating artichokes also prevents depression but, given that I find clipping the thorny ends of the artichoke to be oddly satisfying, I think just being around artichokes brightens my mood.)  I love their vibrant green petals tinged with pink and the teeny little prickers at the tip of the leaves.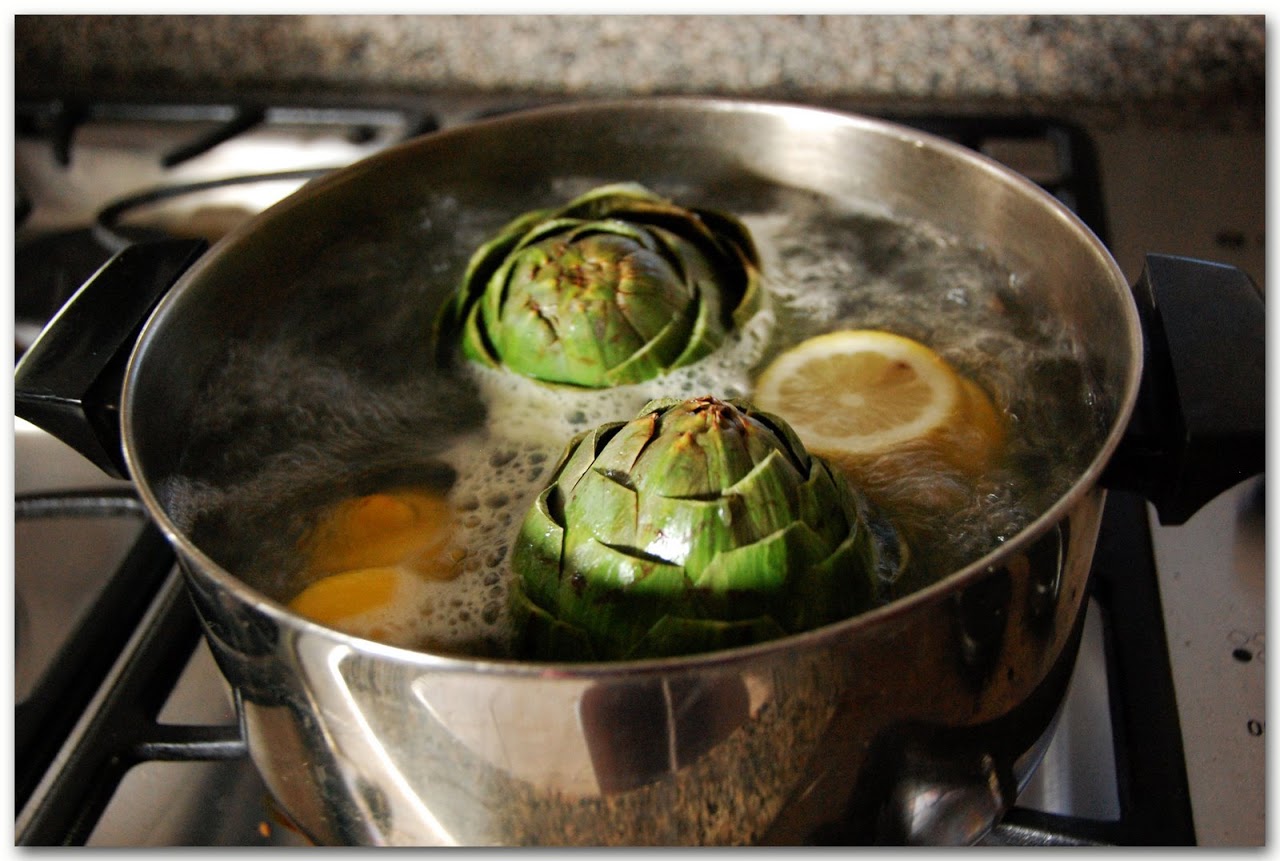 And, if there was a kindergarten for vegetables, (and if there was, then, wouldn't baby artichokes and baby squash be the cutest kids in that class?), artichokes would win the award for sharing because they contain a compound called cynarin that diminishes the bitterness and enhances the sweetness of all the other foods you are eating with the artichoke.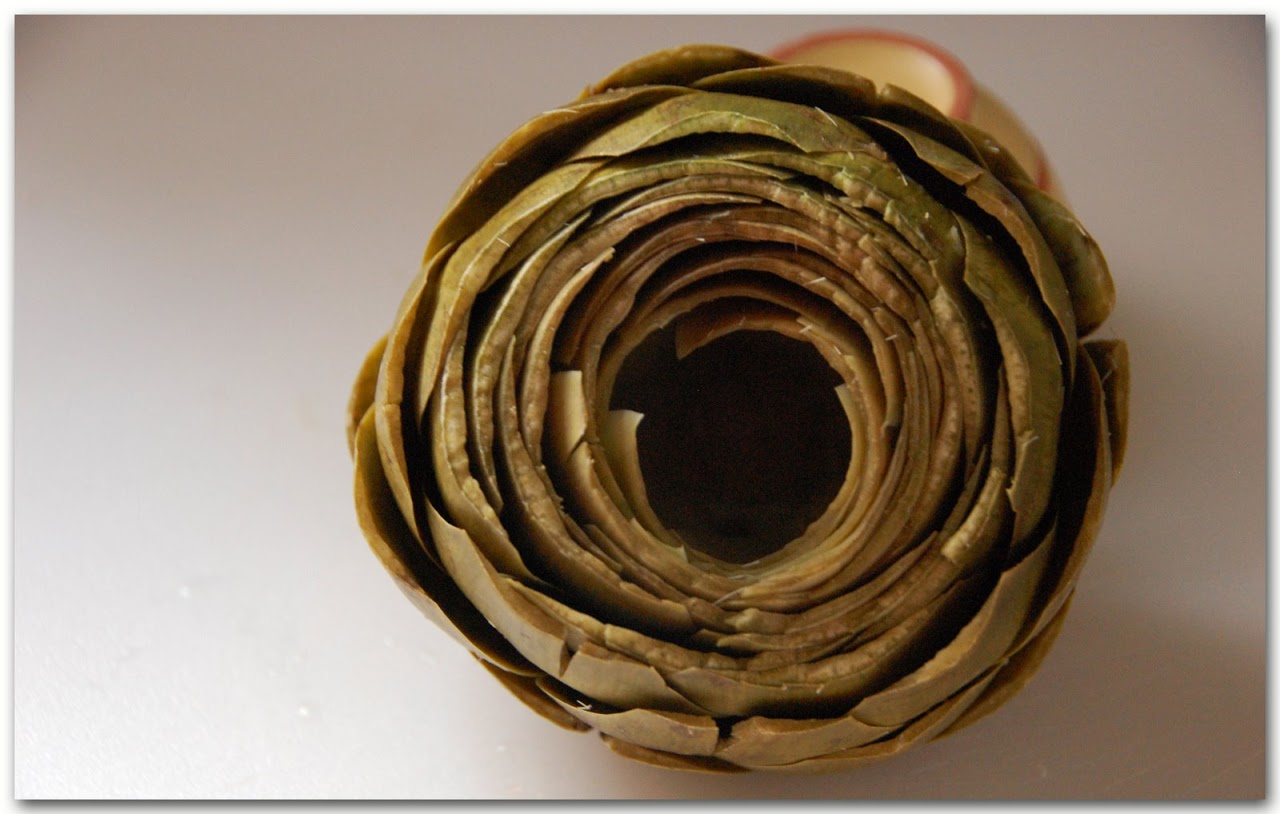 Italians savor the artichoke and I saw several different preparations when we were in Italy.  But my favorite was the carciofi alla romana at Armando al Pantheon.  On our second night in Rome, we ran to Armando al Pantheon from the Piazza Farnesi in the pouring rain.  The restaurant seated us toward the back, near the kitchen, perhaps because our pants legs were creating pools of water on the ground, and  were placed directly in front of the warming buffet where a layer of bright green artichokes laid, stuffed with mint leaves, bread crumbs, and nuts.
When we returned home, I set out to reconstruct the recipe.  But, the thing is . . . I don't like mint.  At all.  I don't like Thin Mints, or mint with strawberries, or mint juleps, or mint-anything.  I have three exceptions: mint toothpaste, Andes Mints, and mojitos.  So, while I wanted to make carciofi alla romana, I wanted to make it without the mint.  After months trying variations, I hit upon the solution: equal parts parmigiano, nuts, and parsley.
On a weekday night, after a long day poring through documents or talking to people non-stop or dealing with any other mindless monotony, just cooking this dish perks us right up.  Then once it's done, we pour ourselves glasses of crisp white wine (a necessary addition to this meal --- please don't forget it), sit down, and tear the artichoke apart with ferocity.  Though elegant and beautiful, this is a dish best served to close friends and family.  To eat it, you must pull apart each petal, suck the breading off the petal, lick the excess breading off your fingers, and then move on to the next petal.  At the end, you reach the glorious heart, crowned by a layer of golden brown stuffing.
* Check out other travelers who are talking about food at Wanderfood Wednesday .
August 6, 2009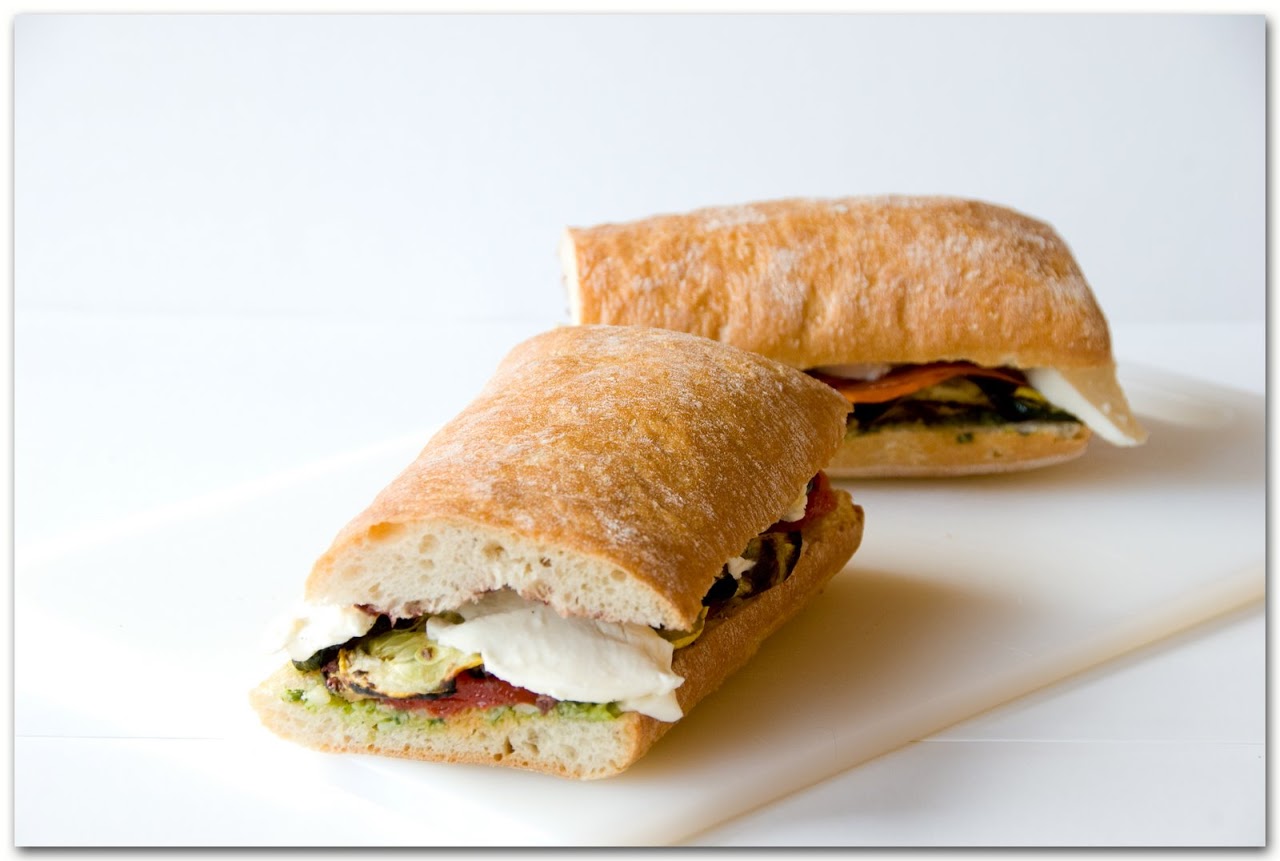 Years ago, when Food Network was a fledgling television station --- when Emeril still dominated their airwaves and they showed the original Iron Chef episodes with my favorite Chef Hiroyuki Sakai (the good episodes, in my mind) --- a plump, smiling woman with dimples in her cheeks, who made food with the herbs she plucked from her garden, crossed my television screen.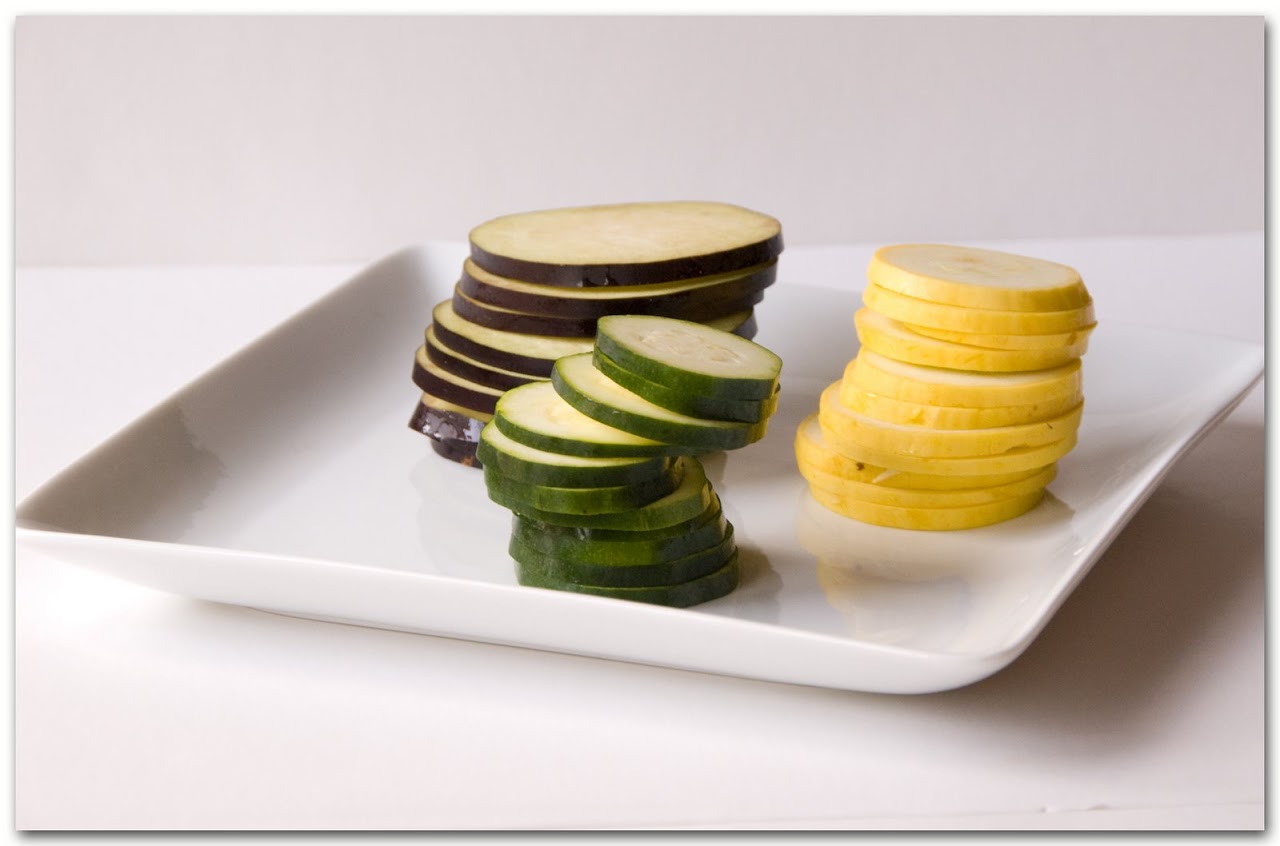 You know who I am talking about, of course: the one and only indomitable Barefoot Contessa.  She tucked picnic food into a basket and took it to the park so that she could share it with Jeffrey and her friends.  Her pressed sandwiches were packed high with meats, cheeses, vegetables, and sauces and placed under a heavy brick to congeal together.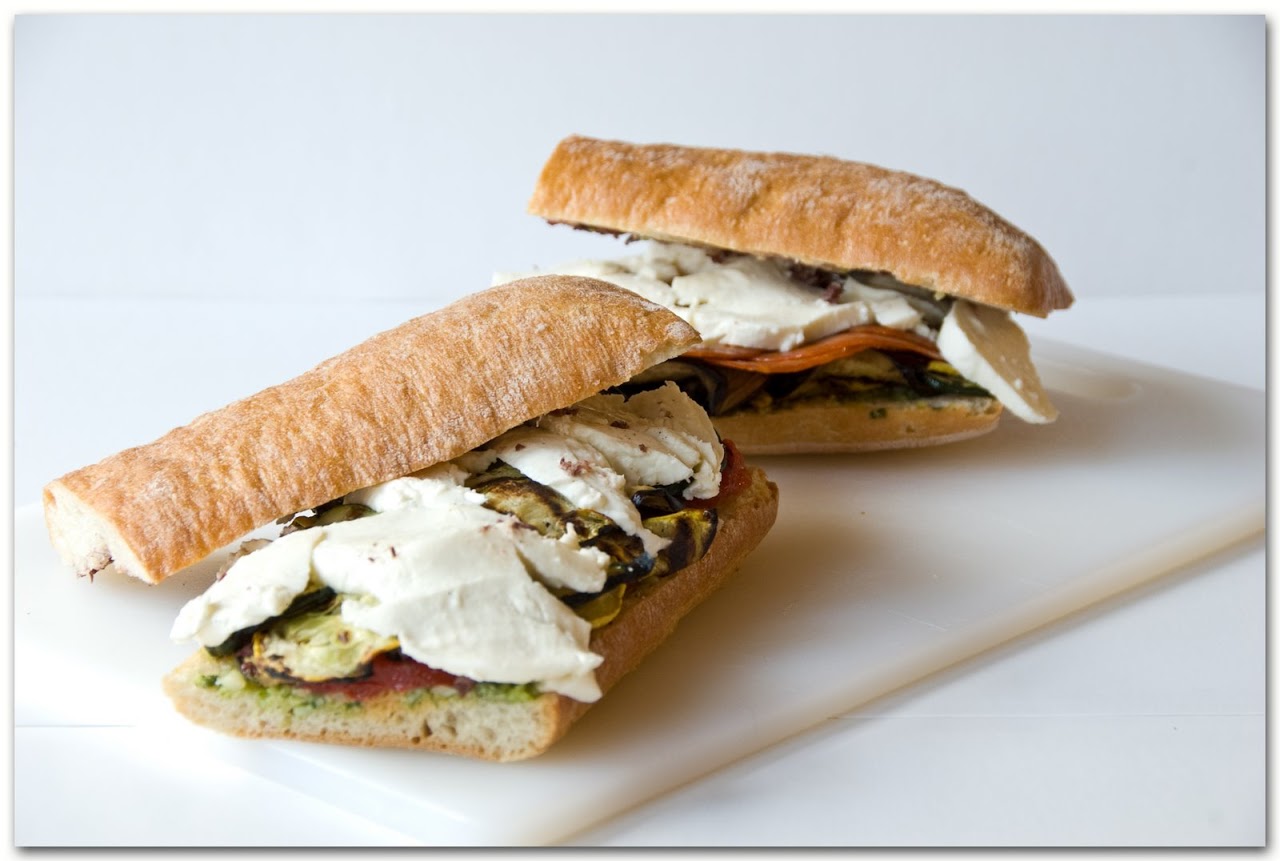 This vegetarian version of the pressed sandwich follows her original formula and stays crusty despite the layers of pesto, salty olive tapenade, grilled vegetables, and mozzarella.  As summer comes to a close, we enjoy these picnic sandwiches as we bask in the sun on the sandy beaches of Florida.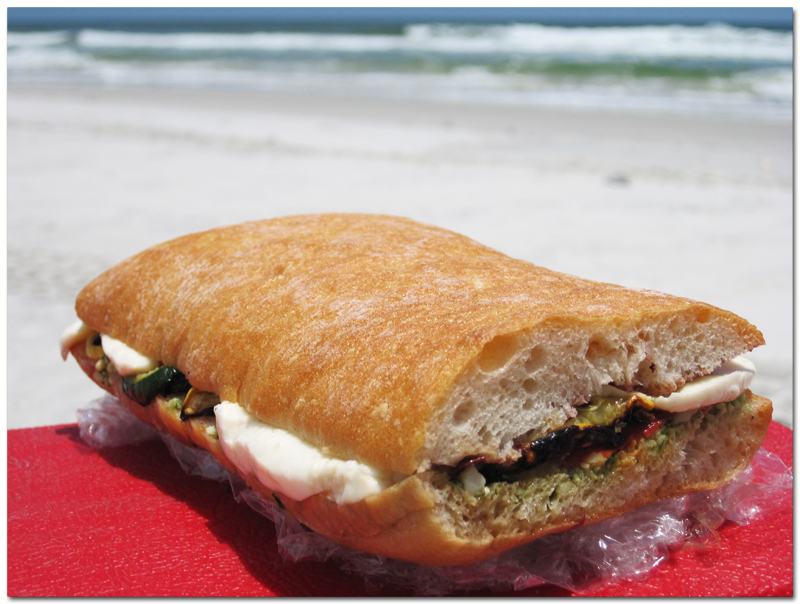 . . . keep reading pressed vegetarian sandwiches after the jump