about
We are Akila and Patrick. Our minds (and waistlines) expand as we travel, cook, and eat our way around the world with our two dogs.
Our travels inspire our cooking. Join our feast around the world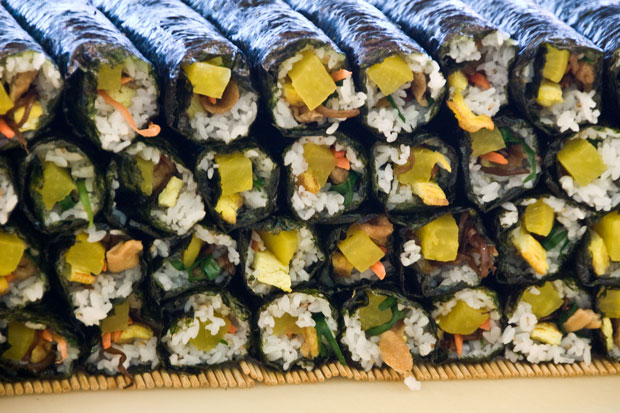 the transnational fast food theorem
The deliciousness of chain restaurants is inversely related to the distance from its home location. South Korea was our proof.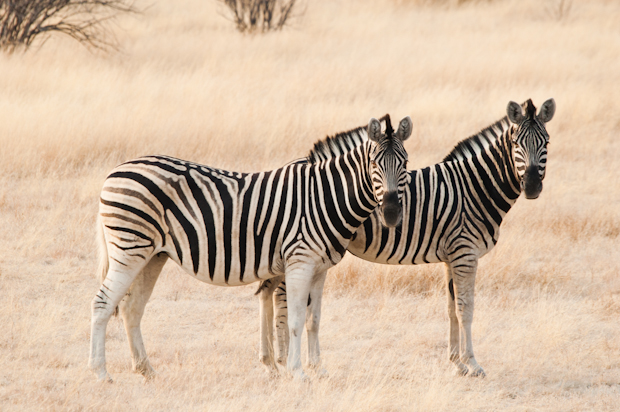 down by the watering hole
The ups and downs of finding wildlife at Etosha's watering holes.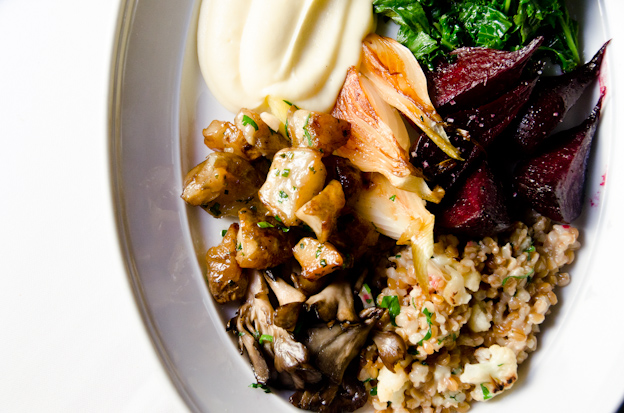 fig charleston
One of the best meals we have had in the last year.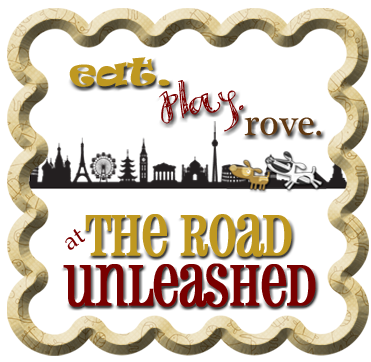 Five Random Links from our Blogroll :

David Lebovitz
Folie a Deaux
A Travel Around the World
Darn Good Digs
GQTrippin
December 18, 2013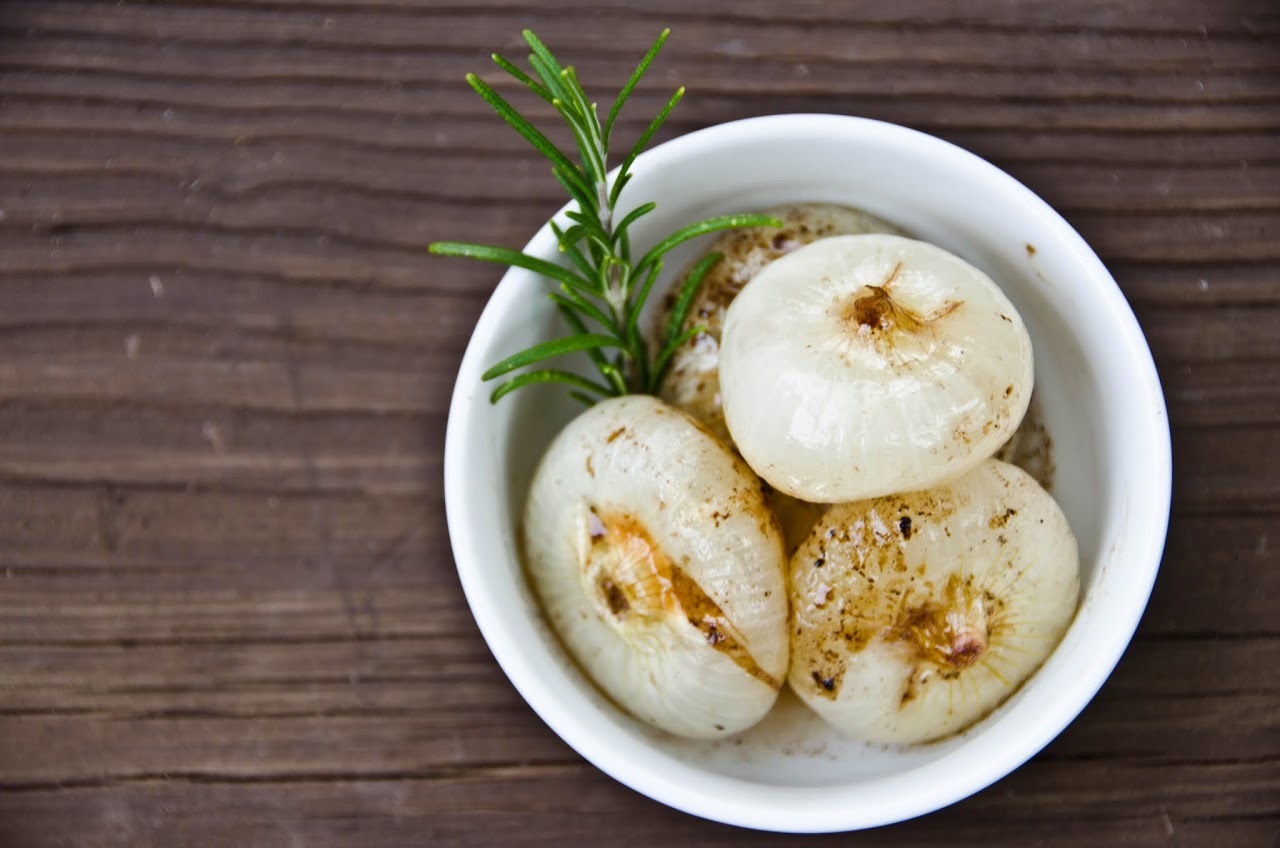 Venice is still busy in November.  There are tourists everywhere in the bright and sunny days.  (Though, is there ever a time when the tourists leave Venice altogether?  Probably not.)  We like the November evenings better than the summer evenings.  There's less heat, humidity, and stench.  I pull my fleece jacket close around my shoulders and Patrick zips his up to his neck.
We walk away from the Grand Canal, into small narrow alleyways, away, away, away from the noise.  We see a small door against a wall, light shining out as the door opens and closes, and men with half-filled wine glasses and burning cigarettes standing right before the entry, ushering us in with wafts of noxious smoke.  The decor is minimal, with a few wooden benches and tables crammed against the corner of a wall and men and women standing shoulder to shoulder in front of the long bar.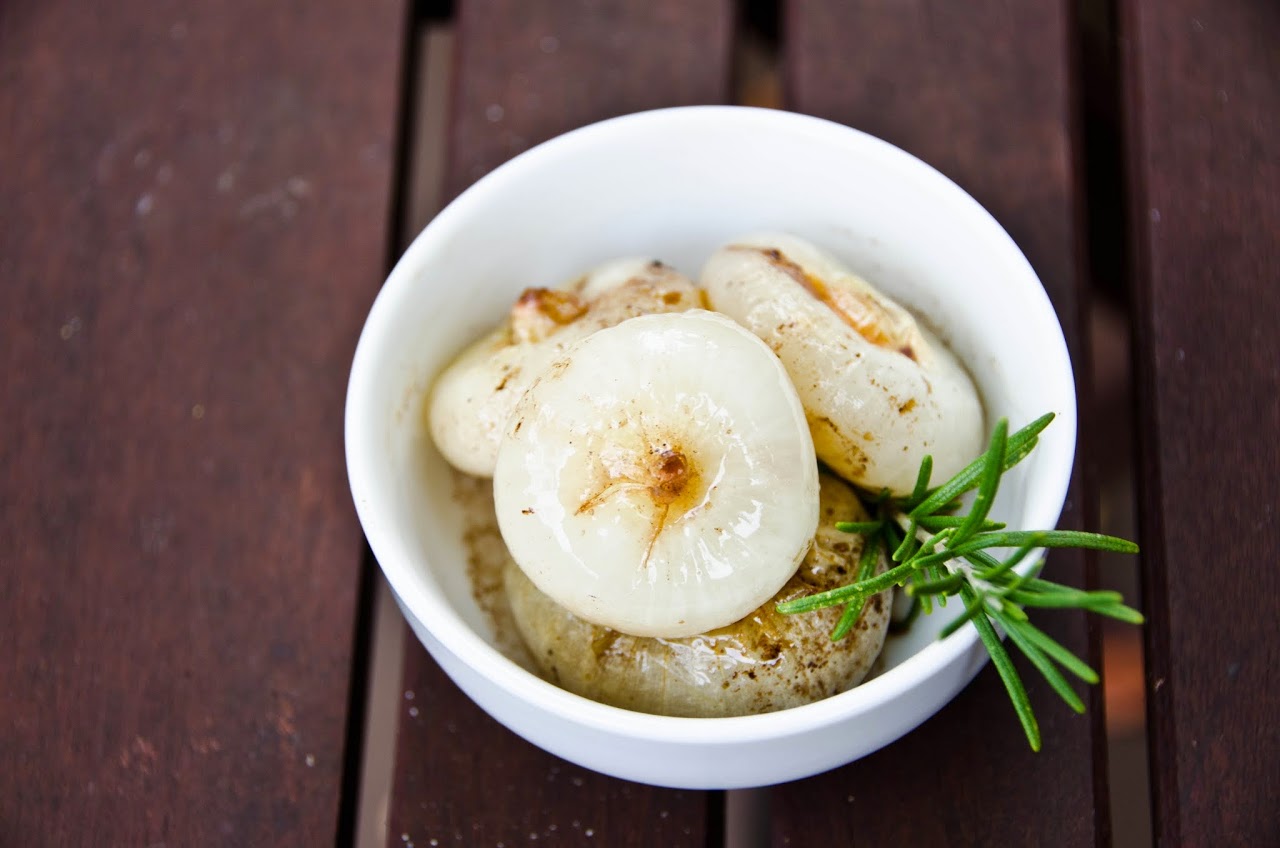 We immediately see the attraction.  Cichetti are arrayed in platters and bowls across the bar.  There is a good variety at this one: peperoni grigliata --- grilled and peeled red bell peppers; baccala --- pureed salted dried cod; carciofi grigliata --- artichoke hearts, marinated and grillled; mozzarella e pomodoro --- fresh balls of mozzarella with sliced tomatoes; bruschetta with prosciutto; calamari; and more.

And, there are the cipollines al aceto balsamico, or balsamic glazed cipolline onions.  The first bite surprises us.  Our mouths pucker from the vinegar and then relax as we taste the underlying sweetness of the reduced balsamic vinegar.  We try another bite.  This time we are prepared for the sensations of vinegar and sweet and we feel the texture.  Soft, billowing layers of onions melt against our tongue and we catch hints of rosemary and butter.  We go back to the counter and order them all.
And, we return the next night and order all the cipollines again.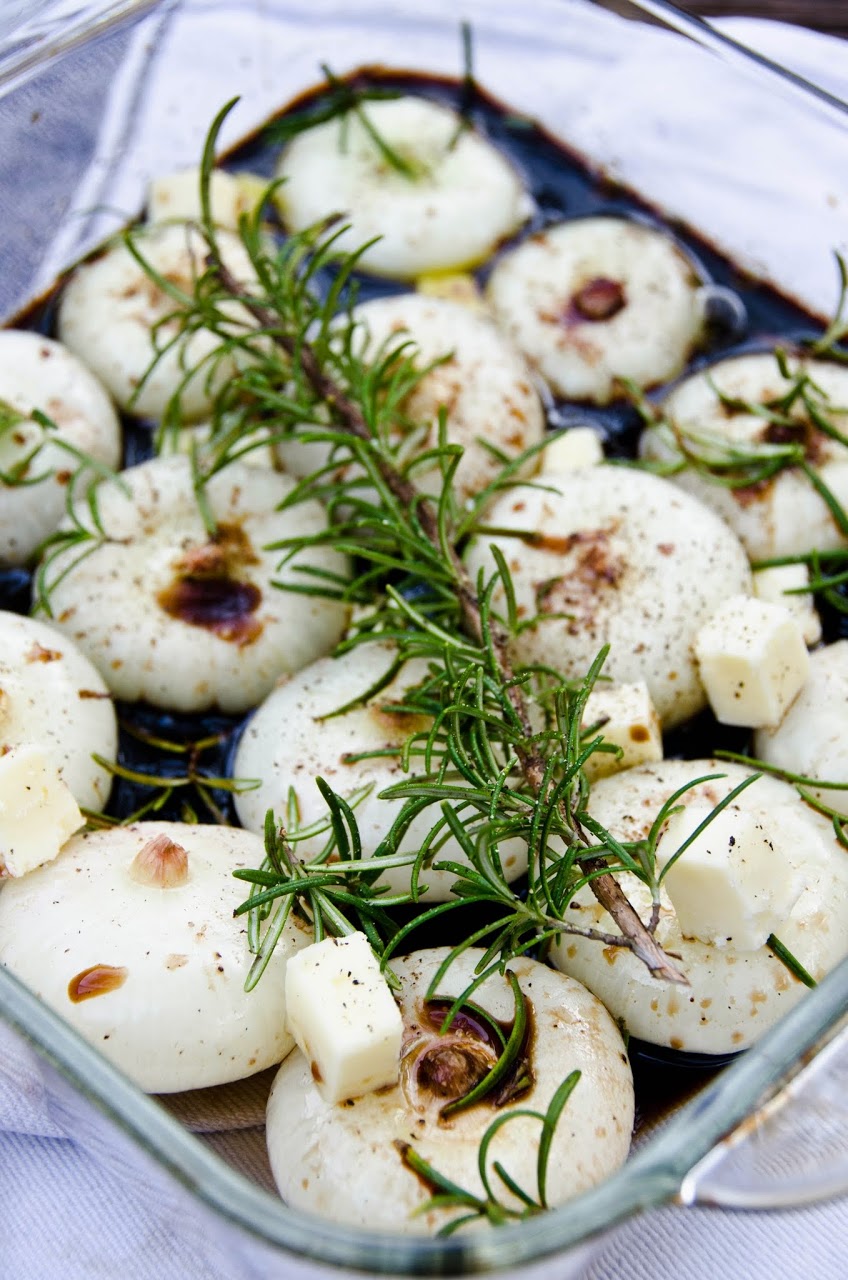 When we came back to the United States, I tried a whole host of balsamic glazed cipolline recipes including ones from Mario Batali , Deb from the Smitten Kitchen , and Bon Appetit magazine .  None of them had the puckering sweetness of the cipollines we tried in Venice and I realized that the problem is that every single one of these recipes relies on sugar to enhance the flavor of the balsamic vinegar.  I dropped the sugar and simplified the recipe.  The result has a less thick glaze than what you might get if you make Mario Batali's recipe but it is, I think, a purer and superior version of the dish.  It is a fundamentally Italian recipe --- very few ingredients of extremely high quality --- so that the cipollines take on the strong flavors of red wine and balsamic.  We serve it often in the winters, with rich casseroles and soups, as a small plate or side dish, sometimes for the holidays, to remind us of Venice's meandering canals.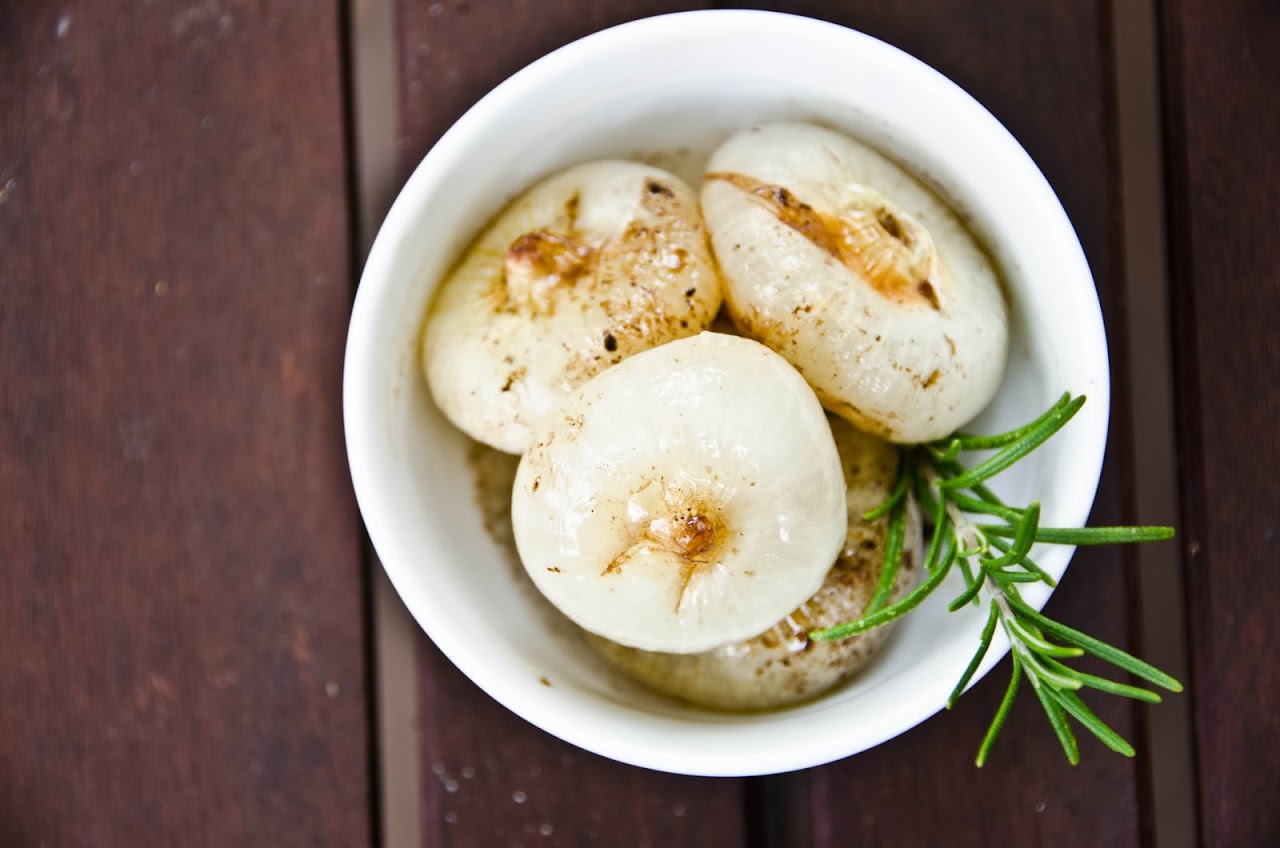 February 3, 2011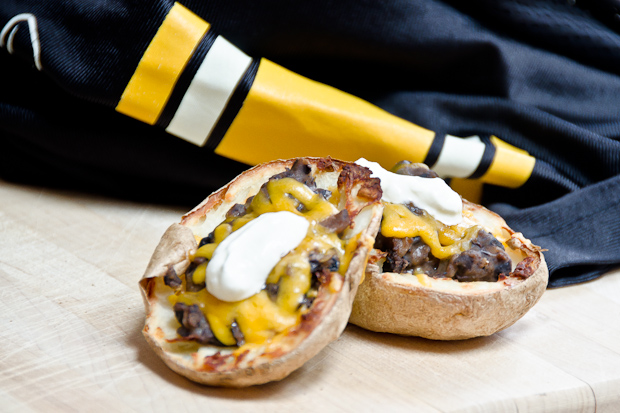 Steelers potato skins
There's a game this weekend, as you know.  In our house, the Super Bowl is an event every year . . . but, this year is more important than most.  Patrick is a proud Pittsburgh Steelers fan, part of the nationwide network of people who support the guys in black and yellow.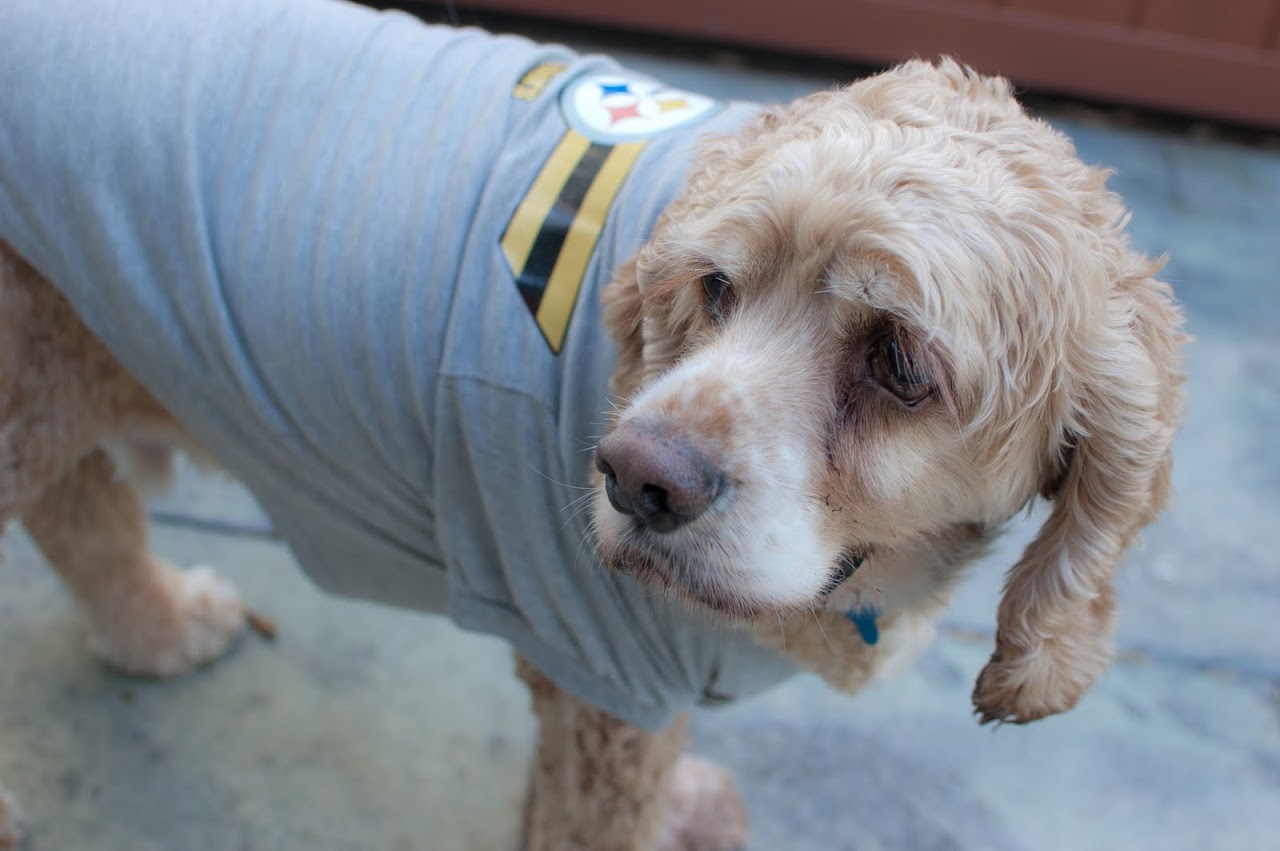 Chewy in his Steelers shirt
The idea behind this recipe came from Food Network's recent showcase of NFL themed potato skins , with Georgia Peach Potato Skins for the Atlanta Falcons and Wisconsin Beer Brats Potato Skins for the Green Bay Packers.  Clever, yes, but not very vegetarian-friendly and none of the potato skins showcased the team colors.  So, I fiddled around with a couple of versions and came up with this one: a black, yellow, and white potato skin recipe that's as tasty as it is full of team spirit.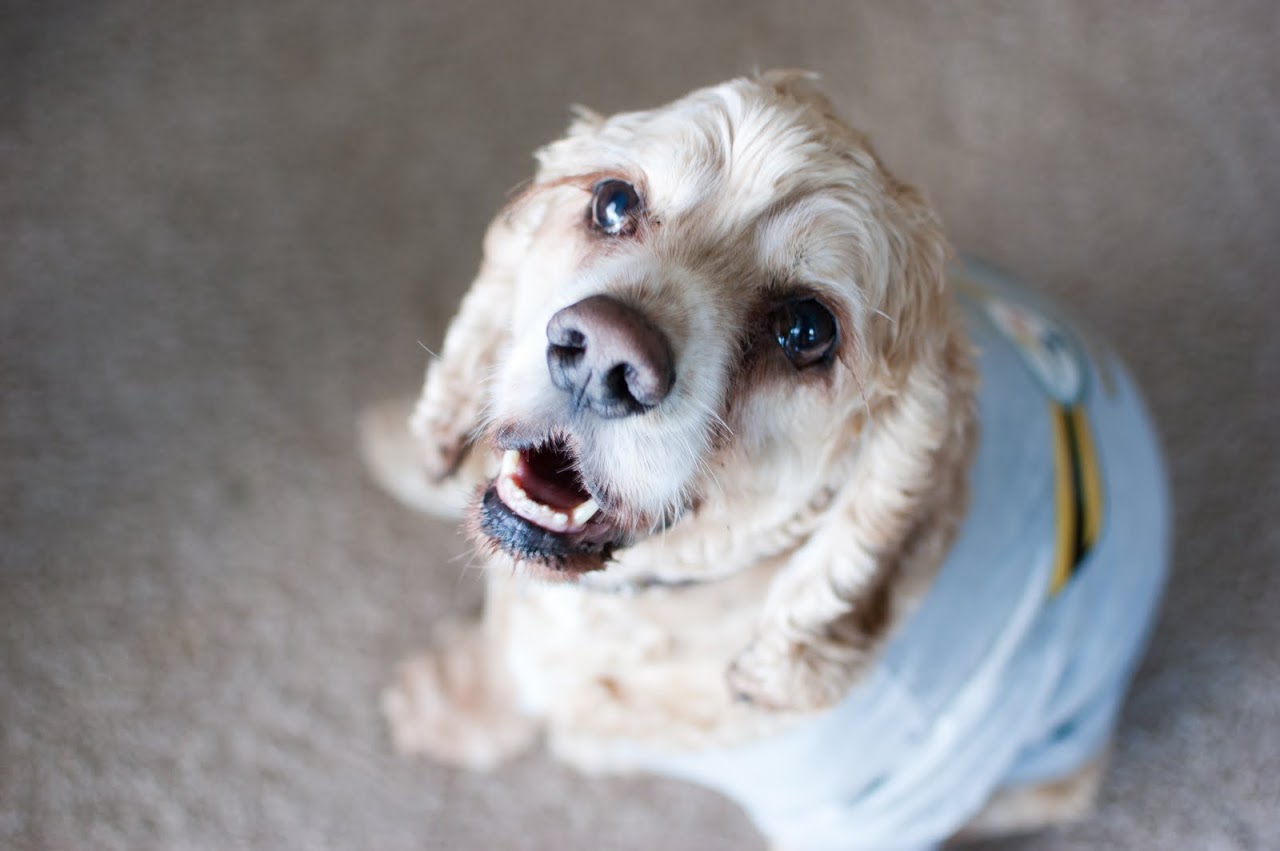 Chewy in his Steelers shirt
Steelers Nation, this recipe is for you.  (And, if you'll only be watching the game for the commercials and the awesome-looking Glee episode afterwards, this recipe is still for you.)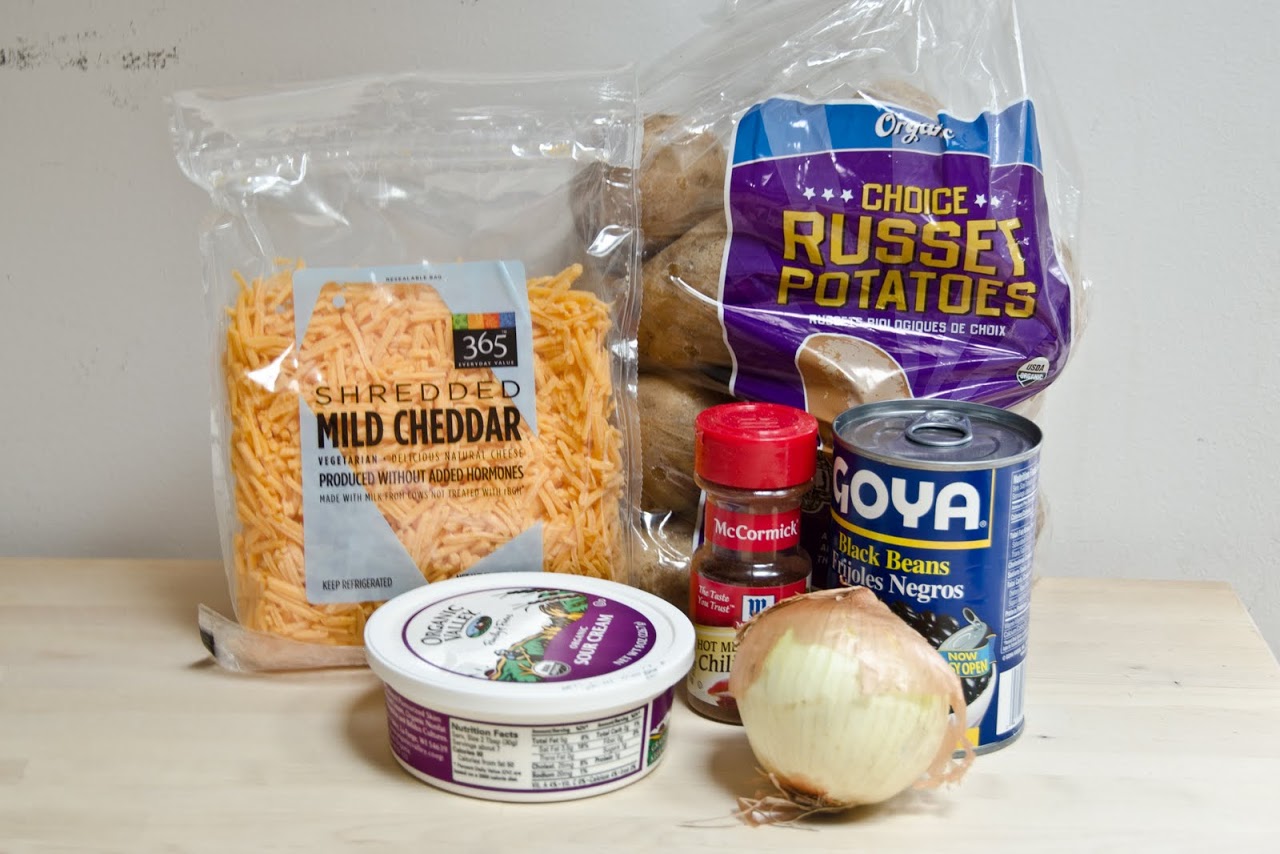 Ingredients
Even if you're stuck at home in the snow (which seems to be pretty much everyone living above the Mason-Dixon line on the east coast), you probably have everything you need to make this recipe: medium-sized potatoes, black beans, an onion, chili powder, cheddar cheese, and sour cream.
Potatoes
Here's what you do: poke some holes into your potatoes.  Stick them on a plate and microwave them for 5 minutes.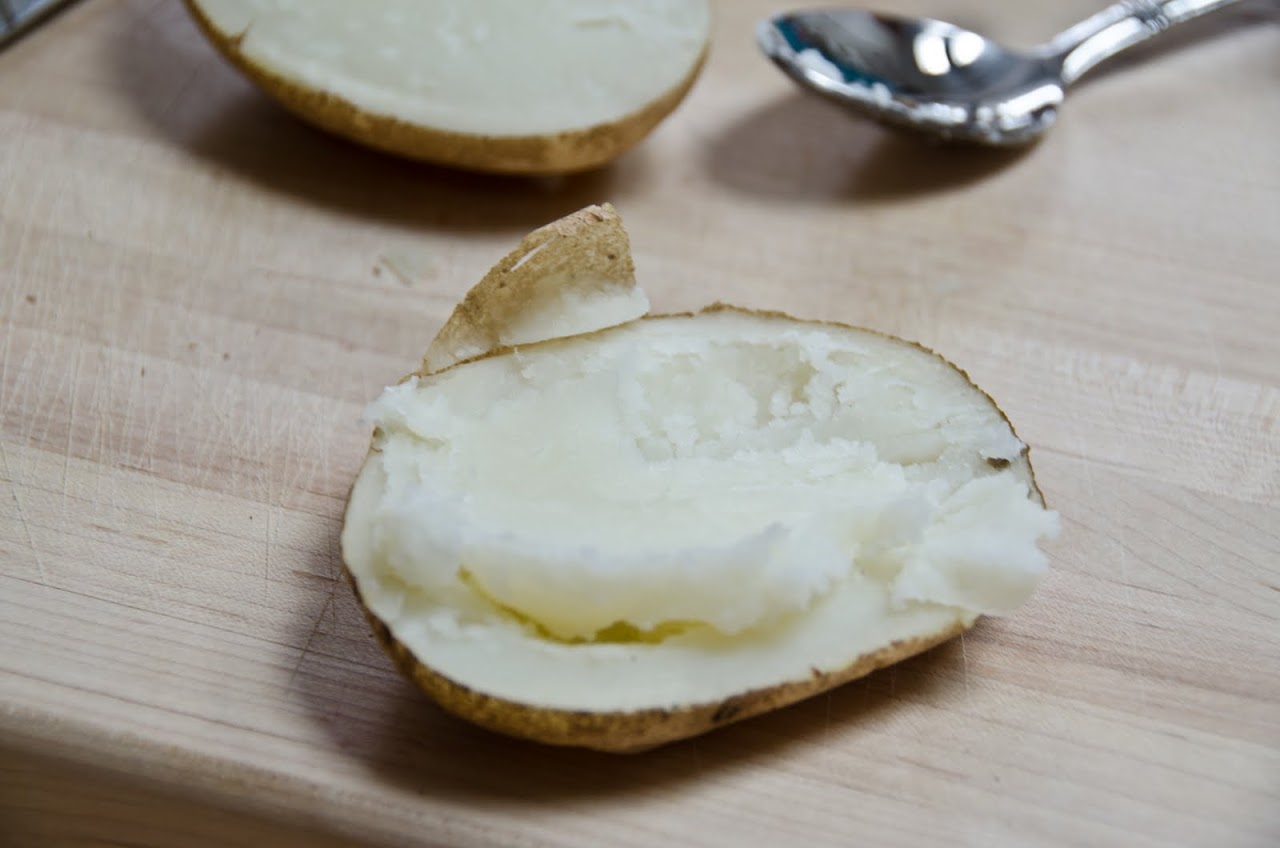 Potato shell scooped out
Cut the potato in half lengthwise.  The innards should be soft and flaky but not completely cooked through.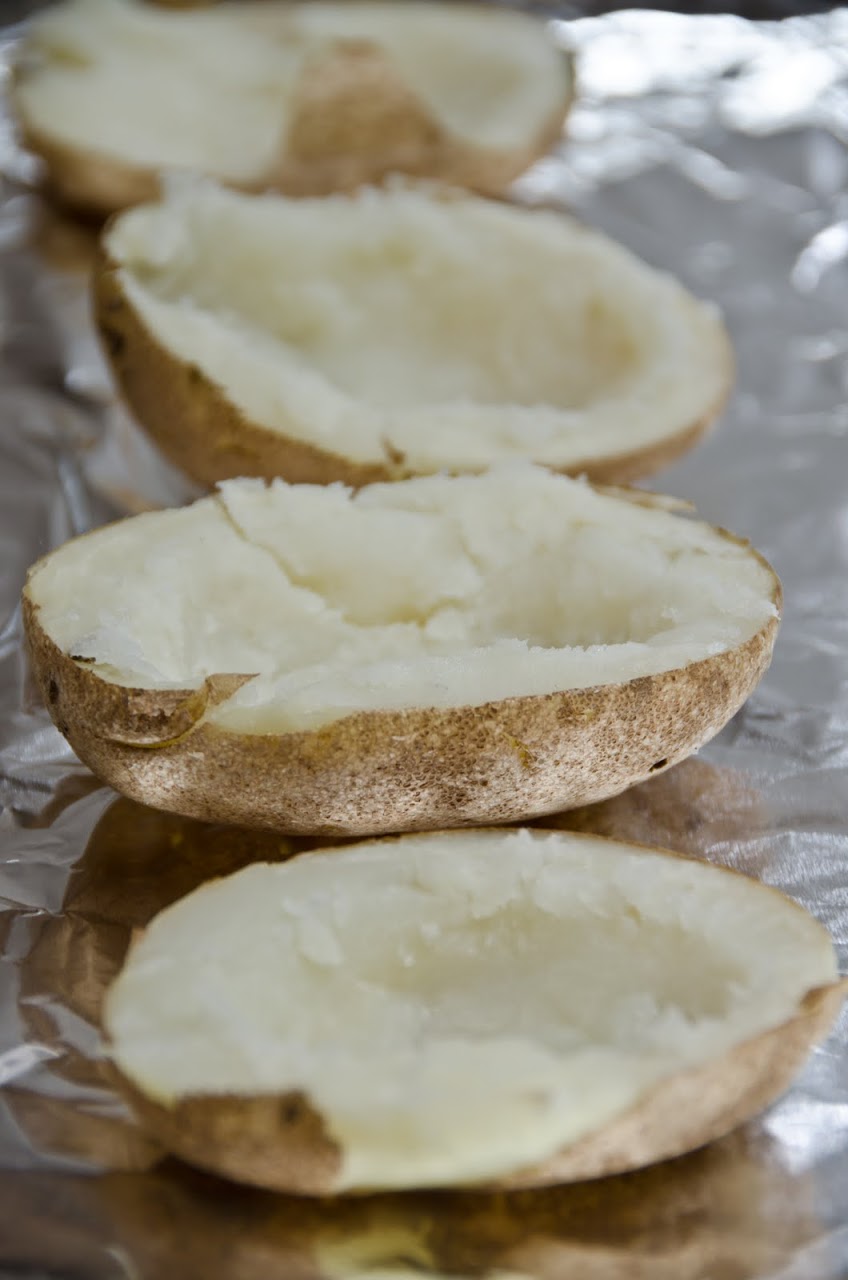 Potato shells
Remove some of the potato interior, leaving about a 1/4 inch thickness on all sides and the bottom.  Your potatoes should look like small bowls.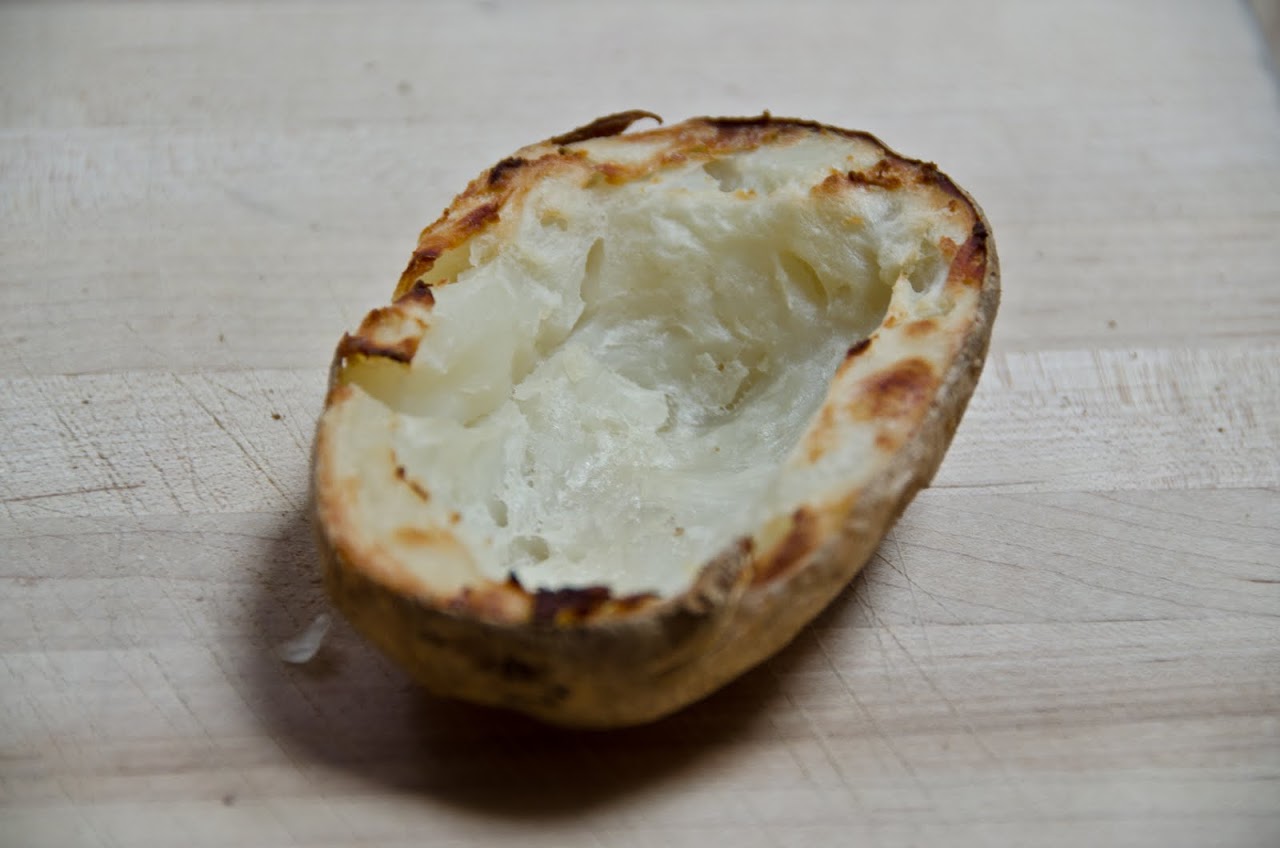 Baked potato skin
Bake your potato shells in a preheated 450 degree oven for about 45 minutes or until the shell is cooked all the way through when you poke it with a fork and the edges have a nice brown crust.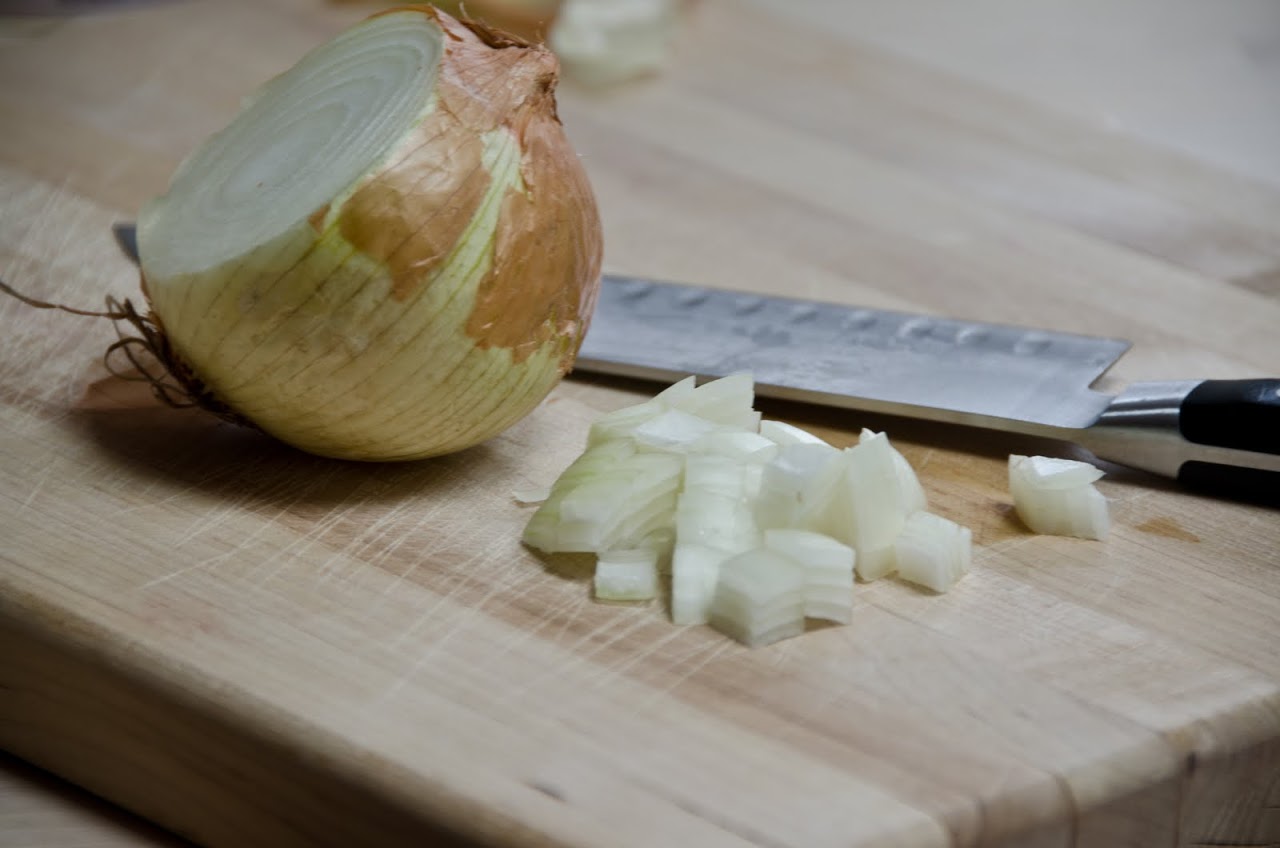 Onion chopped
While your potato skins are baking, chop up a quarter onion and saute in a pan with a teaspoon of oil over low heat.  Add a can of black beans and a half teaspoon of chili powder, depending on how much you like spice, and then mash the black beans against the sides of the pot.  You want your black beans to be thick and creamy so add a little bit of water if they get dry.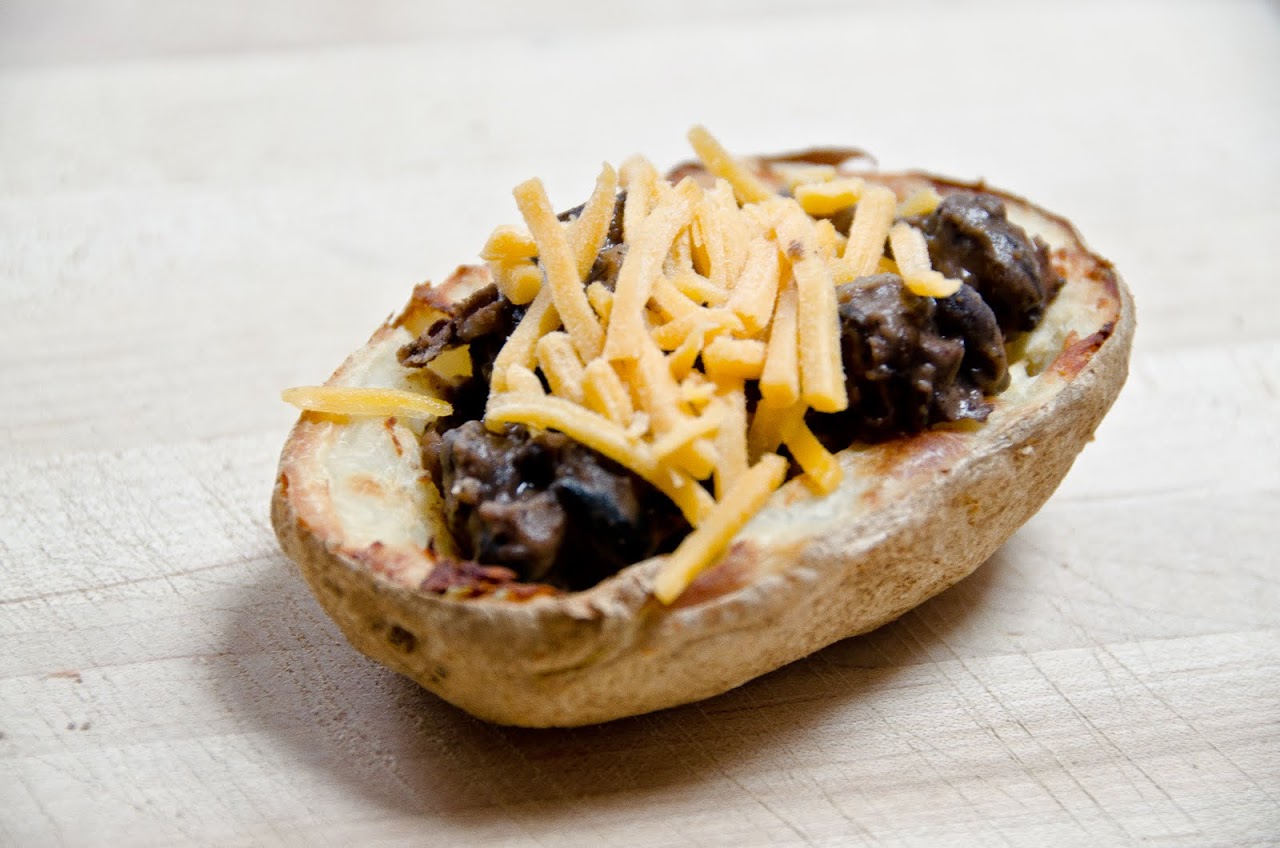 Potato skins ready for the last step
Once your potato skins are cooked, plop some of the black bean puree in each of the shells and top with a tablespoon of cheddar cheese. Then stick your potato skins back in the oven for 3 to 5 minutes, or until the cheese has melted over the black beans.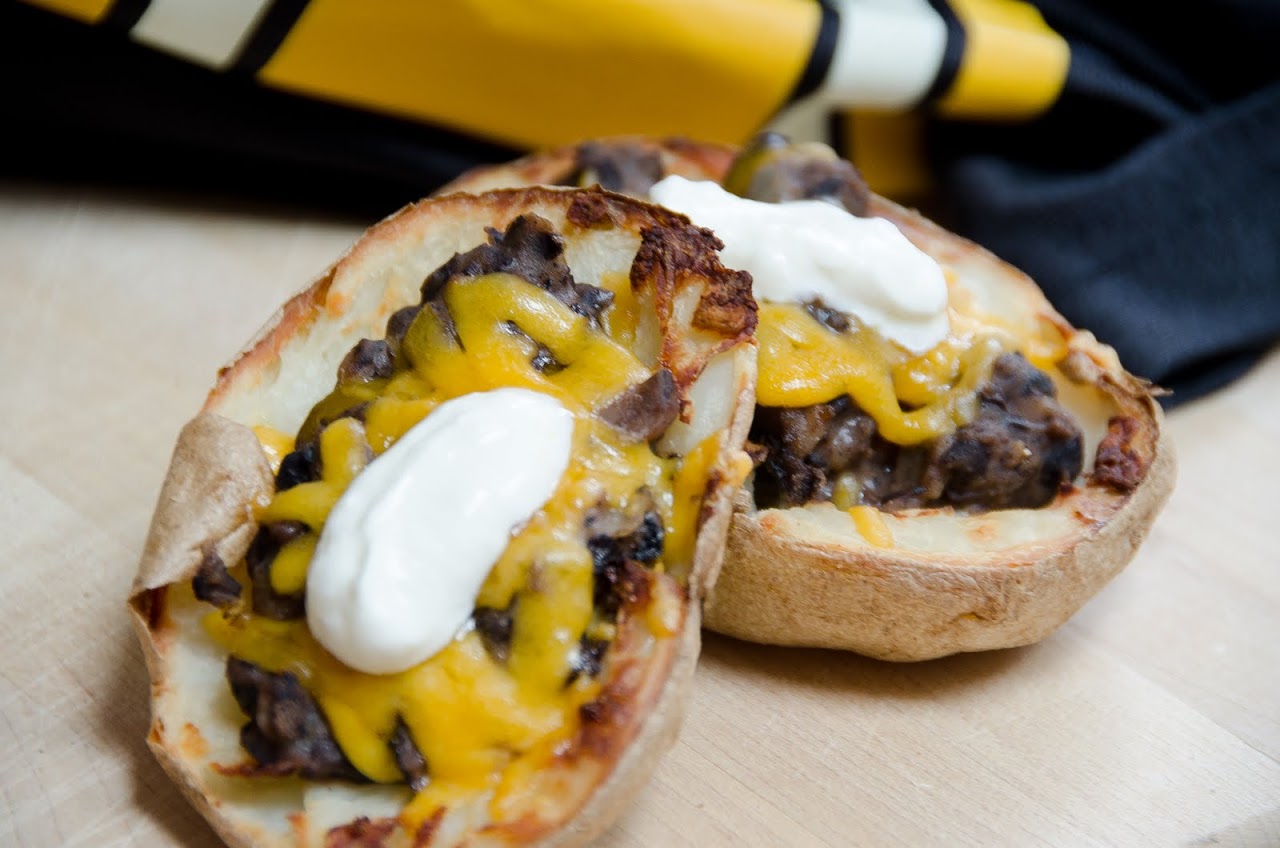 Steelers potato skins
Drop a dollop of sour cream on top and you're ready to root for your team.  Now, doesn't that just get you in the mood for some football?  [By the way, if you're rooting for that other team , you could substitute the black bean puree with a creamy spinach dip and top with yellow cheddar and sour cream for a green, yellow, and white potato skin.]
November 2, 2010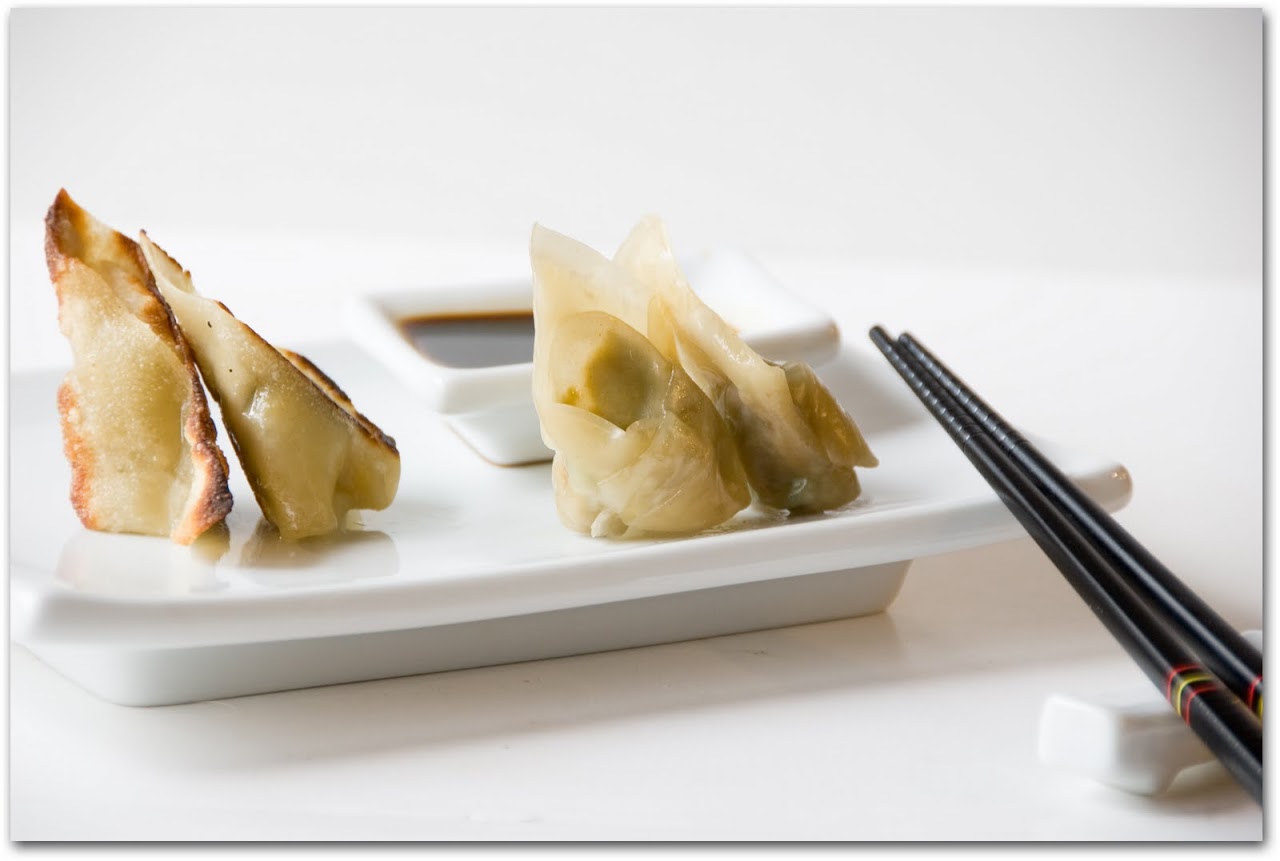 Edamame and plump pea dumplings, sauteed and steamed
If I had an alternate site, I might be tempted to call it "Dumplings R' Us" and just post recipes of dumplings and other cute dumpling-like things .  Of course, nobody would read it except for me and my Mom (and only because she loves me and puts up with my craziness).  The problem with dumplings ---- as the commenters to the jiaozi recipe so acutely noted --- is that they are "fiddly," "time-consuming," and require a lot of "patience."  But, not today, my friends.  Today, I am letting you in on the ground floor on my secret to weeknight dumplings, cheaters' dumplings, as I like to call them.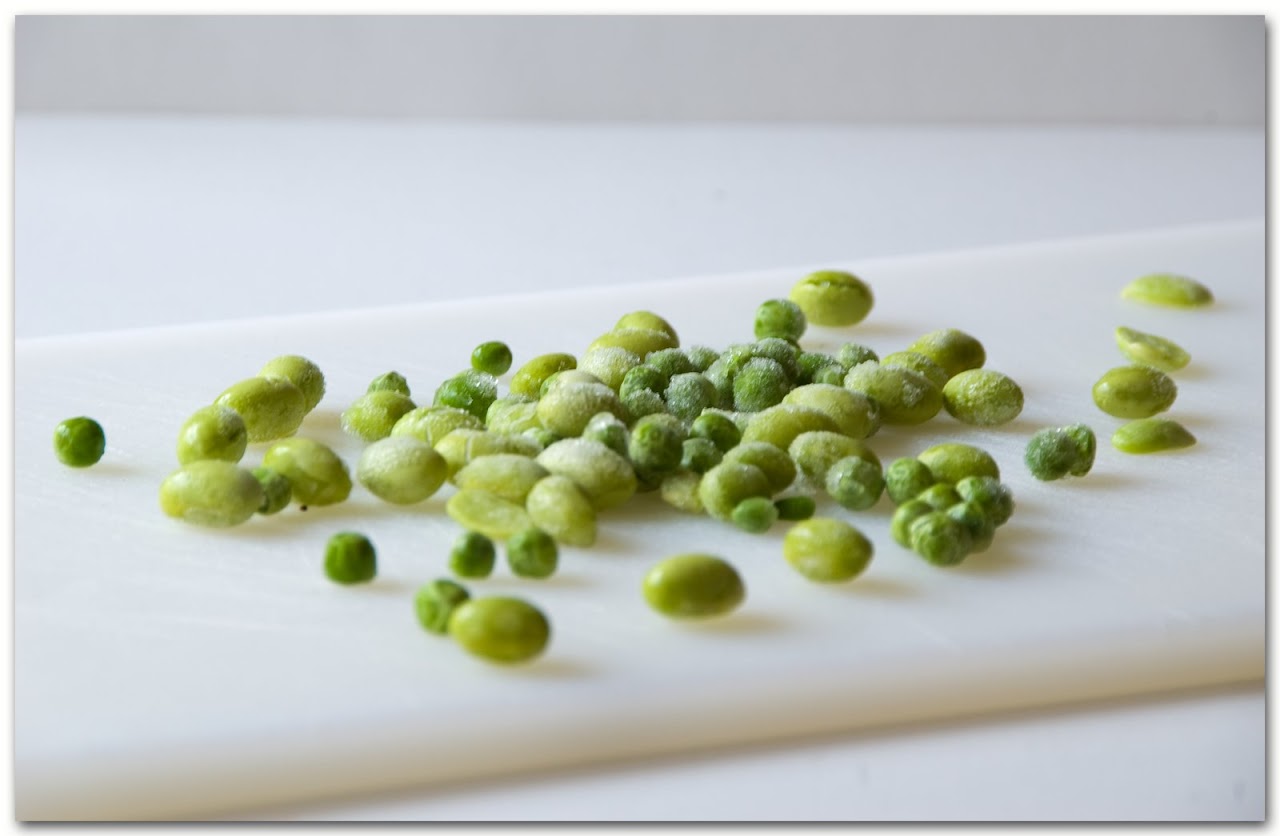 Frozen edamame and peas
The recipe goes something like this: take out a bag of frozen edamame and frozen peas.  Dump them into the microwave and thaw for 30 seconds or so, until they are just soft.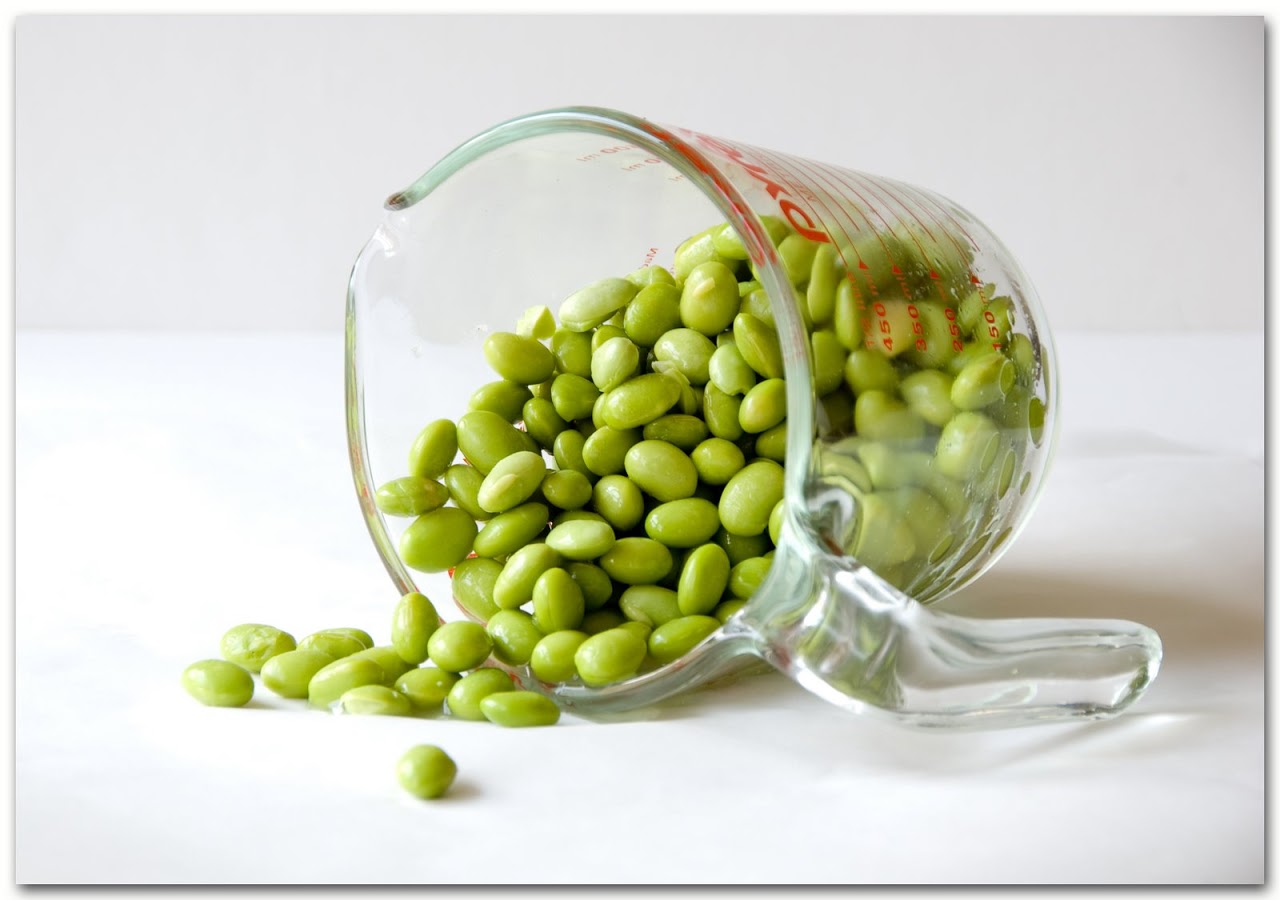 Frozen edamame
If you aren't a fan of edamame and peas, you could try edamame and spinache or edamame and tofu or edamame and pork or . . . . oops, sorry, I got a bit carried away there.  The edamame works perfectly as a solid vegetable base because it does not retain much water, creating a sticky, firm filling when combined with other vegetables or meat.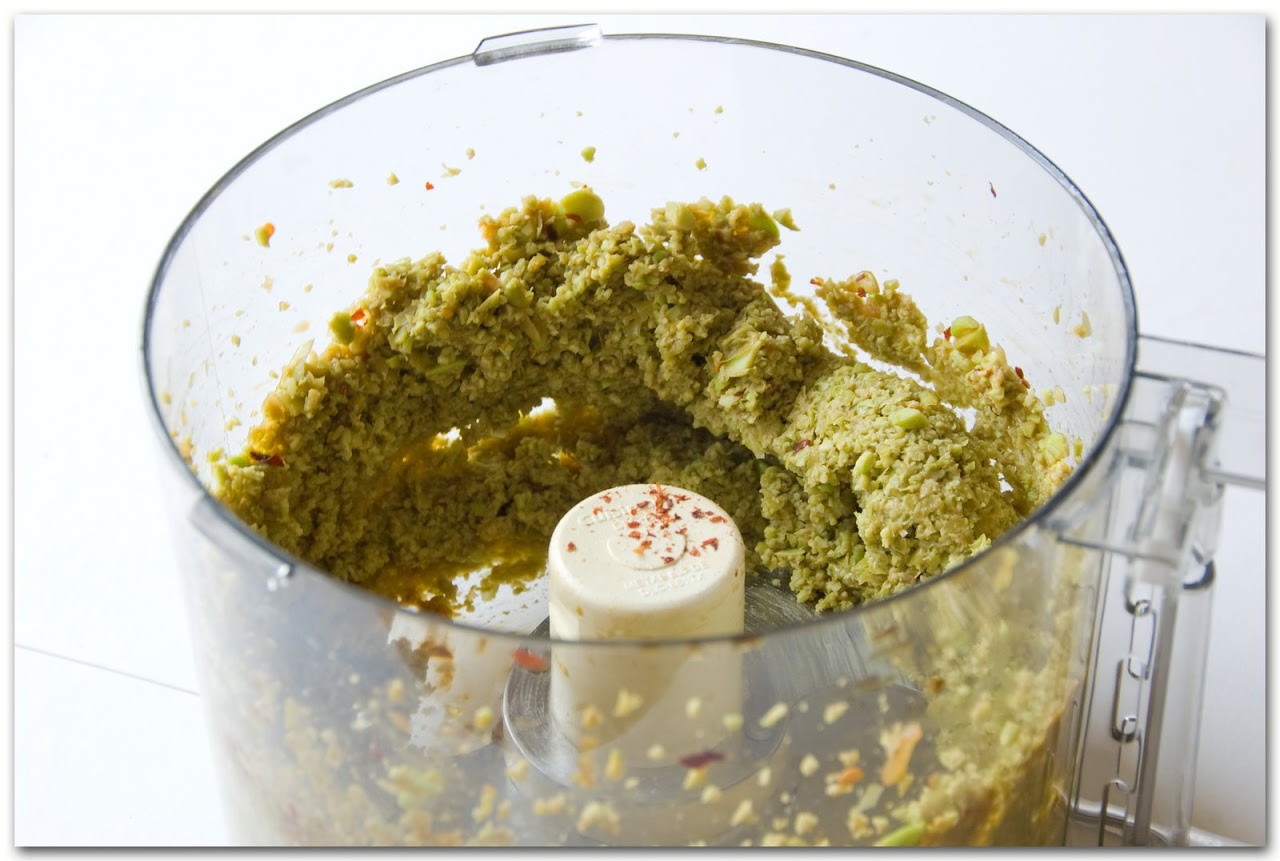 Edamame and pea filling
Pull out your food processor or blender and process the edamame and most of the peas with salt, pepper, a teensy bit of olive oil and lemon juice, and either wasabi or red pepper flakes.  I tend to use wasabi because I prefer that back-of-your-throat bite, but I ran out and substituted red pepper flakes this time.  Drop the remainder of the peas into the filling so that, when you bite into your dumpling, you will catch a few whole peas.
. . . keep reading edamame and pea dumplings at The Road Forks
May 6, 2010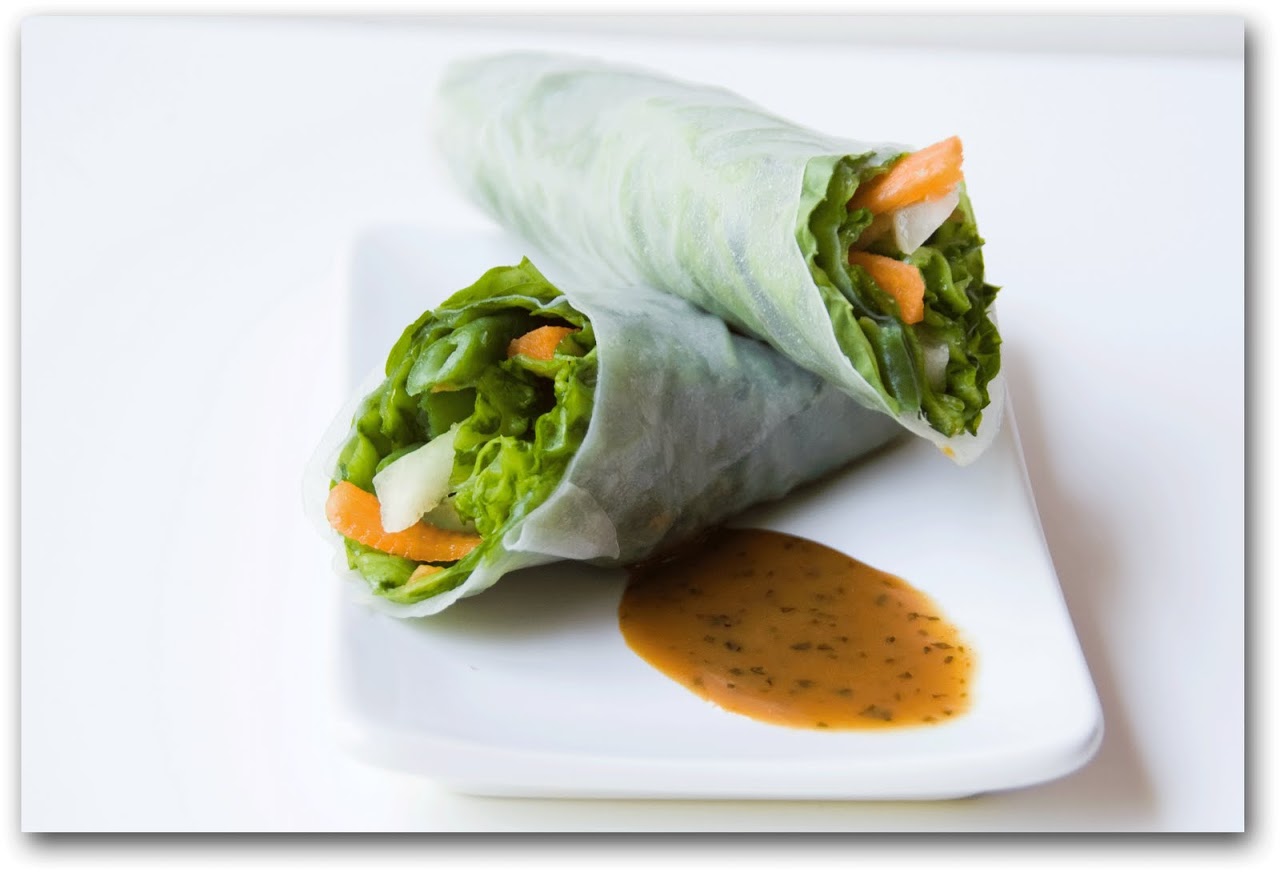 Summer rolls
These summer rolls came together in about fifteen minutes to form a satisfying, healthy, and light lunch today.  But, before I went to the grocery store and bought the rice paper wrappers and the vegetables to make them, someone on the other side of the world labored for four months so I could make this dish.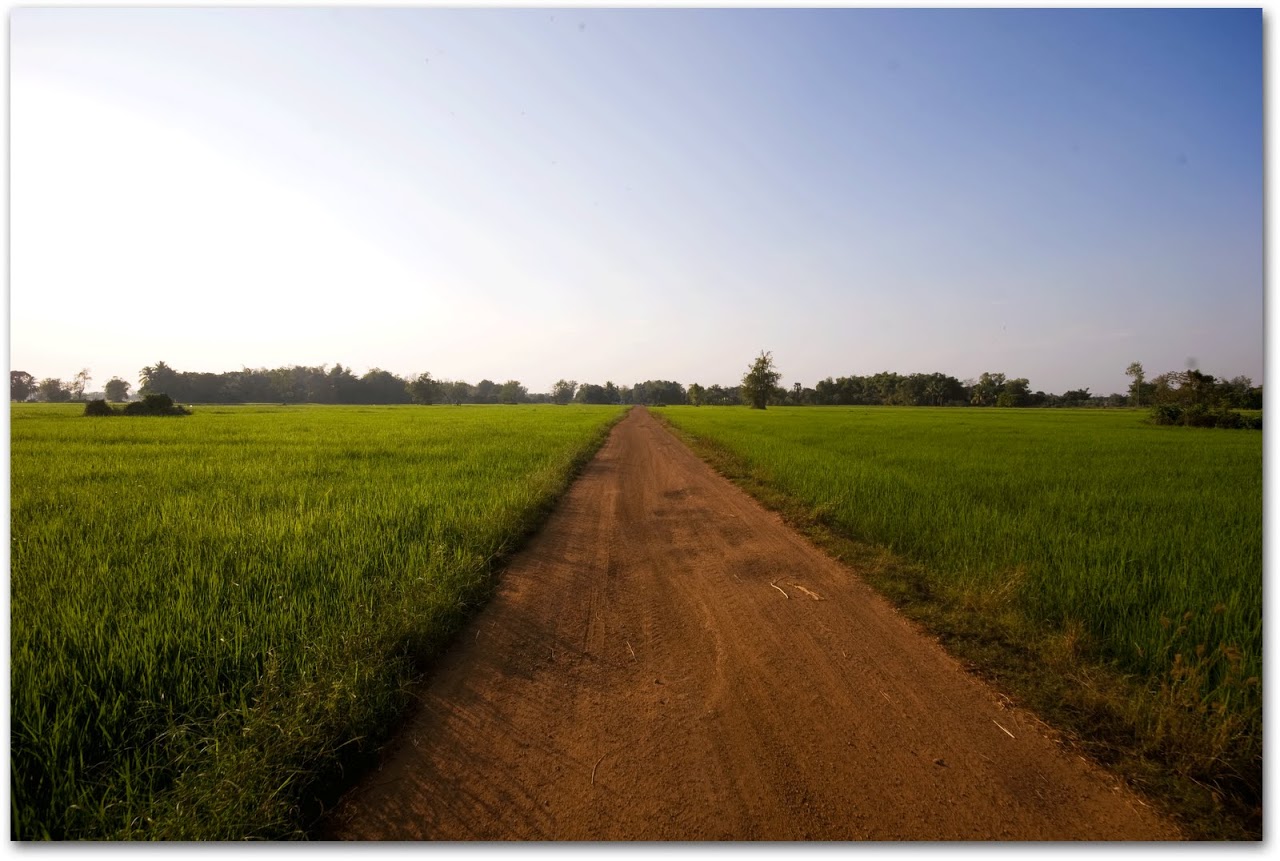 Rice plantation
The summer rolls started here --- or somewhere similar to here --- in a rice plantation in Chok Chai Thanya Kit, a village about fifteen miles from Sukhothai , Thailand, where the sapphire sky collapses into strings of ultra-green rice plants.
Close up of rice plants (the kernels are located in the feathery part)
Farmers plant rice twice a year and crops are rotated in the off-season.  It takes three months for the rice fields to reach maturity.  The stalks in the pictures above are about a month old.   The rice kernels clump together in the feathery end of the rice stalk (if you click on the picture, you can see them close up.)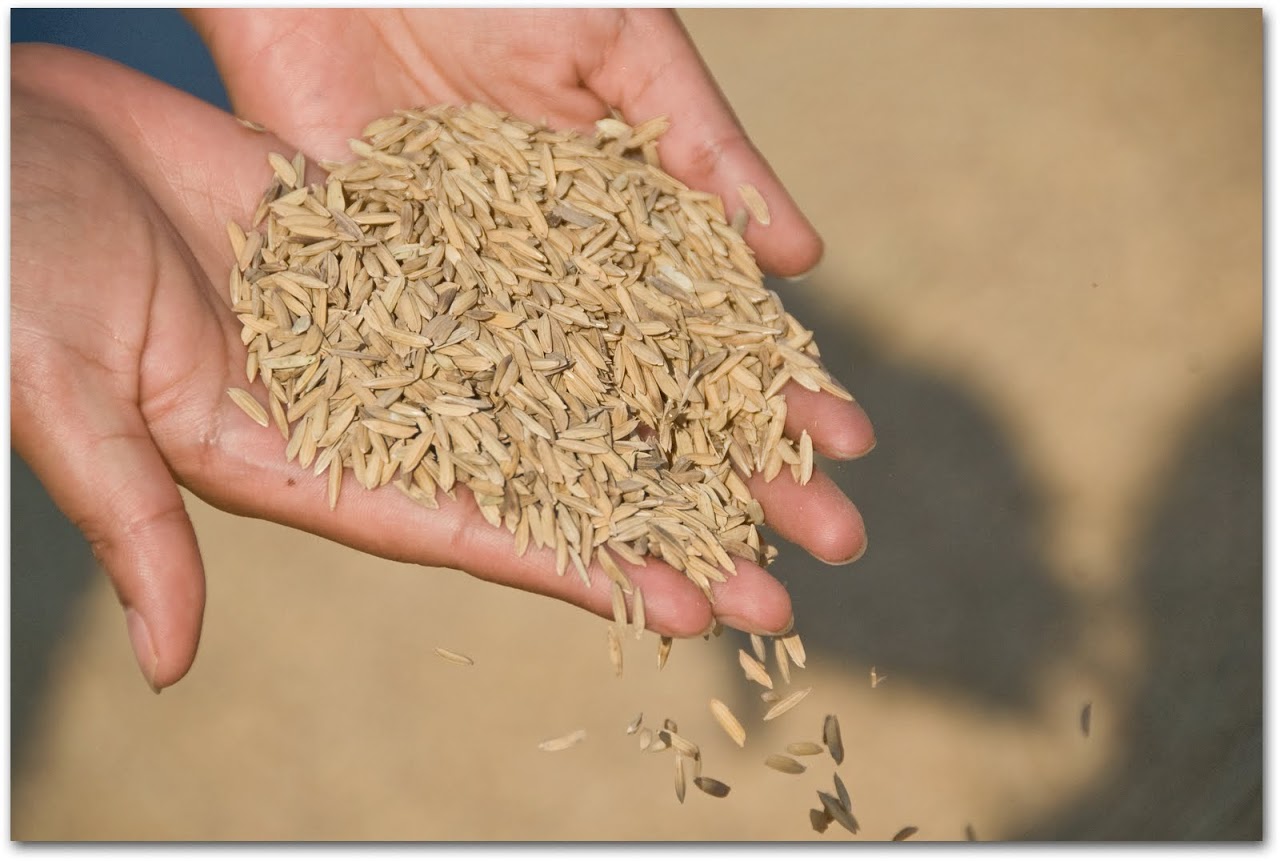 Dried rice kernels
Once the rice plants become tall and brown, farmers sell the rice to the rice mill to be dried and hulled.  The rice mill we visited is the largest in Northern Thailand with 122 employees.  Our guide at the rice mill explained that 80% of the workers are Burmese refugees and the Thai people work in the office because, according to him, "Thai people don't like to work hard."  What he didn't mention is that the Burmese work for lower wages than the Thai because most Burmese are escaping poverty and brutal conditions.
Dried rice kernels, white rice
The workers send the dried rice kernels through giant machines that shake and strip the kernels from the grain, resulting in pure white rice.  The Sukhothai region produces 6 million tons of rice each year, an astonishing 20% of the rice produced in all of Thailand.  Our guide proudly stated, "Sukhothai feeds Thailand and Sukhothai feeds the world."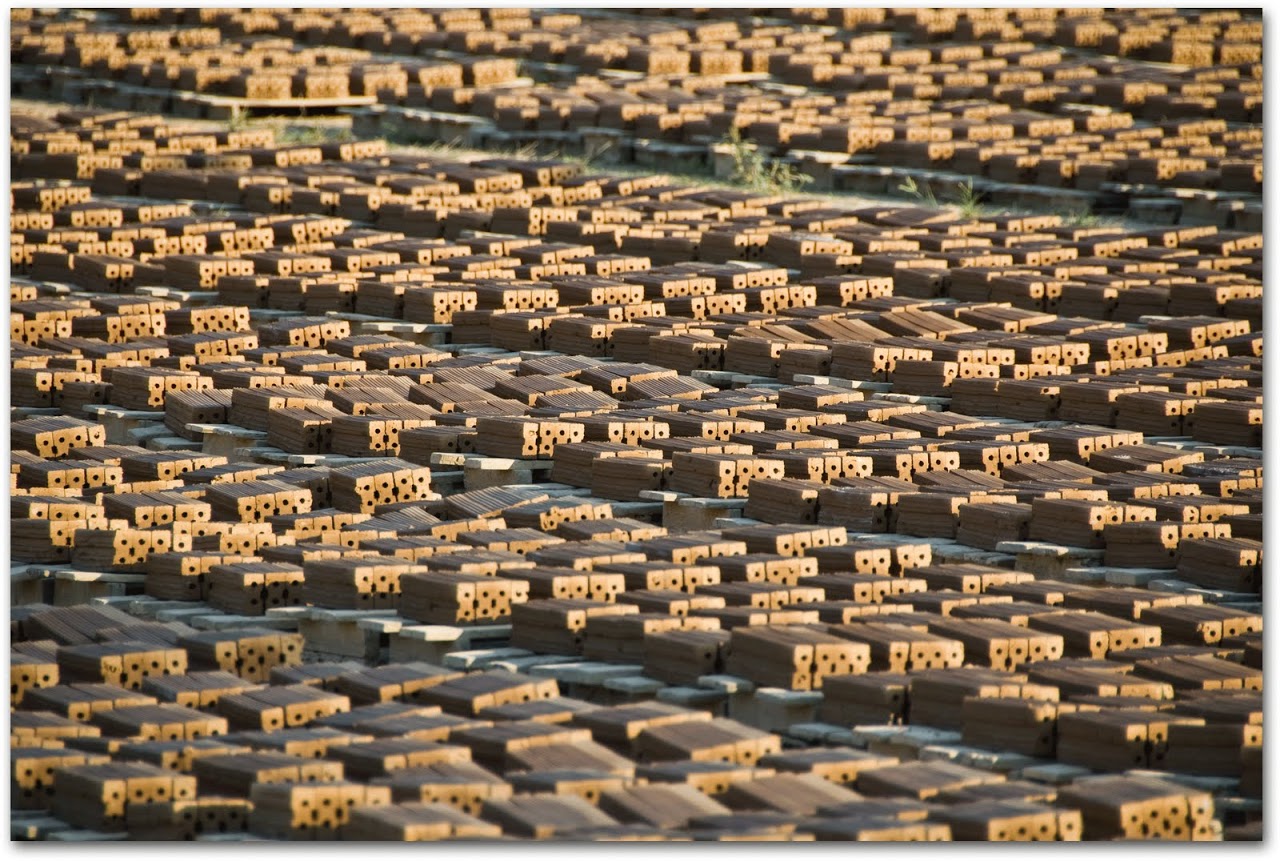 Bricks made from clay in rice fields
In a way, he is right.  Thailand is the largest exporter of rice in the world because 25% of its land is arable and used primarily for rice production.  After the devastating effects of the earthquake in Haiti, Thailand shipped 20,000 tons of rice to assist in aid efforts.
. . . keep reading summer rolls: from field to table at The Road Forks