about
We are Akila and Patrick. Our minds (and waistlines) expand as we travel, cook, and eat our way around the world with our two dogs.
Our travels inspire our cooking. Join our feast around the world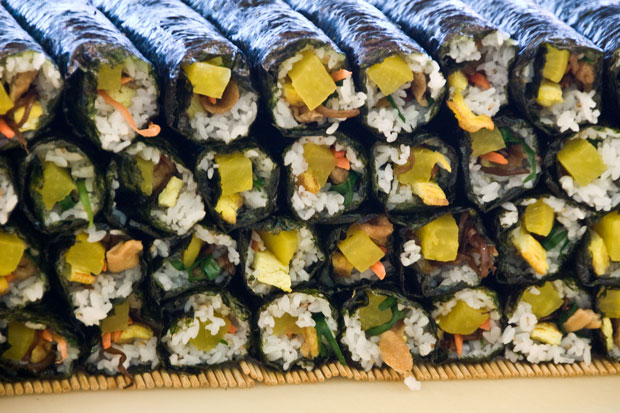 the transnational fast food theorem
The deliciousness of chain restaurants is inversely related to the distance from its home location. South Korea was our proof.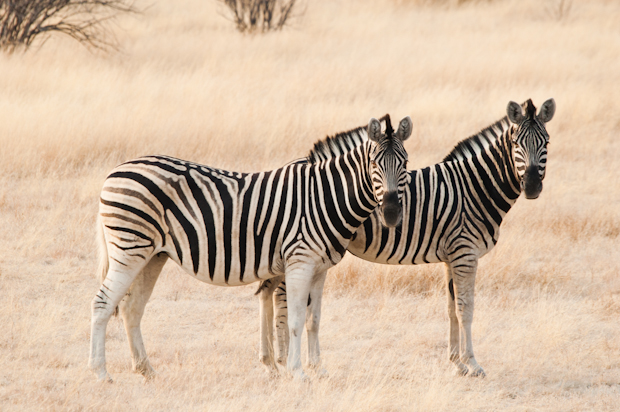 down by the watering hole
The ups and downs of finding wildlife at Etosha's watering holes.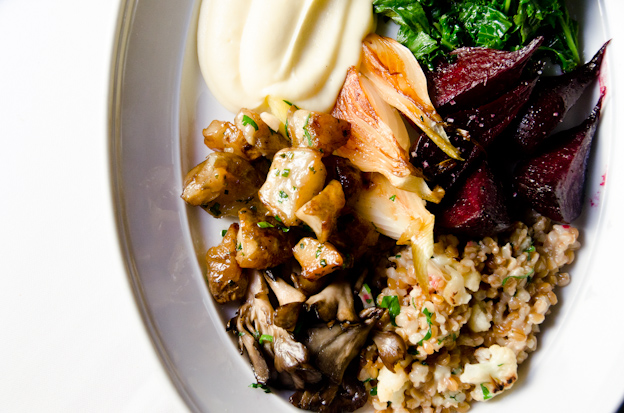 fig charleston
One of the best meals we have had in the last year.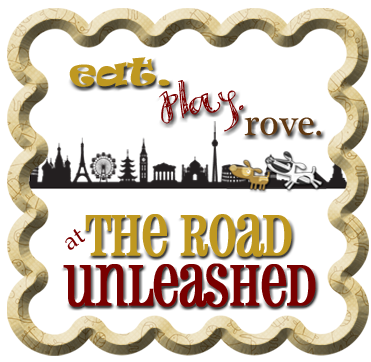 Five Random Links from our Blogroll :

Traveled Earth
Green Around the Globe
MyKugelhopf
Carolina Nomad
Kaleidoscopic Wandering
November 2, 2010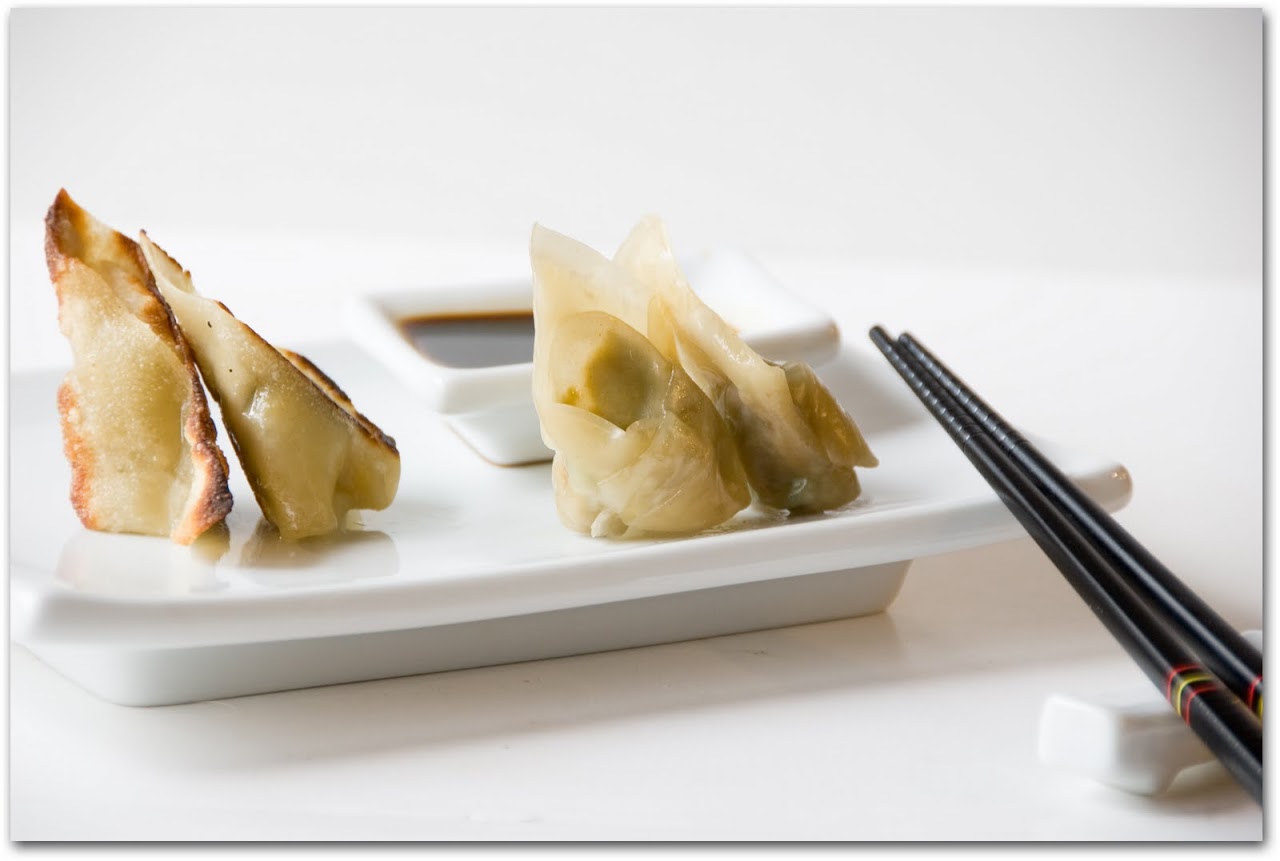 Edamame and plump pea dumplings, sauteed and steamed
If I had an alternate site, I might be tempted to call it "Dumplings R' Us" and just post recipes of dumplings and other cute dumpling-like things .  Of course, nobody would read it except for me and my Mom (and only because she loves me and puts up with my craziness).  The problem with dumplings ---- as the commenters to the jiaozi recipe so acutely noted --- is that they are "fiddly," "time-consuming," and require a lot of "patience."  But, not today, my friends.  Today, I am letting you in on the ground floor on my secret to weeknight dumplings, cheaters' dumplings, as I like to call them.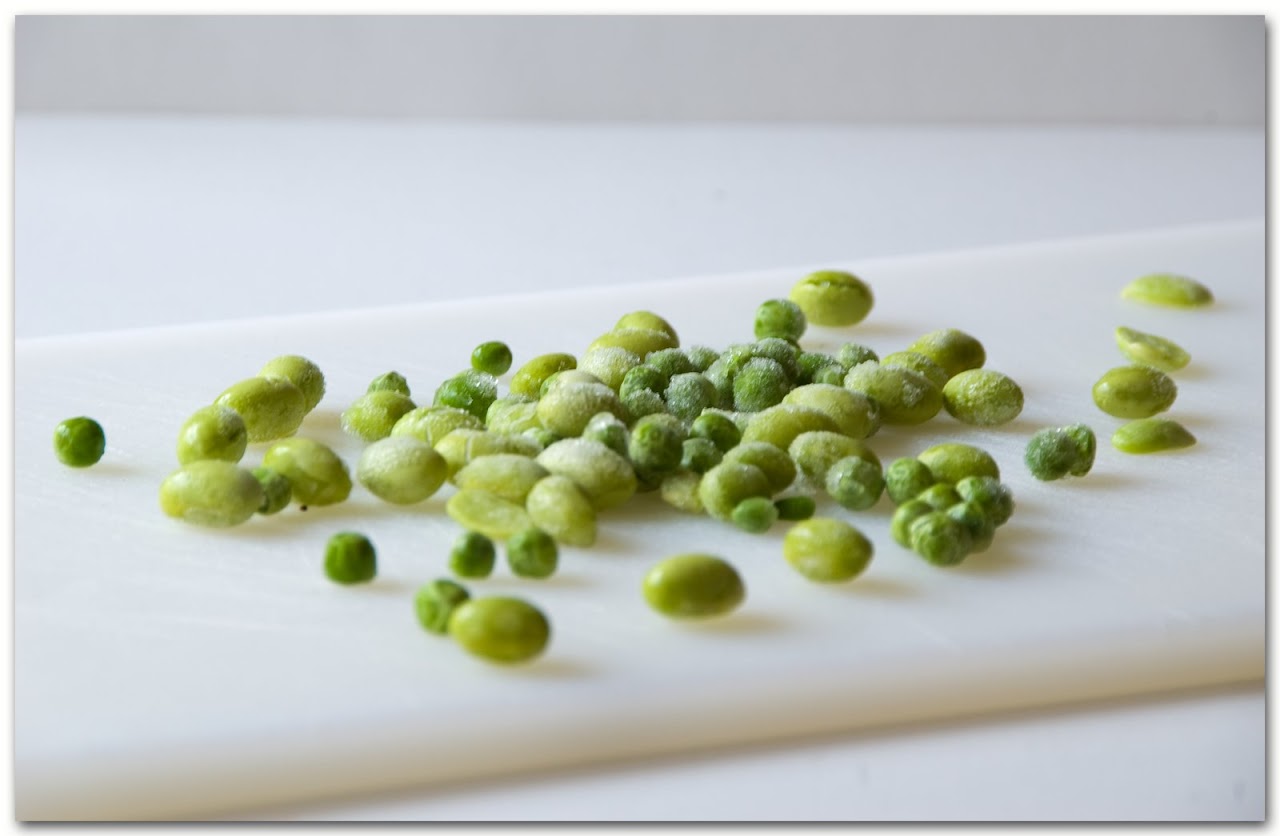 Frozen edamame and peas
The recipe goes something like this: take out a bag of frozen edamame and frozen peas.  Dump them into the microwave and thaw for 30 seconds or so, until they are just soft.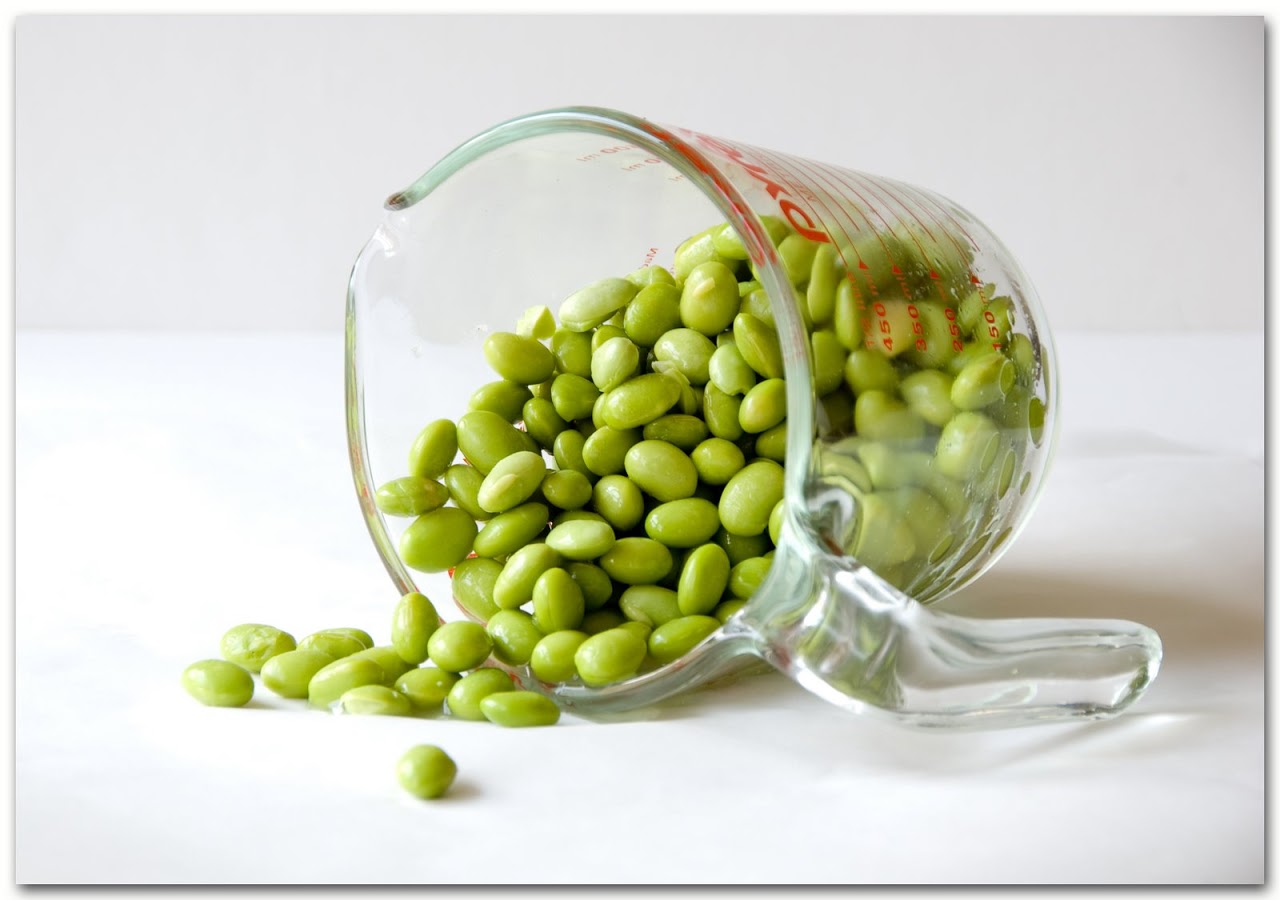 Frozen edamame
If you aren't a fan of edamame and peas, you could try edamame and spinache or edamame and tofu or edamame and pork or . . . . oops, sorry, I got a bit carried away there.  The edamame works perfectly as a solid vegetable base because it does not retain much water, creating a sticky, firm filling when combined with other vegetables or meat.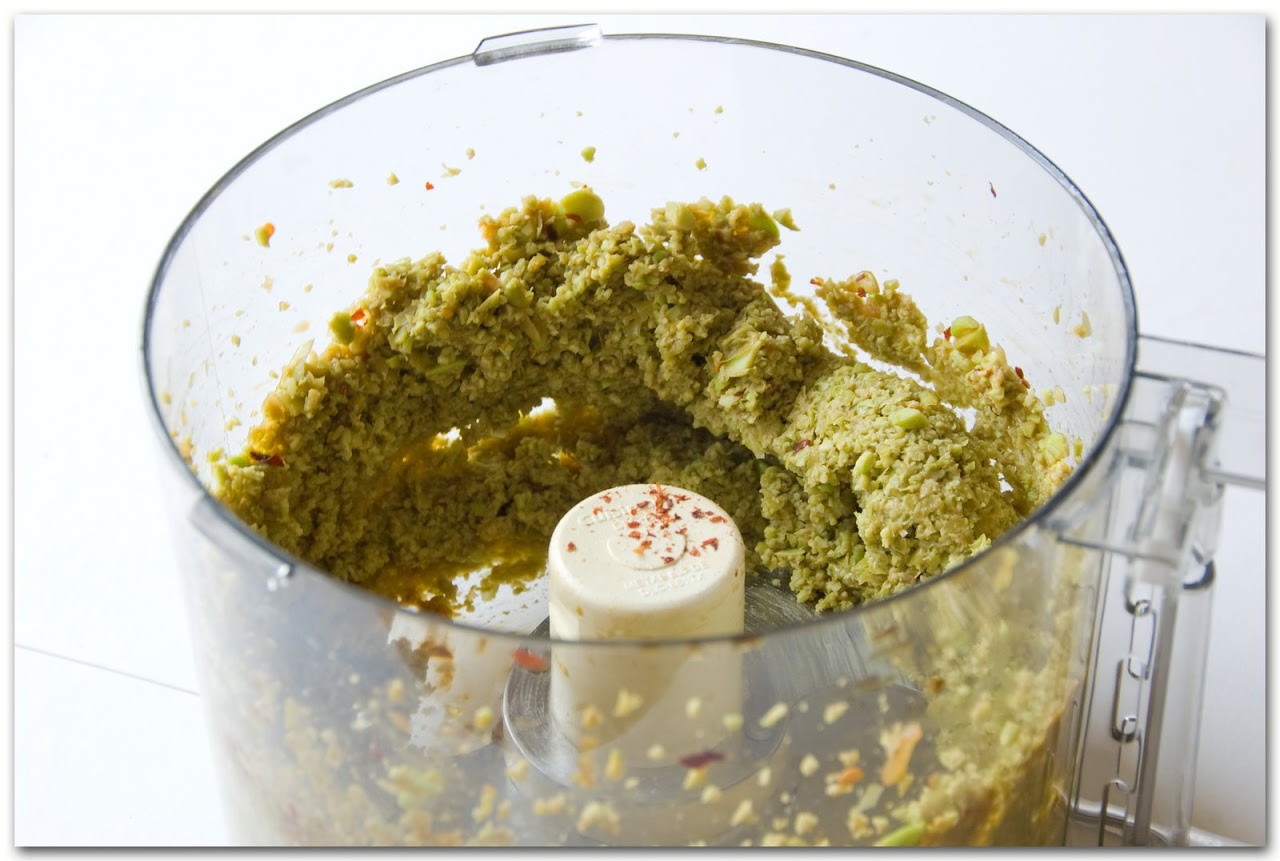 Edamame and pea filling
Pull out your food processor or blender and process the edamame and most of the peas with salt, pepper, a teensy bit of olive oil and lemon juice, and either wasabi or red pepper flakes.  I tend to use wasabi because I prefer that back-of-your-throat bite, but I ran out and substituted red pepper flakes this time.  Drop the remainder of the peas into the filling so that, when you bite into your dumpling, you will catch a few whole peas.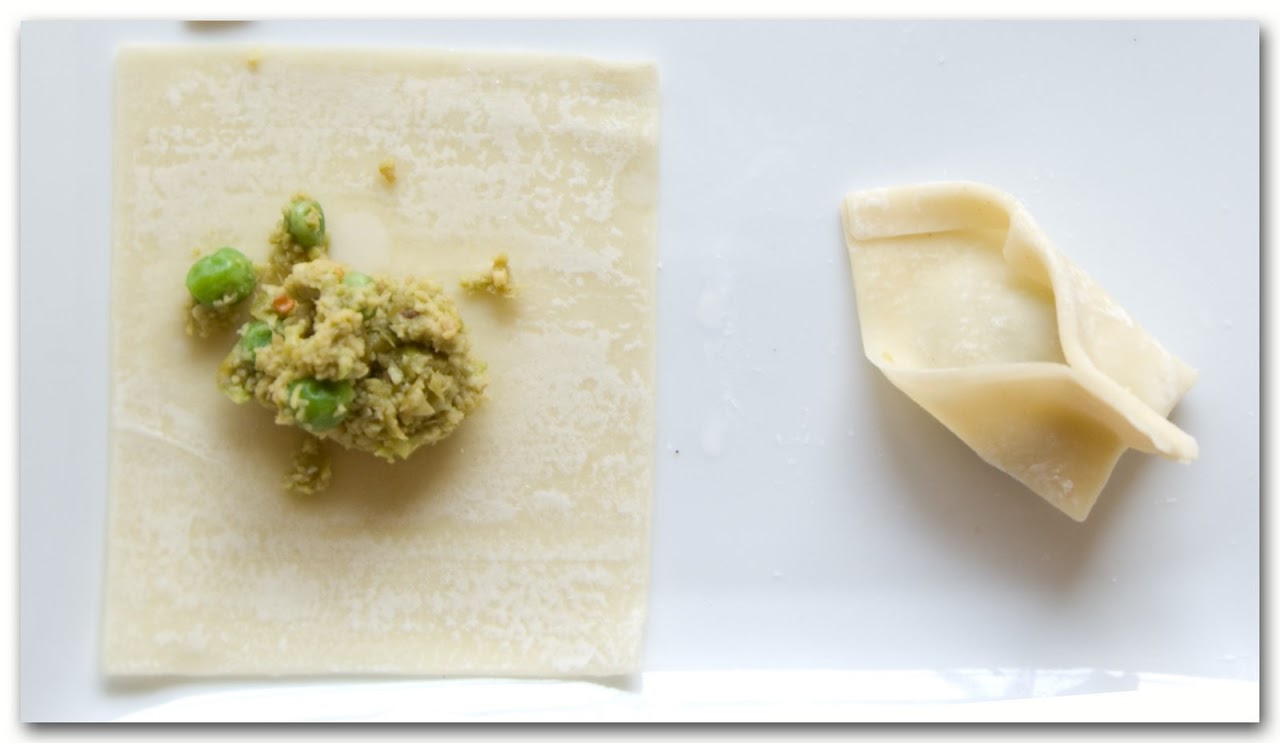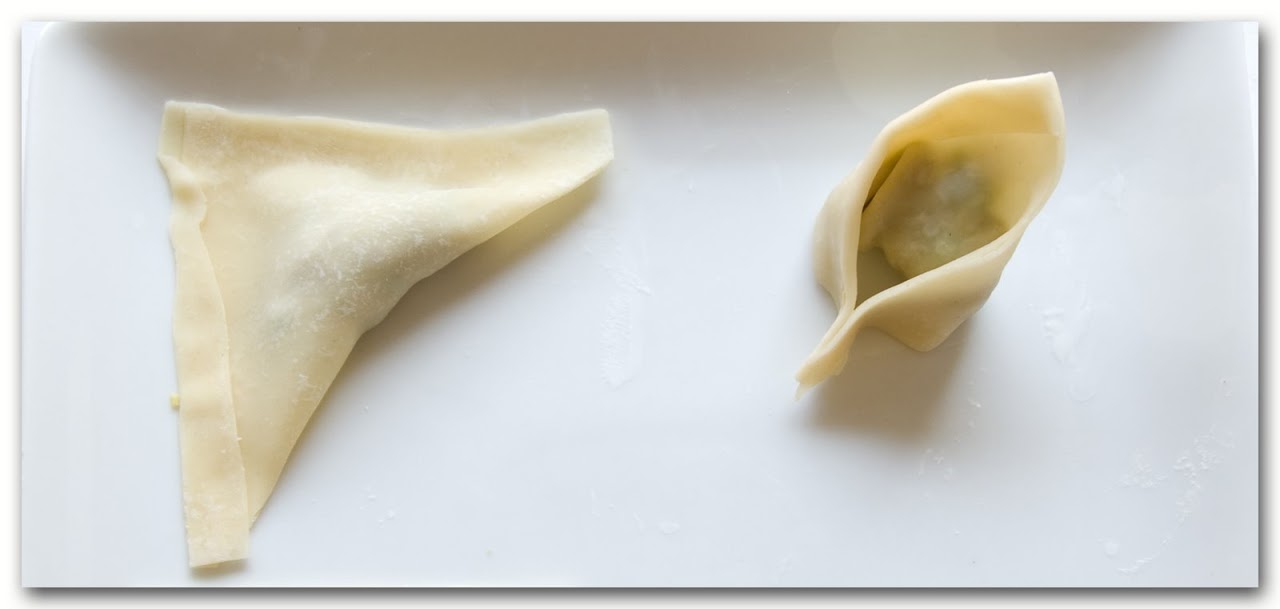 Folded edamame and pea dumplings
And, then it's time for the fun part!  Take a wonton wrapper and place a teaspoon of filling in the center.  Fold the corner of the wrapper to form a triangle and seal the wrapper with water.  Then, fold the ends together.  Easy peasy, right?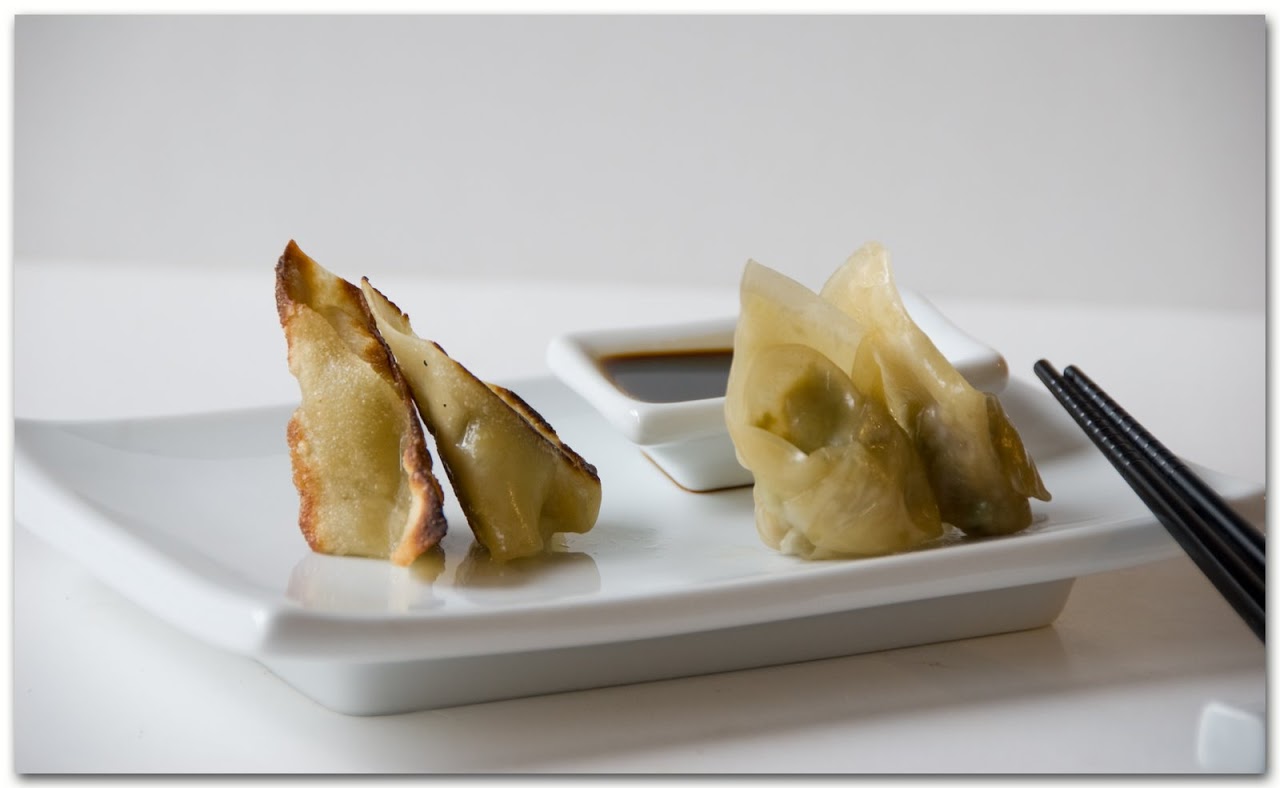 You can either steam them for 5 minutes or fry them in oil for 2-3 minutes and, voila , you have a dumpling extravaganza in the time it would have taken you to drive out to your local dim sum place.
Edamame and Pea Dumplings
Time: 45 minutes
Serves: 2-3 people
Ingredients
1 cup frozen edamame
1 1/2 cups frozen peas
2 tablespoon olive oil (or toasted sesame oil, if you have it)
1/2 teaspoon wasabi paste or red pepper flakes
1/2 tablespoon lemon juice
salt and pepper, to taste
1 package wonton wrappers*
Directions
1.  Microwave edamame and peas in two separate bowls for about 30 seconds to 1 minute on high heat until edamame and peas are just cooked and soft.  (Or, alternatively, boil a pot of water and drop edamame into water for 30 seconds to 1 minute, until edamame is bright green and then do the same with the peas).
2.  Blend or process 1 cup edamame, 1 cup peas, 1/2 tablespoon of oil, wasabi paste/red pepper flakes, lemon juice, salt, and pepper until it forms a thick paste.  Taste the filling and adjust seasonings, as necessary.  (Depending upon the brand of edamame that you use, you may need more or less salt because I have found that different varieties of frozen edamame have different salt contents.)
3.  Mix in remaining whole peas into the filling paste.
4.  Drop 1 teaspoon of filling into the center of the wonton wrapper.  Using a wet finger, wet the perimeter of the wrapper.  Fold the wrapper over to create a triangle, sealing the edges together.  If your wonton wrapper is rectangular (as mine was), you might need to either trim the edge or fold the edge over the triangle.  Press the two edges of the triangle together and seal with water.  Continue with remaining wonton wrappers.
5.  To steam dumplings: Coat bottom of steamer basket with 1/2 tablespoon of oil and place dumplings standing up in steamer basket.  I have a stainless steel steamer attachment to the top of my rice cooker, but you could also use a steamer basket on top of a pot of boiling water, or a bamboo steamer insert.  Dumplings are finished when they are tender and translucent, in approximately 5 minutes.
6.  To fry dumplings: Coat the bottom of a saute pan with 1 tablespoon oil and heat oil over medium heat.  Once oil is hot, place dumplings seam-side down in a single layer.  Fry one side for about 30 seconds, or until it turns golden-brown.  Then flip dumplings onto the reverse side for 30 seconds.  Once both sides are golden brown, carefully pour enough water to cover the dumplings into the pan and let the water evaporate over the next few minutes.  Once the water has completely evaporated (approximately 2-3 minutes), your dumplings are done.
7.  Serve with soy sauce.
* I find wonton wrappers in my regular grocery store but I have also found flour-based dumpling wrappers at Whole Foods.