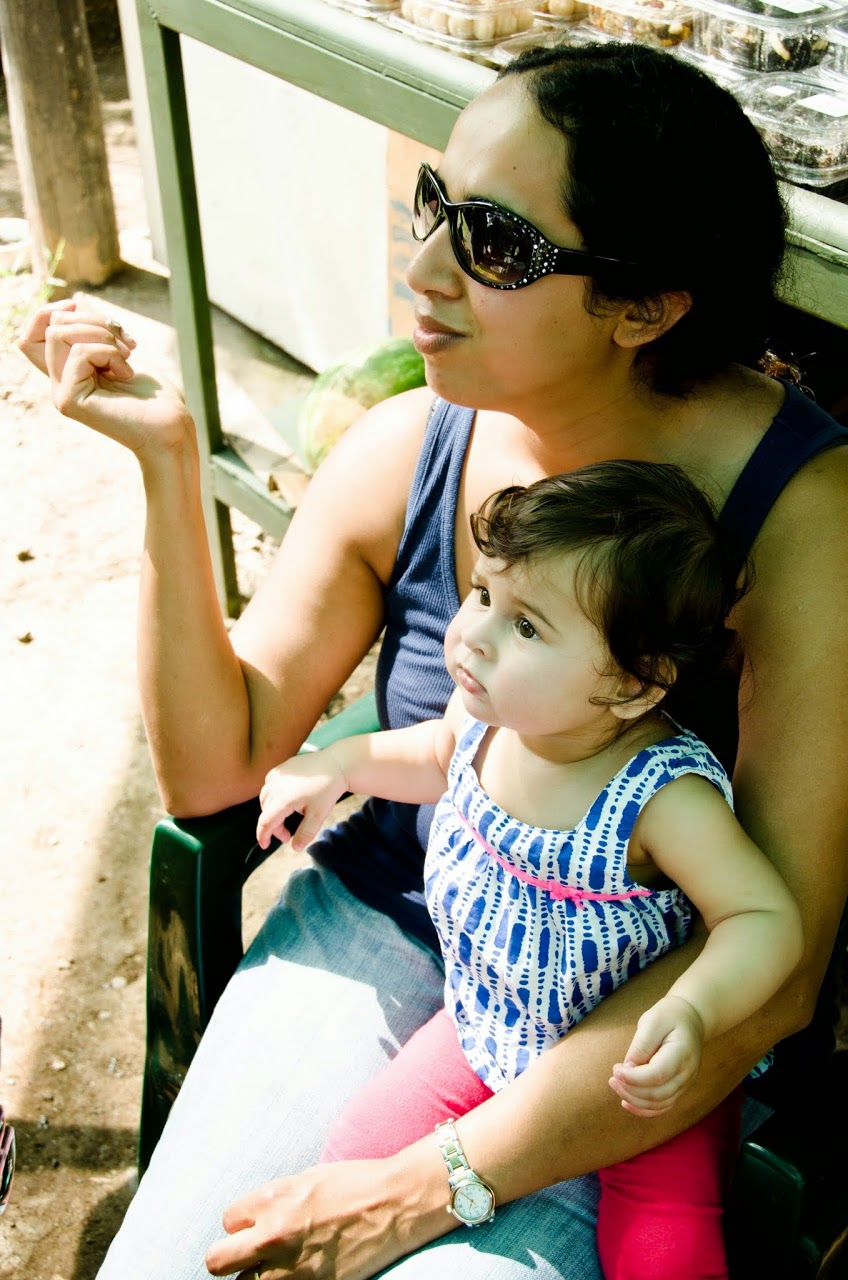 Amara and I at a pit stop on the way to Manuel Antonio
I was recently talking to a family travel blogger about how we've spent the last four years or so traveling all around the world and only returned to the United States a year ago because I was pregnant .  The blogger said to me, "Well, now that you have a baby, you won't be traveling to exotic places like that anymore.  You'll have to focus on writing about places within driving distances."  And, I said, "Oh, well, Amara has already been to Costa Rica and India.  And, we've got a trip planned to San Francisco and maybe Yosemite over the summer.  We're talking about somewhere in South America for the fall.  Maybe Peru.  We're not sure, yet."  The other travel blogger paused, stared at me, and gave me the deer-in-the-headlights look that could only mean that she thought I was crazy.
I get that.  I really do.  I used to think that traveling with a baby was about two steps removed from checking into an insane asylum. In October, the Costa Rican Tourism Board contacted me about traveling with them on a Gift of Happiness tour, a sponsored trip to some of the most beautiful spots in their country.  At first, I said no.  I couldn't imagine taking an eight month old baby all across and up and down Costa Rica at a hectic pace, all in one week.  Impossible.  Unthinkable.  Ridiculous.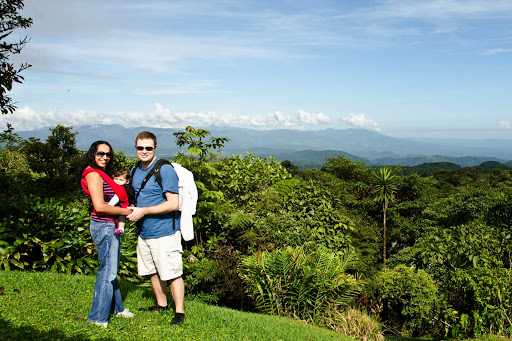 Us with Arenal Volcano in the background
But, they talked me into it.  Though, to be honest, they didn't have to try too hard.  After all, it is Costa Rica.  I love this place.  When I was there three years ago, I swore that I'd return to meet more of their wonderful people and see more of their gorgeous scenery and wildlife .  I wanted to bring Patrick to Costa Rica.  And, I wanted the country of pura vida to be Amara's first international destination.
So, we crossed our fingers and our toes and went for it.  And, it was marvelous.  Beyond our wildest dreams wonderful.  It was one of the best trips that we have ever taken.  Ever.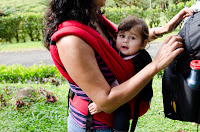 Getting ready to hike at Villa Blanca Cloud Forest
I can't pretend that traveling with Amara is the same as traveling without her.  There's a lot more planning, organization, and way more laundry and gear involved when we travel with her.  We used to carry one small suitcase each and now we have to take a huge suitcase just for her.  We did laundry three times in the one week we were in Costa Rica because we clearly didn't bring enough clothes for her.  We spent most of our evenings in, relaxing in our hotel room, rather than eating out, because Amara goes to sleep at 7:00 (or, if we ate out at dinner, Amara slept in the carrier).  There wasn't any sleeping in, as we normally do on vacation, because she wakes up at 6:30 every morning
Hiking in the coffee plantation
But, when we traveled with her, we were engaged with her in a deeper, closer way than at any other time in the previous eight months.  The truth is that, as new parents, we live scattered lives.  Or, maybe it's not being new parents.  Maybe this is just the way people live in the 21st century.  Little pieces of our lives rush around us --- we're talking while IMing, eating while watching, driving while texting --- and we're constantly grasping at stray moments.
In Costa Rica, we had the time to stop and enjoy each other.  We woke up in the morning to the sunshine streaming in through our windows.  We found free toys --- empty water bottles, used toilet paper rolls, keys, and cloth bags --- and played with her on the bed.  We walked with her, pointing out butterflies and sloths.  We swam in the pools, basking in the greens and blues.  We sat on the floor, listening to the heavy sounds of the drumming afternoon rain.  When she napped, rather than rushing to clean, cook, and organize, we napped with her.  Sometimes, she slept in the angles of my arms and I watched her tiny eyelashes flutter to the thrum of deepening sleep.  We marveled at her, this amazing little being who is part of each of us.  We reveled in the luxury of time, in places that felt timeless.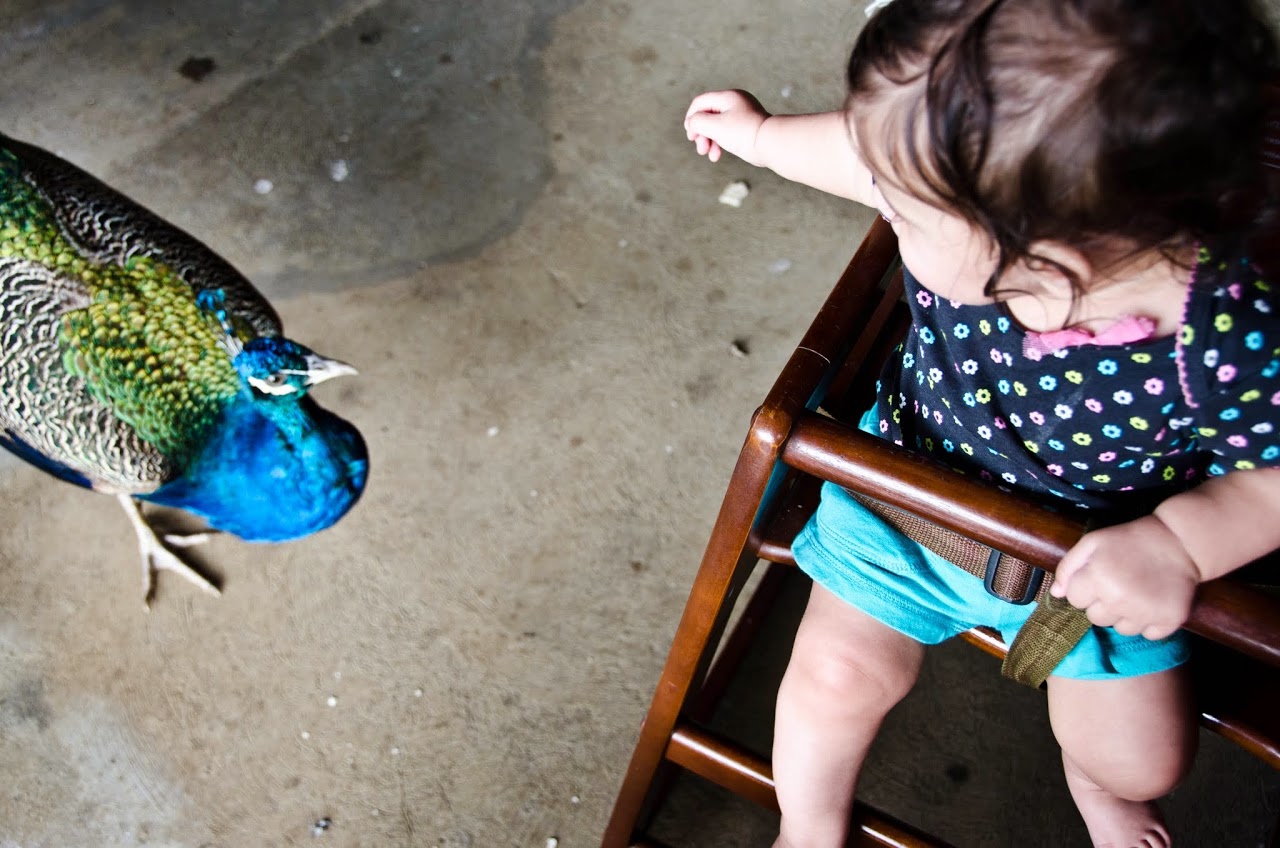 Feeding a peacock at a restaurant outside San Jose
The best part, though, was experiencing the world through her eyes.  She was intensely fascinated by little things that we often ignore: peacocks and chickens searching for scraps, the canopies of forested trees, dew glistening on spiderwebs, butterflies flitting about, and raccoons and monkeys searching for food.  She hated things we thought she would love like swimming in the ocean or playing in the sand.  She loved foods that we loved, too: platanos maduros, tostones, gallo pinto, and frijoles.
She discovered Costa Rica.  And, we got to discover it through her eyes.
I'll be back next week to tell you about the nitty gritty of traveling with a baby in Costa Rica: what to pack, tips to help you on a flight, where to stay, where to eat, and what to do.  But, the bottom line is that I would highly recommend Costa Rica for travelers with a baby.  It's an amazingly baby-friendly destination.

* Our trip to Costa Rica was sponsored by the Costa Rican tourism board but every single opinion is mine and mine alone.  If you want to read about how I choose sponsors, why I take such sponsorships, and how they (don't at all) affect my reviews, you can read this incredibly long-winded post on sponsorships, travel blogging, and ethics here .