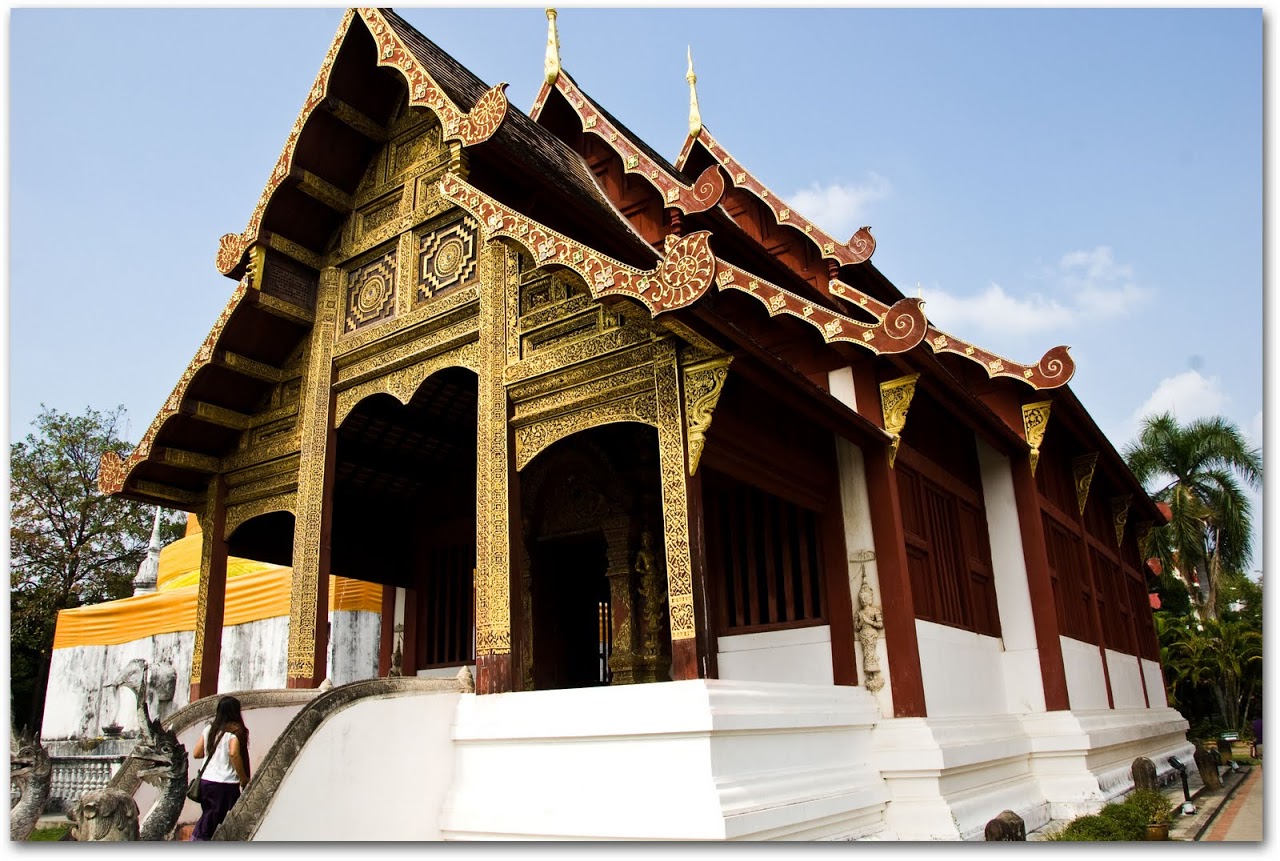 Wat Phra Singh
We have observed that all long-term travelers have at least one common trait.  And, no, it is not poor fashion sense, or a total disregard for a "responsible lifestyle," or even an interest in adventure sports.  Rather, all backpackers seem to be glass-half-full sort of people who subscribe to the mantra that today is a good day and tomorrow is another good day waiting to happen.
Lighting a lotus candle; monk meditating amongst golden monk statues (he never moved!)
This strange, almost giddy sense of optimism is most apparent when you start talking to backpackers about the weather: on a rainy day, the long-term traveler will shrug and smile that he is glad to have the chance to relax and work on the computer; in the blistering heat, they smile and agreeably remark that at least it isn't raining; and in the wintry cold, they smile and talk about how great it is that they aren't hot and sweating. And, now, it has happened to us.  I don't know exactly when or how our mindset shifted but we have now become those cheery people we used to mock.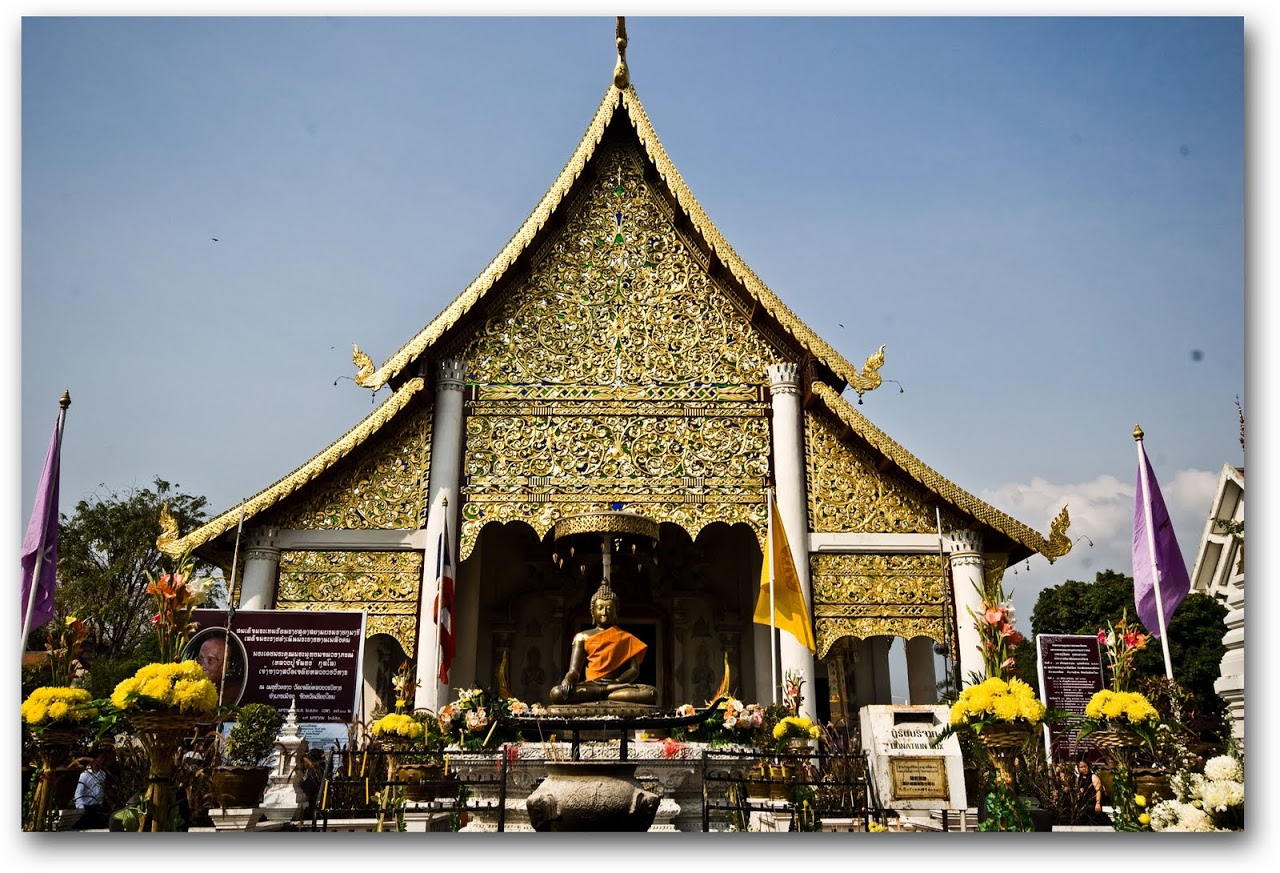 Wat Chedi Luang
A prime example is our attitude over this last week.  We left Chennai with the souvenir of a chest cold, one of those brutal affairs where our bodily organs fought to escape through our throats and exhaustion seeped into our skin and bones when we did anything more than walk for a few minutes.  This should have embittered our spirits, annoyed us, and left us yearning to go home.  Instead, we kept referring to the cold as a blessing in disguise.
Inside Wat Chedi Luang; reclining Buddha; monks receiving tribute; festival-goers
It happened like this.  On Sunday, we planned to go to two of the most famous temples, or wats, in Chiang Mai: Wat Phra Sing and Wat Chedi Luang, located about five minutes from each other.  Instead, after a thirty-minute walk around Wat Phra Sing, we were so dead tired that it was all we could do to get some lunch and grab a tuk-tuk to take us back to our hotel.  We spent our afternoon nursing our throats and lungs with equal parts Robitussin and Strepsils, irritated that we had not been able to see much of Chiang Mai that day.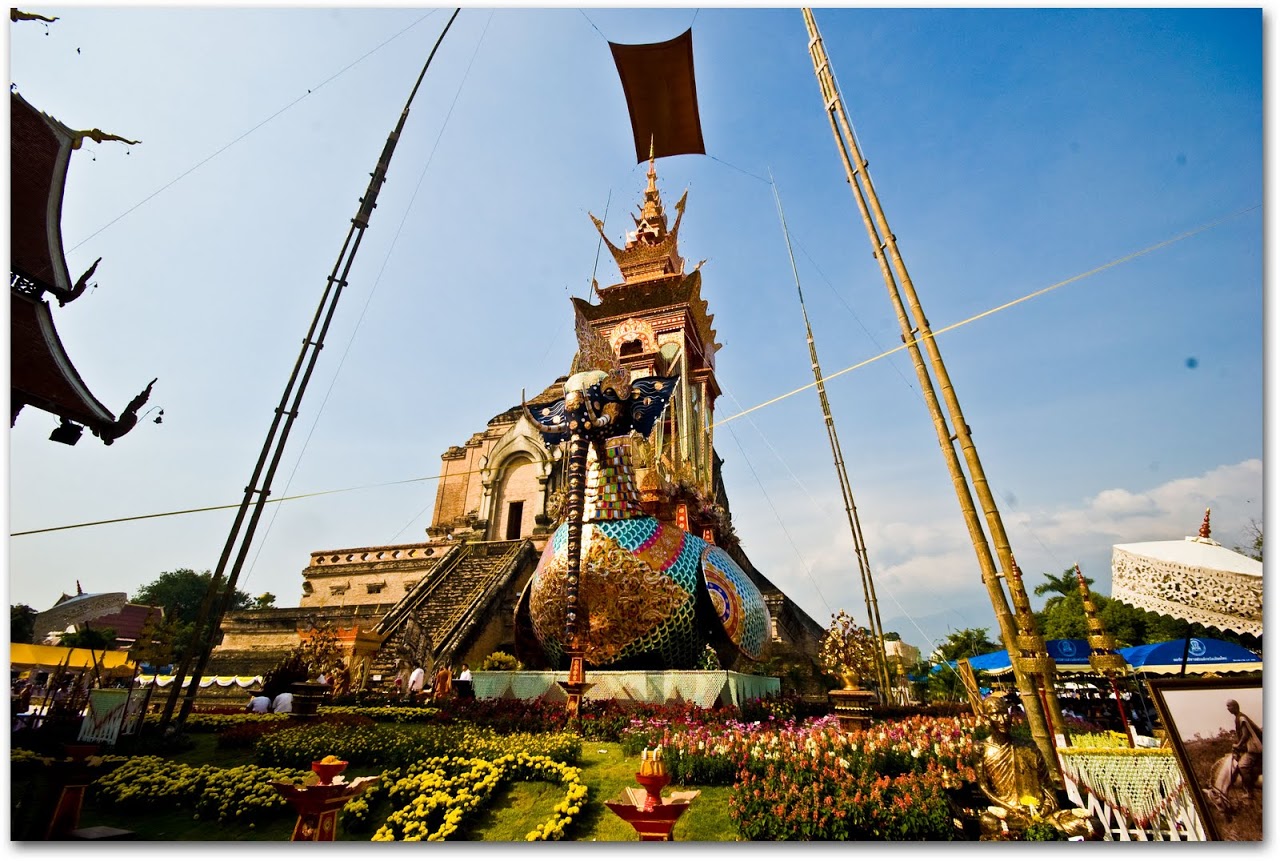 Hamsa (goose with elephant head)
The next morning, we walked to Wat Chedi Luang, expecting to quickly walk through the grounds and spend the rest of the day seeing other wats.  At first, we didn't understand why the wat was packed with people inside and out, why everyone was in either strictly black or white, and why pictures of an older monk stood throughout the complex.   We were amazed by a gorgeous mammoth statue that looked like a goose with the head of an elephant.  At the back of the temple grounds, an endless series of tents had been constructed with plates among plates of food, offered free to all who entered the temple.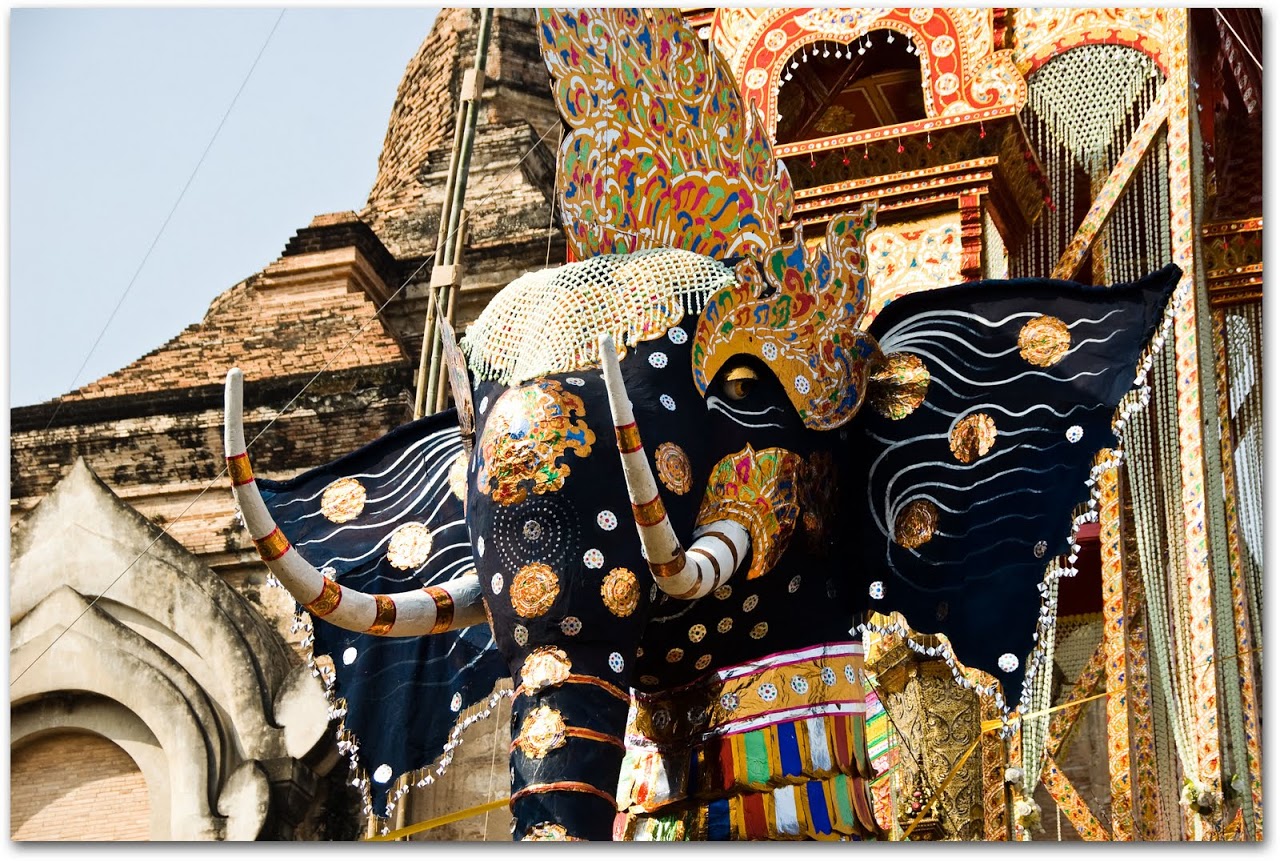 Hamsa head (notice the mondop in red sitting above the head)

As it turned out, we happened upon Wat Chedi Luang for the funeral of the monk Chan Kusalo, the Patriarch-Abbot of Wat Chedi Luang and one of the most revered monks in northern Thailand. He died on July 13, 2008, but a festival was held in early January 2010 to celebrate his life, culminating in the funeral that we witnessed on January 19, 2010.  The elaborate goose-looking creature, called a hamsa, was the funeral pyre and his body was encased in a gold-leaf covered coffin placed in the mondop, or small temple, on top of the hamsa.  That night, that gigantic funeral pyre burned to the ground and erupted in fireworks.
Vegetarian noodles; girls serving; plates of food; pat thai
When we finally figured out that it was a funeral, we hesitated and debated whether to leave or stay.  It was the Thai people who made our decision for us; they kept smiling and nodding to us, inviting us to come and eat, to see the places, and to worship with them.  Everyone seemed thrilled that we were there to witness this funeral and we could not refuse the delicious food offered and so freely given.  In the sea of Thai faces and voices, Patrick and I stood out, yet no one hesitated in inviting us to be part of this celebration.
It was the luckiest chest cold we have ever had.
Details
Flowers and fountain at Bhubing Palace
Aside from the famous bazaars and night markets, Chiang Mai is known for the beautiful Wat Doi Suthep and Bhubing Palace twenty kilometers outside the city.  The best way to see the city and the sites is to rent a motorcycle.  If, like us, you don't know how to ride a motorcycle, we recommend that you get in touch with Tony's Big Bikes in Chiang Mai .  His assistant gave Patrick a one-hour motorcycle lesson for 500 baht (about $18 USD), which though a tad bit expensive, was well worth the time and expense because we have found motorbikes to be a convenient, inexpensive, and practical way to see Thailand.
-----
Aside from all this traveling, I have been busy writing.  On February 4th, you can check out my guest post over at Cheap Airline Tickets on alternatives for non-wine drinkers in the Barossa Valley.  Last week, I was thrilled to have a post on Should You Adapt When You Travel? featured on Almost Fearless and, two weeks ago, Brave New Traveler featured my article, The Deadly Sin of Wanderlust: Is Long-Term Travel Selfish? .