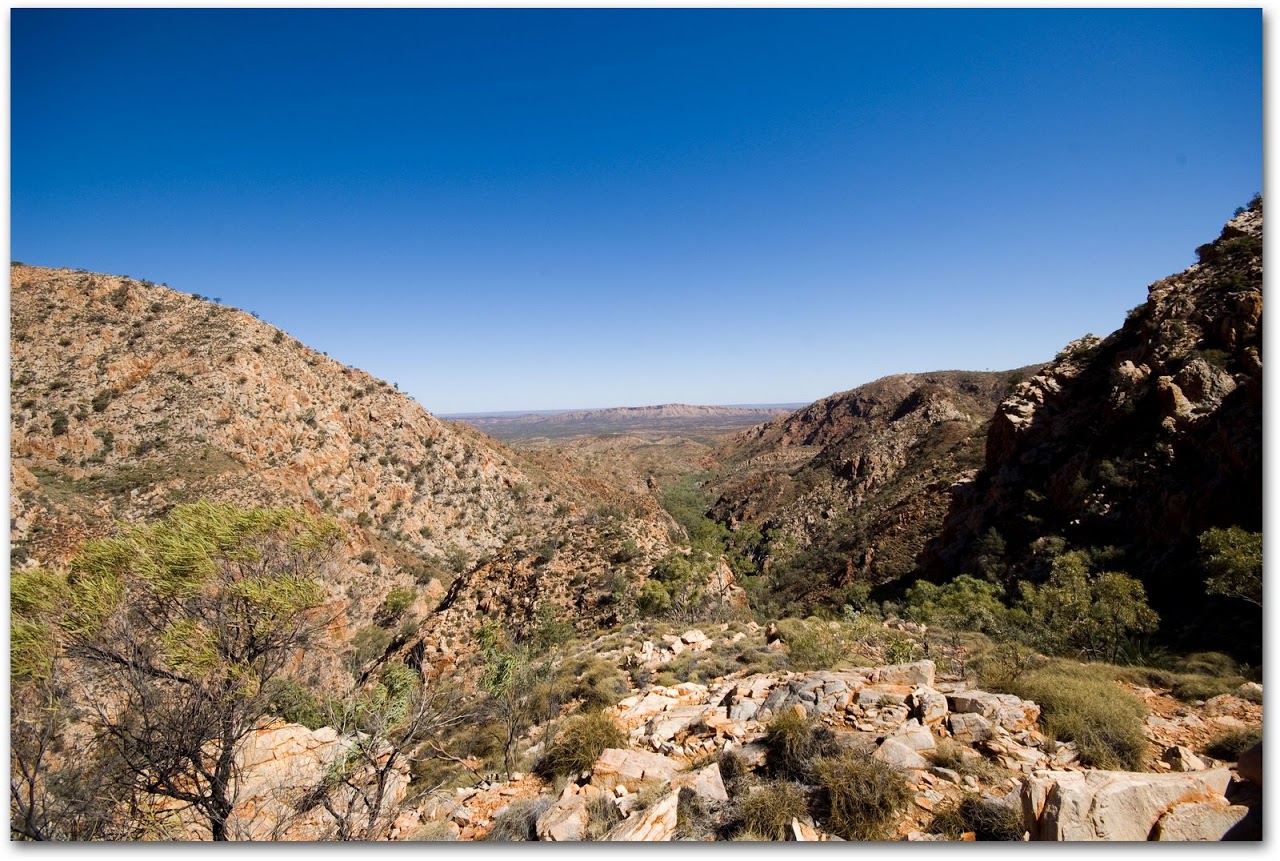 Top of trail from Standley Chasm

The Outback is not pleasant.  Over two-thirds of Australia is covered by flat dry sand, shrubs and trees, with minimal human comforts.  Wild horses roam the dull red expanses and dingoes howl in the night.  Camels overpopulate the Outback and the Australian government is slaughtering them by helicoptered machine guns to reduce the threat to the environment.
Wild camels and kangaroo at Kings Canyon
In the morning, it is so cold that we sprint to the bathrooms but, in the middle of the day, the heat covers our body in warm sweat and we hide beneath the shade of the few trees.
Sunset and sunrise at Kings Creek Village
By the second day, despite constant usage of chapstick, our lips feel like sandpaper.  We drink six liters of water a day and still feel parched.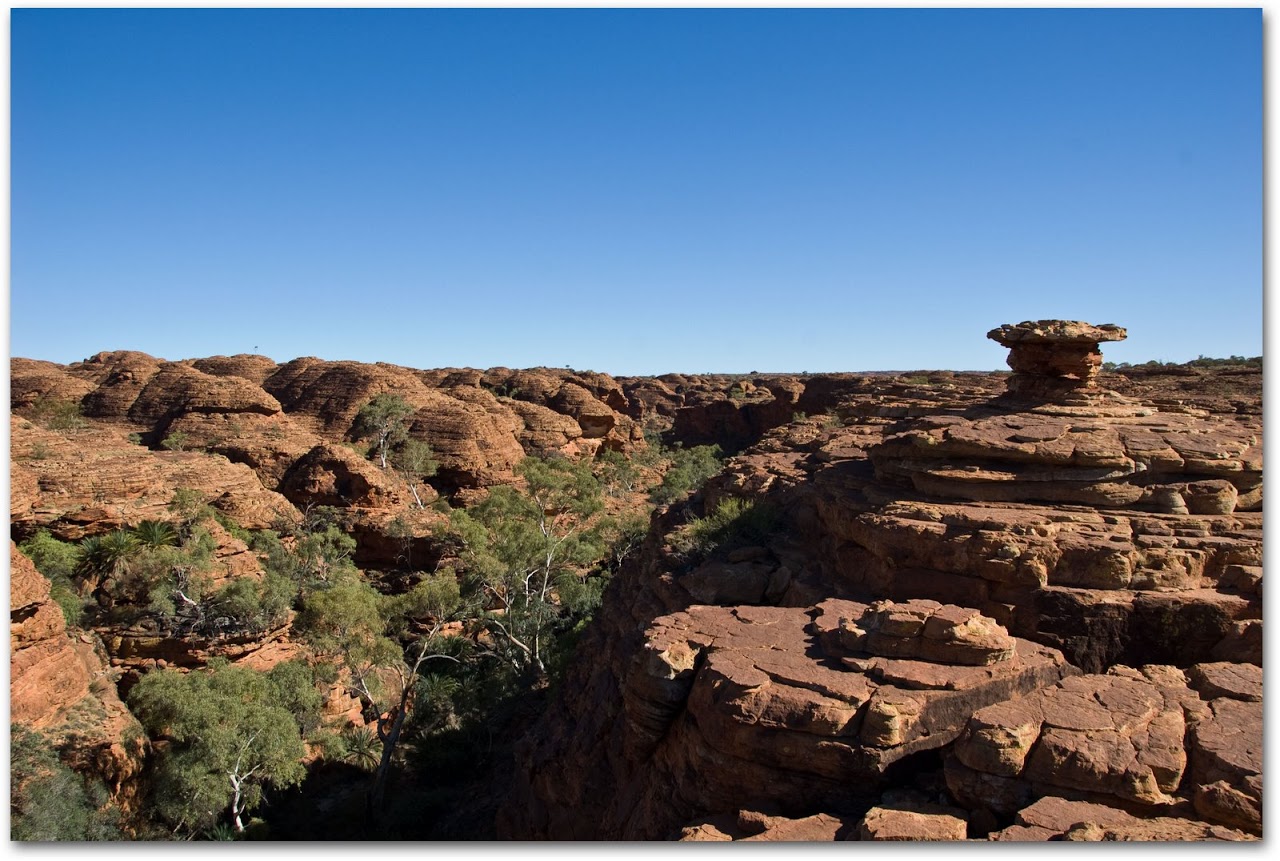 Kings Canyon
But, it is insanely beautiful.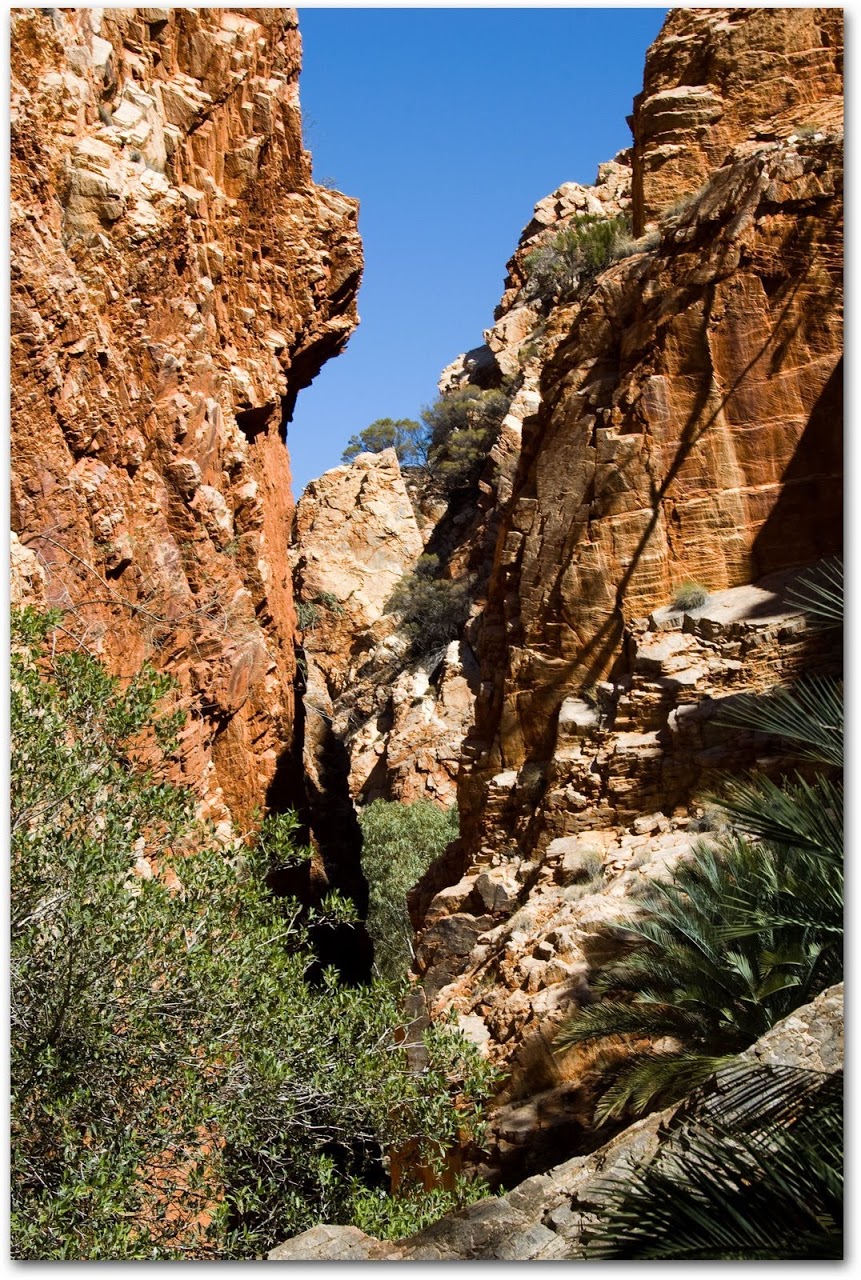 Standley Chasm
As a child, I adopted the habit of Anne of Green Gables and renamed places in my mind to reflect their true beauty; like Anne, I used to be appalled that unimaginative souls would name places without any reflection of their scope for the imagination.  (And, please, someone out there tell me that you did the same thing as a kid.)
Movement of rocks at Uluru
Sometimes, Anne's habit comes back to me; in the Red Centre, it did and I find myself seeing shadows and movement beyond the rocky red expanses.  I want to rename everything .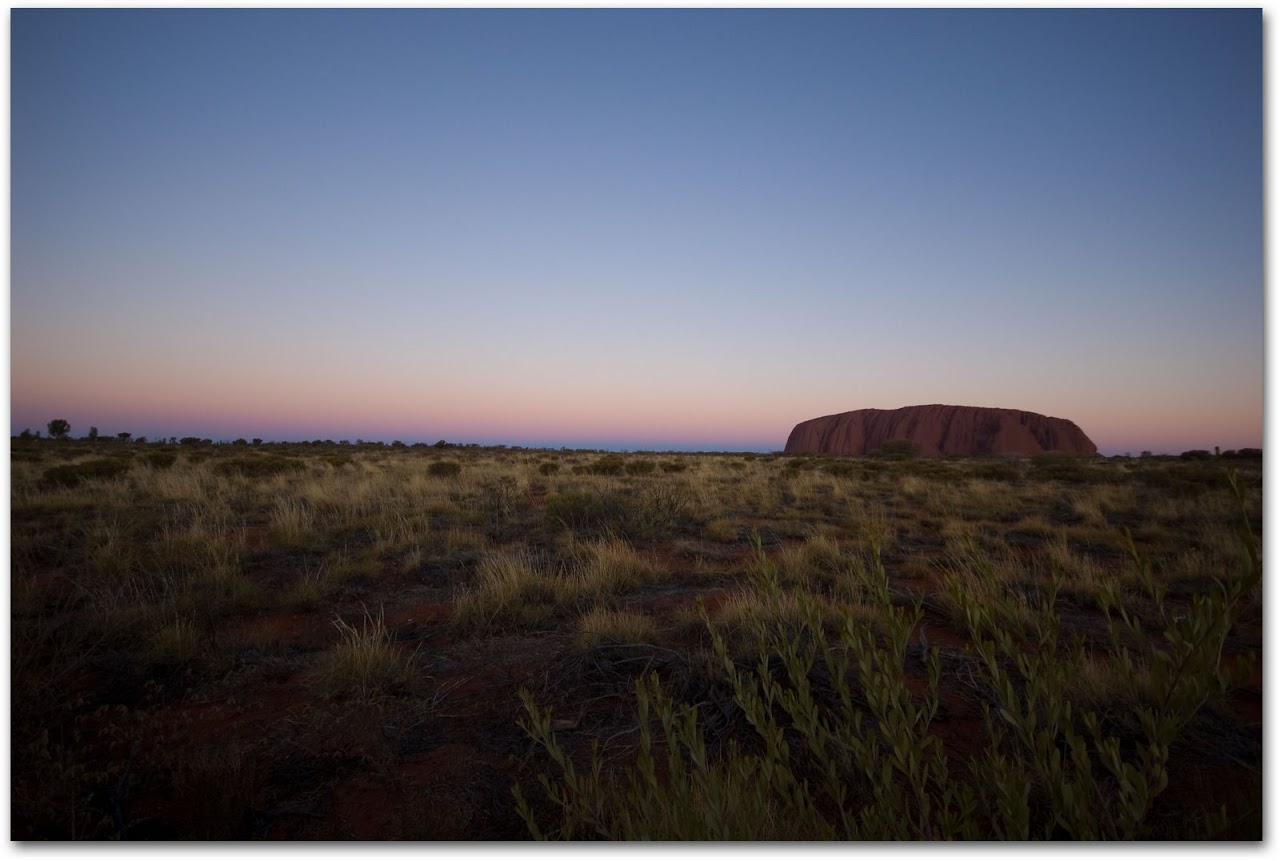 Uluru at sunset
One woman on our tour tells us that she is unimpressed by Uluru because she it is "just a big rock in the middle of the desert."  Startled, I try to convey its enormity, the spirituality of its presence in the middle of the flat Outback, and the symbolism of the formations on the back of the 1,000 foot sandstone rock.

Uluru and red sand (and doesn't that 3rd picture look like a human skull?)
She sneers, "Well, it's just weathering on the stone.  I guess you could see that if you use your imagination."  Um, yeah.  I don't even know how to respond to that comment.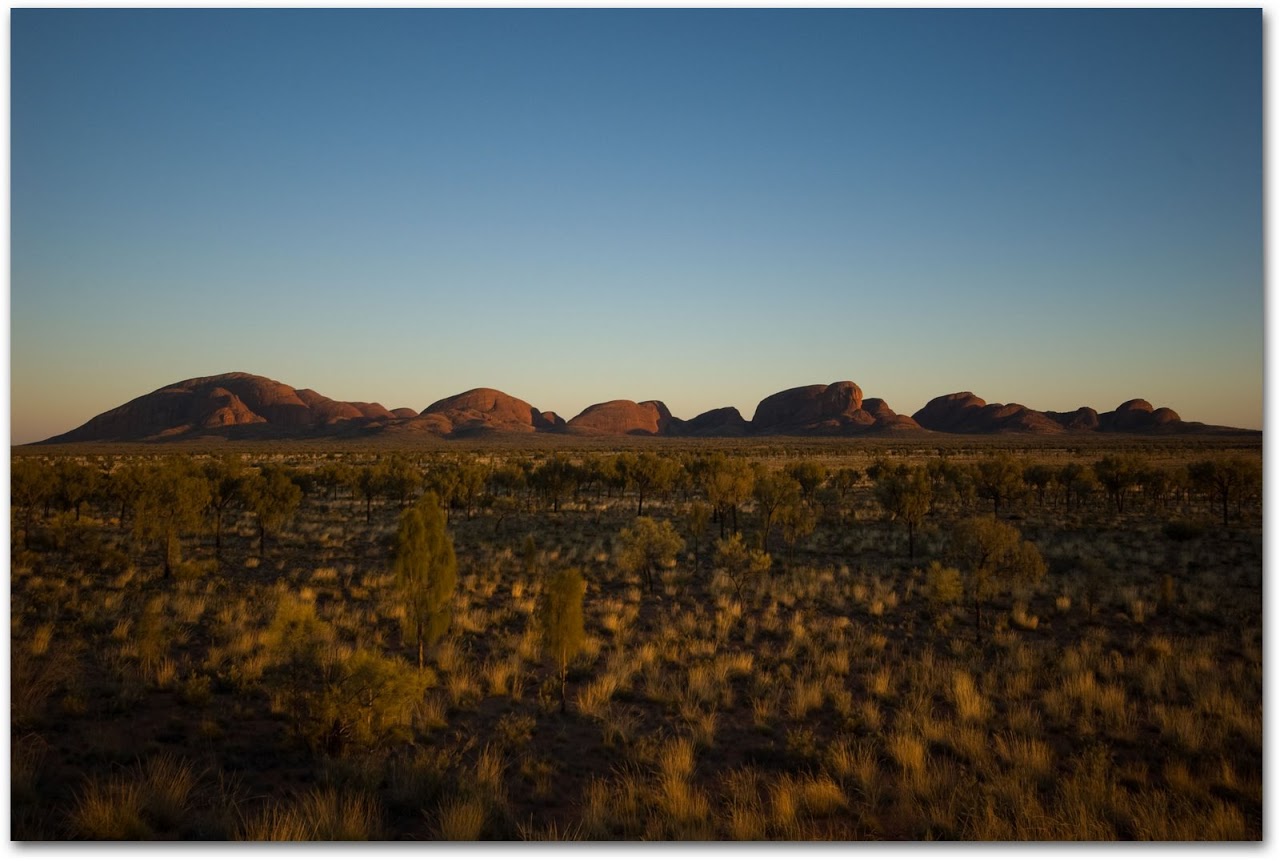 Kata Tjuta at sunrise
At Kata-Tjuta, we are walking underneath a giant's hand with his fingers stretched out over us.  (If you look at the left-most set of rocks, you can see the hand with the fingers stretching out.)
Uluru sunrise
In the evenings, the whole earth moves from bright blue to yellow to orange to red to violet and then to black.  On the first night, as we watch the sun disappear over Kata Tjuta, tears fill my eyes because all the irritations, heat, and misery found in the Outback disappear as I experience the gorgeousness and goodness dealt by a harsh environment.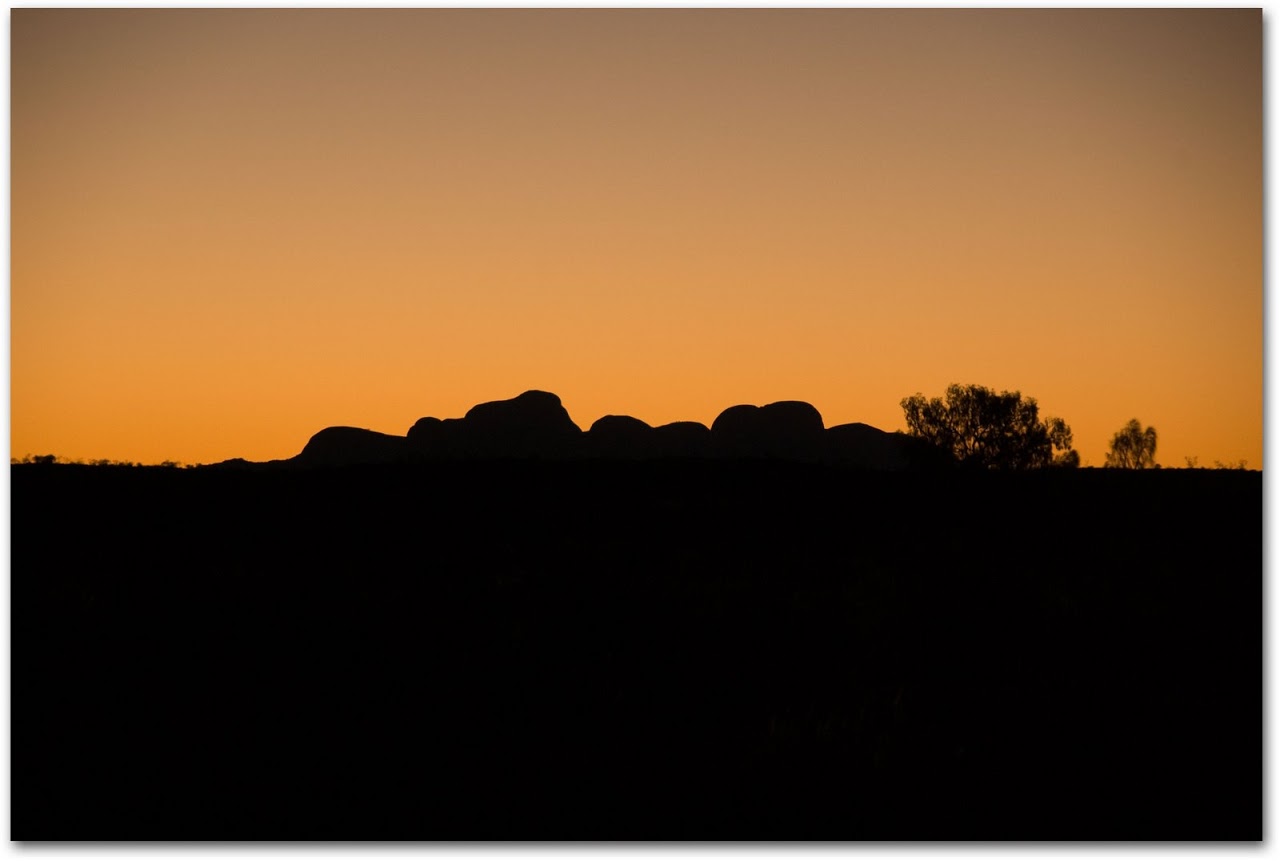 Sunset over Kata Tjuta
At night, we sleep under the inky sky, shooting stars flash across, and the starlights are so close to us that we can lift our arms out and grab them.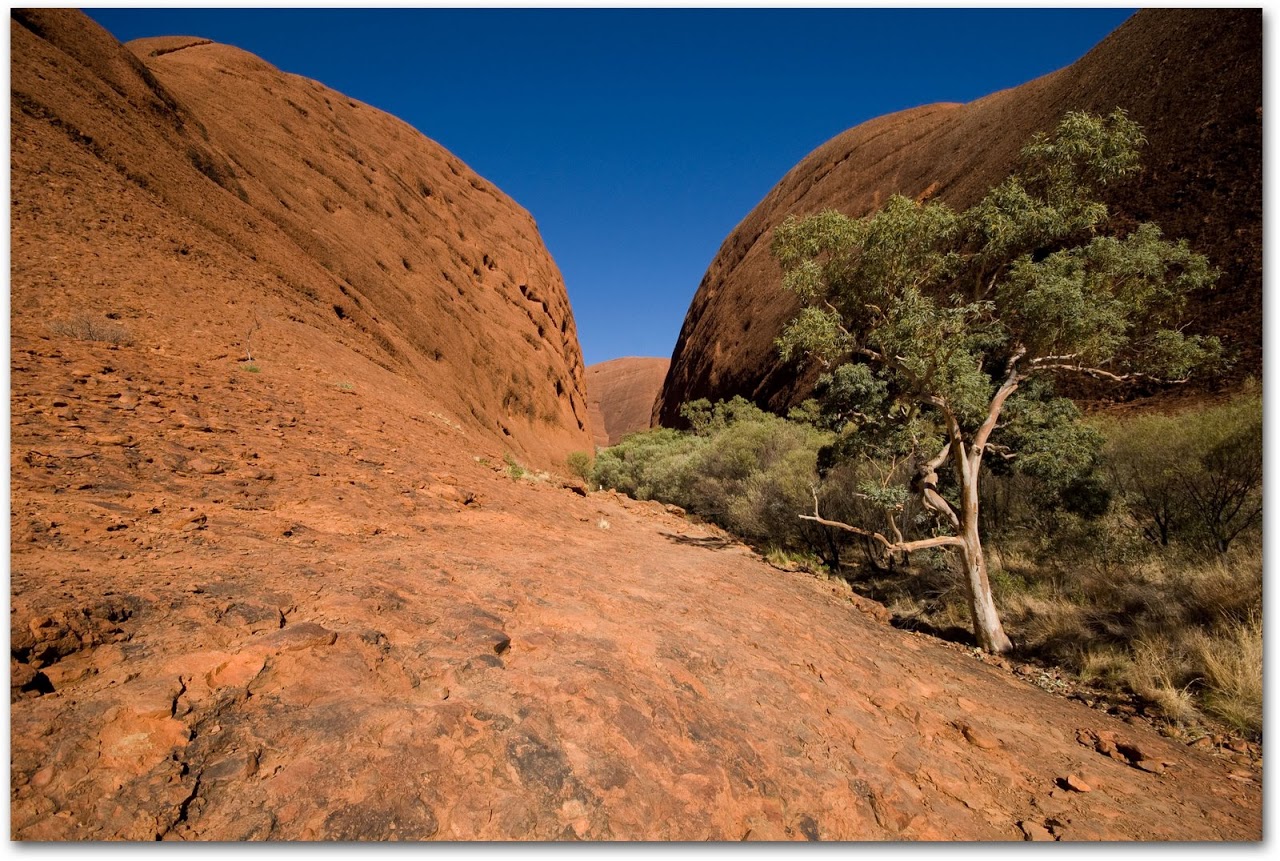 Arch at Kata Tjuta
How could such a place of contradictions, shadows, and movement simply be named the Red Centre?
Details
We spent four days doing the Ultimate Red Centre Dreamtime Safari with Connections Safaris.  We had to take a tour because all the rental vehicles in Alice Springs were booked by the time we got there; if you're planning on renting a car, make sure you book well in advance.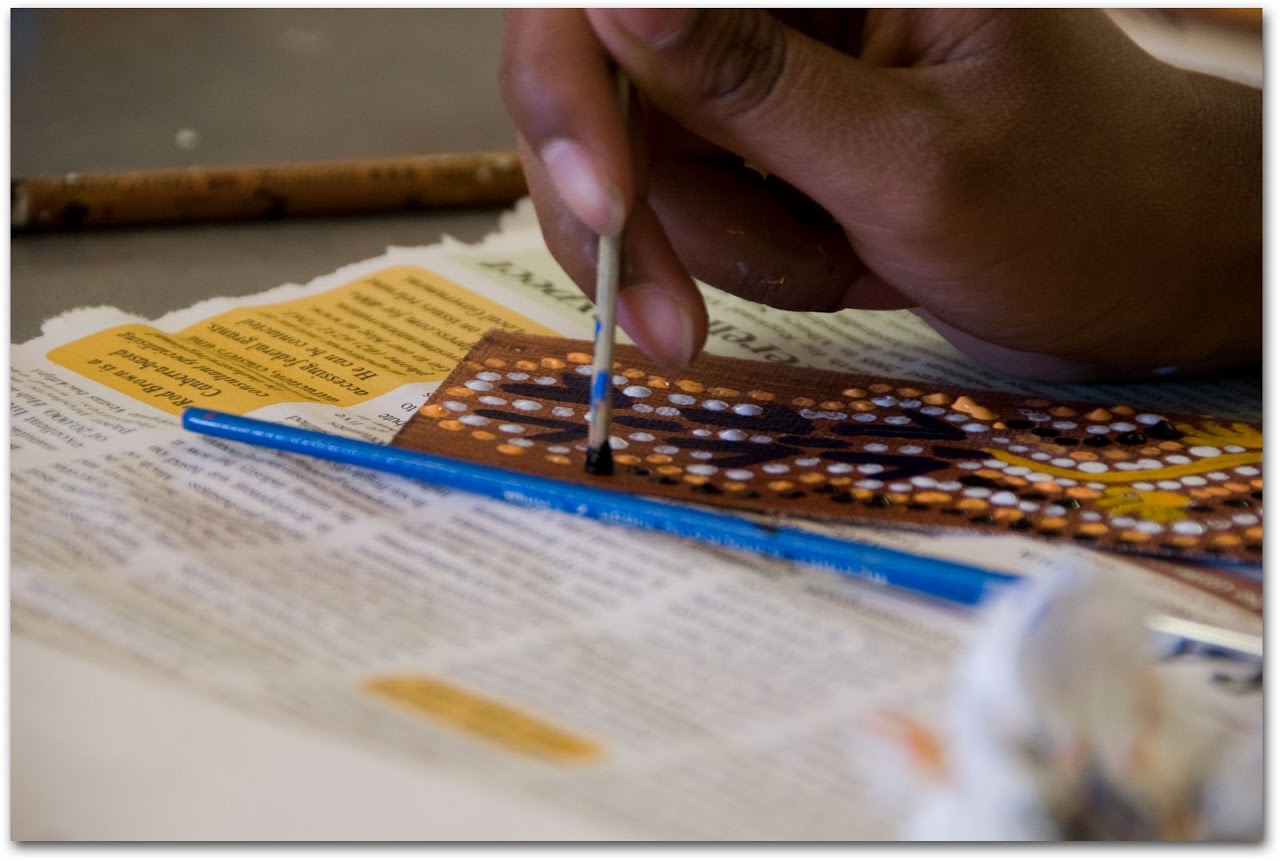 Dot painting in Wallace Rockhole
We chose this tour because it was the only one that included a fourth day option to see Standley Chasm in the West MacDonnell ranges and visit an aboriginal tribe.  The fourth day was our favorite day on the tour because we were able to dot-paint with an aboriginal tribe, visit an aboriginal festival, taste (for Patrick) cooked kangaroo tail, and climb the gorgeous Standley Chasm.  Though a pricey option, we scored a buy 1, get 1 half-off deal because we booked the day before the tour left.
It was our first ever bus tour and we were certainly irritated by the lack of flexibility and number of people.  On the morning we woke to see the sunrise, one of the passengers got on the wrong bus so we were delayed by 15 minutes.   After waking up at 4:30 a.m., a 15 minute delay is more than just a little annoying.
Cooking over coals
However, because we were on a tour, we were able to see a lot in a compressed timeframe, do some great hikes we wouldn't have otherwise felt comfortable doing, and eat food cooked over a campfire.  All in all, I think if we did a bus tour again, we would opt for a smaller group of about 10 people but try to do one with a similar activity level.