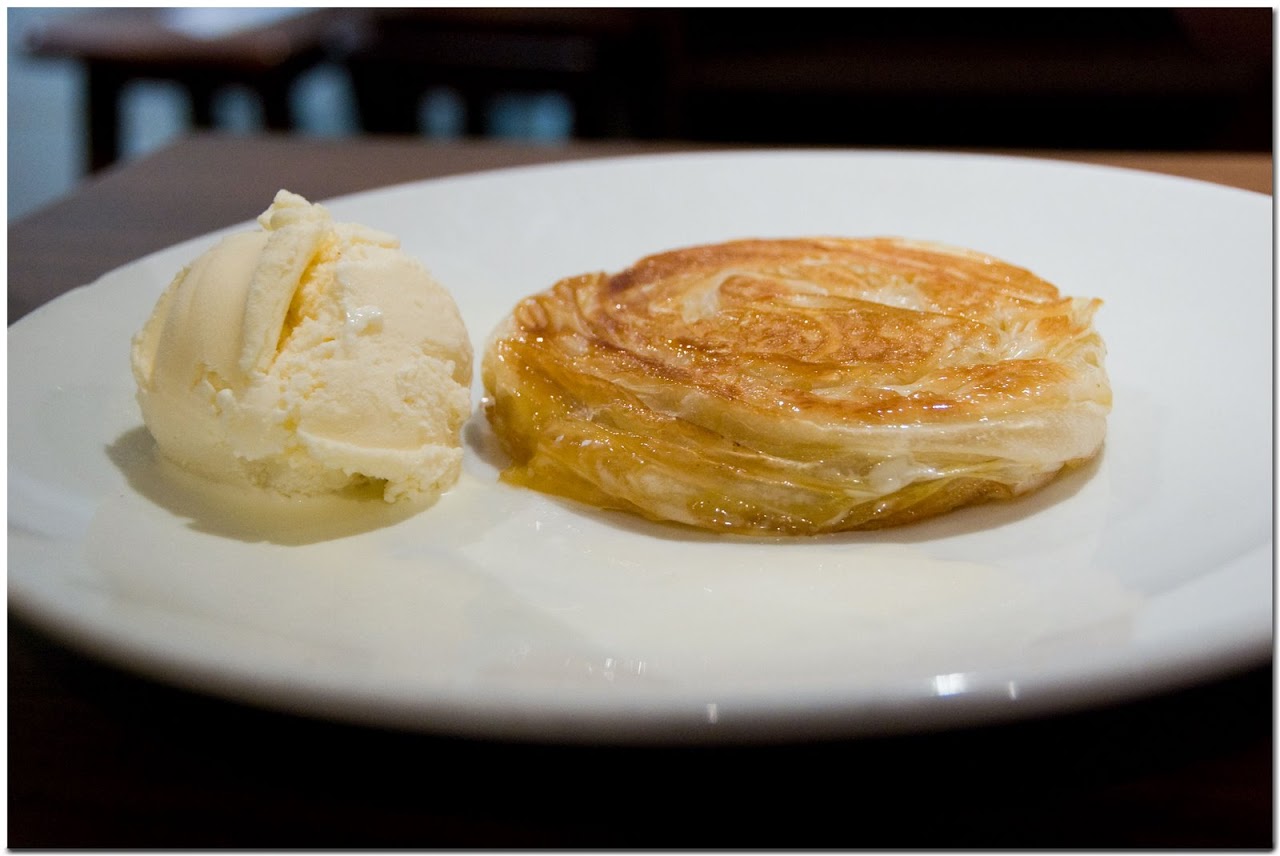 The soles of our shoes have thinned in the last eight days as we walked across the city of Sydney.  On any given day, our feet meet at least three miles of Sydney soil and pavement and our calves feel the tension of walking up and down stairs, across bridges, and over sandy beaches.  We have walked from Central Terminal to Circular Quay four times, around Darling Harbor three times, and across the Harbour Bridge once.
| | |
| --- | --- |
| | |
In addition to all this exercise, we eat.  Oh, do we eat.  The diversity of restaurants matches the diversity of the Sydneysiders.  We have eaten at Thai, Vietnamese, Indian, Italian, Japanese, Australian, and British restaurants in the last nine days.  But, the best, by far, is Mamak, a Malaysian restaurant that sits at the edge of Chinatown, which has become both our favorite dinner and dessert spot.  I love restaurants where the line passes far outside the front entrance because we are fairly guaranteed that the food will be good (the exception to this rule is in Las Vegas where long lines mean nothing more than that restaurant has a buffet.)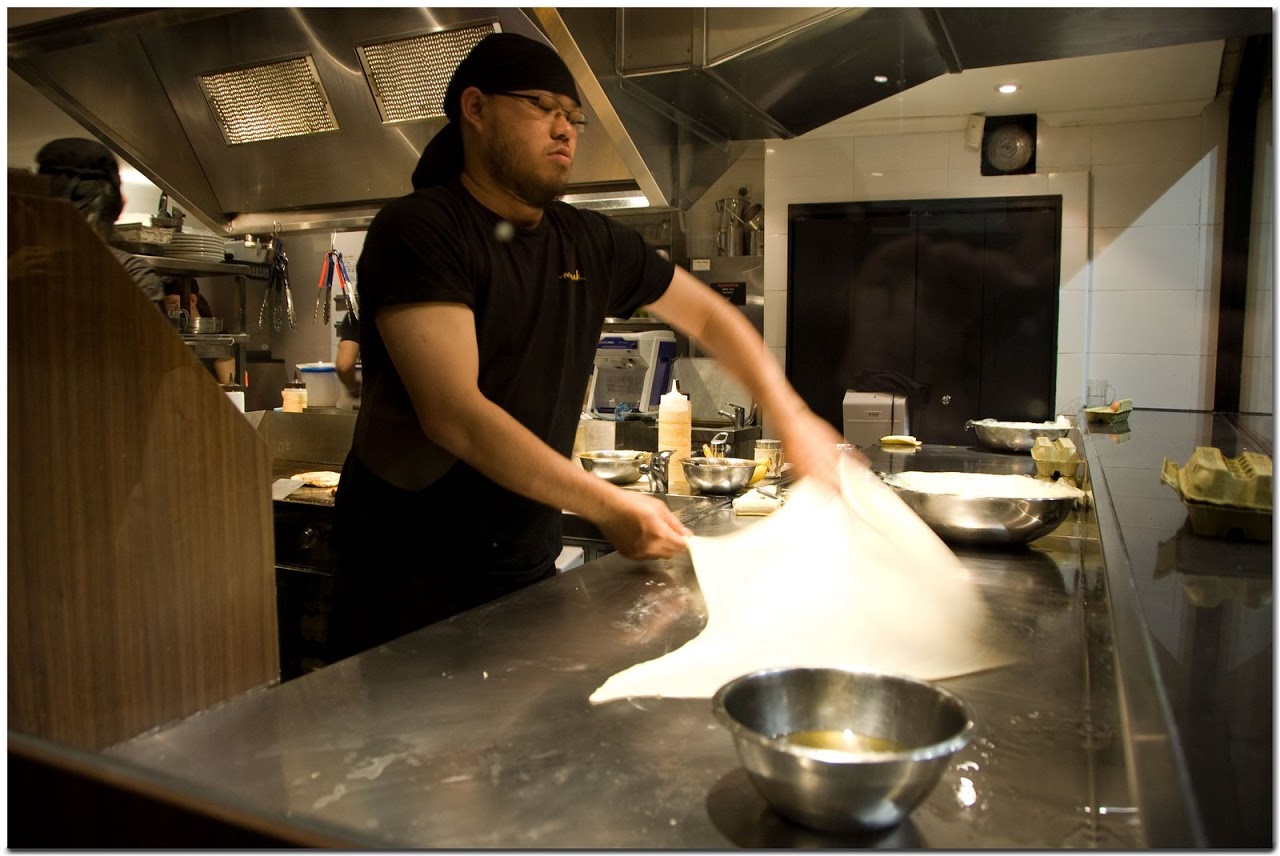 The line moves quickly past giant glass windows that frame two cooks rapidly spinning balls of dough into tissue-thin discs.  The cooks then fold the discs over savory or sweet fillings on a skillet into plate-sized rotis.  The beginners start with the flaky roti canai, made without any filling, served with a spicy sambal, a paste of chiles, anchovies, and spices, and two rich curries.  Our nasi lemak with vegetarian curry mixed the crunch of cucumbers and peanuts with soft curry, hard-boiled eggs, and rice.
But, the stars of the meal are the desserts.  A broiled sugar syrup creates a crusty burnt sugar layer over the pandan and coconut filled roti kaya.  I could swim in a bathtub of that sweet, complex stuffing.  A paper thin roti tisu coated with sugar, and served in a tall cone, creates the most compelling presentation, and sliced bananas sit between the levels of the roti pisang.  The thick roti bom reminds me of a crispy funnel cake with a doughy center.
I do not know why the backpackers and tourists toss aside their money at the mediocrity of Circular Quay restaurants or in the grungier parts of Chinatown.  They should be here, spending $26 Australian dollars for a feast.  Oh well, more for us, I guess.
Details: Mamak . 15 Goulburn Street, Sydney [Mamak is also listed on Helen's Top 10 Restaurants for Tourists over at Grab Your Fork .]

Other delicious cheap Sydney restaurants:
Sydney Fish Market: At lunch, the Sydney Fish Market fills with tourists and businessmen looking for fresh seafood grilled, stuffed, sauteed, and turned into sashimi.  Grab items from the variety of vendors and sit outside by the harbor and watch the boats go by.  Patrick tried gemfish, a type of fish found exclusively in Australia, perfectly seasoned shrimp, and a seafood curry in a half-shell.  For vegetarians, there is a vegetable market that sells fresh yogurt with fruit, a deli that sells marinated artichokes and cheeses, and a bakery with cheap fresh bread. Details: Sydney Fish Market .  2 Blackwattle Bay St, Pyrmont.
Jaipur Sweets: On Elizabeth Street, this Indian restaurant and sweets shop serves up big portions at small prices and a large selection of Rajasthani sweets.  For $23 AUD, Patrick had a creamy chicken korma and I had a rich malai kofta. Details: Jaipur Sweets . 188 Elizabeth St, Sydney NSW 2000.
Chat Thai: I cannot wholeheartedly recommend this restaurant because two of the six entrees we ordered here were nearly inedible.  Avoid the suep nohr mai, a bamboo salad, unless your mouth prefers to be on fire and the bland lad na consisting of vegetables and noodles in a soy-based sauce.  On the other hand, Patrick and our friend Ben pronounced the steak skewers, beef massaman curry, and the suki with consomme, successes.  For dessert, I devoured sliced ripe mangos on top of coconut infused sticky rice.  Drinking the pale green loot shong felt like sucking down alien brains because green gelatinous pandan dumplings and slices of jackfruit flowed through a coconut milk infusion.  Mmmm . . . . alien brains.  $38 AUD/two people. Details: Chat Thai. 20 Campbell St. Haymarket.
Dining Tips for Americans:
We were told that Australians don't tip because waiters and waitresses are paid a living wage.  We round up to the nearest dollar or give a few dollars as a tip if the waiter was particularly good.
Australian "entrees" equal American "appetizers"; Australian "main dishes" equal American "entrees."
Restaurants tend to close early on weekdays; many close by 9:30.  In addition, many restaurants in the Central Business District close on the weekends.
Sydney fresh produce markets open on the weekends but the Sydney Fish Market is open every day until 4:00 p.m.