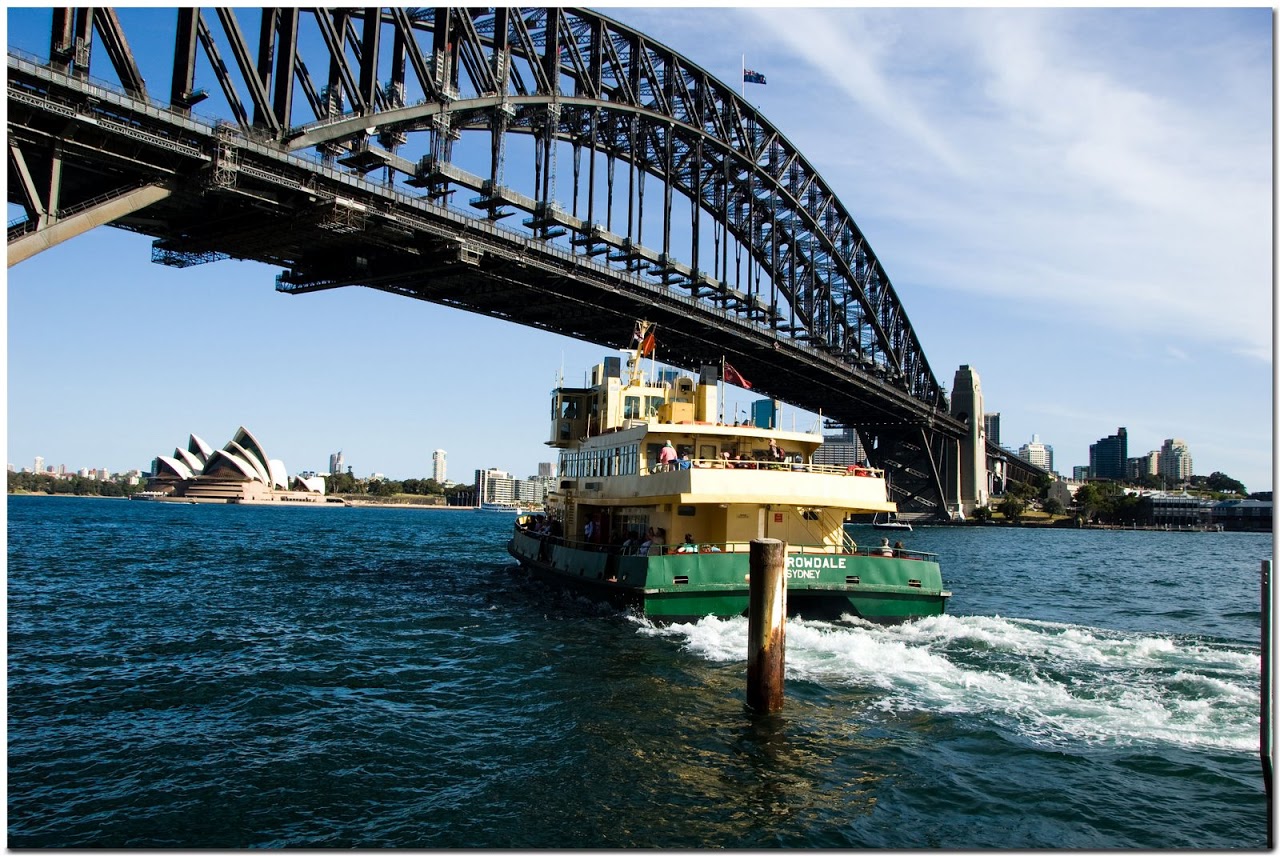 Today, let us continue our walk through Sydney from Circular Quay to Darling Harbour via the Harbour Bridge.  From Circular Quay, we hop on a ferry to Milson's Point across the bridge and then walk back across the Harbour Bridge.
A pleasant thirty-minute walk helps us fully appreciate the magnitude of the bridge and its pylons.  Along the way, we see a number of people getting ready to walk over the bridge through a company called BridgeClimb.  We didn't do it because it seemed unnecessarily expensive at $160 AUD per person, windy, and cold (not to mention the fact that I am not a huge fan of man-made heights.)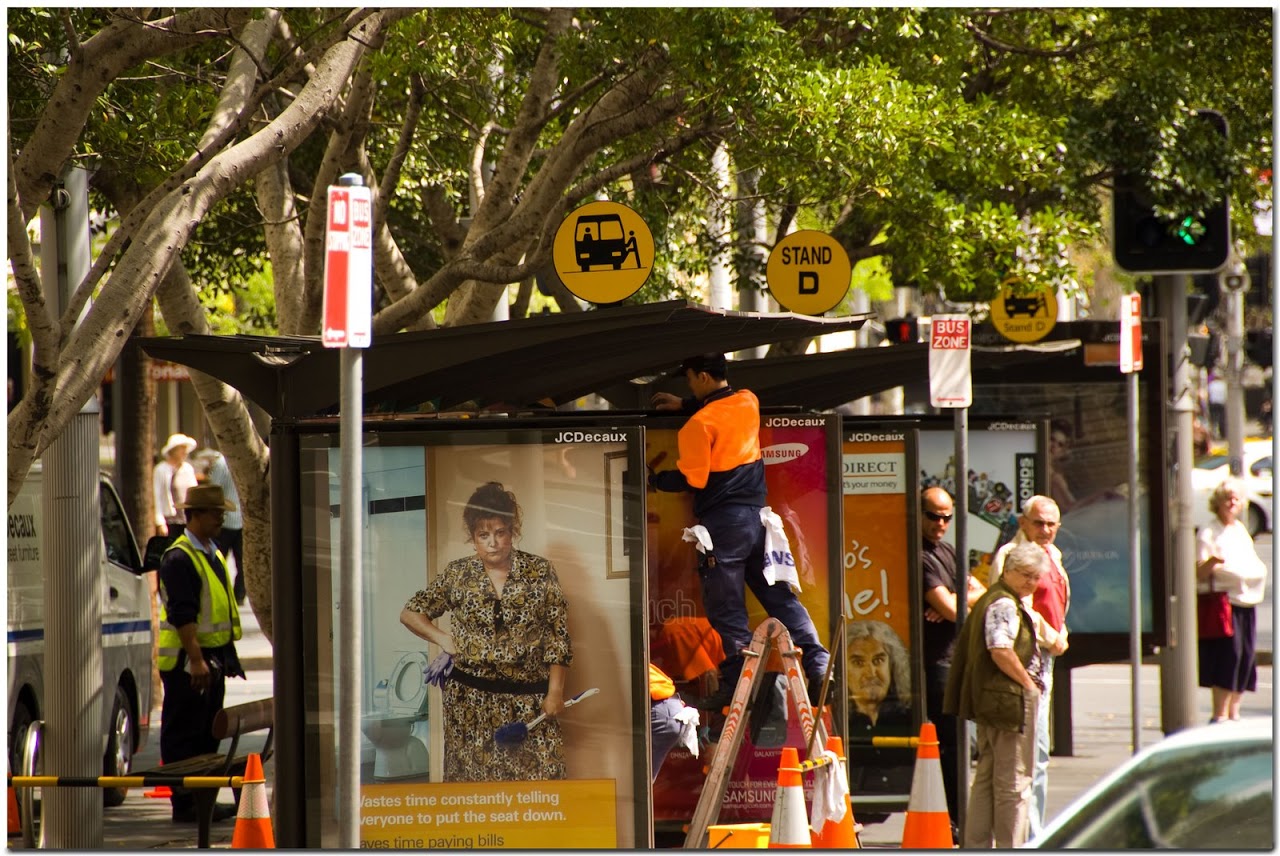 The Harbour Bridge winds up near George Street in the Rocks and we then walk through the Central Business District to Darling Harbor.  This is the point where we stop and gape at the streets because they are so freakin' clean.  (The worker in the picture above is cleaning the roof of the bus stop.  I mean, seriously, who does that?)  If you like the grit and grime of New York and Chicago, don't come here because the unlittered streets, shiny fountains, and graffiti-free buildings will be a bit disconcerting.  This is the only city we have ever visited where we can breathe deeply in the train stations and tunnels because they do not contain the unmistakable odor of urine.  For the first several days, we would stop and point out any trash on the ground because litter on a Sydney street is nearly as remarkable as the Opera House.
| | |
| --- | --- |
| | |
Darling Harbor is urban redevelopment done right.  In the mid-1980s, the city tore down old foundries and ramshackle buildings and converted it into a space filled with fountains, restaurants, shops, and bars.  People sit and talk around our favorite fountain, ringed with stairs of ridged rock, in the center of the harbor.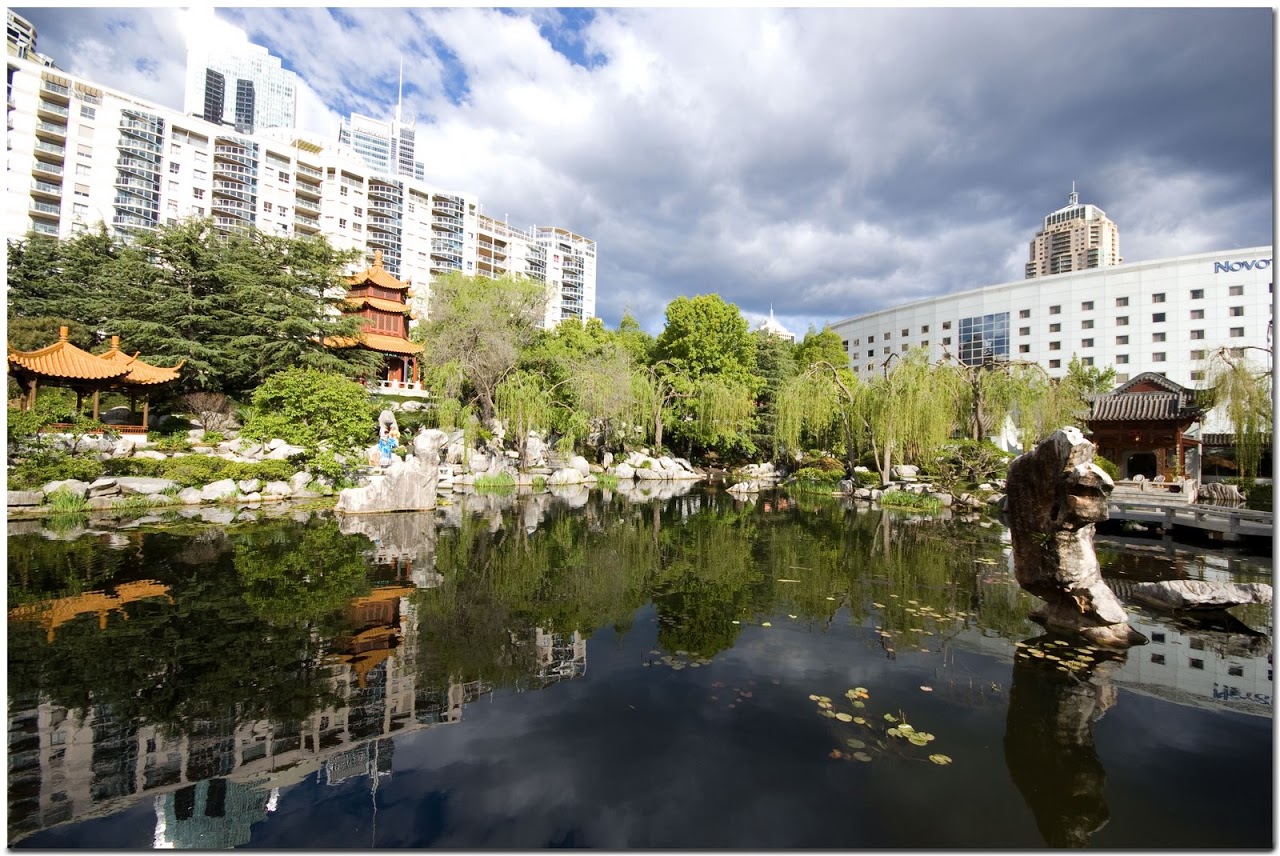 A short stroll past Tumbalong Park leads us to the Chinese Gardens.  Layers and reflections follow us through the gardens.  We watch sacred ibis wash themselves in the koi-filled ponds and lizards laze about in the sun.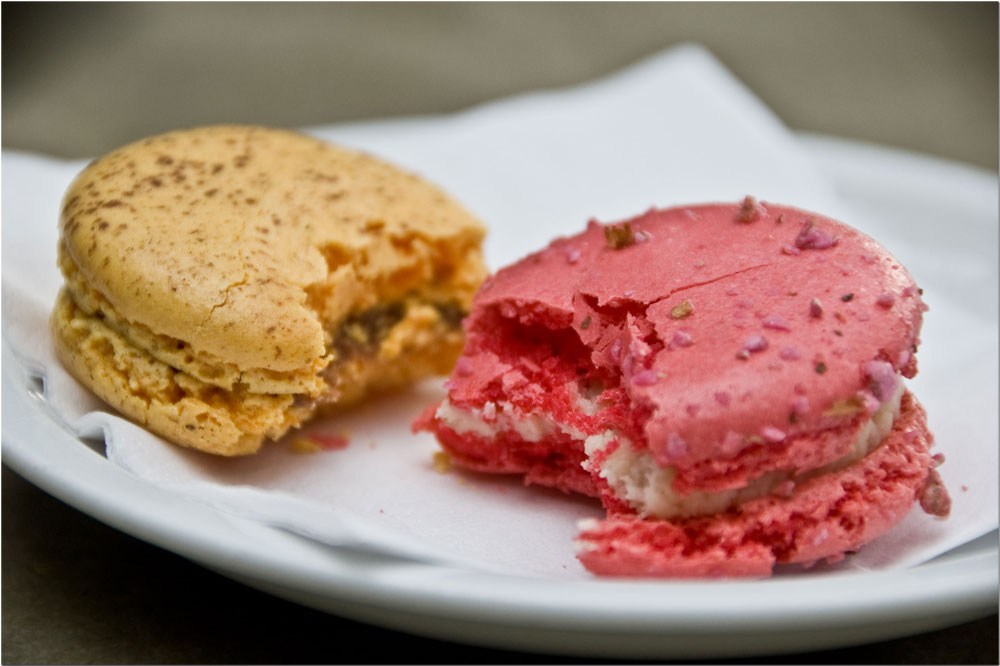 Then, we take a much needed rest break at the Lindt Chocolate Café in Darling Harbour.  The café is full of chocolate, sweets, cakes, and all sorts of things to make any child happy but I will tell you only about the macarons because they are delicious, colorful, and make us smile.
A surprising combination of sweet and sour burst in our mouth when we bite into the saffron-colored passion fruit and chocolate cream macaron.  The strawberry and cream macaron tastes like the shortcakes made in the summertime with fresh Florida berries.  The hazelnut macaron has a dollop of Nutella sandwiched between its layers but is otherwise uninspired.  We like the champagne macaron least because it has the off-flavor of artificial liqueur flavoring.  And, then, we are off to
find dinner
.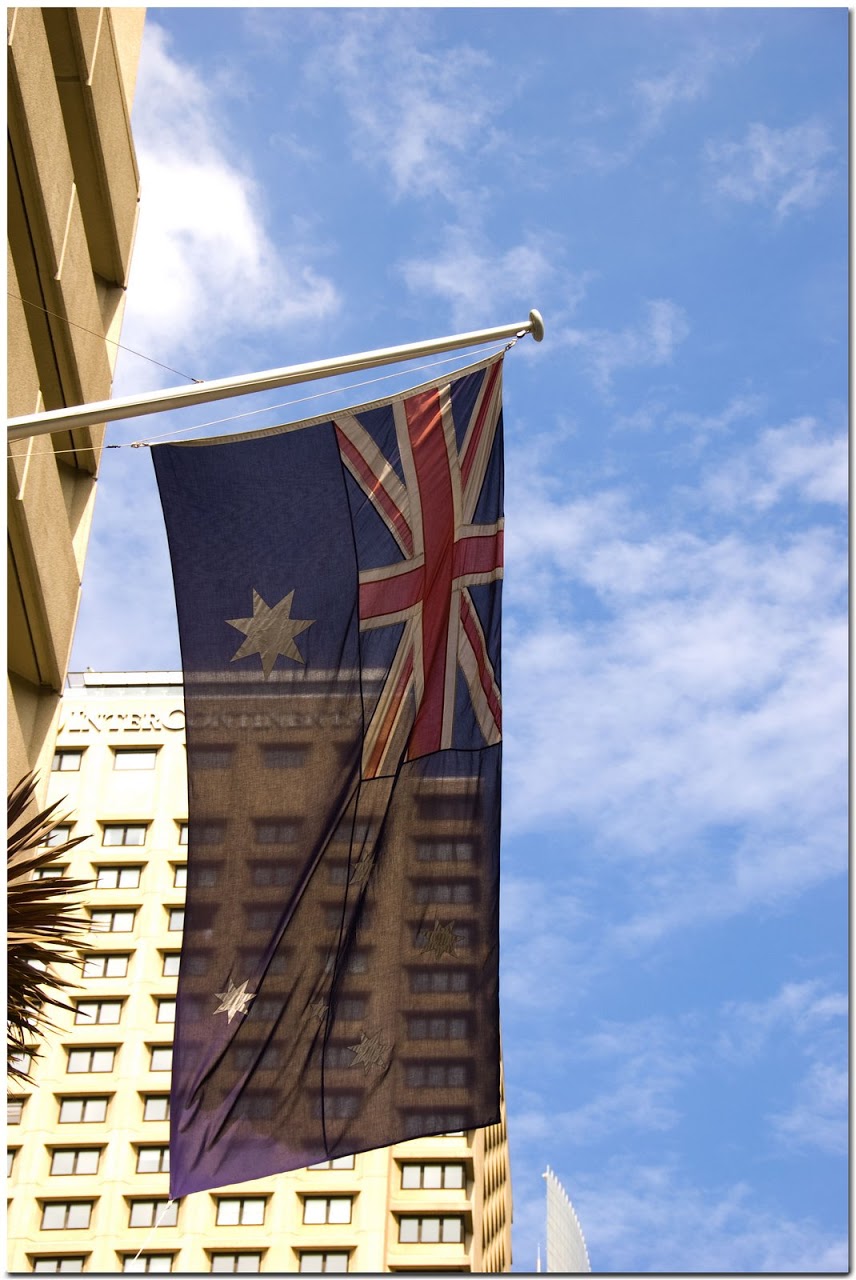 If you can't tell by now, we love this city.  Patrick says that he could live here and it is a close second to Rome for me.  We can't get over how clean it is.  Does Windex sponsor this city and, if so, will Windex please sponsor every city we go to?
Details:
The 7-day train pass allowed us to easily maneuver around the city via ferry, train, and bus.  For $46.00 AUD, it was one of the best purchases we made.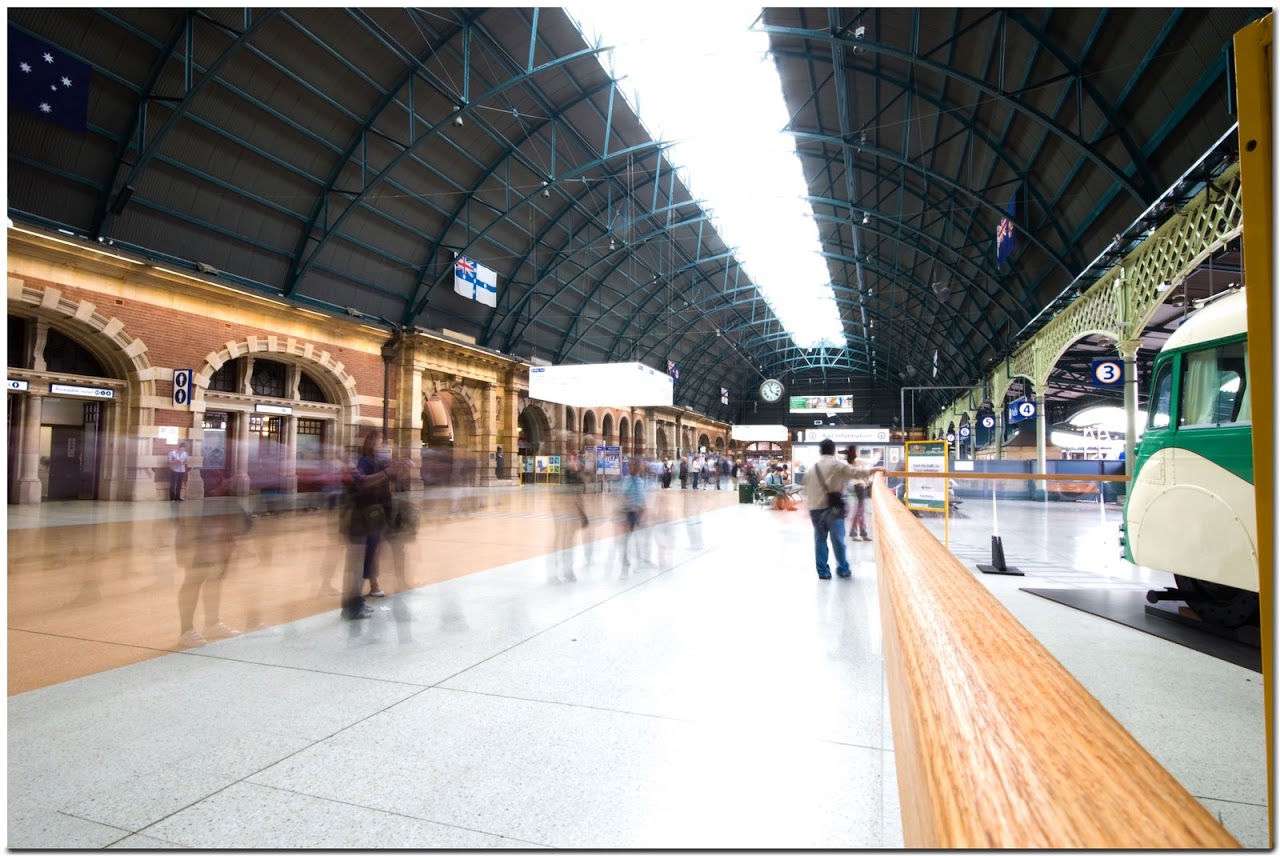 On our third day in Sydney, we woke up to this: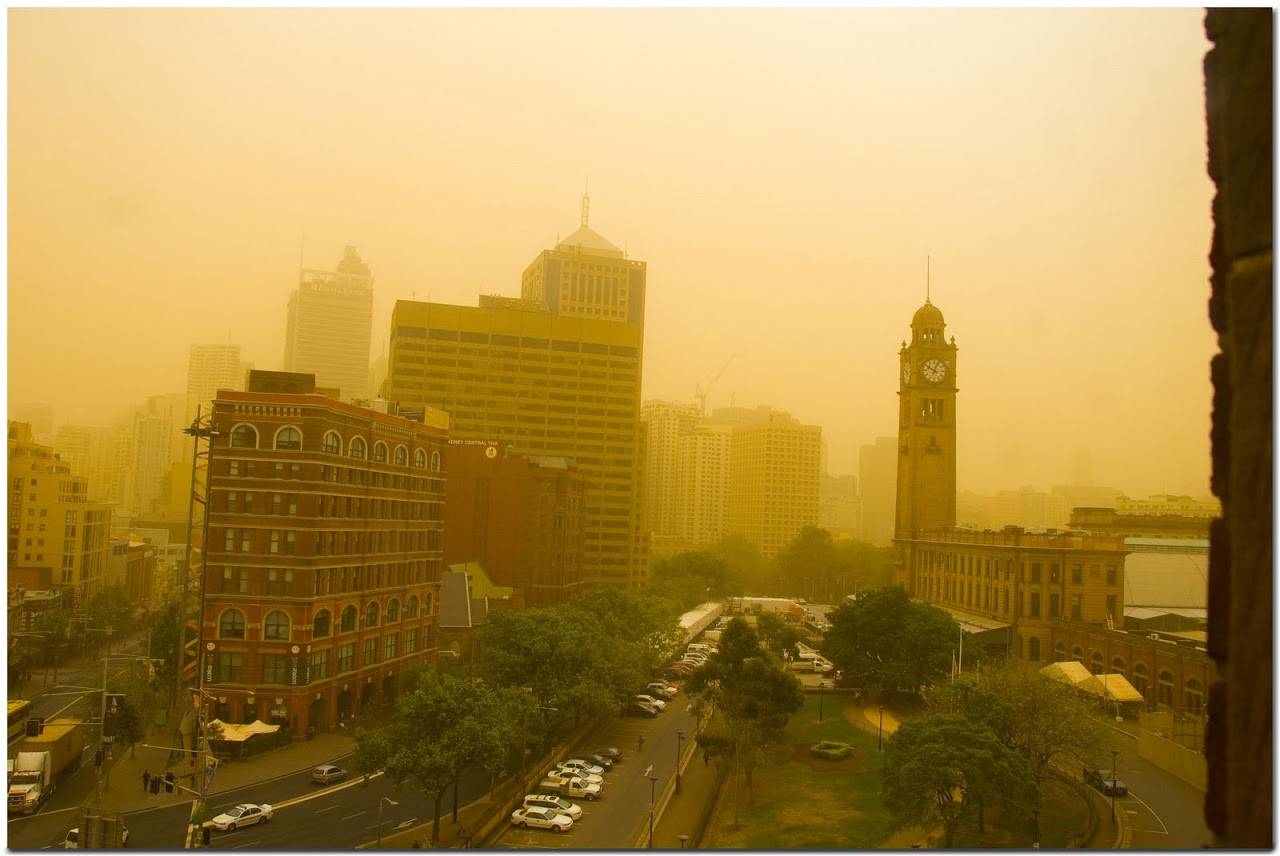 We weren't sure what was going on so we turned on the television, expecting as we do in the United States, to see something about this strange phenomenon that made the city look like Mars.  The news stations had nothing about it so we assumed that it was just a normal Sydney weather pattern.  Apparently, Sydney hasn't had a dust storm like this in 70 years and we were lucky enough to see it.  Needless to say, it was an odd day with the city covered in red dust and people walking about with face masks and scarves covering their mouths.  It felt like the apocalypse but there wasn't anyone on the street proclaiming it as such.
Vacation From Vacation:  I know it sounds a bit ridiculous but we are taking a vacation from our vacation spending three days on a sailing cruise in the Whitsunday Islands, Australia.  We will have loads of gorgeous posts for you when we get back because this place is simply stunning.  In the meantime, if you're bored and need a Road Forks fix, check out our guest post at The Planet D on Tuesday (a site well worth checking out) on our amazing trip to Ranthambore National Park in Rajasthan, India, a preserve for the endangered Bengal tiger.