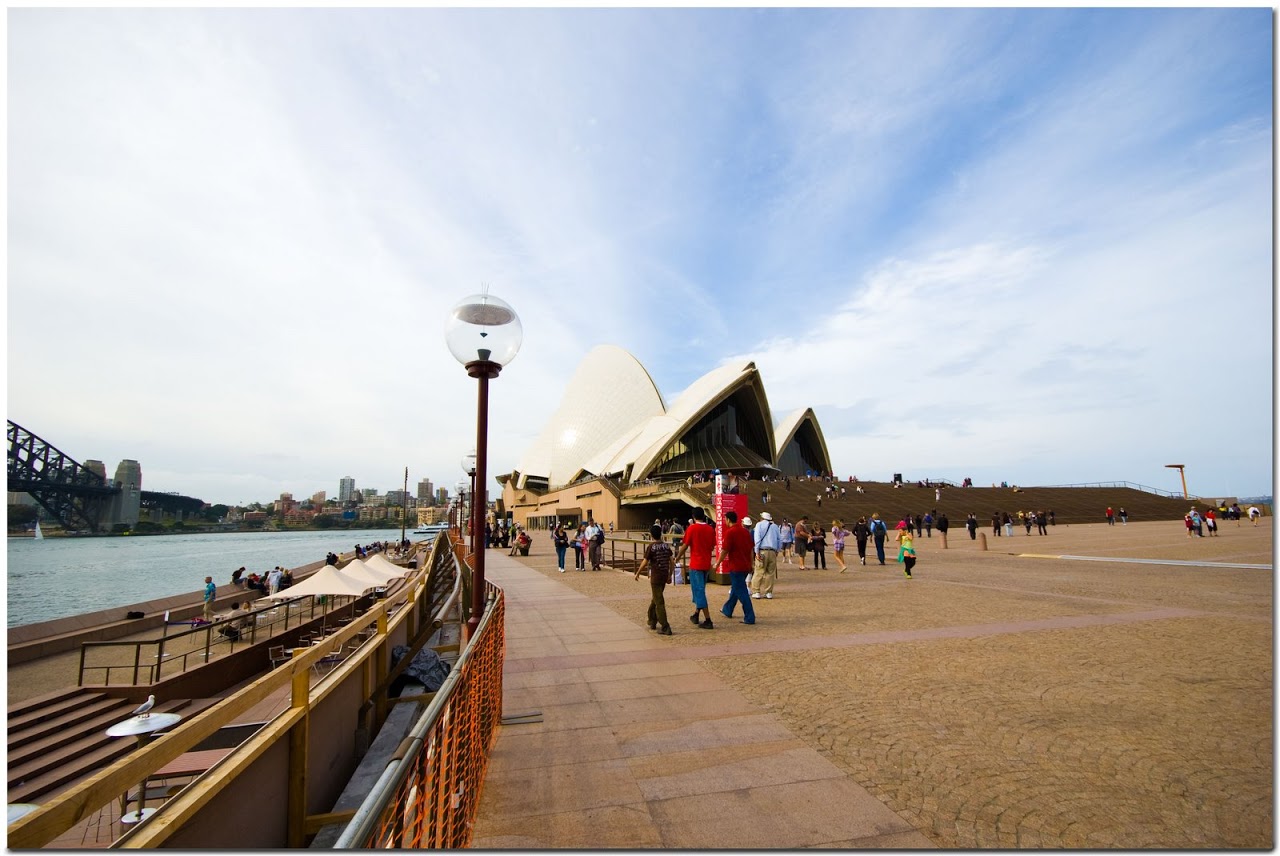 I mentioned before that all we do in Sydney is walk and eat .  It is spring here and strange flowers and trees are blooming, parakeets and cockatoos fly about, and the streets are filled with people enjoying the sunshine.  This is a city meant for walking; sidewalks and footpaths meander past green parks, playgrounds, streetside cafes, and bubbling fountains.  I thought that instead of just reading about all these places, you might like to virtually walk through Sydney with us.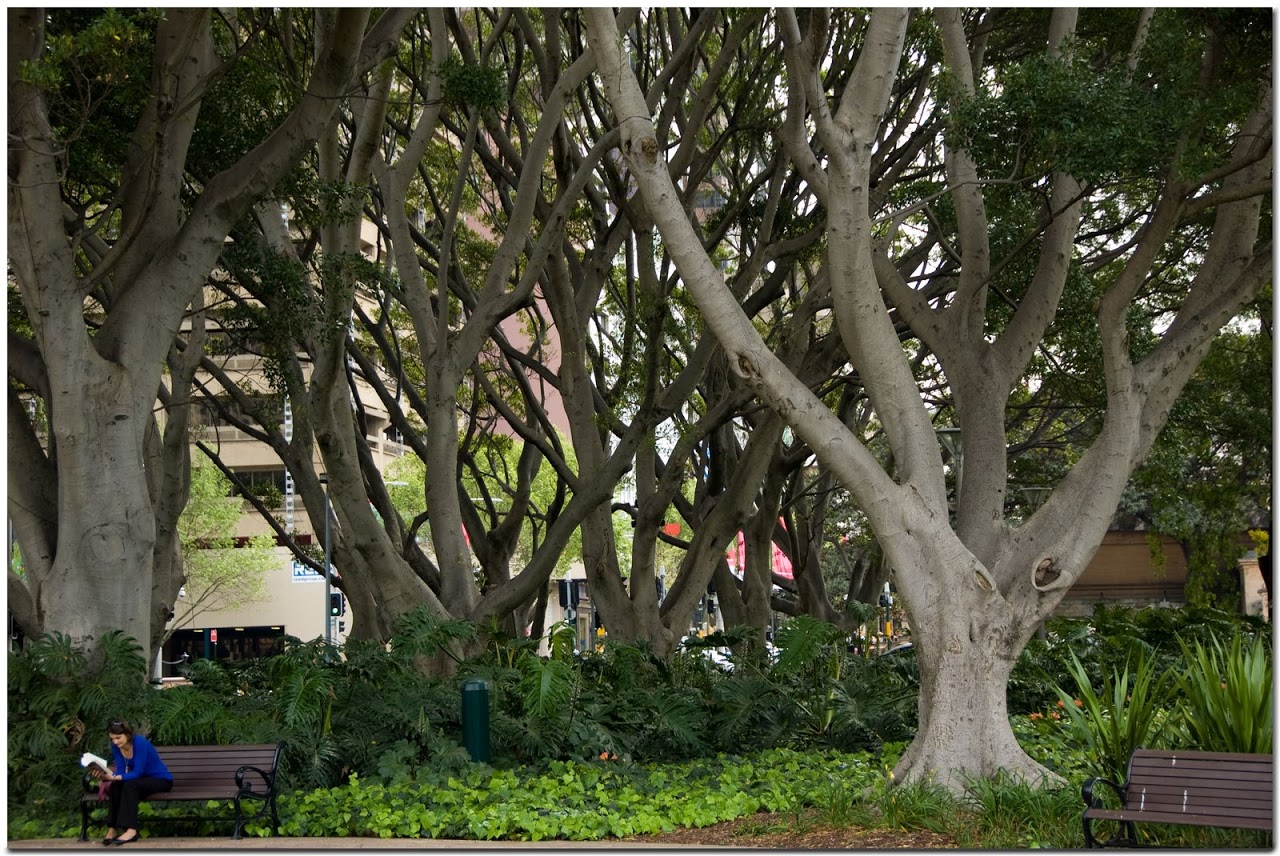 Our steal of an apartment is just two blocks from Hyde Park.  Pasta Pantry, a take-away pasta restaurant that sells sandwiches, salads, and other foods perfect for a picnic, sits across the street.  At lunch time, businessmen and women invade the park, take off their leather shoes and high heels, and nap or read or lounge in the sun.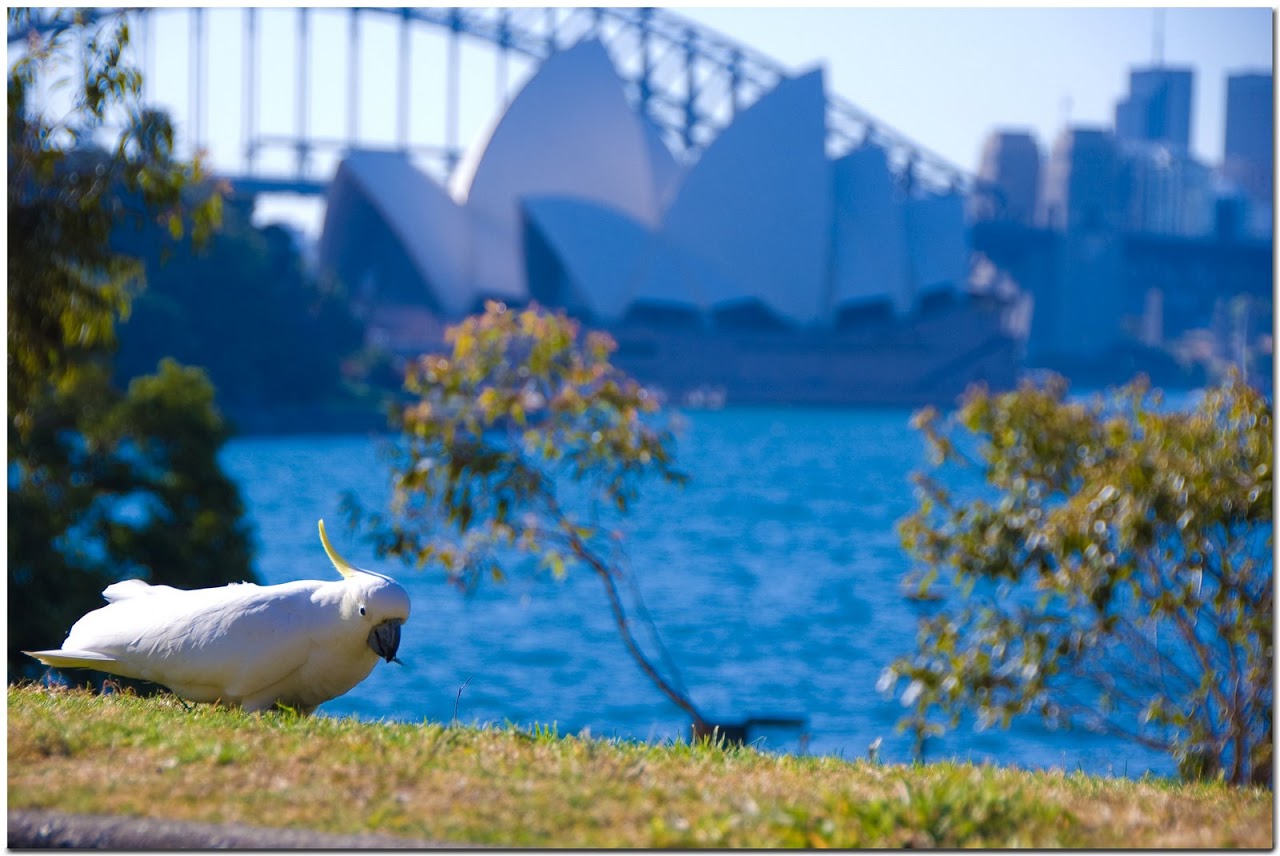 Hyde Park bounces into the Domain, a strip of land that ends in a peninsula with majestic views of Sydney Harbour, the bridge, the Opera House, and the city and houses beyond.  You see that bird up above?  Looks exotic, right?  In fact, the cockatoo is a complete nuisance with its loud squawking, frequent bird droppings, and fondness for human food.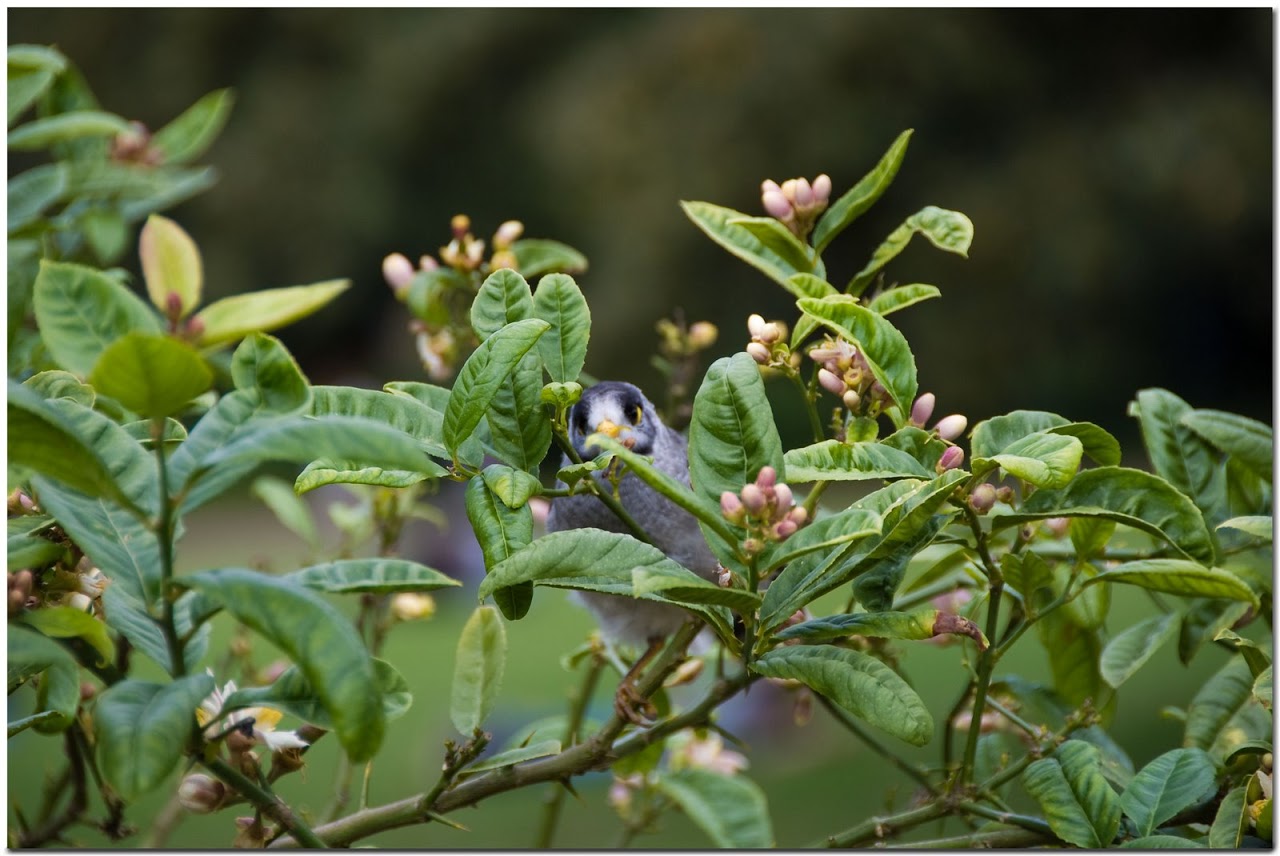 The Domain merges into the Sydney Botanical Gardens where this cute little bird stood perfectly still while we took pictures.  The Botanical Gardens is like the New York Central Park but warmer and sunnier, with formal gardens, a tropical greenhouse, and flying foxes.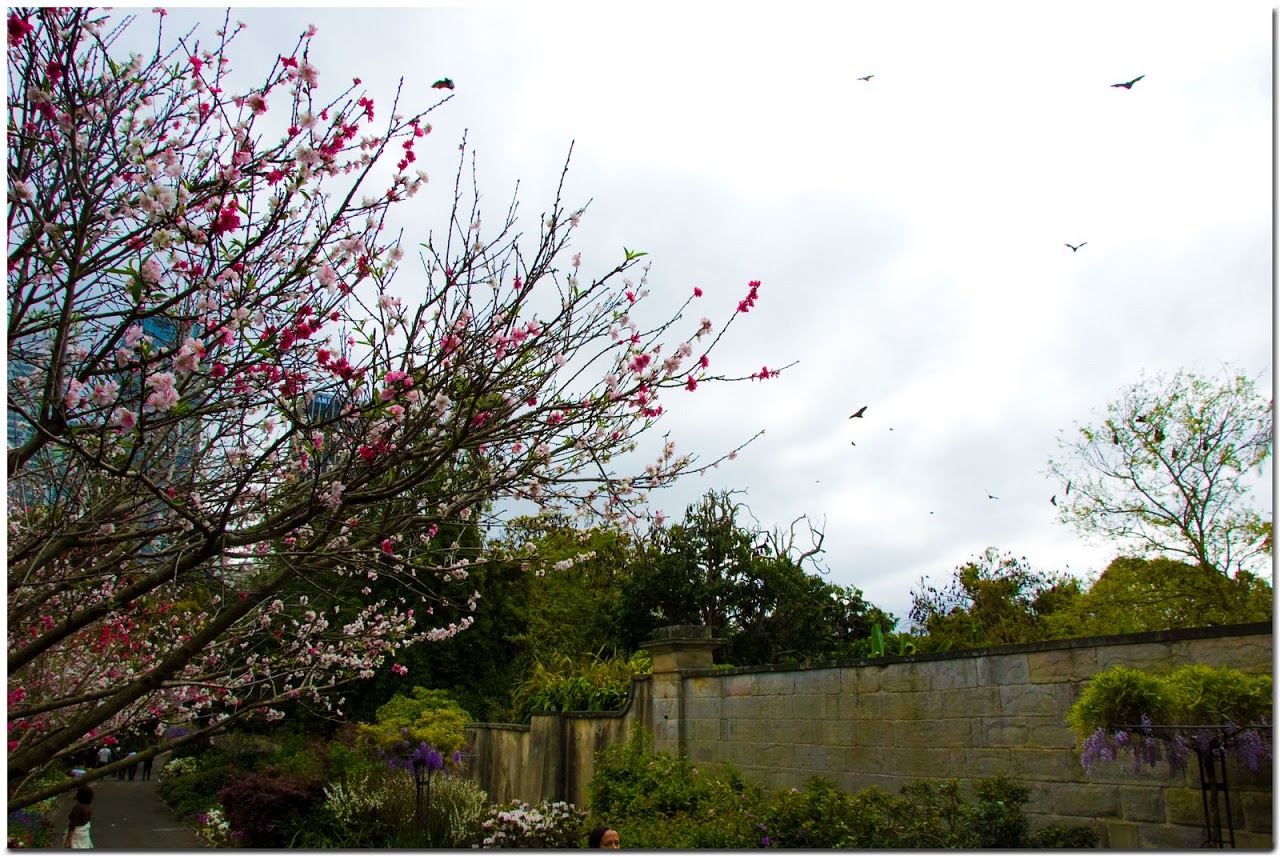 Yes, I just said flying foxes.  We were standing in the Botanical Gardens pointing out the hundreds of birds flying over the trees and then realized that the birds were strangely shaped and not birds, but rather BATS.
Hundreds and hundreds of rodents were flying over our heads in broad daylight, nesting in the branches of large trees, and generally scaring the living daylights out of one of us (and the one wasn't me, mind you.)
| | |
| --- | --- |
| | |
| | |
The Botanical Gardens winds its way to the famous Sydney Opera House.  We had, of course, seen millions of pictures of the Opera House but, until we came here, we didn't realize that each perspective presents a different architecture.  At one angle, we are reminded of an orange being peeled; from the Gardens, the Opera House looks as if it could take flight with wings outstretched; and from the water, it resembles a bug-eyed alien.  The interior is more industrial than modern, with gray concrete sticking out at every angle and high wooden ceilings.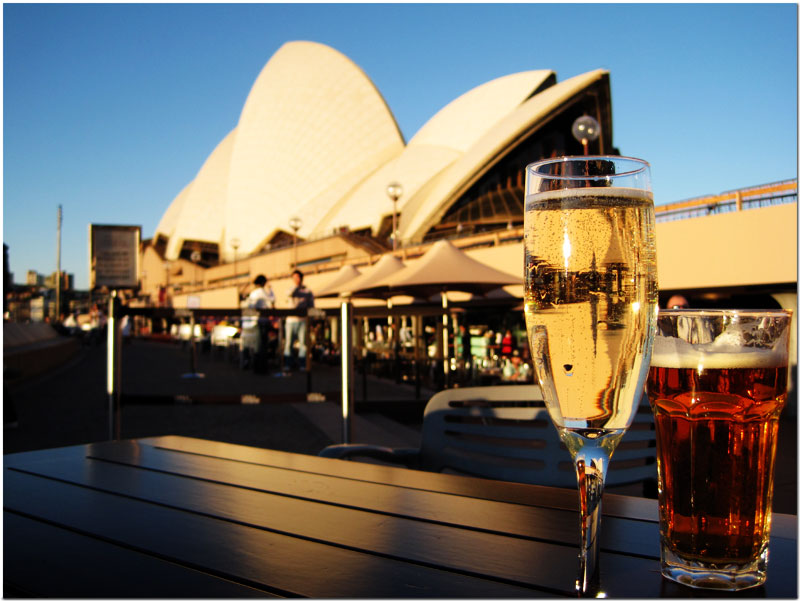 We splurged on seats to the Mikado at the Opera House but the unfortunate slapstick comedy combined with crushing jetlag resulted in one of us resting her eyes through the second half (and that one might have been me).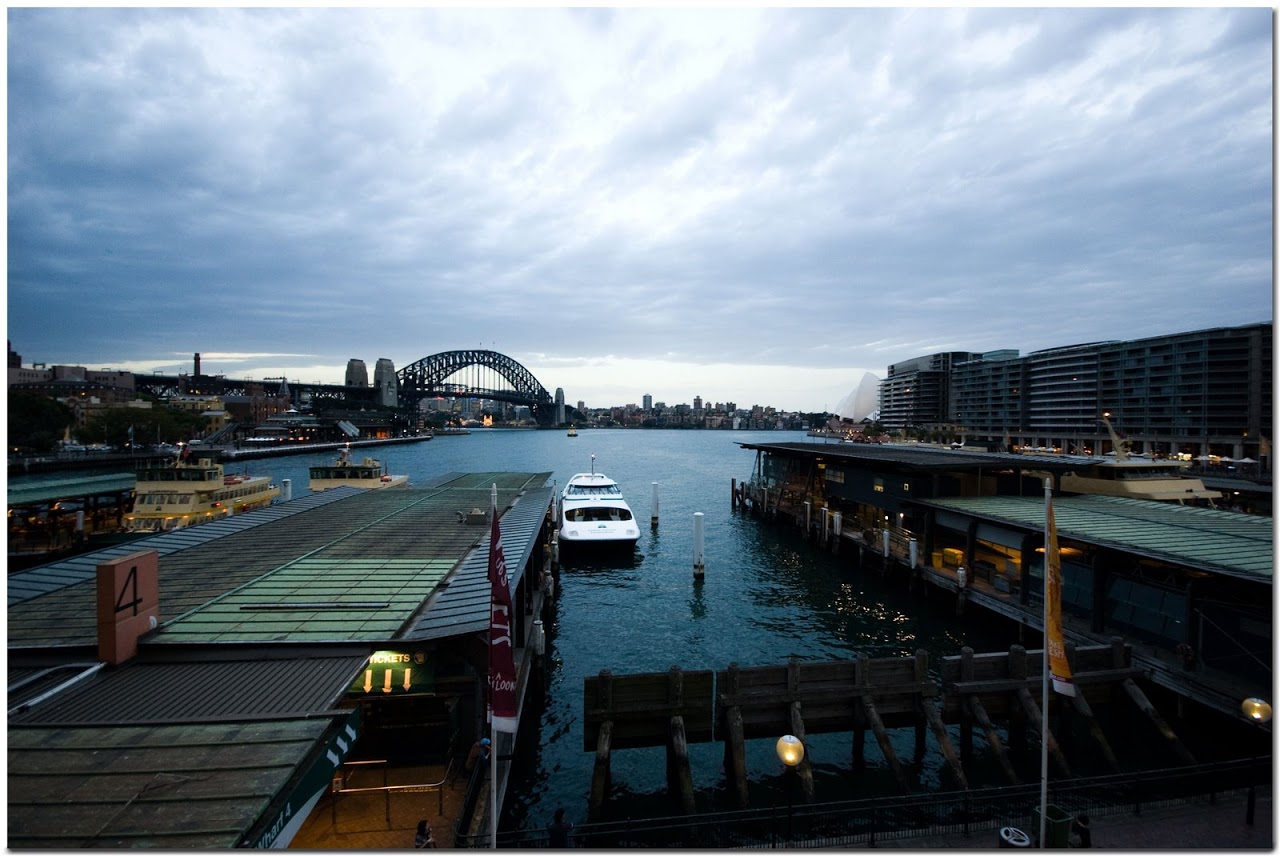 We are only half way through our walk but our legs are already tired so we'll come back tomorrow and take you on a virtual tour from Circular Quay across the Harbour Bridge to Darling Harbour.
Note: This walk took us about four hours but that is because we stopped, picnicked, hung about, and looked at everything. If you are a brisk walker, you could do this stretch in about an hour.