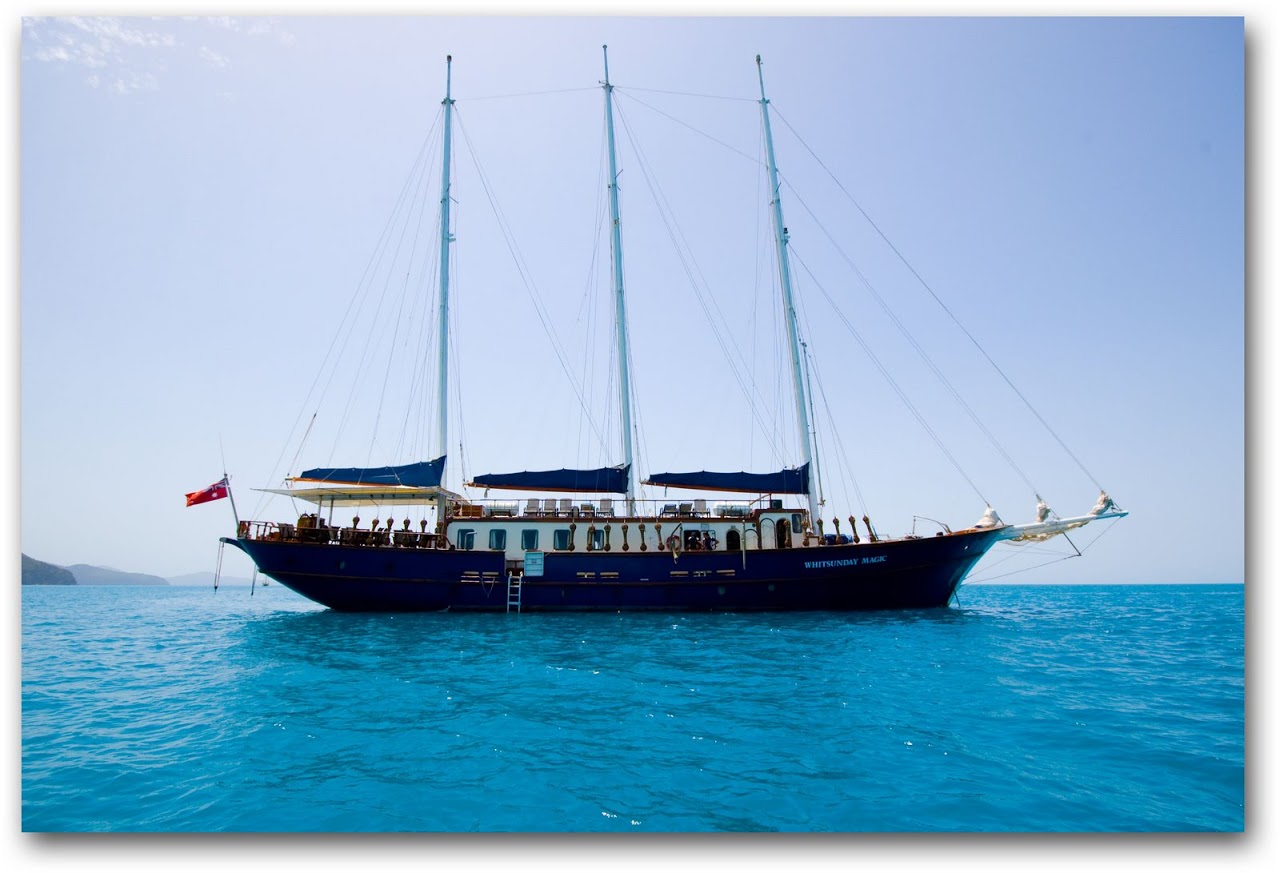 When I was planning our trip to Australia, everyone kept telling me that we had to go to the Whitsundays; it was painted as a haven away from the crowds of Sydney and the tourist traps of Cairns.  You can imagine then that we were disappointed when we arrived in Airlie Beach, a town like any other typical American beach town on spring break, filled with grungy shops selling swimwear, sandals, and "tobacco" products.   Backpackers, college students, families, and unwary tourists crowded into the mediocre restaurants, the tiny rocky beach, and the ubiquitous cheap motels and hostels.  After a night in a hostel room better served as a prison, we decided to get out of the city.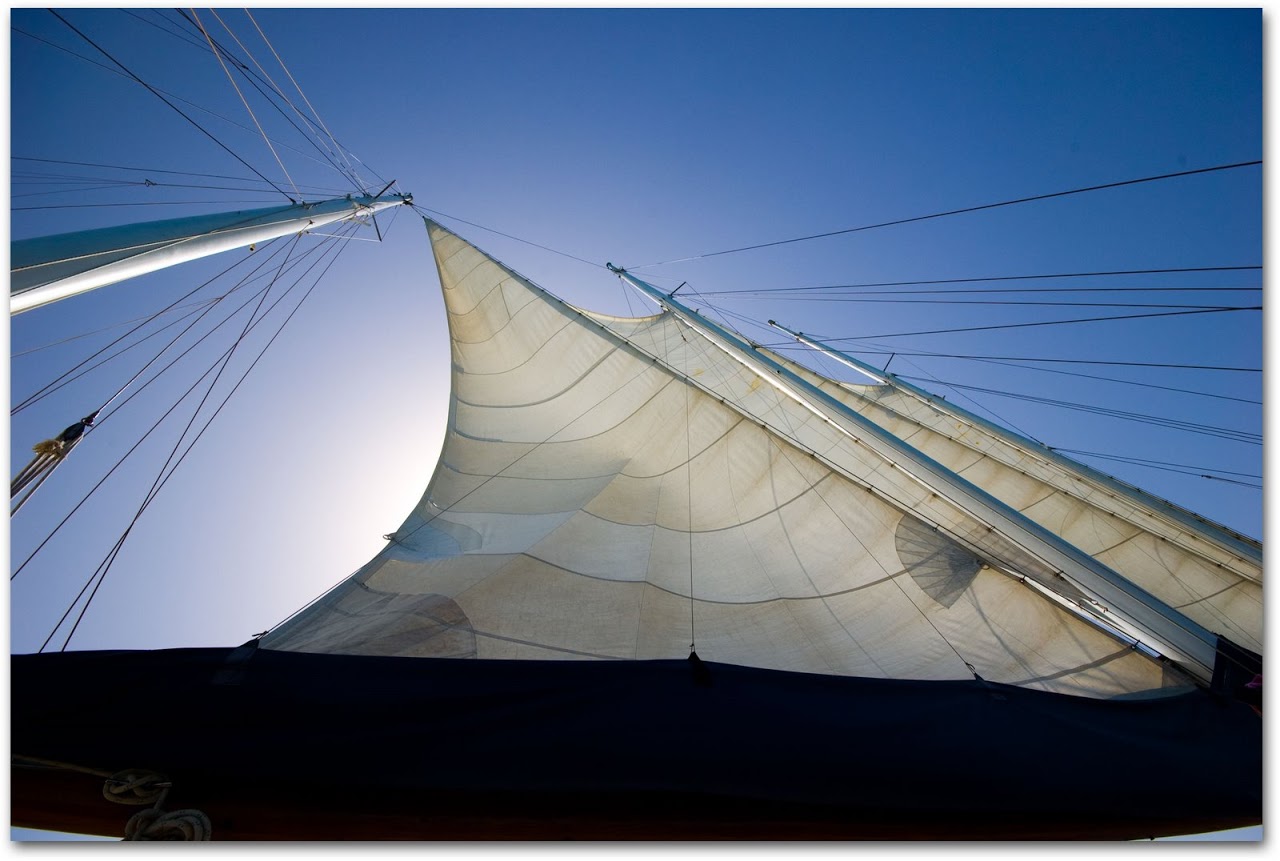 Sailing is the thing in the Whitsundays; everywhere we looked, we found sailboats dotting the sea.  And, that is how we found ourselves here on the Whitsunday Magic.
Whitsunday Magic is best described as a pirate ship --- a full blown sailing ship about twice the size of any other boat we saw on the waters fitted out in gleaming wood and brass.  The three communal spaces, an indoor saloon, an outdoor dining area, and a gorgeous sundeck, offer space for the 28 guests. We stayed in luxury in the suite, twice the size of every other room with a huge bed, an extra sofa bed, and two portholes.  (That being said, the other rooms on board also looked nice.)  The only complaint we heard about the rooms was that the air conditioning either didn't work or was too noisy.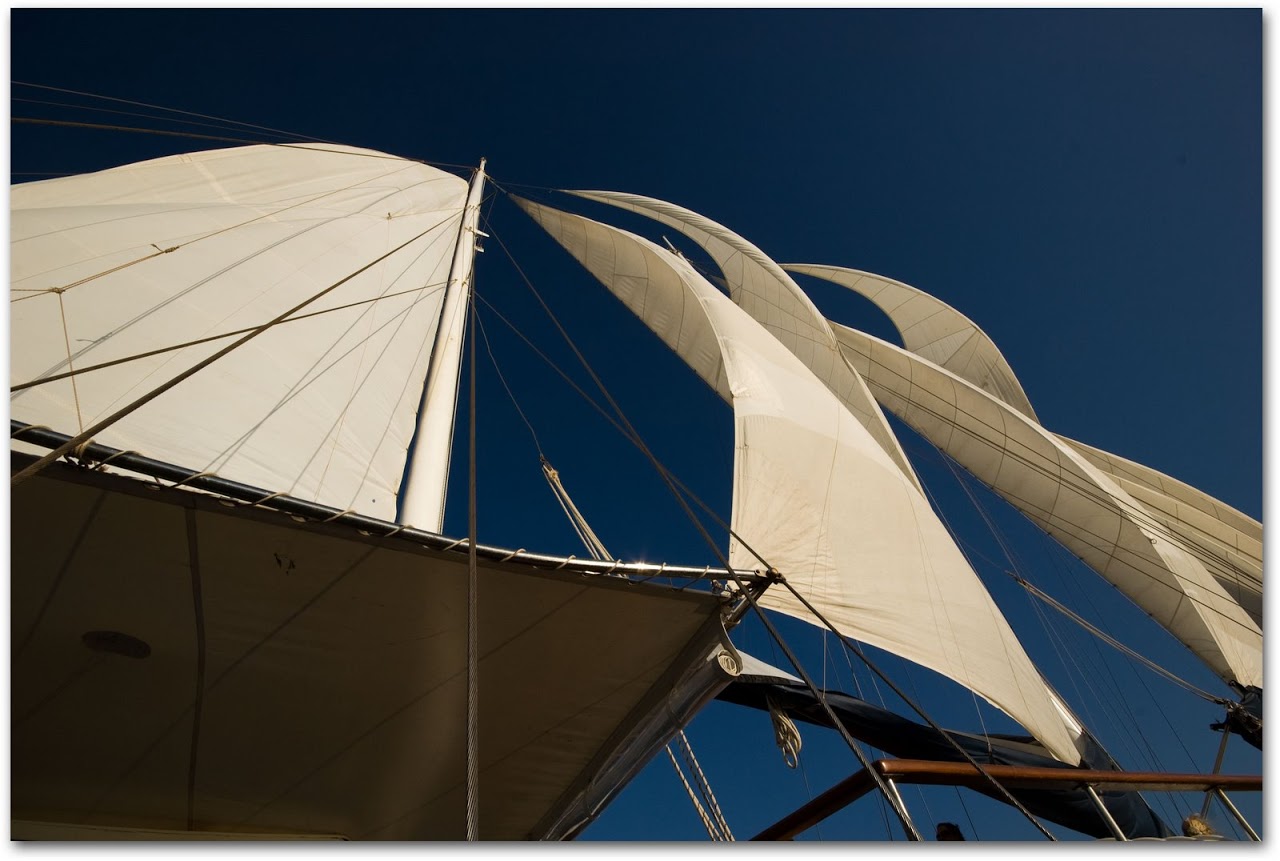 For three days, Trevor, our ship captain navigated our vessel from Airlie Beach to the stunning white sand Whitehaven Beach, where we felt like we were walking through confectioners sugar into bath water.  The next day, he navigated us to Moureen's Cove and Blue Pearl Cove for snorkeling and scuba diving and we found nature re-creating Finding Nemo as seen in the video below:

When we weren't enjoying the ocean wonders, we spent our time basking in the sun, reading, lazing about, playing board games, and eating.  In a small galley kitchen, the chef prepared delicious meals three times a day with snacks in between.  For breakfast, we had muesli or cereal, fresh fruit, and a prepared egg dish.  For lunch, the chef arrayed huge platters of salads, and at dinner, he gave us a choice of meat or seafood with a special meal for the only vegetarian on board (that would be me).  Our favorite meals were pan-fried barramundi with green salad, and a mélange of sautéed greens, mushrooms, and tomatoes over creamy mashed potatoes, though we also raved over the chocolate cupcakes and panna cotta with raspberry sauce.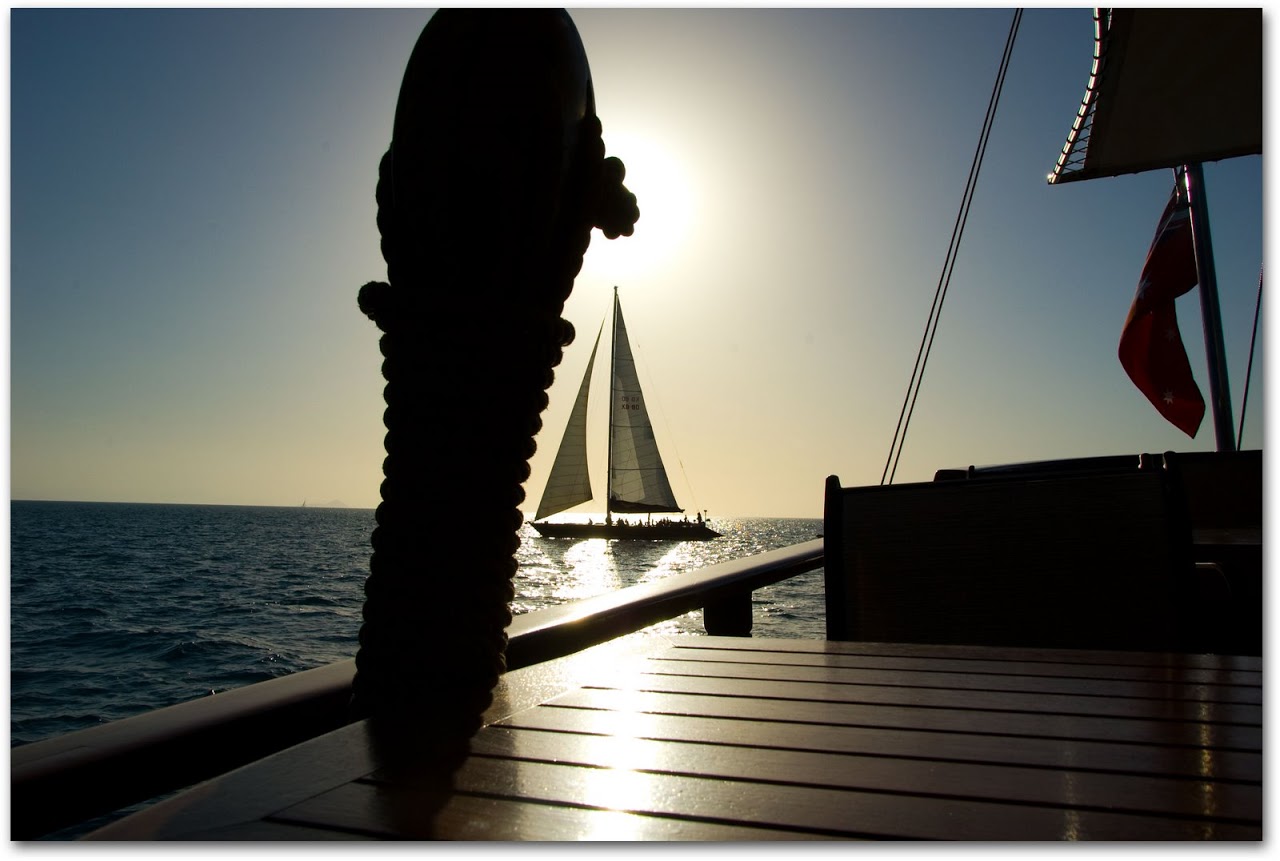 Best of all, we spent time meeting and talking with our shipmates.  The group spanned the globe to include Germans, Australians, Swedes, Britishers, and Americans; most were couples though there were several single travelers, as well.  Everyone was fun, smart, and well-traveled.  We spent several evenings discussing the future of American healthcare with Swedish medical students and a British psychologist.
All that being said, if we could do it all over again, we would have skipped the Whitsundays.  We can see how many people would love the Whitsundays but, we didn't feel like it was worth the time or the expense because:
It is expensive.  Really, really expensive.  The cruise was almost $700 per day even at the standby rate (see below) and one day in Hamilton Island cost us $250.  Airlie Beach was inexpensive but grungy.

The poor snorkeling.  Of the three snorkel/dive sites, two were murky with only a meter or so of visibility (we are now trying to adopt the metric system into our daily conversations, so for you Americans, this would be about a yard).  The snorkeling at Blue Pearl Cove, though beautiful, did not have the number of fish and coral we've seen in Hawaii or the Caribbean.

Except for Whitehaven Beach, which is the best beach we have ever been to, most of the beaches were rocky or narrow.  I think we've been spoiled by Florida beaches.


We are just not cruise people.  We don't like abiding by other people's schedules and get tired of lazing about and getting pampered.  I don't know if that makes us rebels or just plain stupid.
Details
We purchased our cruise on standby.  Every Whitsunday cruise has a retail price and a standby price.  Standby prices are offered within three days before the vessel departs if the ship has room on board.  Airlie Beach is packed with travel agents who offer standby prices but I highly recommend using the Whitsunday Central Reservation Center.  Unlike some of the other travel agents who tried to hurry us through a decision, she spent nearly one hour going through all the options with us, taking care to ensure that we found the right type of ship for our needs.
Based on
my research of Whitsunday cruises
and our requirements --- a sailing cruise with good food, reasonable accommodations, a scuba diving option, and one that wasn't a party boat --- I narrowed down the cruises to Pacific Sunrise, Whitsunday Magic, and Solway Lass.  Pacific Sunrise and Solway Lass did not have any standby rooms available but Whitsunday Magic had a suite at less than the price of a 4-person share room ($250 less than the retail price for the suite).  We jumped on the deal and were so glad that we did.  If you can be flexible about your travel plans, standby is a great option for Whitsunday cruising in the springtime.
Whitsunday Central Reservation Center
1 800 677 119
259 Shute Harbor Road, Airlie Beach
Directly behind the bus stop at the edge of the main street besides Hog's Breath Café.