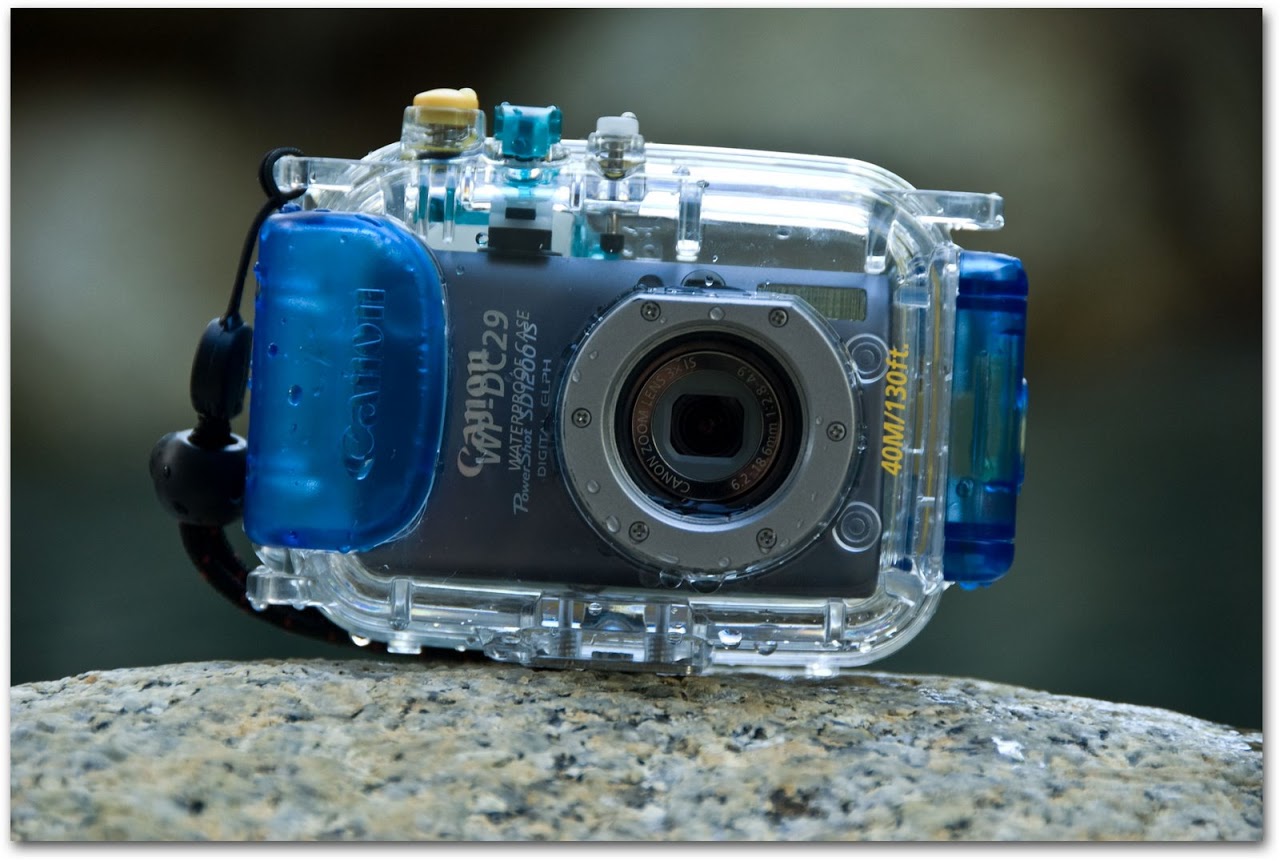 I have not kept the promise I made over a month ago to tell you why our electronics bag weighs as much as my clothes, shoes, and toiletries.  I will someday list out everything we are using but, in the meantime, hopefully, this review of the Canon WP-DC29 Waterproof Case for the SD1200IS Digital Elph Camera
will serve as a meager offering.
The underwater camera was my idea entirely.  Patrick normally manages all our electronics and he scoffed at the idea of buying an underwater camera.  He said that he would rather buy a disposable underwater camera or rent an underwater casing for our DSLR camera, instead of spending the extra money and lugging around another heavy plastic object.  But now, it is one of his favorite pieces of equipment.  Score one for Akila.
Let's start with the underlying camera.  We chose the
Canon PowerShot SD1200IS
, a powerhouse of an ultra-compact camera.  Though its shooting options are limited and it doesn't have many of the features that more expensive cameras have (for example, some ultracompact cameras have a "pet" feature, but the SD1200IS does not), the picture quality is excellent for a camera of its size.  Lauded by Consumer Digest as a Best Buy and CNet as a Very Good camera, it is one of the most popular ultracompact cameras out there.  (The picture of the Great Barrier Reef above was taken with the SD1200IS.)
The underwater casing is icing on the cake.  At $170, the underwater housing
is as expensive as the camera itself.  But, consider this: a one-time use disposable underwater camera costs $15 for 27 exposures and underwater housing for a DSLR costs upwards of $1,500.  On our Great Barrier Reef cruise, the company rented Canon WP-DC29 underwater cameras (the one that we own) for $66 per day.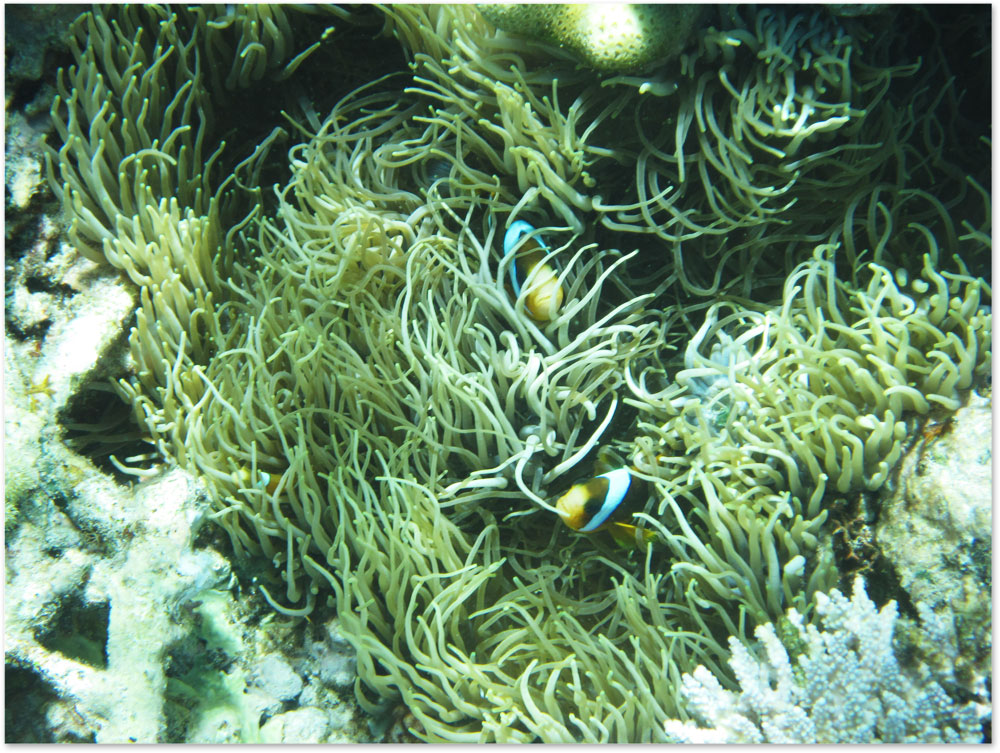 If you live in the middle of the desert and rarely visit the ocean, then purchasing underwater housing does not make sense.  But, because we are spending a substantial amount of time on beaches or in the water, we save money by purchasing the WP-DC29 rather than disposable cameras.  And, when Patrick scuba dives, he can take the camera with him because it can be taken to 30 meters or 140 feet.
The picture quality is far superior to that of a disposable underwater camera.  We rely heavily on the autofocus and zoom capabilities of our camera when taking underwater pictures because pictures of sealife are best taken close up.  If you look at the picture below, you will notice that it looks blurry and dark because we took it about 15 feet from the humphead wrasse without flash.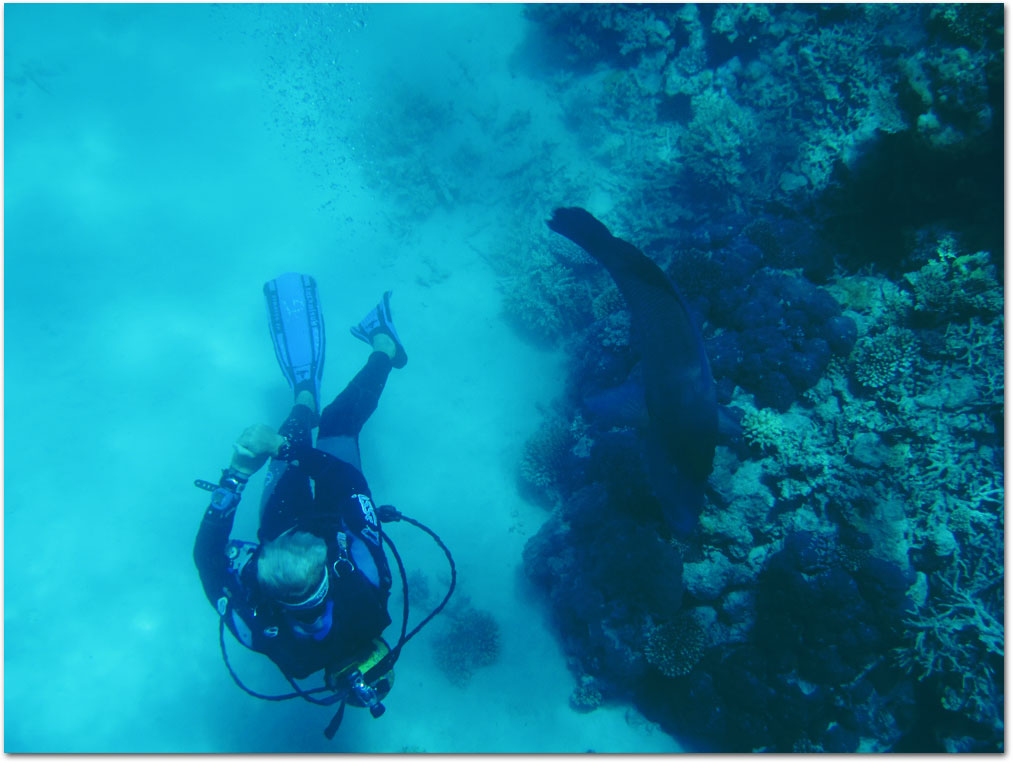 To take pictures of distant objects, the WP-DC29 contains a removable flash diffuser which allows flash to work underwater.  We also use the filming feature which allowed us to take this video of clownfish playing in anemone .
Even though the pictures are of good quality, because we are in constant motion in the water, many of our photos turn out blurry or just blue.  We have noticed this same problem with the underwater disposable cameras.  Of the 335 pictures we took at the Great Barrier Reef, only 72 were usable.  The moral of that story is to make sure you have an empty memory card before you get into a real-world aquarium.
Details
The Great Barrier Reef is amazing.  After all, it is called the GREAT Barrier Reef.  If it was the Pretty Good Barrier Reef, people wouldn't travel around the world to snorkel and dive there.  Fish and coral completely surrounded us everywhere we swam and we saw sharks, barracudas, and fish of every type. We have snorkeled in amazing destinations in Hawaii and the Caribbean but nothing beats the Great Barrier Reef.
We highly recommend Poseidon, a dive and snorkel charter that takes passengers to the Agincourt Ribbon Reef.  We went to three snorkel and dive sites, each better than the next, and were fed a good lunch and snacks in between.  Patrick thought the dive instructors were professional and helpful.  It was well worth $180.