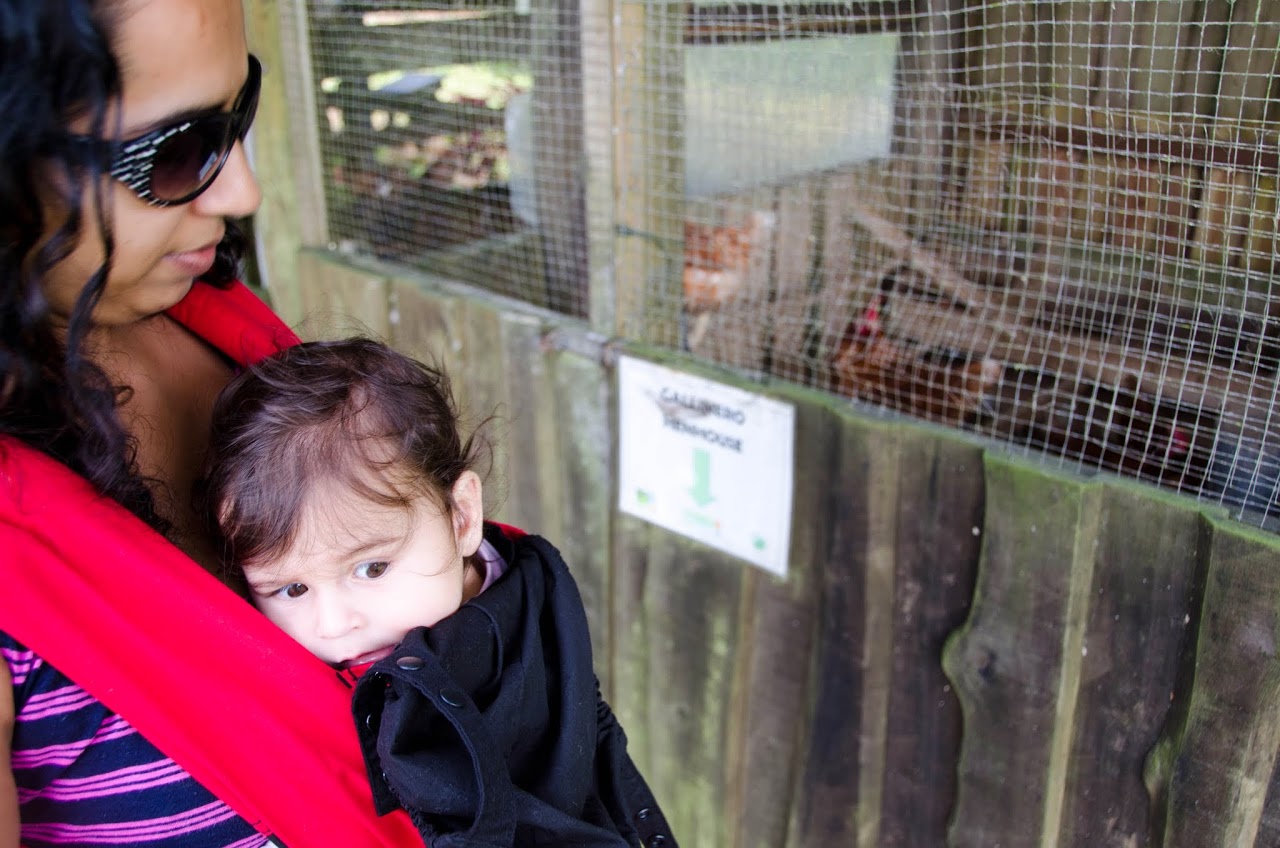 Looking at the chickens at Villa Blanca Cloud Forest
Last week, I told you about why we loved our Costa Rica trip with Amara .  I think it's a perfect first international destination for new parents because:
most people speak English
food and water are clean and safe for immediate consumption
Costa Rican culture is very family-oriented and babies are everywhere
most restaurants and hotels offers high chair and portable cribs/pack and plays
distances are not too long so it is possible to see a few places without subjecting your baby to very long drives
many of the popular attractions are outdoors and relatively low-key, involving hiking, walking, and beaches, all of which are perfect activities with baby
All this being said, we found very few families traveling with babies and toddlers.  Several people stopped us on our flight back home and told us that they remembered us at the hotels because we were the only couple with a baby at two different hotels.  Perhaps because of that, we had a hard time finding detailed information about traveling to Costa Rica with a baby so the information provided below gets into the nitty gritty of travel, in the hopes that it will answer many of the common questions that travelers with babies/toddlers may have.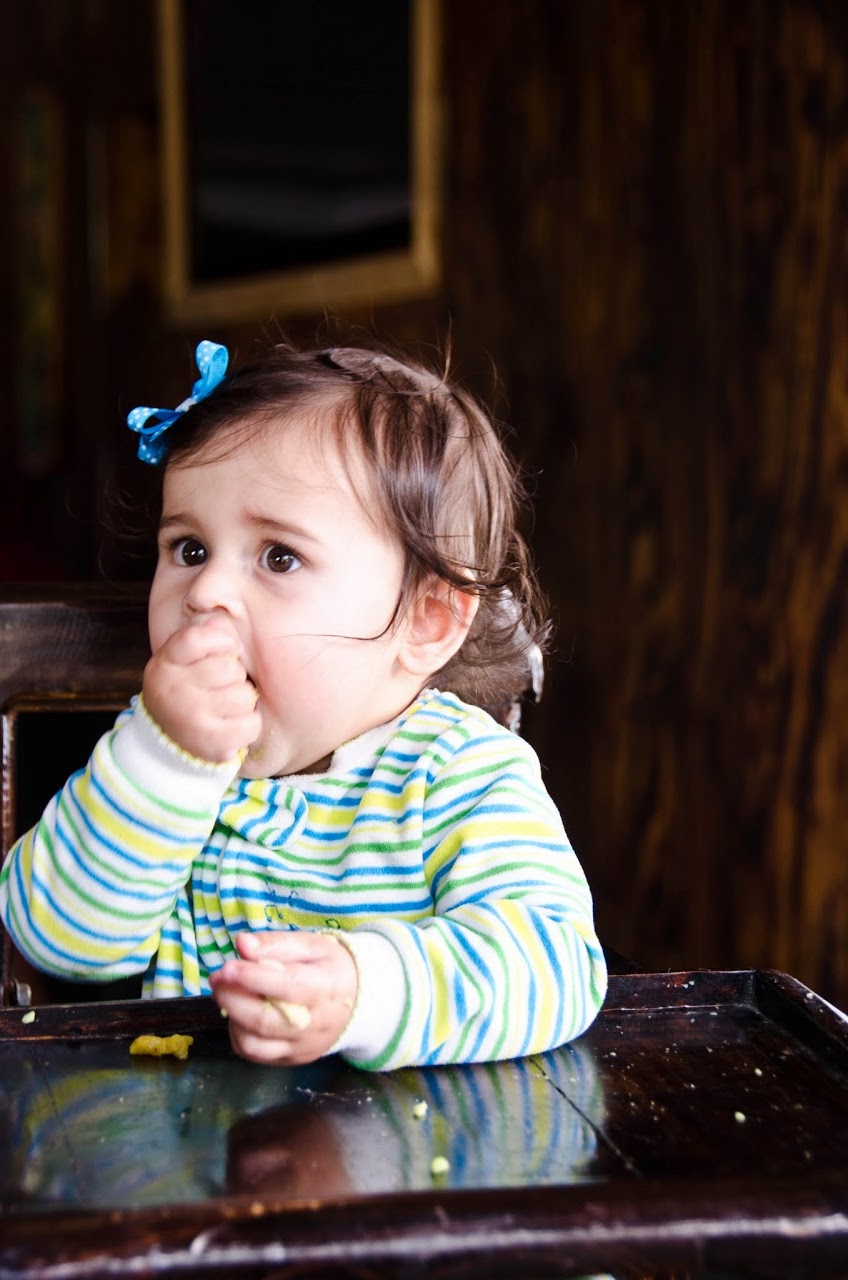 Trying plantains for the first time
What to Pack
Patrick and I did a lousy job packing for our first international trip so this list is based on what we should have packed (and is close to what we ended up packing for our subsequent trip to India) rather than what we actually packed for Costa Rica.  We ended up needing to do laundry every two days because we did such a bad job with our packing!  Anyhow, for a one week trip, assuming that you will do laundry mid-way during the trip, you should pack:
at least five pairs of shorts/pants: we found that we had to change her clothes at least once a day because of the high humidity and stickiness
at least five shirts/tops/onesies
two days worth of diapers and wipes: there is a HUGE Wal-mart right outside of San Jose which is a great place to stock up on diapers and wipes, but it's important to make sure you have enough for the plane and the first day or two
food pouches: we find baby food squeezable pouches to be the most convenient for traveling and stocked up on these in the United States before we left; we found jars of baby food in Costa Rica but didn't see the pouches anywhere
Car Seats and Strollers
Costa Rica has very strict car seat safety laws so we took our car seat with us to the country.  However, it is possible to rent a car seat in Costa Rica for around $5/day if you don't want to drag it across the airplane and airport.  Though I would recommend bringing or renting a car seat, I would NOT recommend bringing a stroller.  Most roads are not meant for strollers and strollers will not work in any of the national parks.  We used our Ergo baby carrier instead.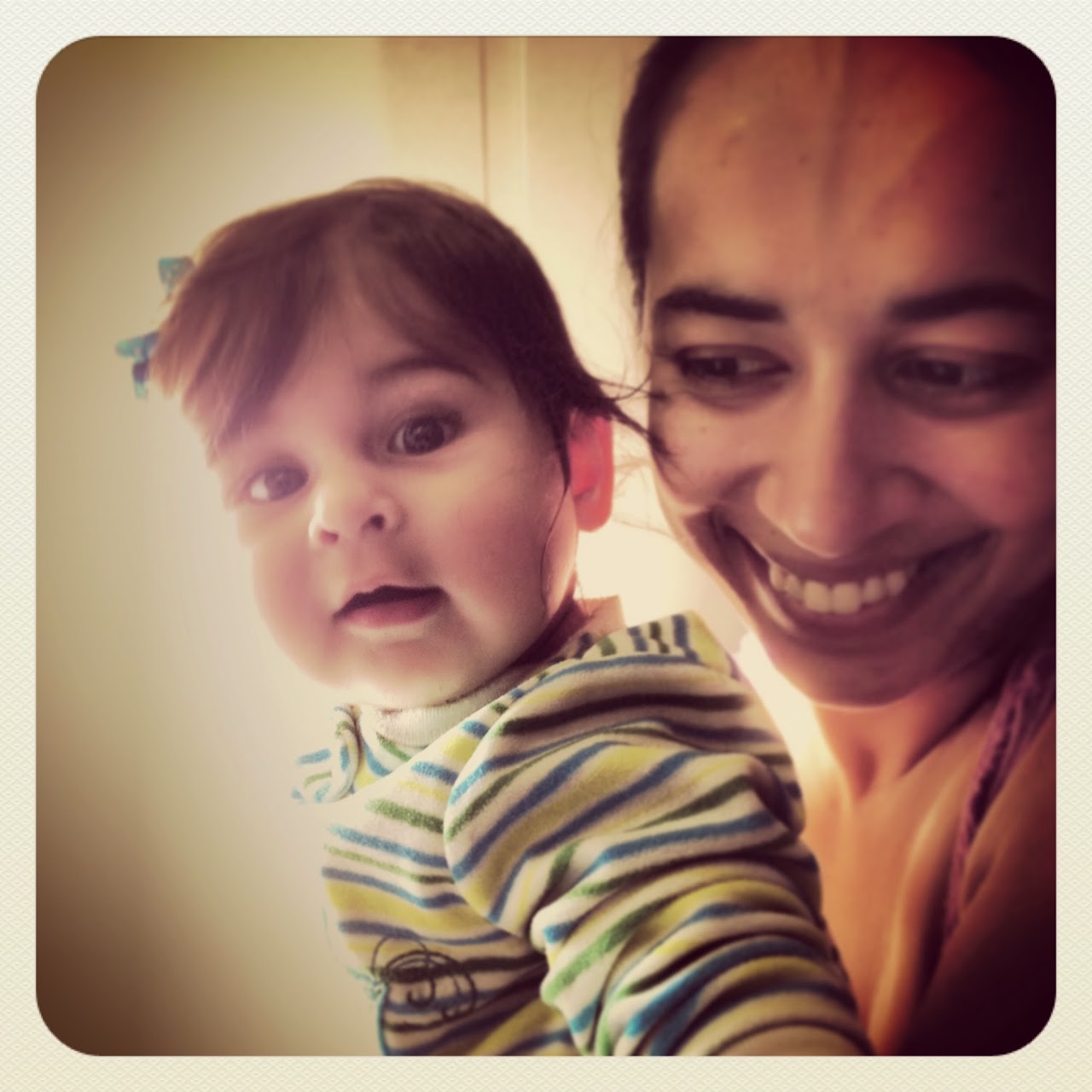 Flying to Costa Rica
Managing the Flight
There are endless articles out there about taking babies on airplanes but our number one tip is: get baby to sleep as much as possible on the flight.  We found this to be pretty easy for our trip to Costa Rica because the flight was four hours long from the East Coast and Amara normally takes a two to three hour nap in the middle of the day.  To get her to sleep on the flight, we:
don't let her sleep beforehand, even if her nap is off schedule (anyway, no matter what we do, the flight will screw up her schedule)
feed/nurse as soon as the plane takes off (Amara didn't have any issues with the pressure changes but some recommend to nurse while the plane takes off to help them equalize the pressure in their ears)
put her to sleep the way she normally gets put to sleep (in Amara's case, we rock her gently on our laps while playing her Lady Gaga music.  Yes, it's weird, but, it works!  Lady Gaga soothes the infant beast.)
let her sleep on our laps (which is incredibly uncomfortable for hours on end BUT it ensures that she'll sleep for a really long time.  On our 22 hour flights to India and back, she slept most of the time on our laps.)
When she was awake, we kept her entertained with "new" free toys, such as empty water bottles, paper cups, and plastic spoons.  As a last resort, we let her play with apps on our iPhones, which kept her entertained for about 20 minutes.  Delta was particularly accommodating by letting us sit in the Economy Comfort seats since we had the baby and neither flight was full.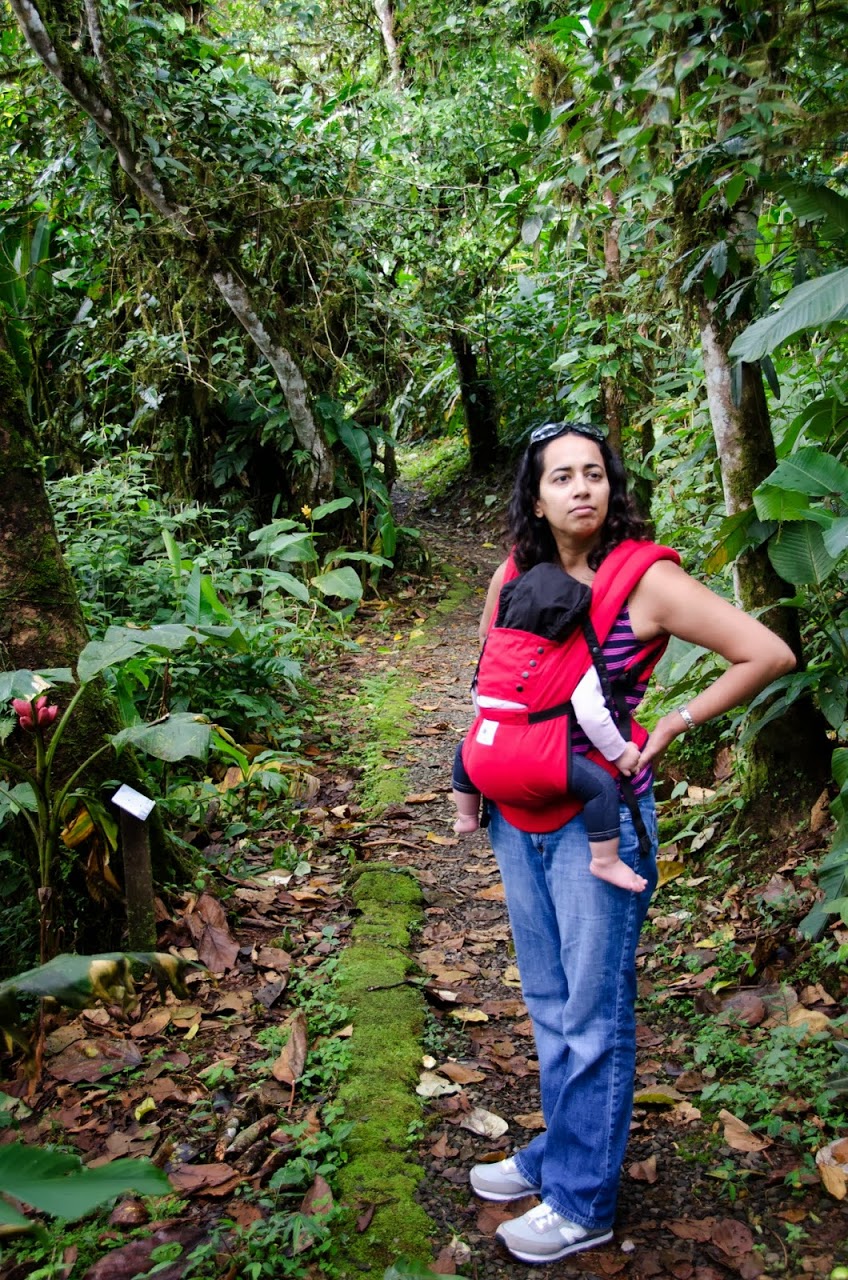 Nursing and napping while hiking
Breastfeeding in Costa Rica
Costa Rica, like many Latin American countries, is very pro-breastfeeding.  In fact, the symbol of the national healthcare system is that of a mother nursing a child .
There are no shortage of articles proclaiming the benefits of breastfeeding but I particularly love it while traveling because:
I've never forgotten her food source: we've forgotten everything else while traveling with Amara --- there was a time when we went on a four hour excursion without a single diaper --- but it's impossible for me to forget her food (!)
I don't have to worry about temperature or water quality issues: this was a big deal at Manuel Antonio Park where monkeys and raccoons pee in the sinks
It's easy to feed while hiking: I did a lot of hiking and feeding with her in my Ergo carrier.  It took a little bit of practice but, once I figured out how to feed her in a baby carrier, I felt like a supermom.
I never run out: Amara was extra thirsty and hungry in Costa Rica, probably because of the high humidity and heat.
Breastfeeding doesn't work for everyone but, if you are breastfeeding and traveling, you'll feel very comfortable nursing in Costa Rica.  I never once got strange looks and people helped point me out to slightly secluded places so that I could feed Amara without any issues.
I'll be back next week to talk about baby-friendly attractions, hotels, and restaurants, including the amazing Manuel Antonio Park.
*Our trip to Costa Rica was sponsored by the Costa Rican Tourism Board but all opinions are, as always, completely and entirely my own.