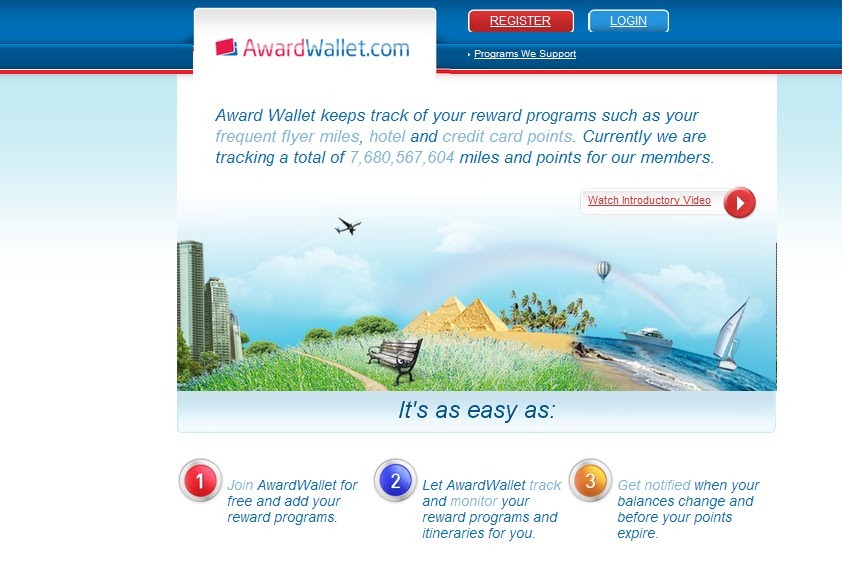 AwardWallet front page
Right now, the economy is struggling, people are unemployed, and, yet, there are trillions of dollars in frequent flier miles, award points, and gift cards going to waste.  Much of these miles/award points are lost because we simply forget to use them but, sometimes, it is because the airlines or stores adopt deceptive or misleading practices to steal away our points.  A few years ago, airlines arbitrarily slashed miles without warning , leading to a Congressional investigation; this year, New Jersey passed a bill to seize unused gift cards and raise $80 million.
This is why you need AwardWallet , simply the best frequent flier/awards management tool out on the market right now.  (I'm not the only one who thinks so: check out reviews at FoxNomad , the Cranky Flier , the Consumerist , the LA Times , and the Wall Street Journal .)  As a special bonus to The Road Forks readers, AwardWallet is offering 25 free upgrades to AwardWallet Plus using the promotional code "roadforks6mo."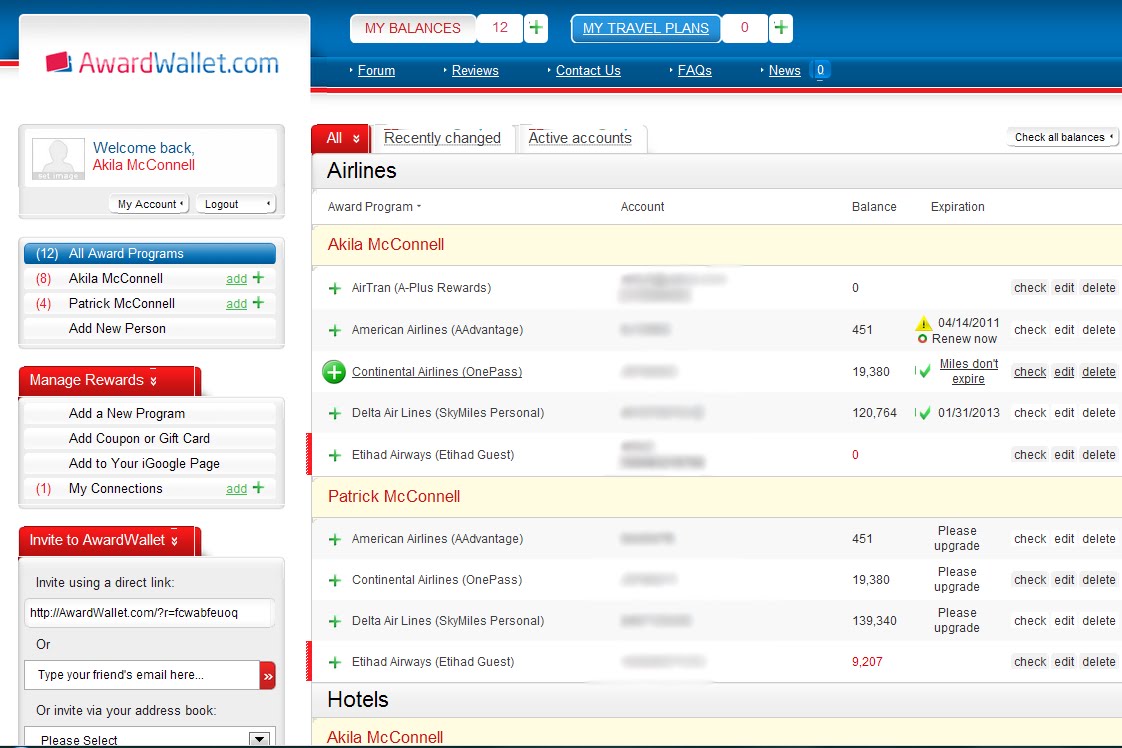 AwardWallet front page
Lest you think that I am just a corporate shill, let me tell you my AwardWallet story.   A few weeks ago, I started planning our 10th anniversary vacation to hopefully somewhere beautiful, romantic, and rock-bottom-cheap because we need to save as much as we can for our European trip.  I grew increasingly frustrated as I realized that planning a vacation to anywhere in the Caribbean in vacation-heavy June would be more expensive than either of us hoped.  Then, I received an e-mail from the marketing director at AwardWallet, suggesting that I check out their site.  I get e-mails like this every single day, at which time I normaly look at the product, decide that I am not impressed, thank them for contacting me and delete the e-mail.
But, AwardWallet impressed the heck out of me. Simply put, it organizes every single award program you have, for every family member, in a single easily navigable website.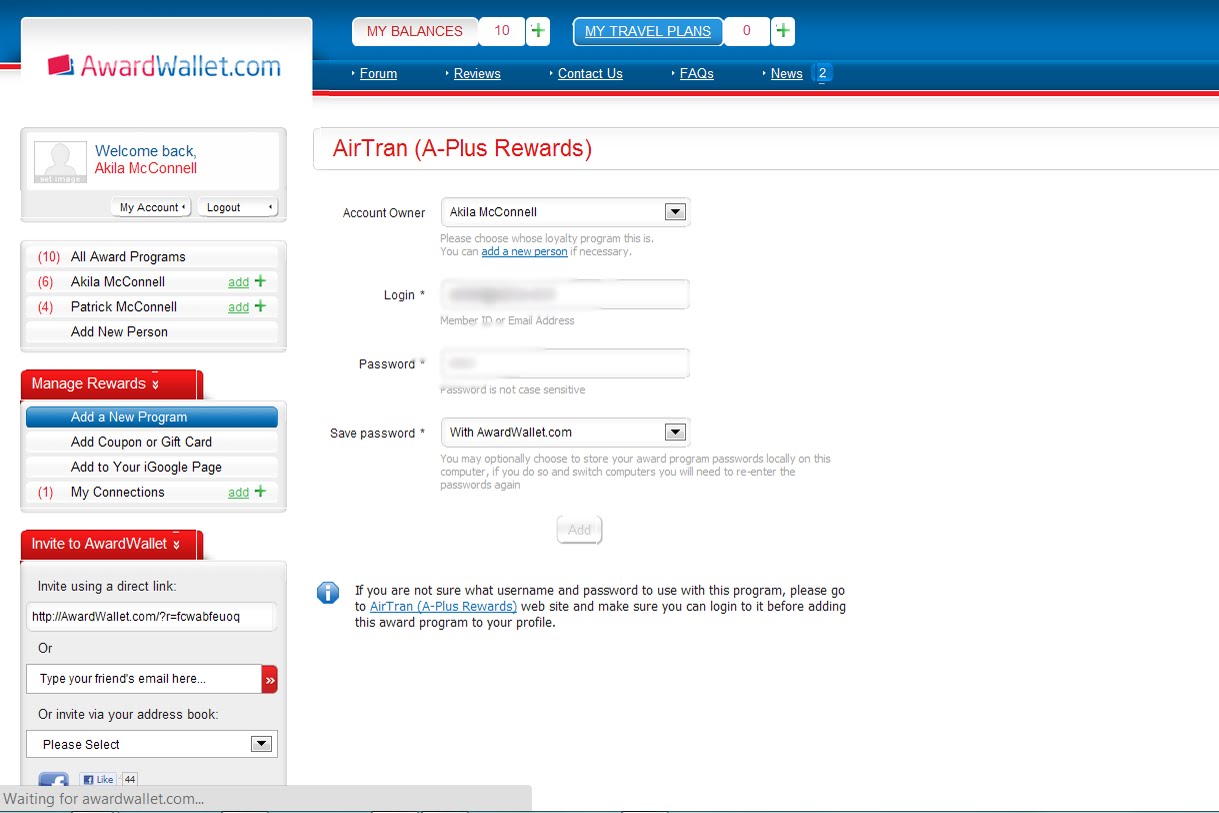 AwardWallet - add a reward
What I Love:
Free, Free, Free :  The basic version is completely and totally free.  Free!  I love free.  You can upgrade to AwardWallet Plus for a fee (more on the fee below), which allows exporting to an Excel spreadsheet, unlimited notices of expiration, and displays extra reward option.
Multiple Users : I can organize both Patrick's and my award points in one place [and, if you fly with your pets, you can add their award points , as well], instead of having to input different user ids every time I want to see our mileage/awards.
Works For Every Award Program: Unlike most frequent flier managers, AwardWallet organizes every award system: frequent flier miles, hotel points, store rewards, credit card rewards, and even gift cards.
Ease of Inputting Awards: As you can see from the above image, all you need to add a new system is your user name and password.
Increase in miles
Secure Storage of Passwords: You can choose to store your password with AwardWallet (similar to Mint.com's online storage) or on your hard drive.  Anil, at Tech Guide for Travel , did a great interview with Todd Mera and Alexi Vereschaga, owners and founders of AwardWallet, where they describe their encryption technology and how they ensure that their customers' passwords remain secure.
Automatic Updating :  If you store your password with AwardWallet,  then they will automatically update your points on a daily basis, pulling the information from the company.  For example, last week, I earned 287 points on our Capital One credit card and AwardWallet notifies me of the change by showing a green arrow with the increase (or decrease).
Expiration Notification: We don't fly American Airlines very much, as you can tell from the paltry 451 miles accumulated over the last year.  AwardWallet notifies us as to the date of expiration of those miles and, for the first time ever, I will be donating those miles to Iraq soldiers rather than letting them evaporate into the ether because I didn't realize they had expired.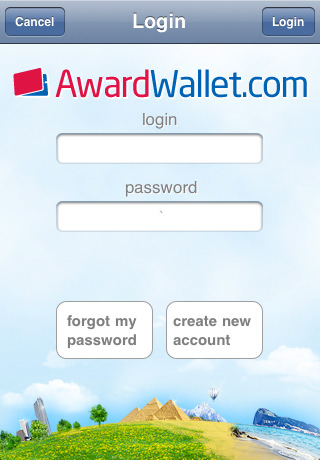 IPhone interface
Mobile Access: AwardWallet has a free mobile app for the iPhone , very useful for when you are on the road and have forgotten your account number.
E-mail Notification :  Once a week, AwardWallet sends me an e-mail notifying me of any changes to our account.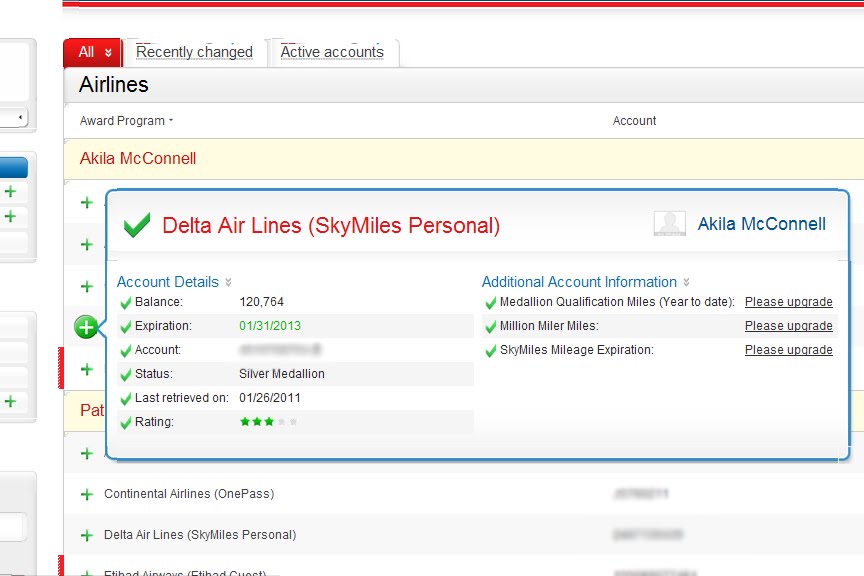 Expanded information
What I Don't Love:
Weird Upgrade Price: If you want to upgrade to AwardWallet Plus, they allow you to choose your own price based on what you think the upgrade is worth.  I hate not knowing if I am paying too little or too much, which is the same reason I usually end up paying $15 for what should clearly be a $6 silk tie in the Indian markets.  I wish that they would at least suggest a price that they think is appropriate.
Not Much White Space :  AwardWallet's marketing director assured me that they are working out kinks in design, but one thing that I hope they fix is the lack of white space on the sides of their site which makes it look very busy.
Confusing Links to Detailed Information: To review your information on a particular program, you need to click the plus symbol rather than the link to the program, itself.  On more than one occasion, I have clicked on "Delta Air Lines," which sends me to the Delta website rather than to my summary of my Delta miles on AwardWallet.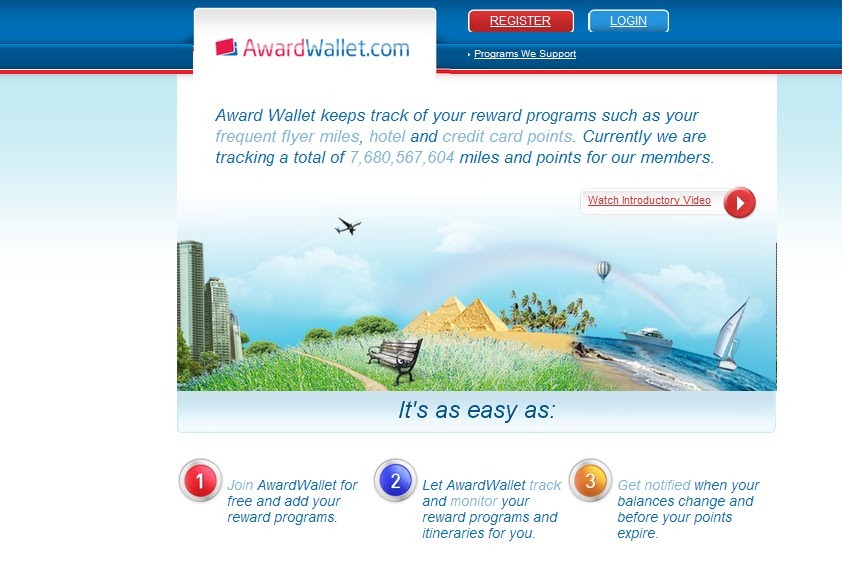 Front page
So, what happened to our anniversary trip?  Once I plugged in all of my mileage programs, I discovered that Patrick and I have a combined 260,000 Delta Skymiles, more than enough for us to fly anywhere we want, as well as over 60,000 miles on our Capital One No Hassle Miles card, which means that we can pay for a week's hotel stay with those reward points.  It looks like our anniversary is going to be beautiful, romantic, and almost entirely free, thanks in large part to AwardWallet.
As a special offer to The Road Forks readers, AwardWallet has kindly offered 25 free upgrades to AwardWallet Plus using the promotional code "roadforks6mo". To get your free upgrade:
1.  You must be a new member of AwardWallet.
2.  After you register, click My Account >  Upgrade to Award Wallet Plus > Enter price $1.00 (you won't be charged) > Choose a method of payment (you won't be charged) > Add promotional code "roadforks6mo".
3.  You must use the promotional code by February 23rd.
Have fun tracking your rewards/miles.  We would love to know what you think about the site once you log on.
* If you want to learn more about using frequent flier miles, check out Chris Guillebeau's Travel Hacking Cartel .  We are not members but have heard very good things.
* This post and giveaway was sponsored by AwardWallet but all opinions (both good and bad) are, as always, our own.  We are thrilled to have found AwardWallet and hope you will be, too.