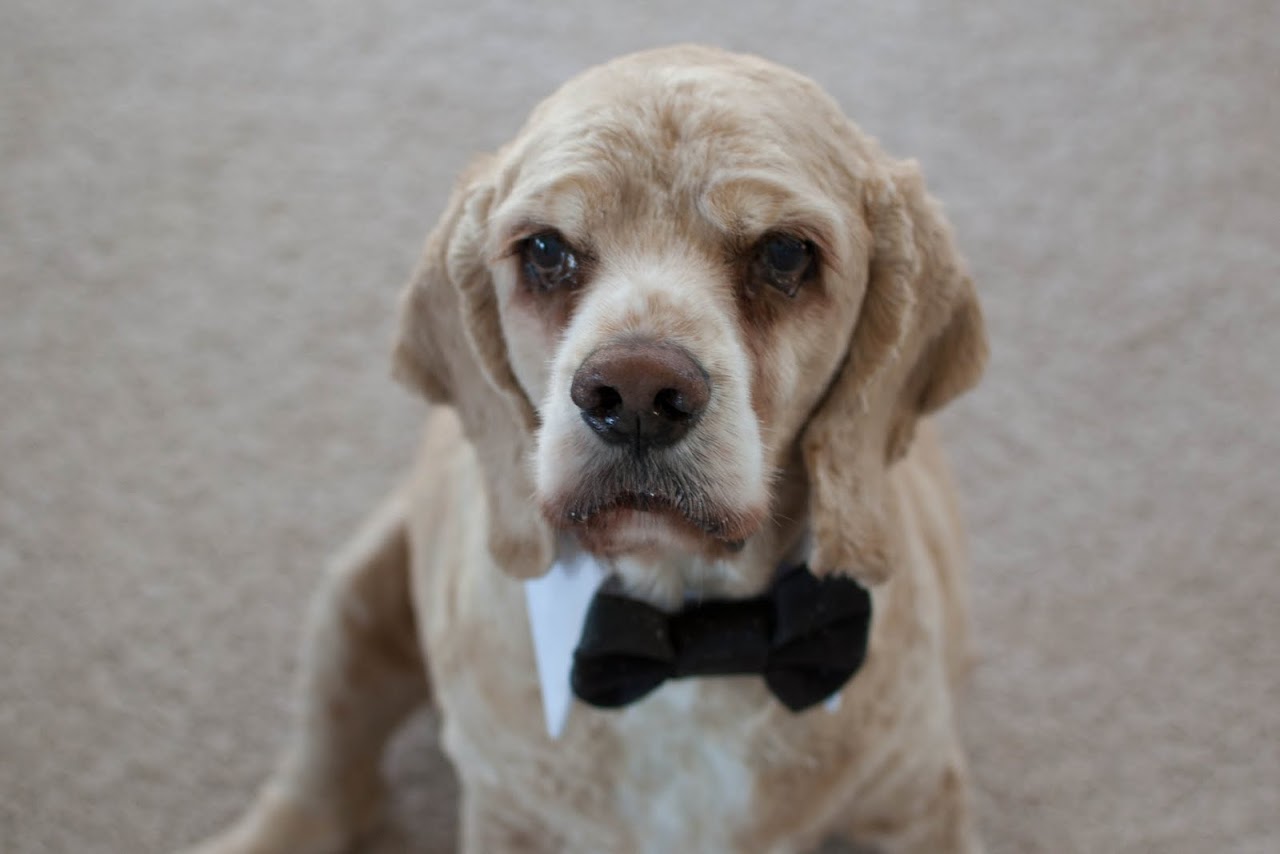 Chewy in his bowtie
When we began our world trip, we placed only one condition on our itinerary: we would be home in time for Chewy's 10th birthday on November 4.  And, boy, did we celebrate in style with a grand Silver Screen Soiree for the man of the day.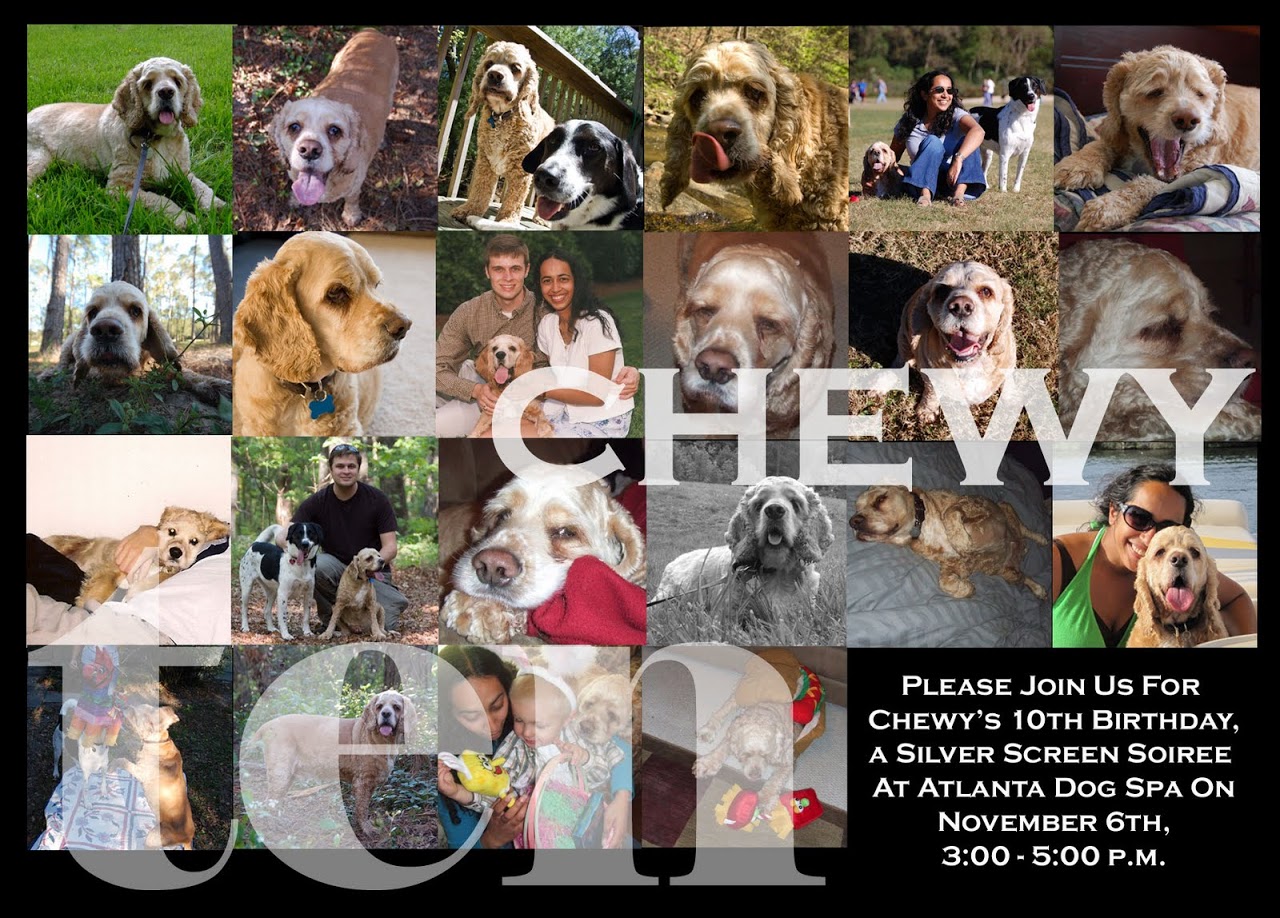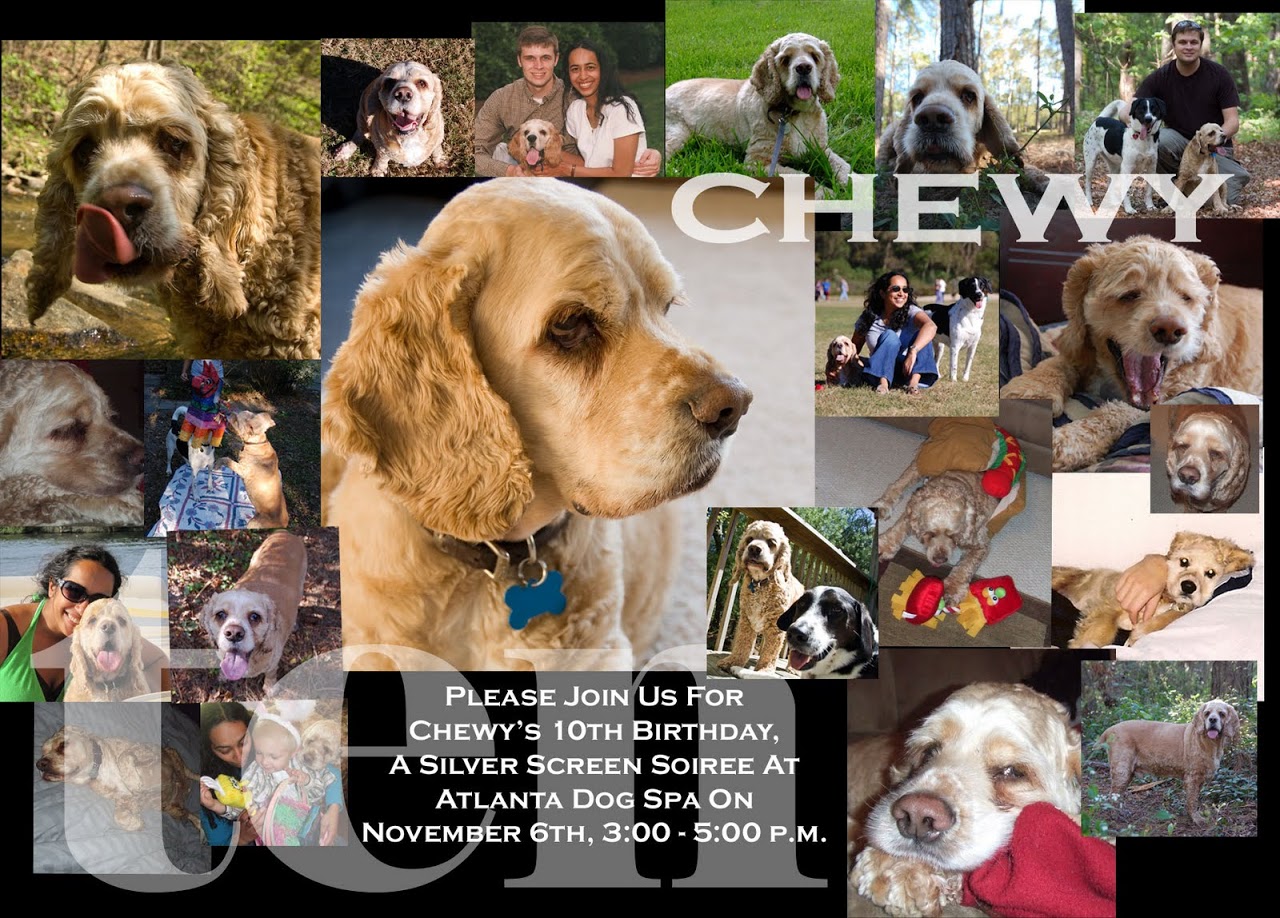 Invitations
I designed two alternate invitations, one to satisfy Patrick's sense of symmetry and the second to satisfy my all-over-the-place creative instincts, so guests received one of two invitations.  The wonderful folks at Moo printed up our postcard invitations with the party details on the back and I sent them to our guests in the snazzy silver envelopes Moo sells.  (And, if you're not using Moo for your printing needs, may I ask why not?  Their service and print quality is stellar.  We love them and use them whenever we have the chance.)
Doggywood at Atlanta Dog Spa with the view of midtown Atlanta (and my old office)
We decided on the Silver Screen Soiree theme because we held the party at the wonderful Atlanta Dog Spa in their "Doggywood" room.  I can't say enough good things about Atlanta Dog Spa and owner Sarah Segal.  They went out of their way to make the party a success, including having three staff workers available to help manage the dogs (including their inevitable messes).  We had a huge room, good-sized play yard, and everything was completely fenced in, for the duration of the party, all for only $125.  If you live in the Atlanta area and want to throw a party for your dog, I highly recommend Atlanta Dog Spa.
Bailey, Chewy, Mona, and Chance in their bowties
Each of the dogs received a miniature popcorn bucket with Pupcorn, a Kong squeaky ball, a tiny toy, a martini or margarita shaped treat (because you can't have a party without drinks, right?) from TajmaHound ,  and a super cute bone-themed bow tie in either red or black from Designer Duds for Dogs .  Designer Duds made Chewy's bowtie and collar and I only wish I had another event at which he could wear it because it is just so adorable.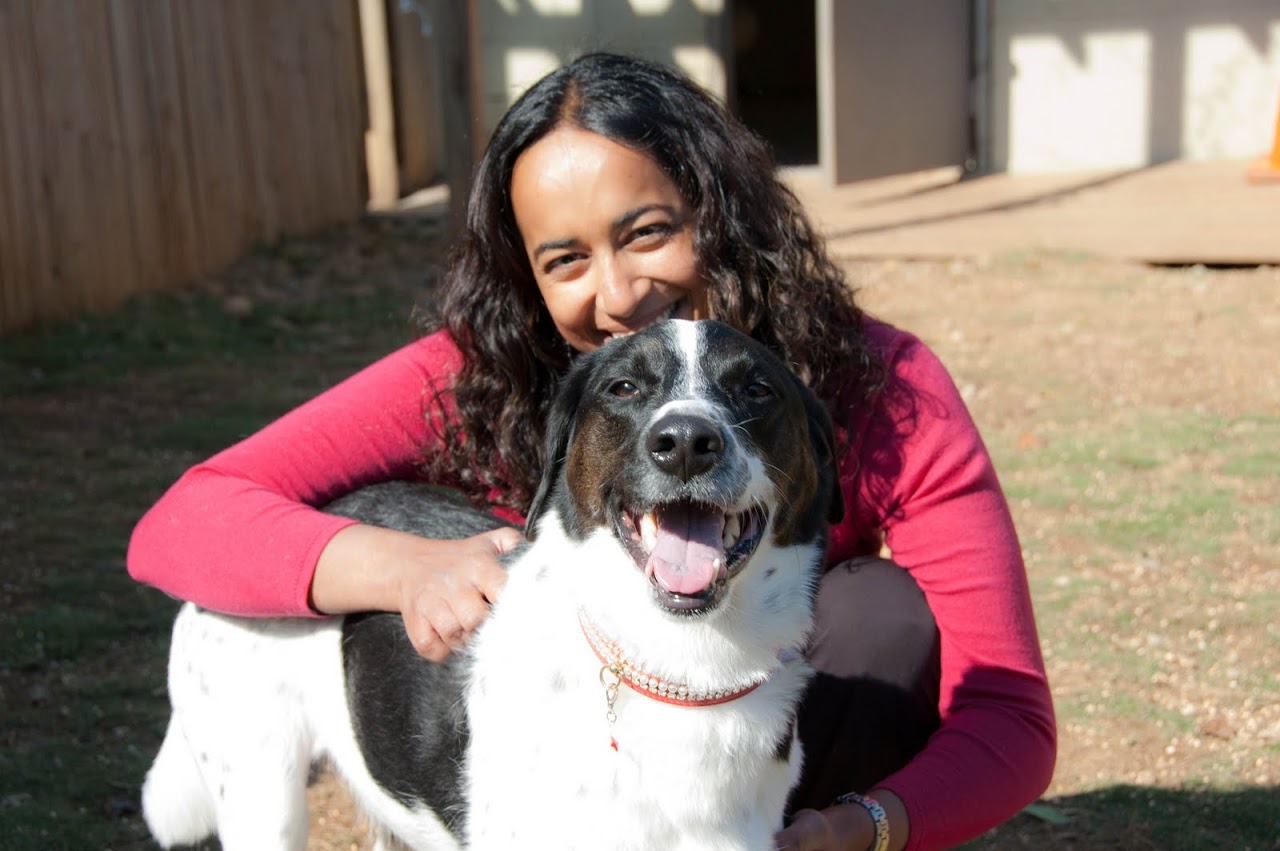 Abby
Because Abby was the lady of the party, we found her a gorgeous pink-red collar with pearls and sparklies, and a crystal heart pendant from the great folks at Madison's Fifth Avenue Luxury Pet Boutique .
Walking down the red carpet, the birthday photo
After everyone was dressed to the nines, the dogs with their humans walked down the red carpet, posing for pictures.  We intended for Chewy to be last down the red carpet but he decided to cut ahead and walked down the red carpet by himself first and, then, with us at the end.  He knew that it was his party.  Afterwards, all of the dogs and humans "signed" a mat with a photo collage of Chewy, to create a memento for his party.
Movie trailers
A silver screen soiree wouldn't be complete without movie premieres, so we showed two trailers that I built using the new iMovie (they are both less than one minute long).  The first one is an action-packed adventure filled with food, fun, and Chewy, and the second is a heart-warming tale of two best friends.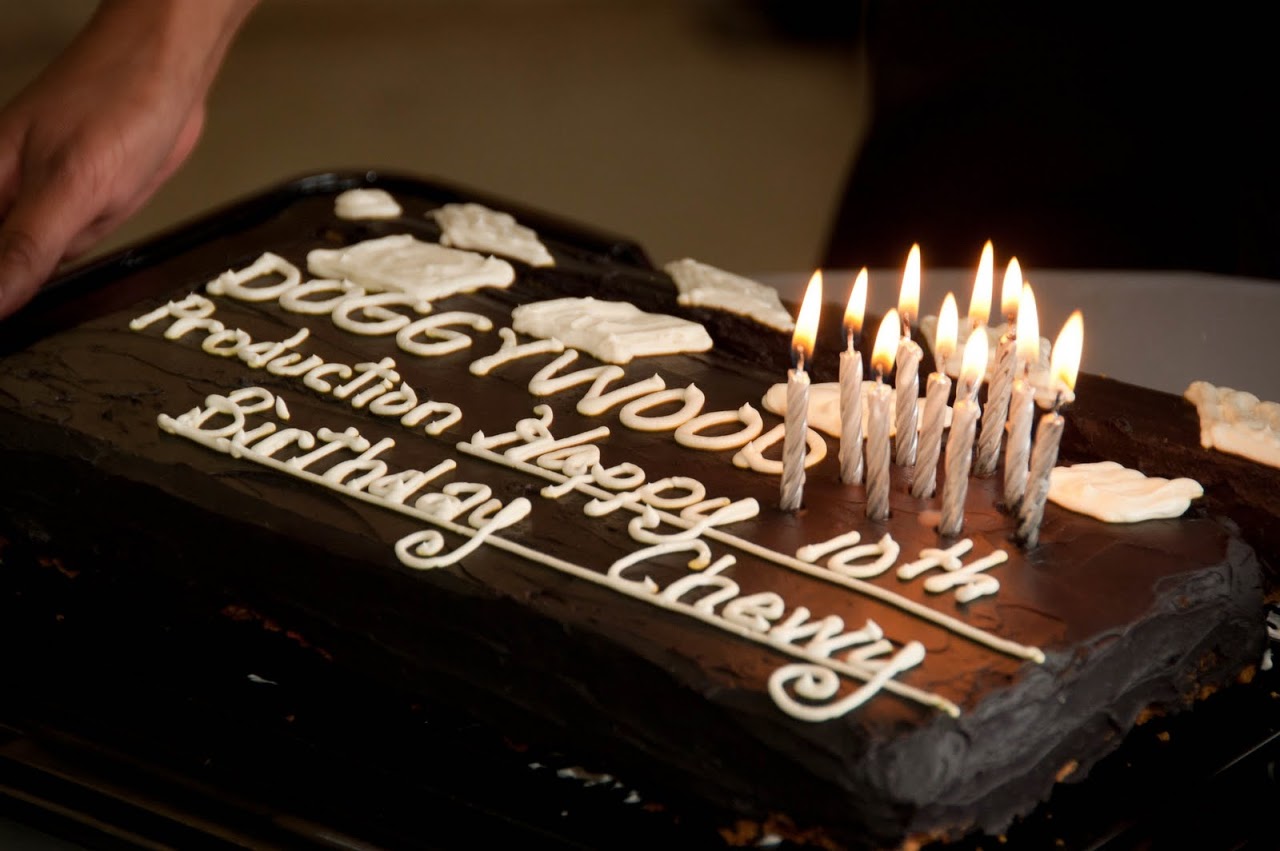 Placard shaped cake
While we were watching the movie trailers, Chewy was eyeing his placard-shaped cake made by Taj-ma-Hound Dog Bakery and the martini/margarita treats, which looked and smelled so good that my human guests wanted to try them.  Not to worry, the humans had a red velvet popcorn-shaped cake from Cakes by Debbie in LaGrange, Georgia.
Opening presents and the pinata
Good food needs good exercise so, next, Chewy unwrapped his presents.  And, yes, Chewy unwraps his own presents.  It's pretty awesome to watch.  For the grand finale, Chewy ripped open a pinata, something we do every year for his birthday.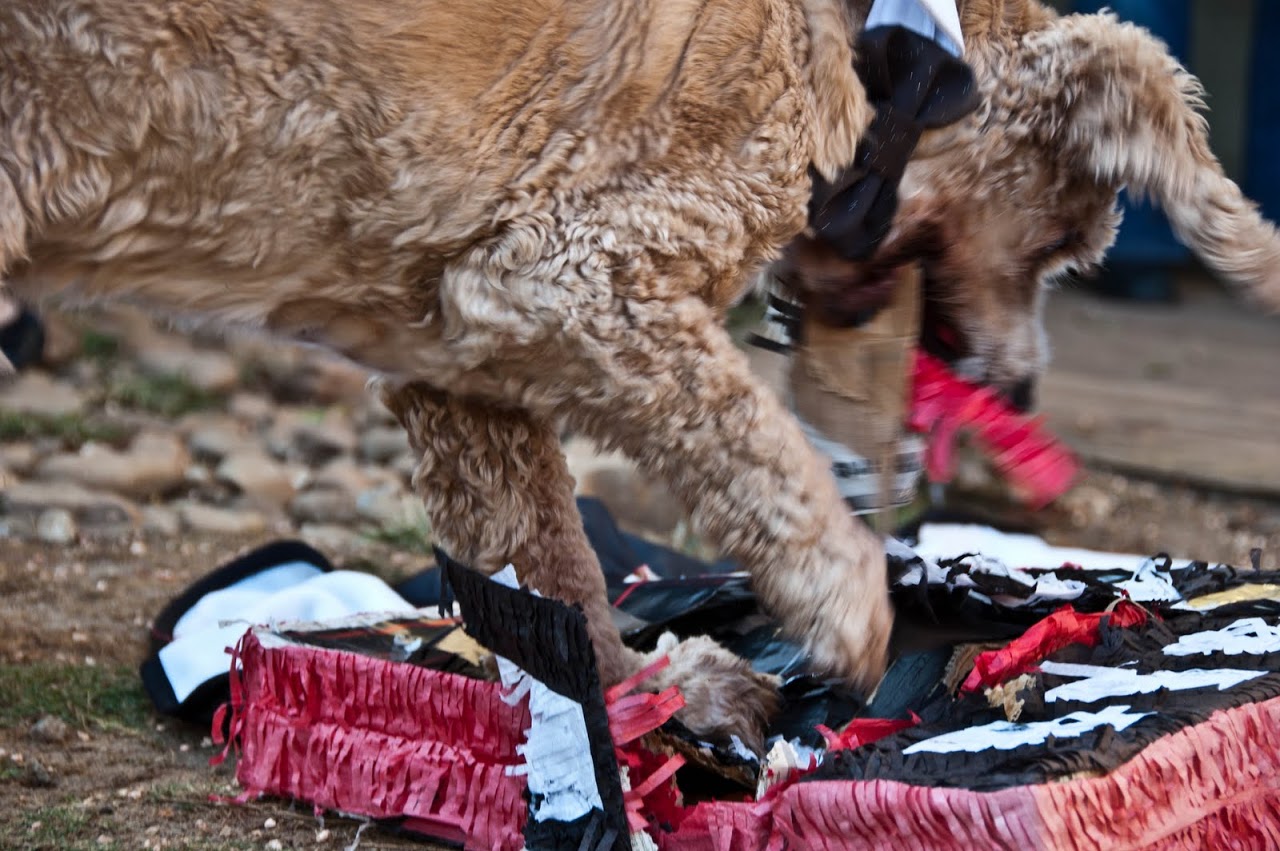 Chewy and his pinata
Chewy might seem like a sweet, cute, lovable boy, until you see him go for a pinata.  He is absolutely manic about breaking them apart to get to the treats inside.
All the dogs
The party was a huge success, as evidenced by the big old grins that the dogs wore throughout the afternoon.  And, for the rest of the weekend, Chewy did this: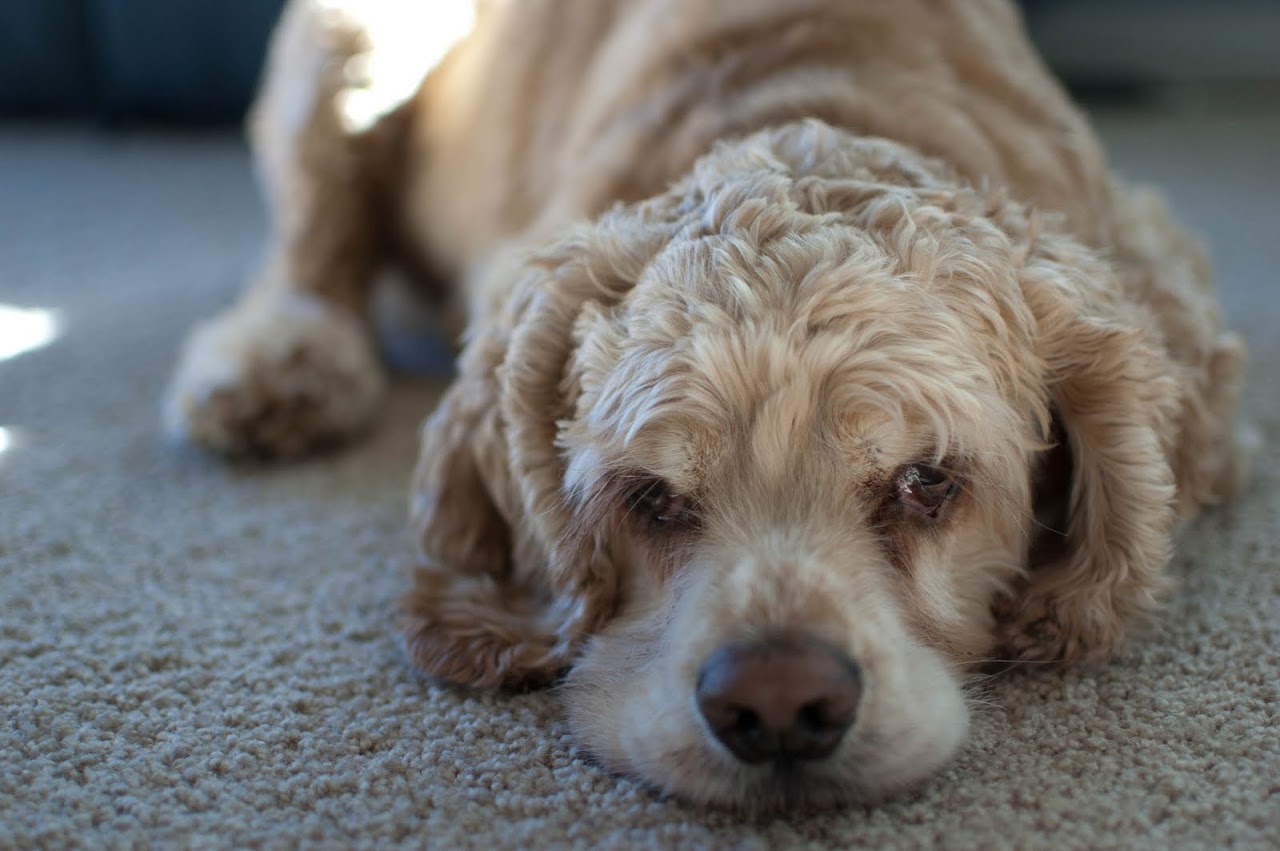 Chewy pre-nap
I think he had a good time.  Happy 10th birthday, Chewy!