Amicalola Falls
You know this already but I'll tell you anyway:  America is beautiful.  Often, people from other countries look at us disbelievingly when we tell them that because they associate America with the concrete landscapes of New York, Las Vegas, and Los Angeles.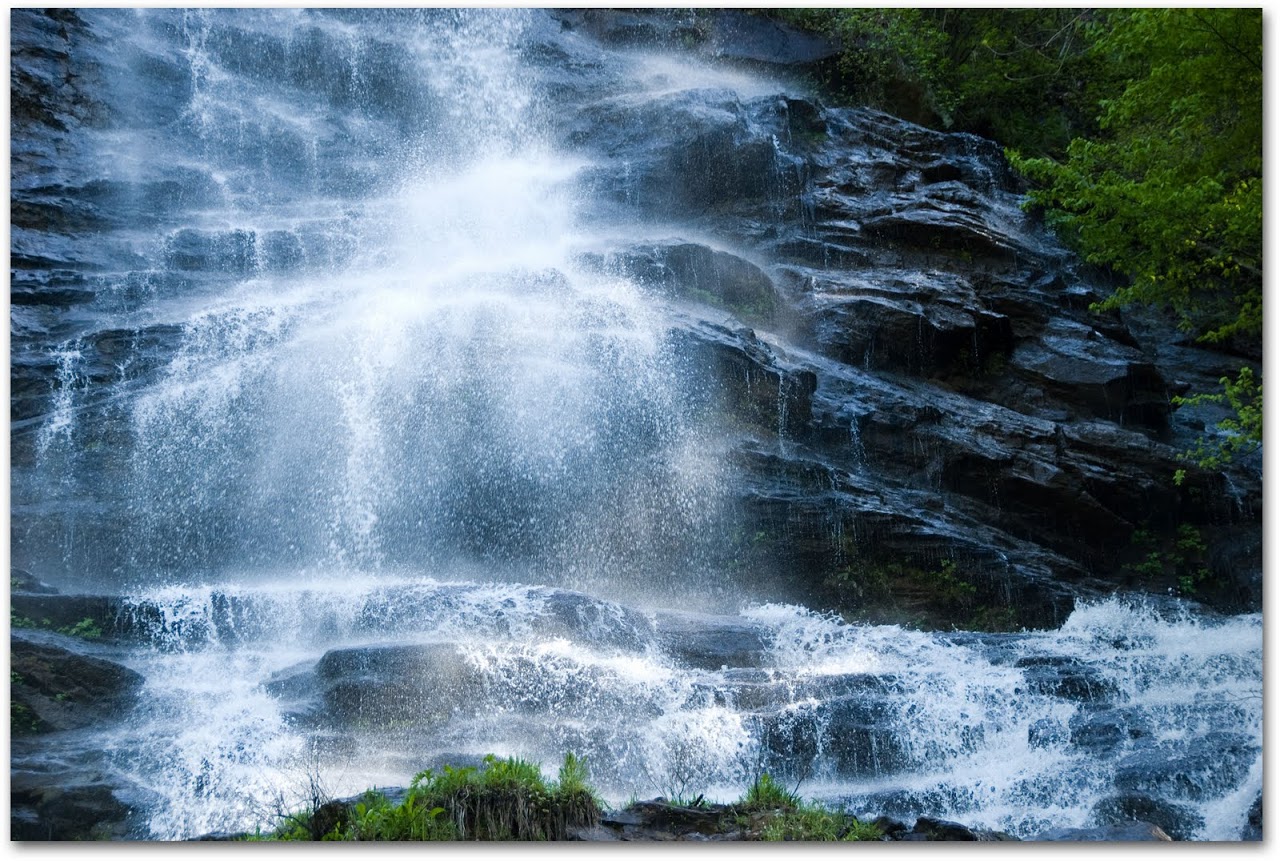 Amicalola Falls
We tell them that there are pure white beaches in Florida with giant ocean waves that crash against the shore.  I explain that our "small" waterfalls are stronger and more powerful than the biggest waterfalls in Australia and India.  And, springtime in the South is so green that I feel like a workman pulled a paintbrush across the landscape.
Different perspectives of Amicalola Falls
There is something about the small towns, too, that brighten up the spring landscape.  The red brick buildings shine against the blue skies and trees are filled with blossoms.  Farmers bring their produce to the local markets and people from the surrounding areas mingle through the streets, chatting to each other and admiring the artwork that invariably hangs from some stand.
Ellijay, Georgia in the spring
I had to write about everything.  Words flowed through my fingers because  nature spurred on my thoughts.  Due to a problematic laptop that I had to replace and a bunch of weekend visitors, I didn't make my 30,000 word goal for the month .  But, I have written 26,381 words in the last 6 weeks!   It's a good start and I am going to keep trudging along so I can meet my writing long-term goal .
| | |
| --- | --- |
| | |
| | |
Chewy and Abby
And, of course, everything is better if you have these two darling little faces roaming through the woods, trails, and forests.  We admired the beauty of the Georgia countryside, worked, got puppy kisses, went for long walks, got more puppy kisses, fed said dogs, then received dog-food-breath puppy kisses, and cooked up delicious food .  It's not a bad life under those sweet Georgia skies.
Wherever you are in the United States, we hope you are having a beautiful, joyous Memorial Day weekend.
Details
If you are planning on visiting Ellijay, Georgia, we highly recommend the Wilderness View Cabins , located about 45 minutes from Ellijay and 25 minutes from Chatsworth  Though the drive to the cabins is not for the faint hearted, the views are dazzling and the cabins are cozy and comfortable.
The cabins are 1 mile away from Fort Mountain State Park .  If you park at Cool Springs Overlook and walk across the street, you can walk through the Gahuti Trail with your dogs.  It is an easy approximately 1 mile loop through woods on a flat surface so we did not worry about letting the dogs off leash.  The Lake Trail is an easy loop around the lake but I would not recommend letting dogs off leash because there are many campers in that area.  Lastly, the Gahuti Trail stretches to the front entrance and we parked before the entrance and walked the dogs on a nice grassy stretch.  Parking is free on Wednesdays at the park.