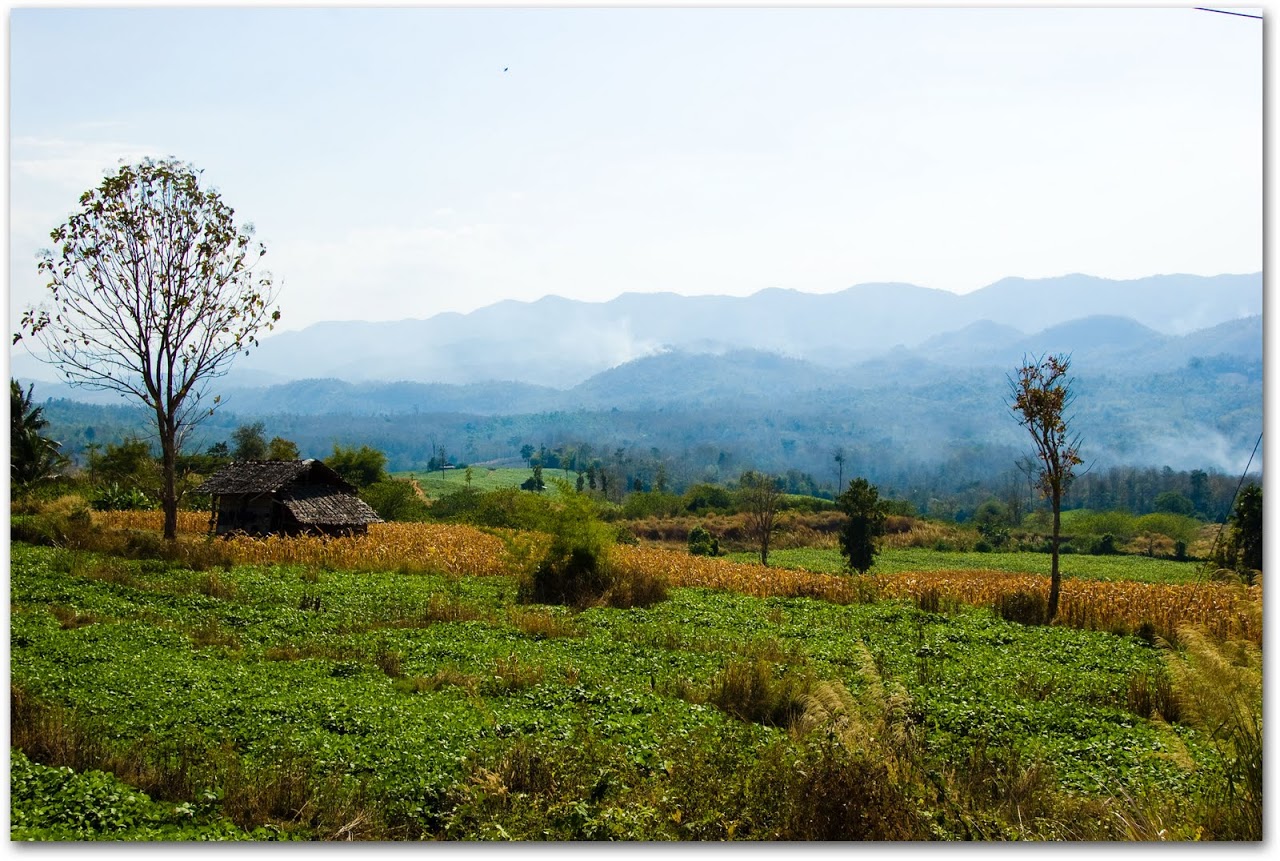 Mae Sot countryside
We went to Mae Sot with grand plans: we would stay in this border town for one night and then head to Umphang, an unspoiled wilderness area with numerous hill tribes.  We planned to hike to the highest waterfall in Thailand and find wild elephants.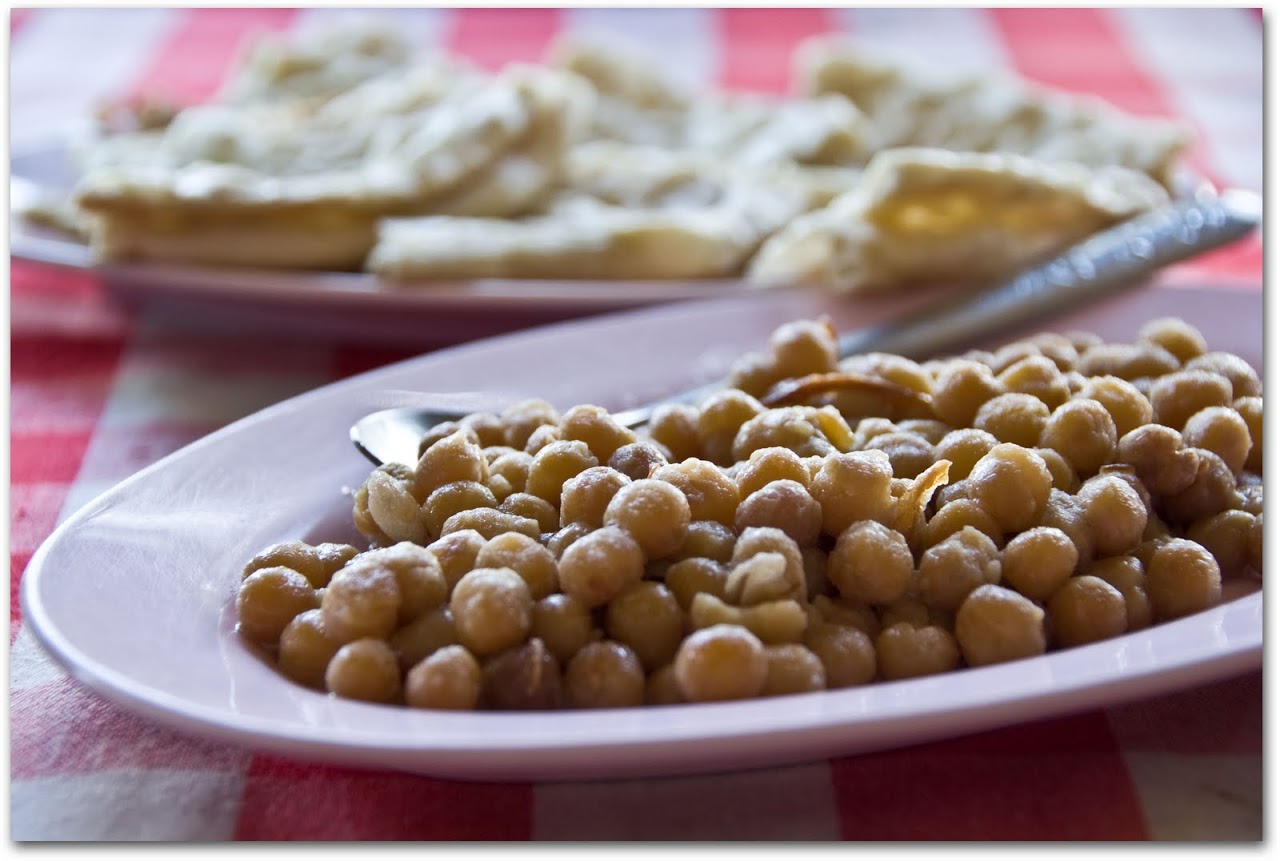 Channa masala and roti at Borderline Tea Shop
It was when we sank down into the cushions at Borderline Tea Shop that we realized how tired we were.  I mean, we sat at the tea shop for three hours, refreshing ourselves with a deep green basil lime juice, a Burmese tea leaf salad that was so good we scraped up every last speck off the plate, and roti with channa masala.  We couldn't figure out why we just kept sitting there, why we didn't get up to go see the border, why we had no interest in finding the next temple, or crossing over to Burma.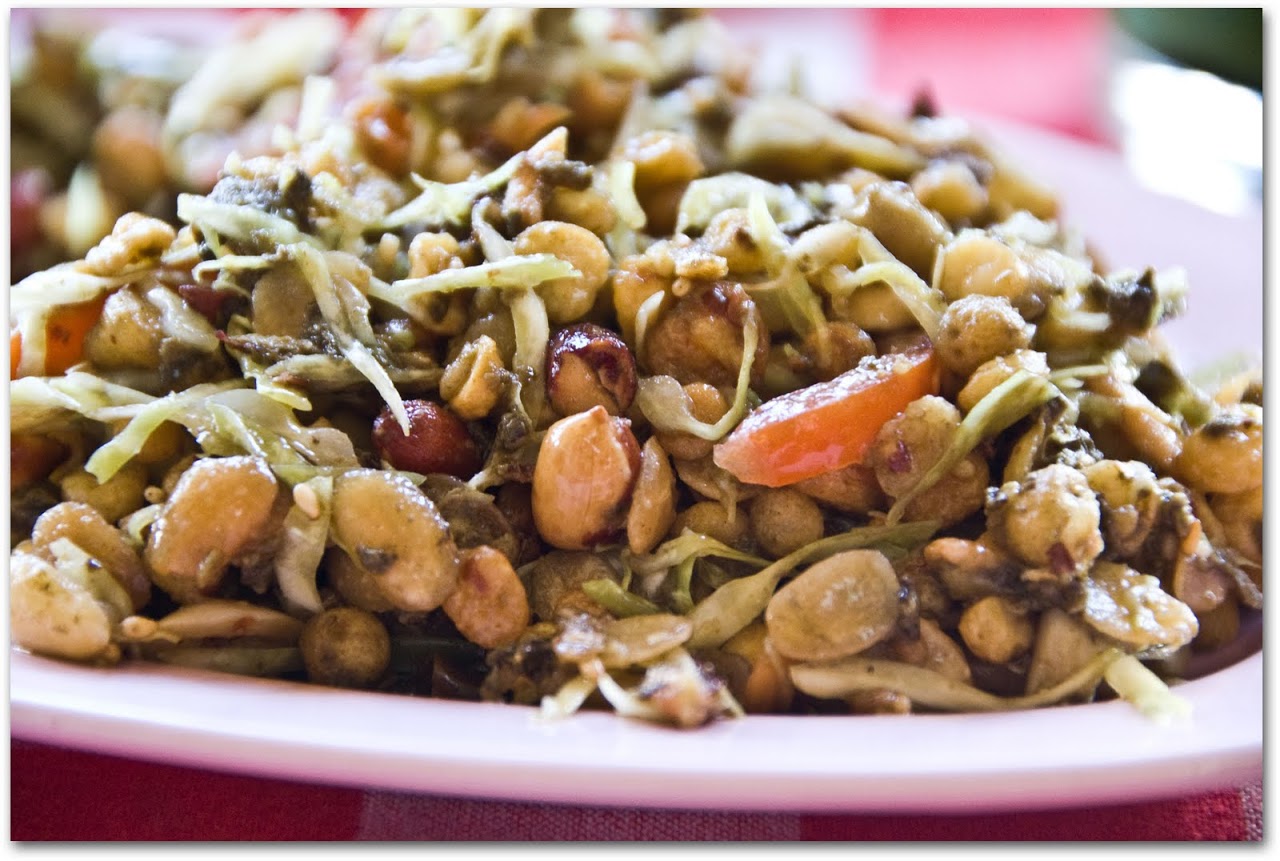 Burmese Tea Leaf salad at Borderline Tea Shop
And, then, it finally hit us.  We had been traveling for four weeks straight without a break.  We had visited my family in India , seen temples while battling sickness , trained elephants , cooked a Thai feast , and found untouristed ruins .  We had walked through humble and cavernous Thai markets and eaten noodles, satays, and mango with sticky rice on so many street corners.  We had packed and repacked our bags every three days and maneuvered our way by buses, trains, planes, and boats.  We were exhausted.
Bridge to Burma
As it turns out, Mae Sot is a pretty good place to do nothing because there is nothing much to do.  The town, situated at the Burmese-Thai border, is a town on the brink of hesitation, not quite Burmese or Thai or Western, but filled with NGO workers, missionaries, Burmese refugees, and Thai citizens.  There are four tourist attractions and none present much charm after a stay in Chiang Mai or Lampang: the bridge that crosses over the border, a lively vegetable market, an uninspiring border market, and a giant reclining Buddha.
Reclining Buddha at Wat Don Kaeo
We needed those days spent underneath a magic box that spurts out frigid air, what others like to call air conditioning, and we refer to as bliss in the form of metal.  We went to our Burmese tea shop every day, meeting missionaries and NGO workers who were trying to make a difference, while we lazed about on the cushions and ate delicious salads for 30 baht ($1 USD) per meal.  We let a bit of guilt seep into us while we drank our basil lime juice and listened to the breathing of the stray dog who followed us around the city, eager to receive treats from Patrick's generous hands.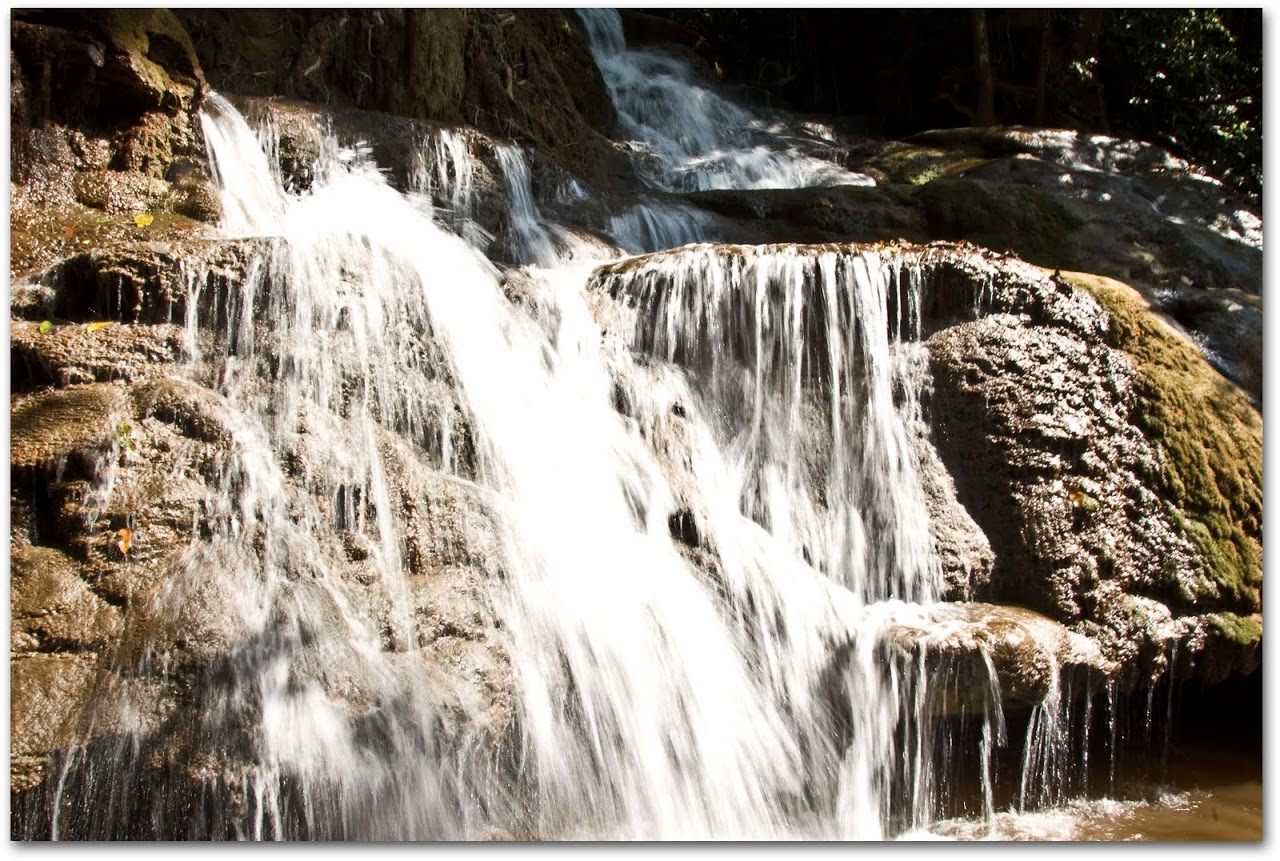 Nam Tok Mae Ya Pa
One morning, we rode to Taiksin Maharat National Park, twenty kilometers outside town, to see the nine-tiered waterfall Nam Tok Mae Ya Pa.  We couldn't even find the impetus to walk up to the top of the waterfall and contented ourselves with lounging in the shade with our Coca-Colas and watching the Thai children splash in the small bathtubs carved by rocks.
Playing on the waterfall
Three days was enough.  Mae Sot recharged us and we were ready to face the chaos, bustle, and gorgeousness of Bangkok.  It is a point that I think every long-term traveler reaches --- a breaking point of sorts where you just feel worn down and need to distance yourself from constant movement, people, and new things.  You have to know when you are burnt out, to stop and take a vacation from your journey, to let yourself watch movies, bask in cool air, play on the Internet, read books, and do all of those things that we do when we need to relax.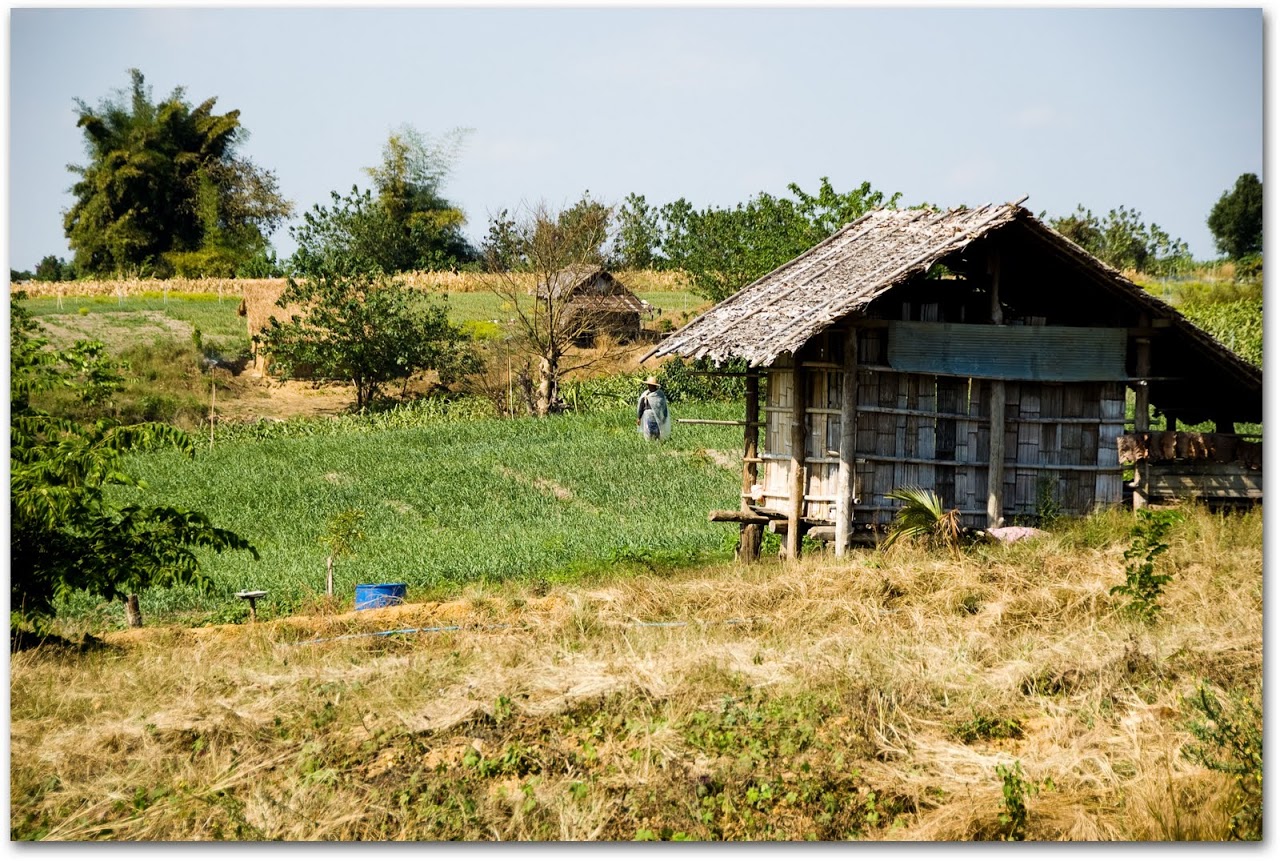 Fields outside Mae Sot
Sure, we regret not being able to hike in Umphang.  But, if we hadn't taken that break, we would have turned our journey into a chore rather than the fun and exciting adventure it otherwise is.
Details
We recommend avoiding the Bai Fern Guesthouse, where the bedsprings must have been trying to commit suicide by jumping out of the mattress because metal coils pierced my back all night long.  Instead, opt for the beautiful bungalows at the very popular Ban Thai Guesthouse or modern large rooms with air conditioning and free Wi-Fi at Phannu House for 500 baht/night ($18 USD).  We highly recommend making reservations before you get into town because missionaries and NGO workers fill the good guesthouses in town very quickly.  We had to visit four hotels before we found a spot at Bai Fern and then went to two hotels the next morning before we got our room at Phannu House.
If you make it to Mae Sot, then you must eat at the Borderline Tea Shop, a store and restaurant that assists women from hill-tribe villages.  Every single thing we ate, from their tea leaf salad to their juices, was delicious and cheap and it was one of our favorite restaurants in Thailand.  The restaurant also has cooking classes for those with energy.