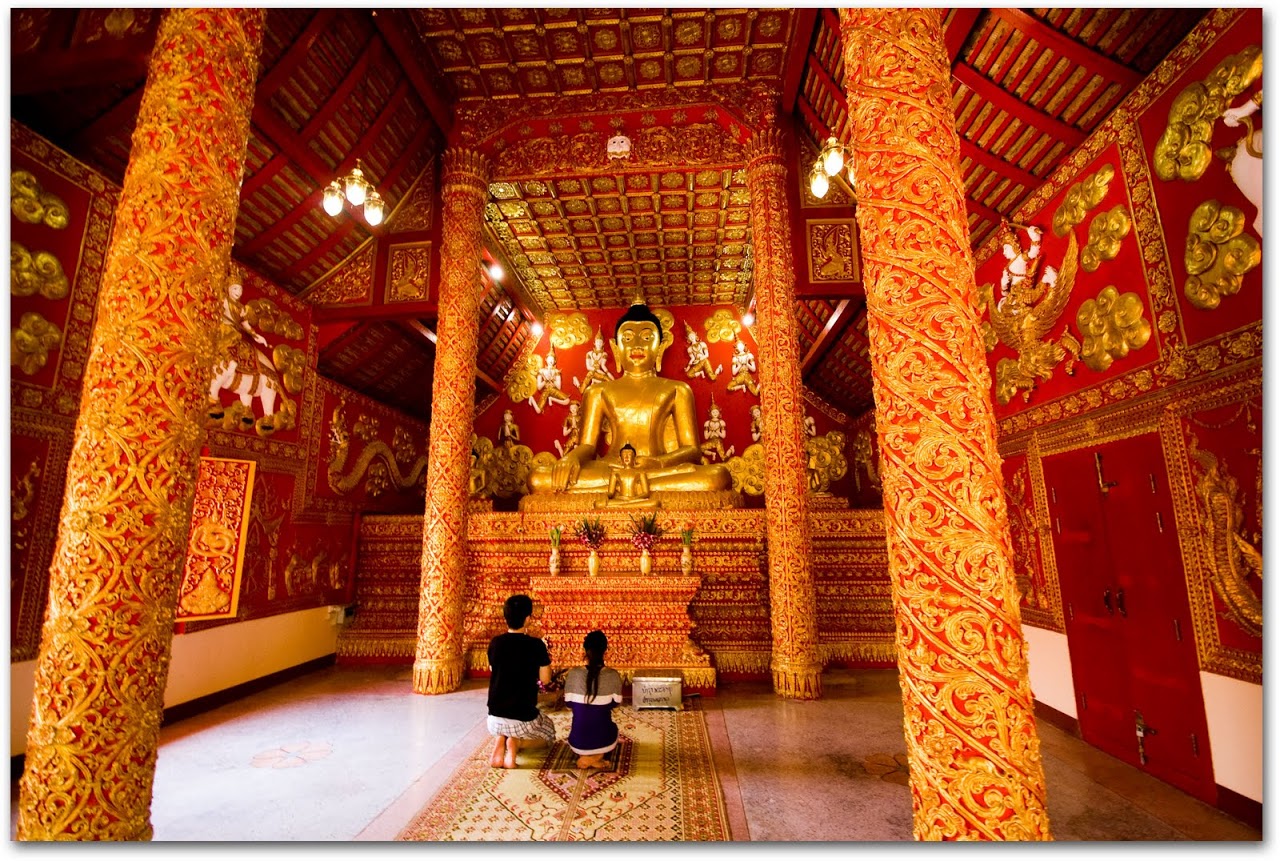 Wat Phra That Lampang Luang
Sometimes, I think tourism is all about the right sort of marketing.  Take Lampang, for example, a town two hours south of Chiang Mai that houses one of the oldest and most beautiful wats in all northern Thailand.
Buddha, offerings, horse drawn carriage, wooden Lanna style ceiling at Wat Phra That Lampang Luang
Day in and day out, Thai tourists ride through the town on funny little horse drawn carriages, meandering from market to market, and wat to wat. Thai villagers and townspeople from neighboring cities fill the few Lampang hotels on Saturdays and Sundays when the town hosts a huge night market.
Nagas
But, foreigners don't know about Lampang. Chiang Mai, advertised heavily by the Thai government and most guidebooks, is filled to the brim with tourists from every nation; Lampang, a town more charming and nearly as interesting as Chiang Mai, sees few non-Thai faces.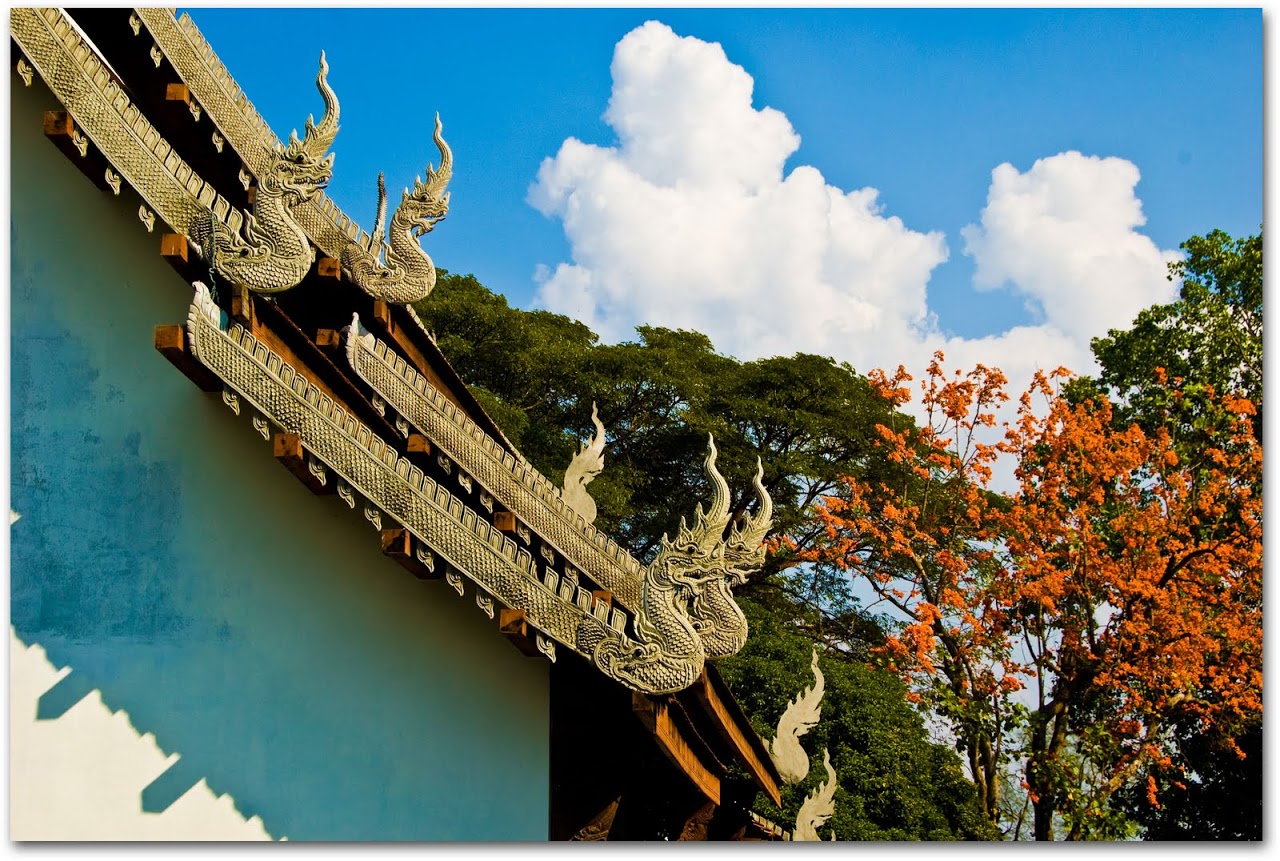 Wat rooftop
In fact, if I put my travel pundit hat on, I would say that in ten years, Lampang will the new Chiang Mai because farangs (foreigners) are going to get fed up with the mass commercialization and cheesiness of Chiang Mai.
Flowers and nagas at wat whose name I have forgotten in Lampang
For now, Lampang is just about perfect as it is.  Signs are written in Thai rather than English, there are no restaurants catering to foreigners with pseudo-Thai cuisine, no old men with Thai girls in short skirts, and few people who could speak even broken English.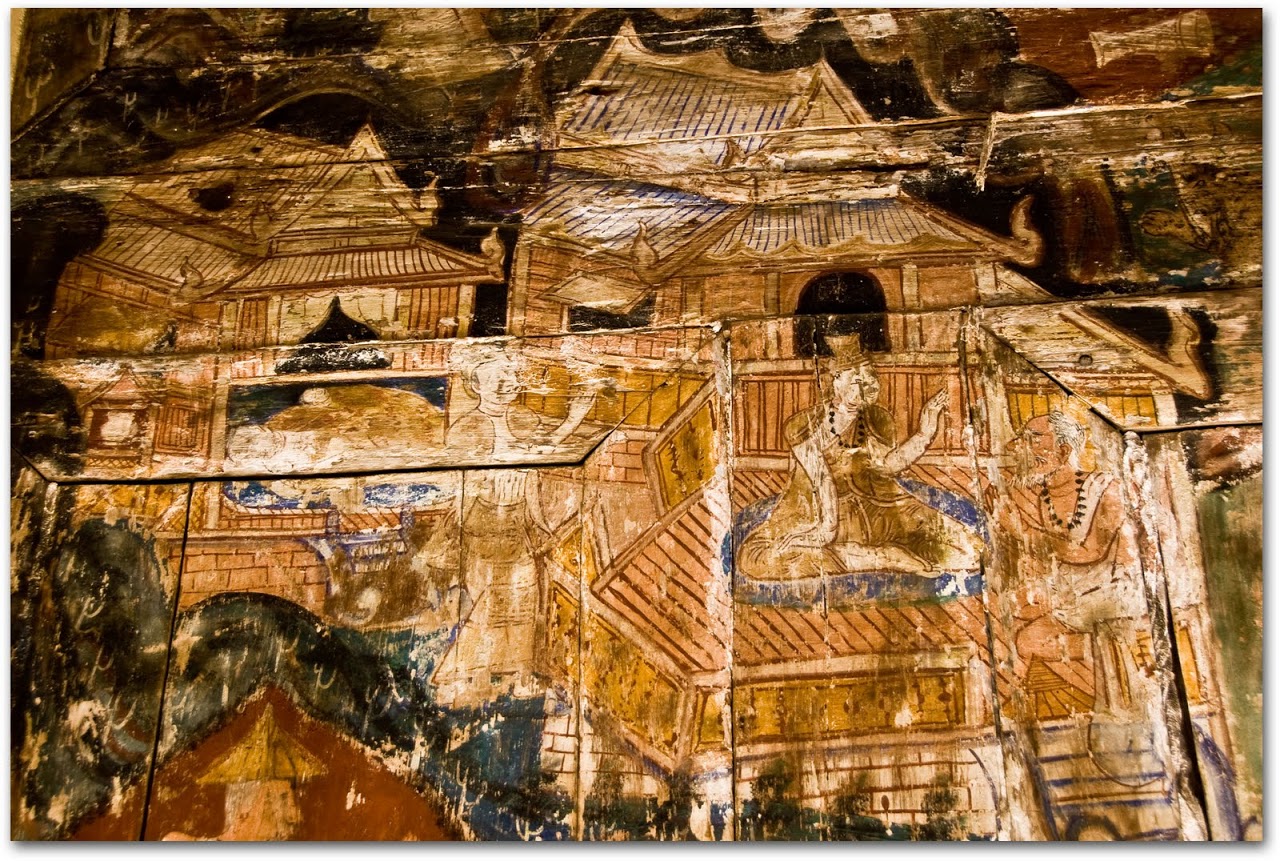 Mural at Wat Phra That Lampang Luang
We admired the fading murals, depicting 16th century life and the lives of Buddha, at Wat Phra That Lampang Luang, without the jostling of elbows and the blinding flash that so often marred our other visits to beautiful temples.
Street foods on a stick
On our first night, we crowded into Aroy One Baht, a restaurant that serves stunning Thai cuisine at embarrassingly cheap prices, with what felt like the entire city of Lampang.  Their fried cauliflower served with peanut sauce remains one of our favorite dishes in all of Thailand.  At Happy Bar next door, we drank whiskey with the locals while listening to Thai pop played by a guitarist.
The Lampang Night Market
At the Lampang weekend market, there were no annoying women dressed in hill tribe costumes trying to sell us wooden frogs (believe me, if you've been to Bangkok or Chiang Mai, you know what I am talking about).   Instead, teenage girls crowded around the pink accessories table, young children painted pictures on tiny easels, and everyone lingered around the food pouring from the stalls.  It was the only place in the country where, at six p.m., the loudspeakers blared the national anthem and everyone stood stock still to pay respect to the king and country.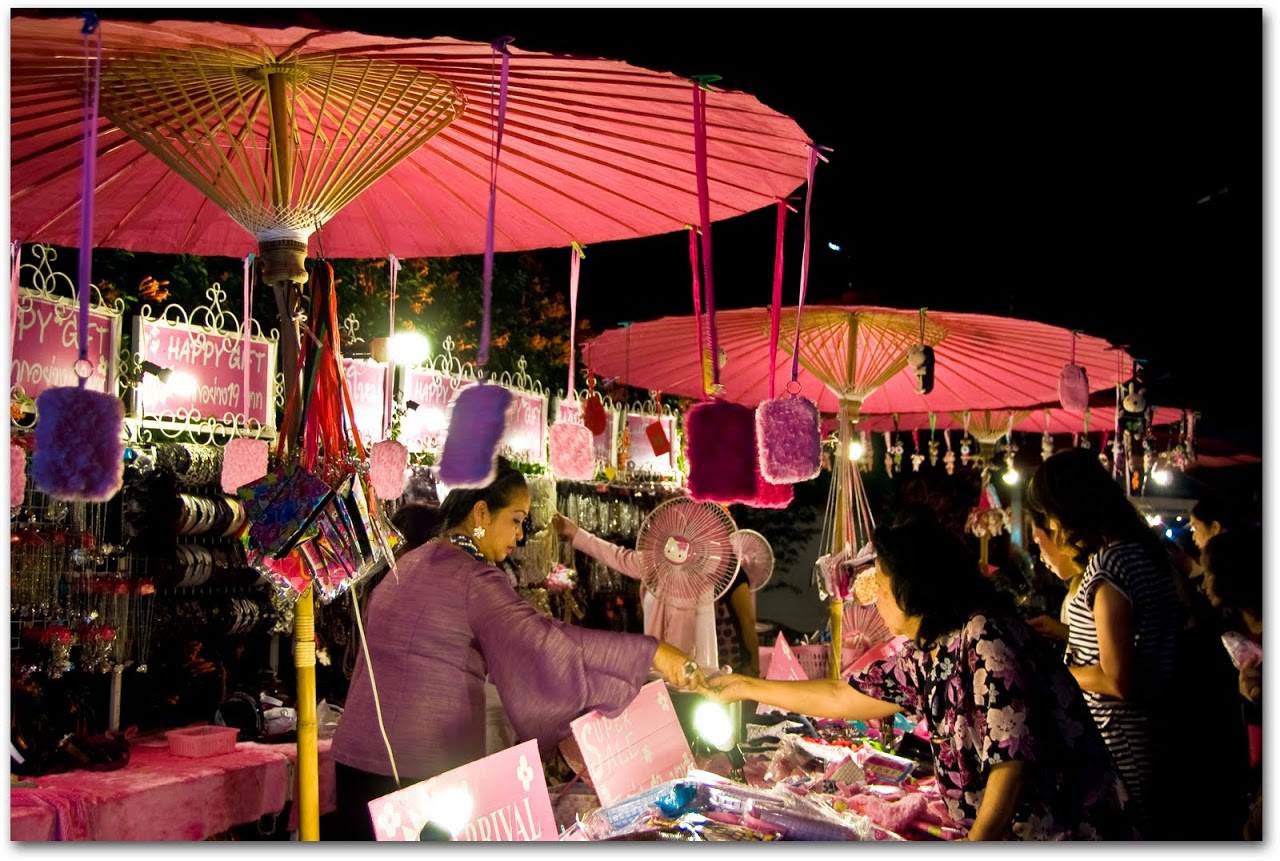 Pink stall
Lampang is a slice of Thai life away from the typical tourist trail and we loved every moment there.