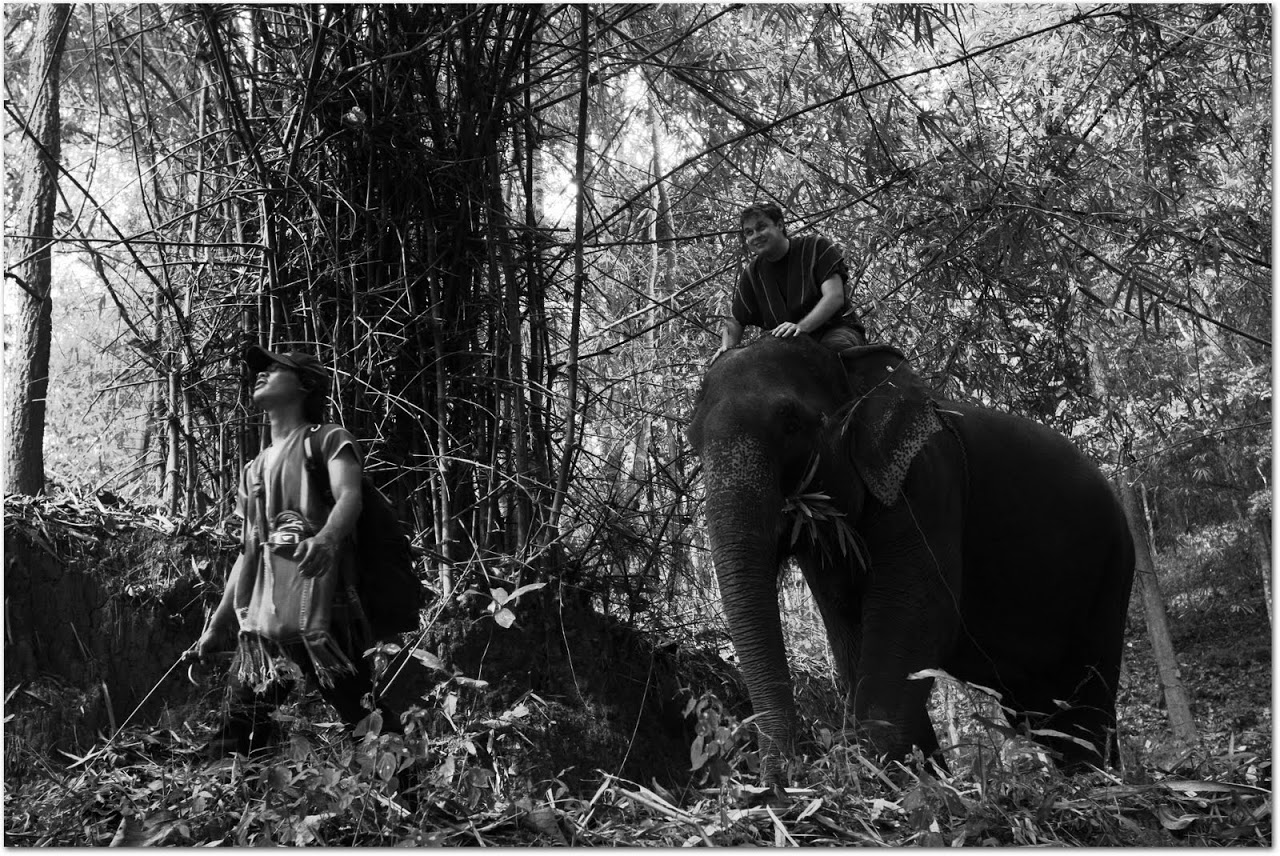 Patrick riding Saithong with mahout
When I first heard about Patara Elephant Farm from 3 Star Traveler , a blog written by fellow food and travel junkie Lori, I jumped up and yelled to Patrick that we HAD to be an "elephant owner for a day" when we got to Thailand.  Patara is not like the typical elephant camps spread across northern Thailand that focus more on pleasing tourists with gimmicks and novelties, like an elephant playing piano or painting, than treating elephants humanely and respectfully.  Owners Pat and Dao wanted to create a place where elephants could be rescued from inhumane treatment, trained, and bred to prevent their extinction.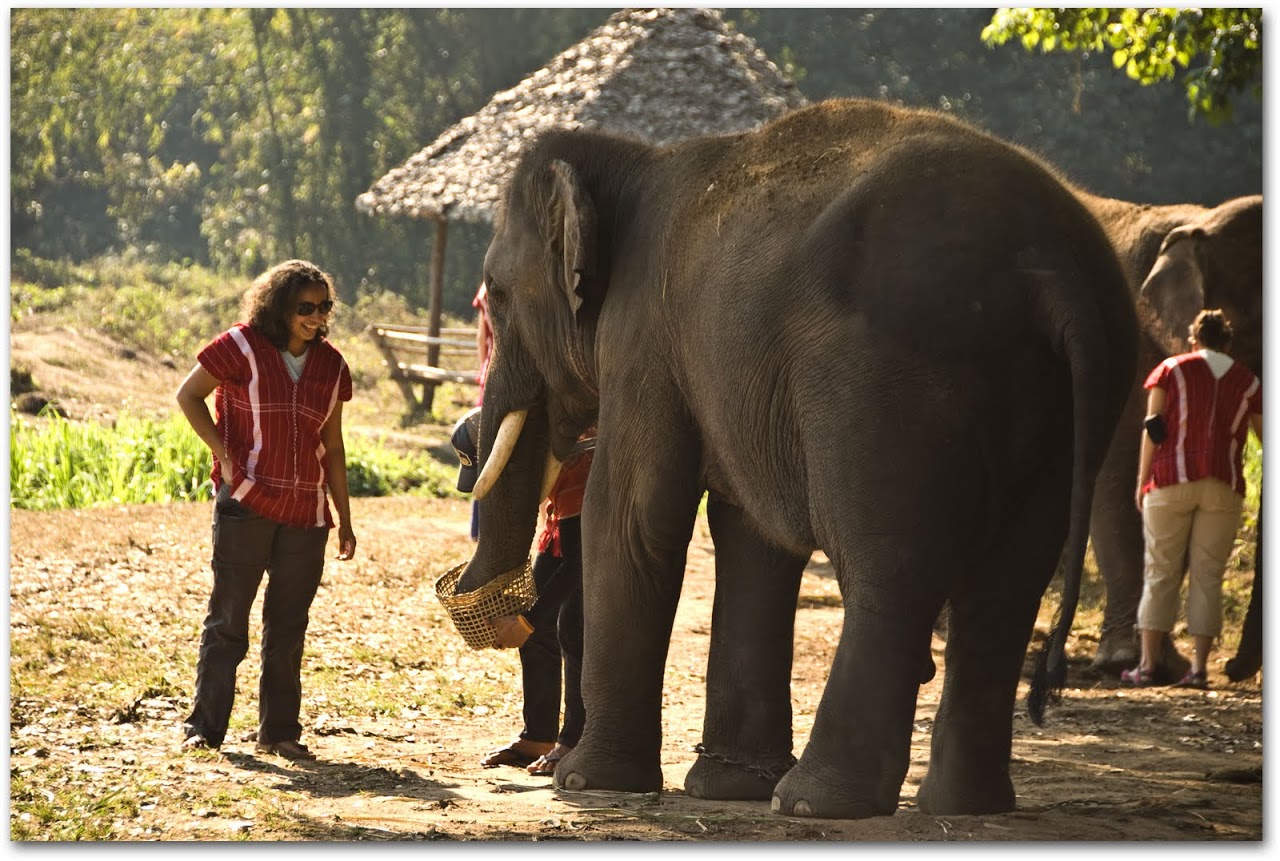 Akila meeting Bo Chang
Patrick's elephant, Saithong, a beautiful huge female arrived at the elephant hospital in Chiang Mai several years ago with a thick lesion caused by  a rope digging into her neck.  Ben, our guide, helped remove the lesion from Saithong but she still bears a 20 centimeter (about 10 inch) scar. Of the six elephants in our group, she was the most recalcitrant and, at times, was less trustful of humans than the other elephants; given her history, we didn't blame her.  On the other hand, Bo Chang, my seven-year old elephant born at Patara, was the product of a life filled with love and happiness.  He played with everyone, led me on little walks away from the group, followed his trainer like a small puppy dog follows his mother, and wagged his ears so frequently that they were in danger of falling off.
Feeding an elephant sugar cane; feeding Saithong; smelling elephant dung;elephant eating grass

We began our day feeding our elephants.  This sounds easier than it is because an elephant's mouth is BIG and we had to quickly place the bananas on the elephants' tongues before the elephants began chewing.  After feeding Saithong and Bo Chang, we inspected the health of our elephants by checking that they slept well, were in good humor, and had eaten properly.  And, this is where we smelled elephant poop.  Surprisingly, elephant poop looks like balls of compressed grass and doesn't smell like much of anything so it wasn't too tough of an experience.
Dusting and washing elephants
Then, it was time for the elephants' beauty treatments. Every day, the mahouts and guests brush and bathe the elephants so that dirt and rocks do not embed into their skin.  There are few things funnier than standing on an elephant's leg, dusting dirt off its back with a giant duster made from leaves.  We could barely contain ourselves.  We waded into the creek and scrubbed them with a brush and threw water over their bodies.  After half an hour, they emerged brown and clean, while we walked out with soaked pants, bedraggled hair, and huge smiles on our faces.
Jumping onto an elephant
The full enormity of their size hit us as we realized that we had to climb onto the elephants' backs and ride them bareback.  No stepstools are used here so I asked Bo Chang to lift his leg, then stepped up, and clambered over his neck.  "Thomlong," Patrick said to Saithong to ask her to lay down.  Then, in a single (semi)graceful jump, he leapt right over her head onto her neck.
Akila with Bo Chang, climbing Bo Chang, commands, riding
"Pai, pai," we said to our elephants, asking them to go forward.  More often than not, the elephants moved or stopped as they felt like, listening to their mahouts, and on the rare occasion, listening to our feeble commands.  And, let me tell you, riding an elephant bareback is not all that comfortable.  We sat on their necks, with our legs tucked behind the ears, as if we were doing squats on an elephant back, for about three hours straight.  Patrick was sore for a full day afterwards.  But, we loved watching them walk in a straight line, carefully taking each step, so their giant feet stepped into large elephant-sized crevices in the dried mud.
Swimming with elephants
After an hour's trek to a nearby lake and small waterfall, we were all hot and dusty and needed a swim to refresh us.  We lounged on our elephants' backs, clinging to them as they laid in the cool water, and watching them spurt fountains through their trunks.
Lunch at Patara; getting elephant kisses; both of us riding Saithong
We did not want to leave them.  They were beautiful and gentle, yet massive and powerful, all at the same time.  We had so much to learn from them and only just glimpsed their majesty.  At the end of the day, they  had trained us much more than we trained them.
Details
At 5800 baht per person (about $175 per person), Patara Elephant Farm is expensive but the experience was well worth every penny we spent.  We highly highly recommend visiting Patara.  The van picked us up from our hotel at 7:45 a.m., the ride to the farm was about one hour, and we worked with the elephants until about 4:30 in the afternoon.  It is a long but wonderful day. Group sizes are limited to six people and each person works with their own elephant and trainer.  A cameraman and videographer followed us and we were given a DVD with the high quality videos and pictures; many of the pictures on this post are from Patara's cameraman.  Contact Pat at pataraelephantfarm@hotmail.com to make your booking.