Video from our last dive; it's a bit long but fun to watch - especially Patrick's James Bond dive
The panic began about eight minutes into my first scuba diving experience in the Whitsundays .  The world looked strange and blue and dark and then water entered my mouth when I forgot to press the button on the regulator.  I couldn't control my movements and felt my knee scraping the coral.  My heart raced while my mind admonished me, "You don't panic.  You don't panic.  Ever.  Remember, you don't panic.  When everyone else gets nervous and scared and irritable, you stay calm and cool."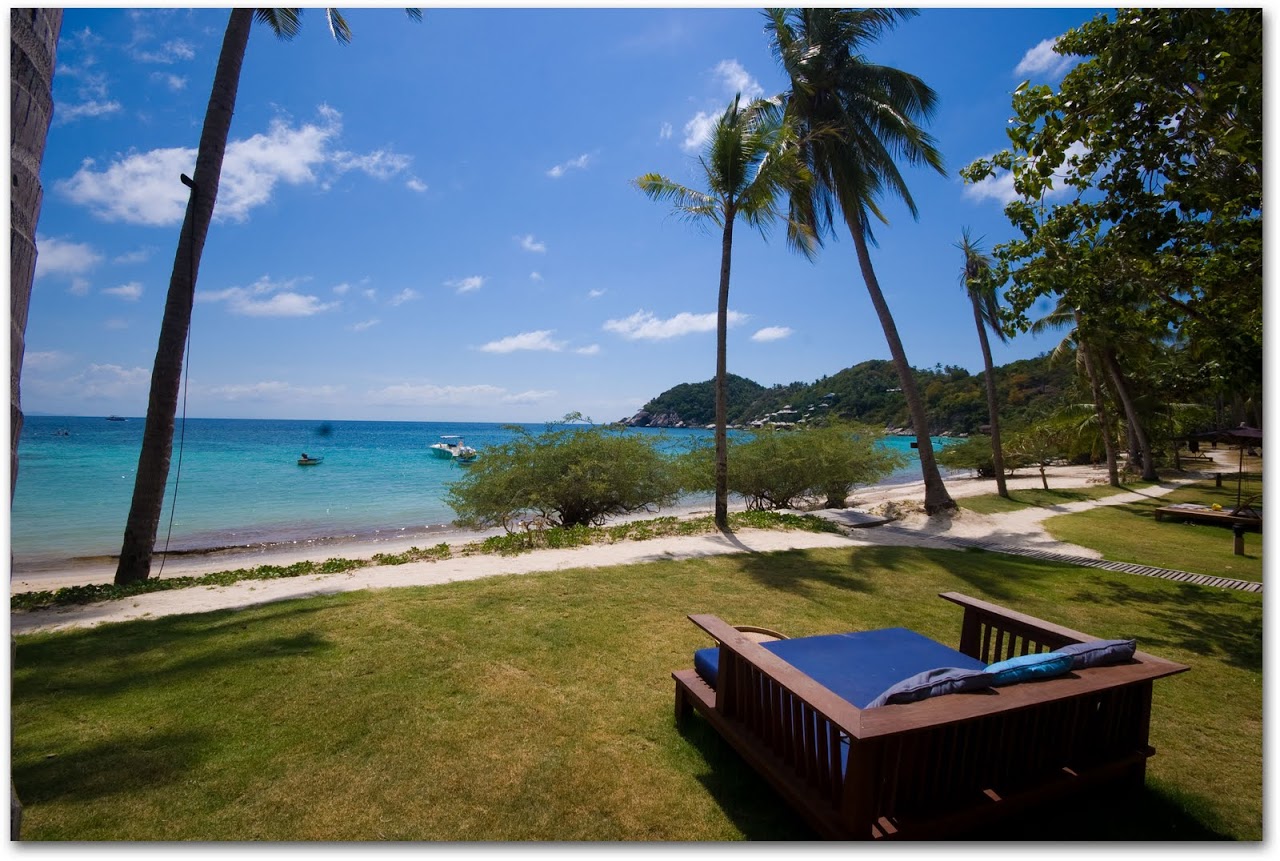 Haad Tien Resort
Apparently, my mind wasn't in control because my stomach did somersaults and I grabbed at our instructor and frantically signalled that I had to go up.  We reached the top and I spit the regulator out, thankfully breathing clean fresh air.  "Do you want to try again?"  The second time, I lasted perhaps ten seconds underwater while Patrick and the other two divers stood looking up at me.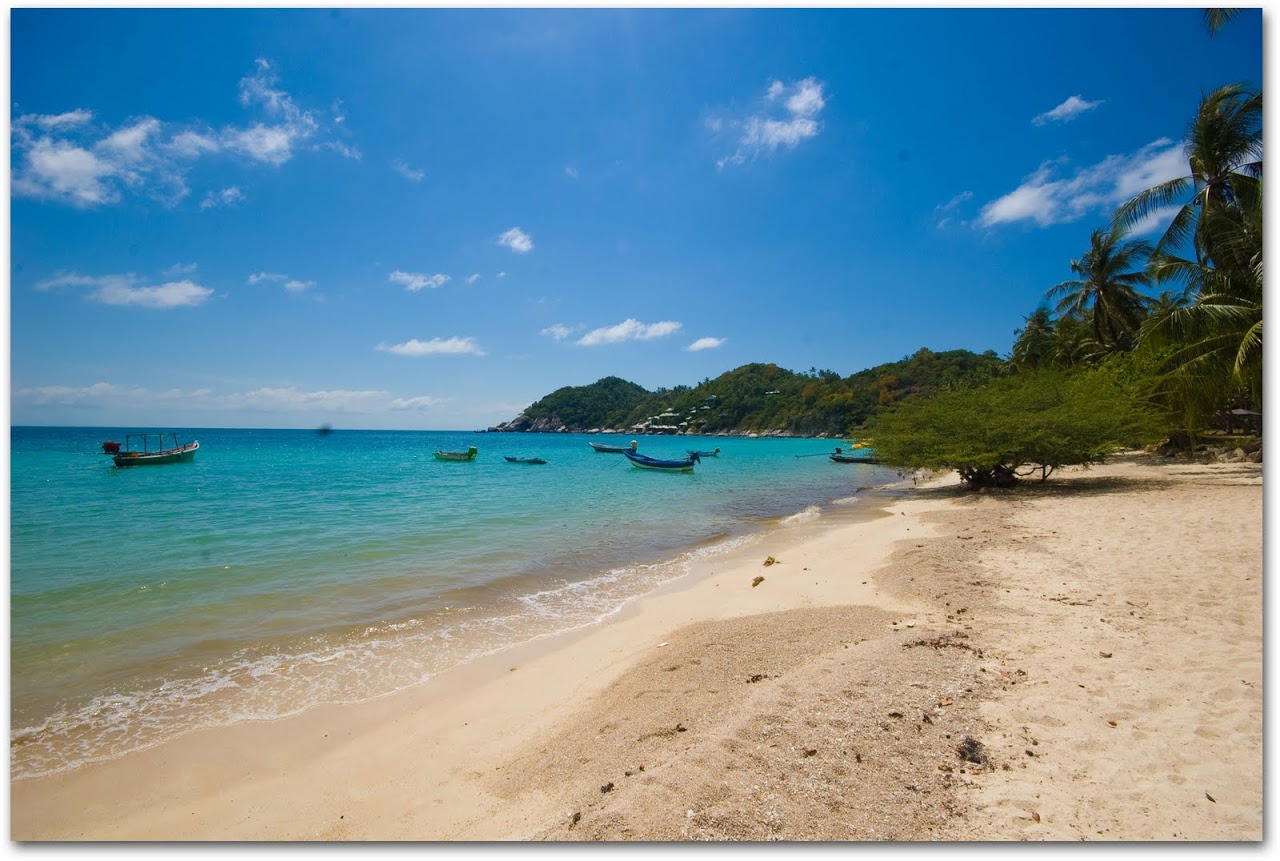 Shark Bay, Koh Tao
Patrick came back on the boat, ecstatic, "It was so easy.  We touched a sea cucumber and saw sponges and sea anemone.  I can't wait to do it again."  I shot him evil eyes while explaining how I freaked out.  "But, you never panic!  I'm so sorry, hon.  Maybe we can try it again at the Great Barrier Reef."
View from the Whitening Restaurant, Koh Tao
The Great Barrier Reef was even worse.  Hyperventilation was a word that I understood but had never experienced.  Hyperventilation is not pleasant.  Furthermore, hyperventilating into a supplied air regulator is particularly unpleasant.  I lasted in the water for thirty-five seconds and then made my way out, found a snorkel, and decided to stick to what I know.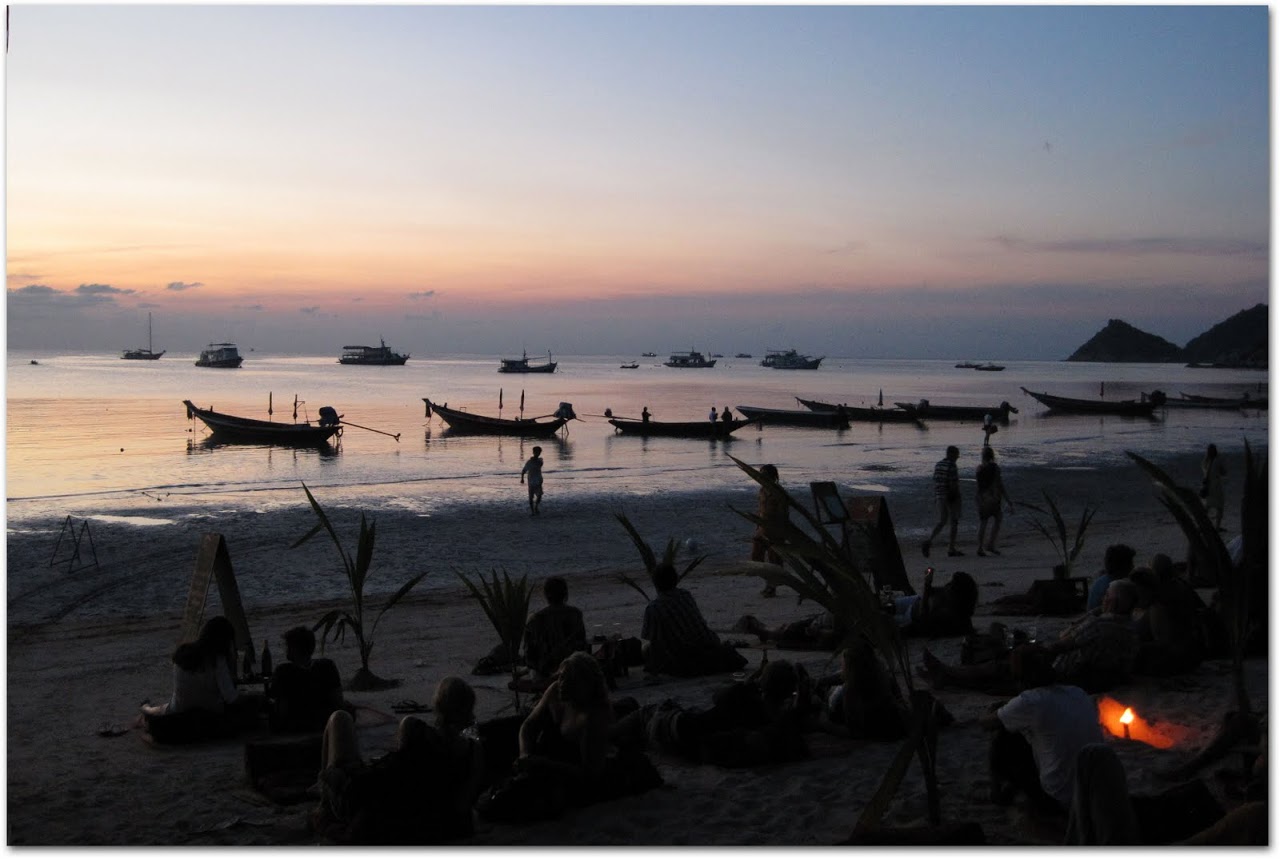 Sairee Beach at twilight
I debated and debated and debated whether I should try to get my Open Water Certification in Koh Tao.  In the end, my stubborness won out.  I simply refused to let my nerves get the best of me.  But, just to be on the safe side, we chose Buddha View Dive Resort , because they have a 4-day course (as opposed to the typical 3-day course) for those who need extra time in the water and allow people to pay only for the days they take the class.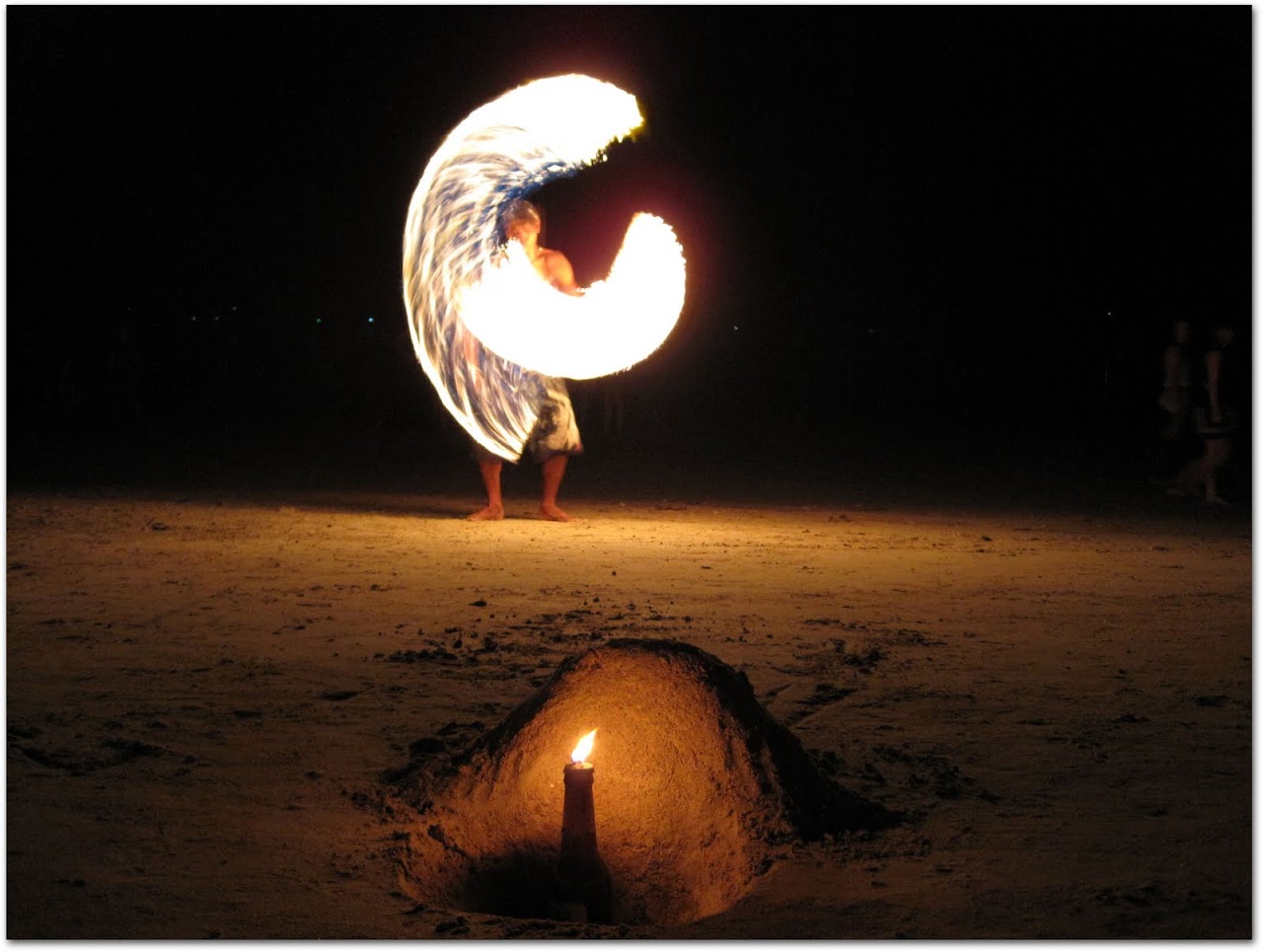 Fire dancer at Sairee Beach
We were sitting in three feet of water on day 1 in the small pool at Buddha View.  Three feet.  There is simply no point in panicking in three feet of water so I did well on that day.  But, day 2 was a terrible, terrible day.  My fin came loose and slipped off my foot as I worked to remove my BCD---the vest that keeps you buoyant and floating---and I started freaking out, hyperventilating, because I was scared that I was going to drown.  This, of course, was nonsensical; I am a good swimmer but panic tends to trump common sense, as it turns out.  Patrick came and held me up and Thea, our patient and fun instructor, kept me calm and talked me through the whole BCD replacement.  That night, I cried like a baby.  "I can't do this.  I just can't.  I am going to quit."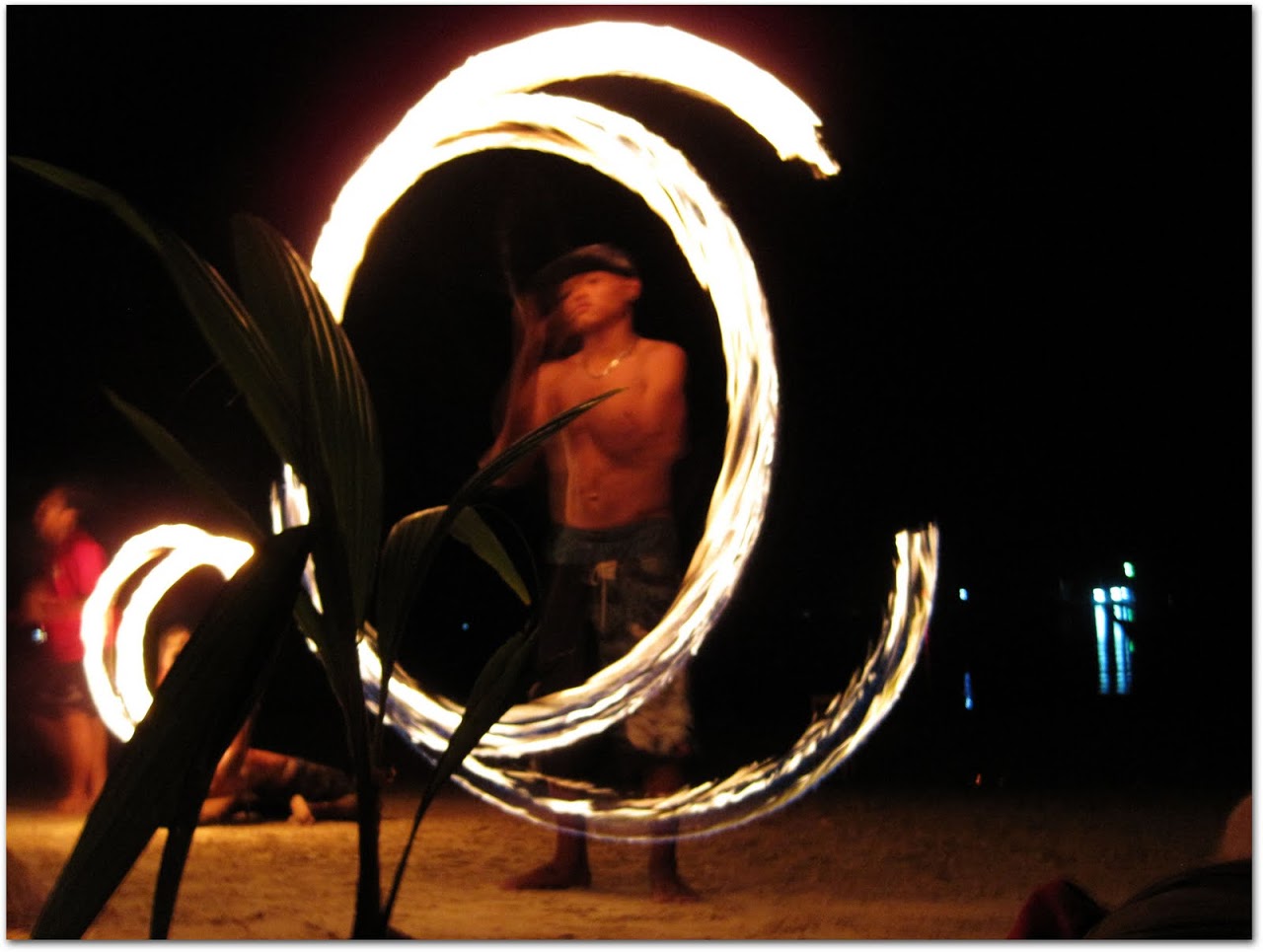 Fire dancer at Sairee Beach
In the morning, I woke up and I decided to try one dive because I had already come this far and, today, we would actually get to see fish and do a "fun dive."  I jumped in the water and everything coalesced.  I don't know exactly how it happened but my cool, calm, adventure-loving personality took over, strangled the panic, and squashed it into a tiny ball that sits in the back of my stomach.  All of a sudden, I loved scuba diving.  I loved every second in the water, swimming around, floating with fish right in front of my face, and just inches above coral.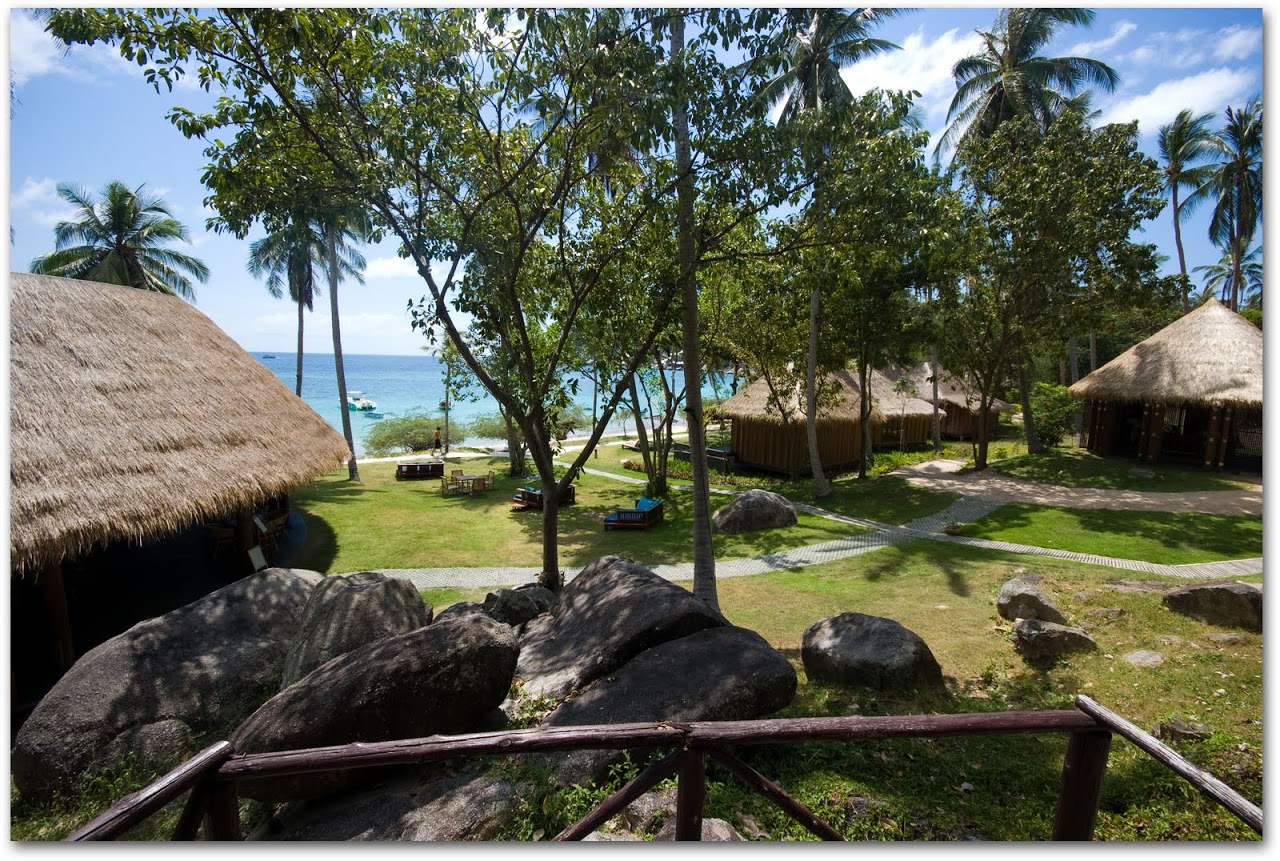 Haad Tien Beach Resort
And, now, we are scuba divers with a whole new world to explore.
Details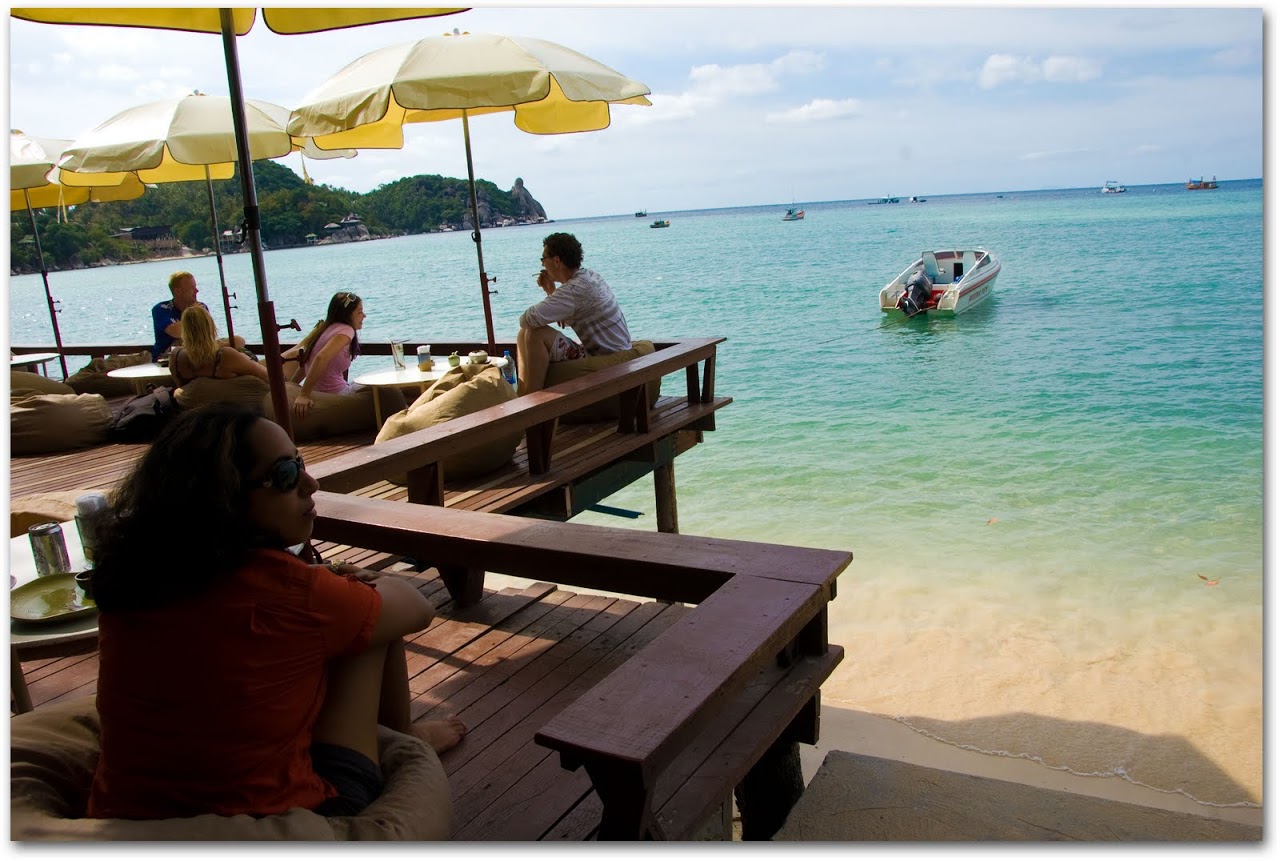 Buddha View Dive Resort
Koh Tao certifies more divers than any other location in the world because the dive instructors are fantastic, competition is intense, and it is ridiculously cheap to get certified.  Certification runs about 9600 baht (about $300 USD) which is a steal compared to the $1000 that a Jacksonville, Florida dive shop was going to charge us.  Visibility at dive sites is mediocre and we have done better snorkeling in Hawaii and the Caribbean but the quality of instruction is worth the trip.  Koh Tao, itself, is a beautiful island with some excellent restaurants and chill beach-side bars.  Whitening Restaurant churns out giant grilled prawns, delicate Thai curries, and tasty pastas on the beach close to the dock, the perfect location to watch the day turn to night.
We loved Buddha View Dive Resort and highly recommend them for three reasons: (1) they are located in Chalok Baan Kao which is the quiet side of the island and much less busy and touristy than Sairee Beach; (2) the dive instructors are uniformly amazing, fun, and funny; and (3) their 4-day course is perfect if you are nervous about diving because you work through your fears at a slower pace.  We thought the rooms and resort were beautiful and loved our stay.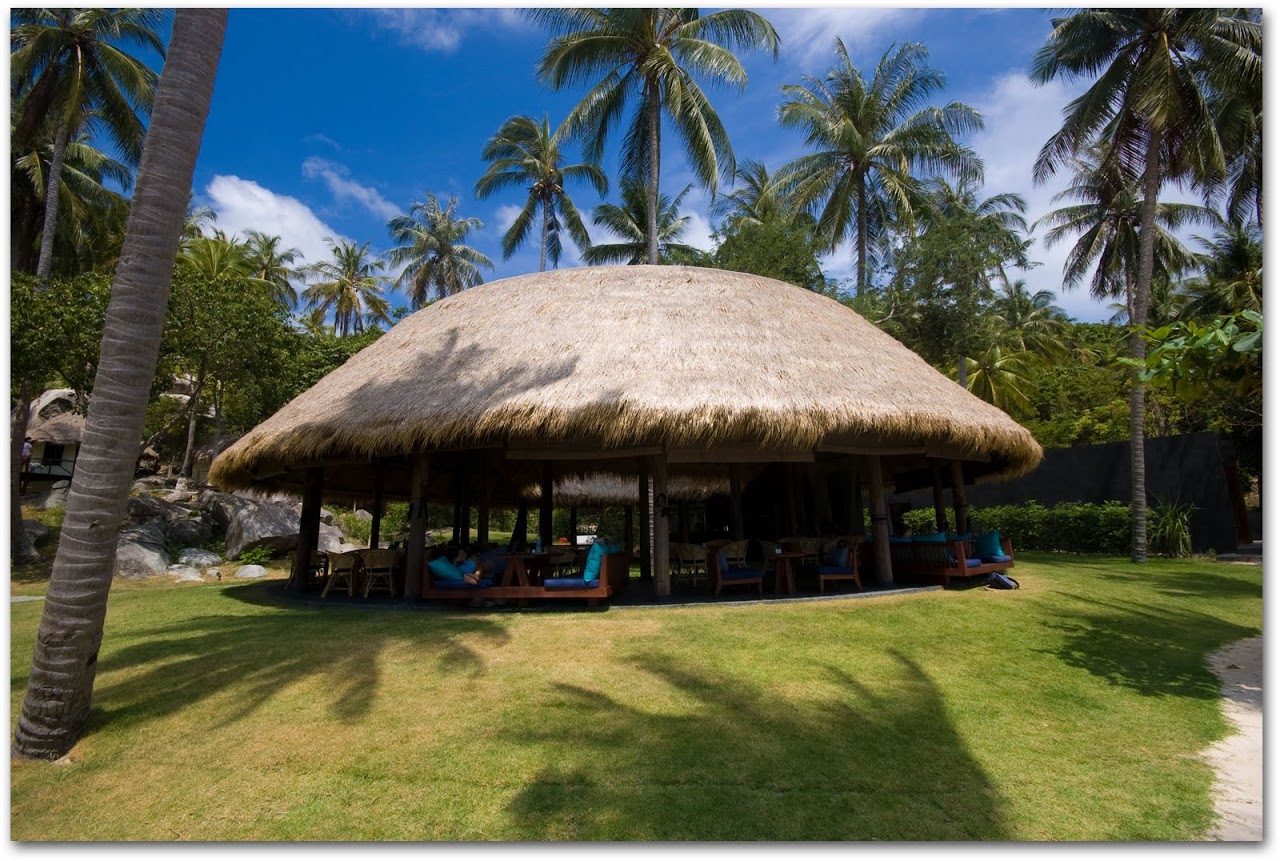 Haad Tien Beach Resort
On our last two days in Koh Tao, we splurged and spent $75/night for a room at Haad Tien Beach Resort .  This is our favorite beach resort EVER --- better than anywhere we have stayed in Puerto Rico , Jamaica, Florida, or Hawaii .  If you go to Koh Tao and have a little extra money, book a room here.  In addition to beautiful grounds, the resort has somehow managed to convince the wind gods to grant them a 24-hour breeze.  When the rest of the island was blisteringly hot at noon, Haad Tien felt cool and comfortable and we spent all day lounging on the oversized beds.  The $75 bungalows are cute and comfortable but there are also exquisite $300 luxury bungalows that have every amenity imagineable and sit right on the ocean.