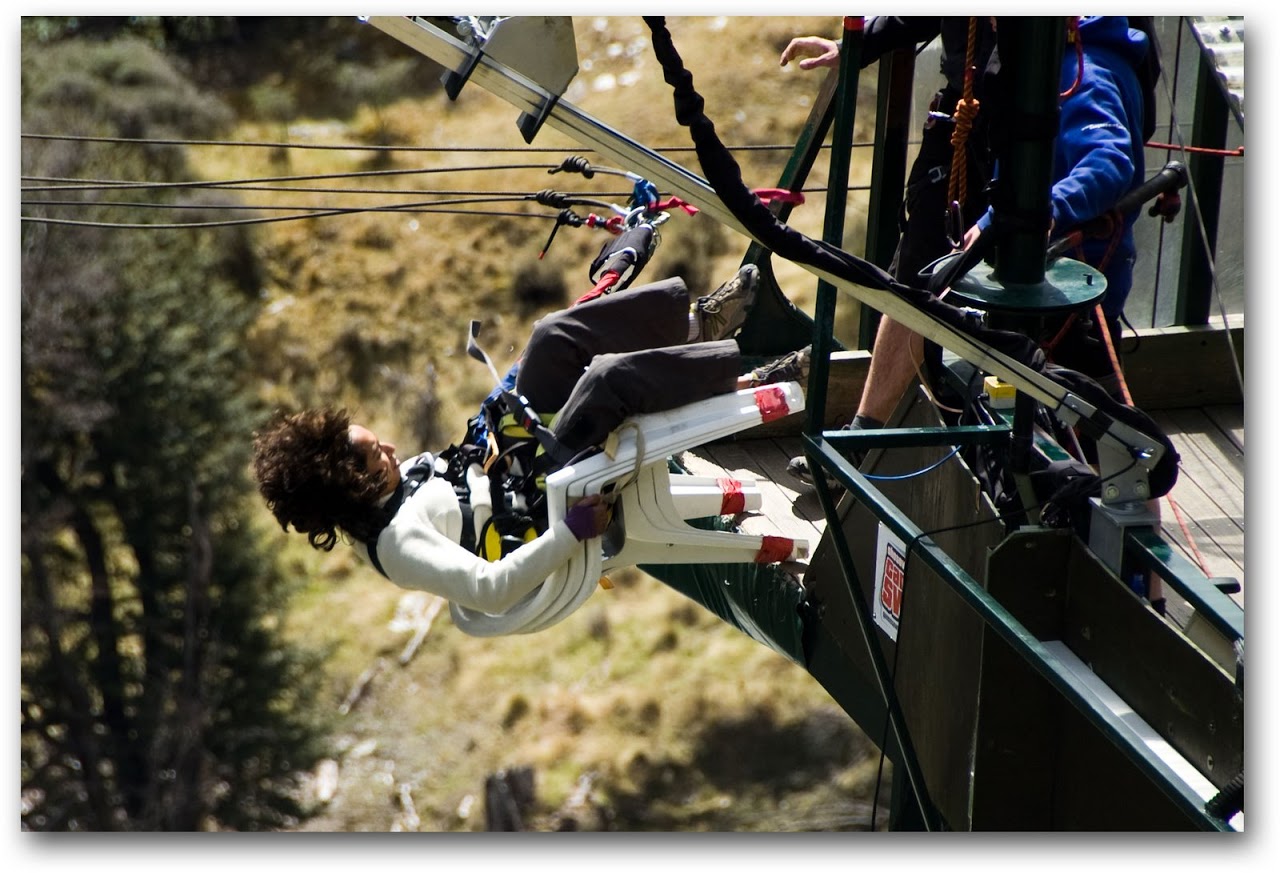 Canyon swinging over the Shotover River
Like most of the crazy things we do, including going on a round-the-world trip , canyon swinging was my idea.  Patrick was entirely against the idea.  "Why risk your life by jumping off a canyon?  I like my life.  No thank you."  I, on the other hand, well, there is just no accounting for my insanity.  I have wanted to go bungy jumping for years now but refused to bungy jump in the U.S. because U.S. adventure sports companies always build bungy sites in parking lots.  Somebody please explain to me the point of jumping in a parking lot because I just don't get it.  When I do something as insane as jumping off a ledge with nothing but a rope tied to my waist, I want it to be somewhere beautiful, over a river or off a cliff.  So, our first bungy jumping experience had to be in New Zealand.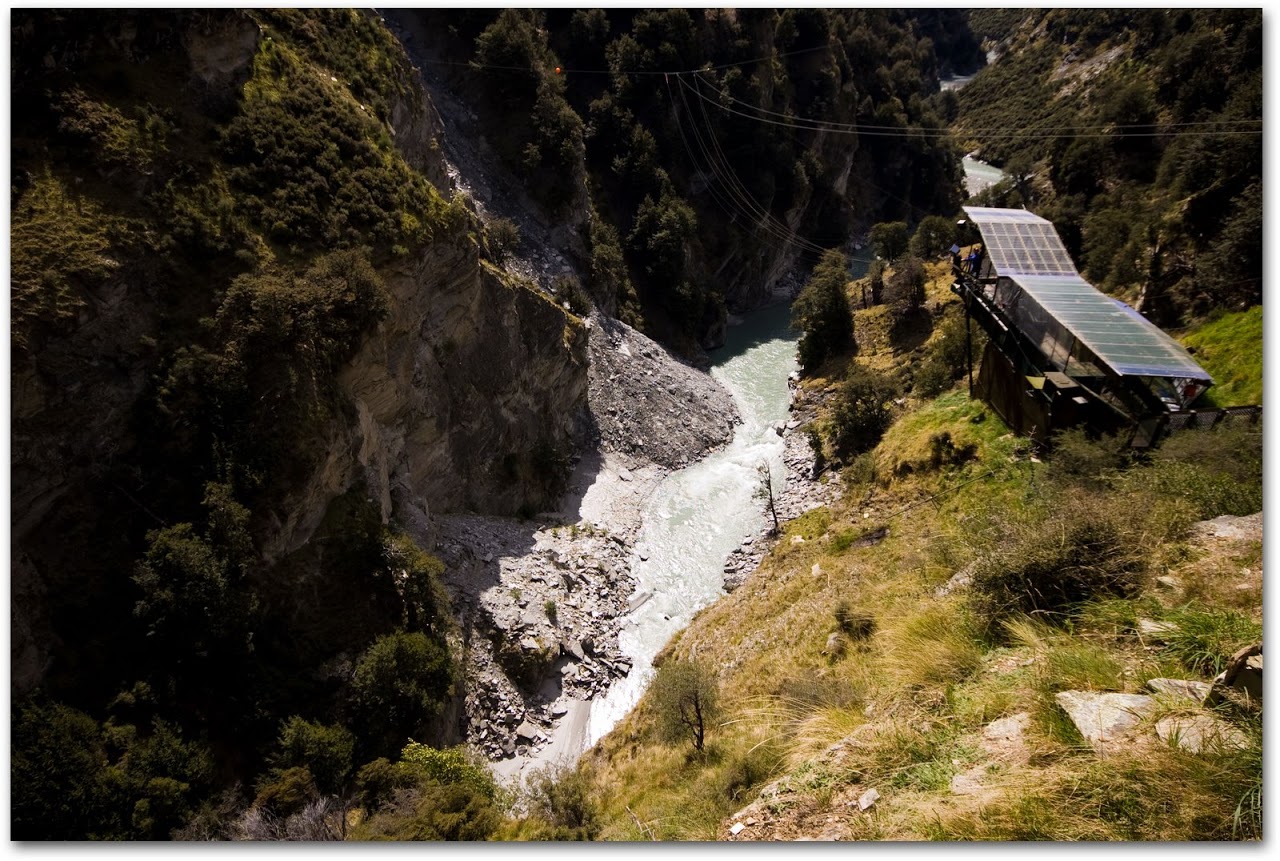 Location of canyon swing
AJ Hackett, a Kiwi, invented commercial bungy jumping and, in Queenstown, there are no less than five bungy jumping sites (including three AJ Hackett sites) within a ten mile radius.  Each site is more beautiful than the next but I decided to go for the all-out-thrill and canyon swing over the Shotover River.  I knew that the jump was 357 feet high, taller than the Statue of Liberty, off a canyon and that I would free fall for 196 feet.  At the end of the free fall, a second attached rope smoothly pulls the jumper into a swing for 656 feet at 90 miles per hour across the river.  On paper, it sounded amazing and not scary at all.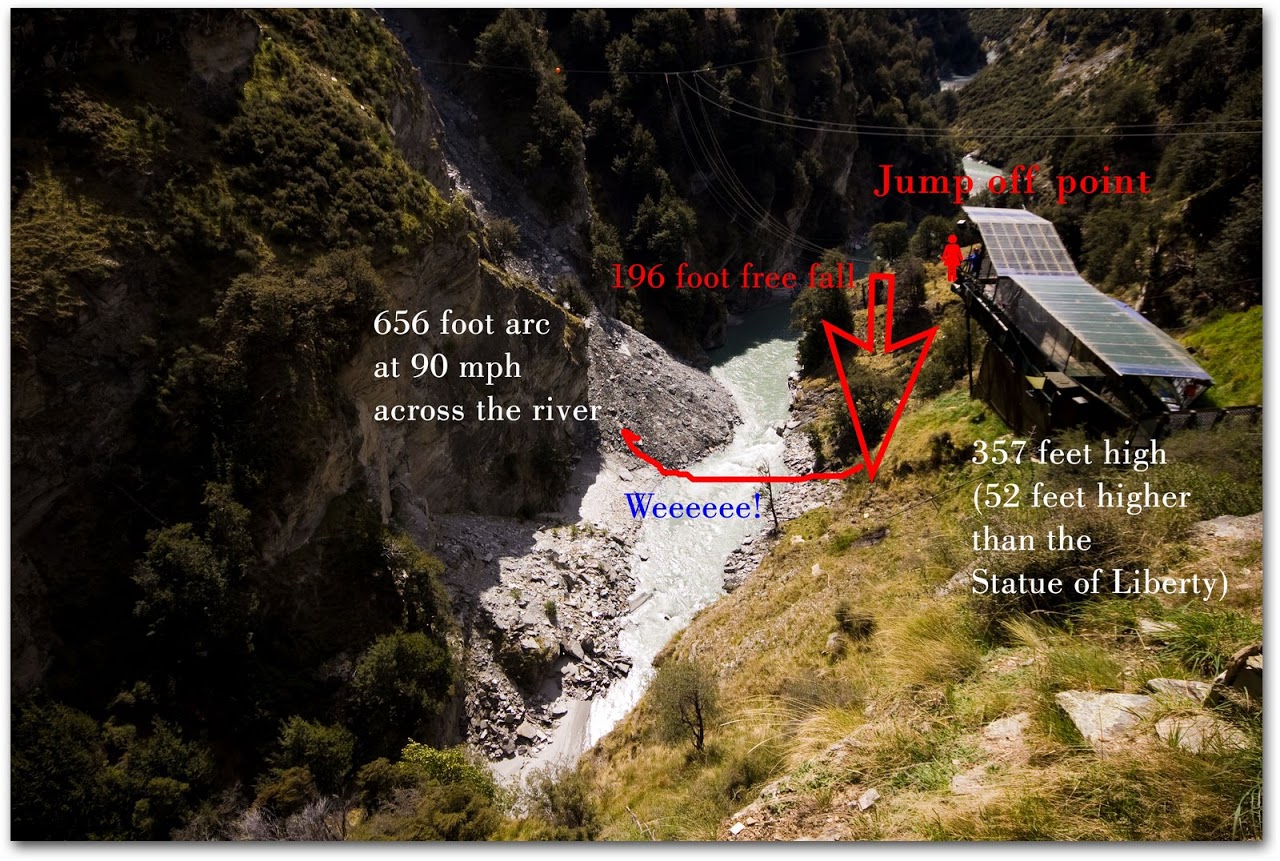 Distances for the canyon swing
Patrick, then, succumbed to his macho pride and decided that he didn't want to just be an "observer" as I took the leap.  There were three of us canyon swinging at that time and I was the first.  For seven minutes, I stood at the ledge, looking down at the yawning space between me and the river, working up my courage.  There was a minute when I thought I wouldn't be able to do it.  Suddenly, my mind went completely blank and all the voices around me seemed to fade like static on a radio station. I remember squatting to jump off as far as I could.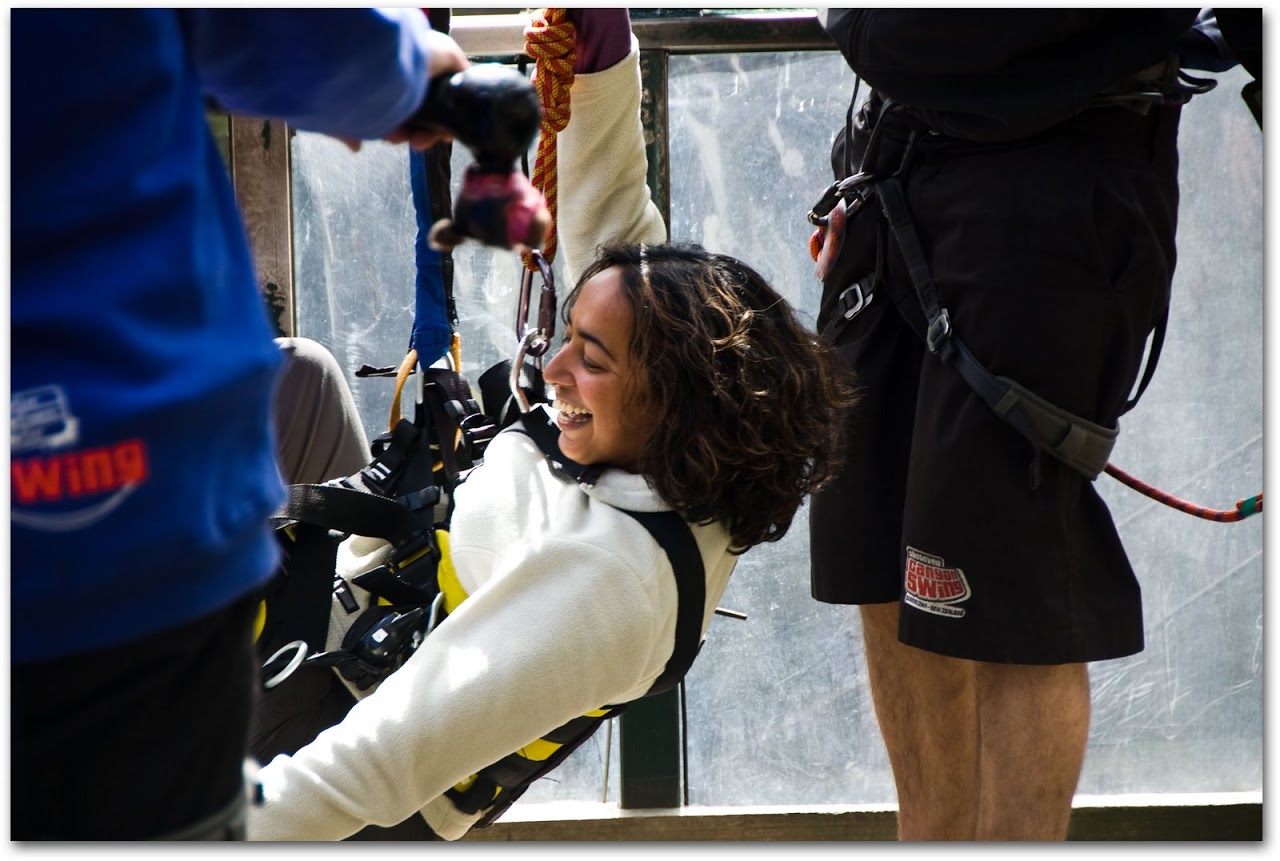 Me coming back up from my second swing
As I leapt, for a moment, my heart was in my throat but then I saw what I was doing and felt like I was flying.  That feeling . . . that wonderful, wonderful feeling of defying gravity and seeing the world through a birds' eyes --- I didn't want it to stop.  I glided into the swing and remembered saying, "Wow.  Frick.  Wow," as I floated over the teal river and wide canyon.
When they pulled me up, Patrick kissed me and told me that, as I jumped off, he worried that it would be the last time he ever saw me and he was so glad that I was safe.  I was too excited and happy to worry about safety - I just wanted to jump again and again and again.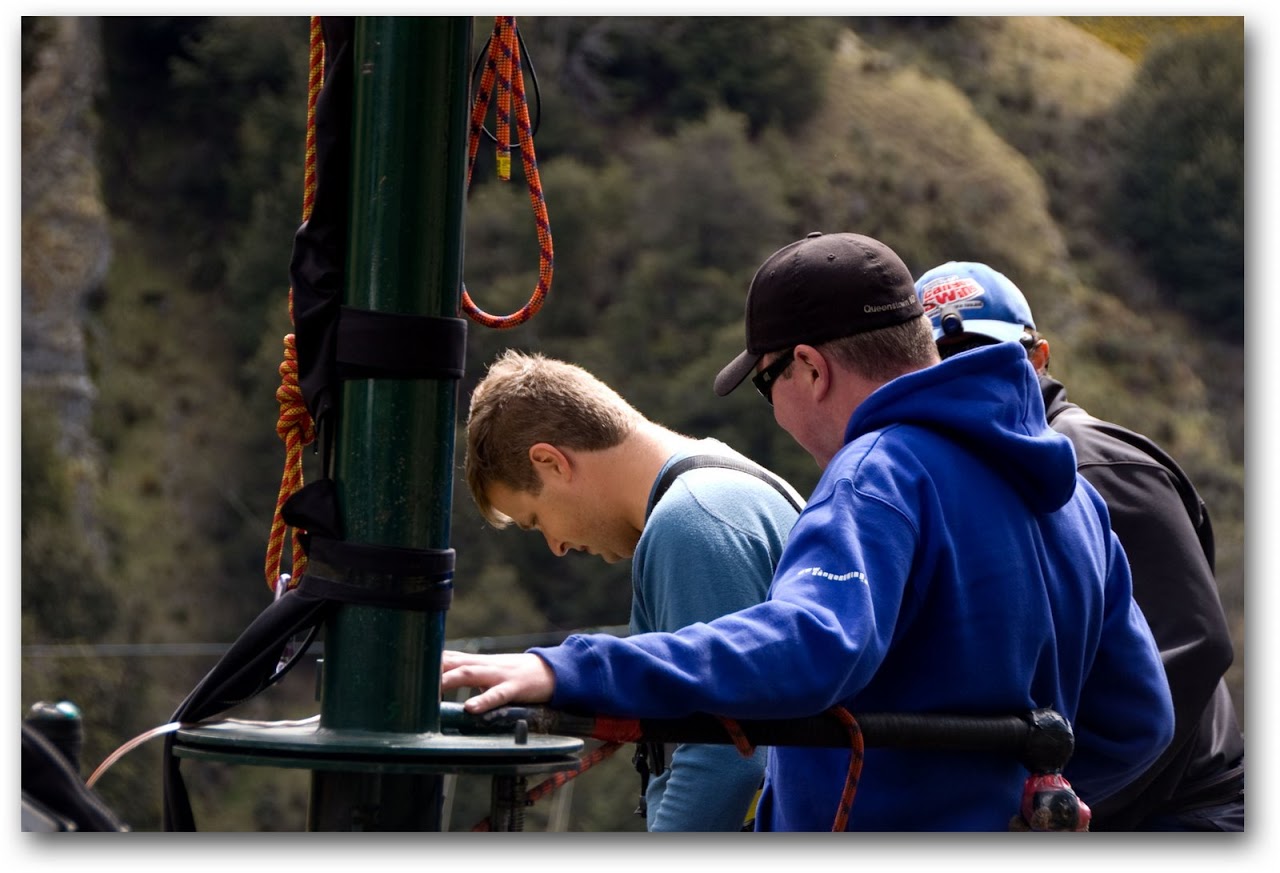 Patrick considering the canyon swing
Then, it was Patrick's turn.  Though he had seen me come back up safely, Patrick's nerves, at first, took hold of him.  Unlike me, Patrick isn't too fond of natural heights like cliffs and canyons, and he kept asking the crew to check his gear and make sure he was strapped in properly.  They, of course, found that hilarious and kept giving Patrick pieces of equipment and telling Patrick that he should put it on where he thought was appropriate.  For six long minutes, Patrick stood there and kept saying, "I can't do it.  I can't do it."  And, then, somehow, he jumped, with one leg forward and one leg behind, as if he was trying to stay on the ledge as long as possible.  When he came back up, I asked him how it was and he said, "Really scary.  It's a leap of faith jumping off like that."   Patrick declined  the second jump, saying, "Why tempt fate again?"  Though his nerves were shot for about four hours afterwards, he was glad he did it once and faced his fear.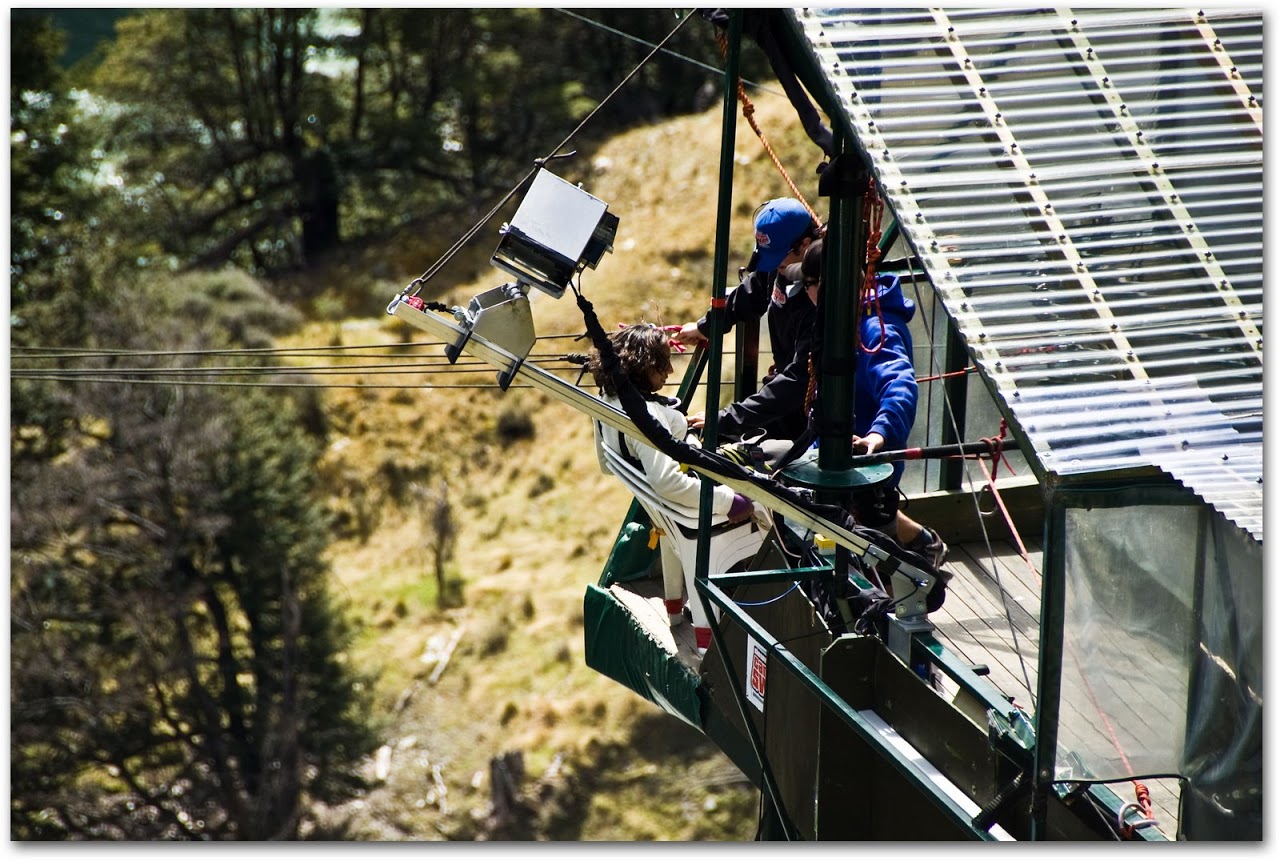 Canyon swinging by the Chair
Then, it was my turn again!  The Canyon Swinging crew wouldn't let me do the same jump twice and, as I had already jumped forward, I had to pick one of nine other options , such as jumping backwards, doing flips, the "Indian Rope Trick," or "Gimp Boy Goes to Hollywood."  I picked the ominous sounding "Chair," in which they strapped me to two plastic patio chairs and I tipped myself backwards off the ledge.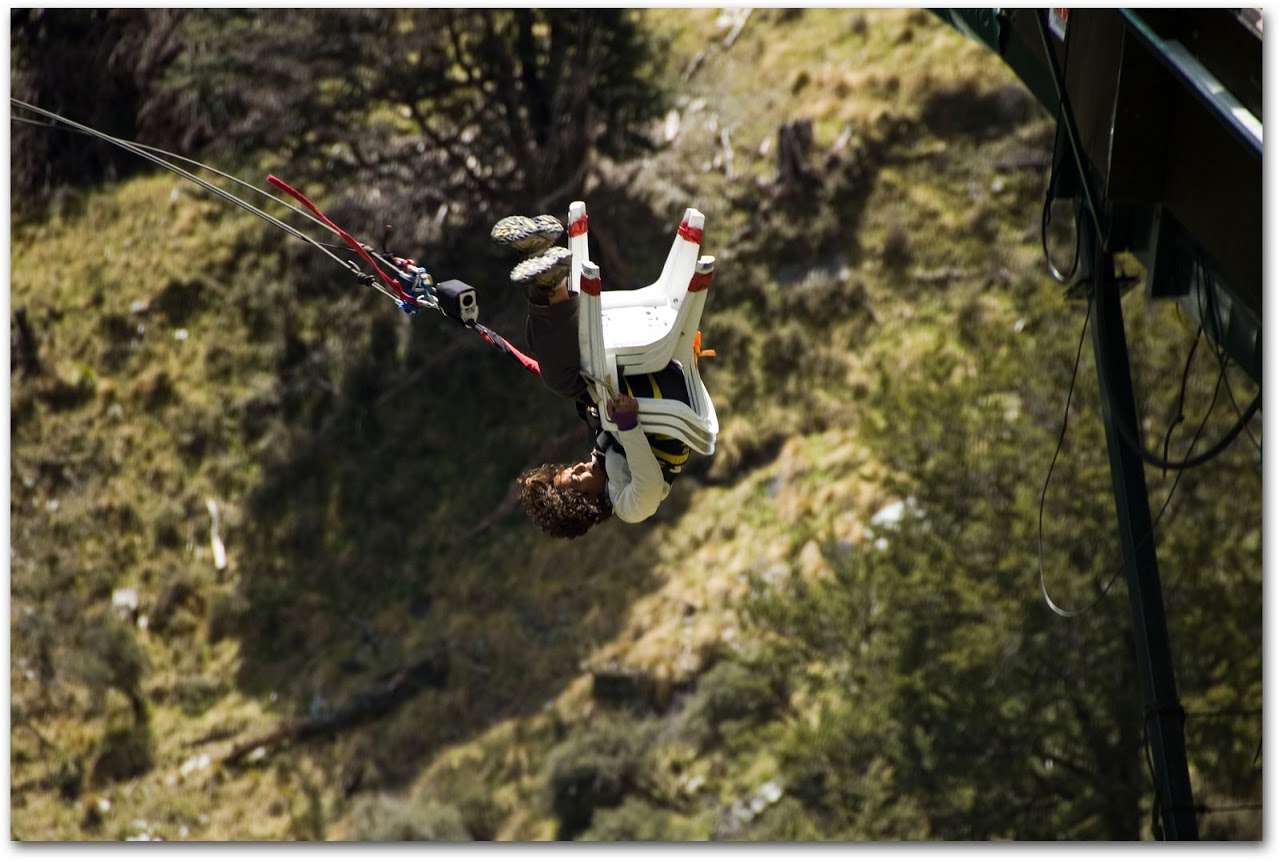 Flying upside down
While I loved jumping off again, going backwards and in a chair didn't give me the same thrill as jumping face forward toward the river.  I could jump forwards every day, once a day, or maybe even twice a day.  Actually, if we lived in Queenstown, I would have to get a job at the Shotover Canyon Swing because the crew there have the best perk ever --- being able to jump and swing over a canyon whenever they want.
| | |
| --- | --- |
| | |
Swinging over the river (I'm that little black speck in the middle)
Details
Do this! The Shotover Canyon Swing is my absolute favorite New Zealand experience.  The crew was fantastic and fun, allowing each of us enough time to manage our fears.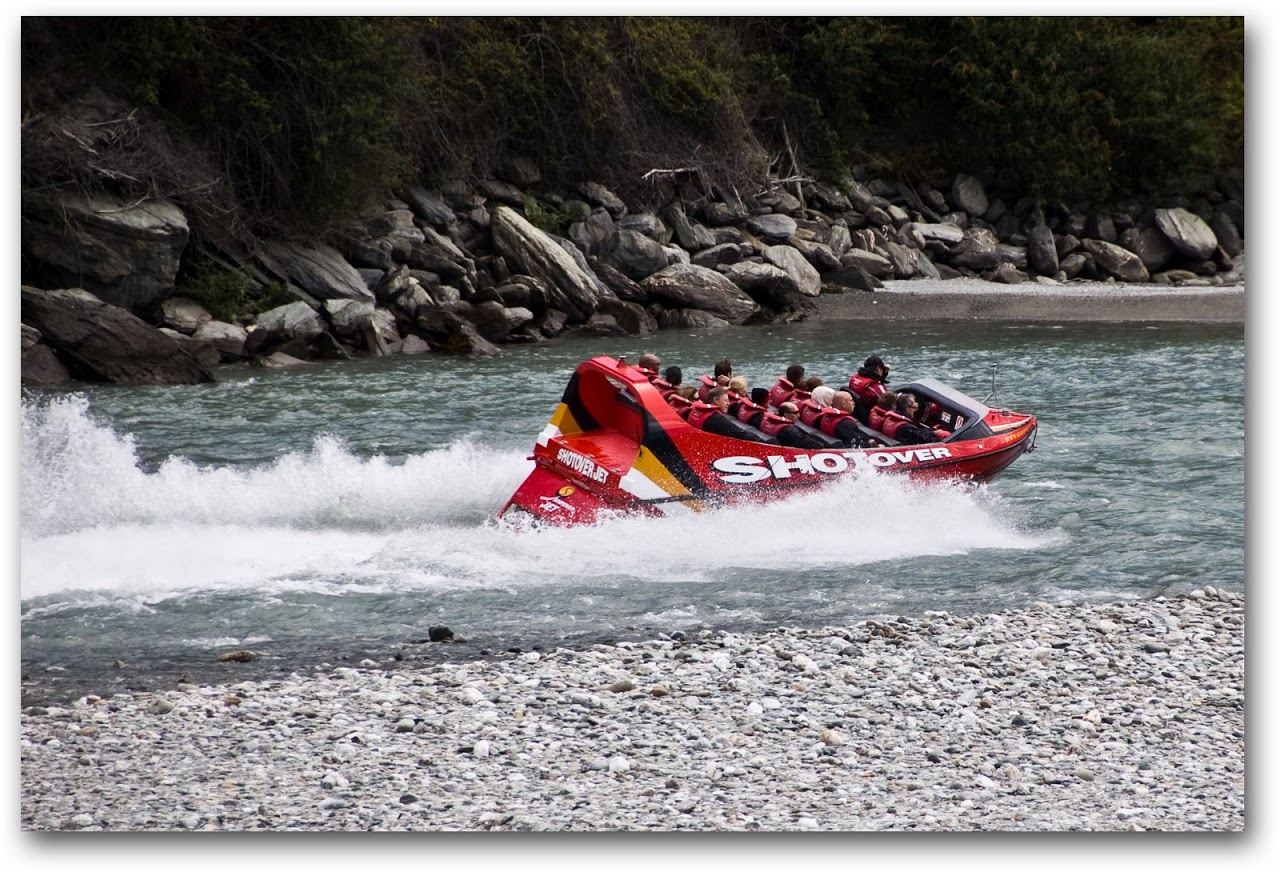 Shotover Jetboat
Jetboating is, apparently, a must-do activity in New Zealand because we saw jetboating excursions in every city.  The jetboat moves at 45 mph and maneuvers through narrow canyons and cliffs, like a roller coaster ride in a boat.  We found it to be fun but tame compared to the thrill of canyon swinging.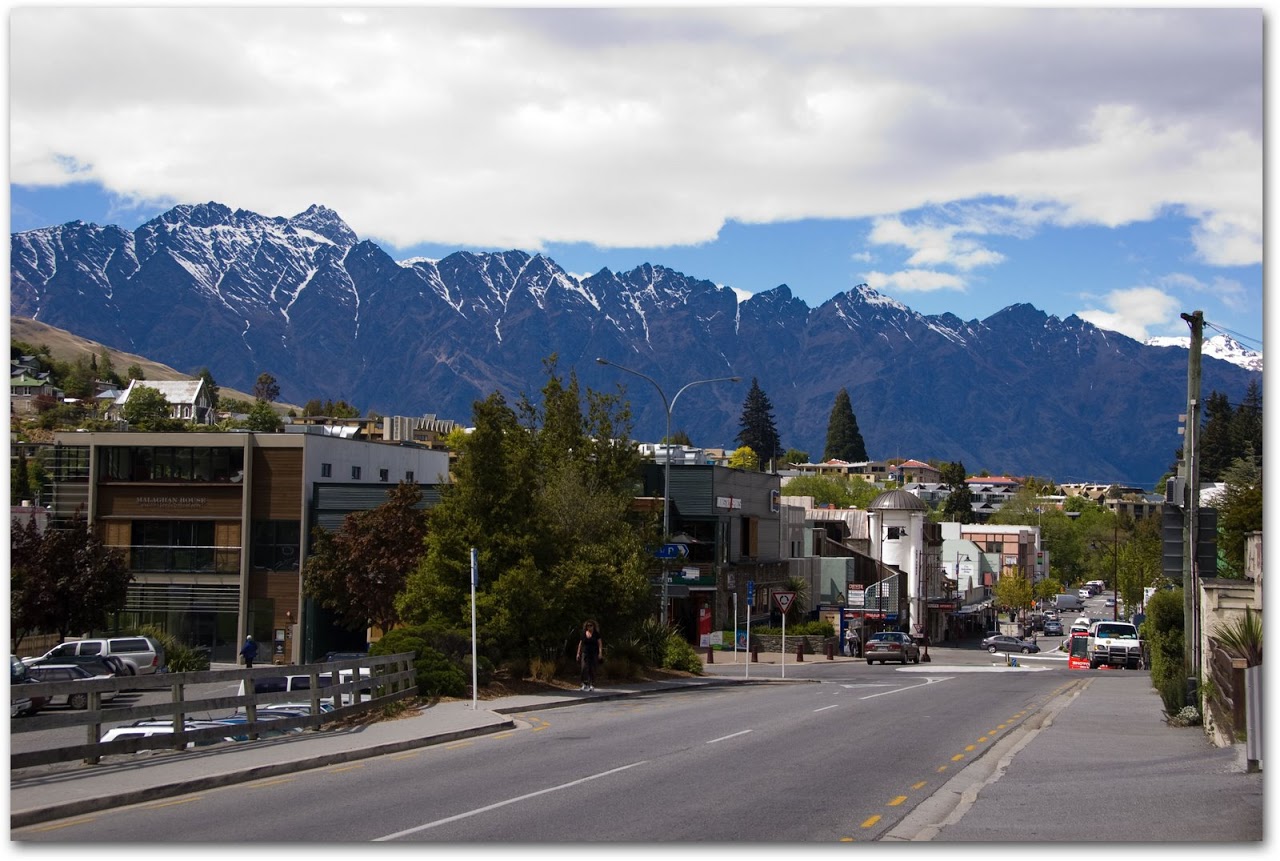 Queenstown
Queenstown is a beautiful city with stunning lakes, rivers, and mountains surrounding it.  A tourist haven and the self-proclaimed adventure sports capital of the world (and we believe it), Queenstown offers attractions, accomodations,  restaurants, and sports for everyone.  We headed out after two days because it was more expensive than the neighboring towns but we can certainly see why so many travelers spend a week or longer in Queenstown.