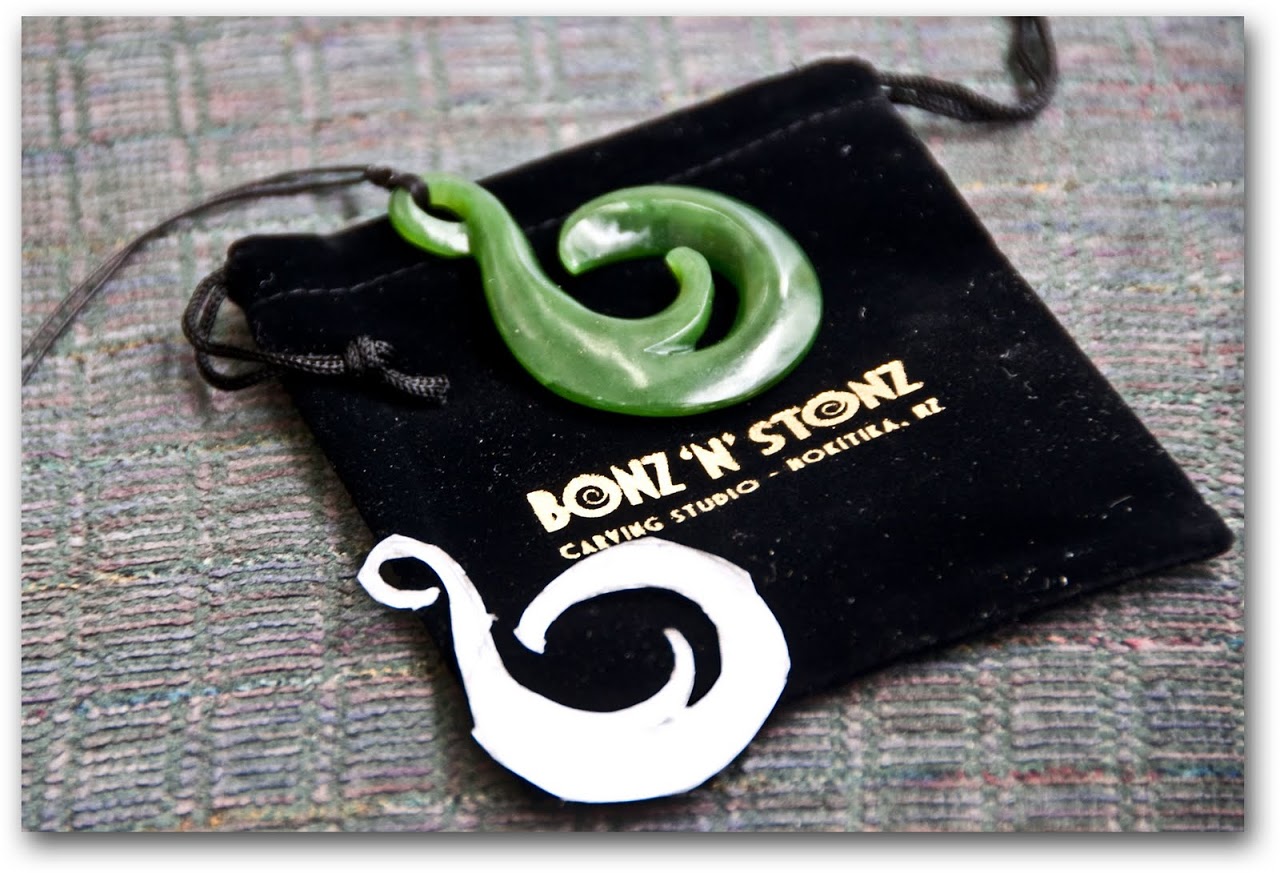 Paper template and final jade necklace carved at Bonz 'n Stonz, Hokitika
Power tools.  I will never fully understand the male fascination with gadgets, gizmos , large blades and moving parts.  I have witnessed that the allure of diamond tipped saws and rapid sanders will entice grown men to spend their day carving delicate feminine jewelry, pendants, and knick knacks, that they would otherwise be ashamed to purchase.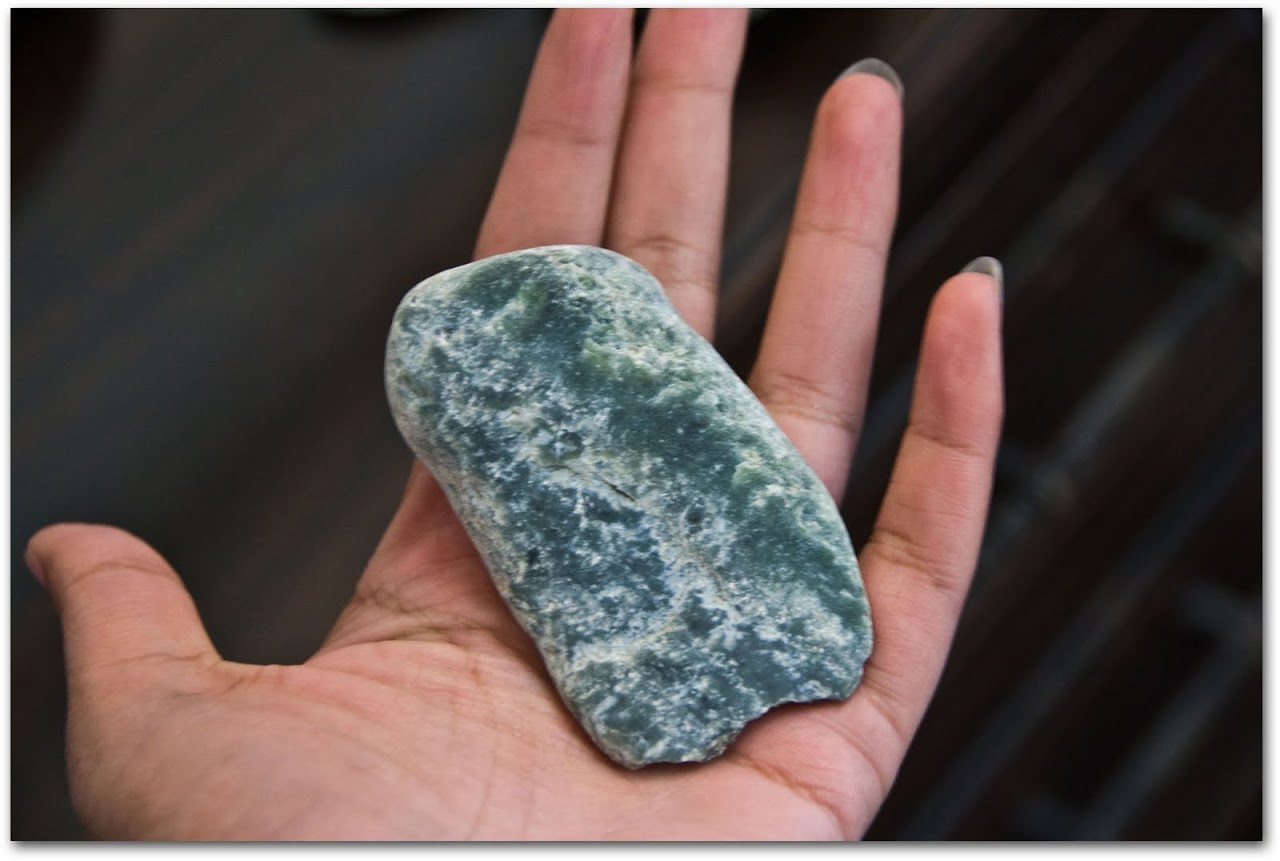 Raw, unpolished pounamu found at the Araharu River, near Hokitika
We were in Hokitika, a beachside town where jade necklaces and paua shell earrings hang from every second storefront.  The Araharu River near Hokitika is the primary source of pounamu, or nephrite jade, a gemstone prized by the Maori for its beauty and luster.  Today, under the Treaty of Waitangi and Ngai Tahu Settlement Claims (an inordinately complicated issue that I may discuss in another post), the Ngai Tahu tribe owns all pounamu found and recovered in the South Island and much of the greenstone sold in Hokitika is imported from Asia or Canada.
Bonz n' Stonz is the only place in the city (and one of two workshops in the country) where you can carve jade, paua shell or bone.  We worked under the tutelage of Steven Gwaliasi, a native of the Solomon Islands, who moved to Hokitika after he married his wife in the midst of a terrible economic downturn.  Steven attended a class on jade carving in Hokitika, offered by the New Zealand government to spur the economy, and was hired by Mountain Jade Factory in Hokitika.  After ten plus years of carving jade, Steven seized upon the influx of backpackers in the early 21st century and opened up Bonz n' Stonz to teach others to carve jade.  While some students are residents of Hokitika, many glide through the town for a single day like we did to take his class and move on.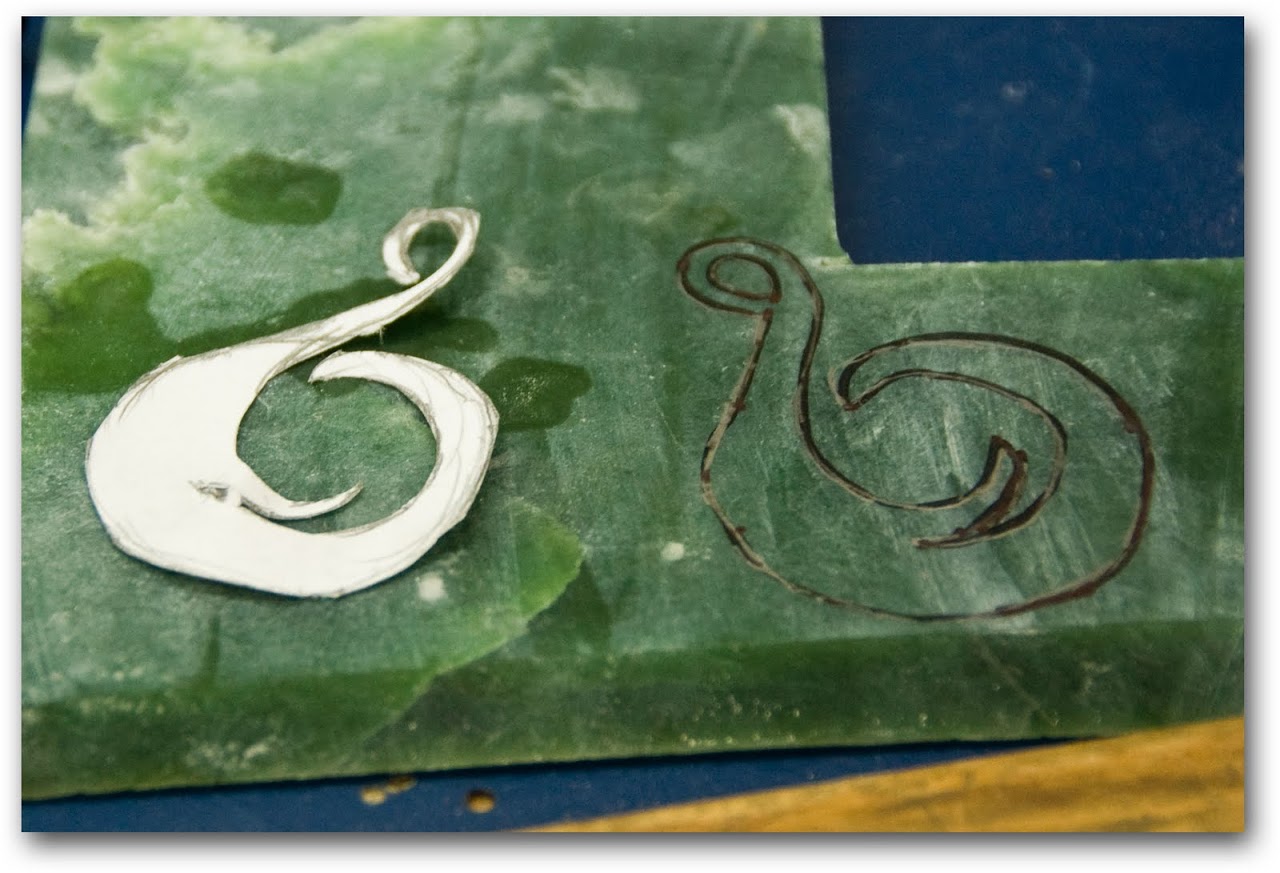 Pendant template drawn on jade slab
We began by drawing our templates on sheets of paper and then transferred those templates to blocks of jade.  I chose a variant of the Maori koru, representing the New Zealand fern frond unfurling, to symbolize the new beginnings that Patrick and I share this year.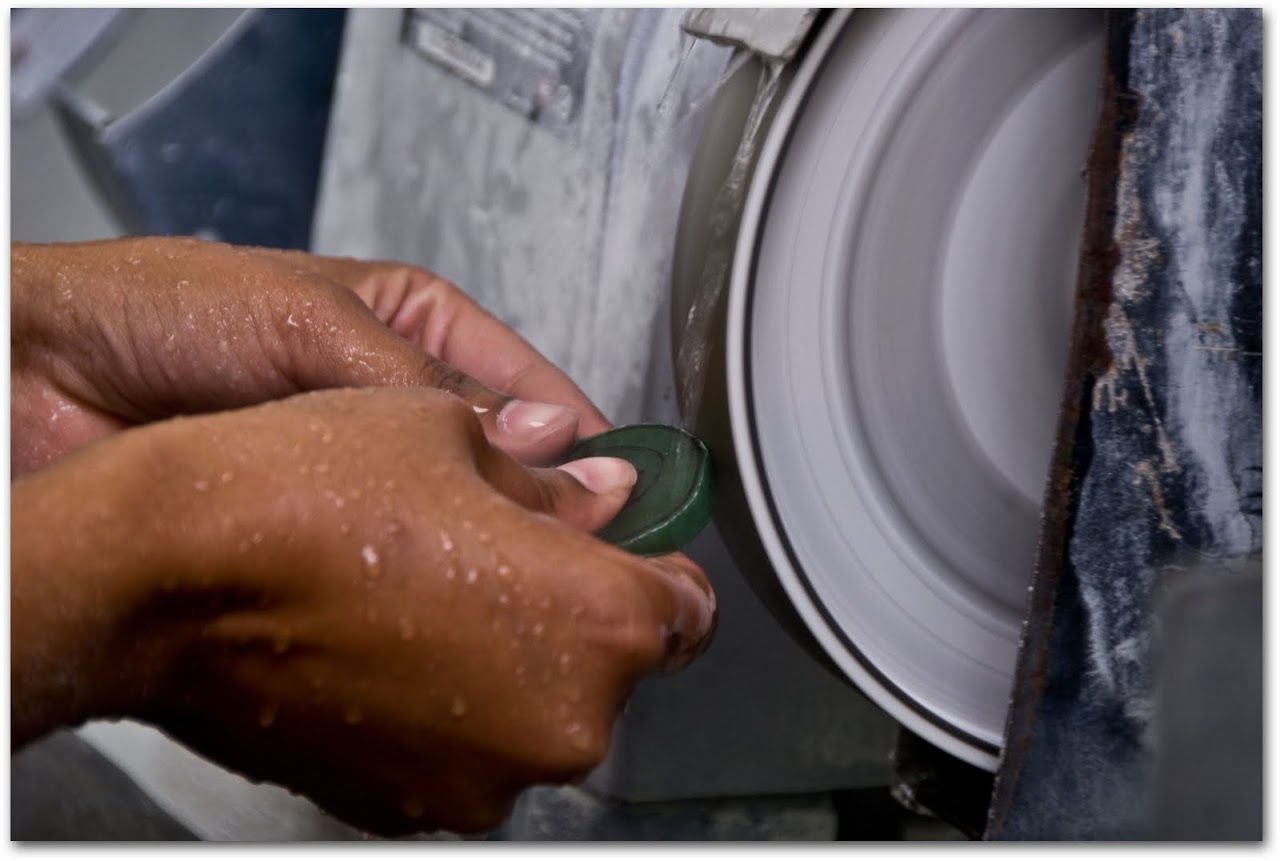 Rough shaping jade design
Steven initially cut the jade out of the block and then we used the diamond tipped grinder to smooth the edge of the pendant.  This is how I found out that diamond tipped blades do not cut skin; apparently, our skin is too soft to be hurt by diamonds but those blades sure get hot.
Drilling holes into pendant; pendant with drilled holes and rough shaped exterior
Then, we used drills to make holes in the places where we wanted the pendant to twist and curve.   At this point, I was a bit worried about whether my pendant would come out properly because it looked more like a clump of stone than like a delicate piece of jewelry.  And, my fingers were starting to get pruney because the jade is so hard that it must be cut under a constant stream of cold water to avoid chipping.
Fine carving and drilling jade pendant
But, I shouldn't have worried because once we started grinding the stone with a fine blade, the shapes and curves of the pendant appeared.  Once we exhausted our limited skill with the fine grinders and blades, Steven stepped in and with a few quick touches, he instilled grace into the pendants.
Patrick polishing jade pendant
We polished and sanded and polished and sanded with ever finer grades of sand paper until the jade gleamed and light shone through the green stone. Not too bad for a day spent playing with power tools and hanging out with master carvers.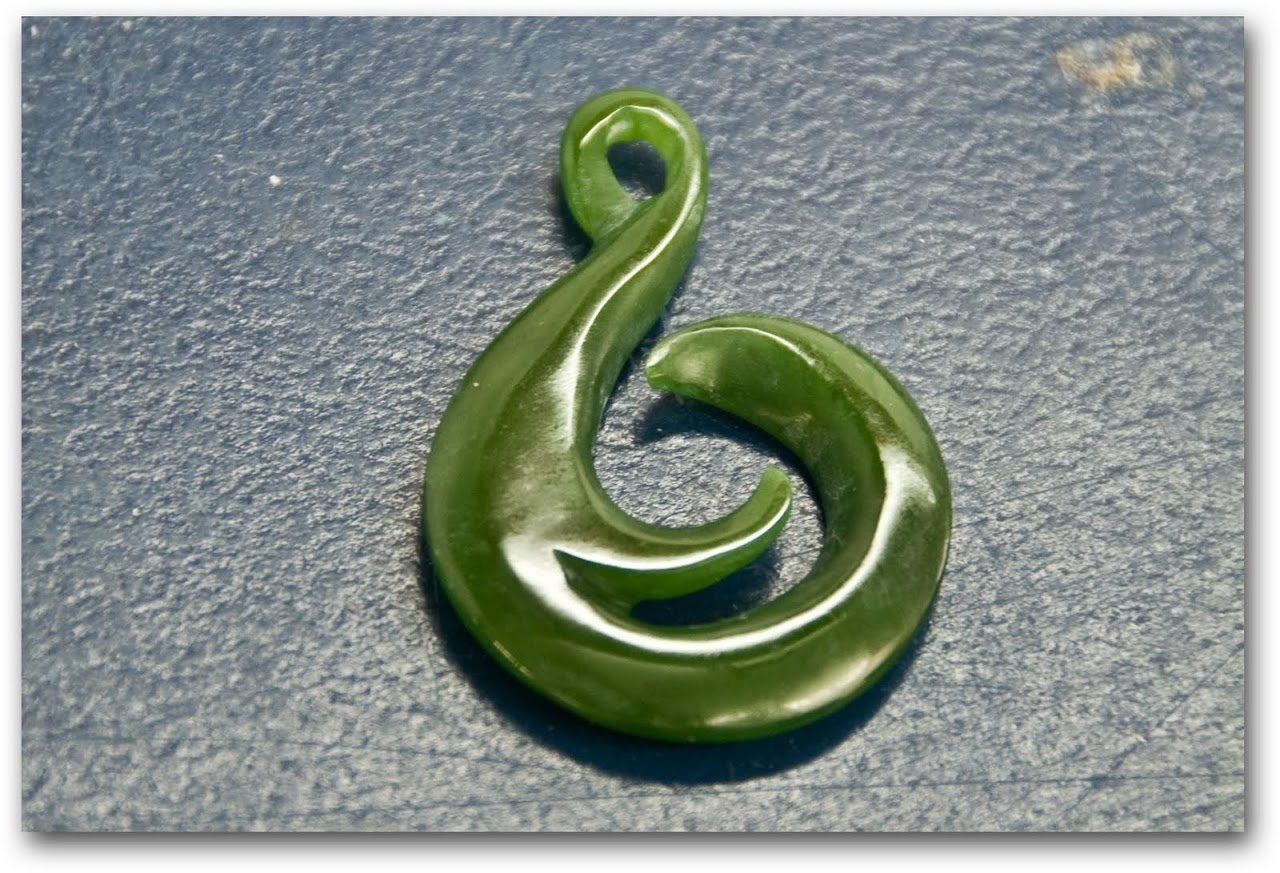 Finished jade pendant
Details
Bonz n' Stonz is located at 16 Hamilton Street, in Hokitika, directly across from the main information center.  We recommend calling them the day before to let them know you will be coming in.  A jade pendant takes approximately 6 hours to carve and costs $125 NZ (or so), bone takes 3-4 hours and costs $85, and paua shell takes 2-3 hours and costs $75.  If you want to carve jade, plan to spend the whole day working on your pendant so you will need to get there around 9:30 or 10:00 a.m.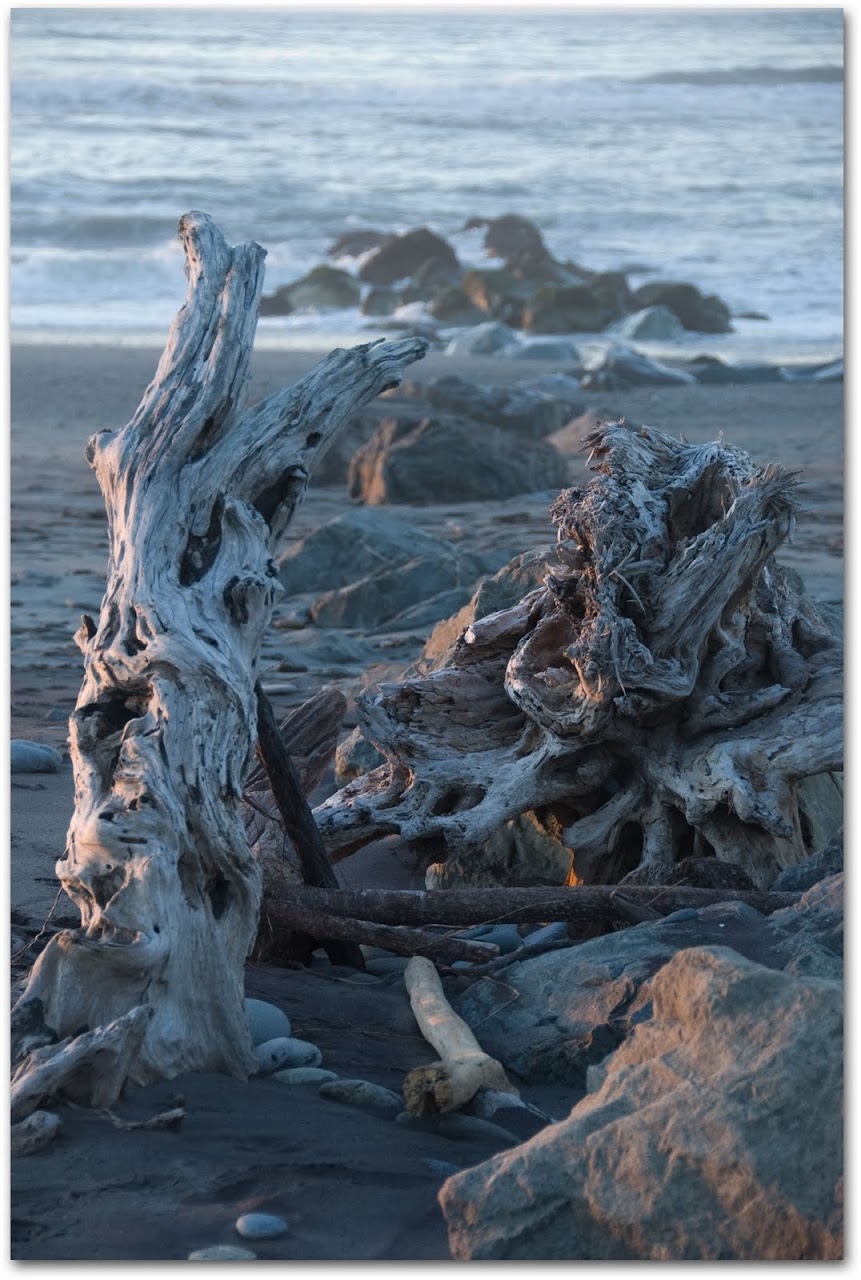 Driftwood at Hokitika beach
Considering that many greenstone pendants in Hokitika cost upward of $150, a jade pendant plus a full day's worth of activities for $125 is an excellent deal.  This is a perfect rainy day activity, Steven is a really nice guy, and we very much enjoyed infusing our creativity into gemstone.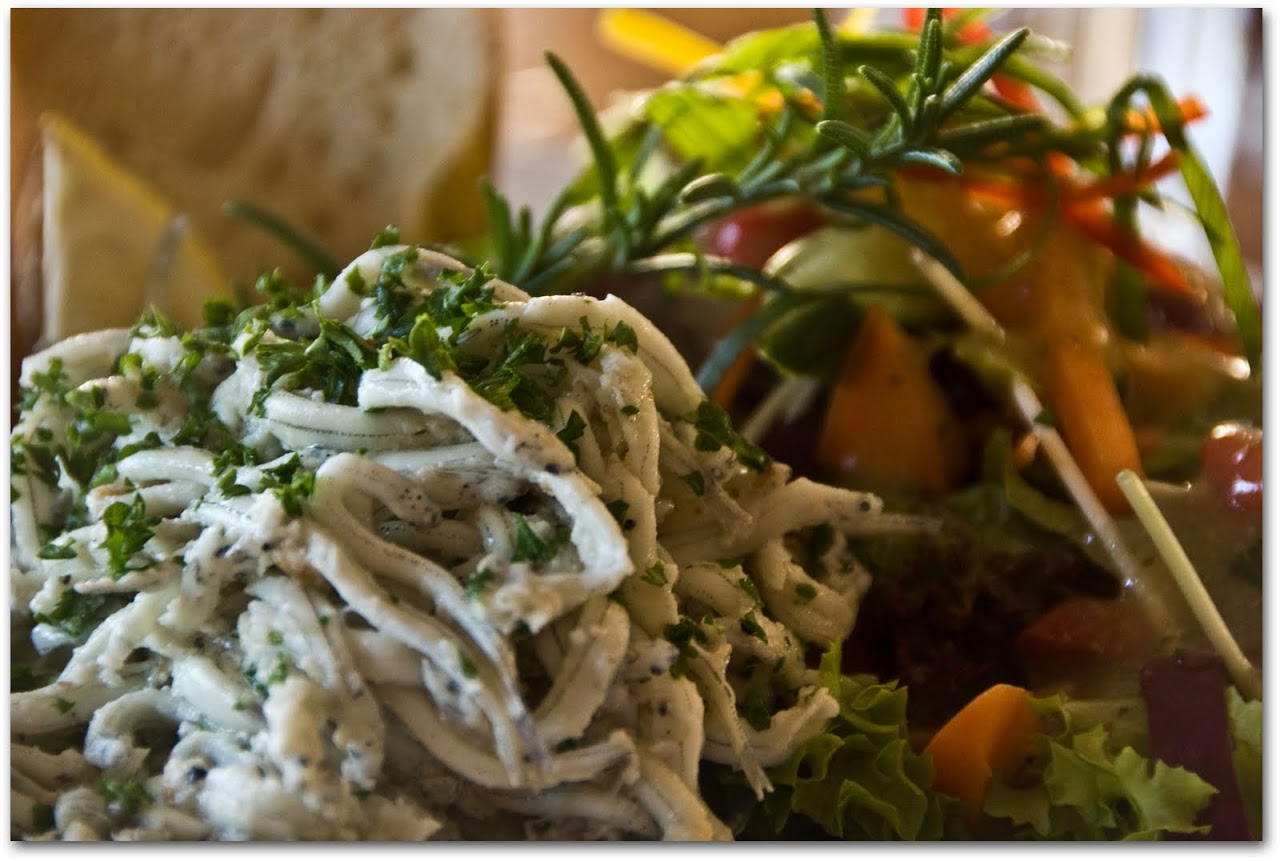 Whitebait at Cafe de Paris
We had dinner at Cafe de Paris, just around the corner from Bonz n' Stonz, where Patrick tried whitebait for the first time.  Whitebait are juvenile freshwater fish caught in the rivers of New Zealand in the spring.  Considered a delicacy because of their subtle, sweet, flavor, Patrick described the taste as light and rich, somewhere between crab and white fish.  However, like many foreigners, Patrick wasn't a fan of the worm-like appearance and texture.