Prison and tools of torture at Tuol Sleng
Thirty-five years ago, the children of Cambodia stopped being children.  The Khmer Rouge executed men and women at Tuol Sleng and other interrogation centers around the country, scattering orphans across the land.  Prison guards dashed infants against a tree and dropped them into the mass grave at Choeung Ek, one of many infamous "killing fields."  And, the Khmer Rouge brainwashed many, molding innocent minds into soldiers, informants, and torturers.
Killing tree and stupa at Choueng Ek
"We did not have the freedom to eat," our guide at Tuol Sleng explained.  As a teenager, he survived on a diet of grass, small raw insects, and any fruit that he could steal while he farmed fields of rice and fruit that were exported to China and Vietnam for weapons.  It is a story of loss, distress, disease, or hunger that we heard repeated from nearly every Khmer adult.
Skulls recovered from mass graves at Choueng Ek; photographs of prisoners at Tuol Sleng
Cambodia cannot escape this history.  Approximately two million people died at the hands of the Khmer Rouge and an additional one million died of disease or famine.  Pol Pot, Brother Number 1 and the mastermind behind much of the terror spread between 1975 to 1979, remained a force in Cambodian politics until 1998.  To the astonishment of the Cambodians, the United Nations largely ignored the horrors perpetrated by the Khmer Rouge until the 1990s and it is only now, when many of those leaders are dead or aging, that they have been forced to stand for trial.

Children in Kampong Chnnang
A person could curl up in a ball and give up hope of a happier tomorrow with a history of gray and bloodred imprinted upon the memories of every adult.  Instead, a mere thirty years after these crimes against humanity were perpetrated in Cambodia, we found the full spectrum of human life and emotions spread across the country.
Children and grandmother in Kampong Chnnang and Battambang
We braved the throngs at the Pnomh Penh mall to mingle with the girls in designer jeans and faux-Coach bags and the guys with iPhones and Blackberries.  We saw true poverty as we offered chicken skewers to a starving mother while her child looked tired but fed, and then we saw the type of poverty faked by children looking for an after-school snack from unsuspecting tourists.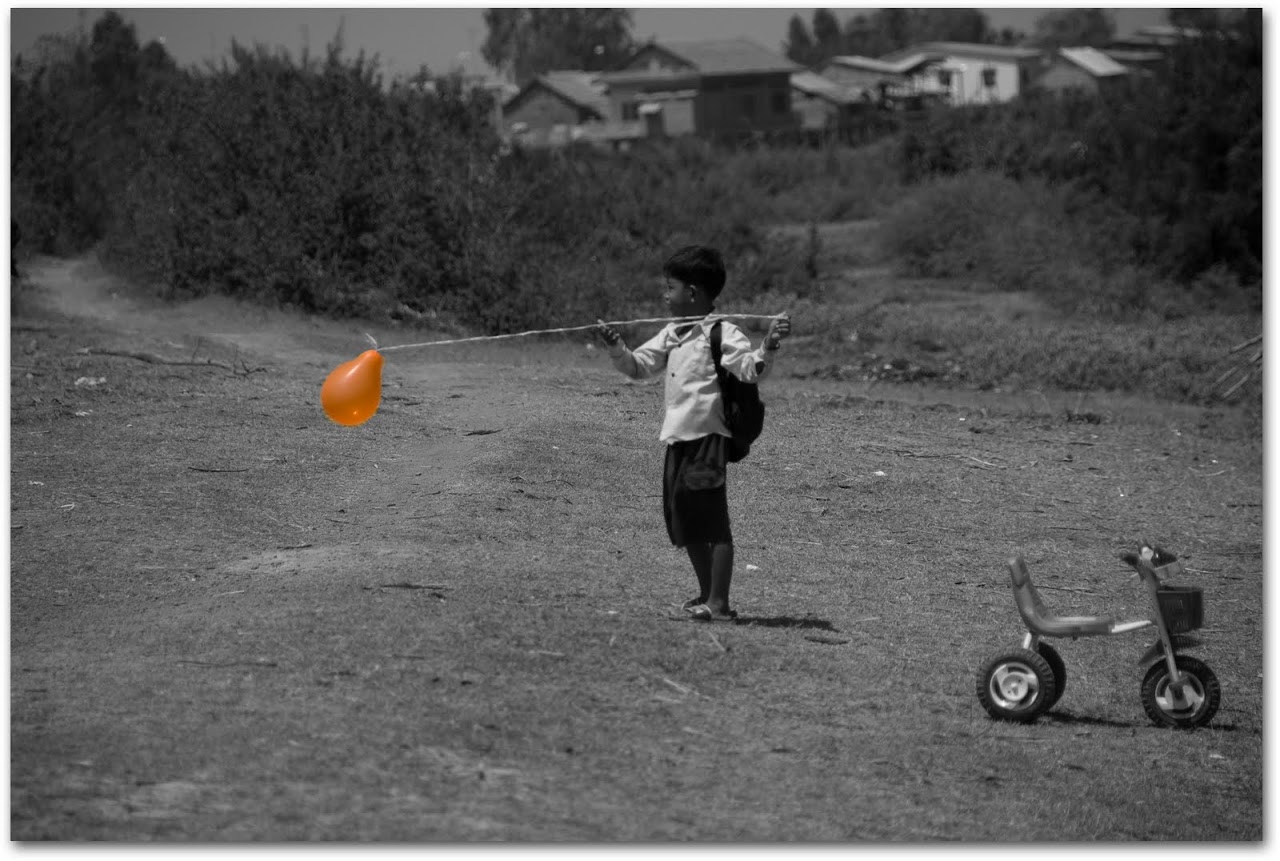 By the rice fields of Kampong Chnnang
We hung out with villagers---who sang poorly, mind you---performing karaoke after a wedding and spent our evening watching teenagers practice K-pop dance aerobics in the park by the river.  A grandmother chattered to us in Khmer, patting Patrick on the shoulder and laughing and smiling at me as she showed me her hand-made pottery.
In Kampong Chnnang
Our guesthouse owner finances the education of his two children and three other nephews and nieces in private schools so they can attend college and earn degrees.  Monks eagerly talked to us so they could improve their English and eventually apply to MBA programs in Thailand or Australia.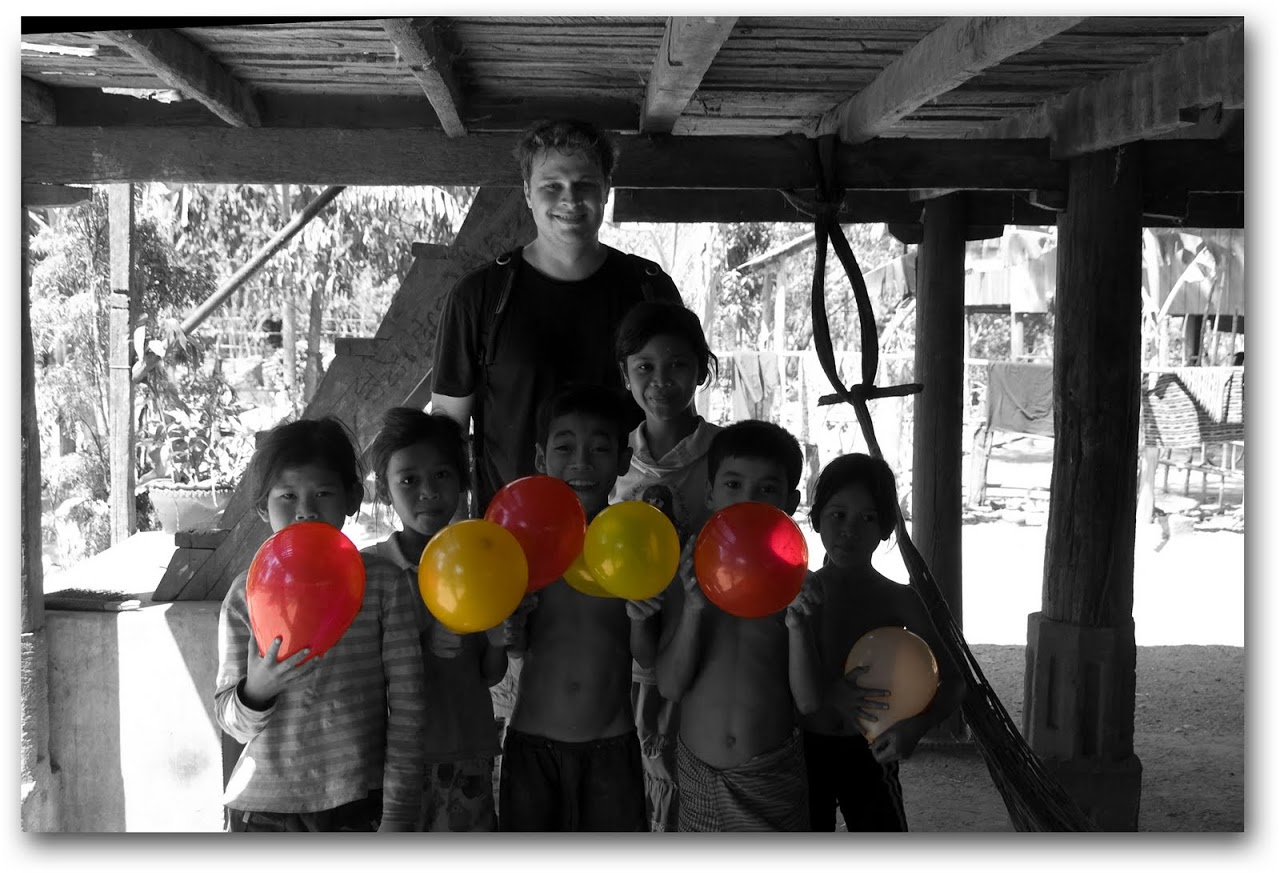 Pat rick with the children at the pottery workshop
And, there are children, children everywhere, because children aged 15 and younger make up a third of the Cambodian population.  But, today's Cambodian children are children just like those you find in the rest of the world: full of smiles, laughter, and fun.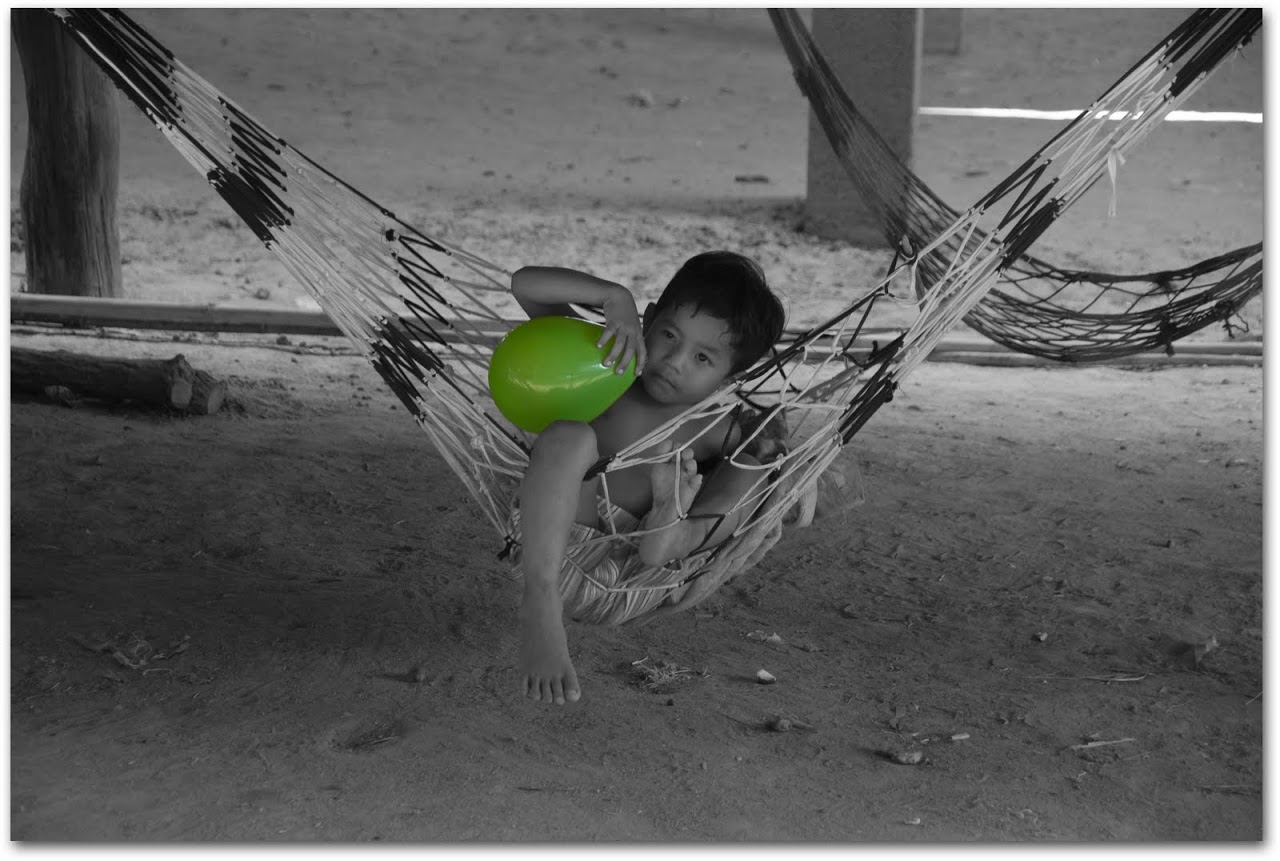 Child lounging in one of the ubiquitous hammocks in Kampong Chnnang
They clamored for the balloons that Patrick blew up as fast as he could and crowded around me as I snapped their pictures.  Hundreds waved to us and yelled "hello" when we drove past them in a tuk-tuk or moto.  They smiled the secret smiles that only children seem to share and understand.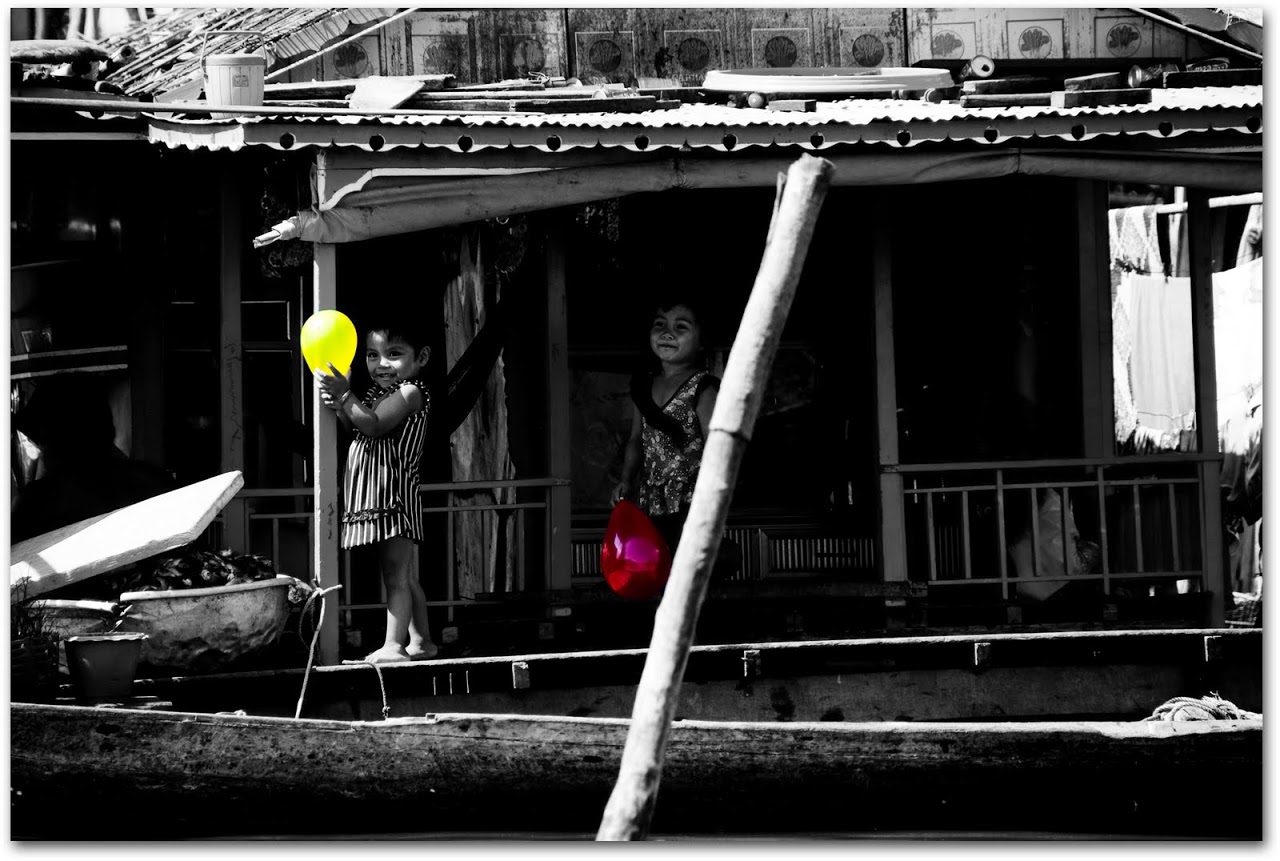 Children on boat house at Kampong Chnnang
We have been both humbled and amazed to meet a nation of people who withstood and emerged from the cocoon in a shower of color.
What can you do?
Even now, Cambodia is the poorest among the Southeast Asian nations with an astonishingly low literacy rate and high unemployment rate.  We were amazed by the number of adults hanging around and relaxing in the middle of the afternoon on work days because they simply can't find jobs.
Non-profit governmental organizations abound in Cambodia and everyone seems to have a solution to help the children.  We were impressed by the efforts of Mith Samlanh , an organization that trains street children in Cambodia to become cooks and waiters.  You can contribute to the organization on their website or you can eat at two of their restaurants, Friends and Romdeng, in Pnomh Penh and be served by the student wait-staff.  The food at both restaurants was among the best that we ate in Cambodia and, while pricey, we think it is an organization well worth supporting.