Cambodia Condensed from theroadforks on Vimeo .
What we did: Three weeks in Cambodia split up into: 3 days in Phnom Penh , 8 days in Siem Reap visiting Angkor and a silk farm , 2 days in Battambang , 1 day in Kompong Chnnang , half a day in Sihanoukville , and 2 days in Koh Kong.


Would we do it the same way? We thought 3 weeks was a good amount of time to see both rural and touristy Cambodia.  We wish we had skipped Sihanoukville altogether and headed directly to Koh Kong.  We heard great things about Kampot so we wish we had added that to our itinerary.


Indispensable item/gear: Sunscreen.  The sun in Cambodia is brutal and we saw many foreigners with wretched sunburns.  Patrick and I both turned about 10 shades darker even though we wore SPF 50 sunscreen every day (and we had solid base tans after a month and a half in India and Thailand).  Patrick's shoulders burned through his shirt!  Pharmacies in Siem Reap sell sunscreen but you can find it for much less in Bangkok and Phnom Penh.


Best food: Amok.  The national dish of Cambodia, amok is made by steaming fish (or other meat) with vegetables in coconut milk in a bamboo leaf bowl.  We tried various vegetarian and non-vegetarian versions but the best was at Romdeng , a restaurant that trains street children, in Phnom Penh.


Worst food: Cambodian desserts, in general.  Most were made with mung bean and were soupy.


Our favorite part of Cambodia: The people. Their courage, fortitude, and kindness simply left us awestruck.  They humbled and inspired us to be better, stronger, and more aware of all that goes on in the world.




The best deal: Prohm Roth Guesthouse in Siem Reap.  If you are in Siem Reap, you should stay here.  For $15/night, we had an impeccably clean large room with an en-suite bathroom, comfortable bed, refrigerator, air conditioner, and cable television within a 2 minute walk to the Old Market area with restaurants, bars, and shops.  Because the guesthouse is in an alley, it stays fairly quiet except for on Sunday mornings when the monks in the wat across the street began chanting at 6:00 a.m.  Moreover, their wifi actually works well (which is a HUGE deal in Southeast Asia because lots of places advertise wifi but few places deliver).  Best of all, the customer service here is the best that we have had in our six months traveling.  Meang, the owner, spent time discussing what to see, how to see it, going so far to arrange tuk-tuks so we never were ripped off.  We always received honest opinions from Meang and were impressed by the care and attention shown by his whole family to the guests at Prohm Roth.  If I haven't raved enough and you want further recommendations, check out their 100% rating on Tripadvisor .



The big rip-off: Water, sodas, snacks, and any other refreshments at Angkor.  Stock up on water from the main city so that you don't have to pay $1 USD for a small bottle of water.


Best new experience: Handing out balloons to village children. We thought one of the girls at our Khmer cooking class had a brilliant idea when she suggested that we carry balloons with us to hand out to village children.  We had no idea it would be such a huge hit.  Children trailed after Patrick, surrounding him and clamoring for balloons, as if he was the Pied Piper.  Our $3 USD bag produced lots of joy.


Worst new experience: Rushing back to the United States for a family emergency .  It's an experience we hope to never have again.


The must see attraction: Angkor, obviously.  It is touristy, filled with people and touts, and expensive, but it is an impressive and beautiful archaeological wonder .  Just plan ahead to avoid temple fatigue and you're all set.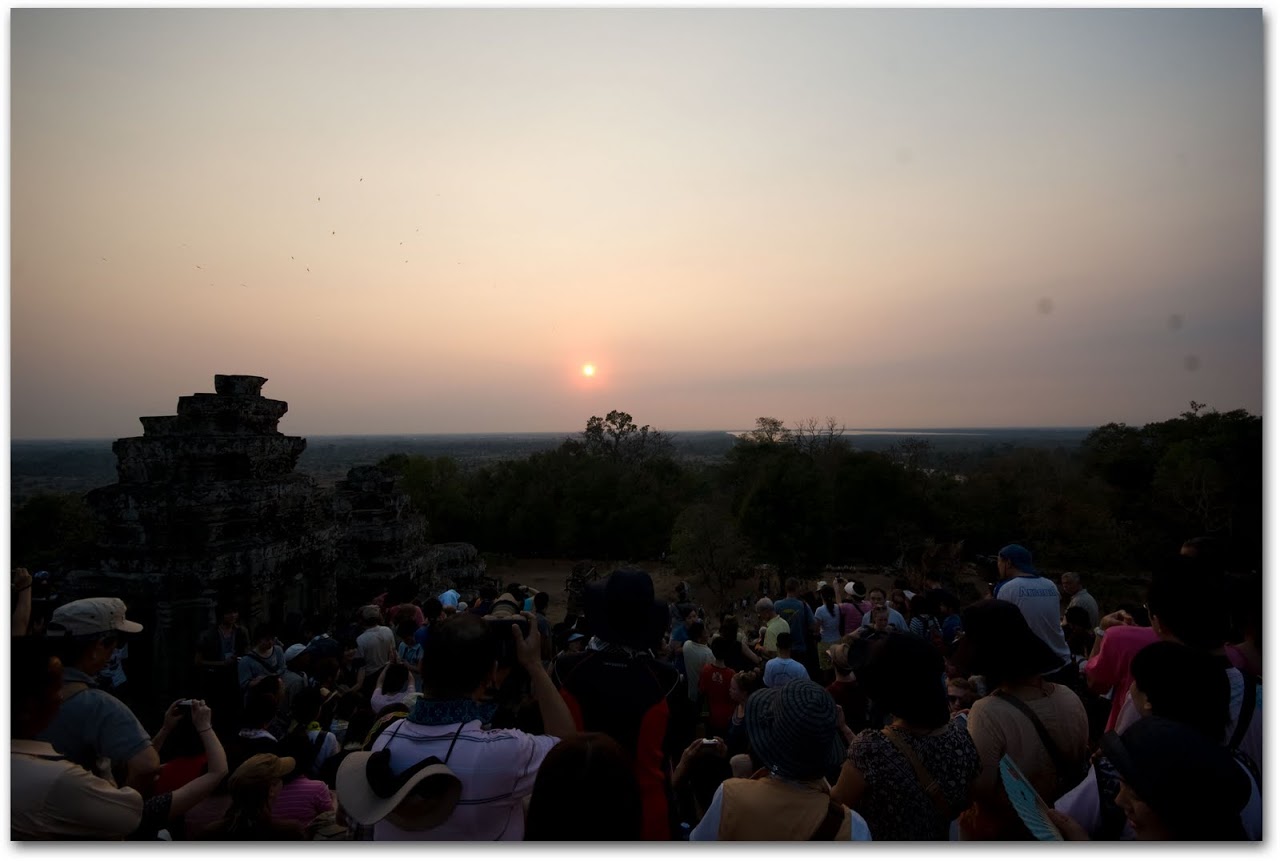 Most overhyped attraction: Sunset from Phnom Bakheng over Angkor Wat.  Everyone says that this is "the sunset" and we hiked up the hill to the temple at 4:30 to get a good seat.  By 5:30, the place was so packed that a guy walloped me in the face when he was trying to move around and there were no seats left.  To add insult to injury, the sunset was only marginally interesting because the sun sets over the Tonle Sap lake rather than over Angkor Wat and the dust and smog obscures most of the sunset.  We would have been better off skipping Phnom Bakheng and, instead, heading to Siem Reap to have a drink at the rooftop bars.


Best city: Kompong Chnnang. We loved the floating village, the emerald rice fields, and the untouristed beauty of the place.


Worst city: Sihanoukville .  With trash strewn about the beaches, bars frequented by prostitutes, and skeazy clientele from the dredges of the world's population, it is the first city we have ever hated.


Best surprise: The fantastic vegetarian food in Cambodia.  Chamkar, a creative Khmer vegetarian restaurant in Siem Rep sold me with its Rediscovering Tofu dish, a mind-numbing combination of tofu stuffed with pumpkin and onions with caramelized onions and caper berries on the side.  Patrick doesn't normally like tofu but he loved that dish.  I was similarly impressed with the papaya salad sandwiches sold on nearly every street corner.



Biggest disappointment: Siem Reap.  Siem Reap is a Western-style town where tourists are treated like walking wallets.  By our sixth day in Siem Reap, Patrick and I were sick of the overt commercialism and the money-grubbing nature of the city.  There are exceptions ---- Meang, our guesthouse owner at Prohm Roth, was one --- but those exceptions are few and far between.  It's the sort of thing that we should have expected because every town located near a major attraction, from the Taj Mahal to Venice to Disney World, reeks of commercialism but, somehow, Siem Reap took us by surprise.  Our advice: don't judge the people of Cambodia by those who live at Siem Reap.


Language lesson: Sua s'day = hello; au khun = thank you; one dollar = the cost of anything and everything in Siem Reap; riels = the Cambodian currency with an exchange rate of approximately 4000 riels to $1 USD, but the US dollar and Thai baht are also frequently used in Cambodian cities


The big test, would we come back? Not immediately.  We had a great time in Cambodia but felt that three weeks was enough to see much of the country.  We would like to go back in another 10 years to see how the economy and culture has changed.


And, now, we're off to: Due to a family emergency, we headed back to the United States and spent the last two months here to resolve a number of family-related issues and recompose ourselves.  Tomorrow, we head to Japan, one of our most highly anticipated countries on the trip.