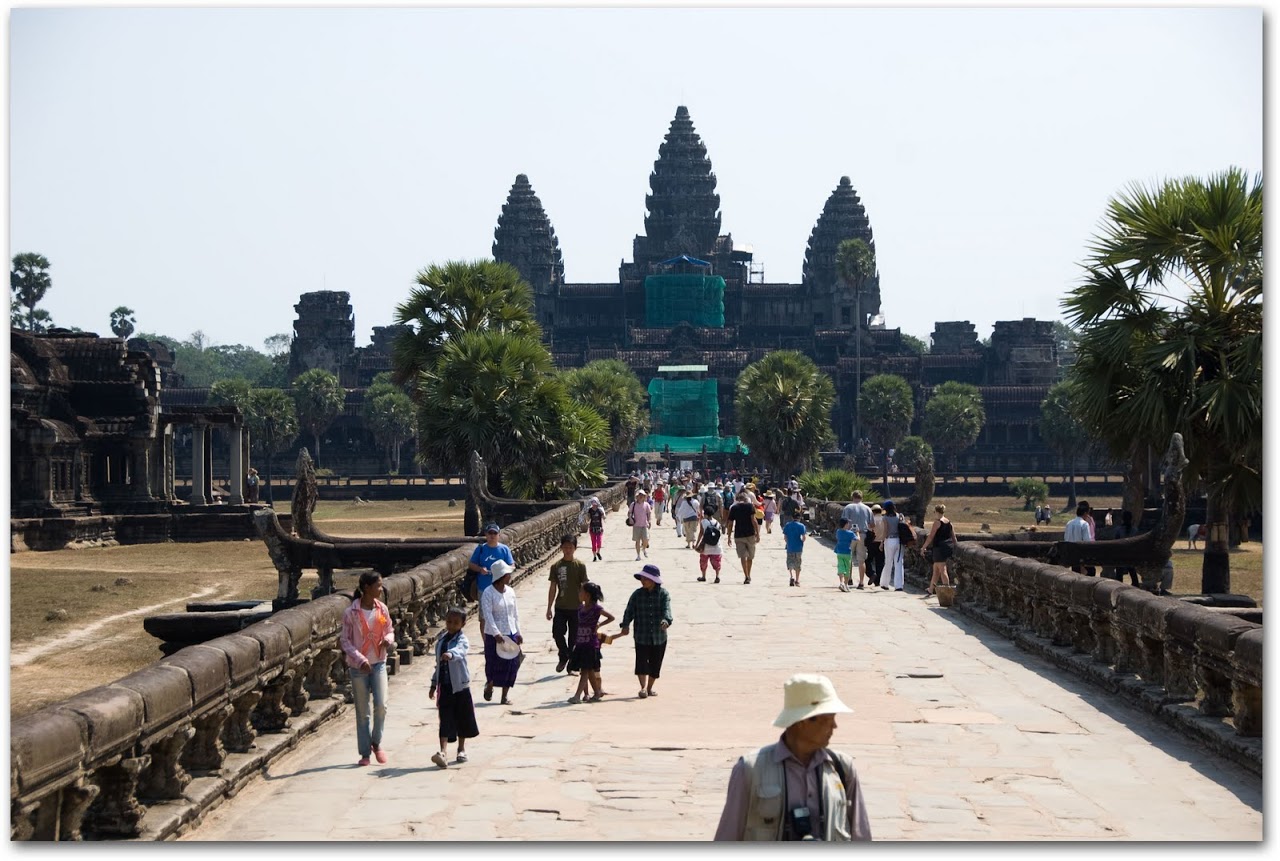 Tourists at Angkor Wat
We had unsuspectingly stepped into the middle of a B-rated horror movie.  We were amongst the few immune to the virus spreading through Siem Reap, the neighboring town to the Angkor Archaeological Park.  In the acute stages, tourists became ornery, irritable, and bored, leading to variations of the same conversations over and over again: "Ugh.  I am so tired of temples.  You know, if you've seen one temple, you've seen them all."  As the disease advances, visitors avoid the city, head to the beaches, or leave the country in an effort to escape headaches, arguments, and children wailing, "No more!  Just no more!"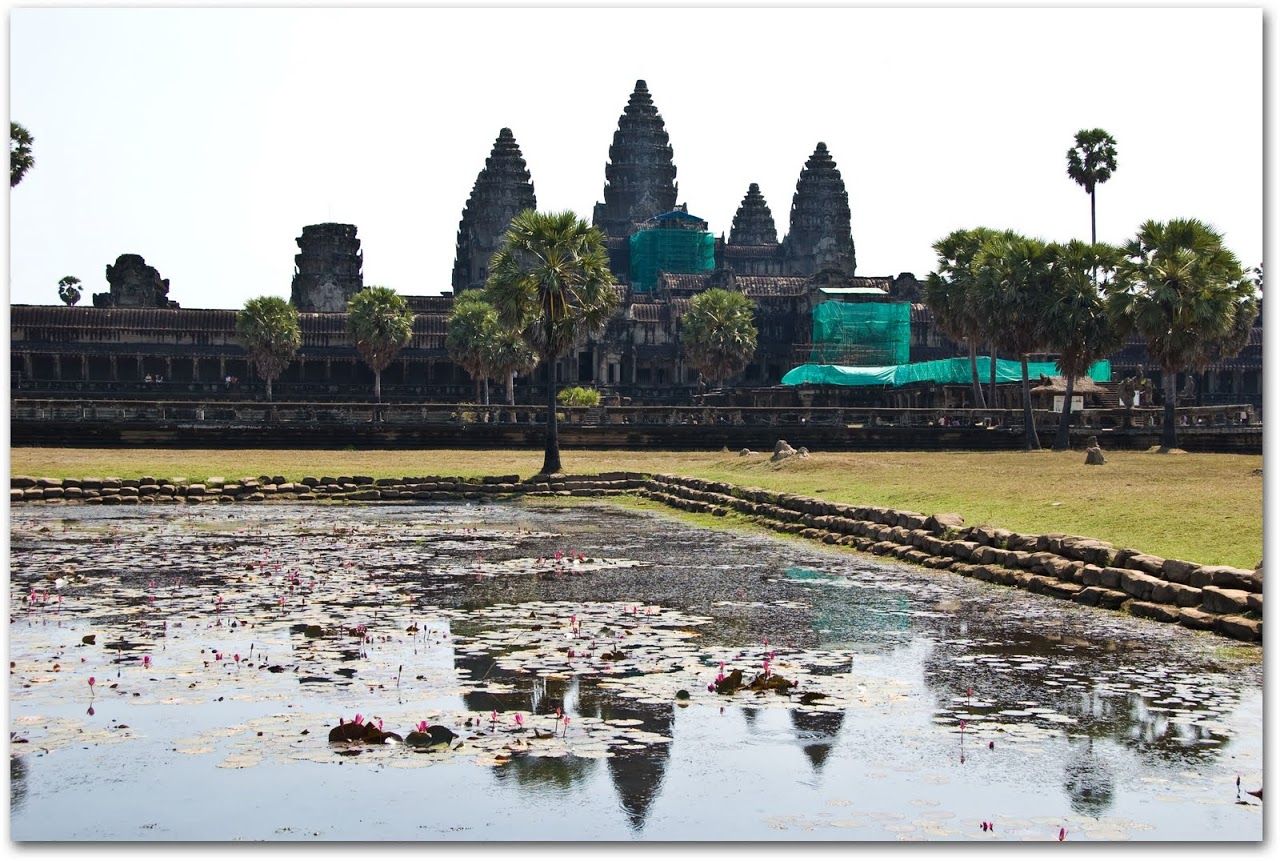 Angkor Wat in lotus pond
Temple fatigue ---- the killer of a perfectly good vacation and leading cause of disinterest in amazing places ( see also the corresponding diseases: cathedral fatigue , found often in Spain, museum fatigue , most often suffered by visitors to Italy , and chaos fatigue , the frequent end to an otherwise pleasant trip to India .)  But, people, you don't need to suffer.  By following these five easy steps, you may even enjoy your stay at Angkor: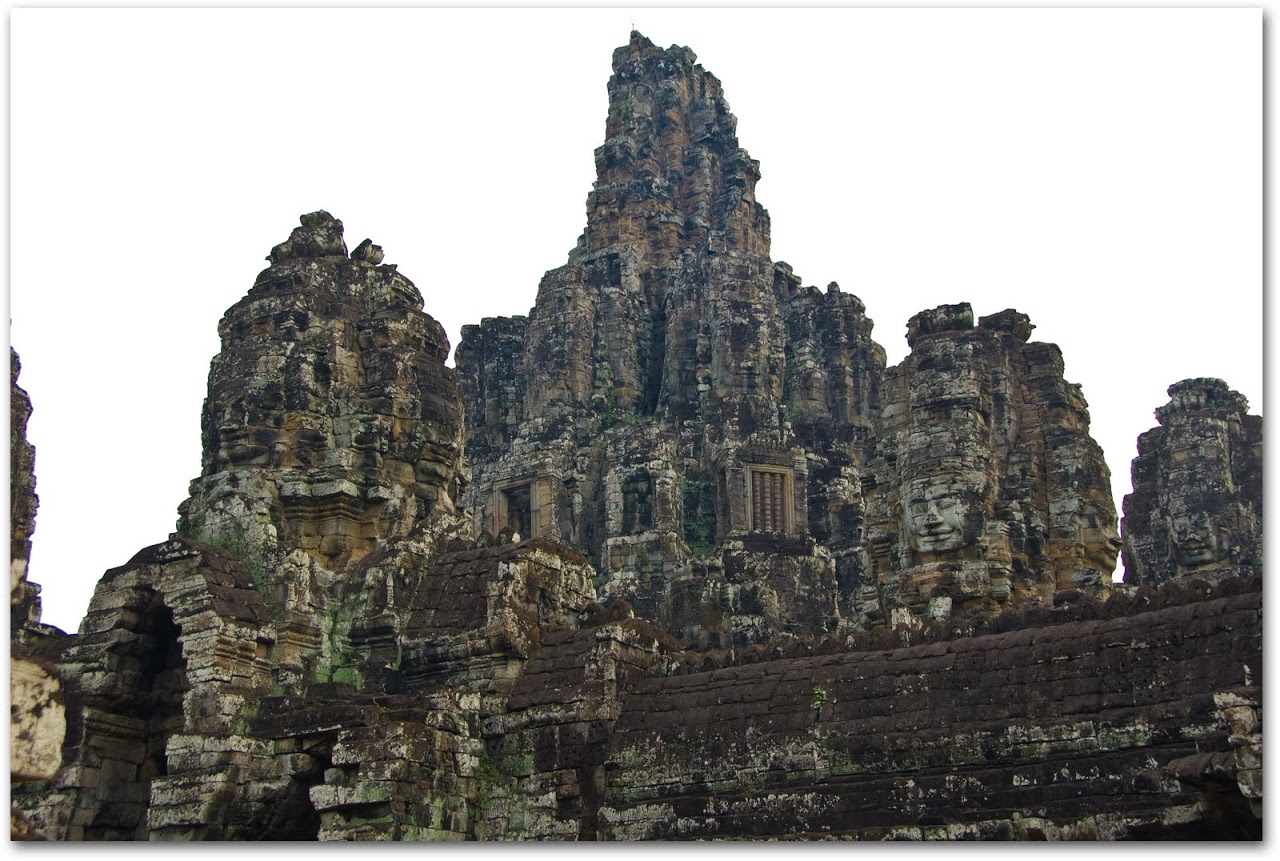 Bayon from afar
#1:  Appreciate the immensity of the place and spend some time. We met many travelers who planned to spend 1 or, at most, 2 days at the park.  Think about it like this: Angkor was the capital of the Khmer Empire for over 600 years and held a population of millions of people (when London only had 10,000 citizens).  The Angkor Archaeological Complex stretches over 20 square miles and includes over 50 archaeological sites.  The four theme parks at Walt Disney World (Magic Kingdom, Epcot, MGM, and Animal Kingdom) are contained in less than 3 square miles.  No one plans to spend only 1 day at the Walt Disney World theme parks; so why would you plan to only spend 1 day at the Angkor Complex?
In short, if you have taken the effort to get to Southeast Asia and then to Siem Reap, which isn't the most accessible of spots, spend enough time to enjoy the temples.  We opted for the 7-day pass for $60 but think the 3-day Angkor Park Pass for $40 is a good value.
Bas-relief at Angkor Wat; Ta Prohm tree; Banteay Srei; Bayon
#2:  Research the temples and visit the priority and similar types on separate days. Most guidebooks that we found agree (and so do we) that these are the must-see temples:
- Angkor Wat : massive, gorgeous, and intricate bas-reliefs
- Angkor Thom , including Bayon: the walled and moated royal city contains some of Angkor's greatest temples including the many-faced Bayon
- Banteay Srei : the most detailed and beautifully carved temple in the Angkor complex
- Ta Prohm : the famous jungle temple used in the Tomb Raider movie
- Ta Som : a small temple with a stunning giant tree destroying the eastern gate
We also enjoyed the less touristed Preah Khan , a monastery for Buddhist monks mostly in ruins, and Beng Melea , an unrestored jungle temple.
Preah Khan; Ta Som
By visiting a priority temple and then smaller temples on the same day and mixing and matching jungle temples versus restored temples, you won't be bored by the same type of temple on any given day.  The priority temples also tend to have more tourists so spacing out your visit to those temples will give you some relief from the crowds and touts.  A sample itinerary could be:
- Day 1: Angkor Wat, Ta Prohm, Ta Som, some other smaller temples
- Day 2: Angkor Thom, other smaller temples in the area
- Day 3: Banteay Srei, Preah Khan, other smaller temples in the area
- Day 4: Beng Melea (not included in the Angkor Pass)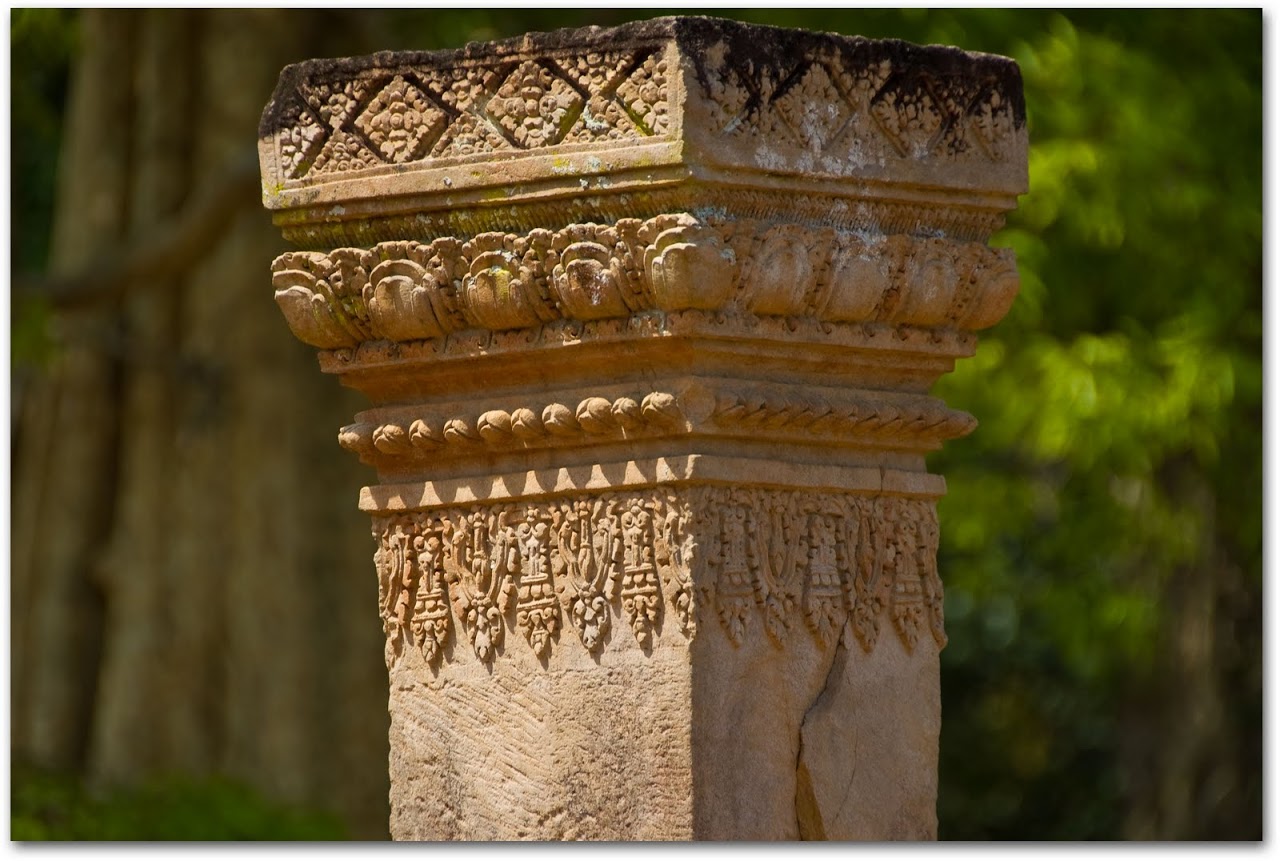 Pillar at Banteay Srei
#3:  Don't succumb to the touts. The constant yell of "tuk-tuk", "postcard", and "money," can be exhausting.  To avoid the tuk-tuk problem, find a good guesthouse and ask them to find your tuk-tuks for the day.  We HIGHLY recommend Promh Roth Guesthouse , our favorite guesthouse in all of Southeast Asia, because the owner Meang runs a clean, friendly, and convenient guesthouse within a short walk to the Old Market area.  He managed all of our tuk-tuk negotiations and we always paid a fair price.  Large A/C rooms with a small refrigerator and en-suite bathroom are $15/night.  To manage the constant hassle of kids, we recommend being firm but friendly; it worked for us .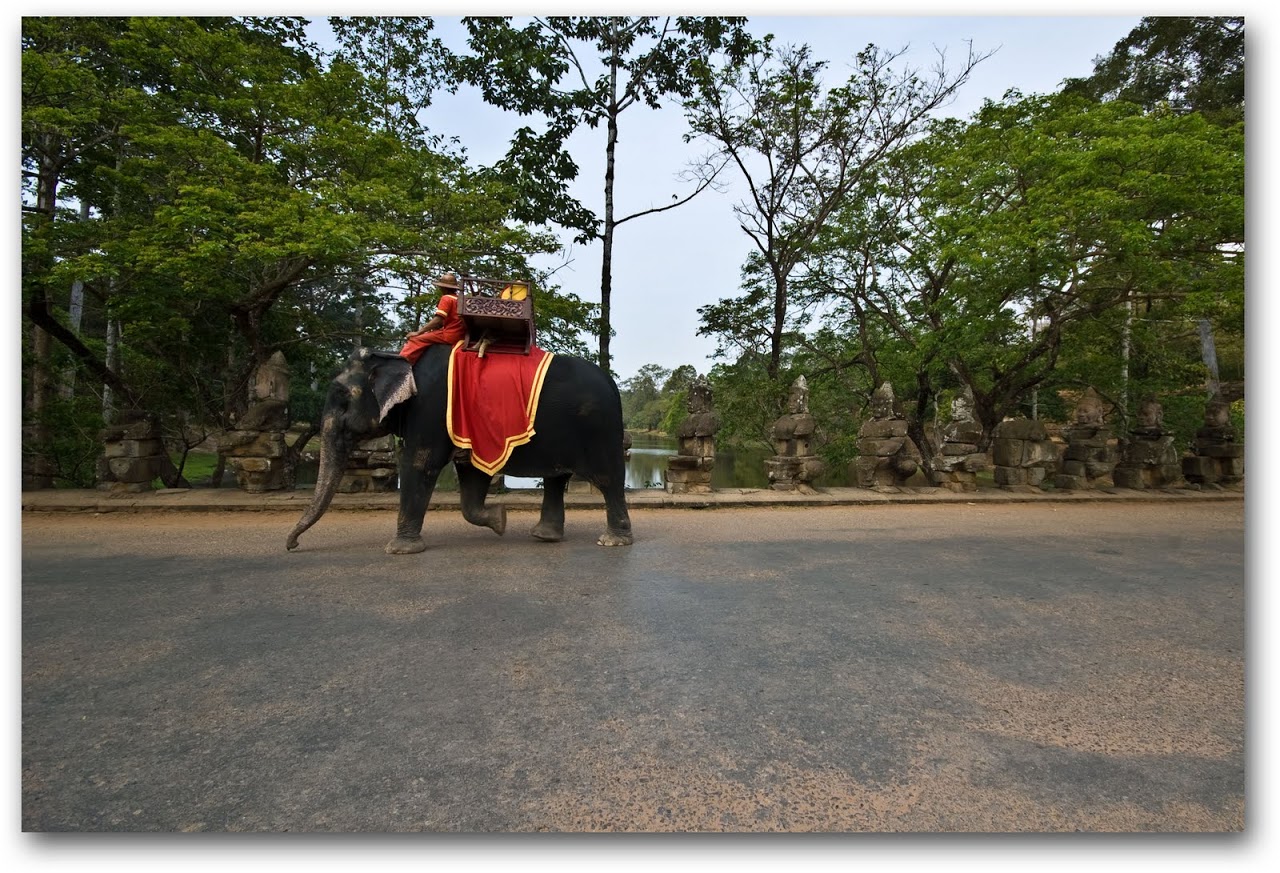 Elephant walking past South Gate
#4:  Believe in the power of half-days and naps: The peak times at Angkor are 10-1 and 3-5:30.  We either started early in the morning or late in the day and stayed in the park between 1:00 to 3:00 because though it was the hottest part of the day, it was also the least crowded time.  This is especially critical at Banteay Srei because it is a small temple with narrow passages.  We rarely spent more than four to five hours at the park, so by the time we began to get tired of temples, we were already heading back to our guesthouse.
Bride with umbrella at Angkor Wat
#5:  Embrace the tourism: Siem Reap is tourist-driven.  As Jodi from Legal Nomads put it, "You could be in Florida."  There are coffee shops, fancy restaurants, pubs, and lounges within the few blocks of the Old Market area and we found everything from DHL services to Blue Pumpkin , a delicious Western-style bakery and ice cream shop. On our "off days," we took a Khmer cooking class at Le Tigre de Papier (mediocre at best) and visited a silk farm . By interspersing our temple days with non-temple activities, we kept boredom at bay.
Tourism also means the opportunity to meet fellow travelers.  We had a blast meeting Jodi (a lawyer) from Legal Nomads , who has been traveling for over 2 years, and Keith and Amy (also a lawyer) at Green Around the Globe , who are focusing on sustainability in other countries.  This may have been the first ever legal round-the-world meet up and we celebrated by gorging on Wedding Day Dip and other delicious dishes at Chamkar, a vegetarian Khmer restaurant in Siem Reap.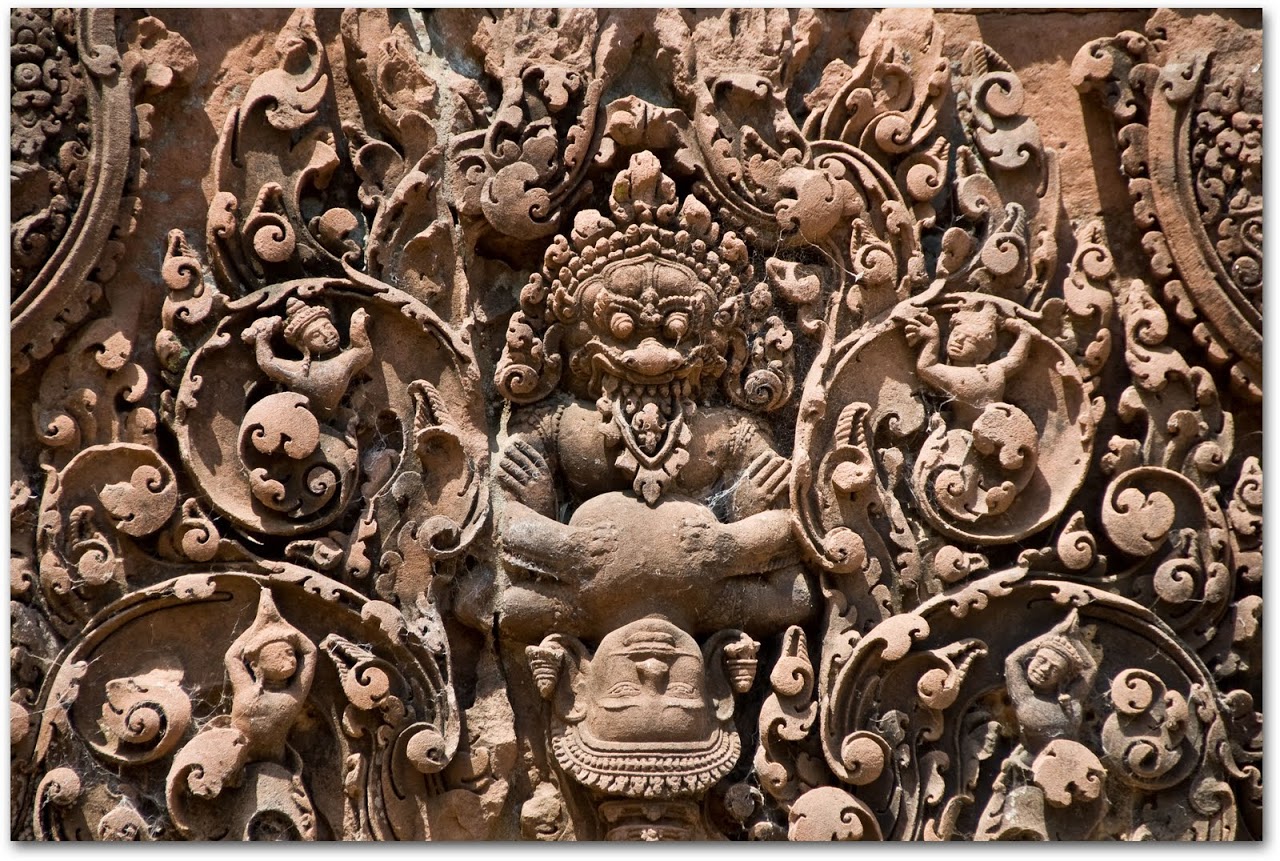 Banteay Srei
Tourists Against Temple Fatigue: I am not only the president, I am also a member.  Join us today.