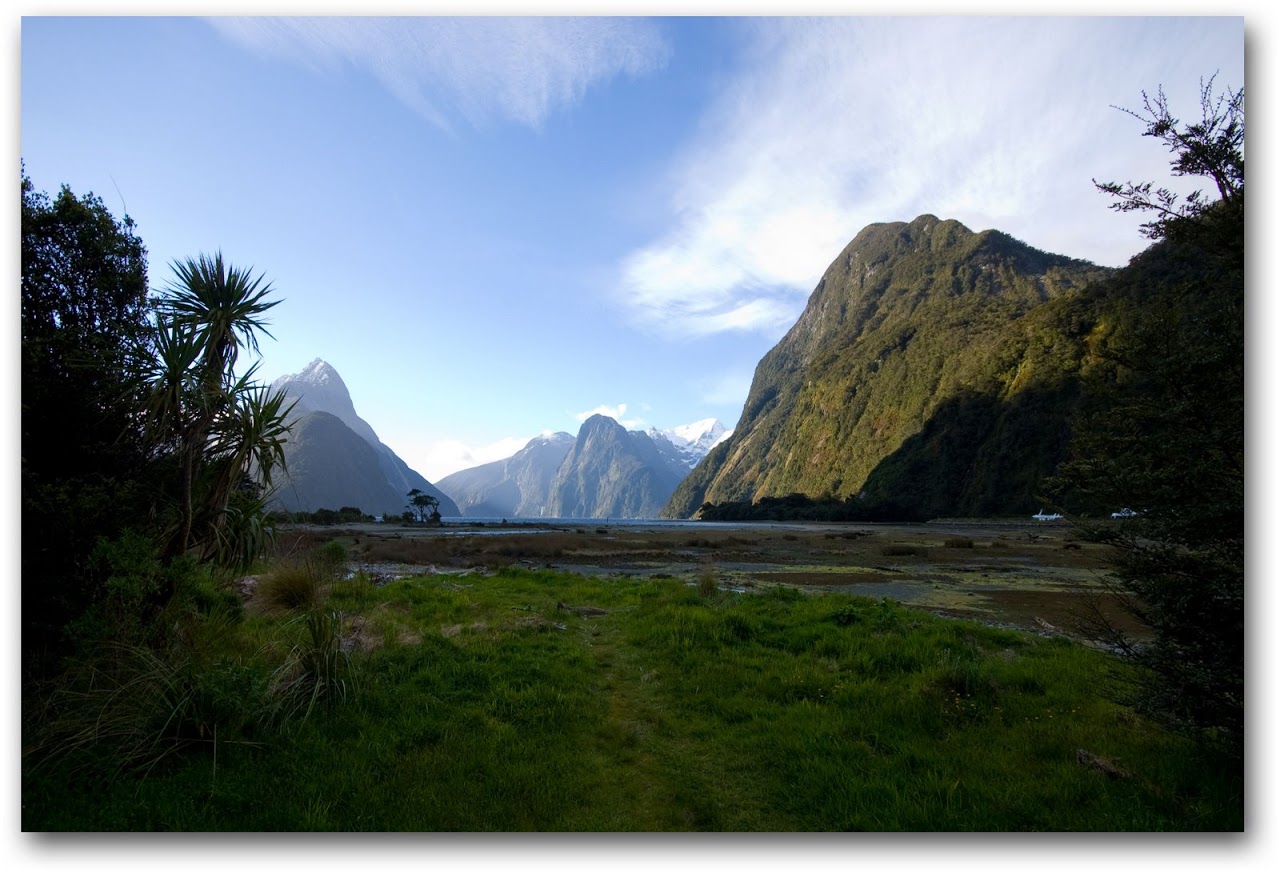 Panorama of Milford Sound
I was not entirely sure how I found myself swimming in the frigid waters of Milford Sound, clinging to a kayak, and desperately kicking my feet to keep myself warm.  I worried that the cold would seep through my thermal layers to my chest, that our camera had made its way to the bottom of the Sound, and mostly, I worried that we wouldn't be able to get back into the kayak.
Road from Te Anau to Milford Sound; Lake Manapouri
But, I am getting ahead of myself.  Our Milford Sound adventure began on a surprisingly crystal blue day, beating the odds, because the Fiordland region receives over 200 days of rain per year.  As we drove from Te Anau to the Southern Alps, superlatives fell forth from our mouths and, at times, we were too astonished for words.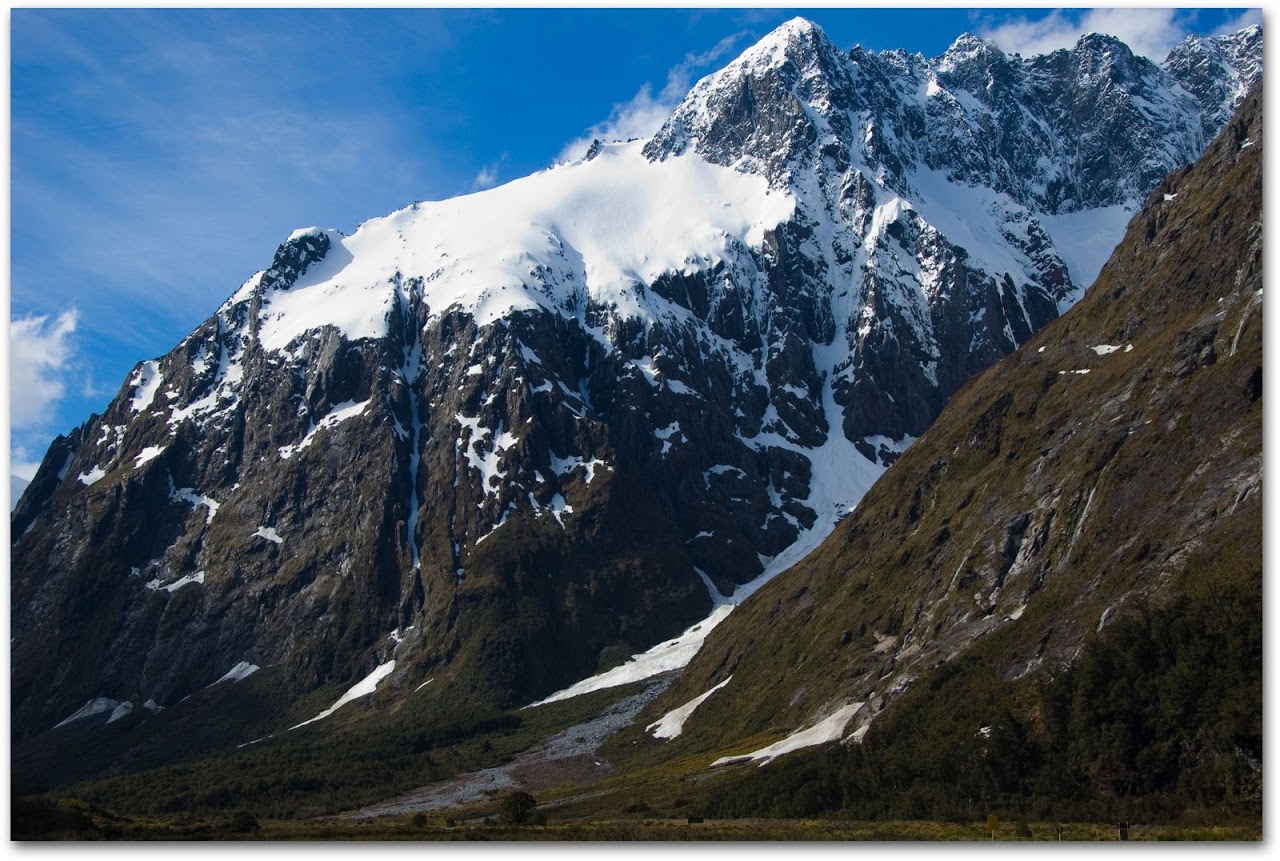 Snow-capped peaks and waterfalls
Mere words and pictures cannot capture the awesomeness and grandeur of 360 degree snow-capped mountains, vivid blue lakes, and undulating hills.  We are not the first to be mesmerized by the stupendousness of this region (see, the superlatives are still dropping from my fingers --- I just can't help it) and the United Nations has bundled up the entire region into the Te Wahipounamu World Heritage Area.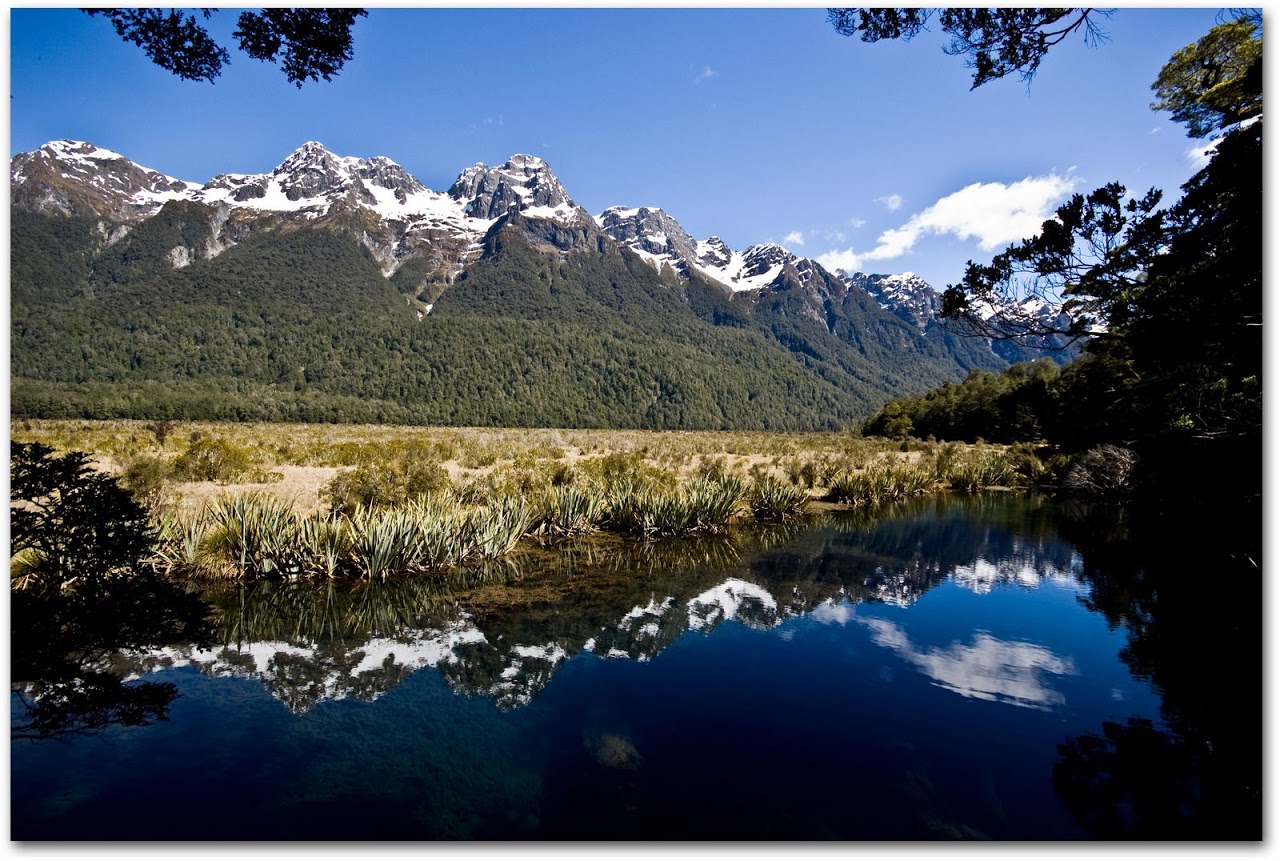 Mountains reflected in Mirror Lakes
Because we are slow pokes and have to stop and see everything , we took nearly the full day to reach Milford Sound.  We stopped in a green, green field and swung round and round like Maria at the beginning of Sound of Music , a feat that, luckily for you, we did not videotape.  We spent a full forty minutes at the Mirror Lakes watching the reflection of the mountain peaks in the still, clear waters.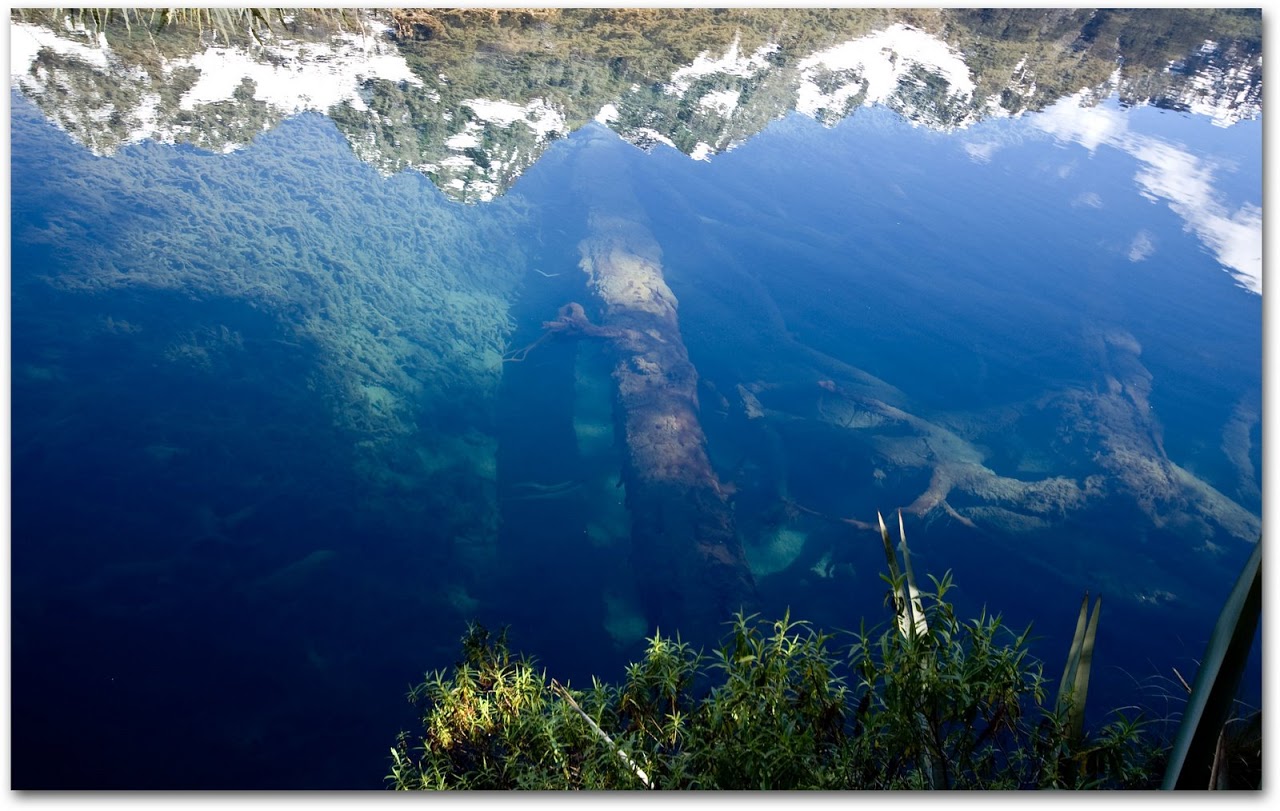 Mountains reflected in clear waters of Mirror Lakes
Then, we hiked the 3-mile Key Summit hike, a steep 1/4 mile (or 400 meter) ascent, to a breathtaking panoramic vista---breathtaking both literally and figuratively because the climb became so difficult as the air thinned that we nearly stopped and turned around.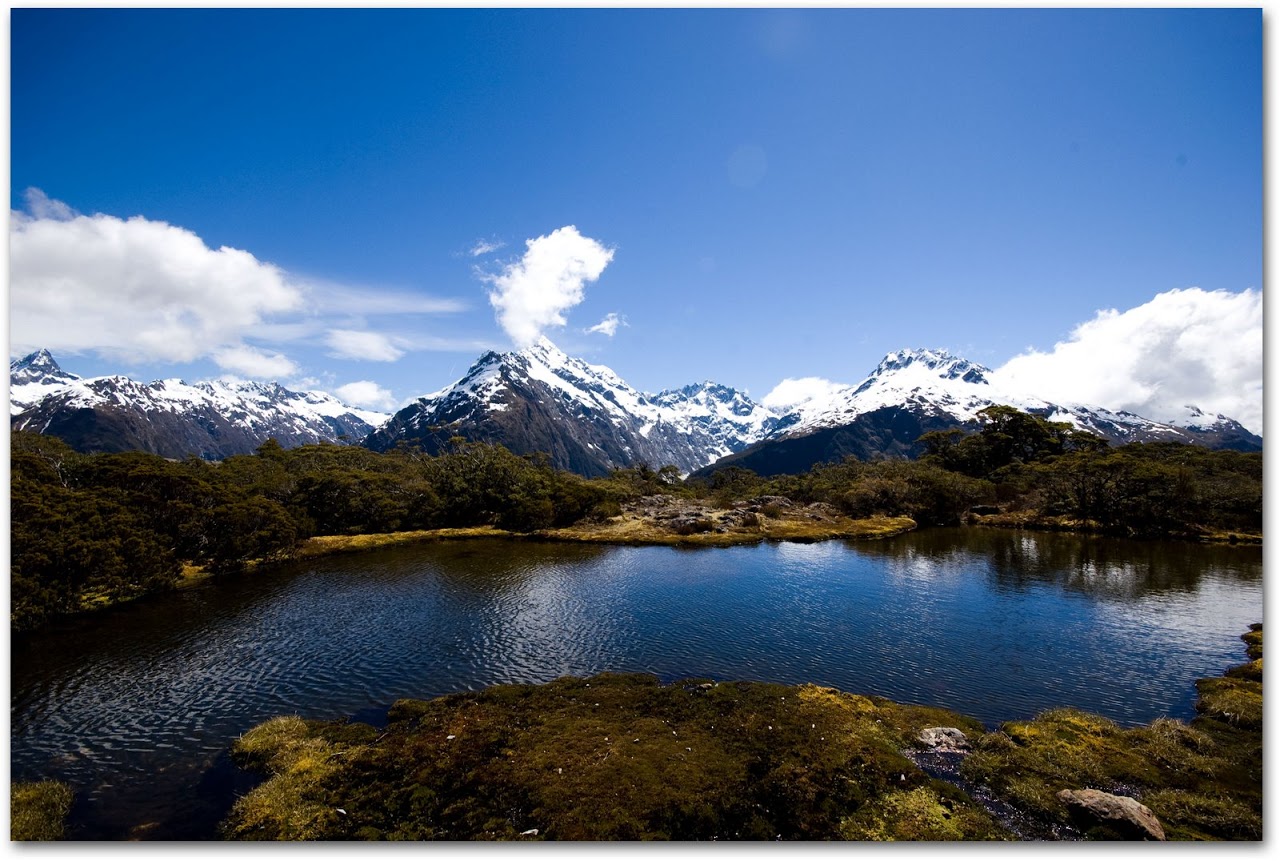 Panoramic view from Key Summit hike
At the top, we stood in the sky and felt the snow-capped peaks and iridiscent lakes surround us.  But, on the return downhill, though fortified by the purest coldest water we have ever tasted taken from mountain streams, our calves screamed in agony and seemed ready to begin a silent protest.
Crystal clear, pure mountain spring water; icy-snow from the mountains
And, it was with those aching calves that we began our kayaking journey into Milford Sound the next morning.  At the beginning, we were enthralled.  The Sound was quiet and immense.  We clung to the coast like ants on a concrete ledge and silently floated through the water.  A pounding waterfall splashed into our faces and we watched male seals compete for the best spot on the craggy rocks and a yellow-crested Fiordland penguin waddling from the waters.
Seals, penguins, and humans at Milford Sound
On the eastern shore, our guide, Ben, asked us whether we wanted to take the easy path across the Sound or wait for another hour until the wind picked up so we could enjoy the "adventurous" trip.  The six of us opted for the easy version and, for the first five minutes, we swiftly kayaked halfway across the Sound.  Suddenly, the wind picked up and three-foot tall waves came crashing by the side of our kayaks.  Our arms strained as we paddled across the waters and we found ourselves barely moving.  As Ben came to help Patrick and me, without any warning, a wave picked us and turned our kayak over.
Waterfall at Milford Sound; The Chasm
That was a scary moment.  When we began the kayaking trip, Ben gave us instructions on how to get out of the kayak in the unlikely event that it flipped over; in the previous year, only three kayaks flipped over.  Those instructions rushed into my brain and I hurriedly searched for the loop to pull my kayak skirt off the kayak hole.  As I pushed myself out of the kayak and held onto my paddle, I began worrying about our DSLR camera, our underwater camera, and our car keys sitting in a waterproof bag bungy-strapped to the top of the kayak.  I shouldn't have been concerned because I married a smart, smart man.  Instead of holding onto his paddle, Patrick reached for the waterproof bag and held onto it as he flipped out of the kayak.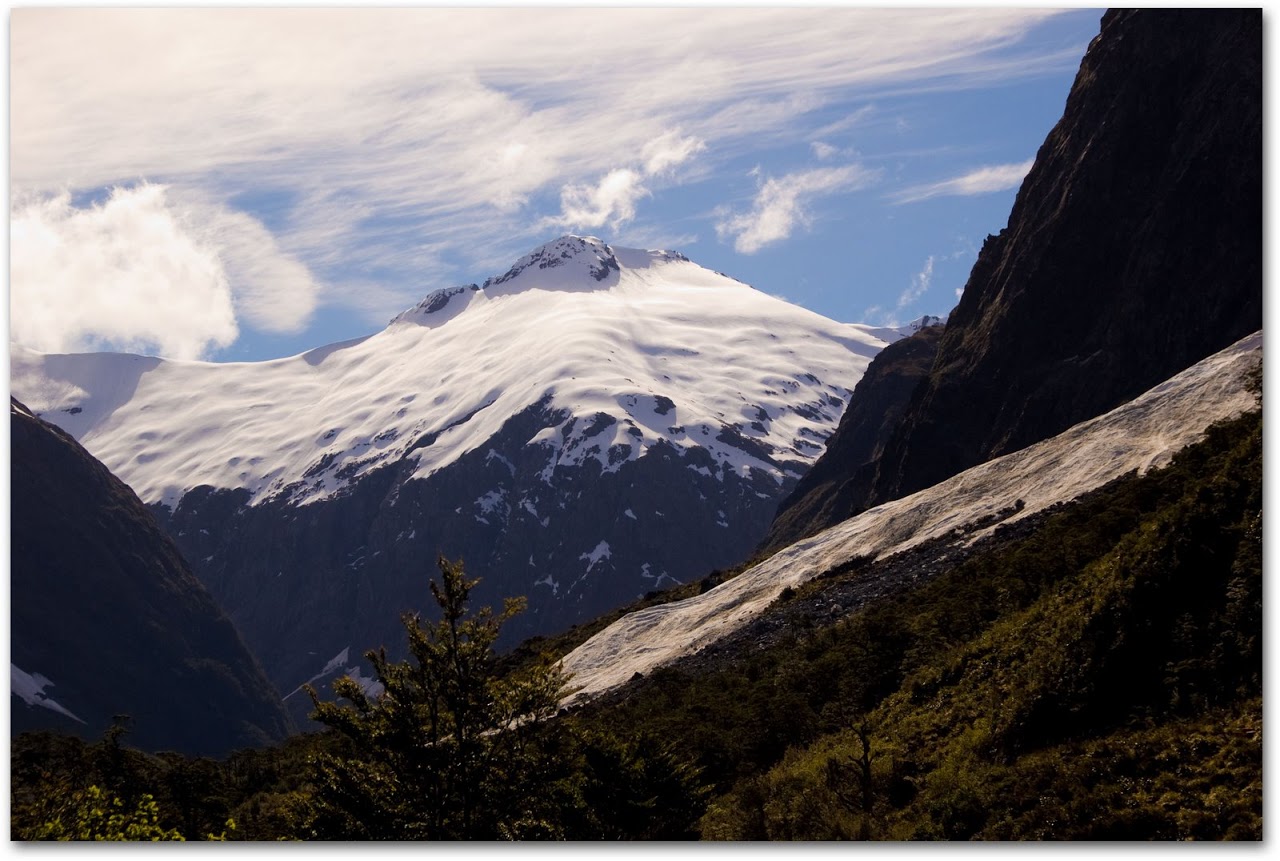 Mitre Peak (I think)
Then, we waited in the water that had been fed by snow-covered mountains and, on a warm day, registered at 60 degrees Fahrenheit.  I felt like we swam in the water for an eternity, the water seeping through our life jackets, through the buoyancy vest, and through our polypropylene thermals.  I didn't want to talk---I didn't want to think---I just wanted to keep myself warm.  Within minutes, Ben had retrieved Patrick's paddle and we were able to turn the kayak over, pump the water out, and paddle toward the other two kayaks.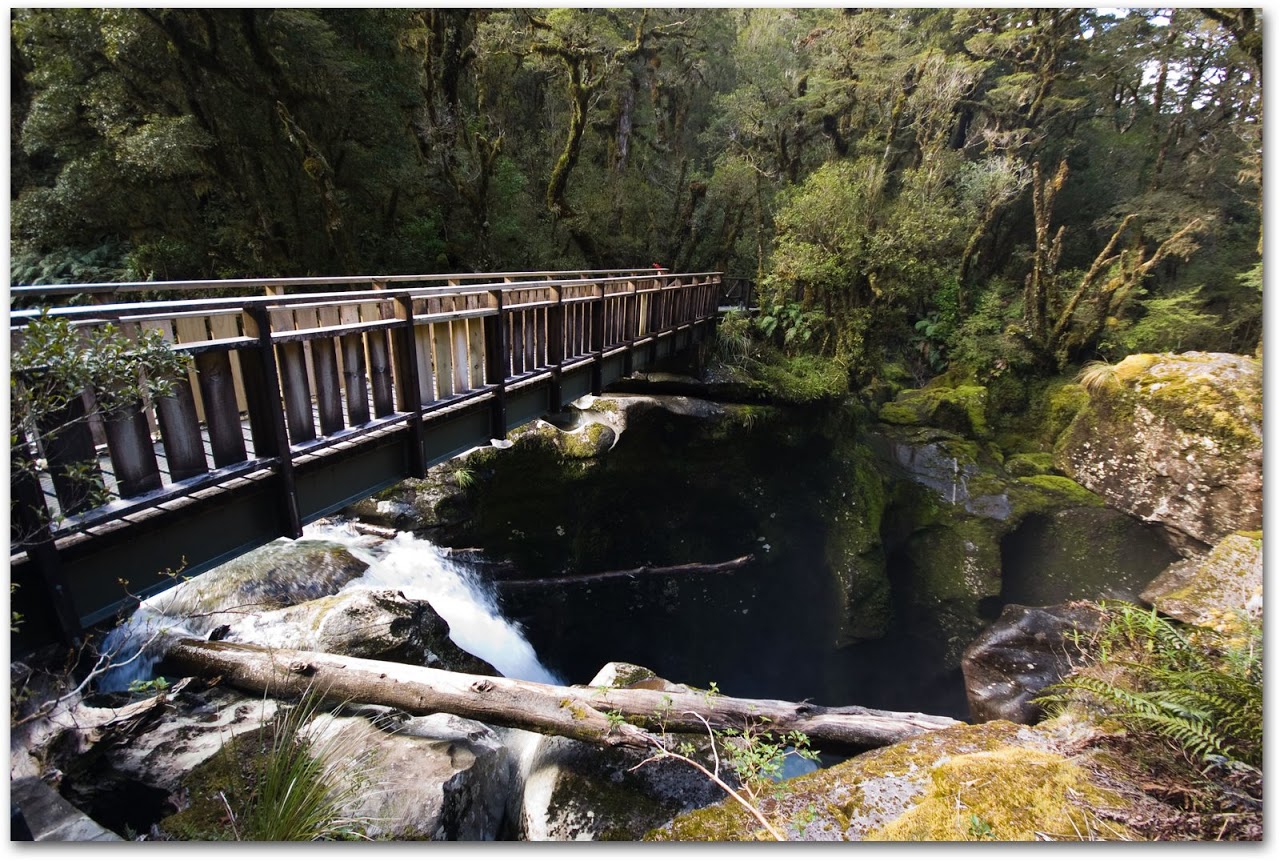 Bridge over the Chasm
Once we had reassured our fellow kayakers that we were okay, they told us they were surprised that Patrick and I weren't arguing over whose fault it was that we fell in the water.  We laughed and told them that if we got angry at each other every time we had a misadventure while traveling, we would never have any fun.  We chalk up our swim in Milford Sound as a once-in-a-lifetime excursion that few people get to (and want to) experience, and a pretty good travel story.
Details
Despite our tumultuous kayak trip, we highly recommend kayaking as the best way to experience the majesty of the Sound.  We went with Fiordland Wilderness Experience , one of two kayaking establishments in Milford Sound, and really liked the group and our guide.  Their gear kept us so warm that we didn't even get a cold from our trip in the Sound.  We stayed overnight before our kayaking excursion at the Milford Sound Lodge , the only lodging option in Milford Sound and one that you should make certain to book in advance.
Back in Te Anau, we were so exhausted by the kayaking trip and previous day's hike, that we went to eat at the Redcliff Inn and stupidly forgot to bring our camera.  I was literally too tired to walk back to the campervan once I realized how gorgeous and amazing the food would be and have thereby disgraced myself as a food blogger.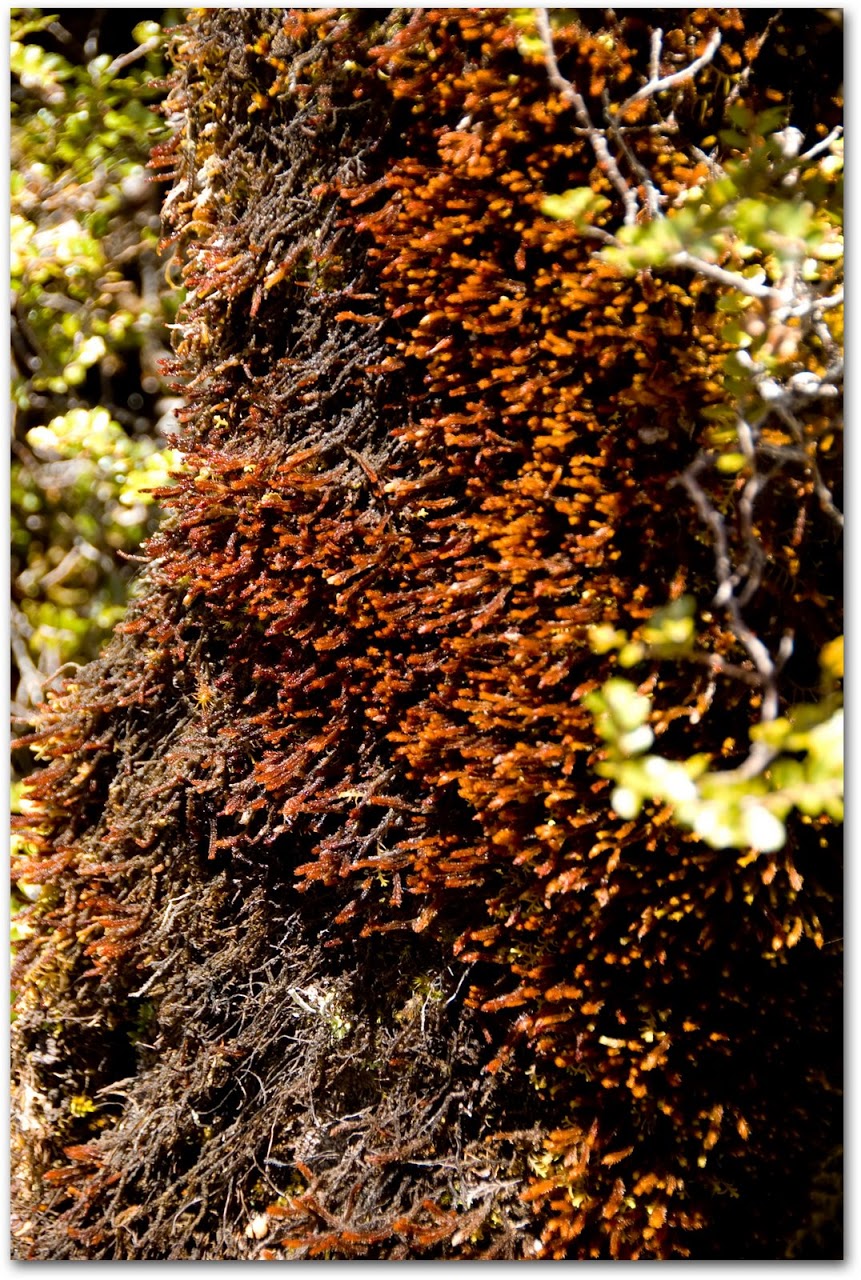 Simply put, the Redcliff Inn was the best restaurant we found in both New Zealand and Australia.  We shared a bread plate brought on a cunning wood plank with a trio of dips, including a beetroot cream cheese, a basil pesto, and a white bean hummus.  Patrick had the venison with roasted portobello mushrooms and baby onions.  The venison was not gamey, but rather rich and tender, best compared to a lean steak.  My vegetarian entree of Israeli couscous stuffed bell peppers looked as gorgeous as it tasted.  We finished with two chocolate truffles and patted our bellies as we went off to the Fiordland Cinema.
Ata Whenua: Shadowland , filmed by Lord of the Rings cinematographers mostly by helicopter, is an exhilarating one-hour long film that captures majestic and inaccessible places in the Fiordlands with a beautiful soundtrack and no ponderous voiceover.  Te Anau is the only place you can see this movie and it is well worth seeing.
---------------------------
RSS readers, are you irritated that we switched over to partial feeds? Well, so are we, because we both strongly believe that the original purpose of RSS is to provide full feeds to readers in easily accessible formats.  Unfortunately, in the last two months, I have spent a substantial amount of time combating spammers and other unscrupulous characters and we just don't have the time when we travel to deal with those unsavories and also bring you fun and crazy posts (just wait for the next one - it's a real doozy).  We are not doing one sentence summaries or even one paragraph summaries but, hopefully, providing you enough content that you will want to hop over and finish reading it on our site.  If you have issues with partial feeds and want to storm our virtual kitchen/suitcase, you can issue your protest at theroadforks [at] gmail [dot] com.