What we did: 27 days spent as follows: 21 days in the South Island, making our way from Christchurch through the Otago Peninsula, to Milford Sound, Queenstown, up through the west coast to Abel Tasman National Park, then over to the Marlborough wine region.  7 days in the North Island, starting in Wellington, up to Rotorua, over to Matamata, then Waitomo, and finally flying out of Auckland.
Would we do it the same way? No.  We needed a lot more time in New Zealand.  If we had it over to do again, we would spend one month in the South Island and one month in the North Island.

Indispensable item/gear: Warm clothing in layers.  We recommend purchasing merino wool sweaters once you reach New Zealand because popular thermal clothing lines like Icebreaker ( my favorite ) are New Zealand based and offer excellent deals in gear shops around the country.


Best food: A toss-up between the creamy sweet potatoes cooked on the campfire and the pricey but delicious dinner at the Redcliff Inn in Te Anau .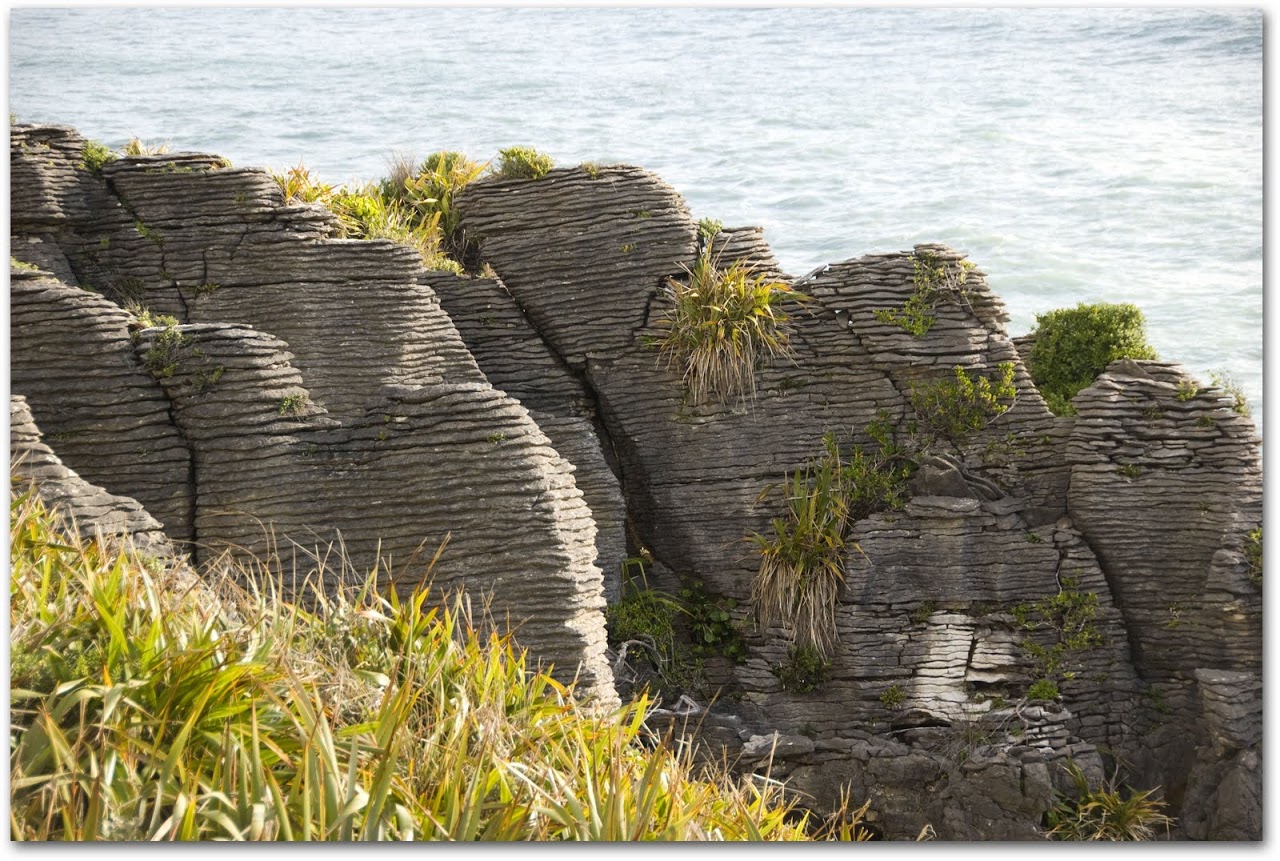 Pancake rocks
Worst food: Several people recommended that we try Lone Star , a chain restaurant found throughout New Zealand, that turned out to be the New Zealand take on American food.  Like Outback uses random Australian words to describe its food, Lone Star has "Cajun Chicken" and "Redneck Ribs" on their menu.  Their "Dixie Chicken," a poached chicken breast in a wine and vegetable cream sauce, must have been named by someone who didn't know much about Southerners' propensity for butter and fried food.


Our favorite part of New Zealand: The ability to exercise our inner adrenaline-junkies and find adventure sports that suited our every mood.


The best deal: The Internet Access Company (IAC).  We purchased a $50 internet access account that lasted a month at over 250 locations (including campervan parks and hostels) across New Zealand.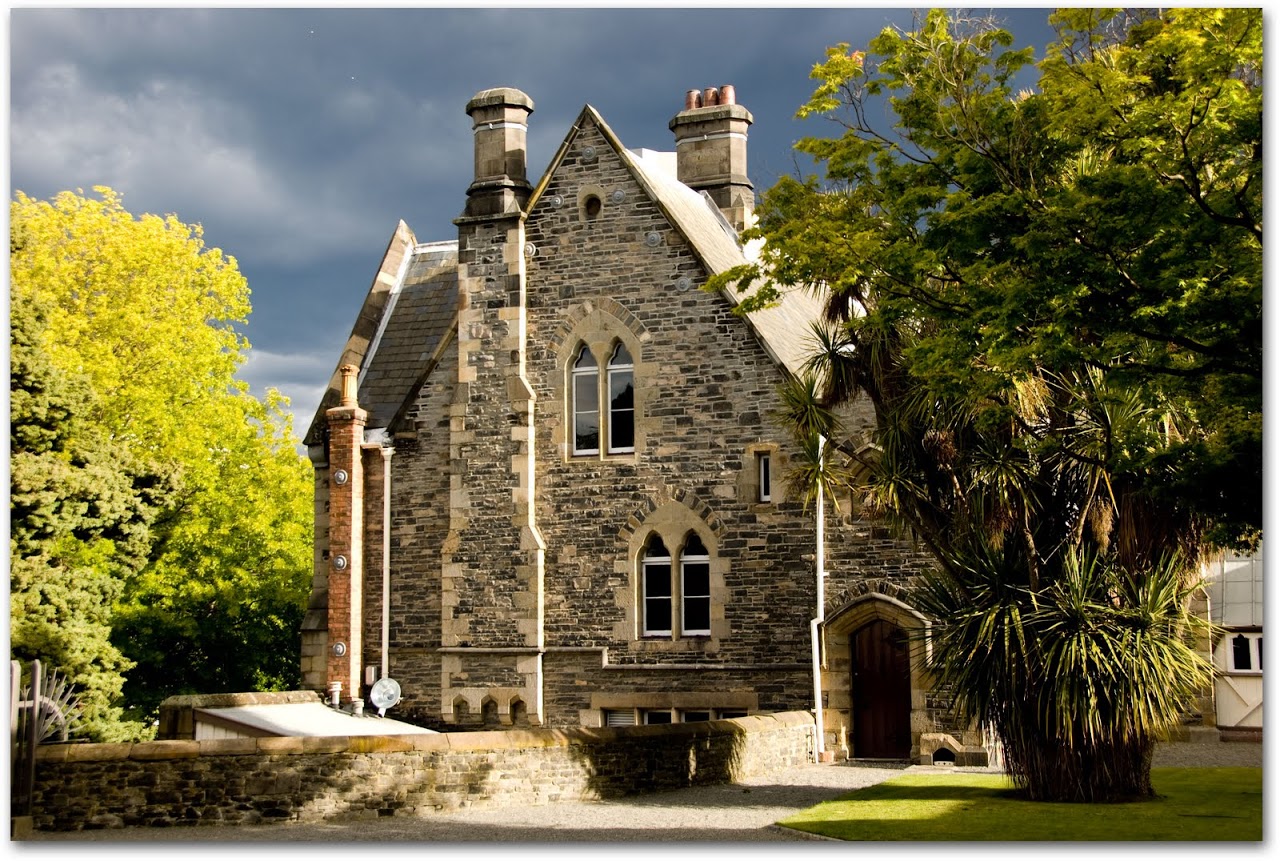 Clouds over Christchurch
Best new experience: For Patrick, glacier hiking ; for me, canyon swinging .


Worst new experience: Getting hassled by security both entering and leaving the country.  We didn't realize that you must show proof of onward departure to enter New Zealand and spent a harried several hours running between the Virgin Blue ticketing counter and the JetStar ticketing counter trying to get the proper documentation.  On the return, the New Zealand security confiscated our two decorative boomerangs claiming that they were potential "weapons".  Patrick in mid-argument with the security guard said, "I would have better luck banging someone over the head with my laptop then using these boomerangs."  The security official responded, "So, you want me to confiscate your laptop?  I can do that." to which I fervently exclaimed "No!" and told Patrick to stand in the corner and stop talking to people.


The must see attraction: Milford Sound , but only if you spend several days there fully experiencing the awesomeness of this place.


Most over hyped attraction: All of the cities.  This is a gross generalization but, for the most part, New Zealand cities were filled with bland, practical strip malls, cardboard placards, ranch-style houses, and boxed office buildings.  Notable exceptions include Wellington's Te Papa Tongarewa Museum and the surrounding central area and Dunedin's center.


The people: We expected New Zealanders to be like the Aussies, open, friendly, and gregarious, but instead found them to be more reserved with British mannerisms.  Kiwis rarely made the first move to get to know us but if we made the effort to communicate and let them know that we weren't just fly-by-night travelers, then they would open up, give friendly suggestions, and talk to us about our views on New Zealand and the world.  At the same time, we noticed, as the Rough Guide to New Zealand pointed out, that some New Zealanders have an "underlying inferiority complex" about their country, perhaps because they have lived under the shadow of their larger neighbor for so long.  In three separate instances, when we mentioned that we had previously spent five weeks in Australia, New Zealanders showed contempt toward Australia and Aussies.  It was a bit strange and somewhat off-putting when we realized that these otherwise-perfectly friendly individuals were not joking but seriously disliked Australia.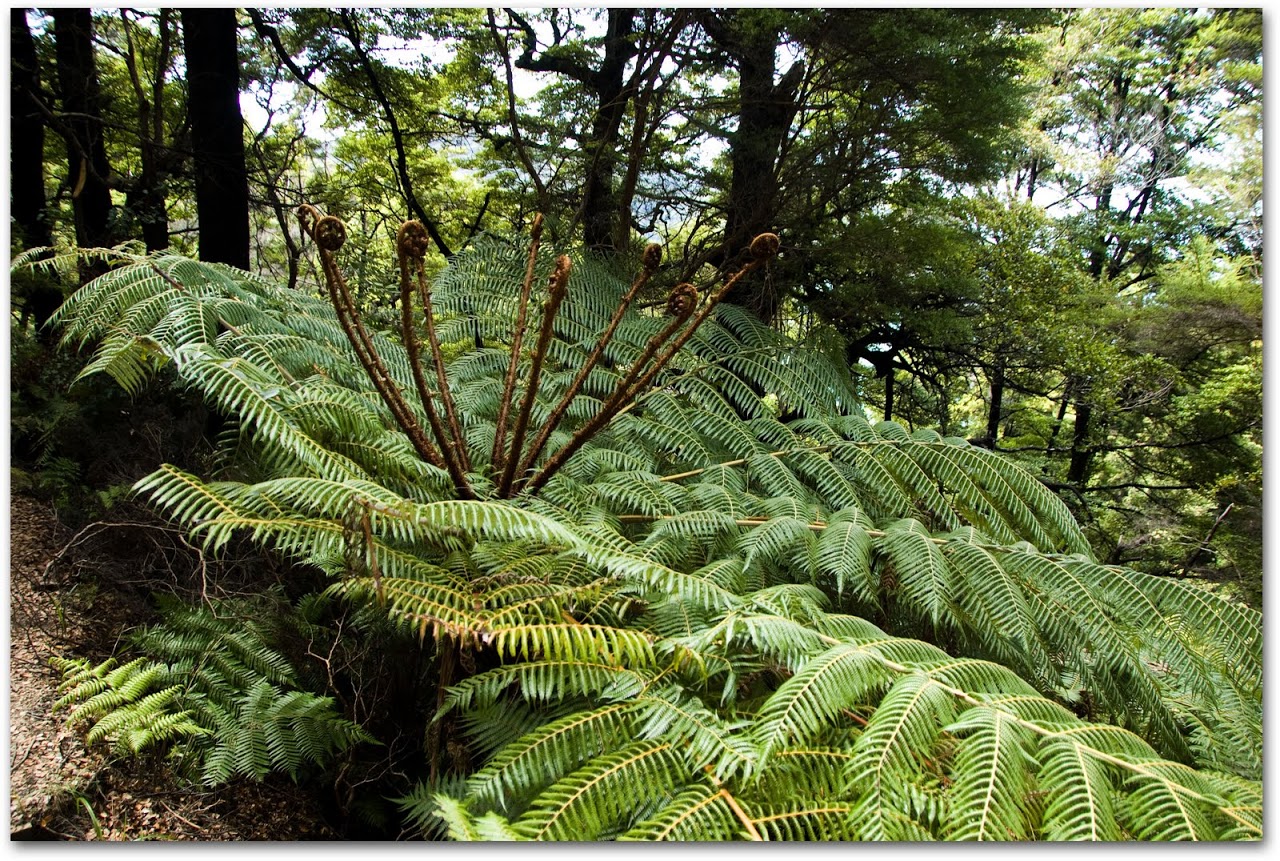 Fern fronds
Best surprise: The incredible trail/hiking system.  Every hike we did was on a well-marked path leading to stunning sites.  Signs at the beginning of each hike accurately describe trail conditions (easy/moderate/strenuous), any equipment required, and the length of the hike.  We recommend stopping by the Department of Conservation (DOC) offices in major towns to get a copy of their mostly free guides that describe trails in the surrounding areas.


Biggest disappointment: The lack of restroom facilities in the South Island. Without getting too graphic, we found public restrooms to be few and far between on the drive from Te Anau to Blenheim and I, in particular, was not too thrilled about that fact.  I know that this does not seem like a big deal but, for a country that attracts so many travelers and has such an excellent tourist infrastructure, this made our travels much less comfortable.


Language lesson: Kiwi = a New Zealand resident, a tropical fruit grown in New Zealand in green and gold varieties (known in New Zealand as kiwifruit ), a large flightless bird who abandons its young at birth leading to its current endangered status; tramping = hiking, the New Zealand national past time; kia ora = a Maori term that means be well or hello; pounamu = greenstone, jade


The big test, would we come back: Absolutely, 100% yes.  Next time, we want to hike one of the Great Walks, spend more time in North Island, go south to Caitlin's Coast, and go back to the West Coast.


And, now we're off to: India for one week to visit my family in Chennai (perhaps the most boring city we will experience on our travels but I know I will get some excellent South Indian recipes from my grandmother) and then a month in Thailand.