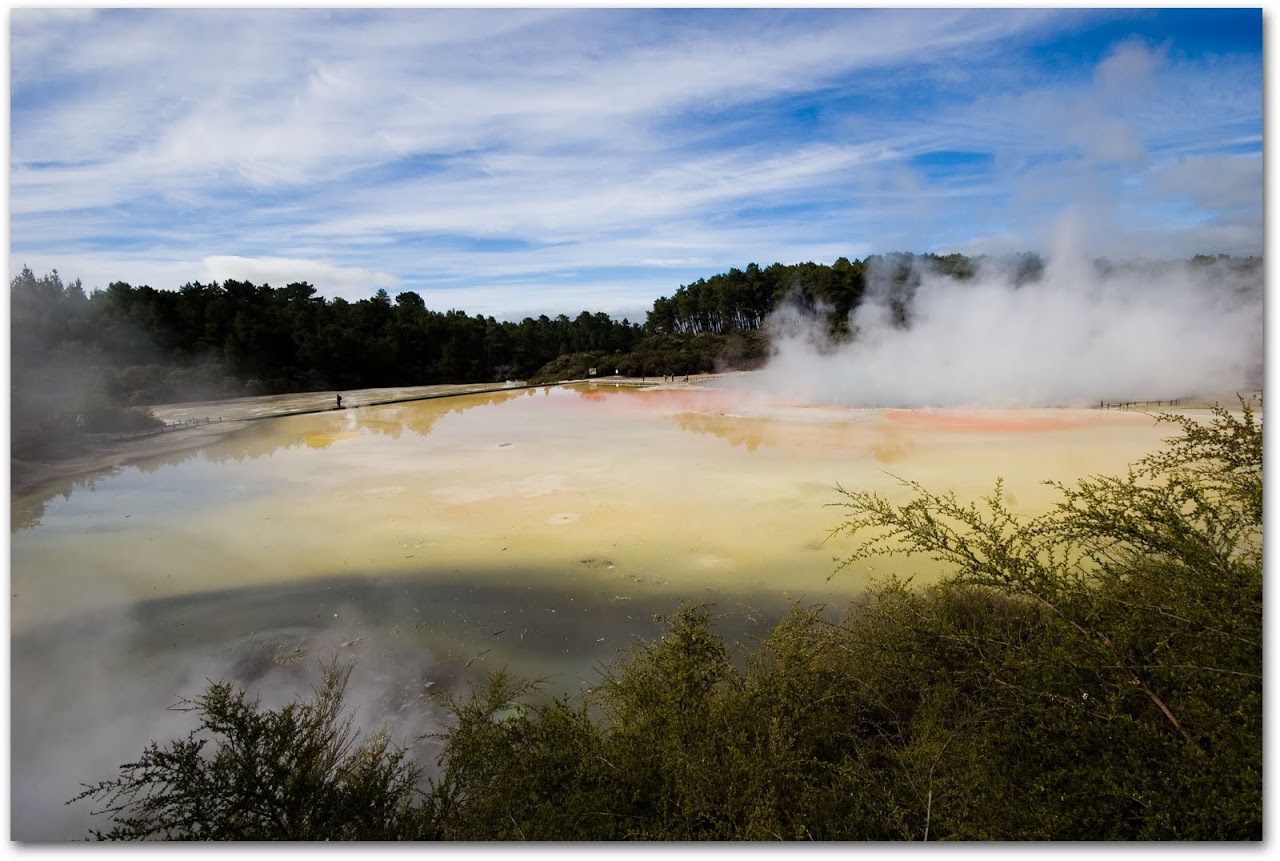 Artist's Palette at Wai-o-Tapu
When we told people we were going to Rotorua, they reponded, "Oh, you are going to the smelly place."  Forty miles outside of the city, we started rolling up the windows on the campervan, shutting off the ventilation system, and covering our noses with our hands, as the smell of rotten eggs invaded our noses.  While in Rotorua, one of Patrick's shirts fell into sulphurous water and, after three washings, we realized that Tide could not handle such awfulness and threw the shirt away.
Opal Pool and Oyster Pool at Wai-o-Tapu; Hell's Gate
Despite the assault to the olfactory senses, tourists have flocked to Rotorua for over a century.  At first, physicians and tour agents touted the city's geothermal springs and mud pools as a cure-all for the real and imaginary diseases of wealthy European invalids.  Then, in the 1940s, the city changed its focus and, now, is unaffectionately called Rotorvegas because it serves as the launching pad to nature walks, spas, Maori cultural events, geothermal parks, and every other activity imaginable.
Mud bath sign and tubs at Rotorua Museum; boiling mud pool; us in mud bath
The first item on our agenda was experiencing a mud bath.  I know it sounds gross to go and sit in a bathtub filled with mud, especially with the smell of sulphur surrounding us, but it was wonderful.  The mud felt like velvet, smooth and silky, and not gritty or heavy.  After warming up in the mud bath, we rinsed ourselves off in freezing cold water and then enjoyed a long soak in a pool filled with hot mineral water.  At the end of our spa day, my skin was softer than a puppy's belly (if you don't have dogs, feel free to insert "velvet" or "baby's bottom" instead of "puppy's belly," but if you have a dog, then you can imagine how soft my skin was from the mud bath.)
Mud bath and mineral bath; Hell's Gate management has a sense of humor (pools exceed 300 degrees Fahrenheit); boiling mud pool
Because all the geothermal parks in Rotorua are privately owned, they are pricey, and we had to choose which ones to visit.  There are four major geothermal parks: Whakarewarewa Thermal Reserve; Hell's Gate; Waimangu Volcanic Valley; and Wai-o-Tapu.  We visited Hell's Gate because admission to the park is included in the price of a mud bath.  If you don't fancy getting dirty in Rotorua, Hell's Gate is not worth the cost because the park is not as impressive as the other three sites.
W ai-o-Tapu Champagne Pool; Geyser
Wai-o-Tapu , on the other hand, is gorgeous.  We arrived at 8:30 a.m. before the crowds reached the park (a tactic we highly recommend) and were greeted by the bubbling pools of black and white in the Devil's Ink Pot.  Craters hiss and gurgle beside the rainbow of colors spreading across the Artist's Palette.  Steam rises from my favorite, the Champagne Pool, an effervescent bottle-green bowl fringed with a burnt-orange ledge.  Lady Knox Geyser ignominiously spouts up to 50 feet of water every morning at 10:00 a.m. when an attendant pours soap flakes into its mounded cavity.
Chicken, sweet potatoes, and meat cooked in hangi steam cooker at Mitai

The third "must do" activity in Rotorua was eating food cooked in a hangi , or Maori earth oven.  I would have never considered cooking food in geothermal steam --- I mean, the noxious smell is enough to suppress my appetite --- but the Maoris wrapped meats and vegetables in leaves, placed them in the ground, and, ta da, had a meal.  At Mitai , a Maori cultural performance where we watched dances and songs lost to their culture years ago but now reproduced nightly for an eager tourist audience, we ate kumura (sweet potato), potatoes, chicken, and lamb cooked in the hangi for five or more hours, though the Maoris now wrap the food in aluminum foil rather than leaves.  Surprisingly, that offensive sulphurous odor enhances the flavor of the food; the sweet potatoes, in particular, tasted mellow, a touch salty, with an almost-lemony aftertaste.
Vegetables in curry sauce; lifting hangi steamer; hangi steam cooker; sweet potatoes and beets in Thai sauce
If you ask us, though, we would suggest skipping Mitai and instead use the hangi steamer at Cosy Cottage International Holiday Park .  This humble little holiday park is full of geothermal coolness: it is across the street from the beautiful (and free) Kirau Park  with over fifty mud and thermal pools; it sits about two minutes from the lake shore where you can dig your own hot pool in the sand; and the tent sites are  thermal heated. What sold us was the hangi steam cooker that any guests may use.  We chopped and tossed half a cauliflower, three potatoes, two carrots, a large onion, and a handful of dehydrated peas into a pot with a store-bought Indian curry sauce.  We peeled and cubed beets and sweet potatoes, mixed them with a refrigerated Thai herb sauce and some dollops of butter and wrapped it in foil.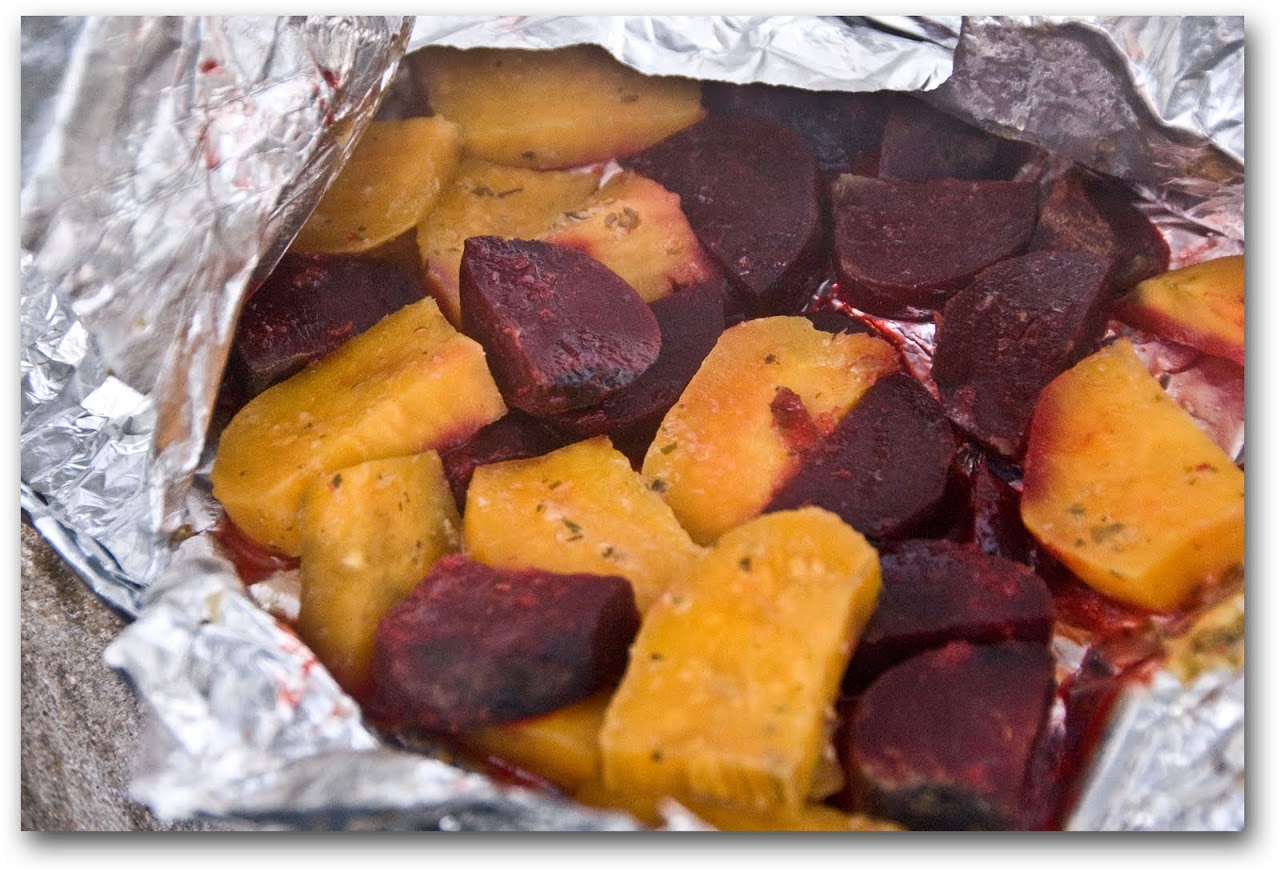 Sweet potatoes and beets cooked by hangi
Then, we soaked in the mineral hot tubs, showered, played on the computer, and three hours later, dinner was served.  The verdict: we forgive the town's stinkiness because it results in food like this.  Yum.