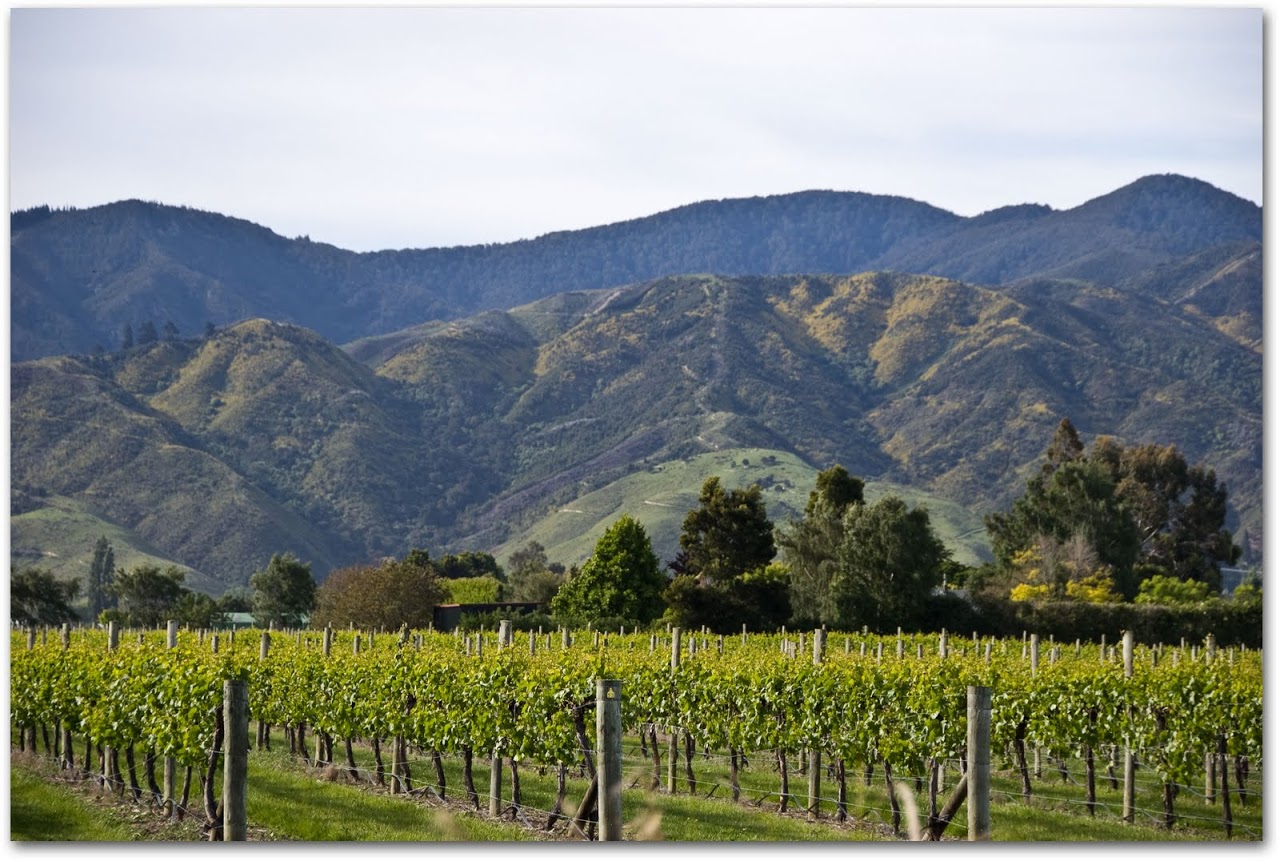 Marlborough wine region
We feel like wusses but, the truth is that we are tired.  New Zealand works our muscles hard.  We kayak , hike, canyon swing , hike some more, hike up a glacier , and then sleep on a hard mattress in our campervan .  End result: gorgeous places, fun times, very sore bodies.  You can imagine that we have been looking forward to the Marlborough wine region where we planned to spend a day soaking in the scenery, guzzling down world-class wines, and eating indulgent foods.
Marlborough vines and scenery; bikes with wine carriers
Well, that day came and went and we wanted more.  We wanted a week of this sort of decadence where we wake up in the morning, cook breakfast, taste sensational wines all day, stop for lunch under hanging vines, and end with a glass of chocolate in the evening.  So, we stayed for another day.  And, we would have stayed another day except that we had pre-booked our Interislander Ferry to take us from the South Island to the North Island for the next day.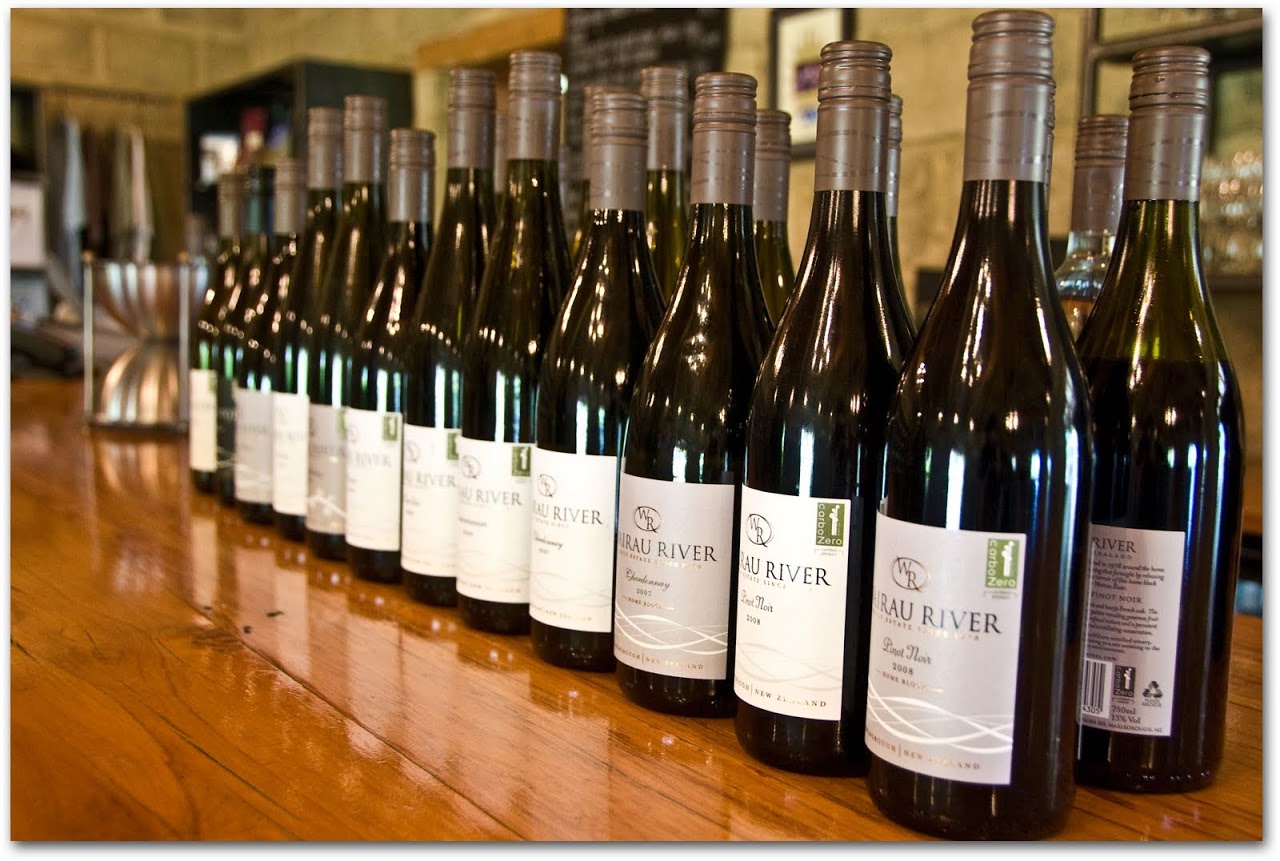 Wairau River Pinot Noir
It wasn't just the ambience and the food that made us want to linger here.  The wines, themselves, were uniformly superb.  Marlborough white wine took our breath away and we found nothing in the Barossa Valley or Tuscany to match the whites we drank in New Zealand.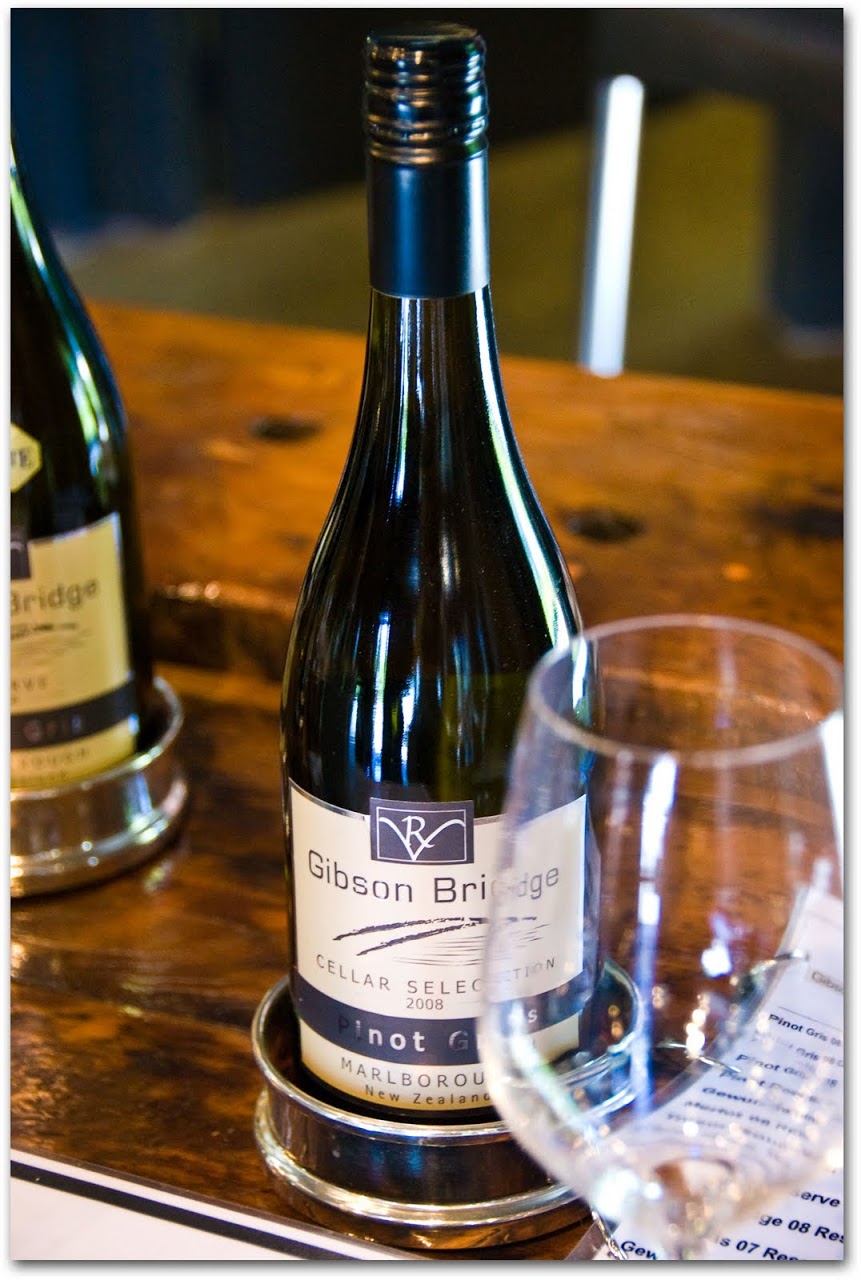 Gibson Bridge Pinot Gris Cellar Section 2008
Take Gibson Bridge , for example.  This tiny boutique winery, started in 2007 by husband and wife team Howard and Julie Simmonds, only has six acres of vineyards or 5,500 vines in total.  The couple concentrates on producing quality Pinot Gris and pour their soul into their wines, in accordance with their motto, "excellence through passion."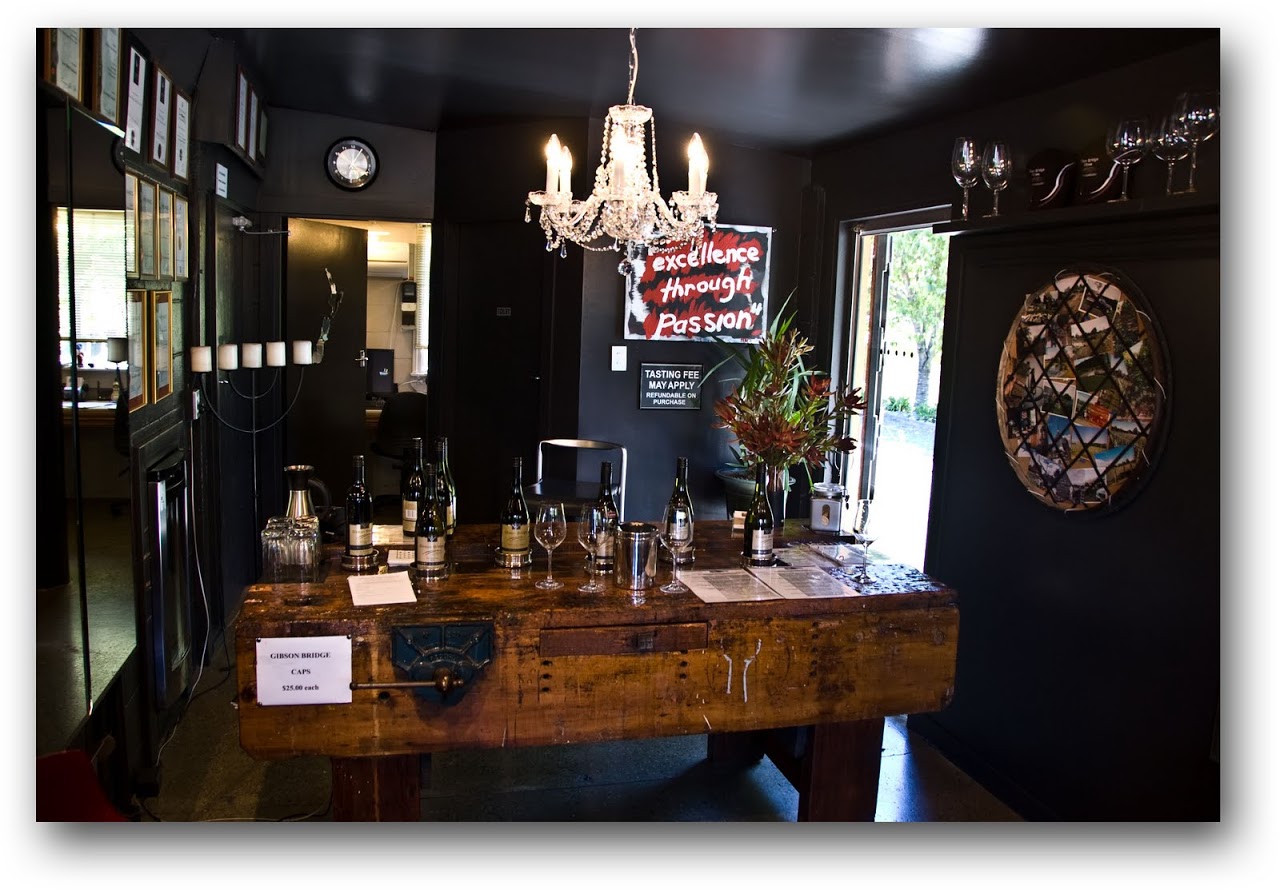 Gibson Bridge cellar door
Julie, a smiling, busy woman, managed the cellar door when we tasted their three Reserve and Cellar Pinot Gris from 2007 and 2008 and their Gewurtzraminer 2008 Reserve.  The Pinot Gris Cellar Selection 2008, mixed with 85% of the 2008 Reserve and 15% of their 2007 Reserve, sang on our tongues with a fruity, soft, sweet palate and a hint of minerals.  We understand why Gibson Bridge has received 20 prestigious awards in their first two years of production.
Villa Maria wine making
Passionate about wine: that also describes Rachel Jackson who guided us through the fantastic wines at Fromm .  Fromm is a pesticide-free, organic boutique winery owned for twenty years by two Swiss families.  Rachel pointed out the uneven tall grass growing between the wines at their vineyard because they do not mow around the vines or use pesticides to keep the bugs at bay.
Fromm wines
But, boy, if organic grapes leads to the quality of wine we tasted at Fromm, every vineyard should consider switching over to organic production.  The Fromm Riesling Spatlese, made from late harvested grapes, blended flavors of cantaloupe, strawberries, flowers, and tangerines.  The La Strada  2009 Rose was full of fruit yet dry at the same time, and the La Strada 2008 Syrah surprised us with its bite of white pepper and salt.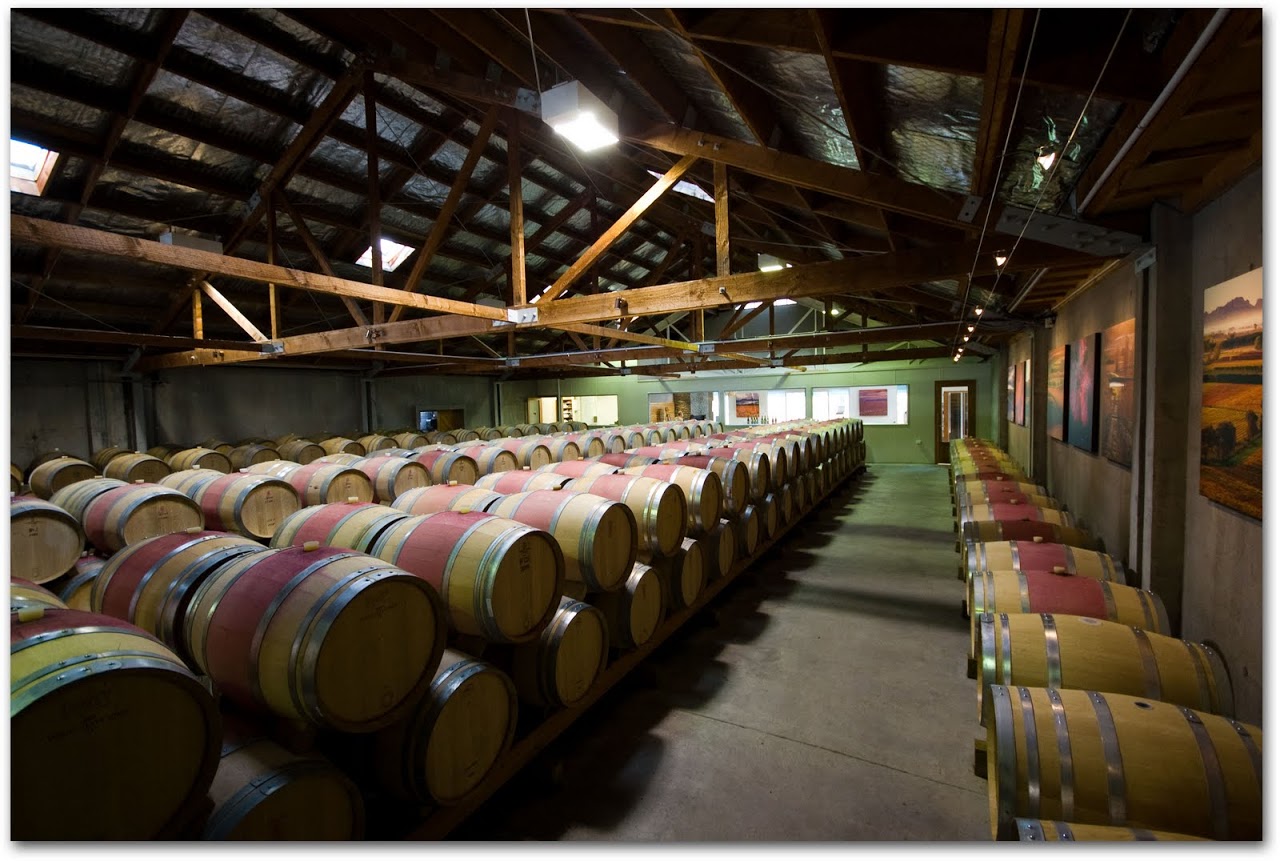 Cloudy Bay wine cellar
Do not think that the good wines are reserved to the boutique wineries.  The first and most famous Marlborough vineyard, Cloudy Bay , produces one of the best wines we drank in the Marlborough region.  The 2006 Te Koko is an "alternative" Sauvignon Blanc, made with Sauvignon Blanc grapes, with a suggestion of jasmine and herbs.  Its smoky nose belied the depths of flavor and creaminess in the wine and we made certain to purchase a bottle for the road.
Steak burger and blue cheese souffle at Wairau River
Slow-roasted tomato tart and roasted chicken at Allan Scott
All this drinking sure made us hungry.  The blue cheese souffle at Wairau River was soft, creamy, with the tang of blue cheese and matched the crisp pear and blue cheese salad on the side.  The steak burger consisted of a strip of meat  cooked with a pink interior and laid on top of grilled ciabatta bread with balsamic caramelized onions.  We lingered over lunch that day, not wanting to leave the sunny blue sky, the vines hanging over us, and the glasses of Sauvignon Blanc sitting next to our entrees.  We were not as impressed with the acidic slow-roasted tomato tart and semi-bland roasted chicken at Allan Scott on the next day.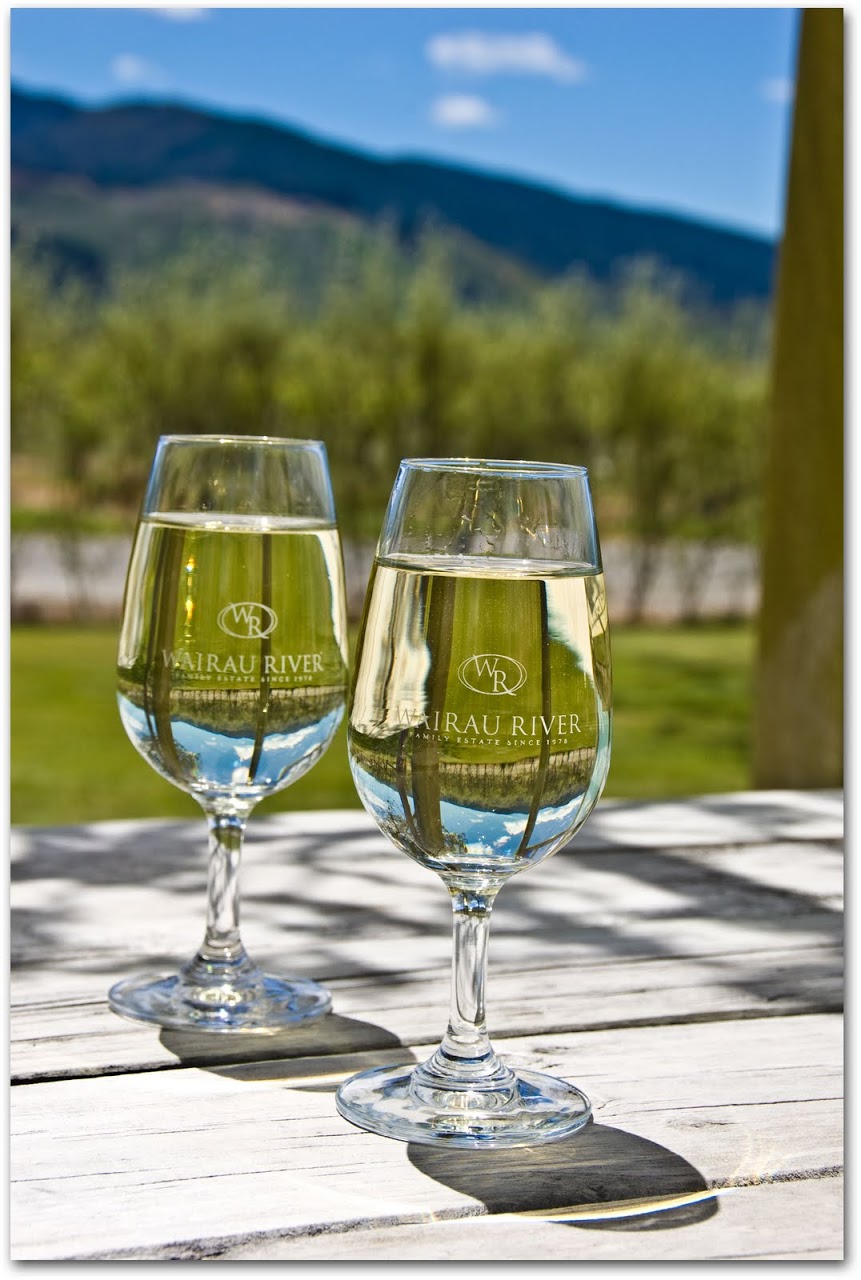 Wairau River vineyard dining
If you are one of those people that I don't understand, the wine hater, then consider heading over to MOA, one of the premier New Zealand microbreweries.  The majority of New Zealand's hop manufacturing is in Nelson so this area is chock full of breweries and microbreweries.  At their cellar door, MOA sells Barrel Reserve Imperial Stout, St. Joseph's Belgian Tripel, and Five Hop winter ale.  Each Barrel Reserve beer is aged for one year in a wine barrel from the Marlborough area.  The St. Joseph's Belgian tripel was rich and nutty, with spicy vanilla overtones, and an undercurrent of Sauvignon Blanc.  Patrick pronounced it one of the best beers he has ever had.
| | |
| --- | --- |
| | |
MOA beers
Details
Blenheim is the largest city in the Marlborough wine region and we stayed at the very mediocre Top 10 Blenheim Holiday Park.  If I had to do it over again, I would find a different holiday park or stay in one of the cute bed and breakfasts that abound in this area.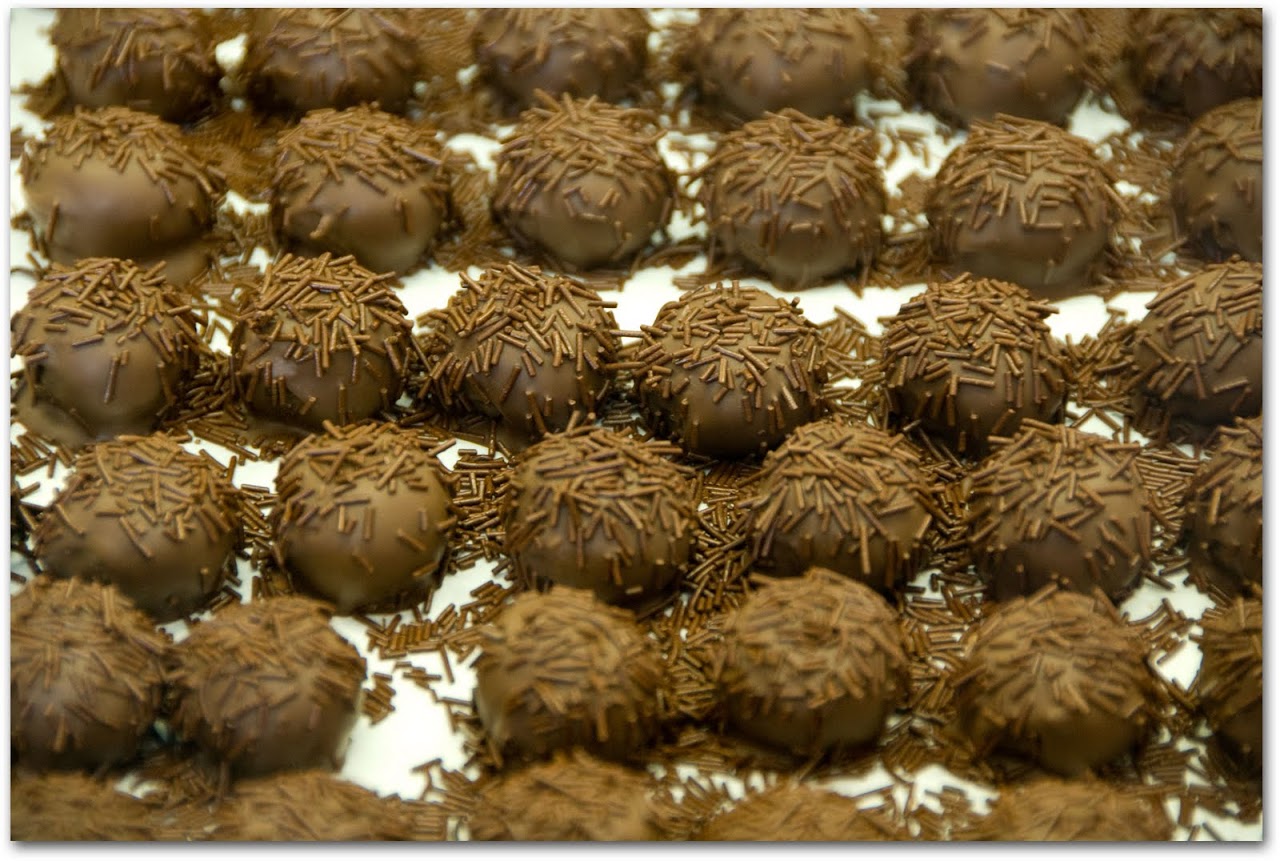 Makana chocolates
If you have any space in your belly at the end of the day, stop by Makana Confections in Blenheim where you can indulge in handmade  chocolate morsels and jellies.  Or, if you would prefer to work off your calories as you consume them, you can rent bicycles fitted out with wine holders in a number of spots around town.  Bike riding is quite easy because the roads are level and most wineries are near each other.  I had scraped up my knee so we didn't go biking but it looked like a fun way to check out the wine region.