See: Cortona Etruscan Museum & Avignonesi and Poliziano wineries
In the morning, we drove to Cortona, the town made famous by Frances Mayes' Under the Tuscan Sun .  The town stood perched on steep hills with a carpet of vineyards below it.  We found respite from the dark gray fog floating over the town and the rain splashing on the cobblestones in the Cortona Etruscan museum (Cortona MAEC) .
The bottom floor of the Etruscan museum contained one of the---for lack of a better word---coolest exhibits we have ever seen.  The museum recreated the archeological process using life-size visual displays behind glass windows.  We learned about how to find an archaeological site, then the careful digging process, and the preservation of the small household and clothing objects discovered at the sites.  The upstairs rooms were a hodge-podge of Roman, Egyptian, and many Etruscan artifacts recovered from farmhouses and barns in Cortona.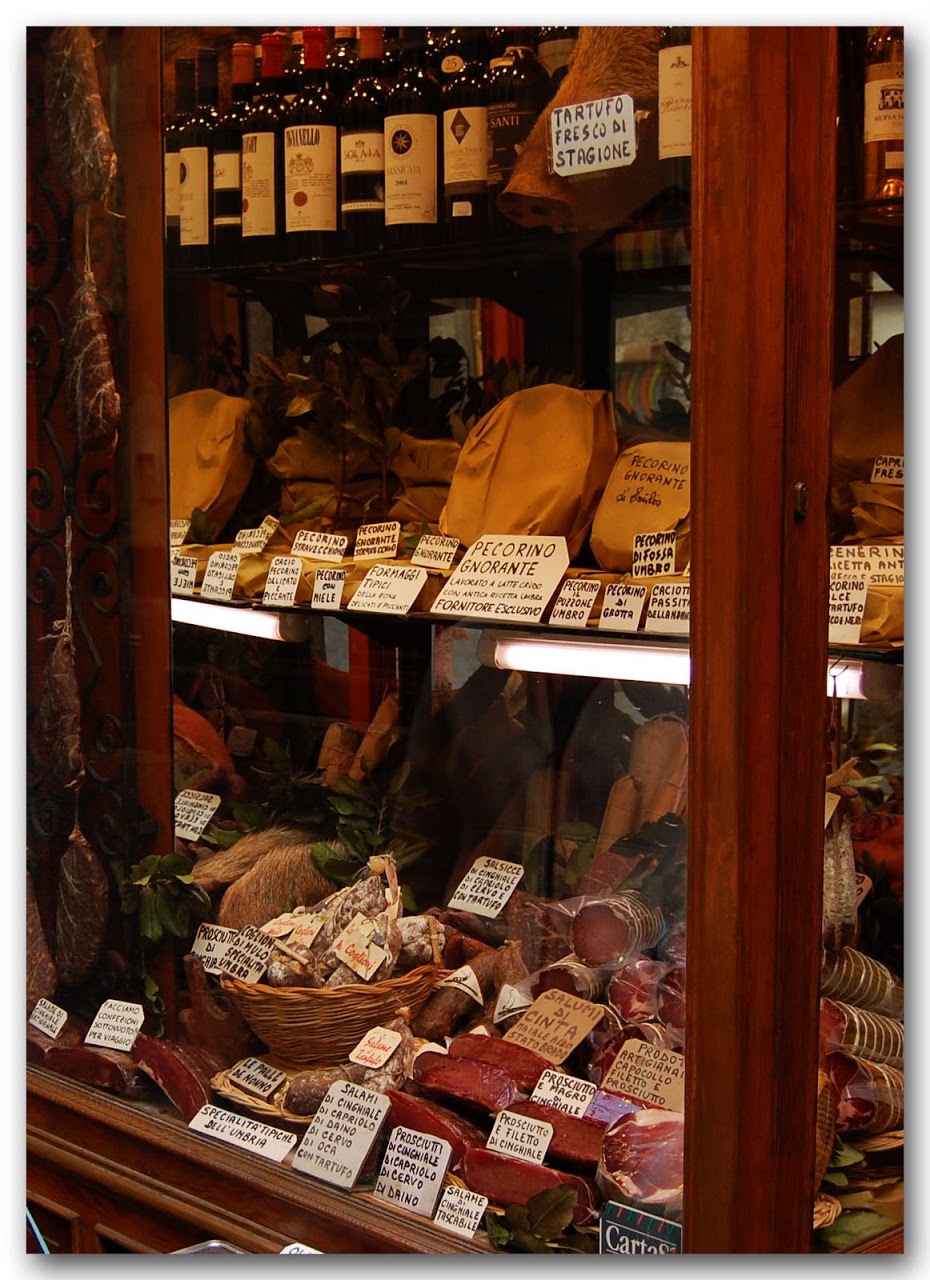 And, then, we finally got to the vino. The wine tour at the Avignonesi winery was simply a steal.  For 15 Euros, we were given a two hour tour of beautiful grounds and the stunning rooms in the winery.   We focused on the rooms the winery used to make their famous vin santo.  Vin santo is a very sweet, almost syrupy Italian dessert wine, often served with cantucci --- an almond or hazelnut biscotti.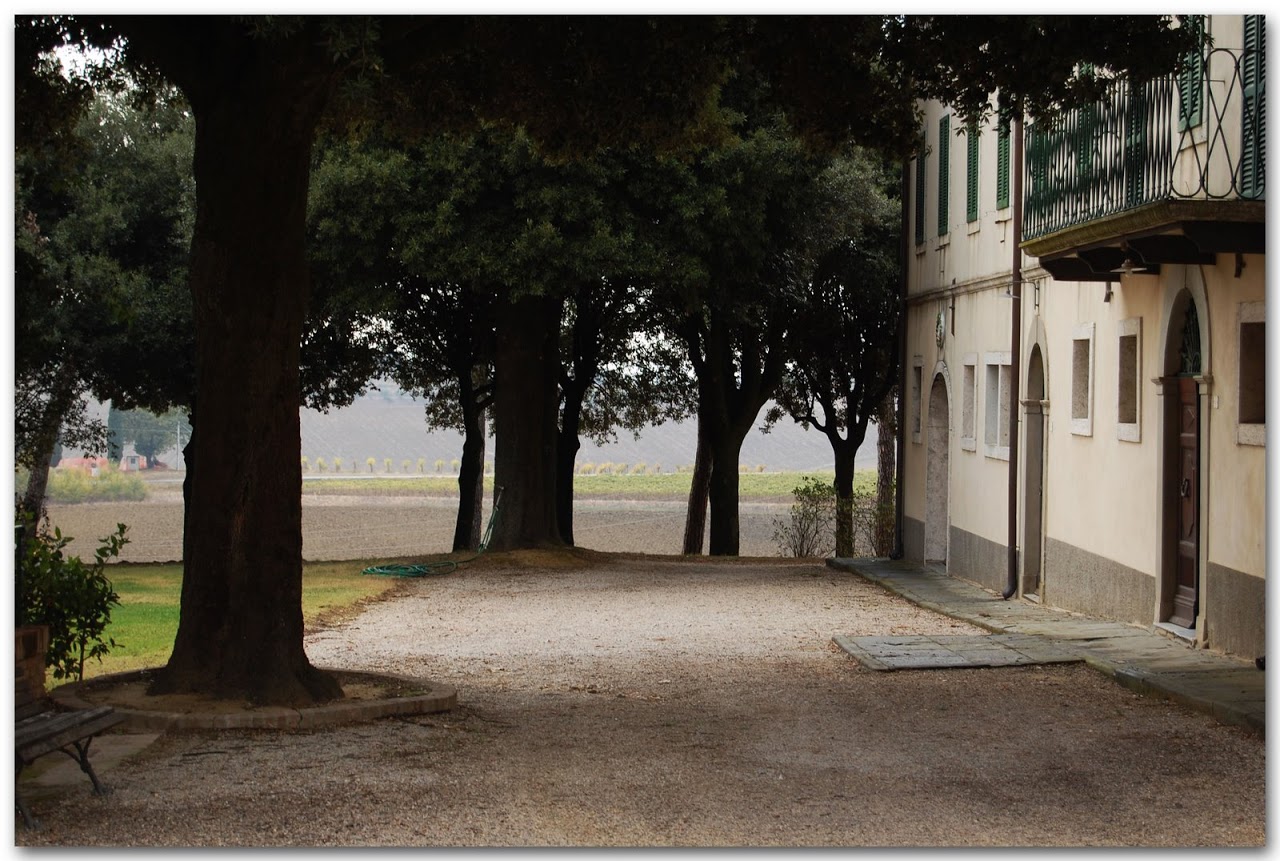 We walked through a room filled with aisle after aisle of green and purple grapes hung on their vines and laid across shelves.  Because we arrived in November, the grapes had been just harvested and looked so plump and round that I immediately wanted to pop one in my mouth.  The room had the residual smell of sugar and sweetness, like a kitchen that had been used to bake sugar cookies the day before.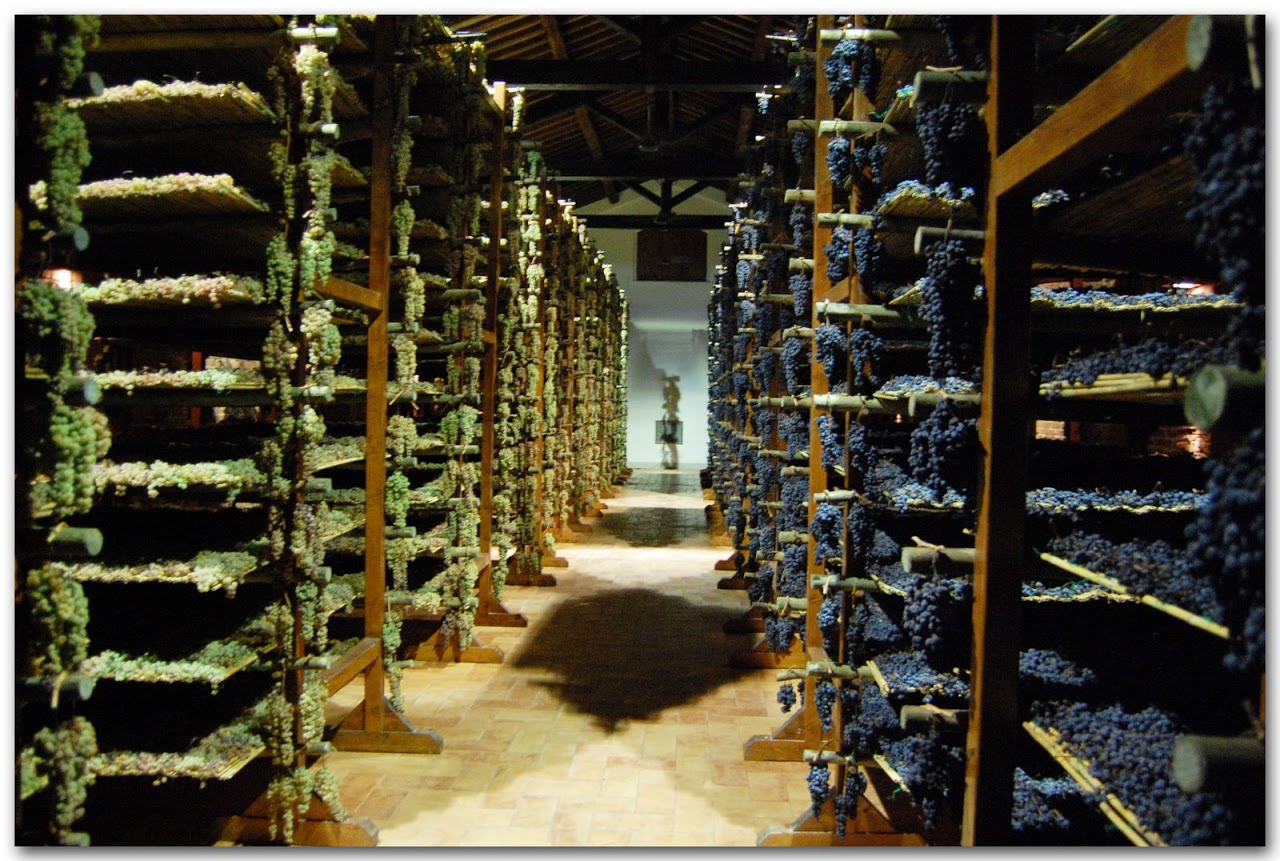 The grapes are dried for many months until they become raisins.  The raisins are pressed and the resulting must is placed into a cask with a bit of the madre, the dark jelly of concentrated wild yeasts developed in their 50 years of making vin santo.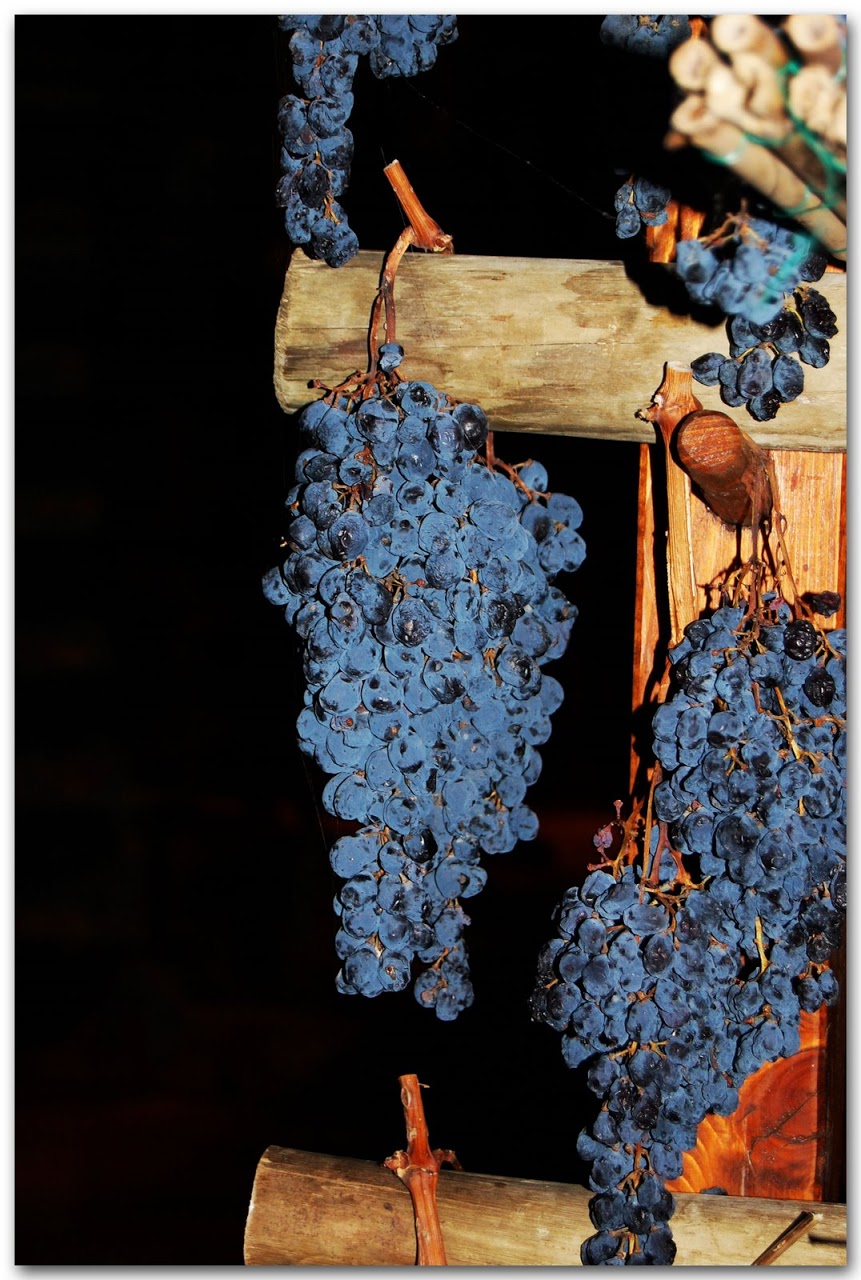 Then the casks sit, sealed and unopened for years.  Six years later, a 40-liter barrel is opened to produce only 10 liters of vin santo.  Avignonesi only sells its vin santo at Easter for several weeks.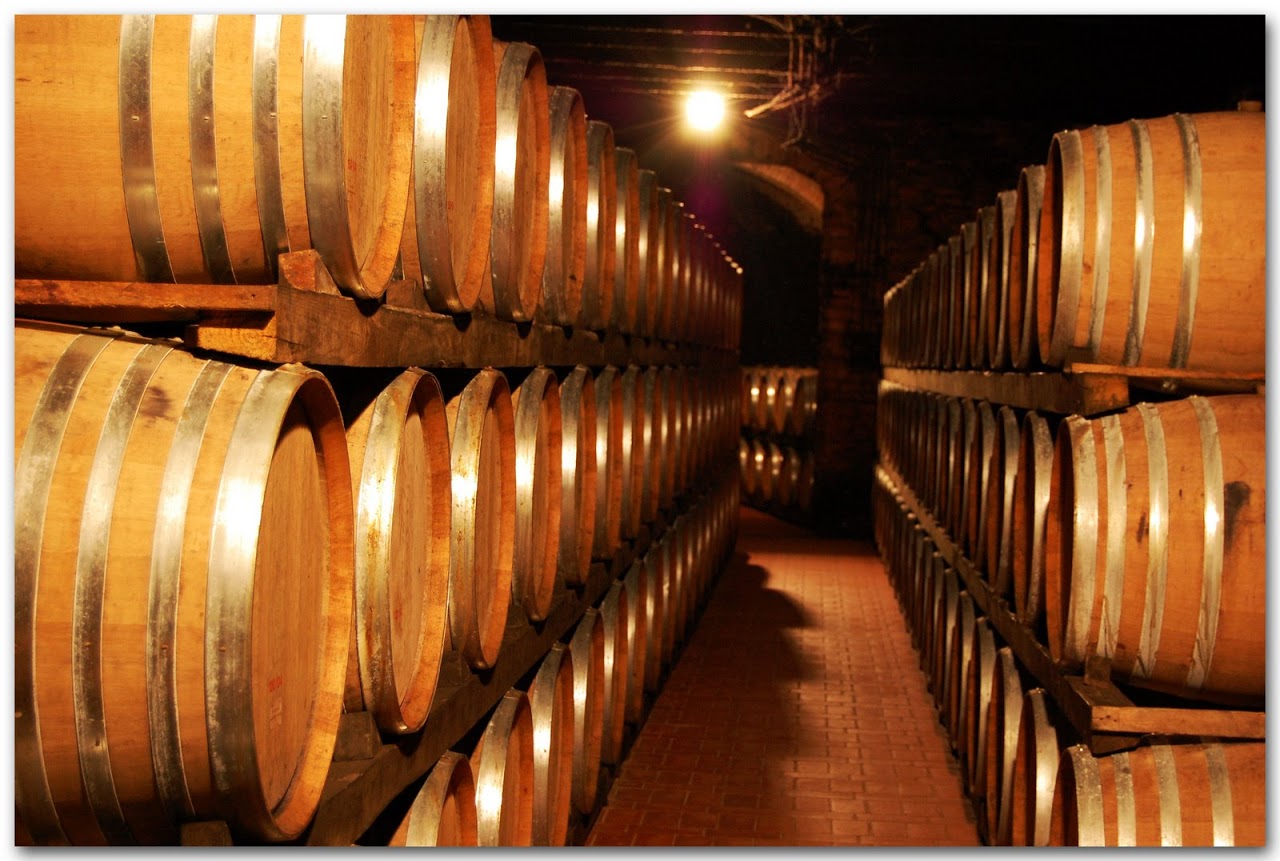 We were six months too early to try their vin santo.  But, we enjoyed several Nobiles and Montepulciano d'Abruzzo and brought home a wonderful 1997 Grappa de Vin Santo, made from the reduced musts in the vin santo barrels.  Afterward, we drove to the Poliziano winery and kept drinking the fine wines so carefully extracted from the ubiquitous Tuscan grapes.
Eat: Caffe la Saletta, La Grotta
We had lunch at Caffe la Saletta , a small enoteca, in Cortona.  Patrick had a prosciutto pizza and I had a crepe with mozzarella, tomatoes, and olives.  We shared a crostini with pecorino and balsamico.  The food was fine --- nothing to write home about but reasonably priced and in a convenient area in Cortona.
We splurged for dinner at Ristorante La Grotta in Montepulciano.  This gorgeous restaurant sits immediately before the Sanctuary of San Biagio, one of the most recognizable sights in the Val d'Orcia.  We walked through a beautiful garden but the rain kept us from sitting outside that night.  Our amuse bouche was warm ricotta topped with sauteed spinach and tomatoes.  Patrick's fried porcini mushroom starter, sauteed to a golden brown in butter and garlic,  simply highlighted the earthiness of the mushroom.  My pecorino cheese soufle was creamy and soft and complemented by spinach and fresh tomatoes.  Patrick's primi, a fettucini with rabbit sauce, was made with homemade fettucini pasta and a delicious rabbit sauce.  We were disappointed by my vegetable lasagnette, vegetables and tomato sauce layered between thin slices of potato "pasta," was slightly bland.  Patrick's secondi, a steak, was perfectly cooked (and coming from Patrick, that is high praise indeed).  The grape must sauce that coated my pecorino cheese ravioli was so good that I wanted to lick the plate.  We finished with chocolate napoleons, light but, at the same time, dense chocolate cakes with homemade pistachio gelato.  A fantastic meal in a beautiful location.  If you are willing to spend the money, you won't regret it.