If your notion of Hawaii is a place where waterfalls jump into vibrant green forests, beaches are black onyx meeting sapphire oceans, and surfers and wind-surfers climb the sky-high waves, then Hana is your place.  This was the Hawaii of our dreams: a place where the real world exceeded our expectations.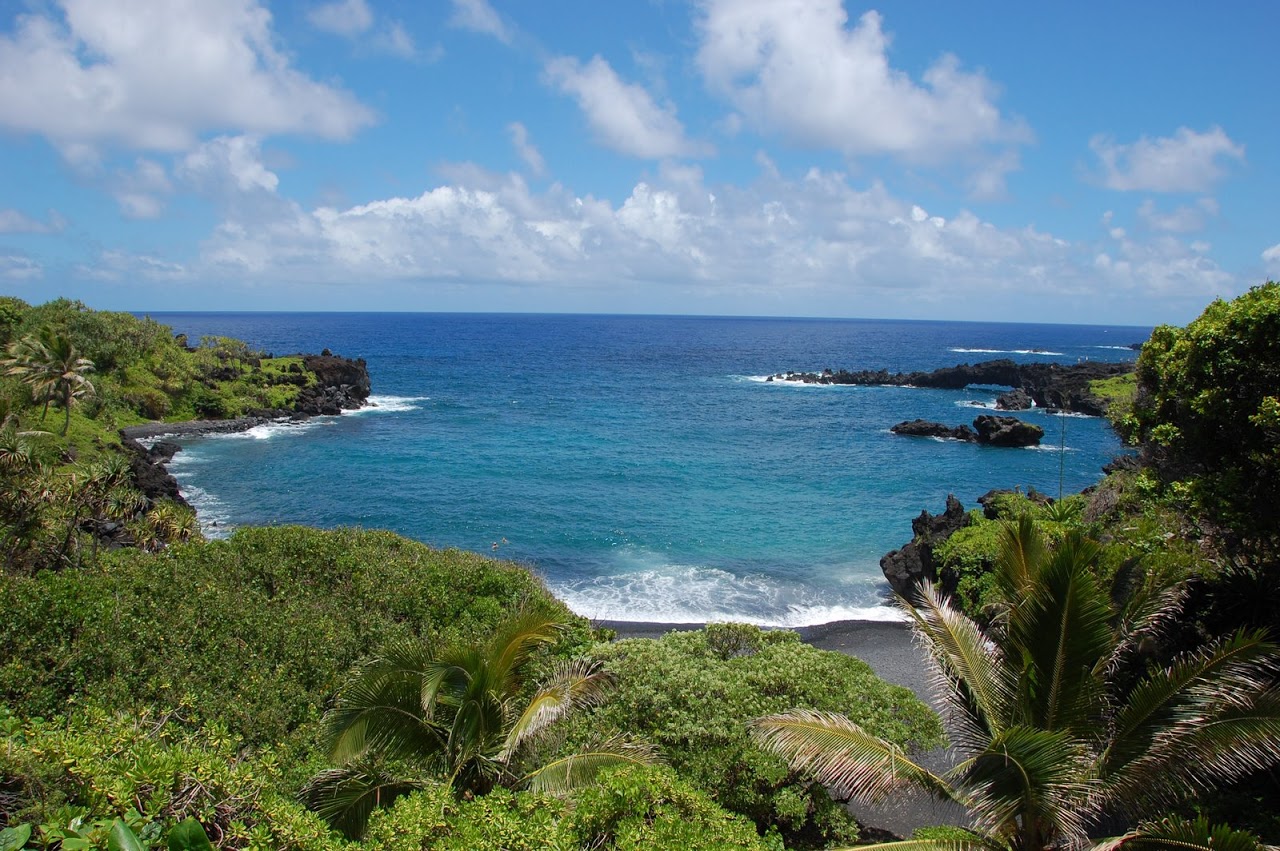 When we hiked the Pipiwai Trail, we swam, then scrambled over rocks, then swam, then scrambled over rocks, to reach our own private waterfall, where we jumped into the chilly waters and admired the rocky views.  We strolled through the banyan trees and bamboo forests and felt the waving wood close us in, and then reached the finale, the 400-foot waterfall crowning the end of the hike.

We mocked those who rushed through Hana, uninterested in all the beauty it had to offer, driving the stomach-turning winding roads, seeing the small town, and then returning to West Maui in the same day.  We envied those who could spend weeks, uncovering the charm and innocence of a town unable, due to accessibility, to embrace "modern" concepts like air conditioning and restaurants.  This is the life for the adventurer, the person I hope I am, who can enjoy simplicity and beauty, without the hindrance of the modern life.
The Details
Apartment
| | |
| --- | --- |
| | We stayed at Hana Kai, Unit No. 206 (www.hanakai206.com).  The condo has been completely renovated and is beautifully done in bamboo throughout, with a modern kitchen, comfortable bed, and beautiful bath with a volcanic rock basin.  The negatives: poor lighting and it is not right on the ocean, so though we heard the waves, we didn't get the benefit of the ocean breezes.  Overall, a nice stay, at Maui-reasonable prices, but, if we go back to Hana, we might try other places. |
Restaurants
On our way to Hana, we stopped at the cute town of Paia and had lunch at Cafe des Amis , a creperie.  Our appetizer of hummus, tabbouli, and olives, was large for the price and delicious.  My crepe filled with brie, spinach, and tomatoes, and Patrick's crepe, with ham and gruyere, were both excellent.  Good stop at Maui-reasonable prices.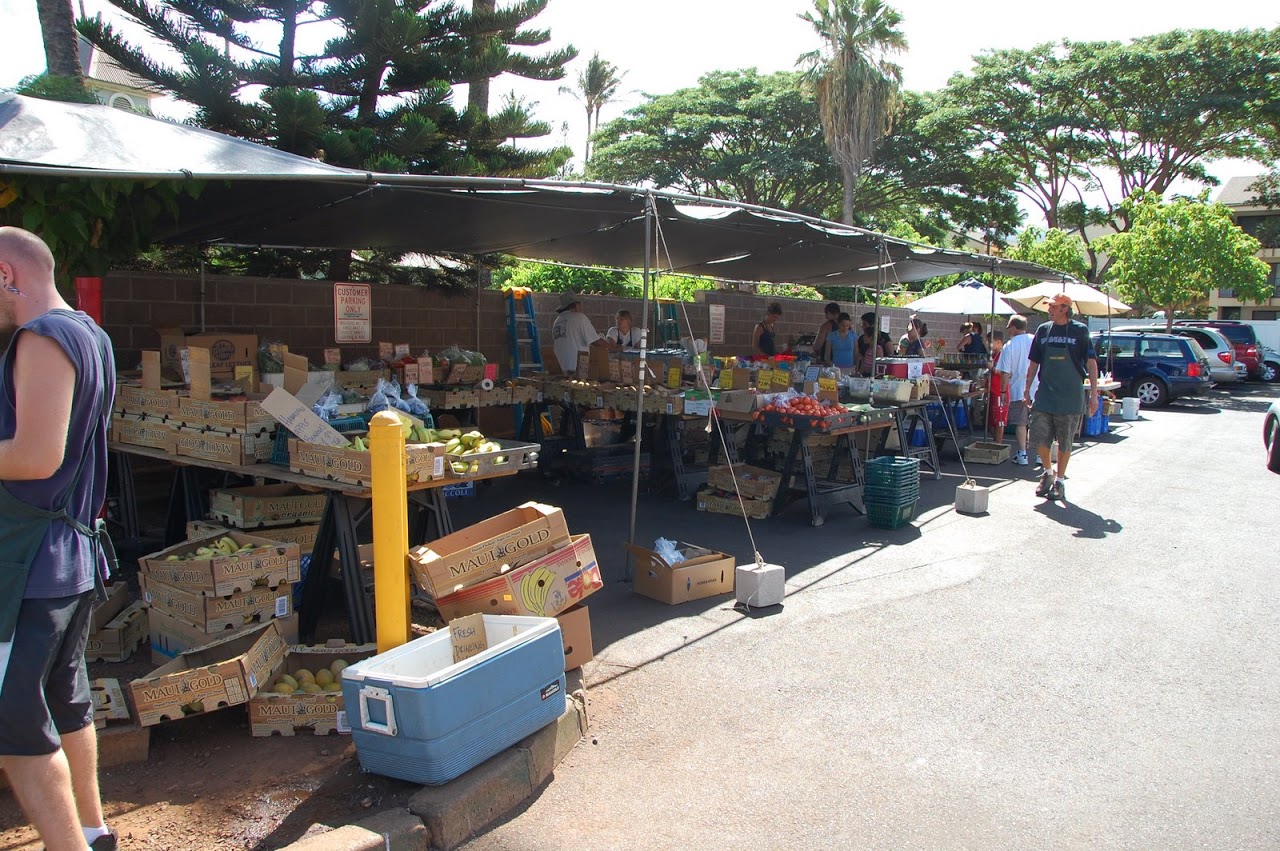 The oft-heard joke about Hana, is "How's the food in Hana?  I don't know, what did you bring?"  There are two "restaurants," and I use that term loosely, in Hana, and neither are good.  So, we brought produce, meat, and dry goods from West Maui and cooked all of our meals in Hana.  (We saw local fishermen selling their catch in Hana so you could probably buy meat in Hana itself.)  We ended up going to five different grocery stores/markets in Maui:
Maui Farmer's Market on Honokowai -The pineapple was the best pineapple we have ever eaten: bright orange-yellow with flesh that felt like sweet sunshine in our mouths. The mangos were almost as good as mangos I had in June in India. We found such beautiful corn, tomatoes, and squash that we desperately wanted to cook in West Maui.  Go here.
Star Market at Honokowai - This is the best grocery store we found in West Maui.  The fish was fresh, the produce was Maui-reasonable, and the shelves were lined with Hawaiian goods, like dried tropical fruit and macadamia nuts.
Safeway in Kahului - Meh.  Typically poor produce, uninteresting meat, mainland-reasonable prices.  I wouldn't go here for good food.
Kihei Natural Foods store - Not good.  Spotty, disgusting looking produce, no meat, Maui-expensive prices.
Paia grocery store (near Cafe des Amis) - Maui-reasonable prices, high quality produce, fish, and cheese.  If you're going to Hana, I would stop here and load up on food.  Skip the stores in Kihei.