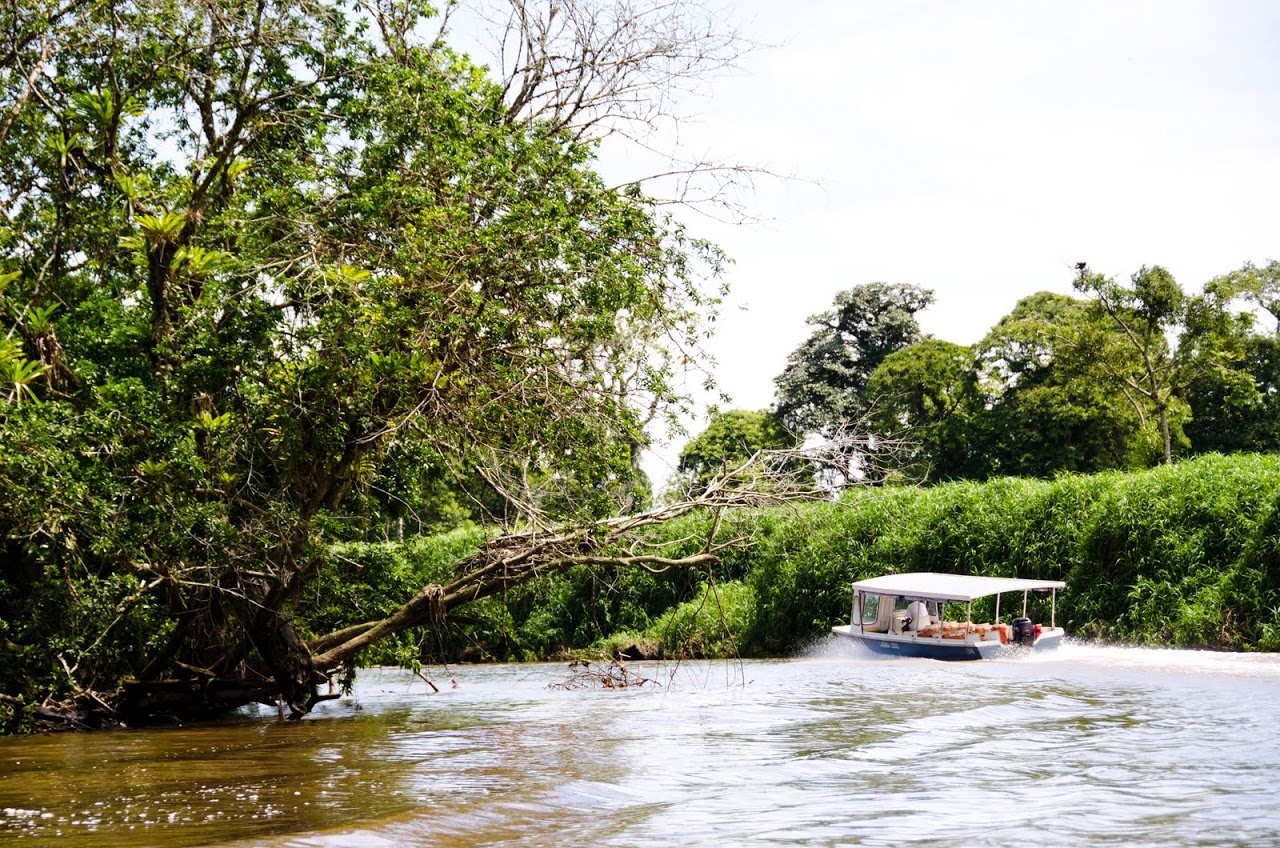 Taking the boat to Pachira Lodge
Pura vida. The words slip through tongues and teeth, across gesticulations and inquiries, as immediate and essential to the Costa Rican conversation as our Hello or Goodbye.  In English, it means the "pure life" but, for the Costa Ricans, these two words mean much more.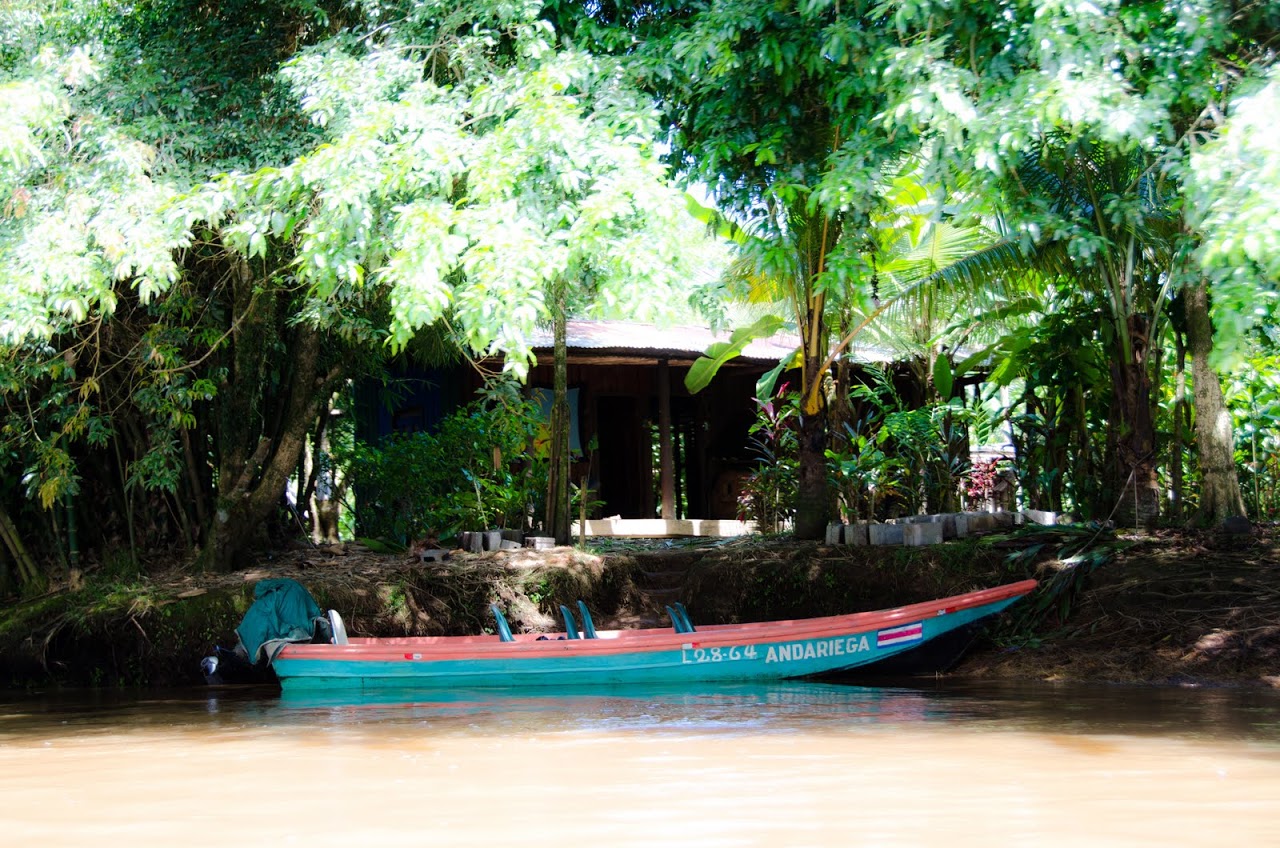 Views on the way to Tortuguero (see the bats on the tree?)
I wake at 5:30 a.m. and wait in the lobby of the Hotel Presidente in San Jose to meet the bus which will take me to Tortuguero, a village accessible only by boat at the edge of the Tortuguero National Park.  Despite the vile hour, men and women walk to work with smiles on their faces, greeting each other with the necessary Pura Vida .  We drive three hours across bumpy roads, cloudy rain forests, and to a muddy river, where we board a boat, and, yet, our guide never stops grinning.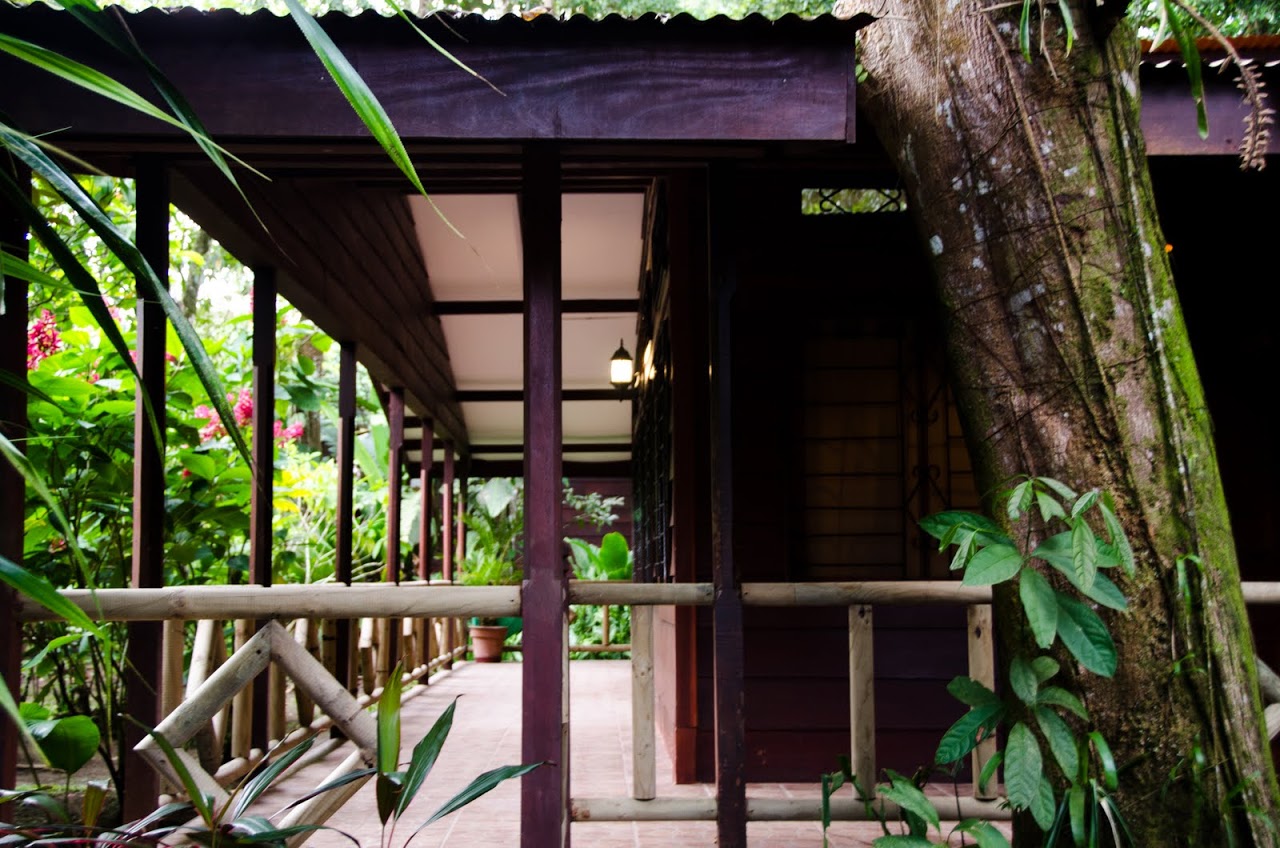 Pachira Lodge
Roberto Estrada, the hotel manager at Pachira Lodge , meets me as I exit the boat .  "Pura vida," he says and leads me to the rest of our group who are preparing to zipline across a small canopy forest.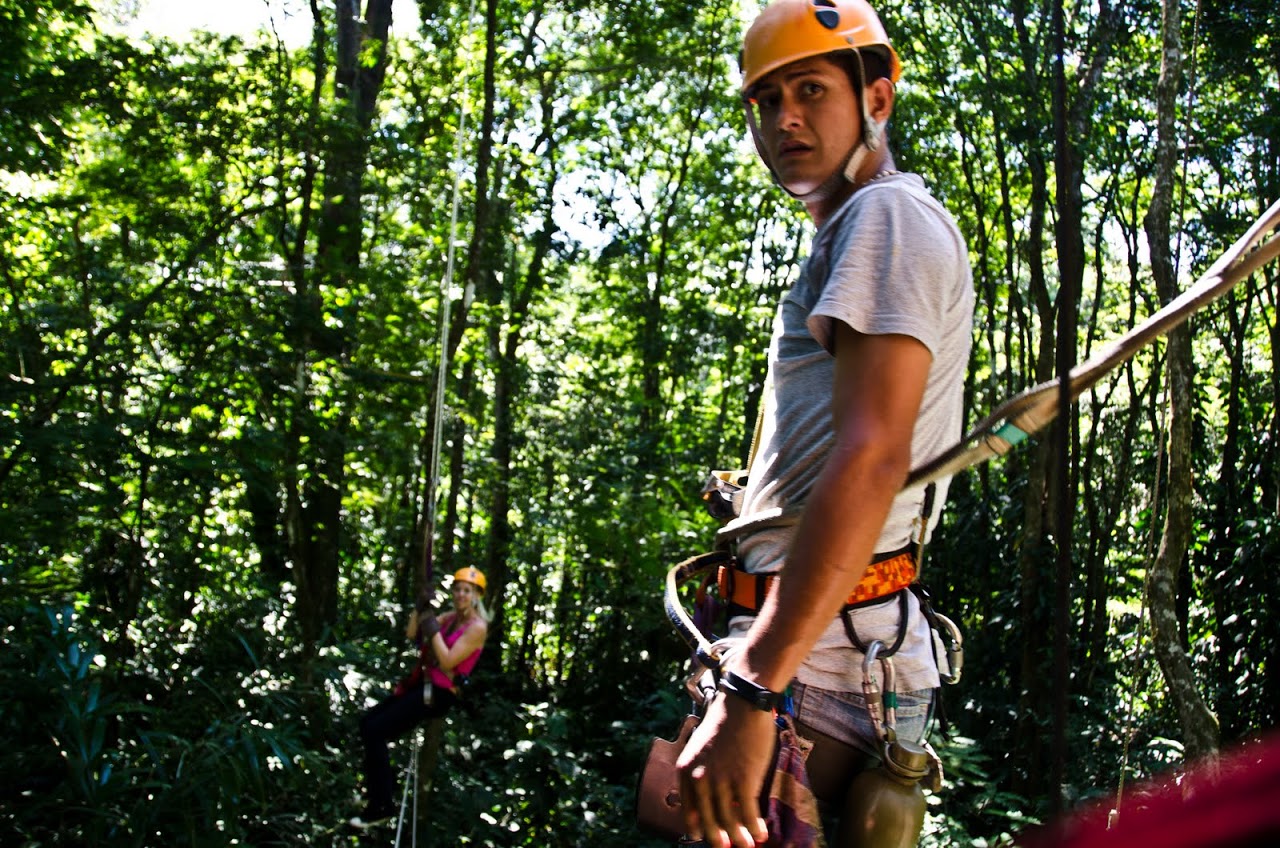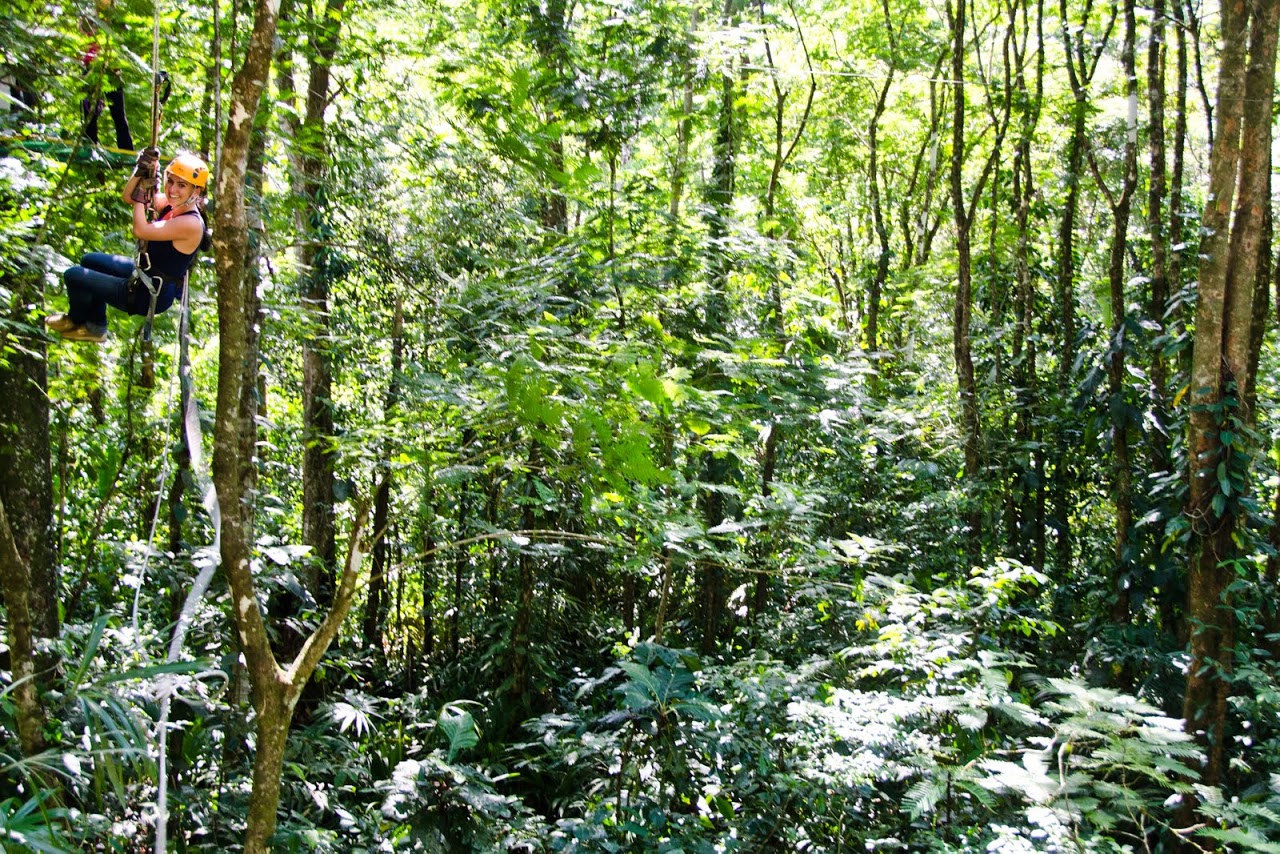 Ziplining at Pachira Lodge
Now, after canyon swinging in New Zealand and zipling in the heights at Tsitsikamma , I wasn't all too worried but the guys at Pachira make it fun.  They rattle our lines, send us flying across the BEST rope swing, and laugh at the worries that some of our the other folks in our group have.  "Pura vida," they yell as we wave to them from our departing boat.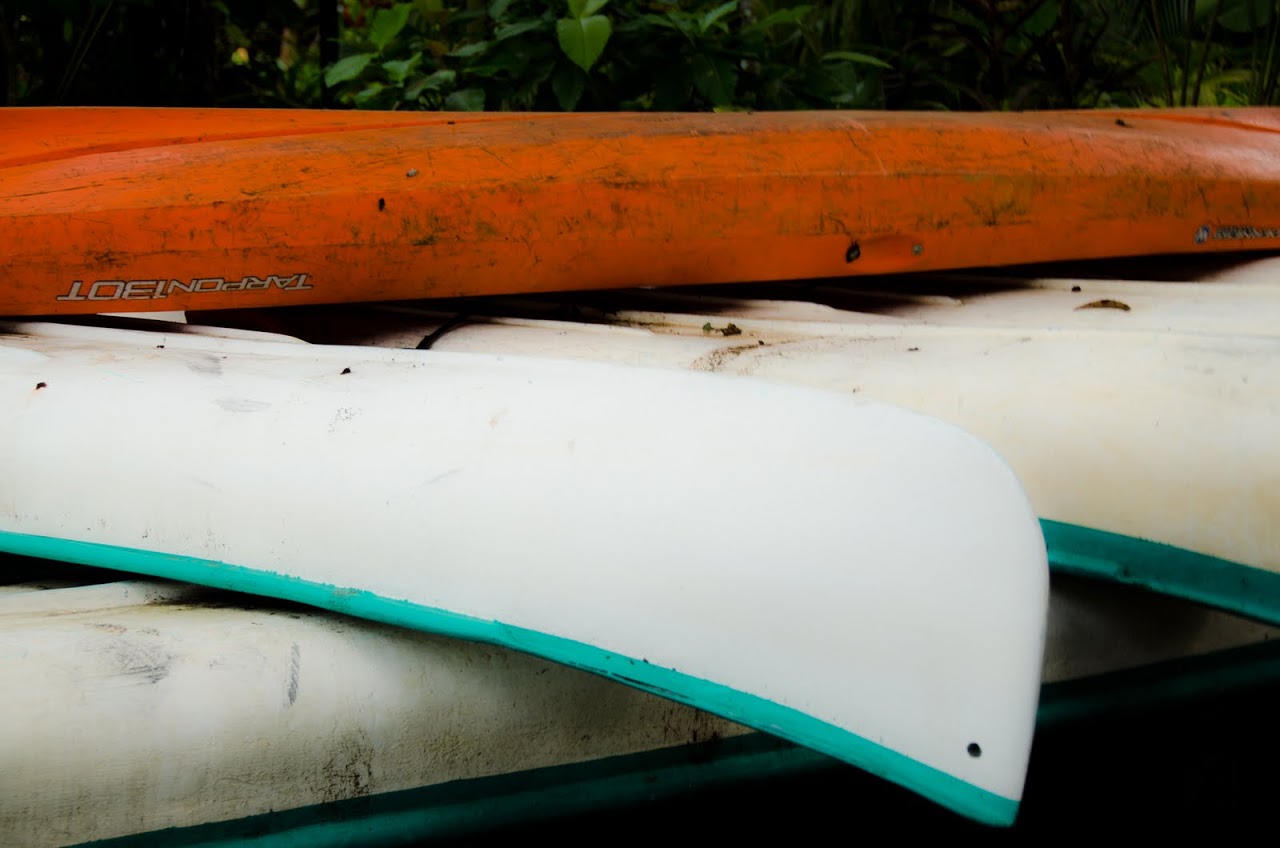 Kayaking at Pachira Lodge
In the afternoon, we kayak through Tortuguero National Park, soaking in the greens that bleed into the water.  Cloied Taylor, our guide and master of all things Costa Rican, points out caimans --- close relatives of alligators and crocodiles --- and iguanas lazily sunning, and herbs and fruits we can use to naturally heal our wounds.  "Once, my father hunted jaguars here," he says.  Prized for their skins, the jaguar became one of Costa Rica's hottest exports in the 1920s to 1940s.  Men climbed into the trees, waiting days on end for a jaguar to cross their paths, while their wives fed and cared for the family.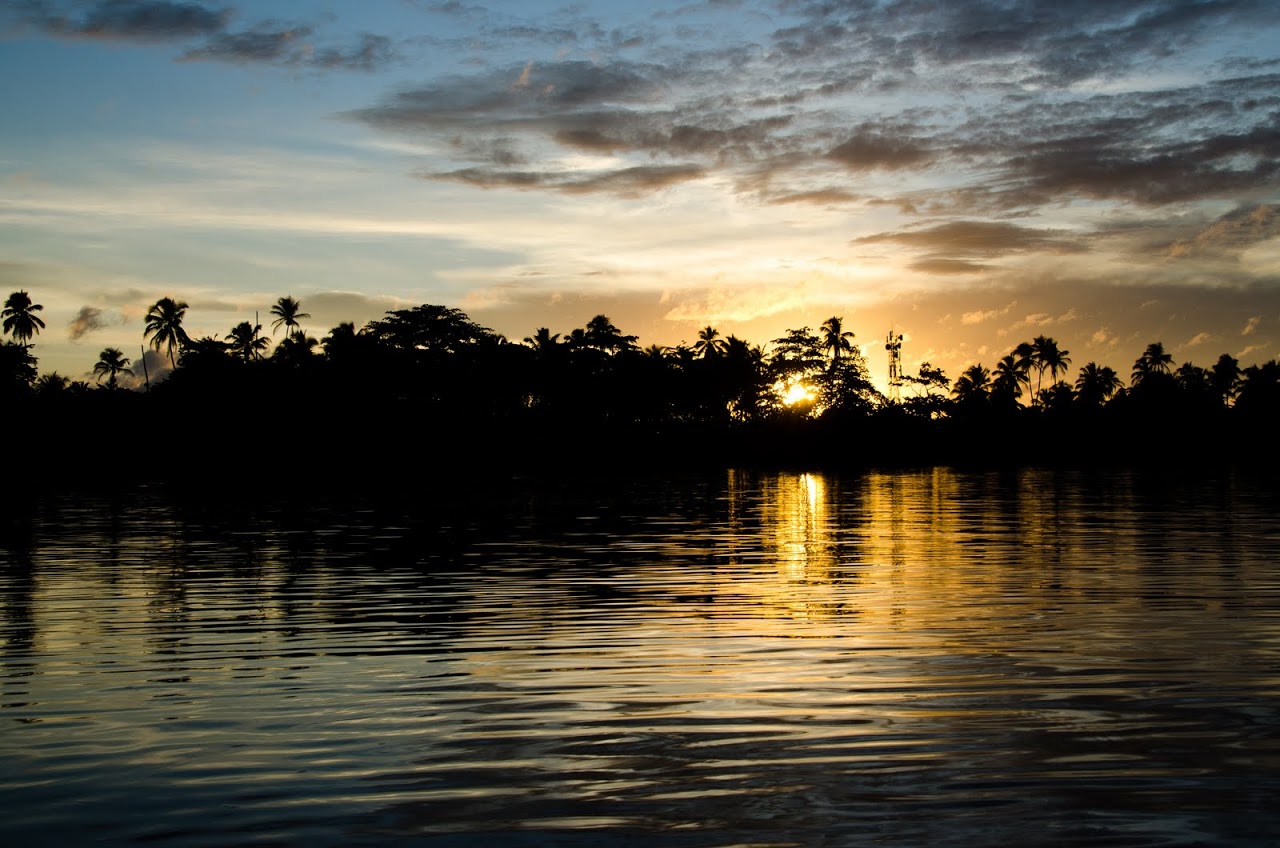 Sunrise at Pachira Lodge
Then, in 1949, after a bloody 44 days of civil unrest, the Costa Rican government constitutionally abolished the military.  "It was because we must have pura vida," Cloied tells us.  Rather than putting money toward the military, Costa Rica spent the last sixty years investing in education and ecology, making it the most stable and peaceful Central American country today.  They've set lofty goals for their environmental responsibility: a campaign to have most hotels environmentally sustainable, preservation of over 25% of the country's land, and the first country to be carbon neutral by 2021.  "Our fathers hunted jaguars but we help them.  We are happy to do this.  It is better this way."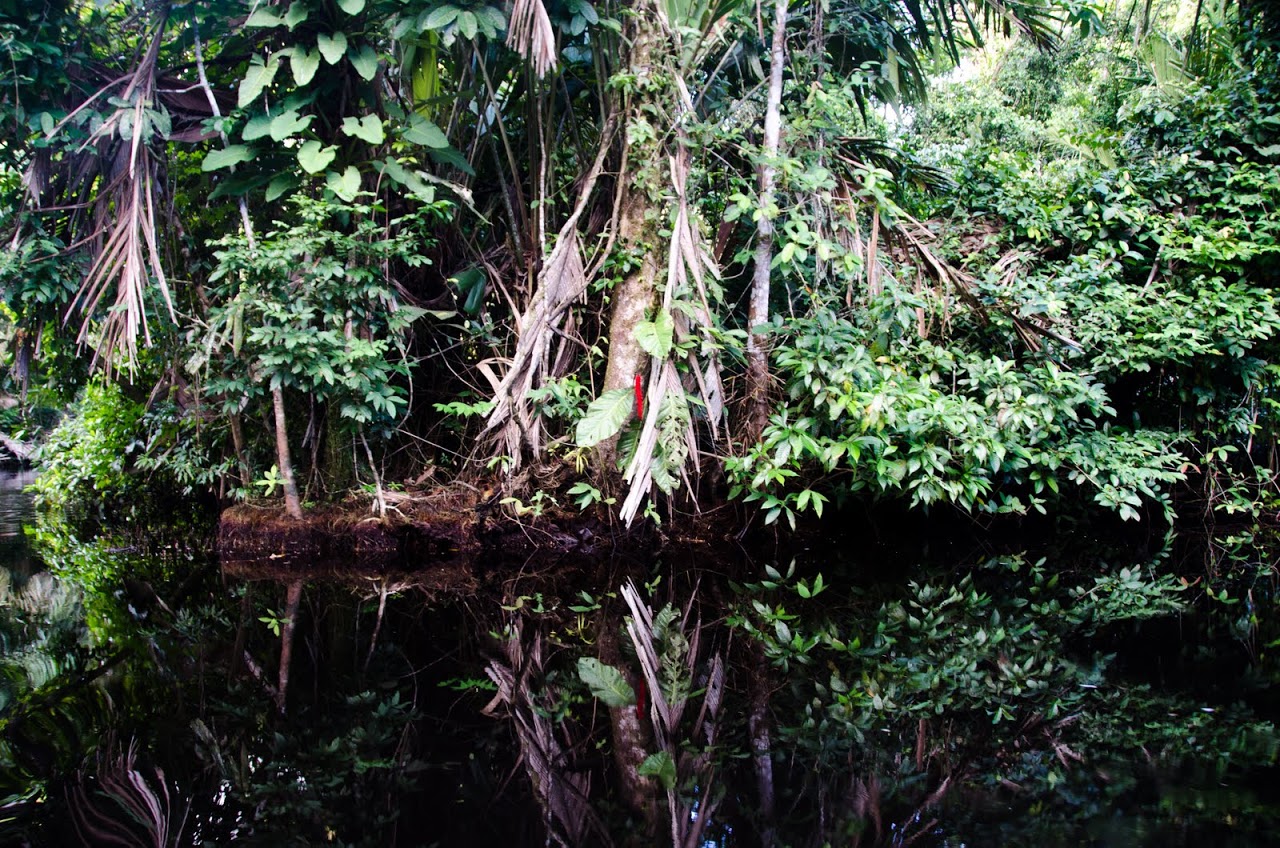 Morning at Tortuguero
And, when I wake the next day at 5:30 a.m. to re-enter Tortuguero National Park, I am not grumpy but excited.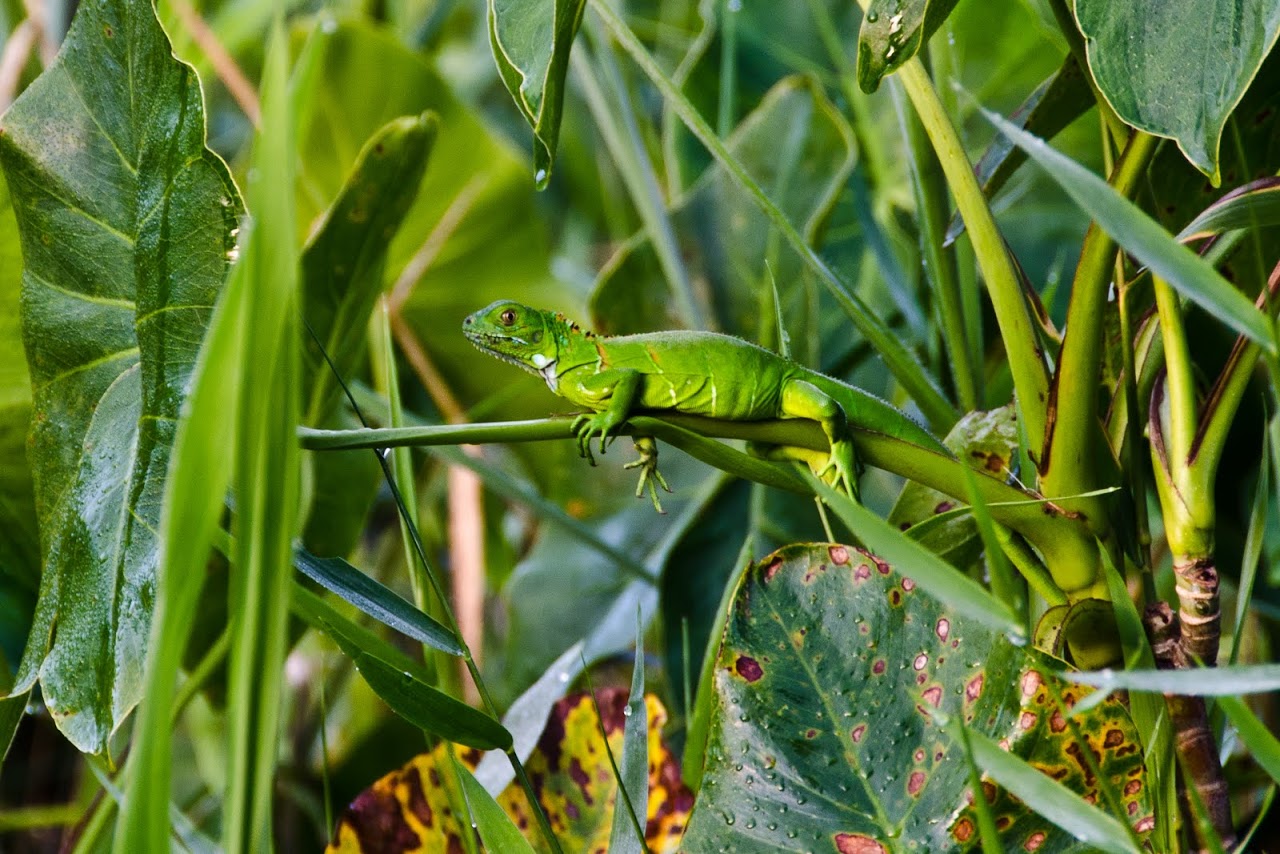 Female juvenile iguana resting
Uninhabited by humans and inaccessible to trucks and cars, Tortuguero National Park is simply awe-inspiring in the early morning.  Iguanas rest in the shade, unconcerned about the boats that slow beside them.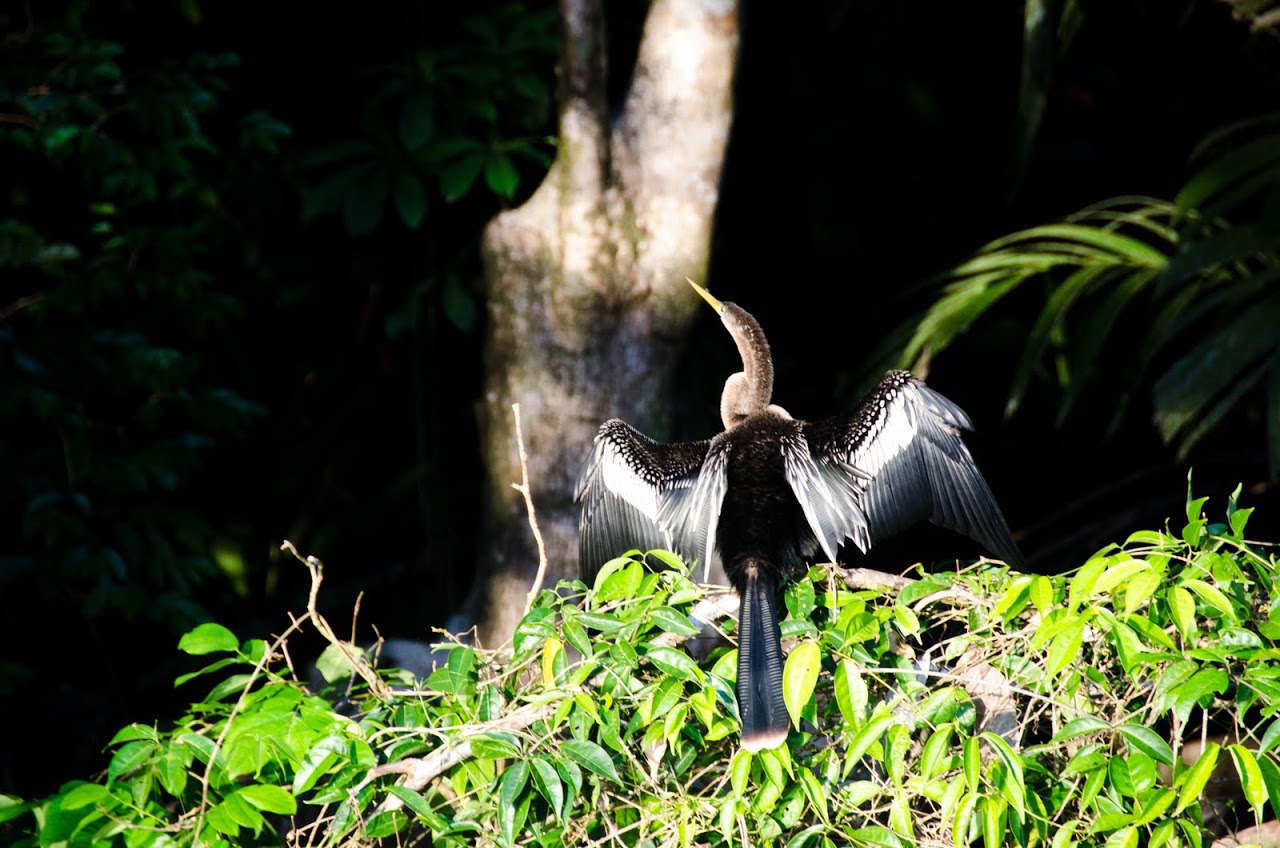 Aninga at Tortuguero
Aningas fan out their feathers, treating us to a show.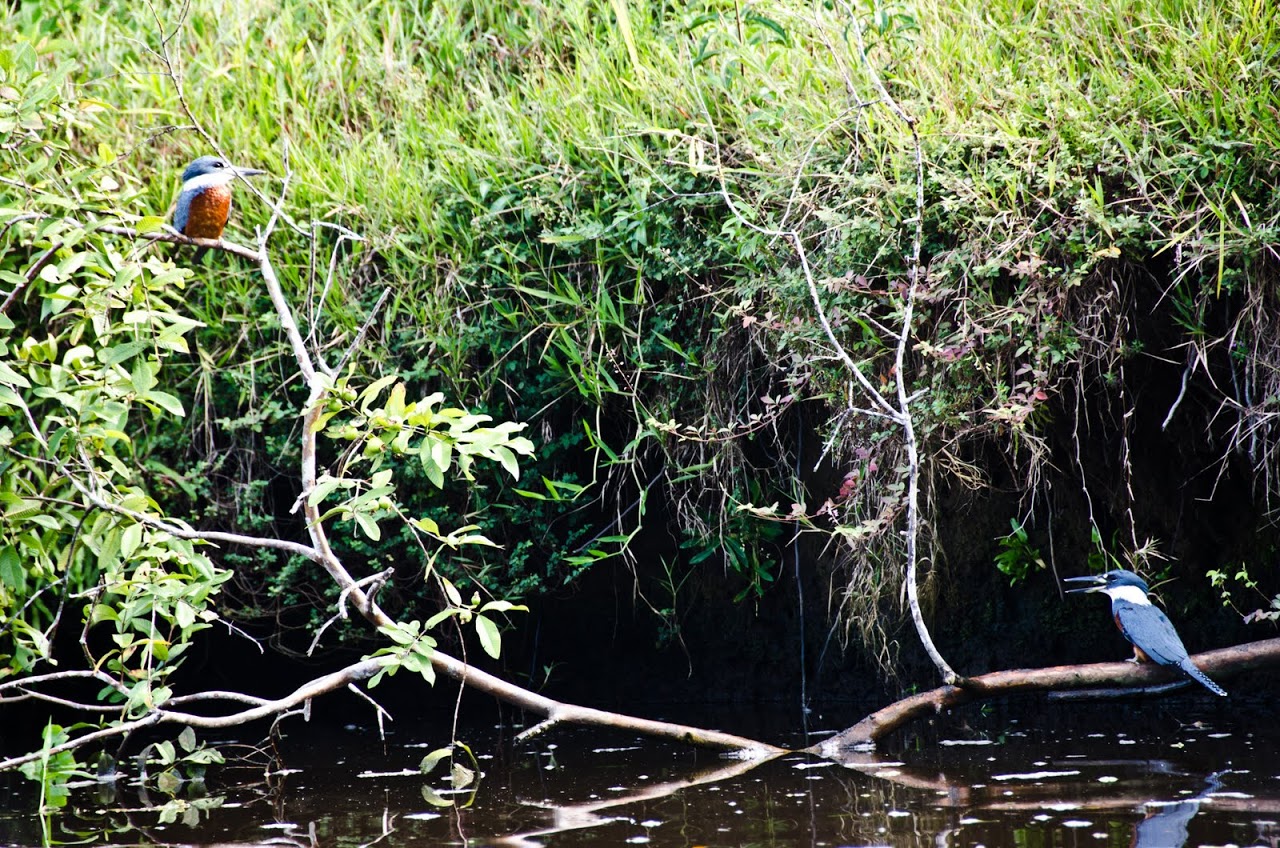 Kingfishers
Kingfishers have conversations that we can't understand.
White-faced capuchin monkeys
And, white-faced capuchins, one of the three types of monkeys that Tortuguero houses, pose on branches, as if they know the paparazzi is watching.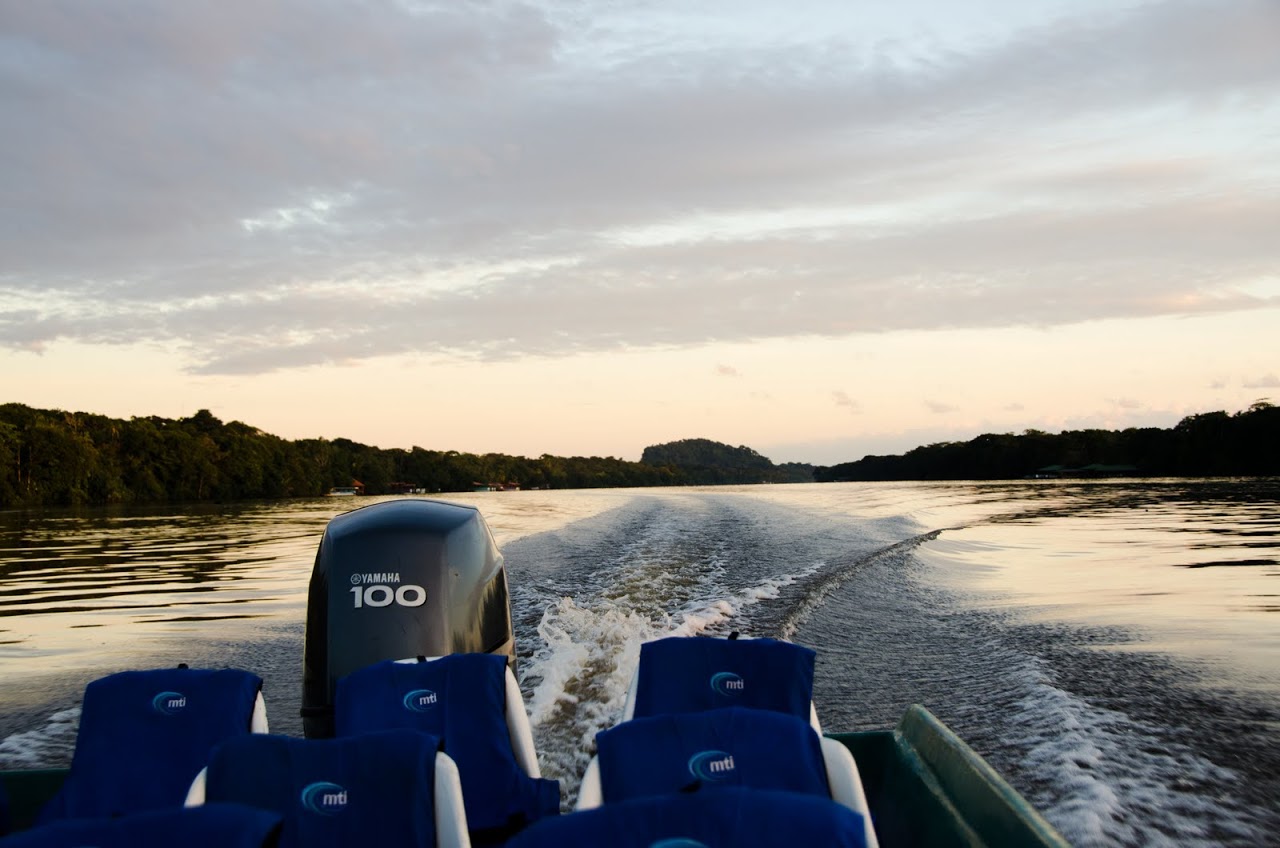 Jetting on the river near Pachira Lodge
I depart Pachira Lodge that morning, hug my hosts goodbye, and repeat to them the same phrase they have taught me in actions, spirit, and thoughts, regretting the pure life I leave behind.
Details
Pachira Lodge is a sustainable hotel five minutes from Tortuguero National Park.  The excursions are tightly controlled because the park limits the number of boats entering each day.  Pachira provides transportation from San Jose directly to its lodge, via a 3 hour bus ride and an hour long boat ride.  Rates at Pachira are approximately $100 per day per person, which includes all food, tours, and lodging.  If you go to Pachira, I highly recommend staying for at least 2 days but preferably 3 days so that you can maximize your time in the park, especially during the sea turtle nesting season.  From June to September, hundreds of green sea turtles arrive at Tortuguero to lay eggs at night.  The babies hatch about 35 to 65 days after the eggs are laid.  I, unfortunately, missed seeing the babies hatching but it looks like a truly incredible sight!
*My trip to Costa Rica was sponsored by the Costa Rican Tourism Board but all opinions and impressions are, as always, my own. If you find want to head to Costa Rica (and why wouldn't you?), Costa Rica's running an awesome Facebook giveaway for one trip per day for the next few months.