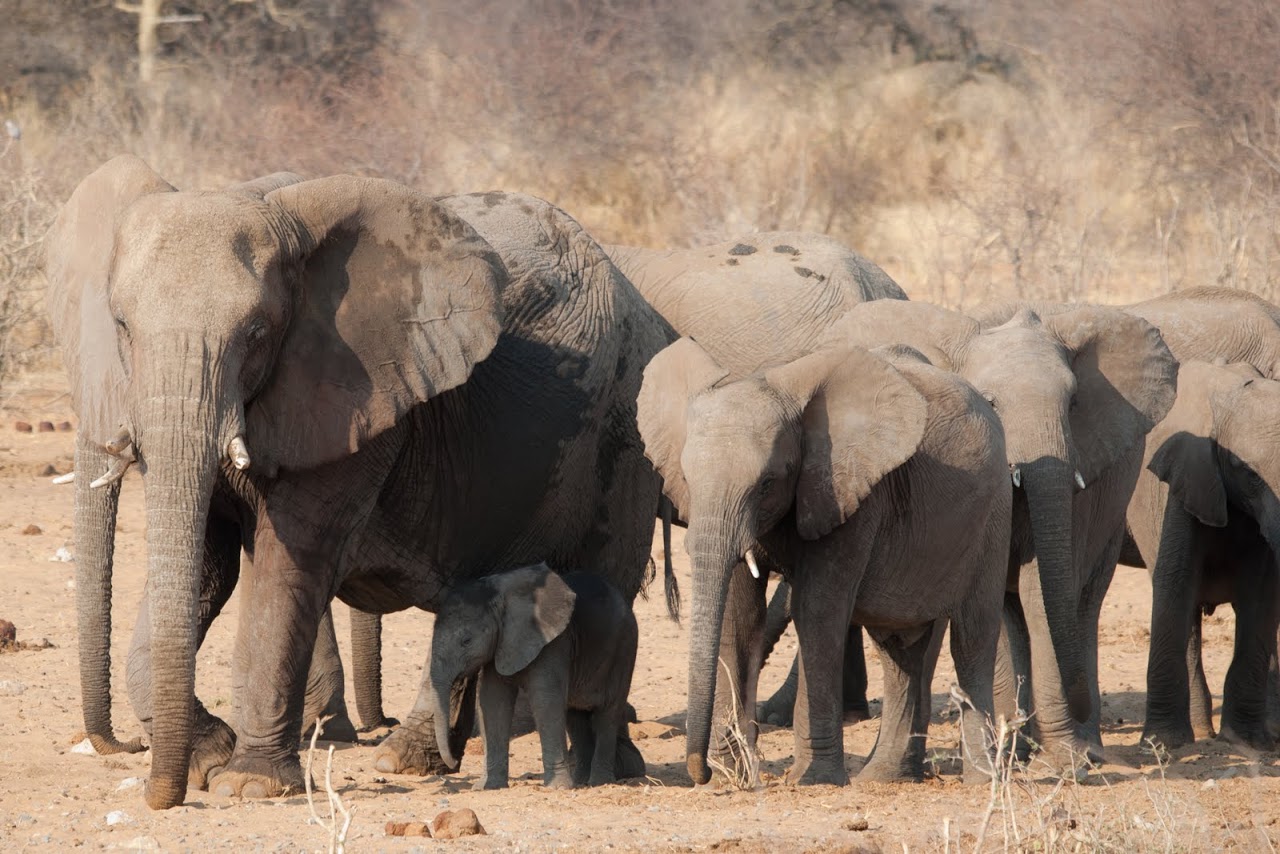 Elephants coming to watering hole
This morning, I looked at the home page of our site and realized that the last five posts have all been about wildlife and I worried that maybe you were getting tired of animals, animals, and more animals.  So, I thought about scratching this post and writing about something different --- like the awesome scenescapes of the Okavango Delta or the stunning Victoria Falls or how Zambian food rocked my world.  And, then, I decided to stick with my original plan and write about the elephants because . . . well . . . they're elephants.  And, everyone likes elephants, right?  (And, if you don't like elephants, would you please pretend that you do, just for me, just for today?)
Elephant eating and baby elephant
You know that feeling of scratching off a lottery ticket, when the tiny gray peelings fall to the floor as your penny rubs against the paper, and you look for a matching number?  The first, second, and third numbers are flops but, there, underneath the fourth number is a match and a winning ticket!  Sweet!  That was exactly how we felt about Etosha.  The first day had been rough, with very little game viewing, and then we hit the jackpot: seeing the amazing herds at the watering holes and 25 lions in 24 hours .  We didn't think it could get any better.  In fact, everyone was so pumped up after seeing the lions in the morning light that only six of us went out on the afternoon drive, the rest deciding to hunker down at the watering hole for the humans (the swimming pool, that is).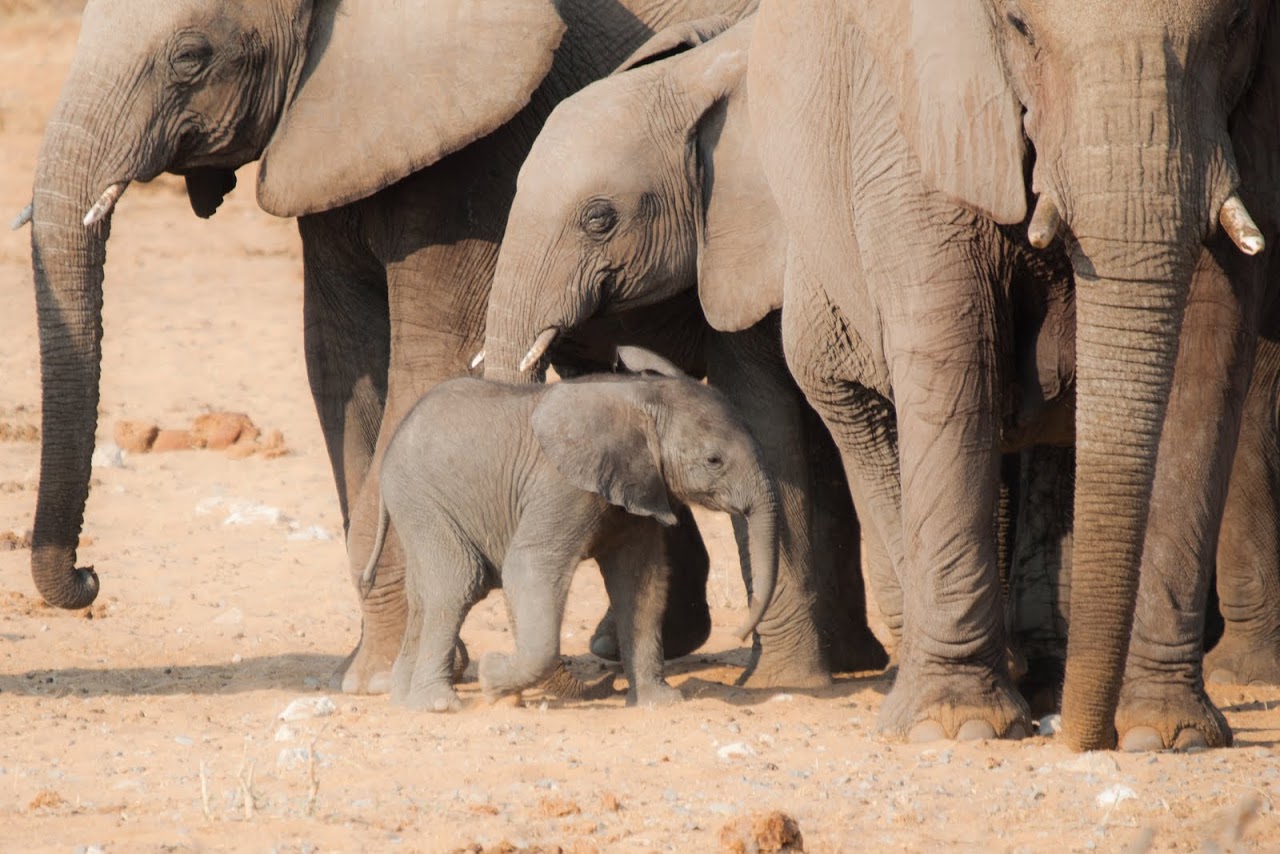 Baby elephant
When we arrived at the fourth watering hole just as two giant herds of elephants --- about fifty elephants we think --- strolled in for their afternoon drink, we were in awe.  We saw the whole family, from young to old.  There were two tiny baby elephants, no more than a week old each, who hid beneath their mothers' legs, tentatively lifted water to their mouths, and stood behind their older brothers.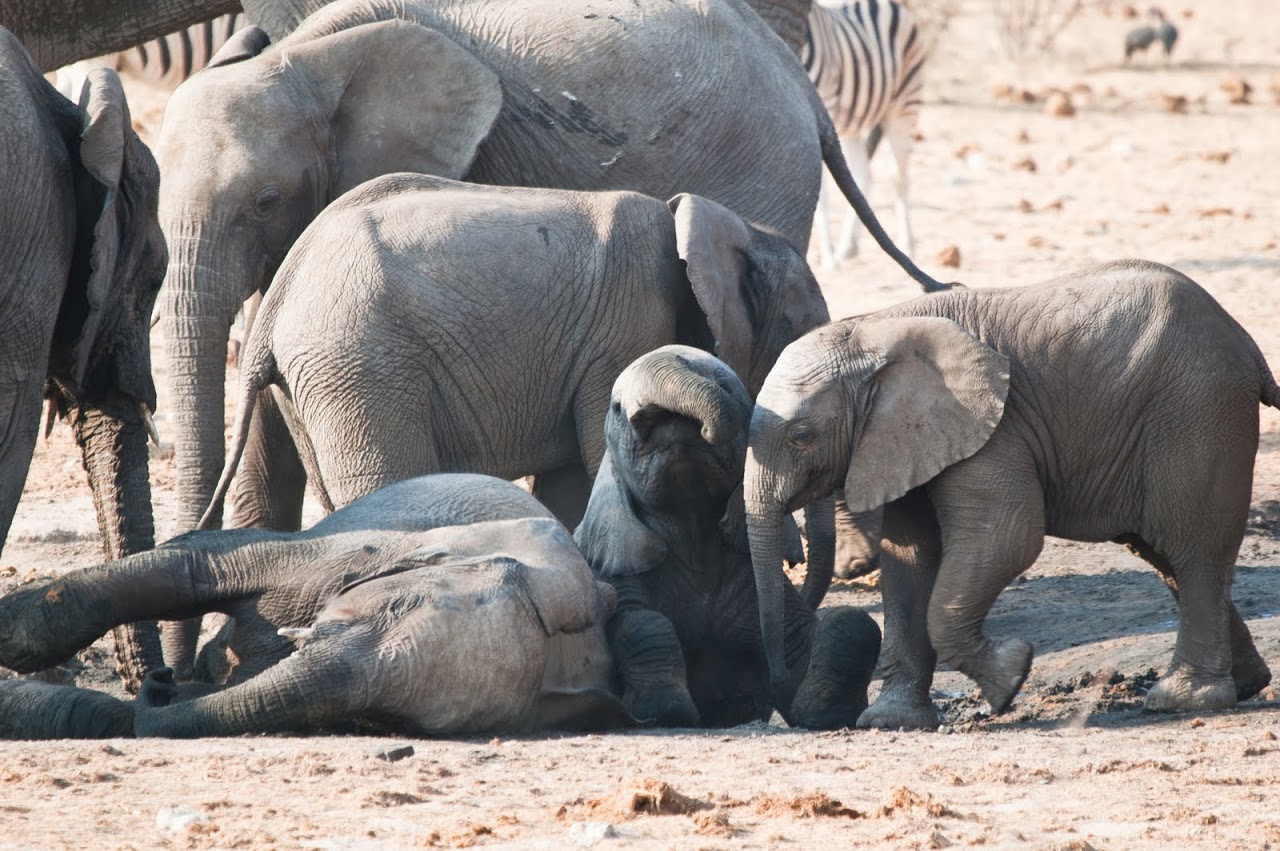 Young elephants playing
Then, there were the 5 year olds who wrestled and rolled in the mud, leading all of us into fits of "awwwing" because, I mean, come on. . . they're baby elephants . . . playing.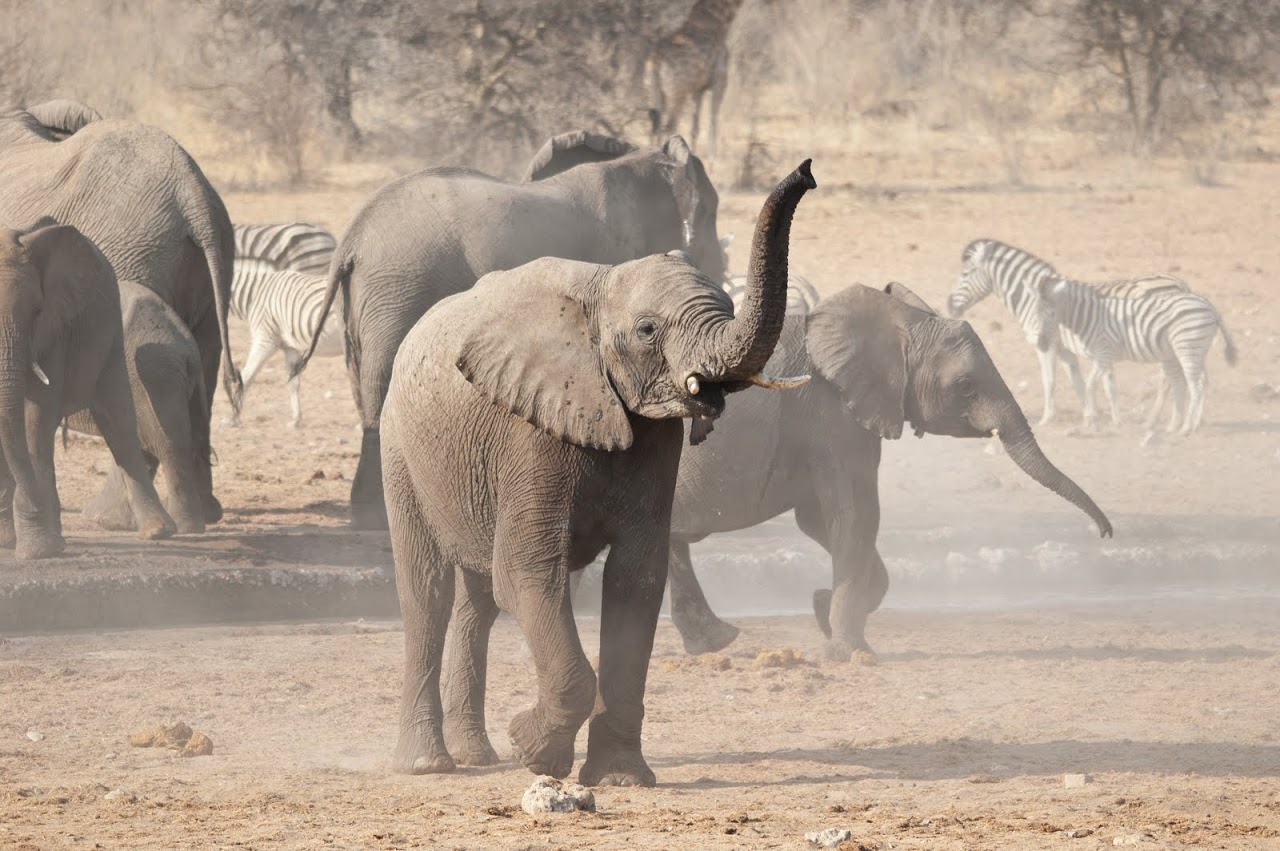 Teenager trumpeting at us
Most of the elephants ignored us and the trucks situated in the parking lot but the teenagers trumpeted loudly, sticking their ears out and standing in front of the crowd to dissuade us from getting too close.  Not to worry: I was perfectly fine sitting inside the truck and not getting any closer to these huge animals.

Symmetrical elephants, drinking water
The adults were more sedate, spending their time managing the young ones.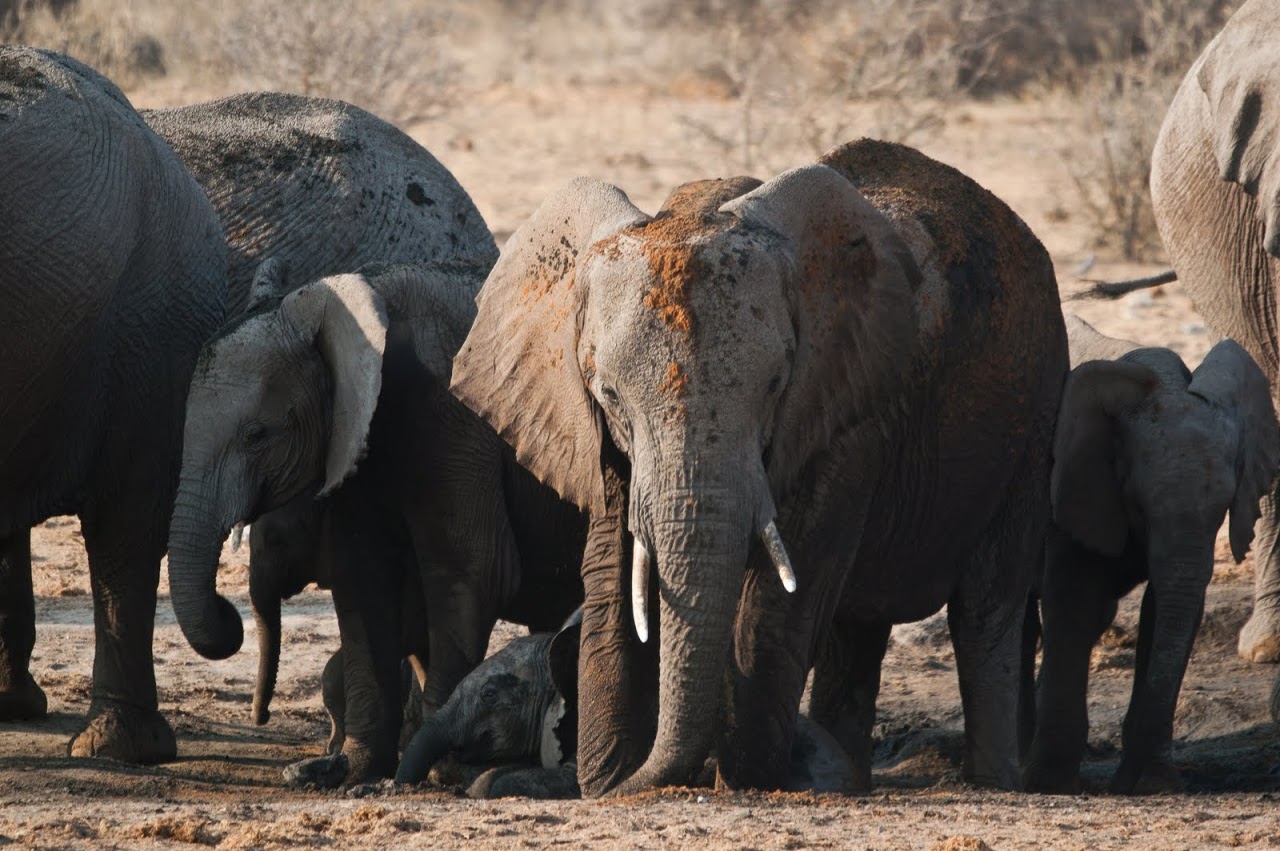 Elephant with red mud on its back
They threw mud onto their backs to "clean" themselves (yeah, I don't really get that theory, either) and created masks of red on their gray bodies.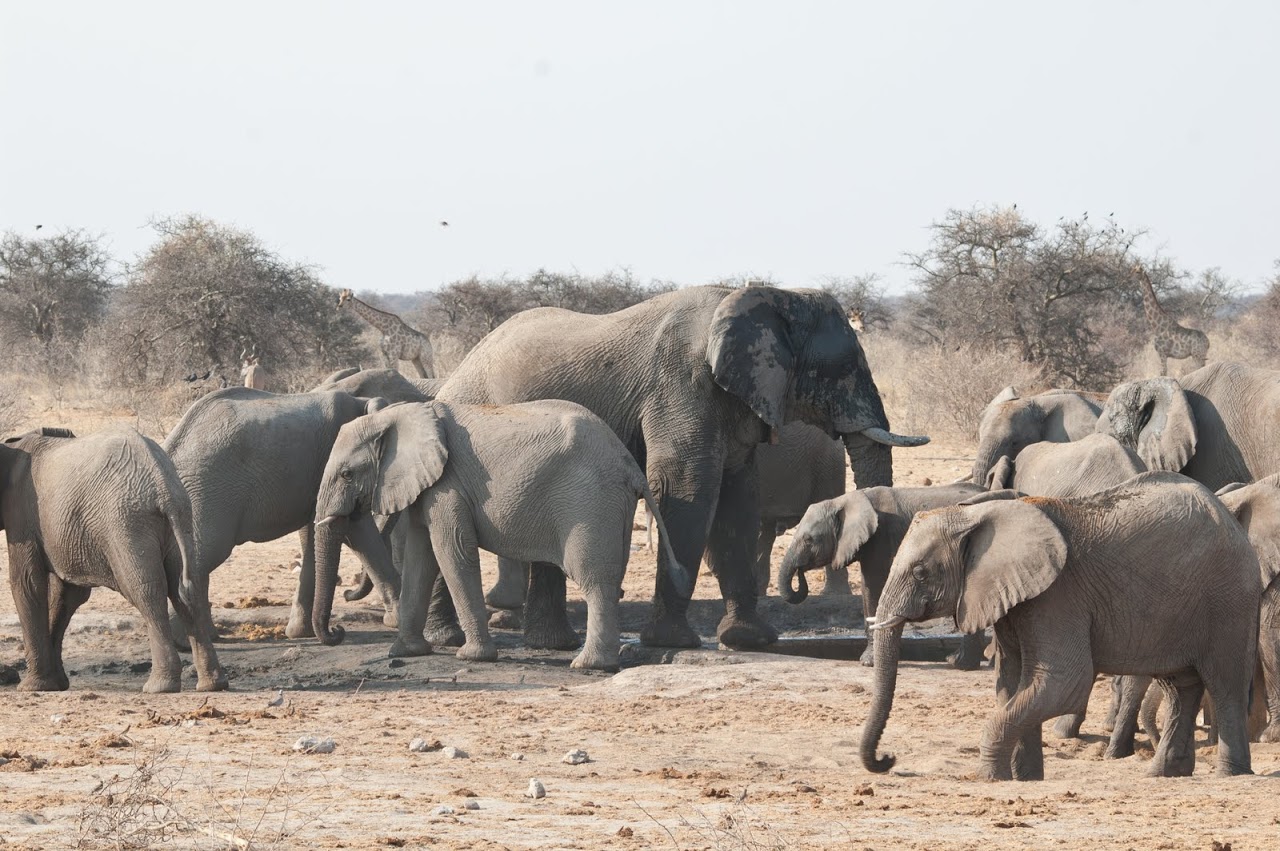 Matriarch at watering hole
It was the matriarch that truly impressed us.  She was HUGE, the largest elephant we had ever seen, in real life or television or a magazine.  She was as large as a tractor trailer and when she moved to the watering hole, the other elephants gave her as much space as they could.  We guess that she must have been well into her 70s because elephants keep getting larger as they age.  (Interesting random fact: elephants have two sets of teeth which deteriorate over the years; eventually, their teeth fall out and they die of starvation because they can't munch food anymore.)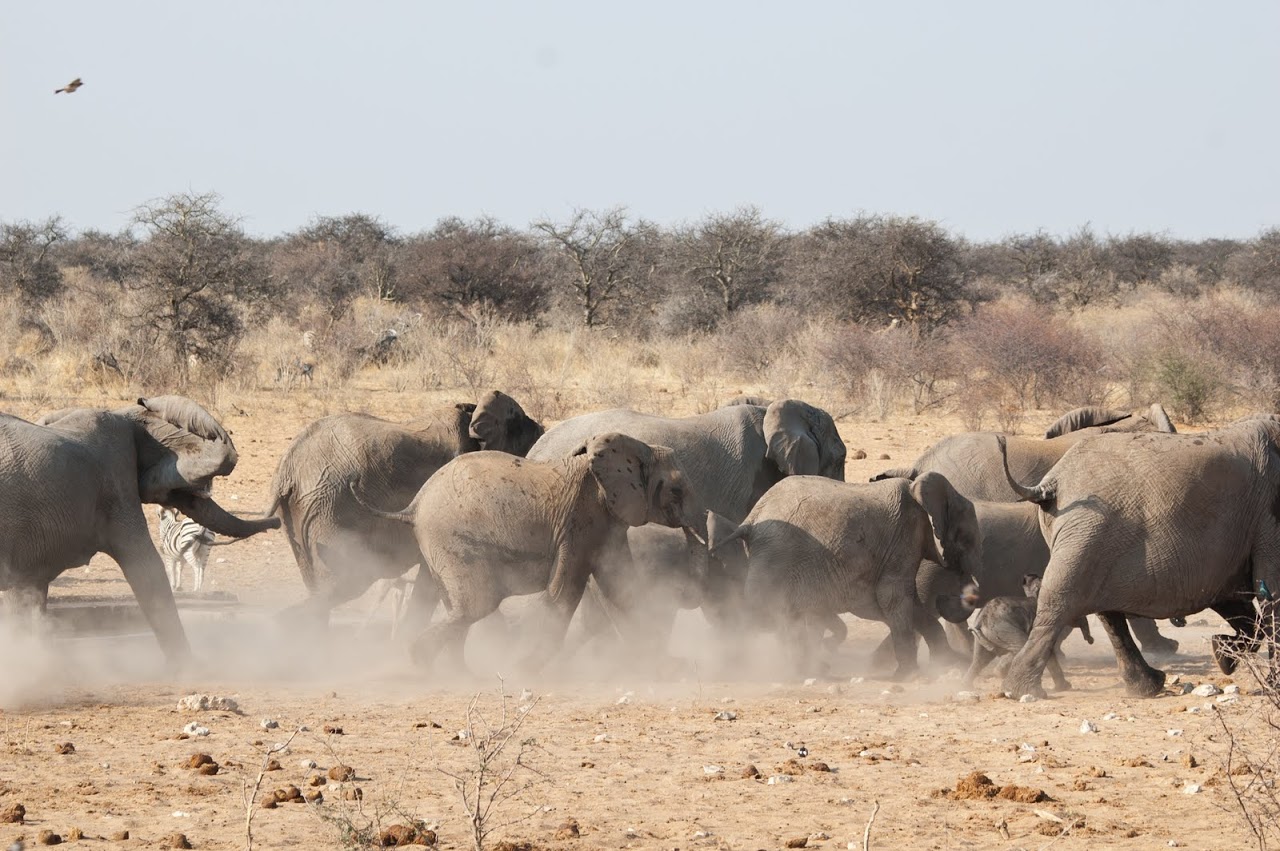 Elephant stampede
When they left the watering hole, we looked around at each other and smiled.  Our last day at Etosha had been a great one and a highlight of our entire overland expedition.  We can't wait to go back there.
Details
Etosha is a simply unbelievable game park and our favorite of the four that we have seen in southern Africa (Kruger, Chobe, and Addo are the other three).  We were blown away by the wildlife, though the scenery is not particularly impressive (lots of orange sand and dead trees).  We went to Etosha as part of our Desert & Water Wanderer overlanding expedition with Africa-in-Focus but it is certainly possible to visit Etosha independently.  You can fly into Windhoek and rent a regular 2-wheel-drive car and self-drive through the park.  The campsites at Okakueje, Halali, and Namutoni each have very nice camping accomodation and even nicer bungalows to rent.  (Make sure you reserve in advance.)  Some of the bungalows at Okakueje sit directly in front of the floodlit watering hole so you could watch the animals come in throughout the day and night from your balcony.  I think that Etosha would make a wonderful romantic holiday because it is more upscale than the game parks we saw in South Africa, though not as upscale or expensive as the ones in Botswana.  If you go to Etosha, make sure you to pack plenty of SD cards for your digital cameras because we took almost 2,000 pictures in the 3 days that we were there.
* Our trip was sponsored in part by Africa-in-Focus but they did not ask us to write this post or any part of this post.  As always, our opinions (both good and bad) are our own.  If you are interested in our perceptions of the expedition in general, check out our Overlanding 101 post where we provide a detailed review of the trip.