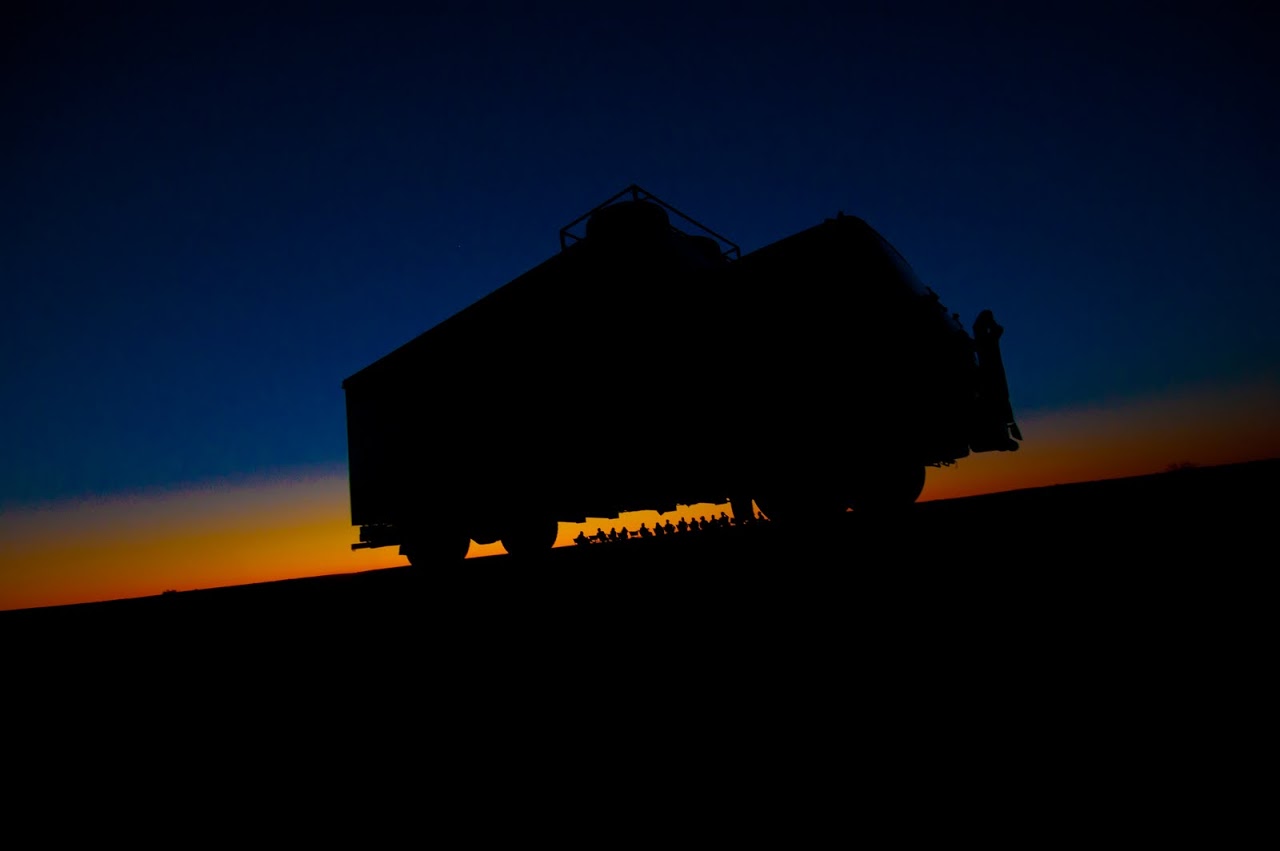 Africa-in-Focus truck
In early October, we spent three weeks overlanding through Namibia, Botswana, and Zambia with Africa-in-Focus , an overland expedition company.  Before we left on our trip, we didn't know much about overlanding or what it would entail so I thought that I would give you a nuts and bolts crash course in overlanding before I jumped into describing our amazing trip.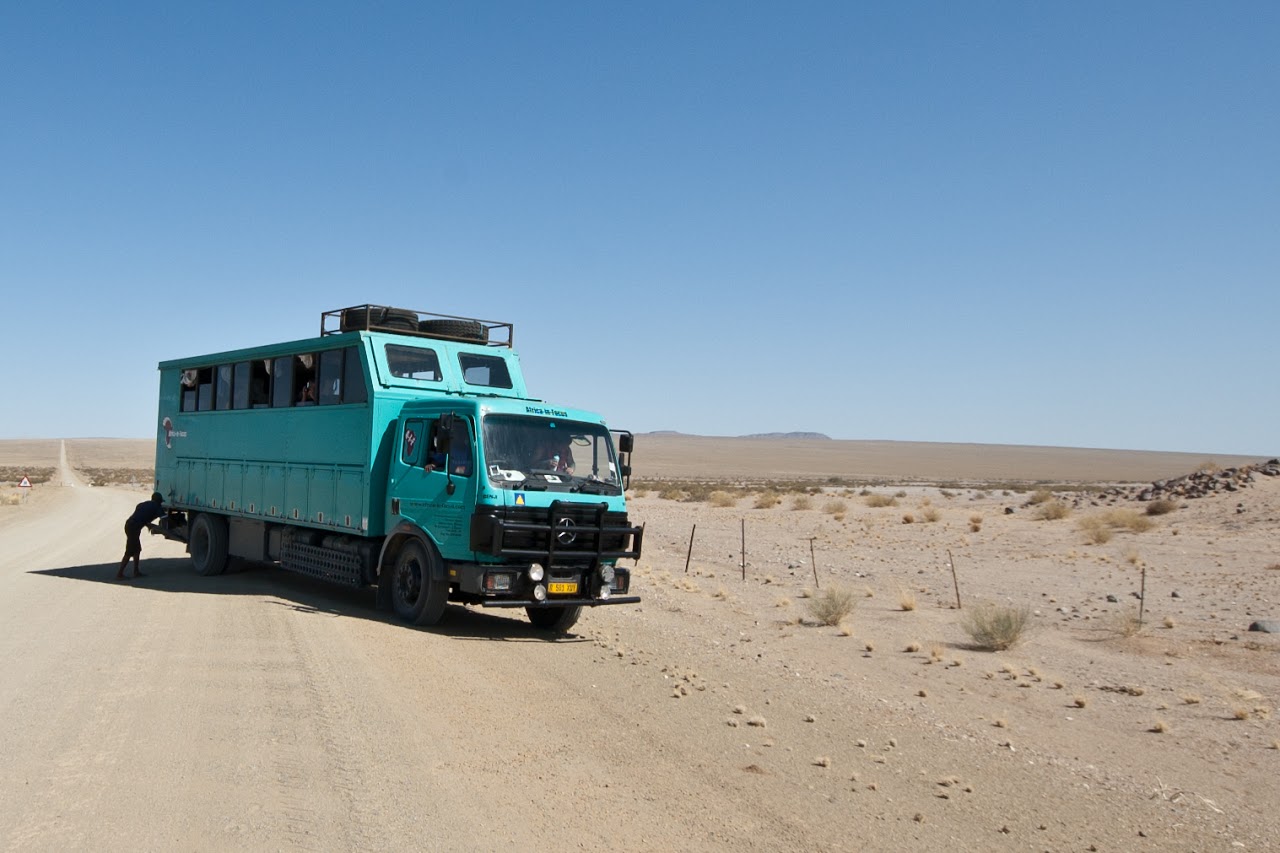 Africa-in-Focus truck
Overlanding in General
What is an overland expedition? Traditionally, an overland journey is just what it sounds like: a trip over land from one country to another.  While it is possible to overland via rail (for example, the famous Trans-Siberian Railroad), when most people discuss an overland expedition, they are referring to traveling through countries in a group via truck, jeep, or other expedition vehicle.  In Africa, overland expeditions are primarily taken in large purpose-built overlanding trucks that include space for a pantry, refrigerator, and can take between 10 to 30 people.  Overland expeditions are camping-oriented trips with some level of participation required every day.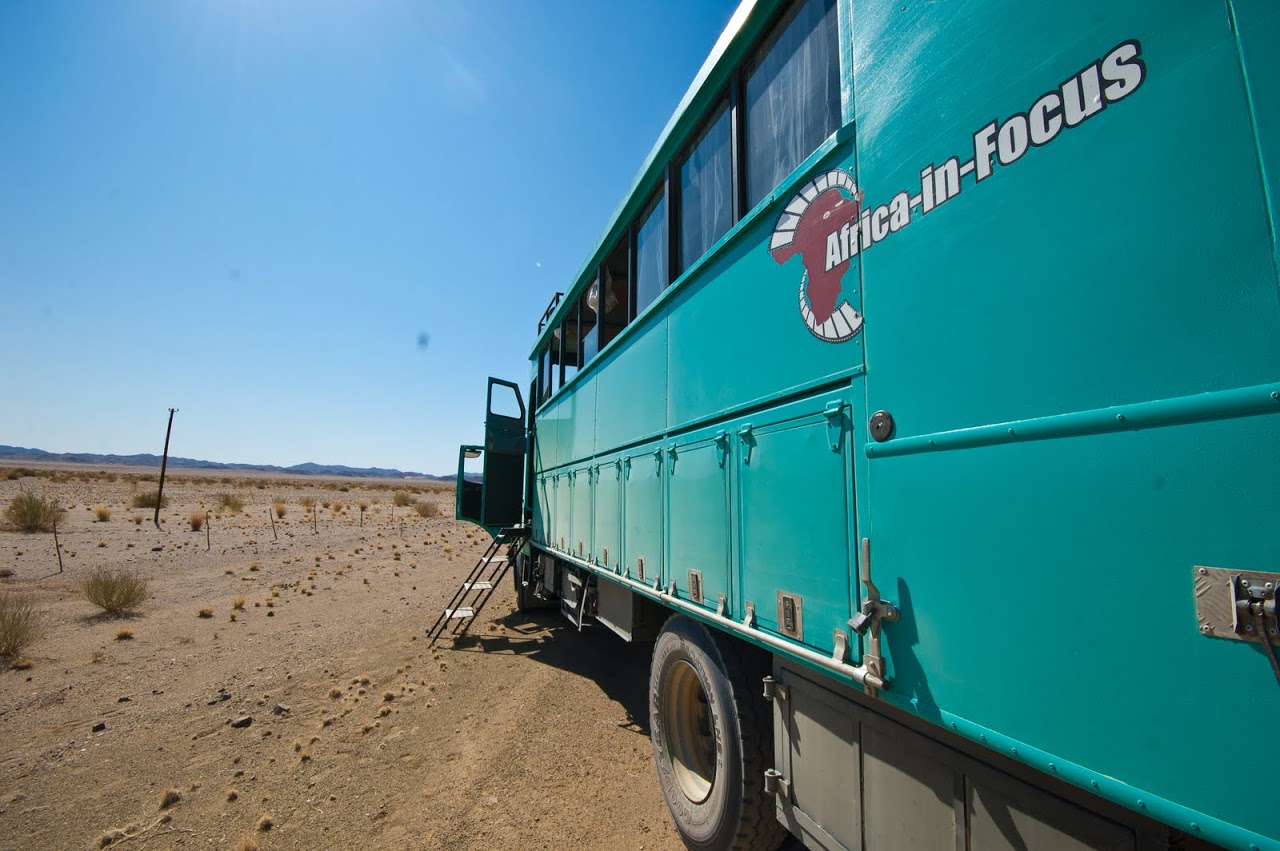 Africa-in-Focus truck
Why should I take an overland expedition through Africa? An overland expedition makes travel through southern Africa easy.  In many places in southern Africa, the tourism infrastructure isn't well developed, leading to difficulties finding accomodation and food.  In Namibia, road conditions were so poor that a 4 x 4 vehicle was essential and renting such a vehicle can be quite expensive.  In Asia, we relied primarily on public transportation but, in much of Africa, public transportation is slow and unreliable , or in some places, nonexistent.  We certainly could have traveled through Namibia and Botswana independently and, when we go back to those countries, we probably will do so, picking and choosing the places where we want to go back and spend more time.  However, we were happy that we went on the overland trip for our first time through Namibia and Botswana because we saw the highlights with minimal hassle.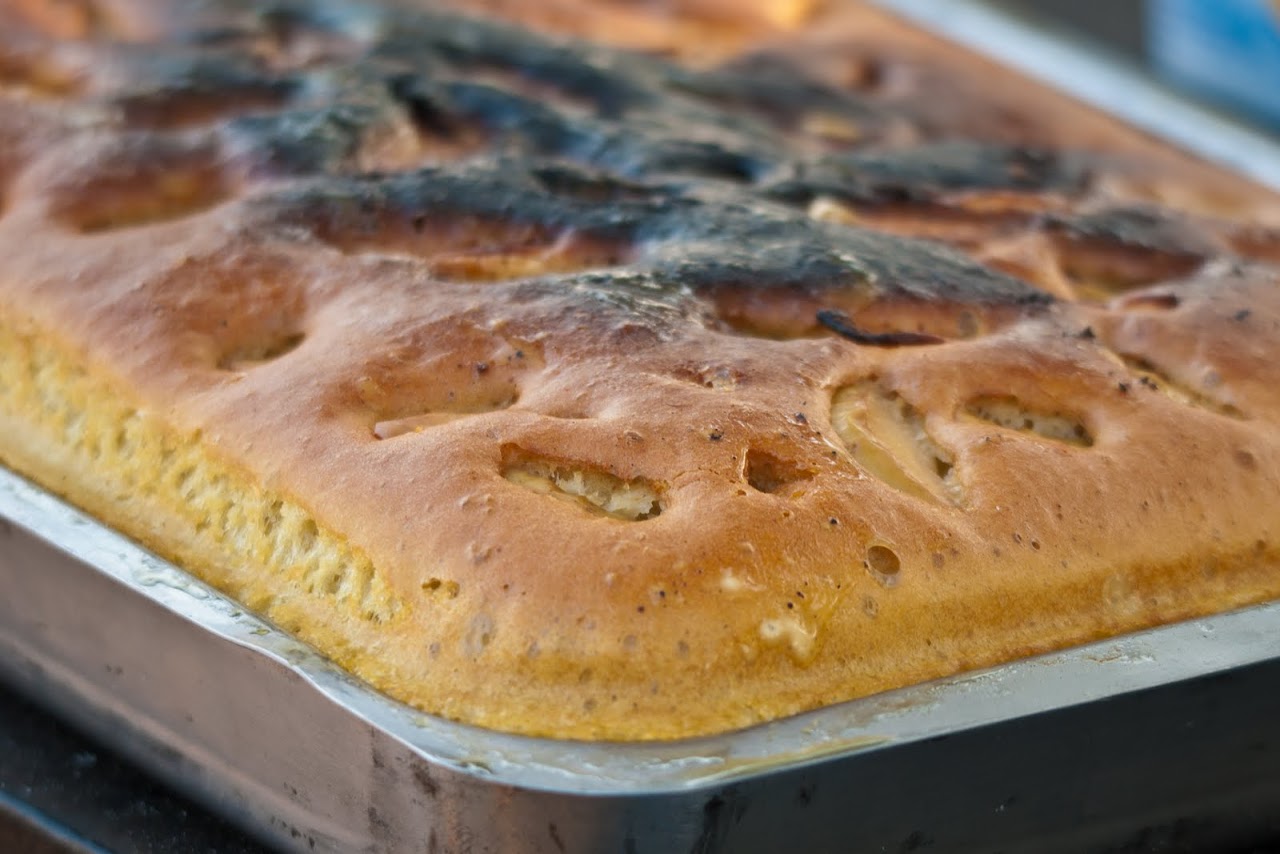 Pear cake baked over a campfire (yum)
Th e benefits of overlanding:
Someone else manages all the logistics
Someone else does the driving, which makes a big difference in Namibia because distances are so long
If you have a cook on your tour, someone else does the cooking, which means that you get more time to see sights; in our case, Ebron, our cook made fantastic food every day
You will hit all of the major sights in a particular area
You meet fun and interesting people in your tour group
The trip is much cheaper than traveling independently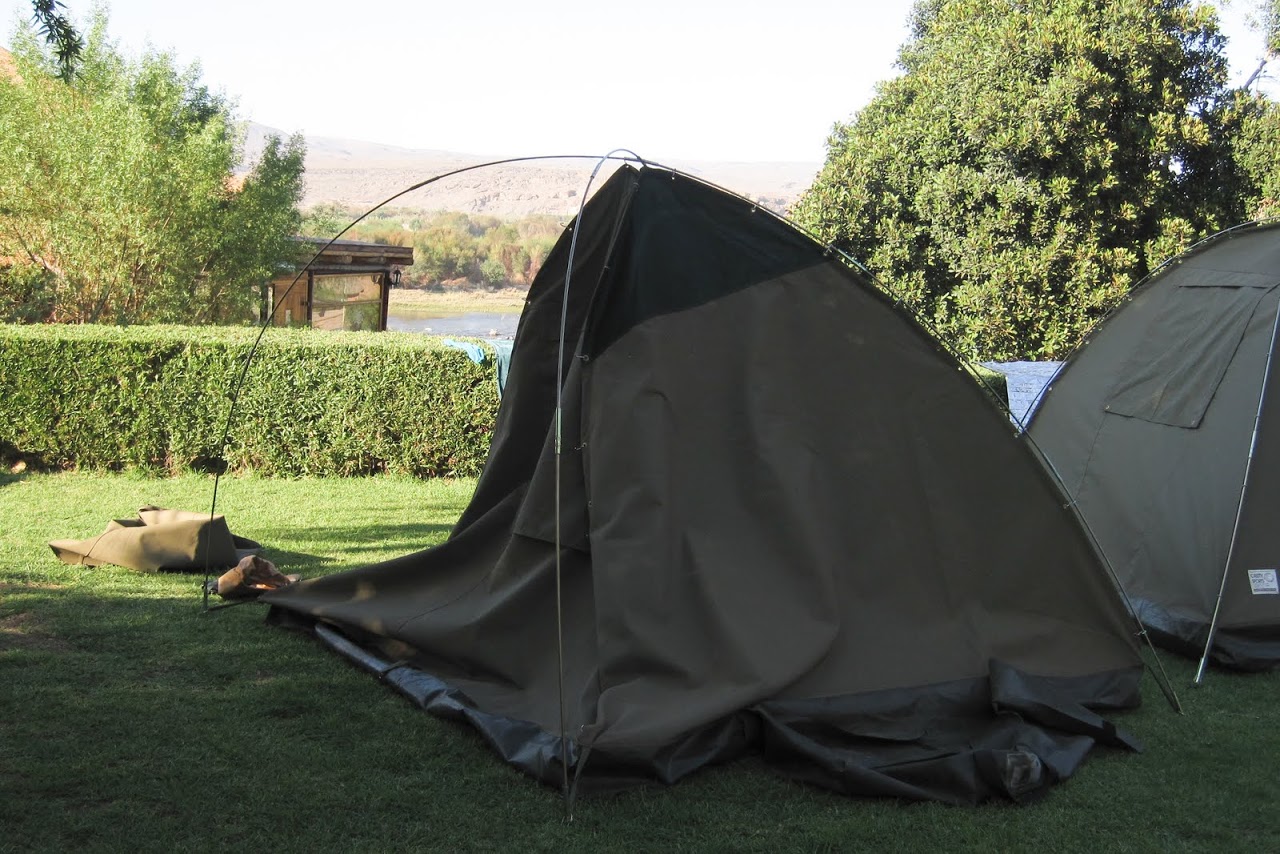 The daily chore: taking down our tent and putting it back u p
T he downsides of overlanding:
You aren't managing your own itinerary, which means sticking to a tight schedule
The days can be very long
Putting up and taking down a tent every day becomes a chore
And, you will have other chores: we were grouped in teams of 4 people and rotated between washing dishes, cleaning the truck, helping with cooking, and a free day
You have little opportunity to meet and interact with locals, resulting in a somewhat distorted perspective of the countries
You may have to deal with the inevitable personality clashes and conflicts that result from being with 17 other adults for 21 days
Because every meal is eaten with the group, your exposure to local cuisine is limited
Meals on our overland expedition
Choosing an Overland Expedition Company
How do I pick an overland expedition company? Once you decide that you want to take an overland expedition through Africa (or elsewhere), decide which route you want to take.  In general, all of the overland companies follow similar itineraries so your major decisions will be: (1) which countries do you want to see and (2) how many days do you have to spend on these trips.  We opted for the Cape Town to Victoria Falls leg, traveling through Namibia and Botswana on a 21-day trip but we saw similar itineraries crammed into 14 days.
Most of the major overlanding companies in southern Africa follow similar itineraries and use the same campsites.  We practically followed the Gap Adventures truck for the first 10 days we were in Namibia, camping at the same campsites, visiting the same attractions, and even stopping at the same rest stops.  Once you select the countries you want to travel in, I suggest that you focus on three factors to select the right company for you: budget, comfort level, and interests.
Africa Travel Company and Gap Adventures truck
Based on budget: A 3 week overland excursion from Cape Town to Victoria Falls ranges from about $1,100/person on the low end to about $4,500 on the high end.  Here are prices for several of the major overlanding companies for a 20 day trip through southern Africa from Cape Town to Victoria Falls.  All of these companies offer camping based trips with a few nights stay in lodges or hotels.
Local payment means the cash amount paid directly to the tour leader.
* If you are willing to splurge, you could opt for a safari with Karibu Safaris which provides "comfort mobile safaris," with camp beds and attached en-suite bathrooms to the tents, for around $4,000 for a 10 day trip or the luxurious Abercrombie & Kent , which offers "fly and drive" safaris, where you fly between the safari lodges, for around $6,000 for an 8 day safari.  Those trips are not technically overland excursions because they focus on one country.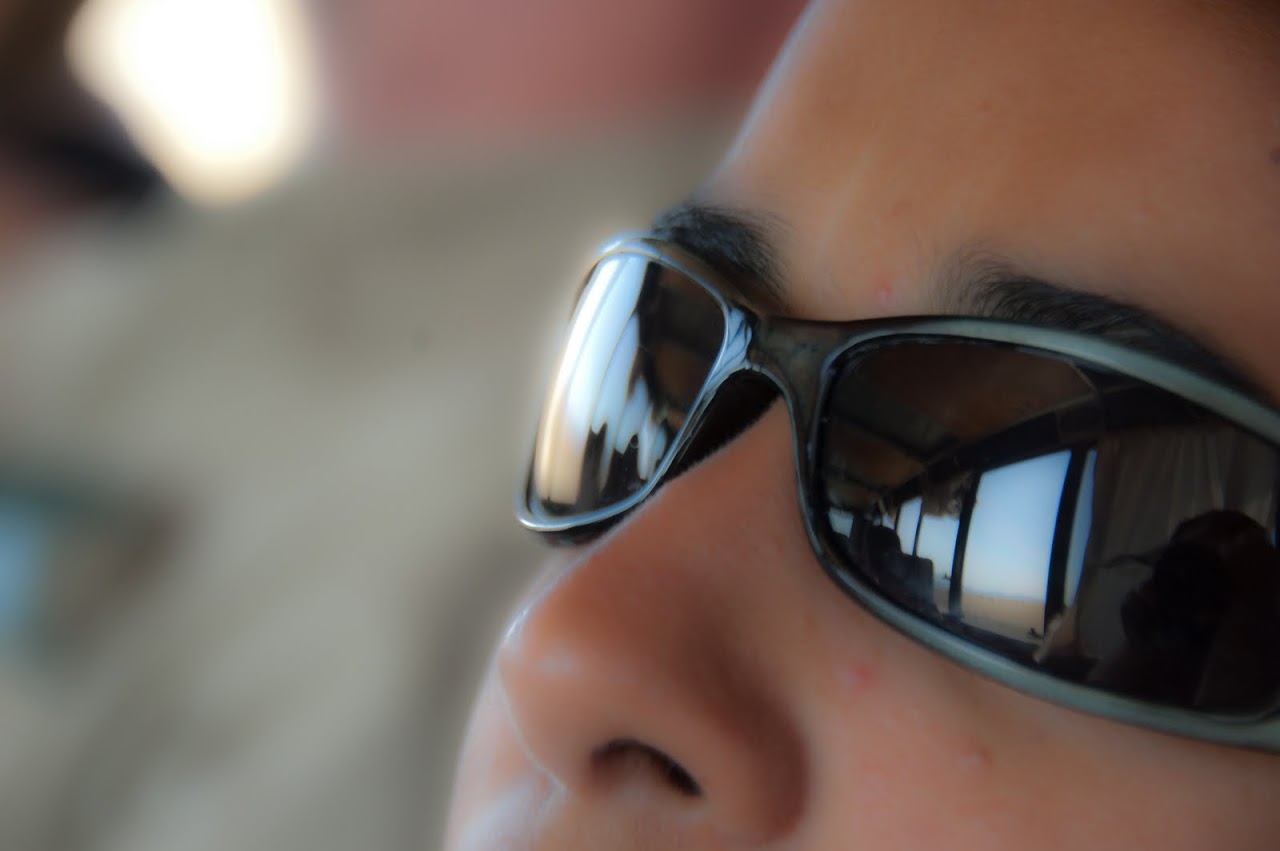 Spending time on the truck
Based on comfort level: I am going to say this twice just to make sure you understand this very important point. You will spend a lot of time on your overland truck. Hear that?  You will spend a lot of time on your overland truck so think carefully about the features of the truck, such as:
How much storage do you have for your main backpack and is it shared or individual storage?
Do you have an individual locker inside the truck so you can access your camera, water, magazines, etc.?
Are the seats forward-facing or side-facing?  [When you are on safari, you will want seats to be forward facing.]
How many seats are on the truck?
How large are the tents that you will be using?
Does the tour include a cook?  [Acacia Adventures, for example, is much cheaper because there is no cook.]
Based on interest: Every overland expedition company markets to slightly different audiences.  Africa-in-Focus markets itself to people interested in photography and includes photography courses as part of the tour; Acacia Adventures has the reputation of being a party-truck that appeals to a gap year crowd; and so on. African Safari Journals includes first person reviews of hundreds of African overland tours and is a great guide to help you decide whether that company meets your interests.
Space and storage on the Africa-in-Focus truck
Why We Chose Africa-in-Focus :  When we started pla nning our southern Africa leg, Africa-in-Focus became the obvious choice for the overland portion for three reasons:
Truck: Africa-in-Focus has the most comfortable overlanding truck in southern Africa.  And, that's not an exaggeration. Benji , as the Africa-in-Focus truck is called, is larger than most of the other trucks out there and has less seats, meaning that each person has more space than you would get in a first-class cabin of an airplane.  Two people share a huge locker below the truck where we stored our main backpacks, pillows, and water, and a large foot locker in the truck where we kept our computers, camera equipment, water, and whatever else we wanted to use while traveling.  The foot locker also contained an additional safe where we could keep our passports, money, and other valuables.  Each locker had an individual key and the lockers below the truck were locked with a master lock, as well.  Every time we saw other trucks at campsites or attractions, we felt lucky that we were able to travel in such comfort.
Patrick ogling a friend's camera; Jacques giving a photography tutorial
Focus on photography: On most afternoons, Jacques, our group leader, gave tutorials on photography, covering basic concepts like aperture, shutter speed, and white balance, to help us become better photographers.  Most of the people on our trip were enthusiastic amateurs, people who had a basic DSLR or a point-and-shoot and wanted to learn to use their camera better, though one couple on our trip caused several of us to suffer from serious camera-envy.  (Ahem, Patrick really wanted to buy more stuff after hanging out with them).  Because Patrick and I felt relatively comfortable with our DSLR, the workshop helped clarify some of these concepts in our mind and helped us switch to shooting with aperture-setting rather than auto.
Price: $4,800 for 3 weeks is a lot of money, don't get me wrong.  But, when I priced out how much it would cost us to travel through Namibia and Botswana independently, the figure came in at an astonishing $10,000 for those 3 weeks, which we just couldn't afford.
All in all, Africa-in-Focus was the right choice for us and we would recommend them to anyone considering traveling in southern Africa.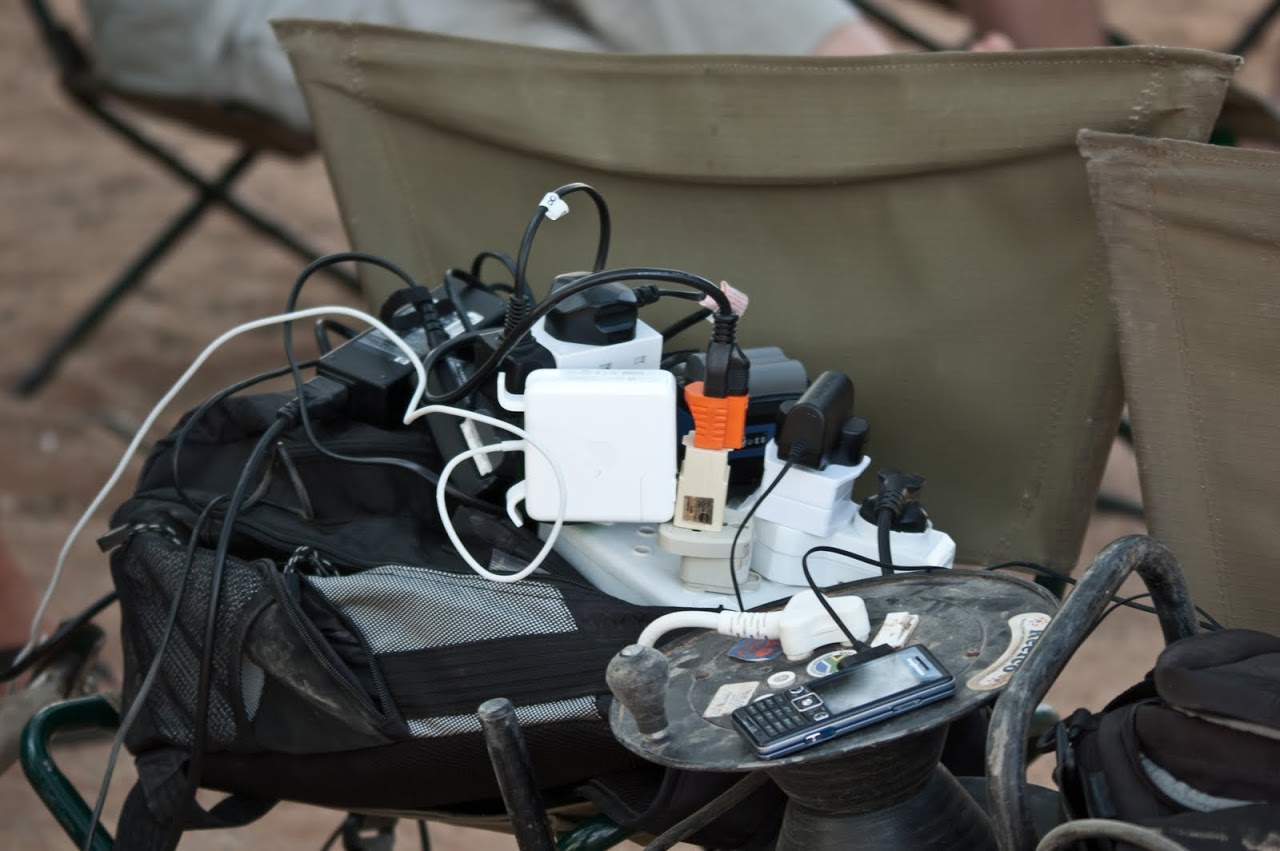 Everyone charging their equipment at the campsite
All The Things You Want to Know, and Some That You Don't
What do I need to pack? Aside from clothes, toiletries, and camera equipment, you should bring:
a headtorch [you will need this for putting up and taking down your tent, eating, and pretty much everything else you do at night];
convertible pants [mornings might be chilly but afternoons will be hot];
swimsuit [most campsites in Namibia and Botswana had a refreshing pool];
an ATM card [do not bring travelers checks];
sleeping bag [we purchased a warm weather sleeping bag which was perfect for all of Botswana and most of Namibia, and supplemented it with a thick blanket for the few cold nights that we had];
binoculars [a good pair of binoculars is very helpful on safari and we wished that we had a pair]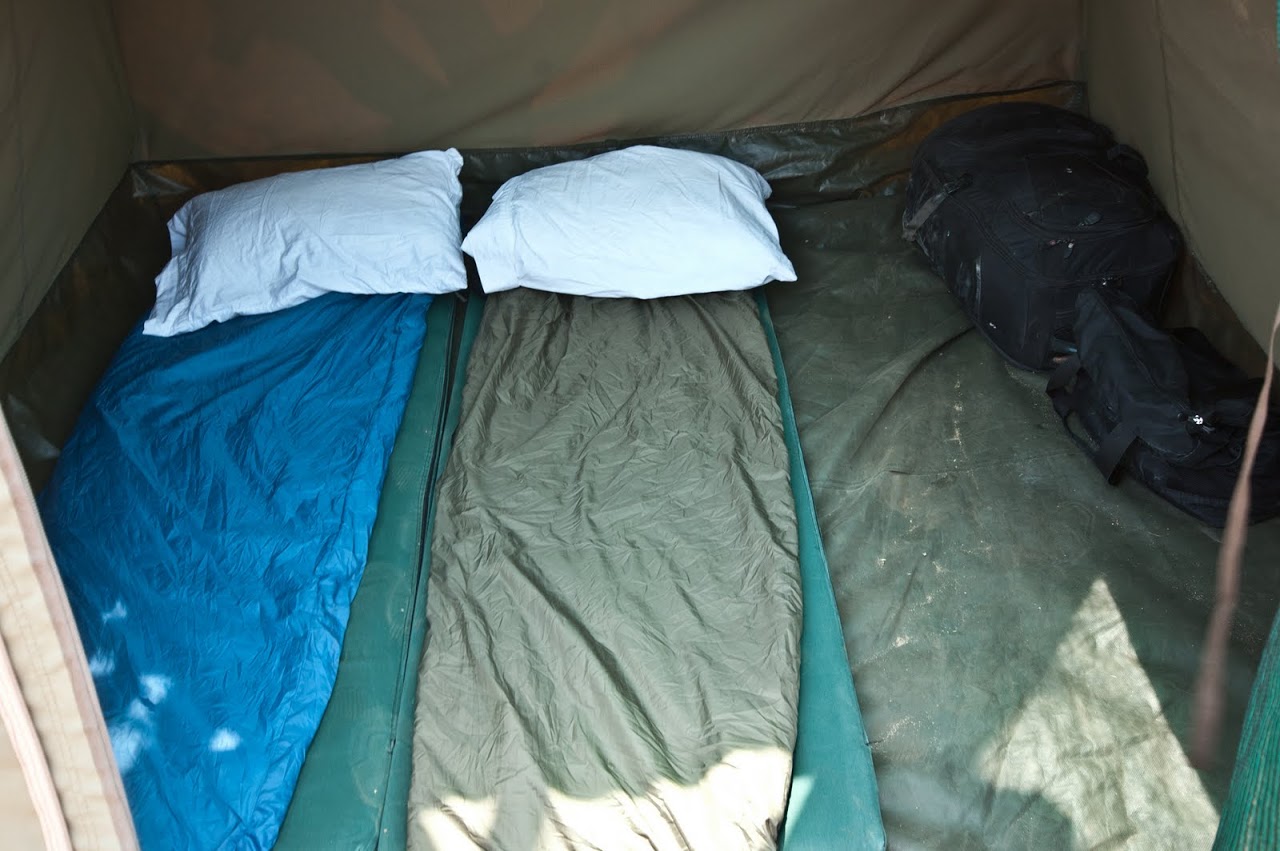 Tent Sweet Tent
How much do I need to know about camping? Nothing.  All of the companies use dome tents that are easy to put up and take down.  It took us less than 5 minutes to put up our tent and less than 3 minutes to take it down every day.  Most of the overlanding companies provide a thin foam mattress to place under your sleeping bag and a camp chair.  In Namibia and Botswana, except for at one site, the campsites were clean and comfortable, with large restrooms and showers, and most had a bar and swimming pool, as well.  We bush camped in the Okavango Delta for one night and, on that night, we used a "bush toilet" and did not shower.
How do you get money/buy snacks/check e-mail, etc.? Every two to three days, we stopped at a small town to buy groceries and while our guide and cook were buying groceries, we were able to use the ATM, buy snacks, check e-mail if the town had an internet facility.  Plan not to be in contact while you are on your overland excursion because finding internet can be difficult.
Do you drink tap water? All of the overland trucks have a large space to carry clean water but we also purchased 5-liter bottles of waters and drank from those, if we felt that the water was unsafe to drink.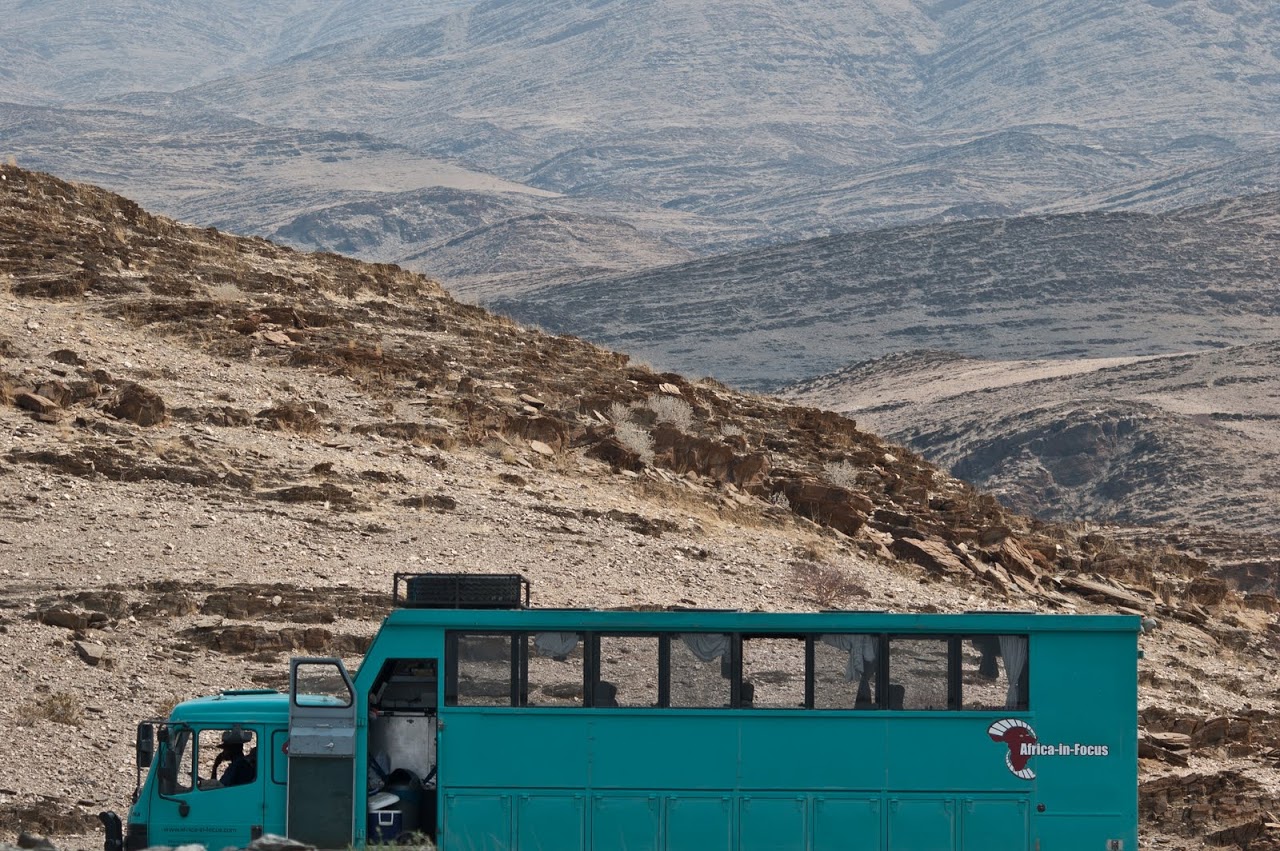 Truck somewhere in Namibia
How do you do laundry? Several of the campsites on our trip had a washing machine (specifically, the campsite at Fish River Canyon in Namibia, Okakuejo in Etosha, and the lodge at Swakopmund).  Otherwise, most of the campsites had a large sink to handwash clothes.  Because the air is so dry in Namibia and Botswana, clothes dry in about two hours so air-drying is never an issue.
I am lactose-intolerant/vegetarian/have allergies, etc.  Do overland companies accomodate dietary restrictions? Yes.  I am vegetarian and didn't have any problems.  Our cook ensured that I had a great meal every day.
Whew!  I am sure I missed all sorts of important notes or questions, so please join in the discussion in the comments.
*Our trip was sponsored in part by Africa-in-Focus but they did not ask us to write this post or any part of this post.  As always, our opinions (both good and bad) are our own.