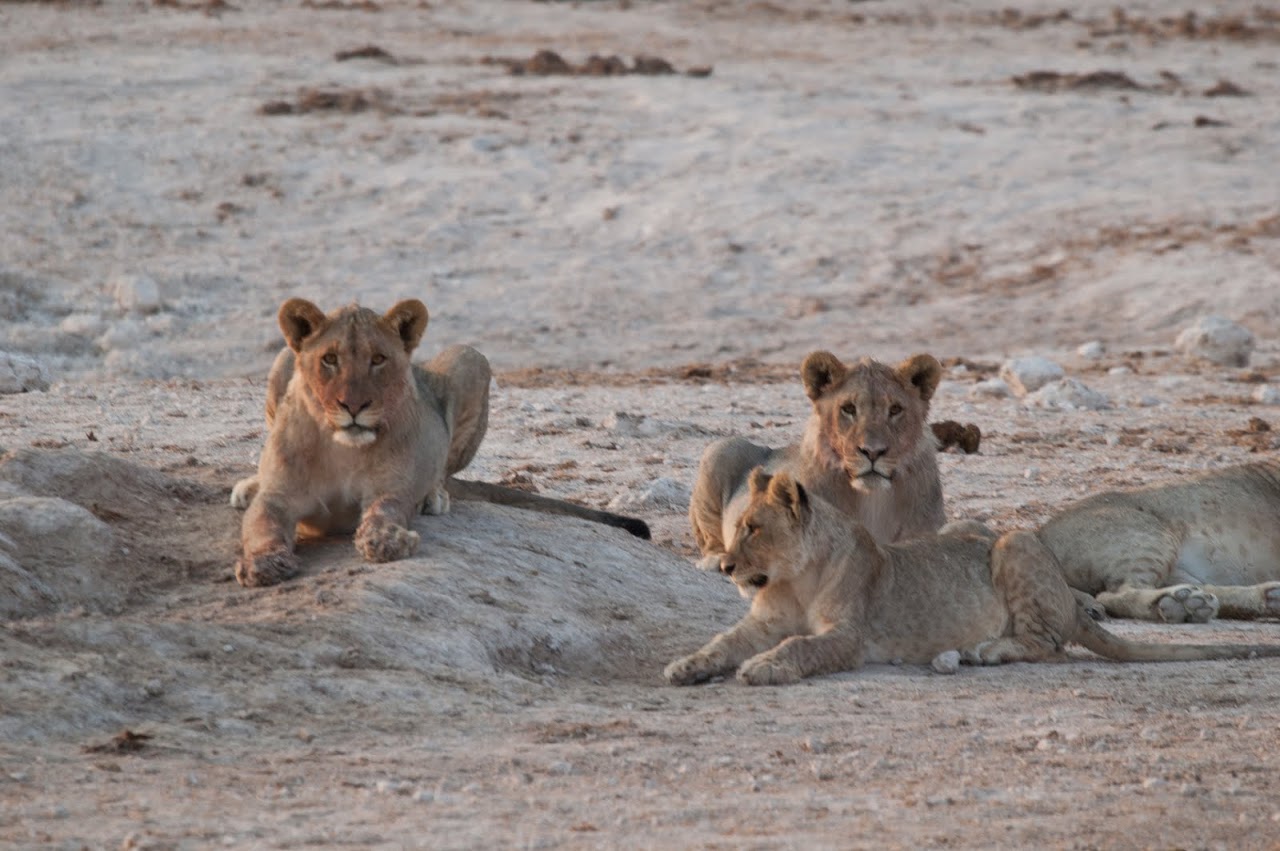 Lionesses in the morning
I've said before that game viewing has its ups and downs.  Patrick and I spent 8 days in Kruger National Park, known throughout Africa as the best place to see lions, and didn't see any.  On our last day in Kruger, we saw five lions walking through the trees for about 30 seconds and that was our best lion sighting.  Lion viewing is notoriously difficult because lions spend their days lounging in the tall grass, hunt at nights when game vehicles are prohibited from entering the parks, and rarely come near the roads.  So, given all that, we didn't have high expectations for seeing lions in Etosha.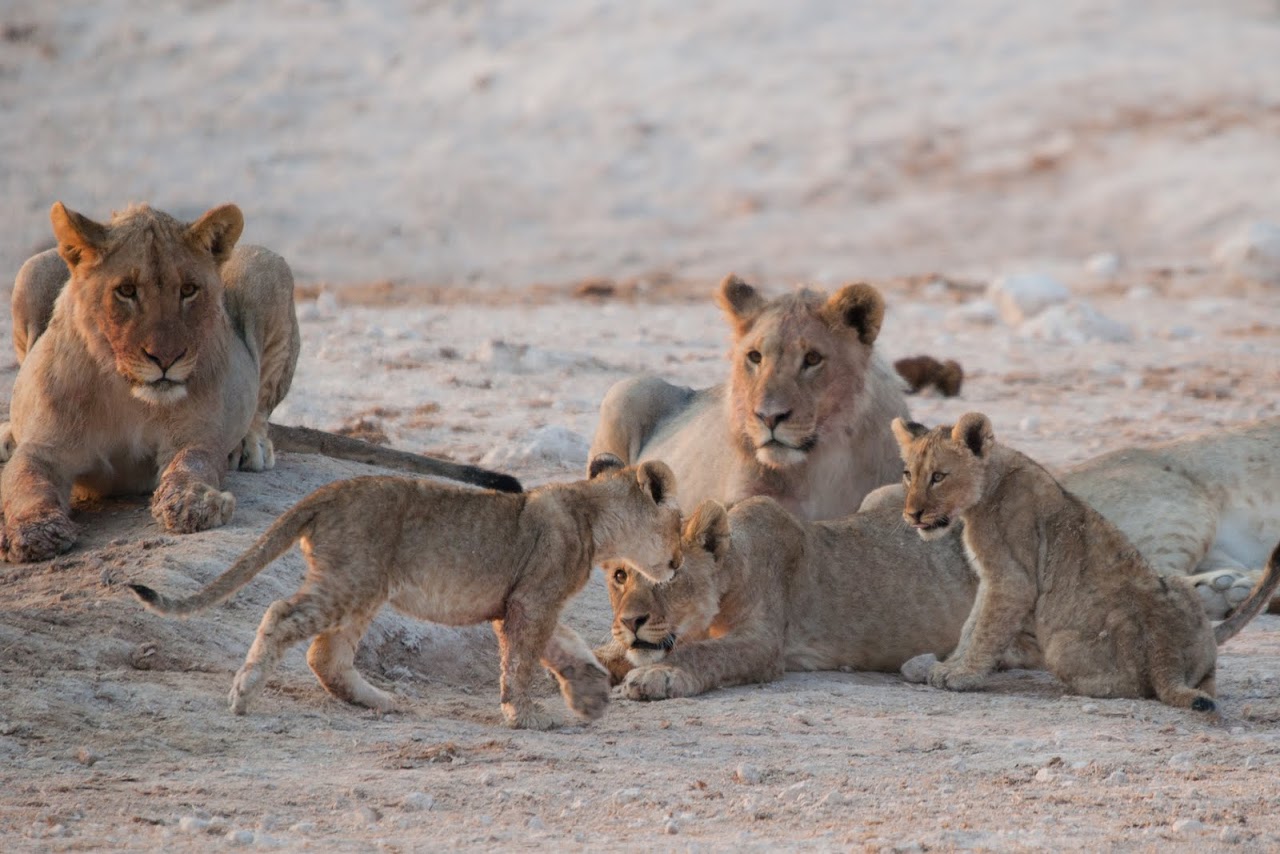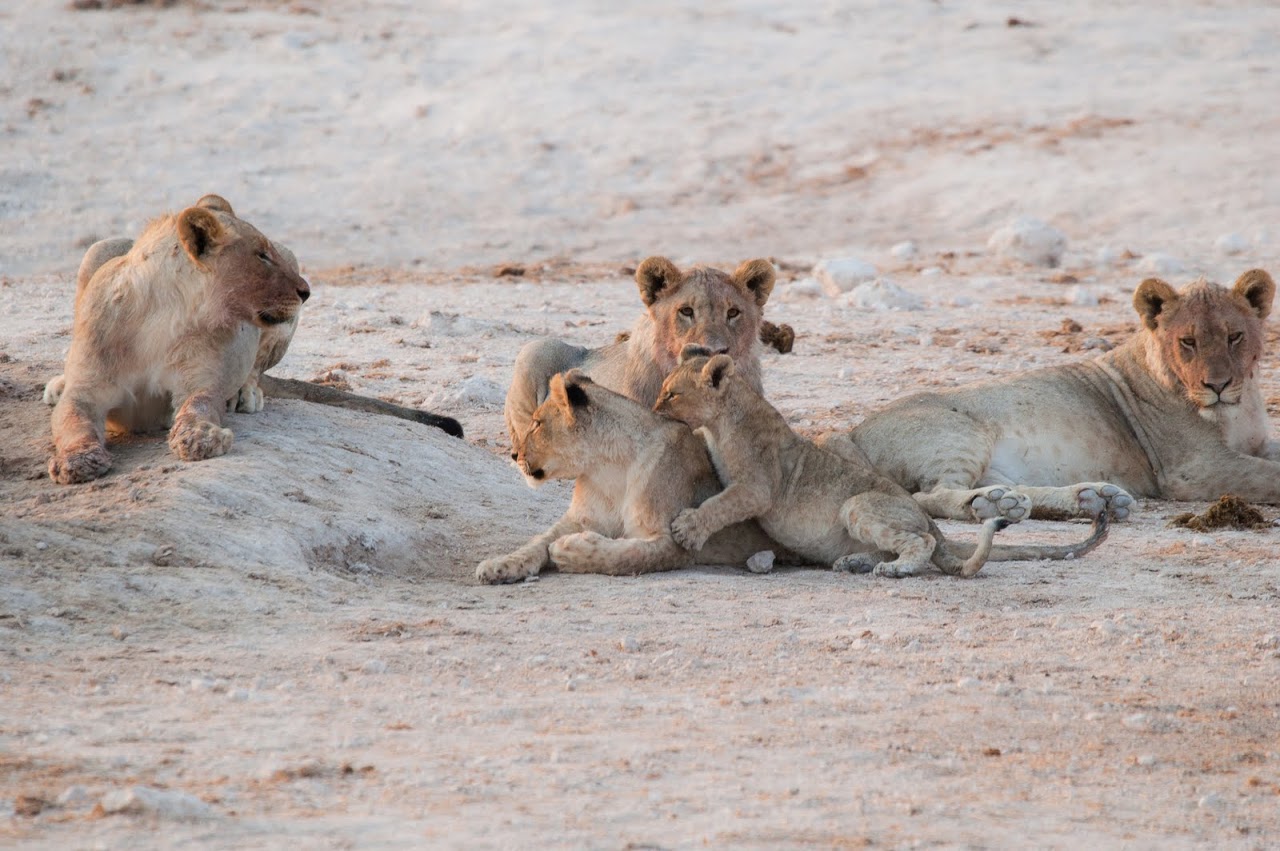 Lionesses and cub at Etosha
That might, actually, be the trick to game viewing.  Have low expectations and, then, they will be far, far exceeded.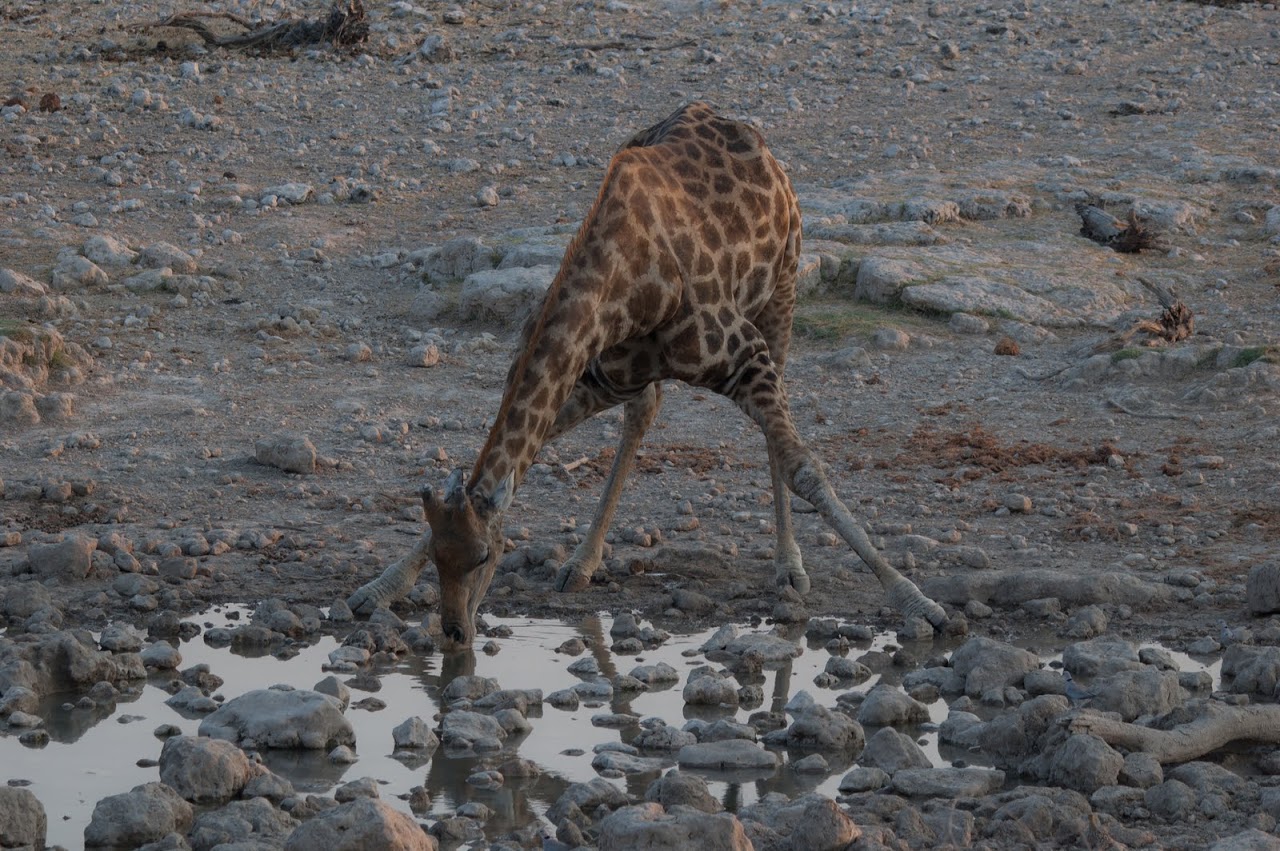 Giraffe drinking water

It happened like this:  On our first night at the Okakueje watering hole, we watched a herd of giraffes hanging out and drinking in the funny way that giraffes drink. (Have you ever seen that?  They stretch their legs very carefully all the way out, on either side, and then stick their heads down, in between.)  A herd of rhinos came in and some coyotes and all the animals seemed to be enjoying their refreshing drink.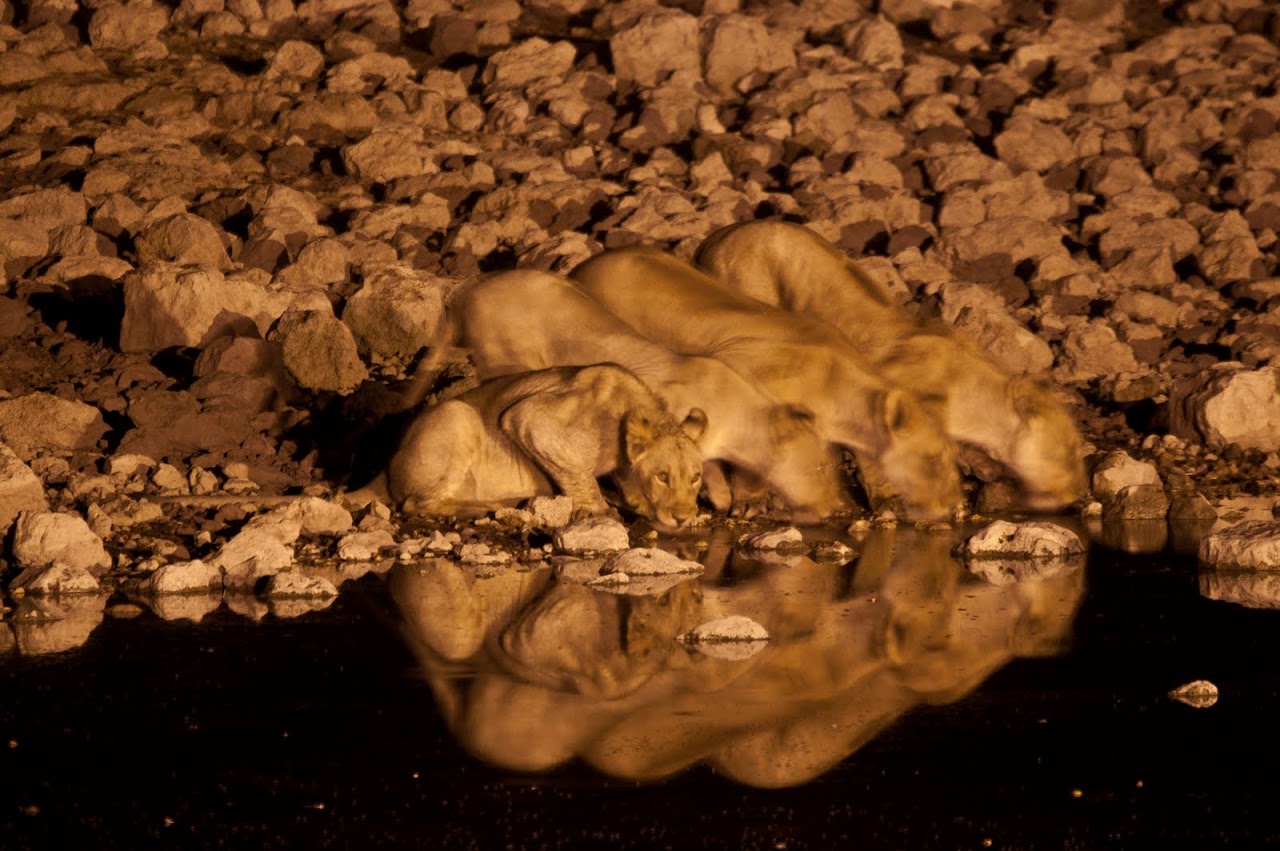 Lionesses at watering hole
And, then, before we understood what had happened, the scene shifted.  The rhinos bucked back, protecting their young rhino, and the giraffes walked away from the water, standing alert and, at watch.  A lion and five lionesses sauntered in, hungry and thirsty.  The lion roared, a sound more primal and frightening than anything I have ever heard before.  Though I was behind an electric fence, my skin popped out goose pimples and my heart raced.  They chased those poor giraffes, but were never fast enough to eat that night.  When we finally hit the sleeping bags at 1:30 a.m., knowing we would need to be up at 6:30 a.m. for the next morning's game drive, the lion's roar penetrated my dreams.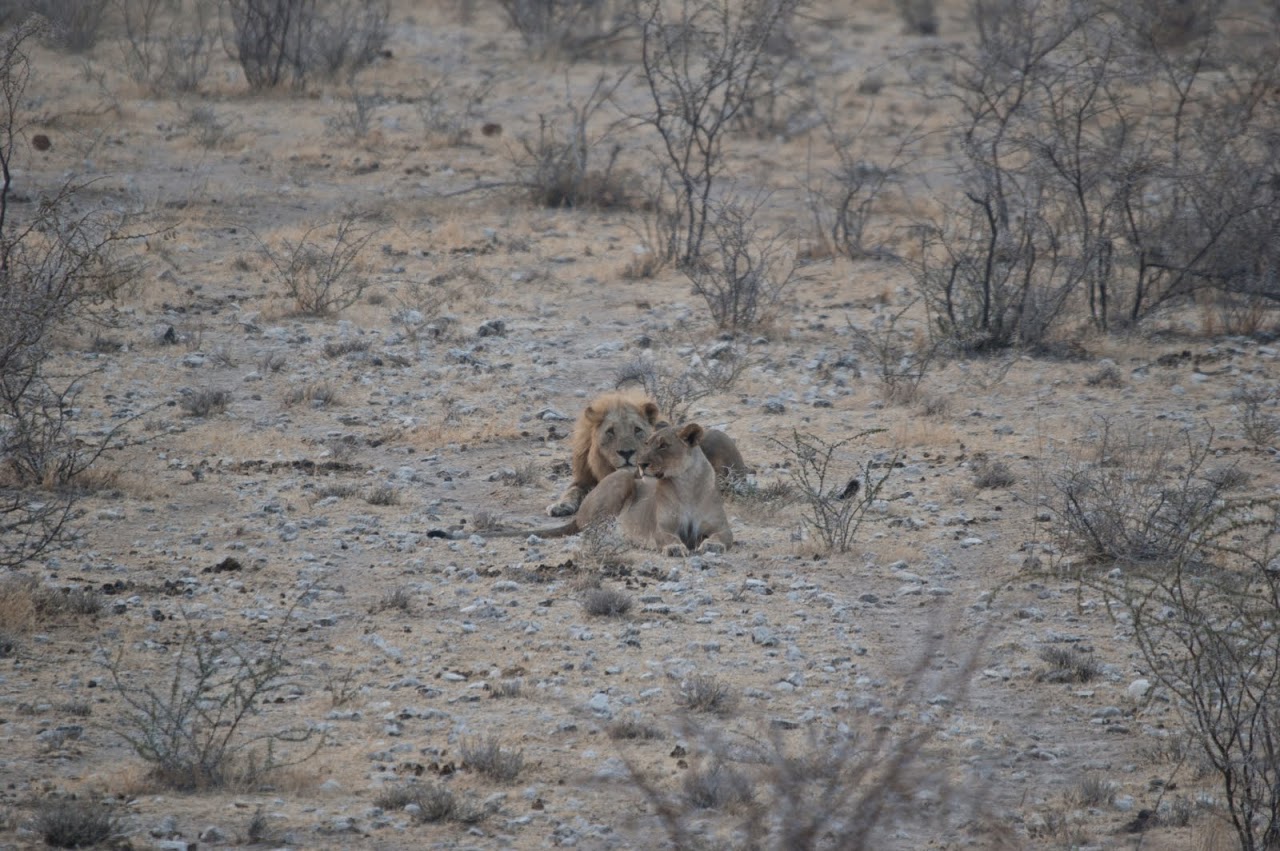 Lion and lioness outside camp gate
The next morning, one of the others on our trip spotted a lion and lioness sitting far in the distance as soon as we left the gates of our campsite.  But, otherwise, the morning drive was mostly devoid of game and I considered sitting out the afternoon game drive and, instead, staying at the watering hole.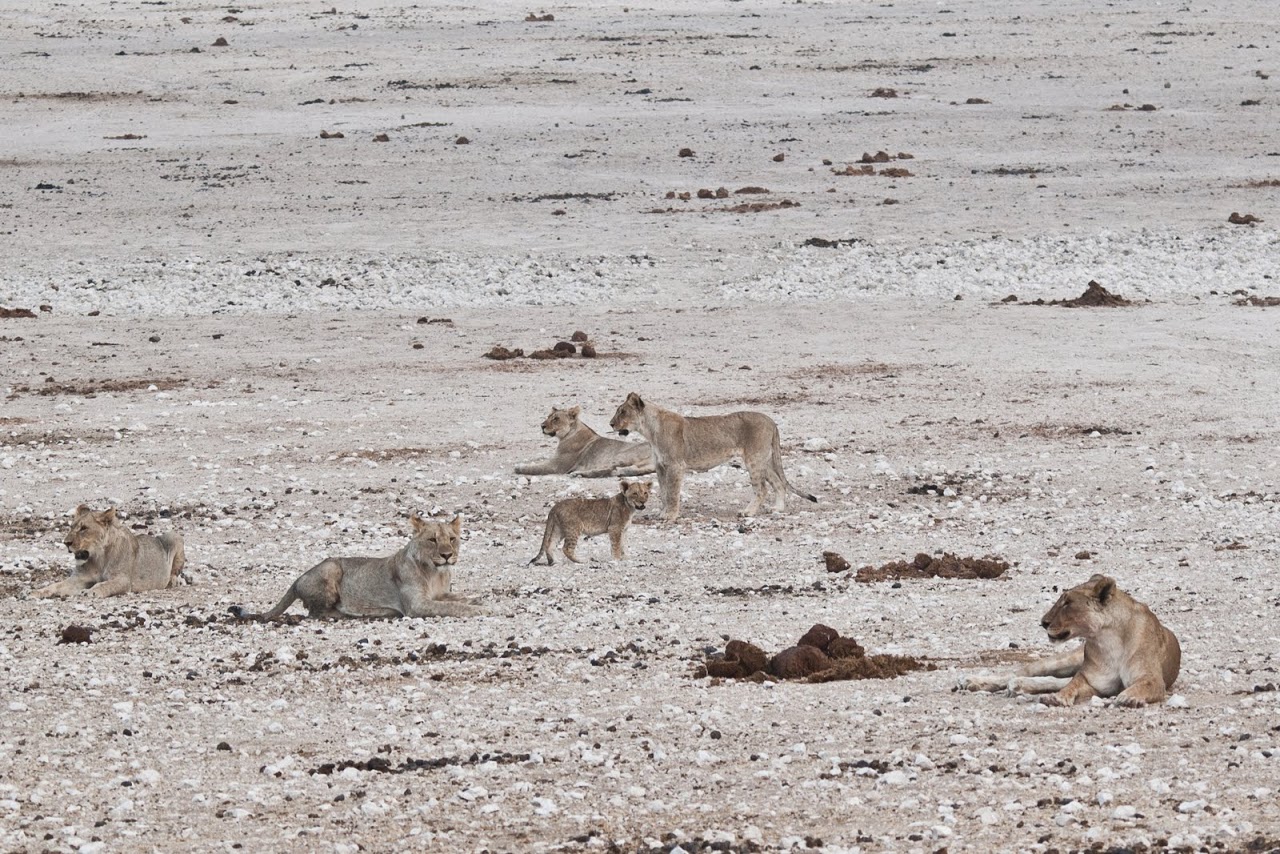 Lionesses and cub at Etosha
I was so glad that I went on that afternoon game drive because, after a far off glimpse of another lion, we chanced upon this.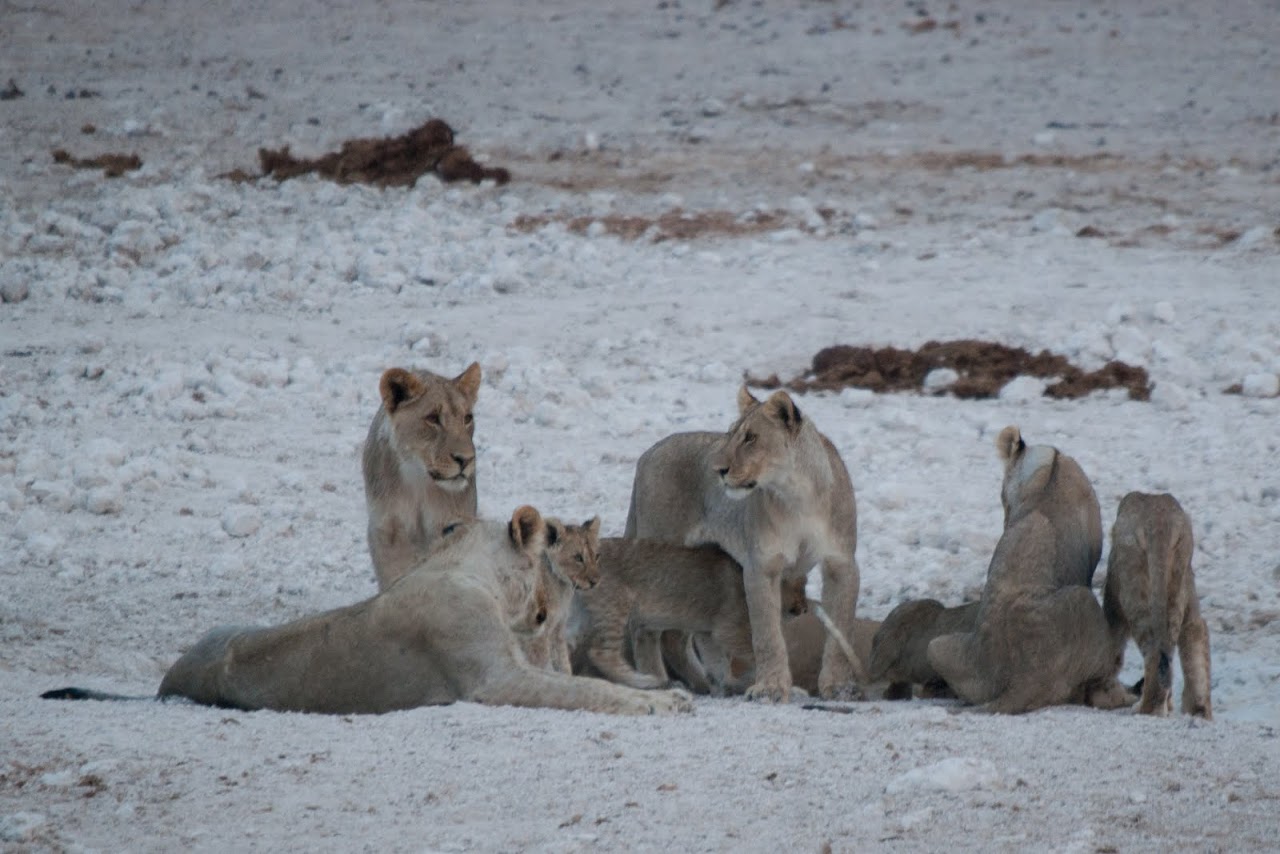 Lionesses and cubs
Fourteen lionesses and cubs (!) sat mere feet from our overlanding truck in an open area near a small watering hole.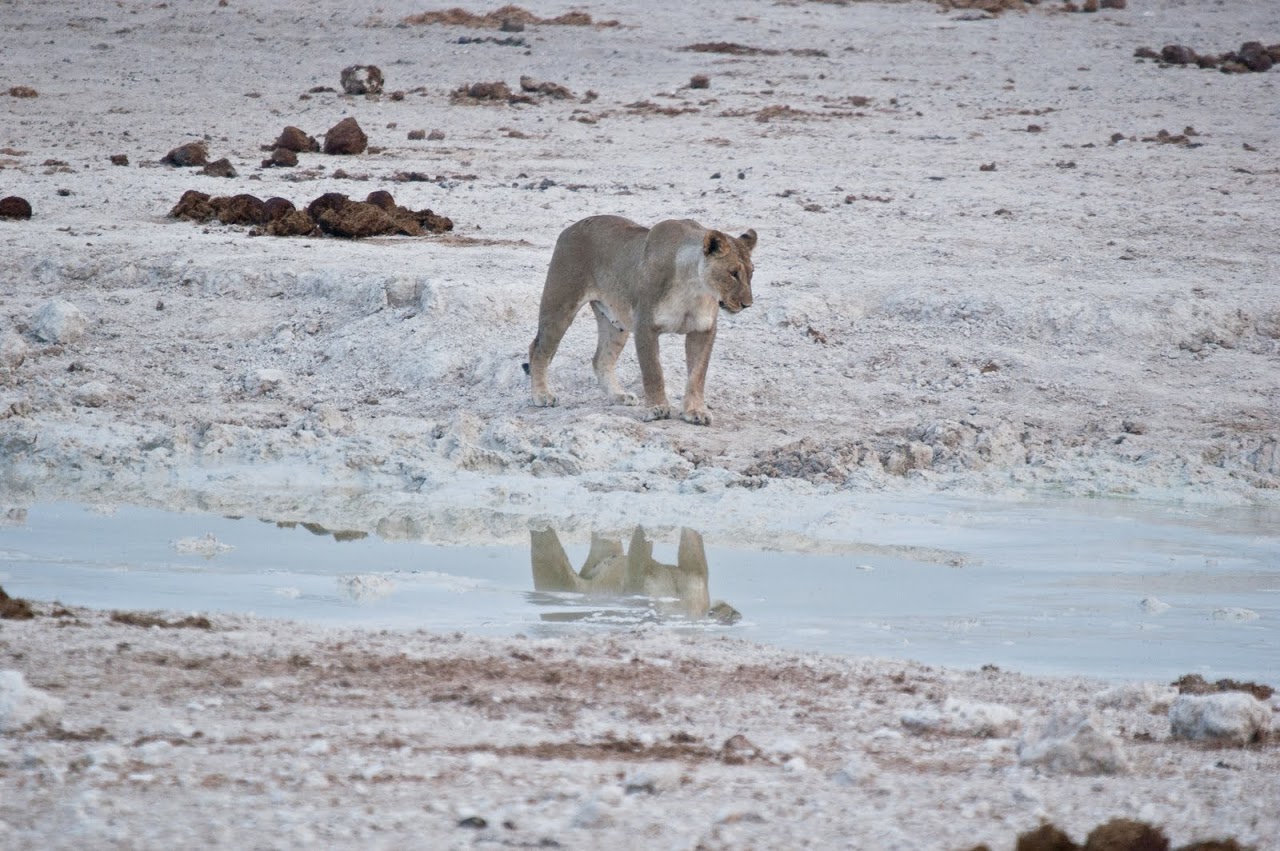 Lioness and reflection at watering hole
There may have been a little squealing but, mostly, all I heard was the constant clicking of camera shutters as we watched the lionesses.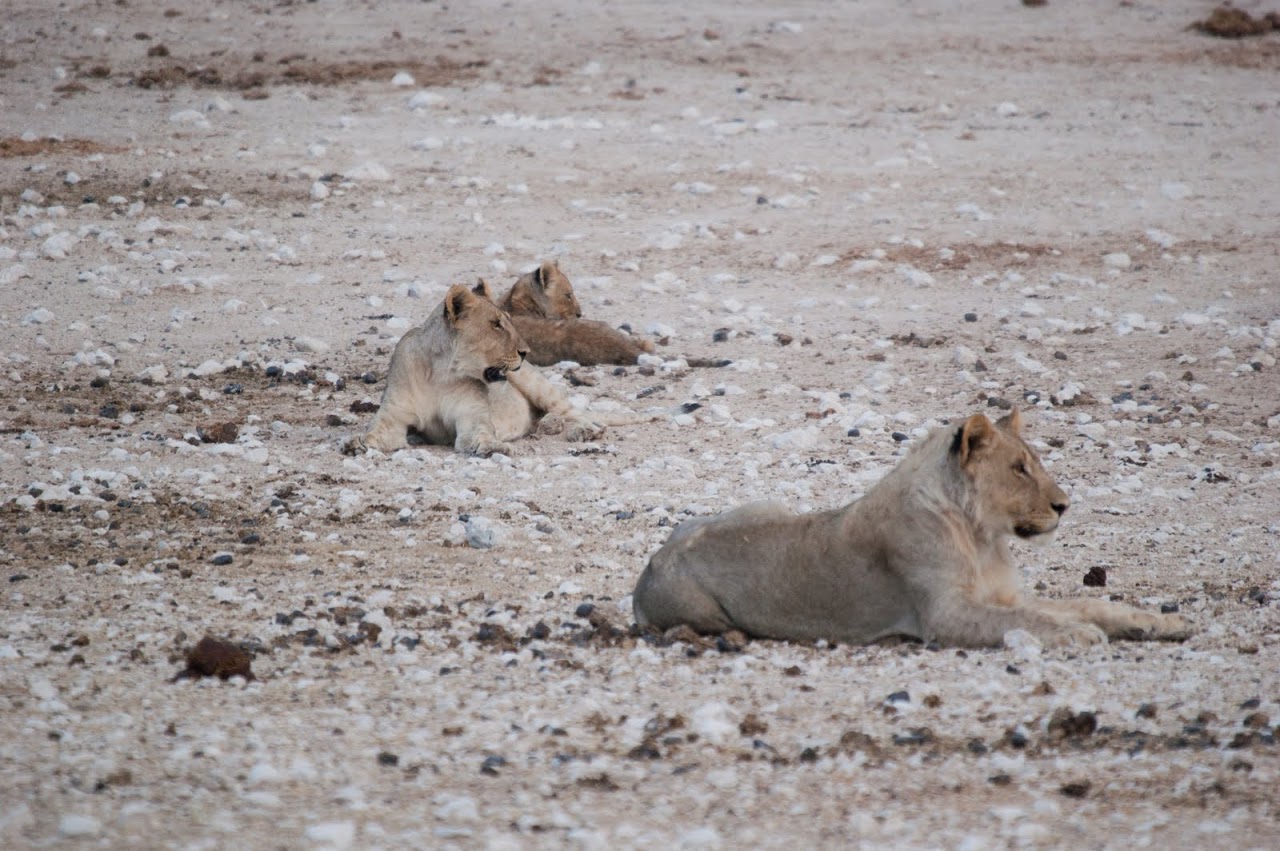 Lionesses
They were simply gorgeous in the waning light.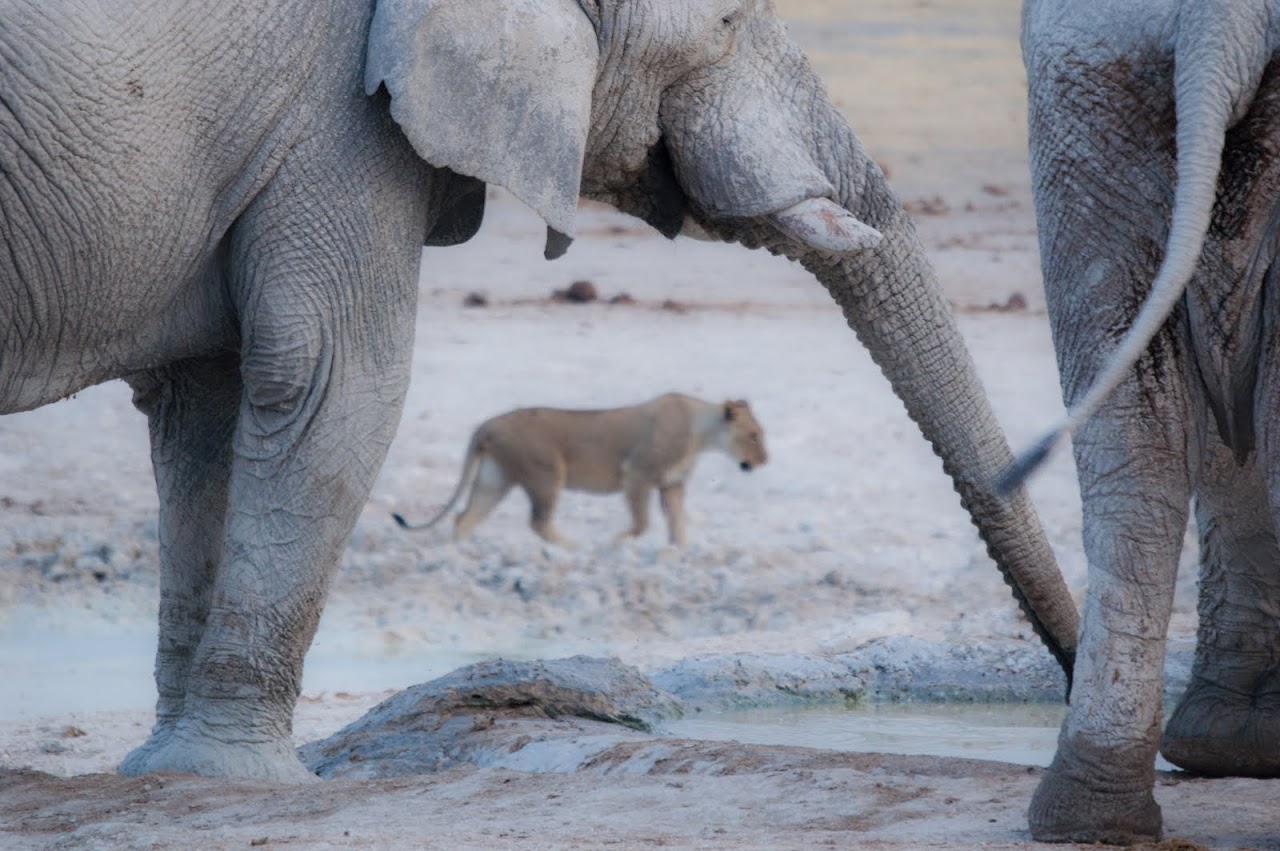 Elephant and lioness at watering hole
Unsurprisingly, the watering hole was devoid of any other animals except for two large elephants who warily stood apart from the pride of lions.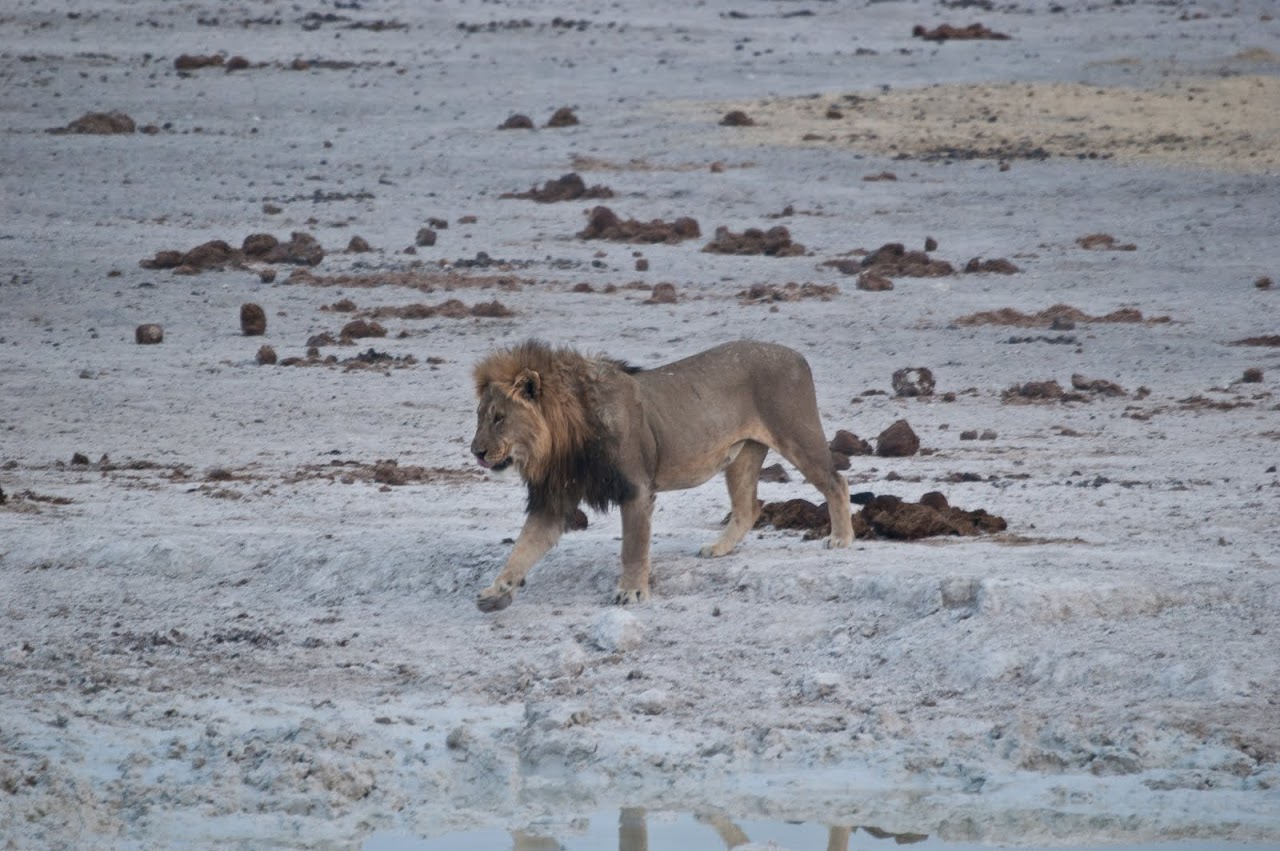 Lion
And, when we thought we had seen all that could be seen, the big daddy came home.  Isn't he just gorgeous?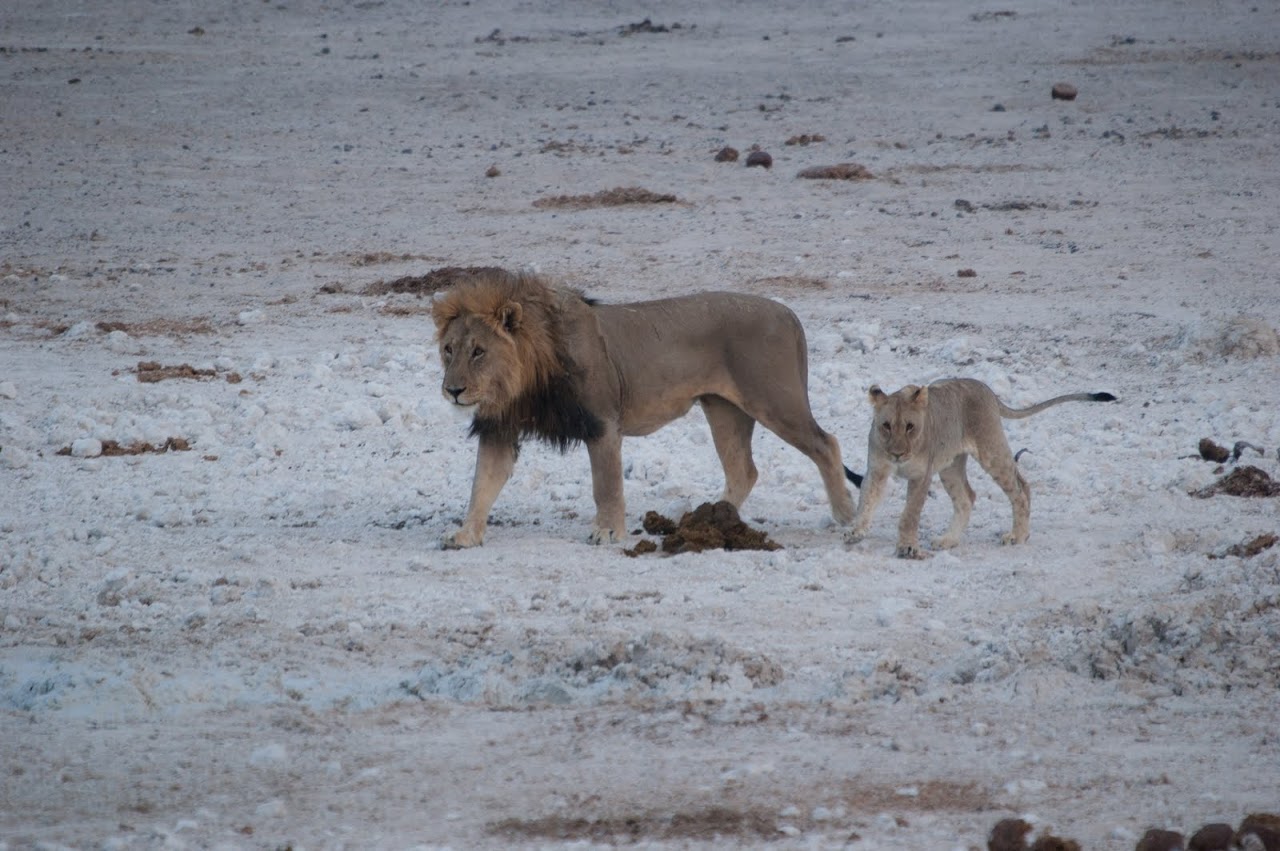 Lion and lioness
Like most of us, the lion had an after-work ritual.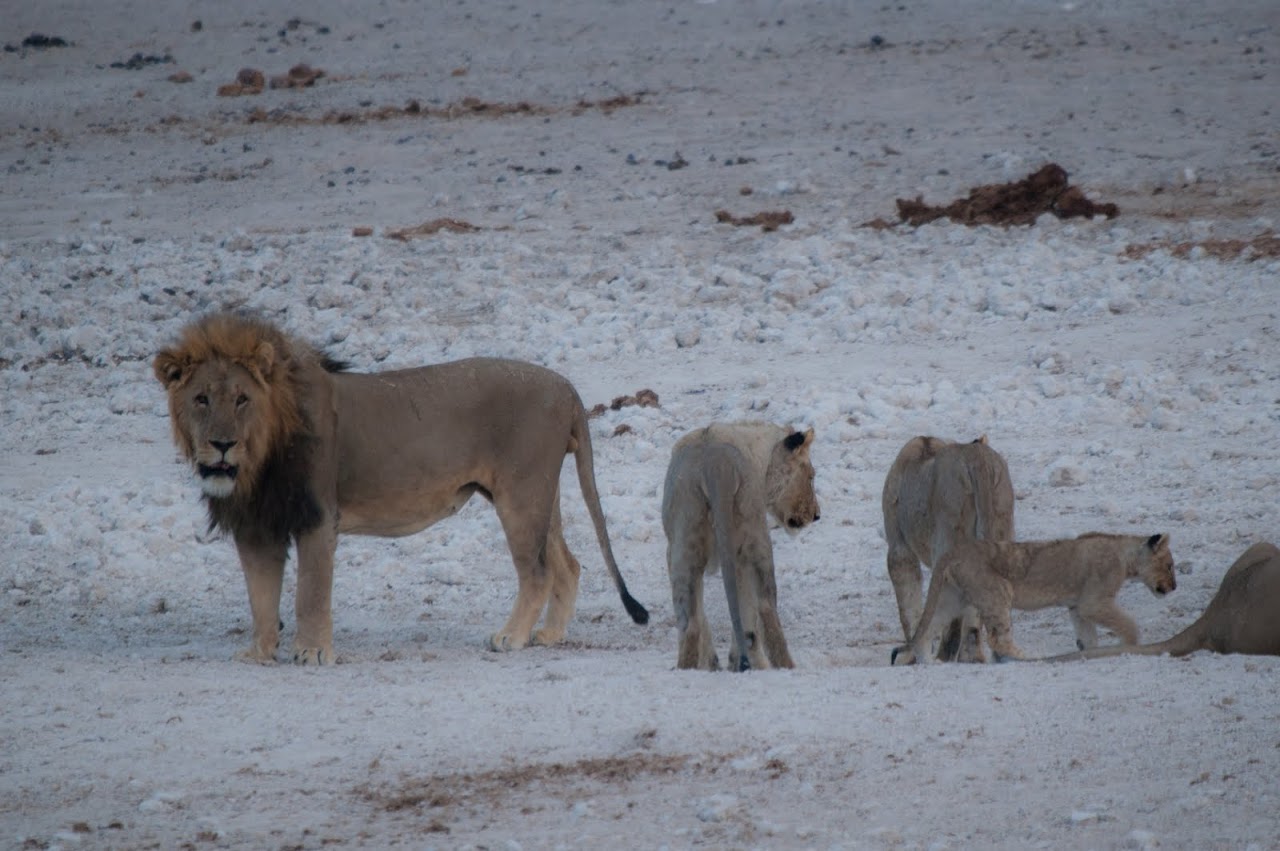 Lion and lionesses
He came to each of the lionesses, sniffed their bums, and touched their noses.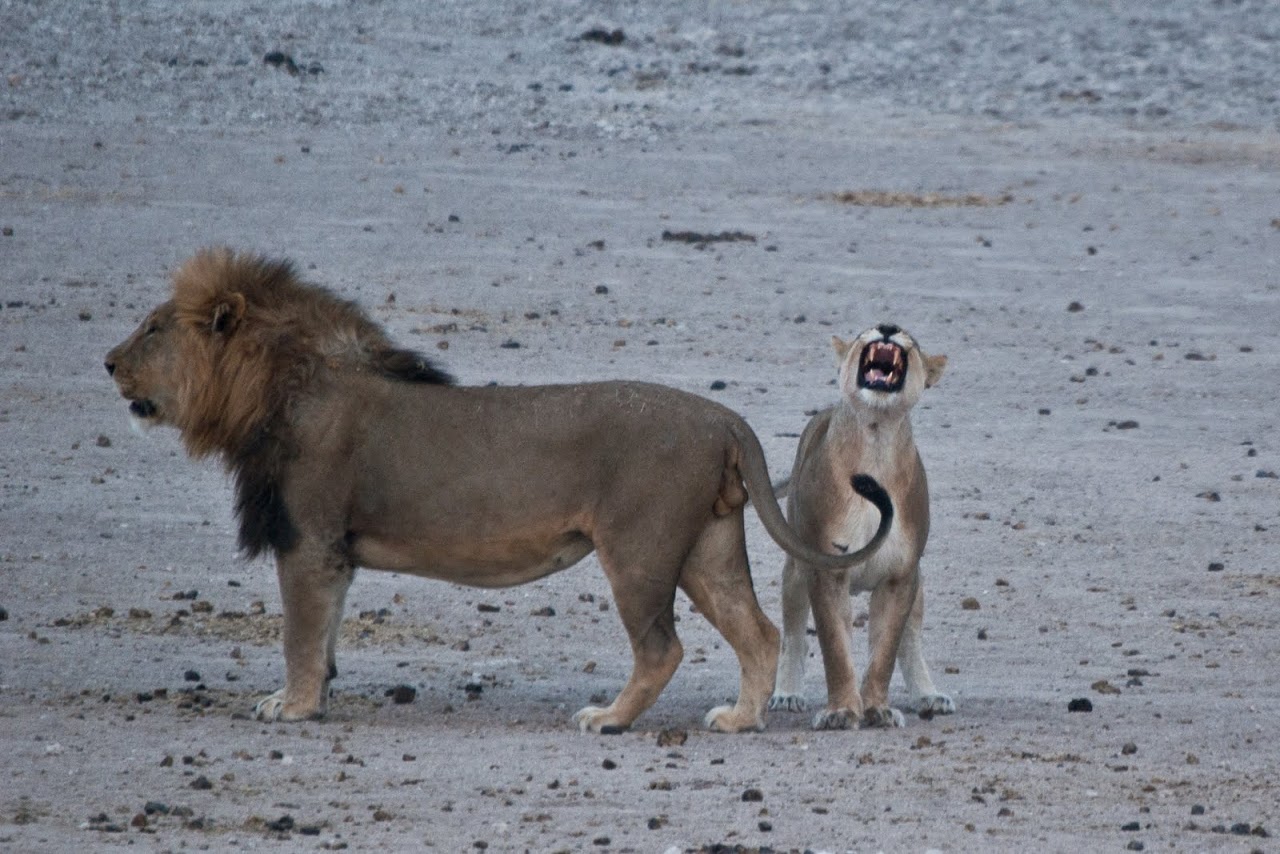 Lioness eager to mate
The last lioness, we found, was eager to get it on (in the immortal words of Marvin Gaye), and kept showing her teeth to the male lion.
Lion and cub
He apparently wasn't in the mood so he hunkered down and then the two cubs came to him.  They stood on his paws, smelled him, and cuddled between his legs.  Without a doubt, he was proud to be their father and proud to have such a strong, big family.  Though we could have sat there for hours longer, we raced back to the gate in order to get our truck in before the gate closed at 6:00 p.m.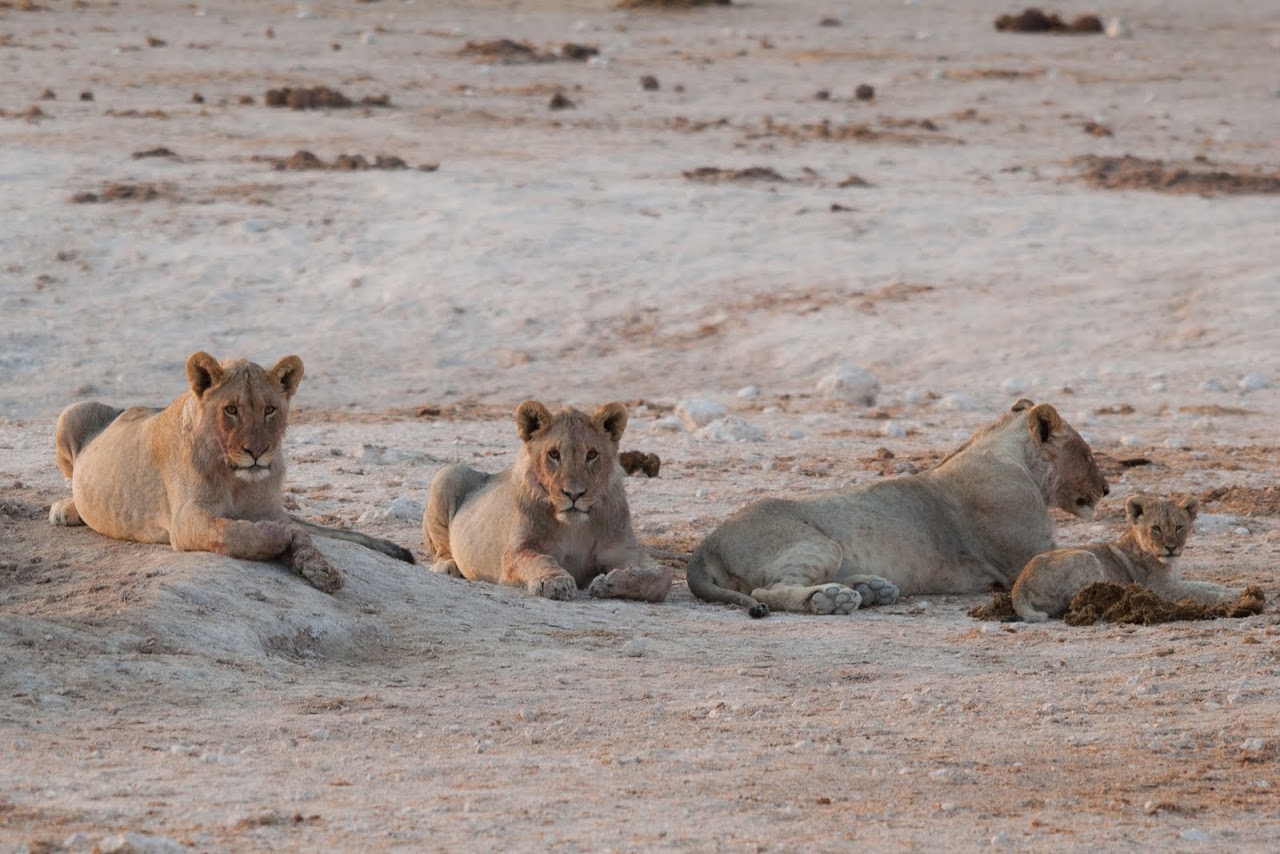 Lionesses and cubs
In the morning, the lionesses and cubs were still there, basking in the early morning glow.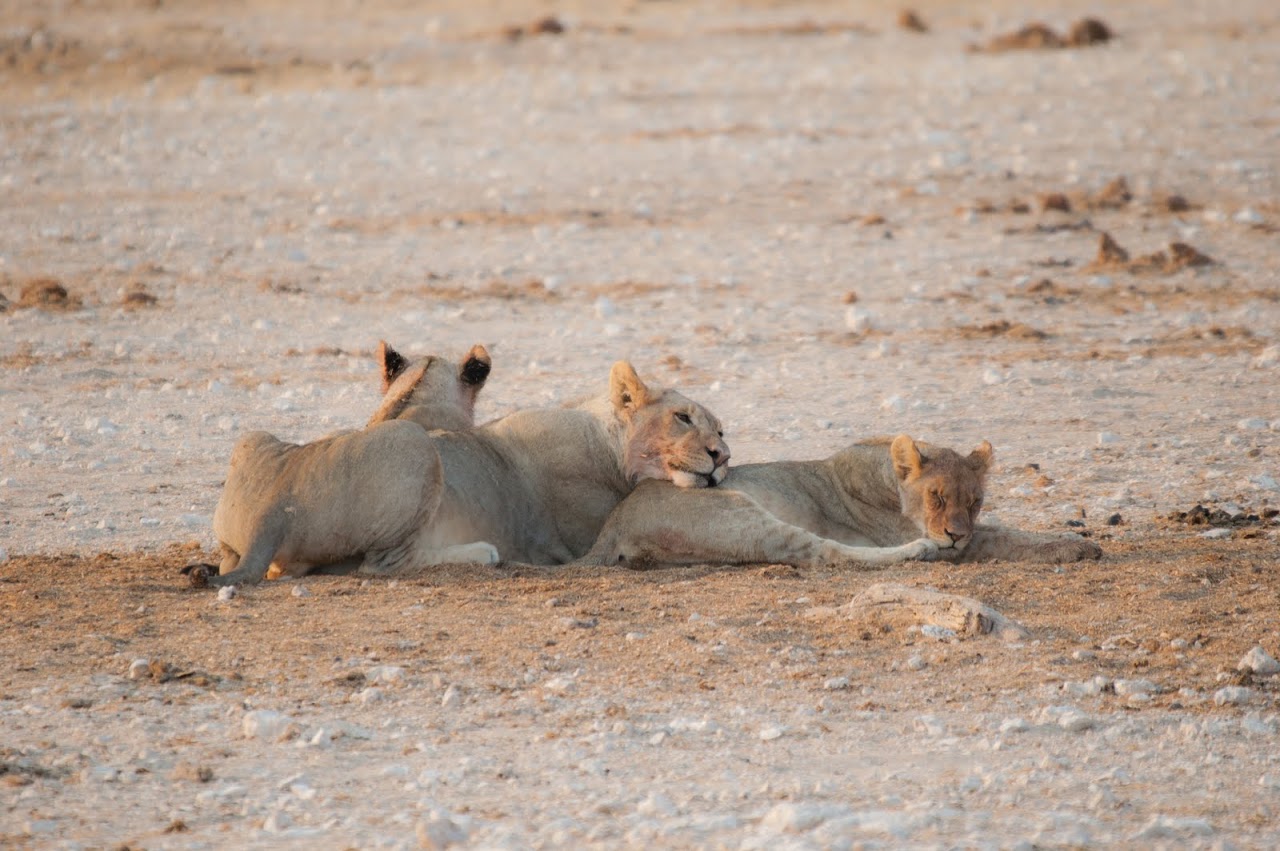 Lazy lionesses
They had hunted the night before and lazed near the watering hole, not perturbed in the least by the slew of cars and trucks that parked near them.
Lioness drinking water
We watched them drink water and pad around the rim of the watering hole.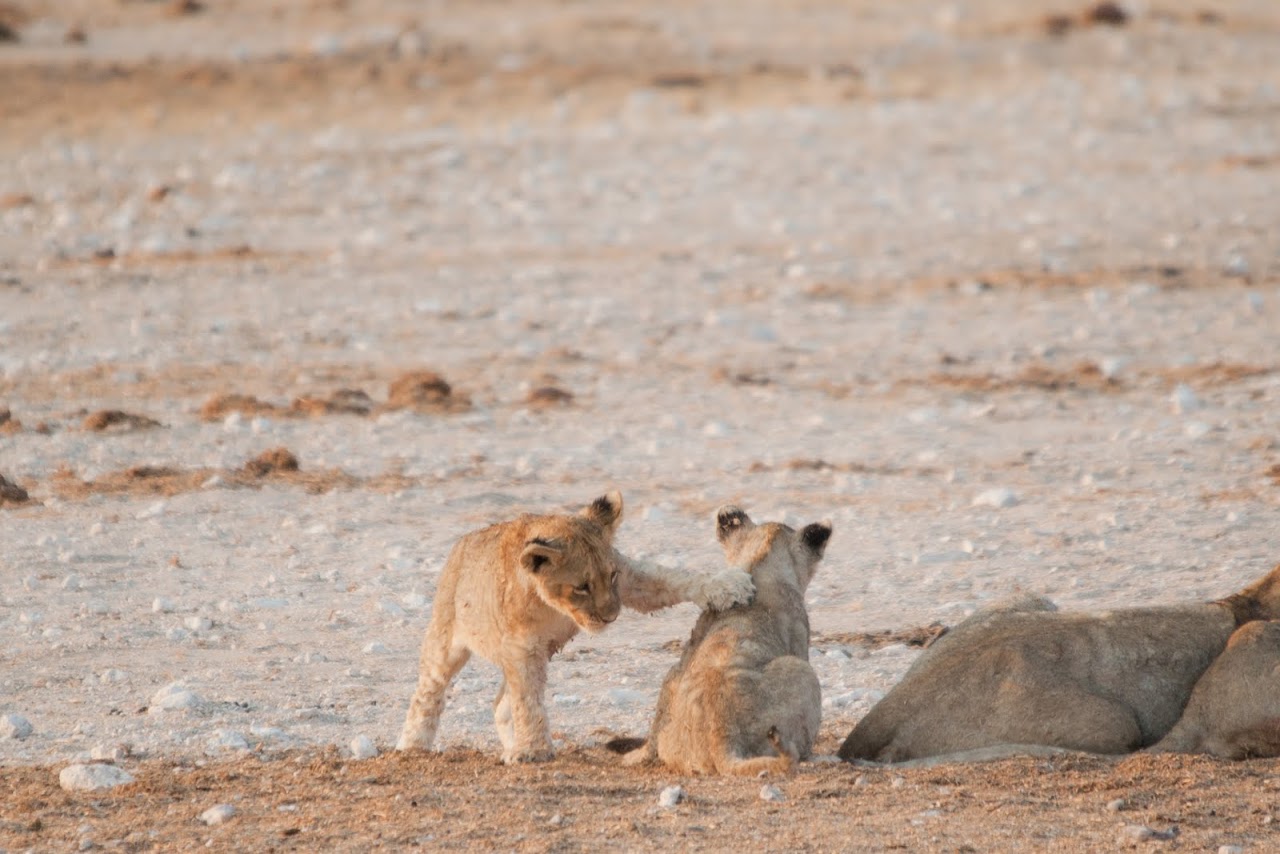 Cubs
The cubs had plenty of energy, of course.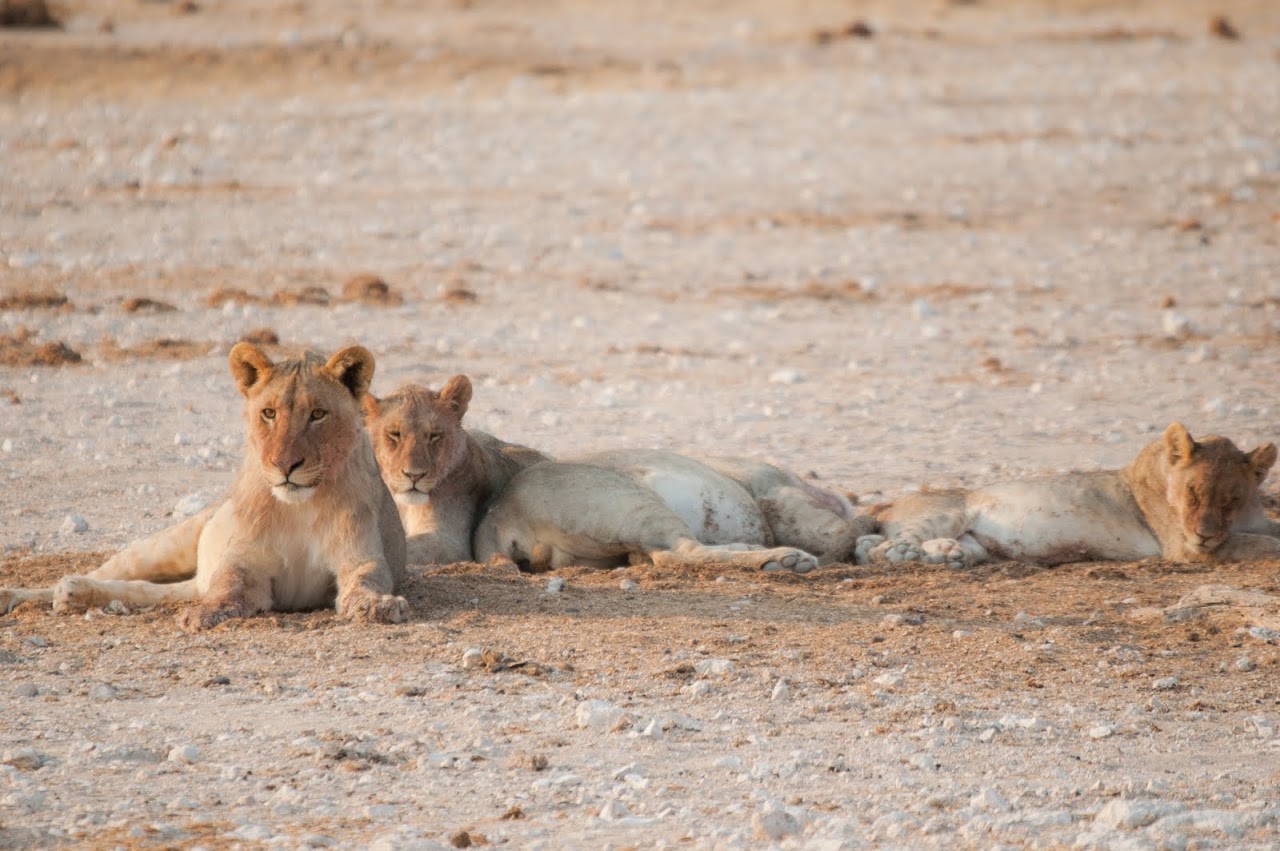 Lionesses
Their mothers and aunts slept while the cubs romped about and rolled in mud, apparently a universal trick amongst all babies.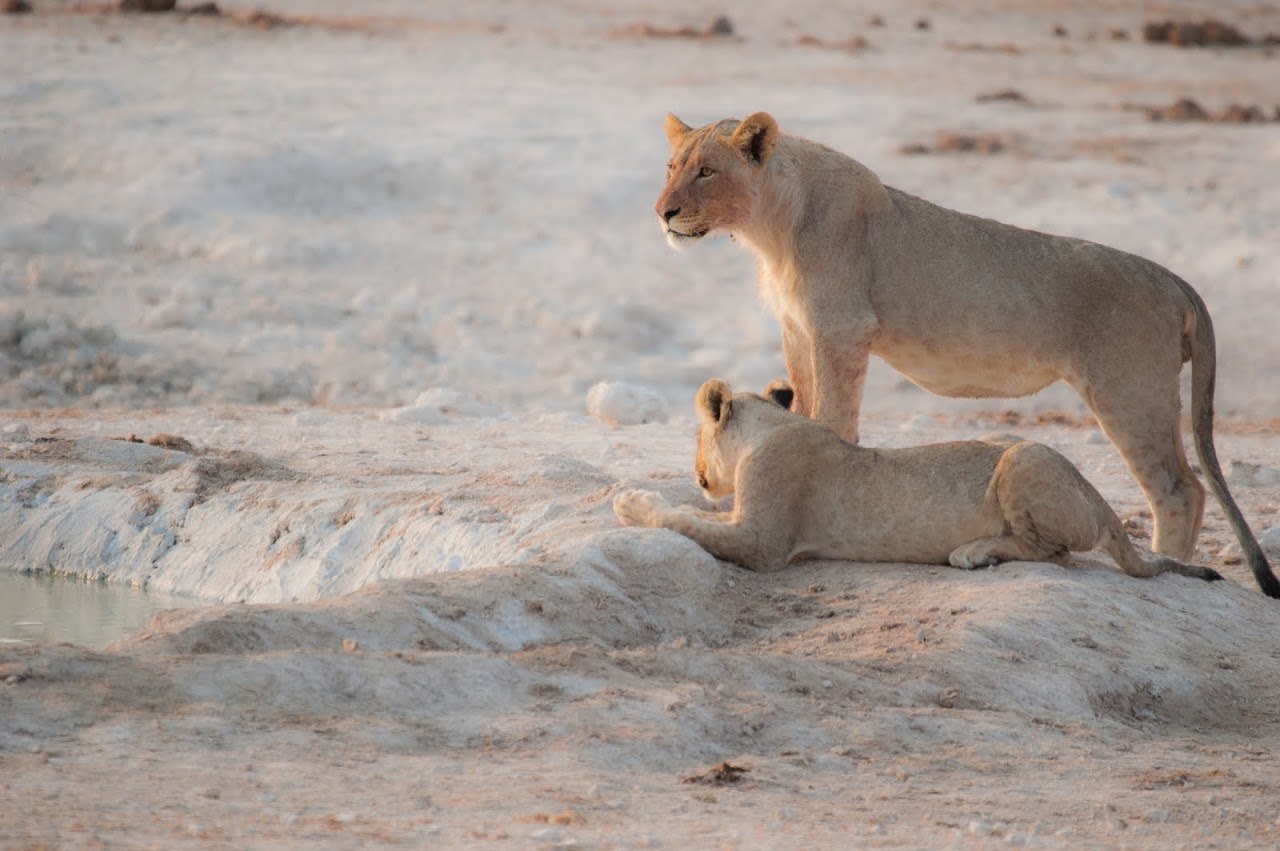 Lionesses
It was a photographer's dream.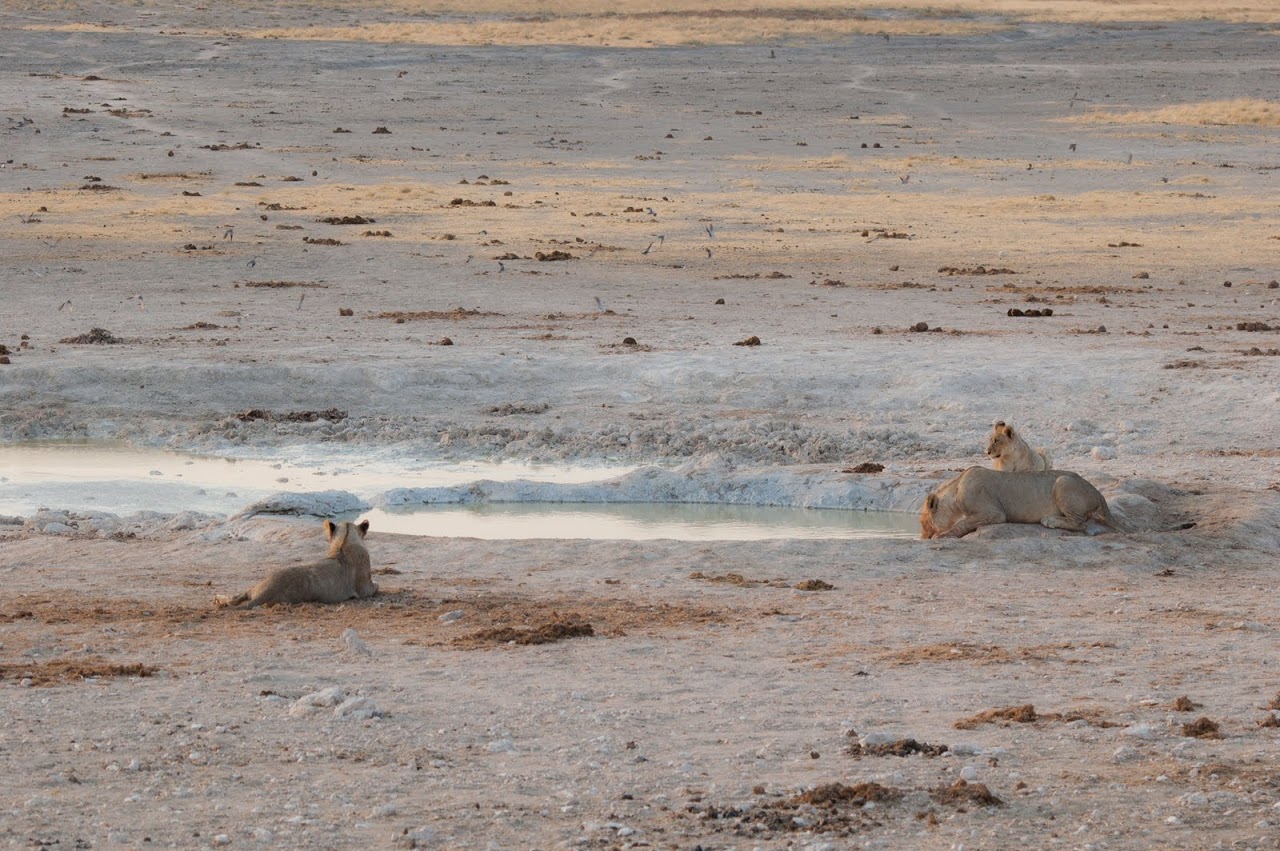 Lionesses
The light was that pale, creamy orange of early morning Africa and the lionesses' fur glowed like gold against the cream and ivory sand.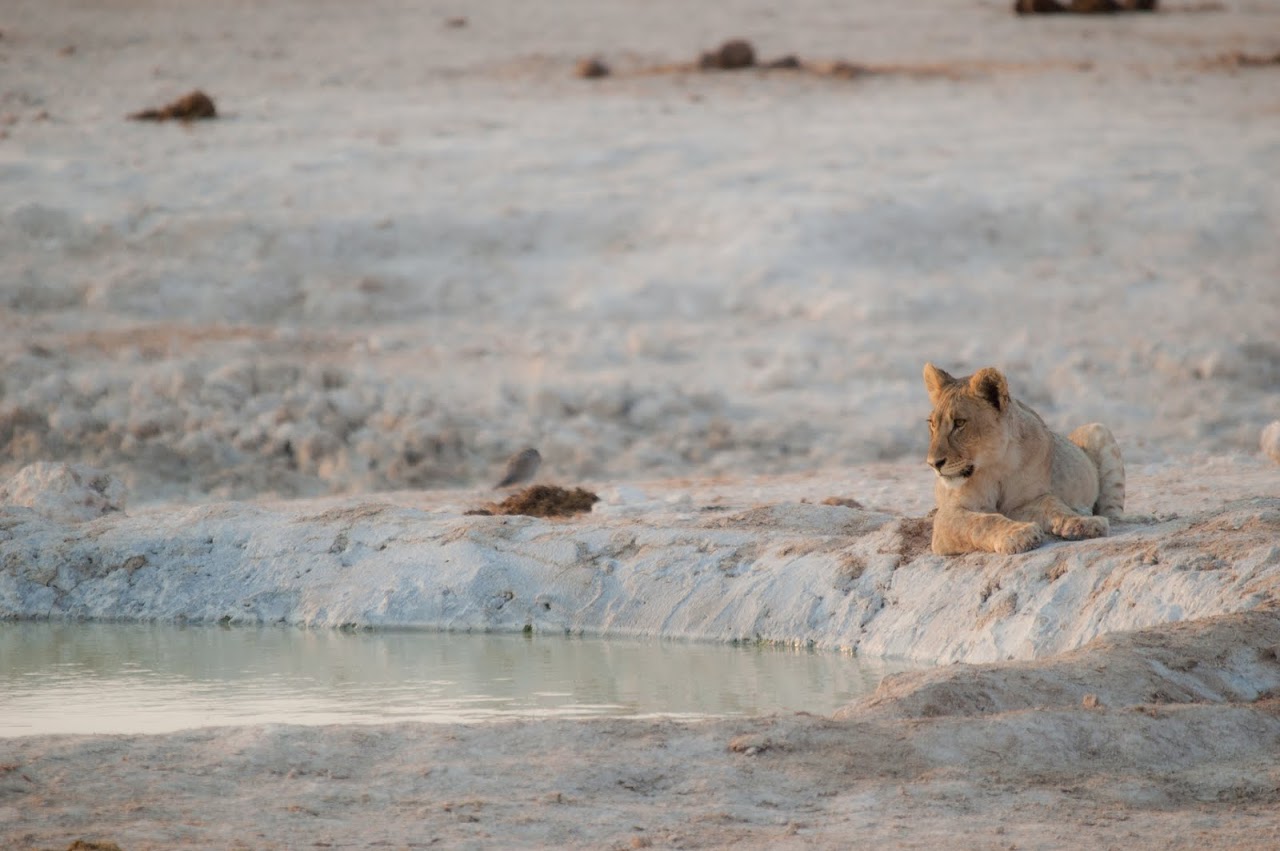 Lioness at watering hole
The pictures that came out of that morning are some of my favorite shots from the last year and a half.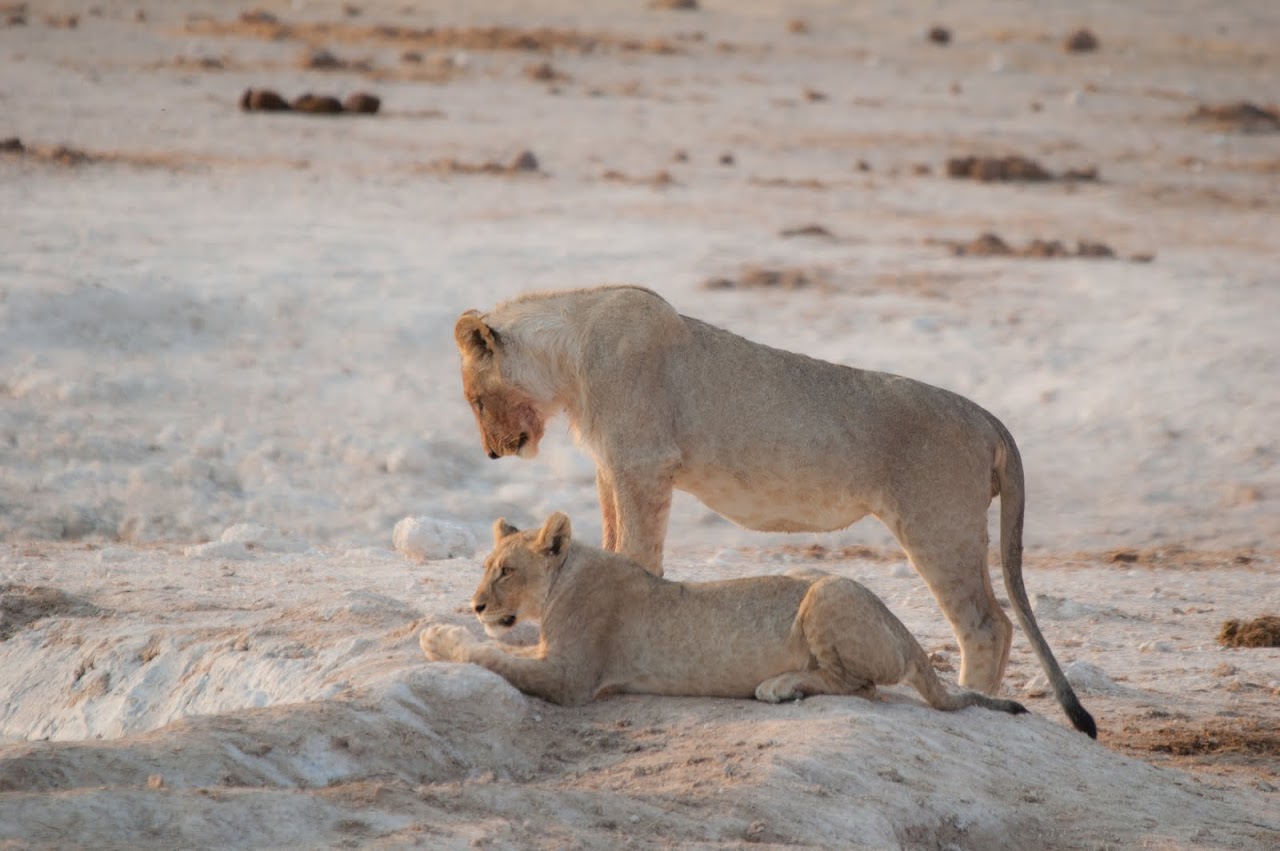 Lionesses
This one, in particular, of the lioness looking down is so serene.  If we ever settle down . . . a long distant, far away dream, perhaps . . . I want to get this printed and put it up on the wall.  (If you're as smitten with this picture as I am or any of these lion shots, click on any of these pictures to see them in high resolution 1026 pixels.)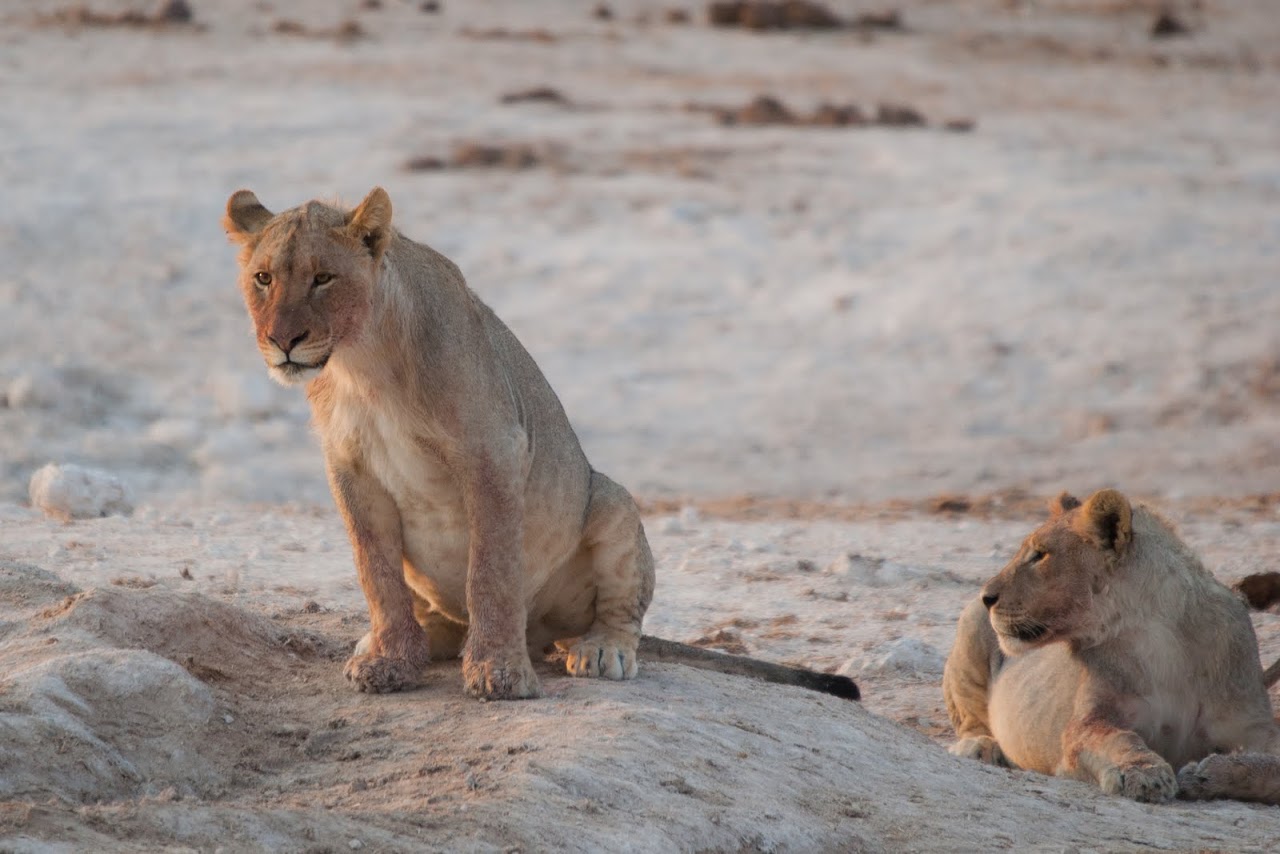 Lionesses
Afterwards, we pinched ourselves, unable to believe our luck.  It's not every day that we see 25 lions in 24 hours.
* Our trip was sponsored in part by Africa-in-Focus but they did not ask us to write this post or any part of this post.  As always, our opinions (both good and bad) are our own.  If you are interested in our perceptions of the expedition in general, check out our Overlanding 101 post where we provide a detailed review of the trip.