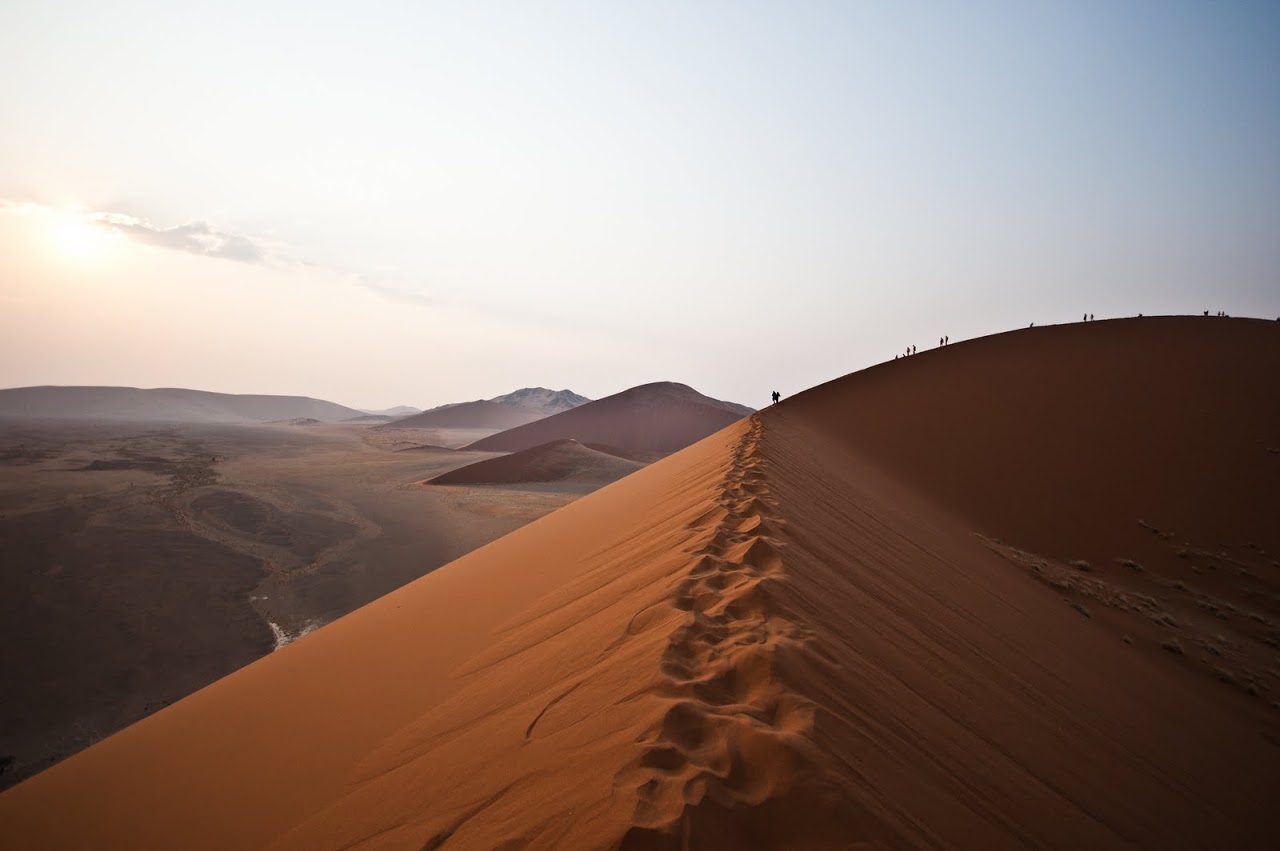 Hikers on Dune 45
When I first read the itinerary for our overland expedition and saw that we would be spending three days in the Namibian desert looking at dunes, I was a bit disappointed.  They're just piles of sand, right?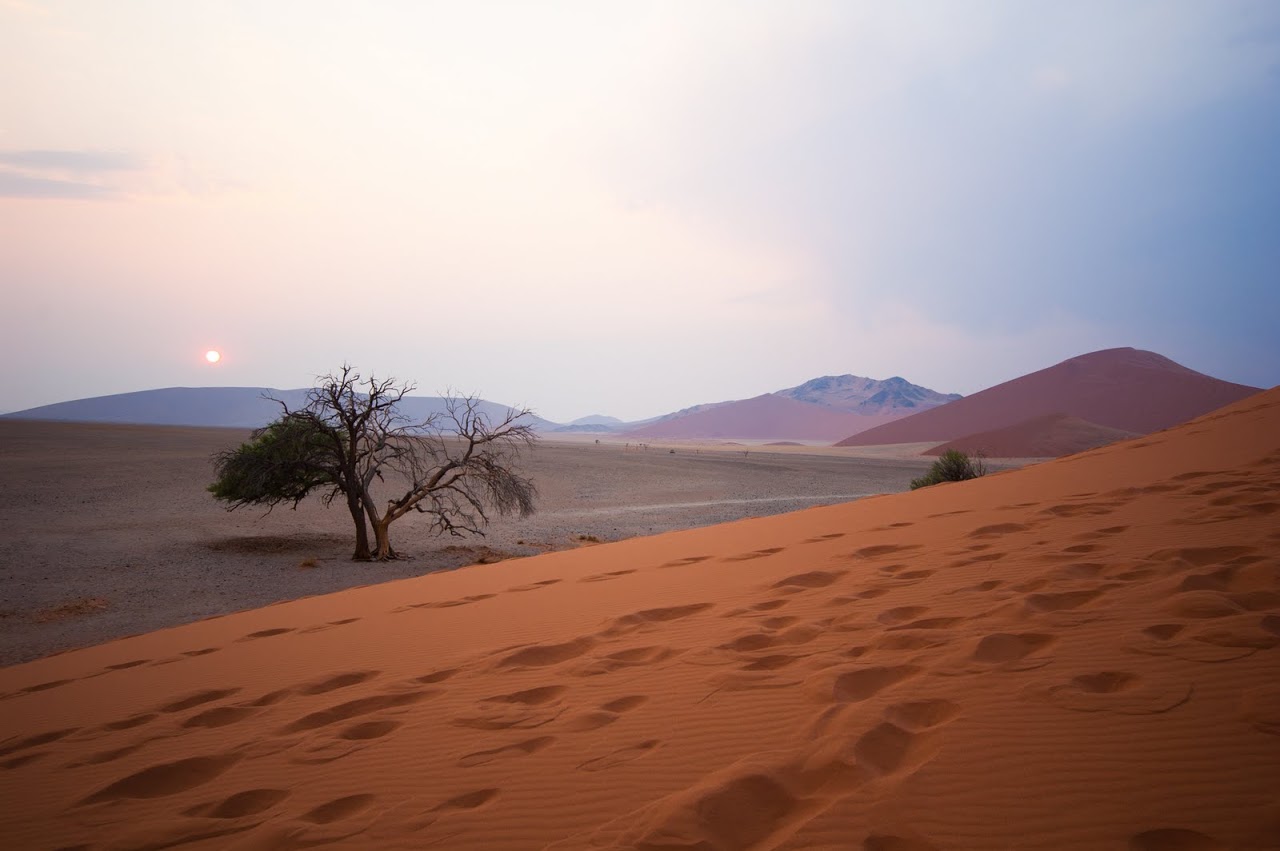 Namib desert
Wrong.  The Namibian dunes are about the same as the Florida dunes we are used to, as a peanut butter and  marshmallow fluff sandwich (better known as a fluffernutter) is similar to the PBJ we ate at the cafeteria when we were kids.  Which is to say that, yes, both indeed are composed of the same essential ingredients but, otherwise, think bigger, better, and far more awe inspiring.  (And, I dare you to disagree with me on the peanut butter and marshmallow fluff bit.  So good.)
Namib desertscapes from Dune 45
We woke early in the morning to be out of the gate and head to Dune 45, so named because it is 45 miles from the entrance of the park.  Mountains of sand rose before us, we left our shoes in the truck, and hiked in the soft cool sand.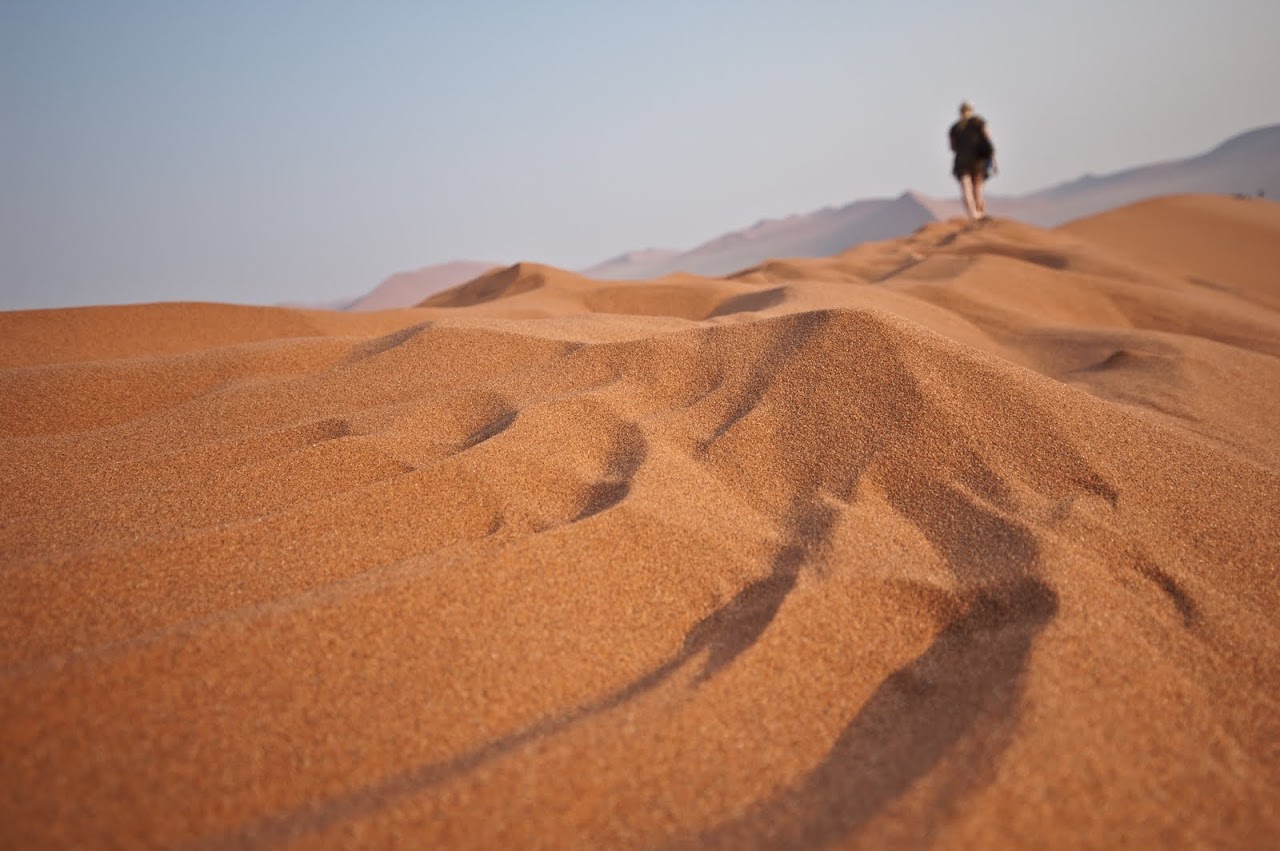 Walking through Dune 45
The dunes were hard work: 45 degrees uphill on loose sand kills those calf muscles.  It's worth it, though.
Namib desert-scapes
We were one of the few to walk to the very end of the dunes which meant that by 8:30 a.m., we were one of the last people on the dunes.  And, what would you do if you were on top of perfectly smooth silky sand dunes?  Run down them, of course!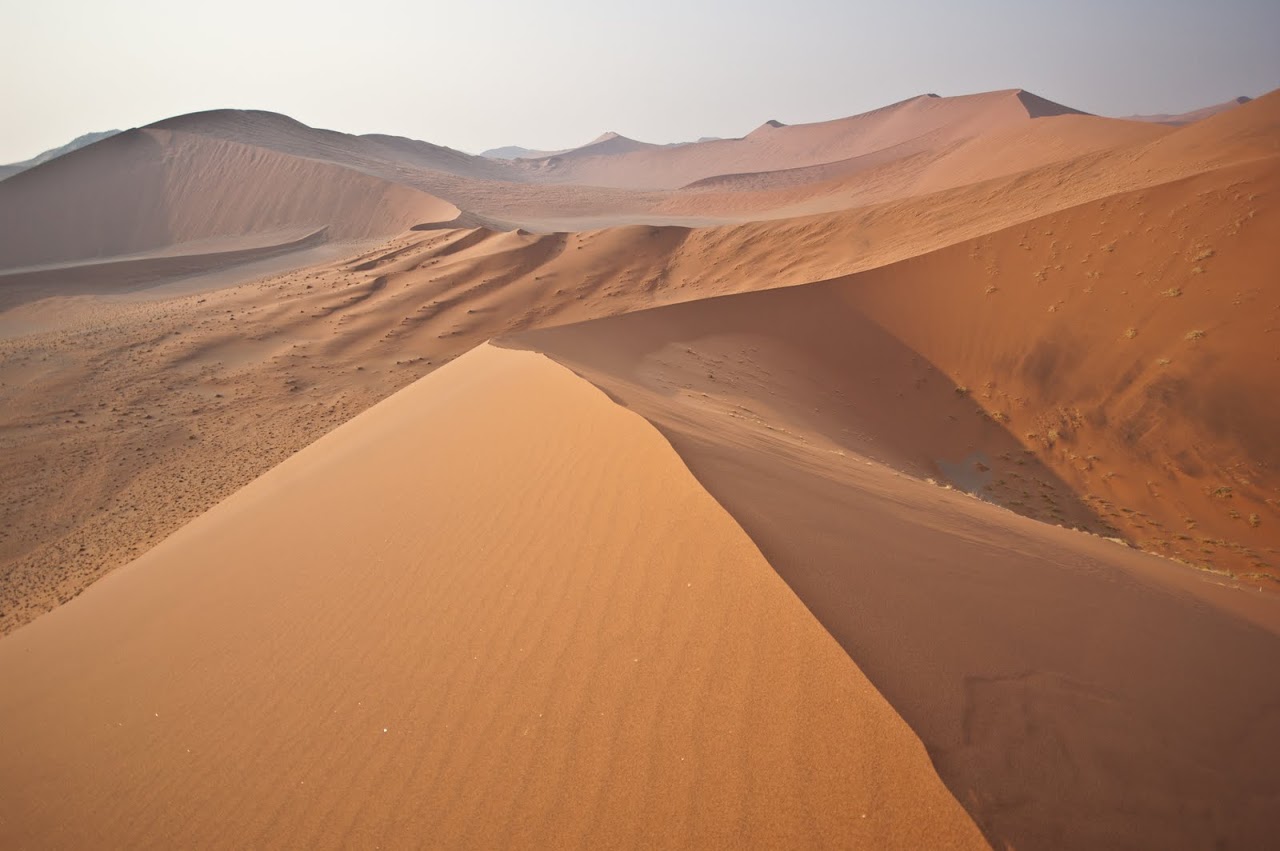 Smooth lines from the wind
We did.  It was fun.  But, not fun for that long.  Then, I started dreaming off about fluffernutter sandwiches and french toast and Patrick began comparing the red of the dunes to the red bacon he wanted to be eating very, very soon.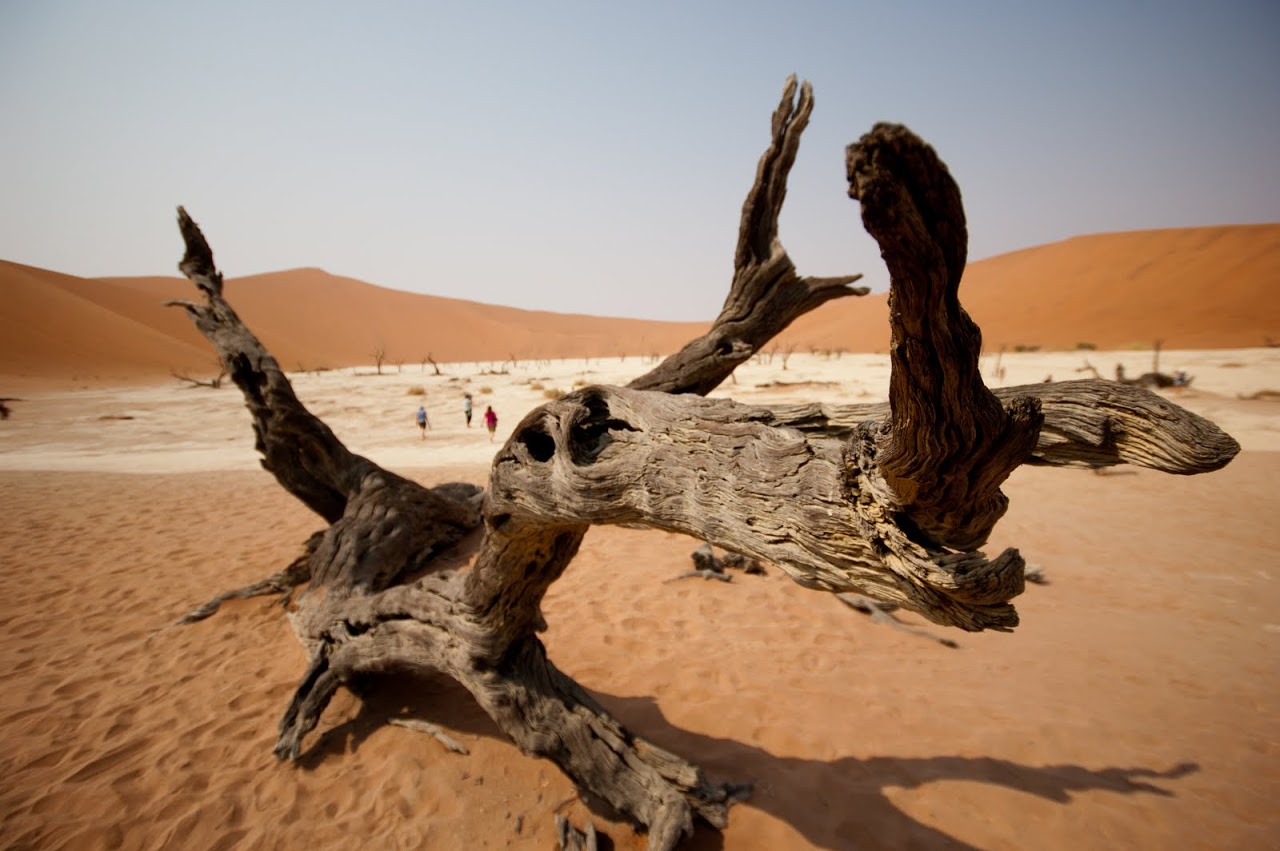 Soussuvlei
Unfortunately, due to a logistical snafu, we missed breakfast (much to the dismay of our rumbling tummies) and headed directly to meet Bushman for a walk through the Soussuvlei.  Bushman is not an actual San bushman.  There are no bushmen currently living in the Namibian desert but over fifty years ago, they roamed Namibia as nomads, subsisting in the harsh environment of the Namibian desert, and eating over 10 kilograms (about 22 pounds) of meat in a single meal because meals were so few and far between.
Bushman showing desert flower, San bushmen's beads, beetle, and lizard
The Bushman we met is a former insurance agent who quit his job about eight years ago because of his love for the Namibian desert.  He spent one week walking from the coast to the center of the Namibian desert with only 2 liters of water and a ziploc bag full of biscuits and granola bars.  Today, he gives tour groups on a daily basis to people who want to learn more about the Namibian desert and the San bushmen.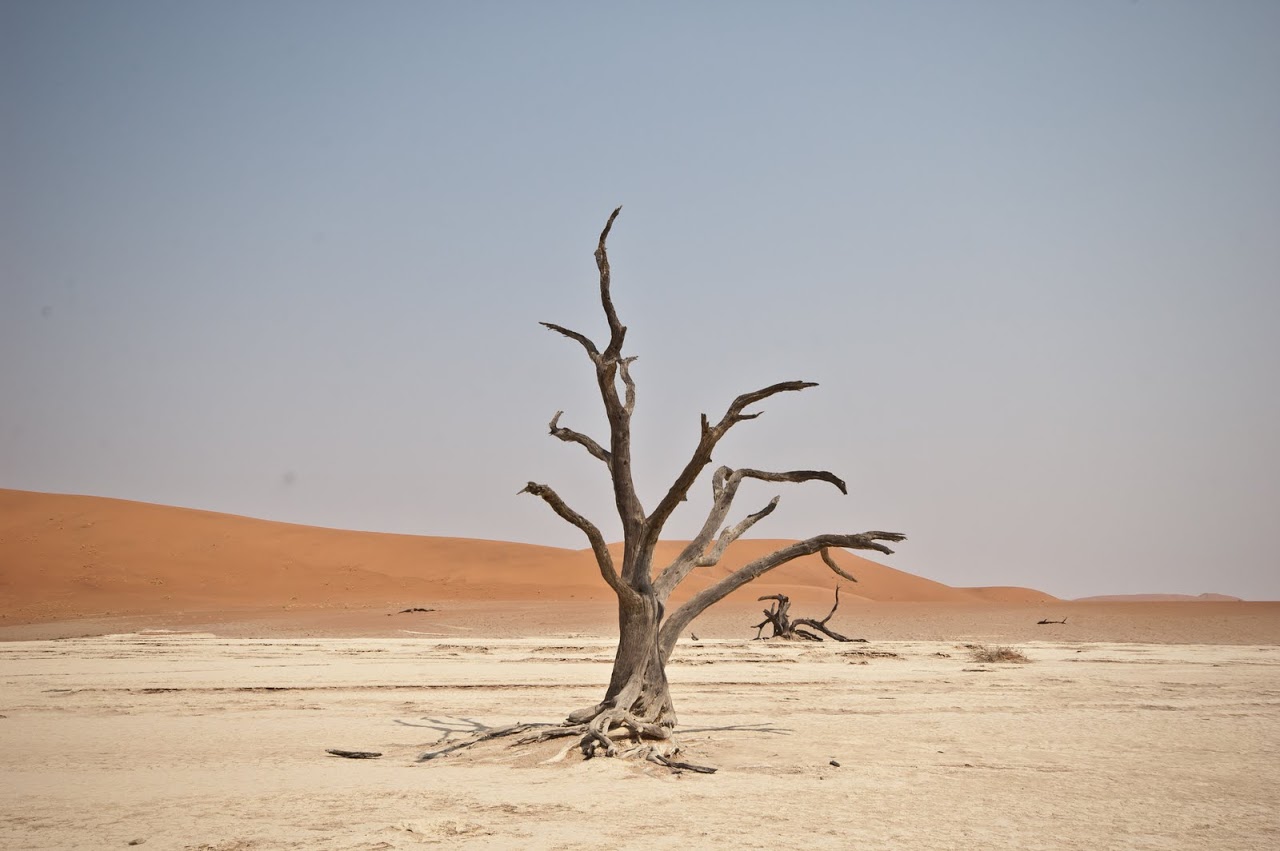 Sossuvlei
Aside from being one of the most interesting people we have ever met, Bushman showed us some of the most beautiful and eerie things we have ever seen.  We walked into the Sossuvlei, a startling flat patch of white, in the midst of the red dunes.
Sossuvlei
And, then, we took pictures.  And, more pictures and more pictures.  But, none of them really captured the intensity of this place and the very strange contrasts of red, blue, white, and gray-brown.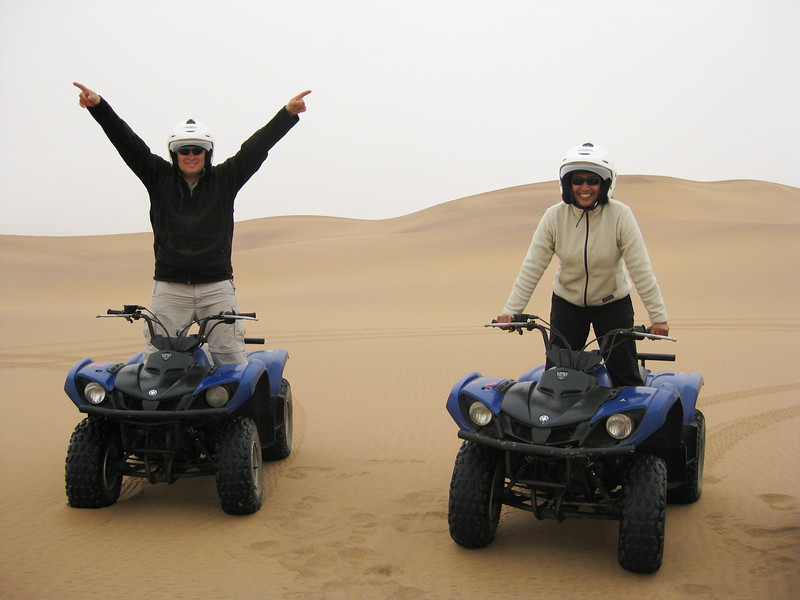 Quadbiking in Swakopmund , picture courtesy of Kris and Pene
A few days later, we saw the dunes from a different angle when we went quadbiking in Swakopmund.  We totally want to own quadbikes now . . . except that we don't have a garage, a house, or anywhere to permanently store a quadbike.  We spent the morning driving up, down, around, and through these amazing sand dunes; when we raced each other, I won (of course).  In fact, I want to do this again, like today.  Of course, that means that I need to: (1) eat a fluffernutter sandwich, (2) find some enormous sand dunes in Alabama, and (3) go quadbiking.  Sounds doable.
Very Good Advice:

If you do any of the dune-related activities in Namibia, PLEASE be very careful of your camera equipment.  Do NOT change lenses when on the dunes and keep your point-and-shoot cameras in a ziploc bag or underwater camera case .  We used our point-and-shoot camera to take two pictures (just two) and sand got inside it to cause a lens error, which eventually killed the camera.  We talked to the owner of a camera shop in Swakopmund and he said that people come in almost every week with damaged cameras due to the sand from the dunes.  Take adequate precautions when you shoot at this beautiful place.
* Our trip was sponsored in part by Africa-in-Focus but they did not ask us to write this post or any part of this post.  As always, our opinions (both good and bad) are our own.  If you are interested in our perceptions of the expedition in general, check out our Overlanding 101 post where we provide a detailed review of the trip.