Hippos peeking out of the water
I don't know if real photographers do this or if it's only us dedicated amateurs but, when we land in a new country, we always create a list of "goal pictures."  In China, my goal was to photograph dumpling-making and, in Japan, Patrick wanted to visually capture geisha .  When we got to Africa, we listed out our wants: lion pictures for me and a hippo yawning for Patrick.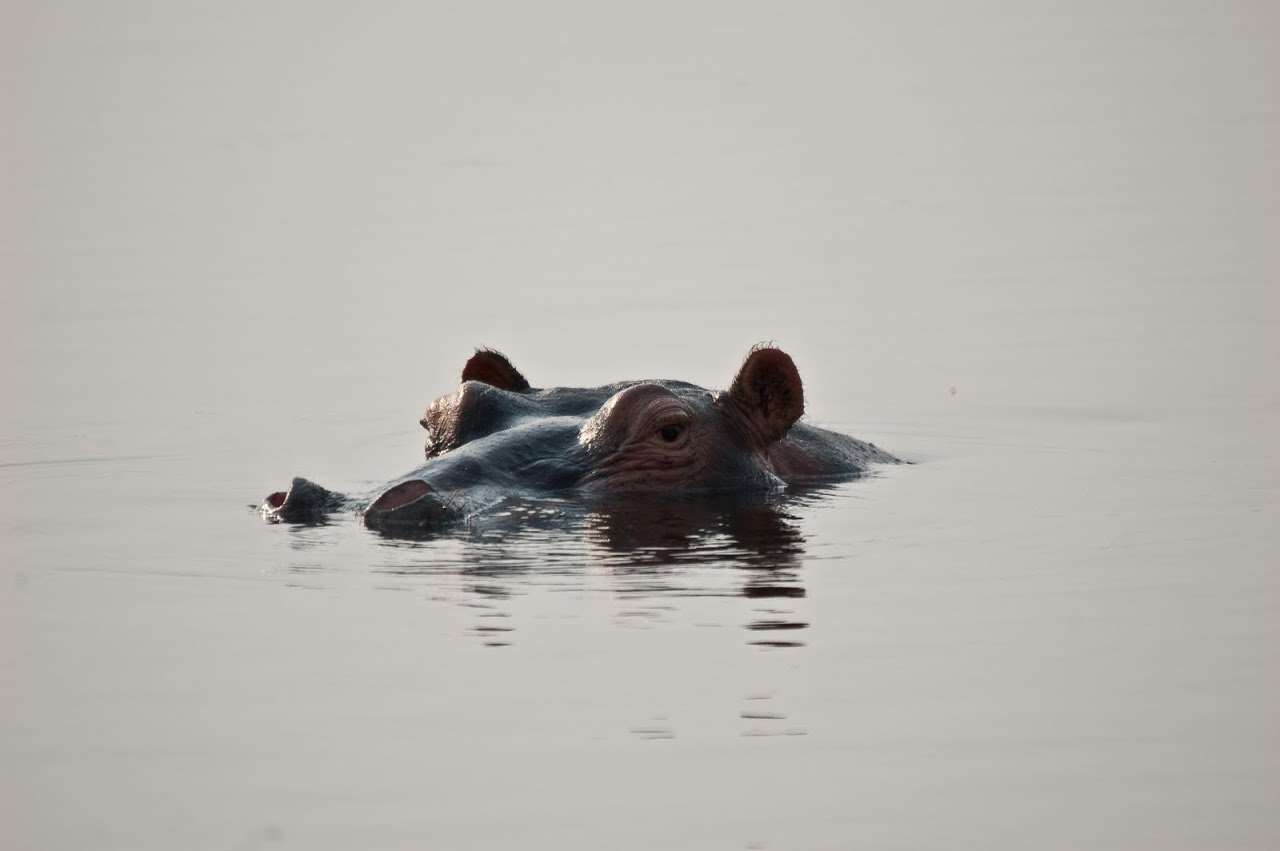 Hippo in water
You know the picture I'm talking about, right?   Patrick wanted the mouth-wide, teeth-sticking-out, giant-jaw-open hippo picture that we see in magazines and safari brochures, the classic hippo-out-of-water picture that makes us drop our jaws in imitation of these funky looking animals.

From the game drive at Chobe
The problem was not finding hippos.  Despite a sorry start to our Chobe morning, where our most exciting sighting was the backs of trucks staring at a lion's tail in the bushes and we were all more than ready for the pancakes that Ebron had made----even on that game drive, we saw hippos.  They hung around in the rivers that eventually went into the Okavango Delta , with their heads slightly above the water, looking for all the world like dark stones in the water.

Hippos chilling
It wasn't all that uncommon to hear this conversation, "Is that a hippo over there?"
"No, looks like a rock."
"But, what about that bumpy part?  Oh, you're right, it's a rock."  [Sigh of disappointment.]
"No, wait a second, it's moving.  It is a hippo."  [Click, click, click, as cameras are drawn and rapid fire shutter captures bumps in the river that look just like rocks.]

Crocodile face
In the afternoon, we took a safari cruise.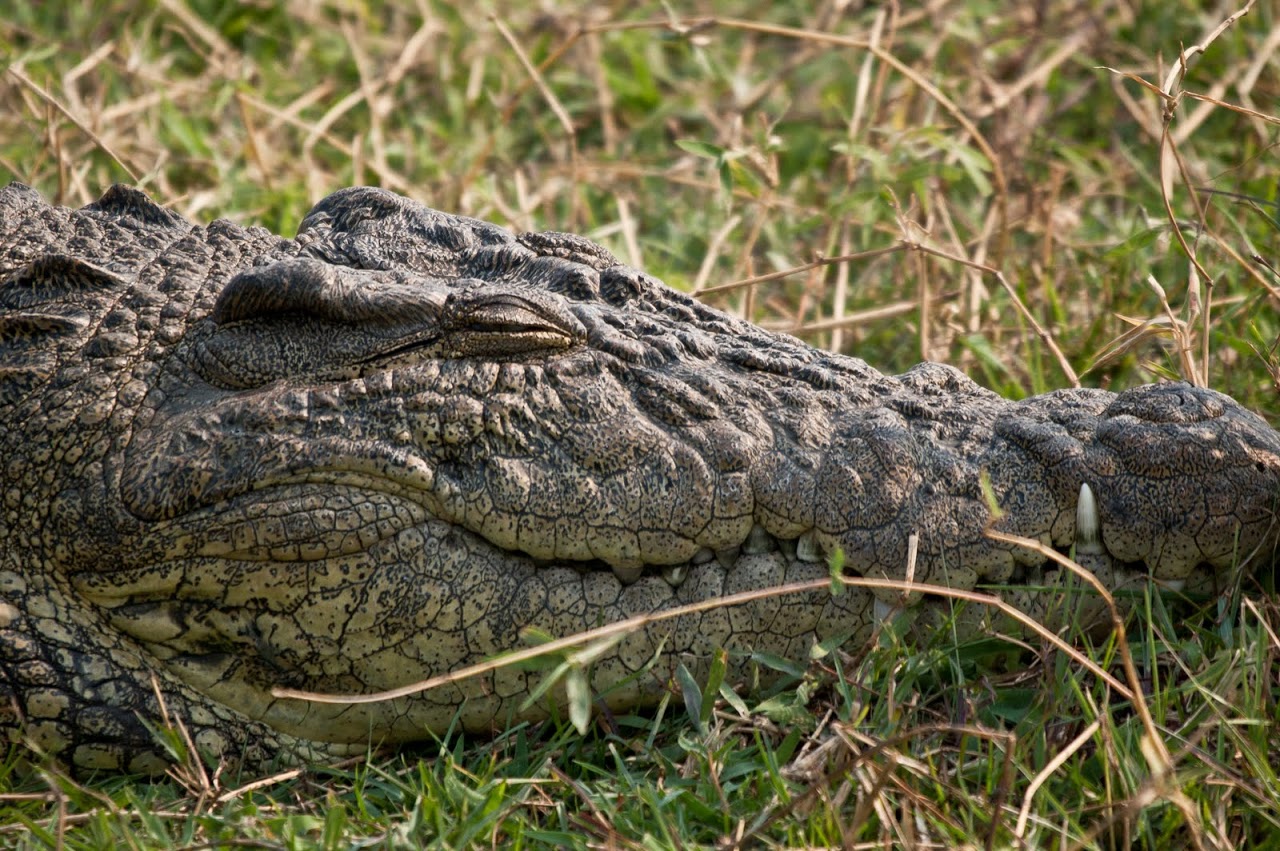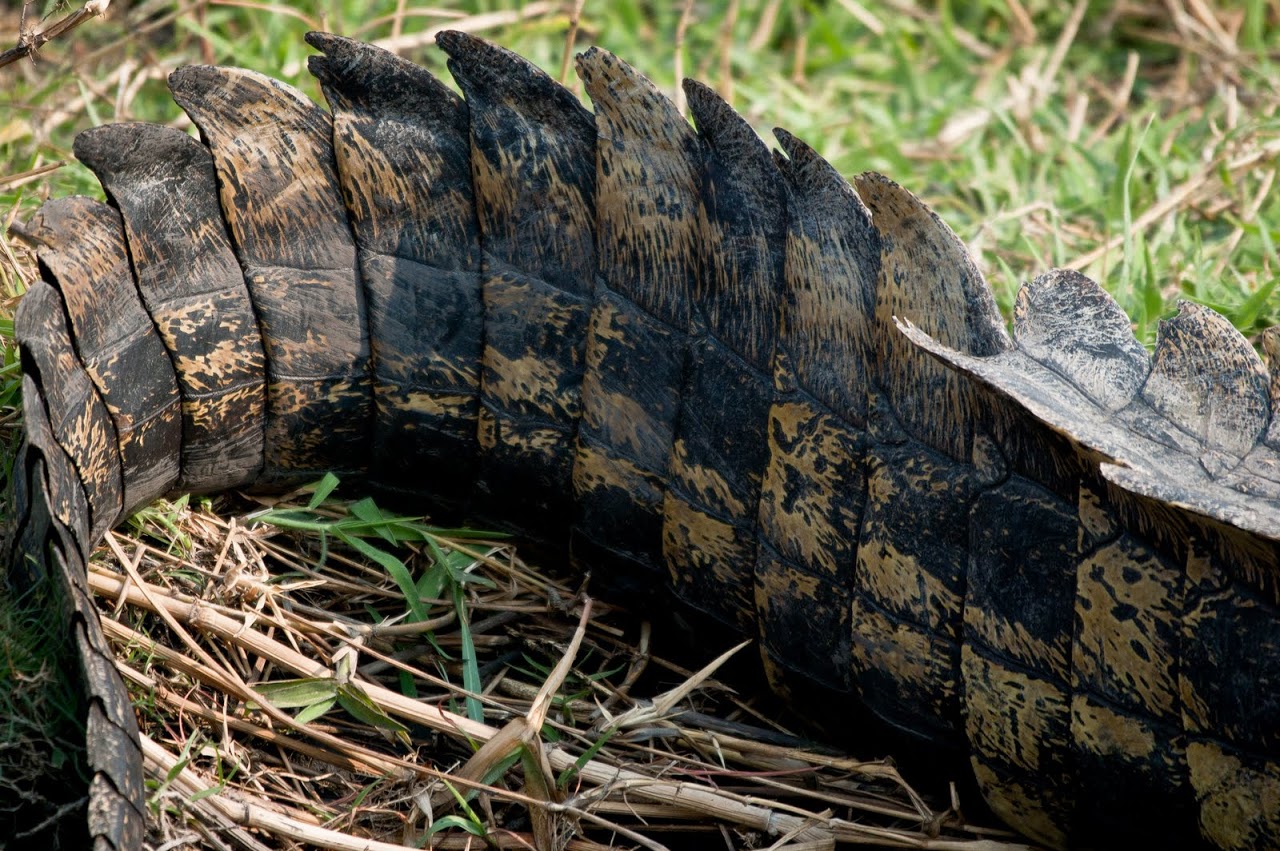 Crocodile face, tail
If I were a travel agent or a marketing guru or basically anyone with any sort of power in the safari industry, I would make sure that every game park had a game cruise.  (In fact, I'm not entirely clear why Chobe is the only park to offer this option, but then again, I am not a person with any sort of power in the safari industry).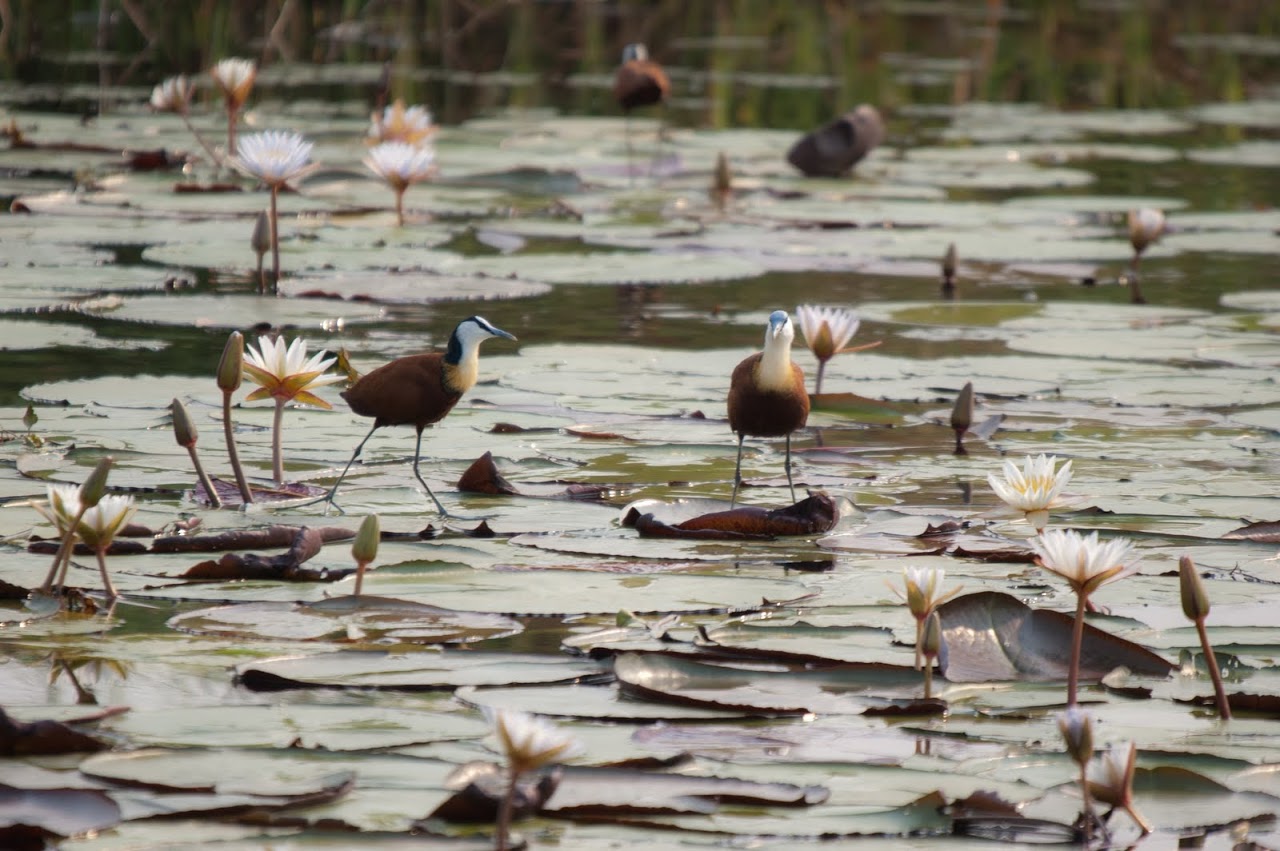 Jesus birds (see how they walk on the water?)

Oh yeah, the safari cruise was awesome.  Picture this: ferry boat, wildlife, beer, wine, and cameras, in the waning hours of a pleasant Botswana day.  We sat back, all ready for the show.
Crane, water buffalo, babboons, some sort of stork (anyone know what this is?), another game cruise, crocodile
And, what a show.  Herons, cranes, water buffalo, babboons, and crocodiles lined the banks, uninterested in the boats that paused by them.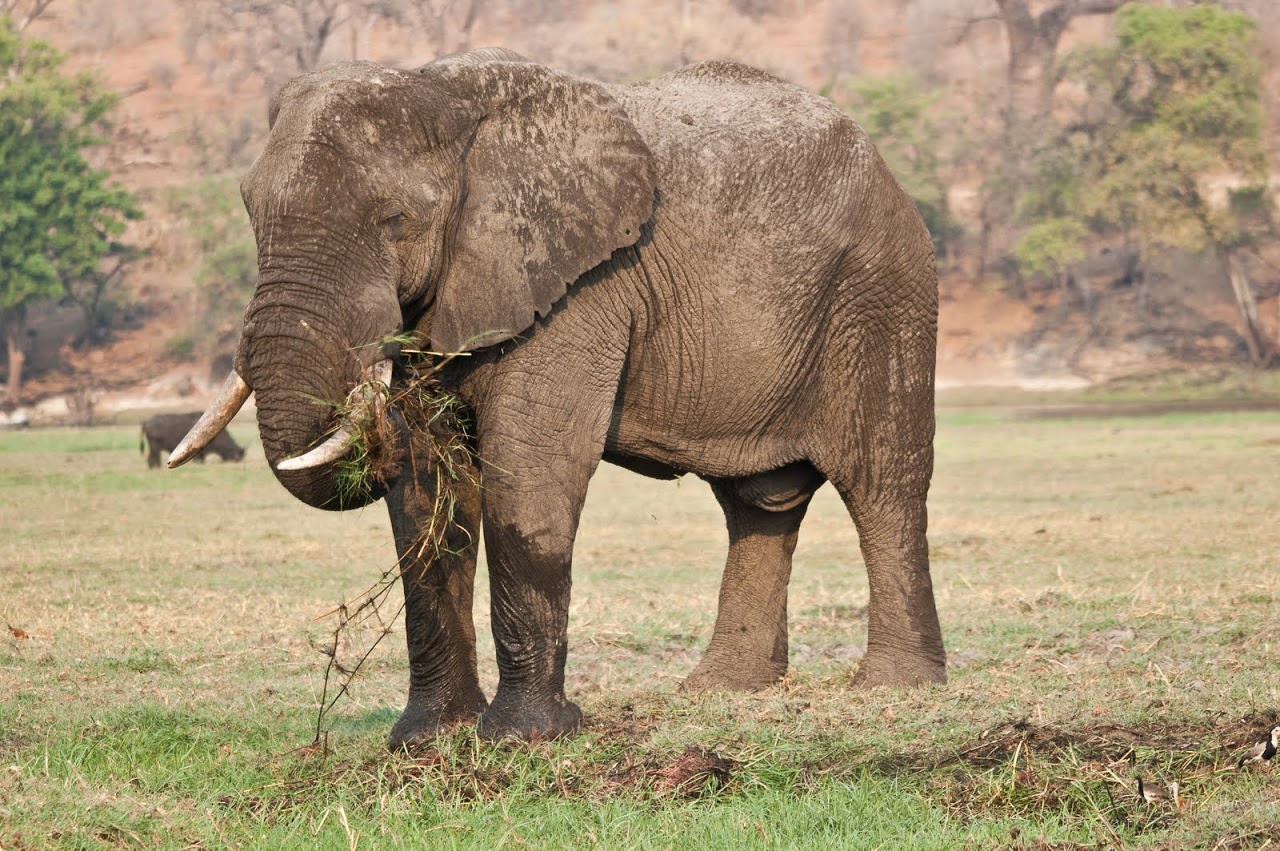 Elephant eating at Chobe
There were elephants . . . so many elephants that we just stopped counting and, after a little while, didn't even take pictures anymore because our memory cards were full of gray pachyderms.  Barbara Weibzel from Hole in the Donut recently posted a lovely story about the dangers of complacency in long-term travel , describing how after several days on a safari, she started to feel that seeing another elephant was no big deal.  That's almost what happened to us.  After being overwhelmed with the amazing assortment of elephants at Etosha , when we saw elephants in Chobe, we weren't as excited.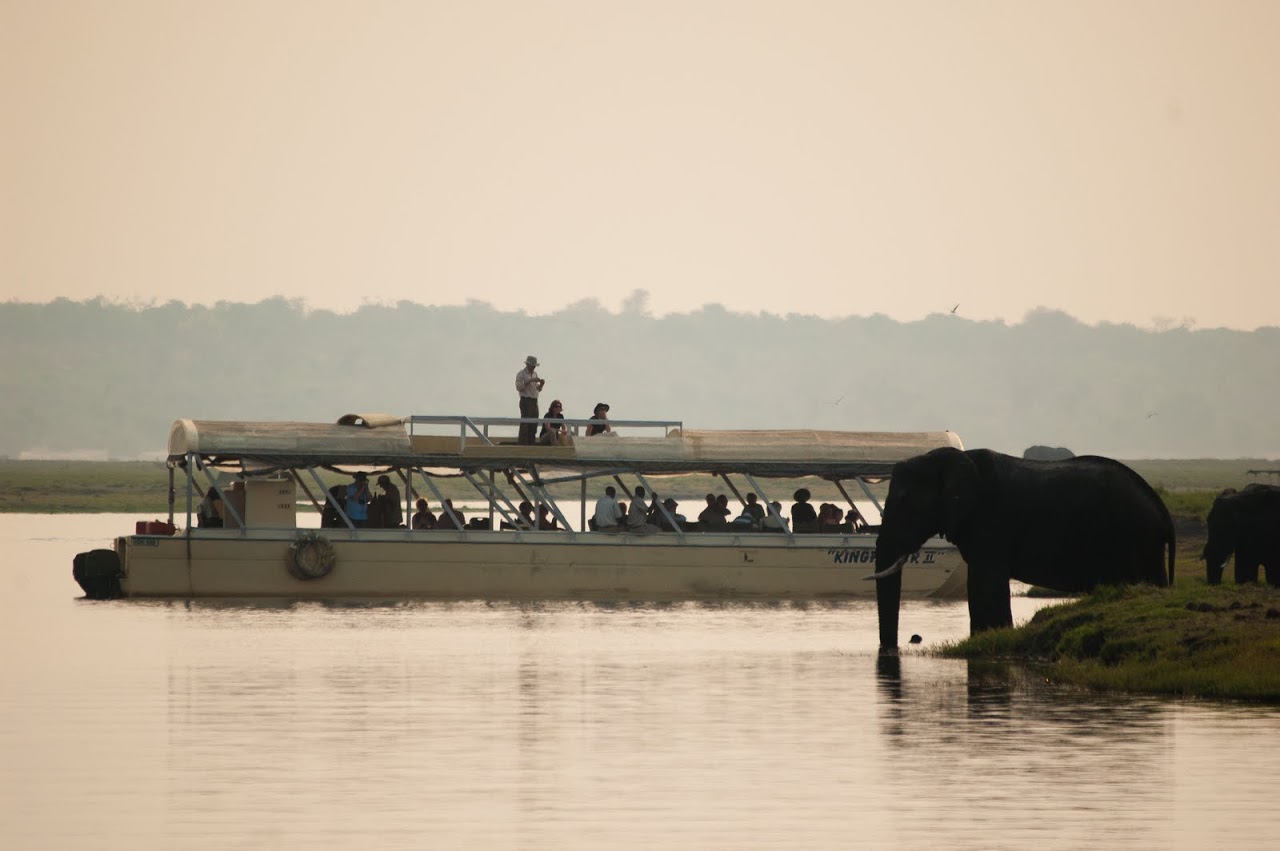 Elephants before boat
Stupid us.  Complacency went right out the window when those elephants started crossing the river.  And, cause I'm a bit obsessed with elephants (see this post and this one and this one . . . goodness, I write about elephants too much), and you guys don't seem to mind them too much either, here they are crossing the river flip-book style.  (Except, of course, that this is a website and not a flip book but you can pretend that it's a flip book, right?  Right.)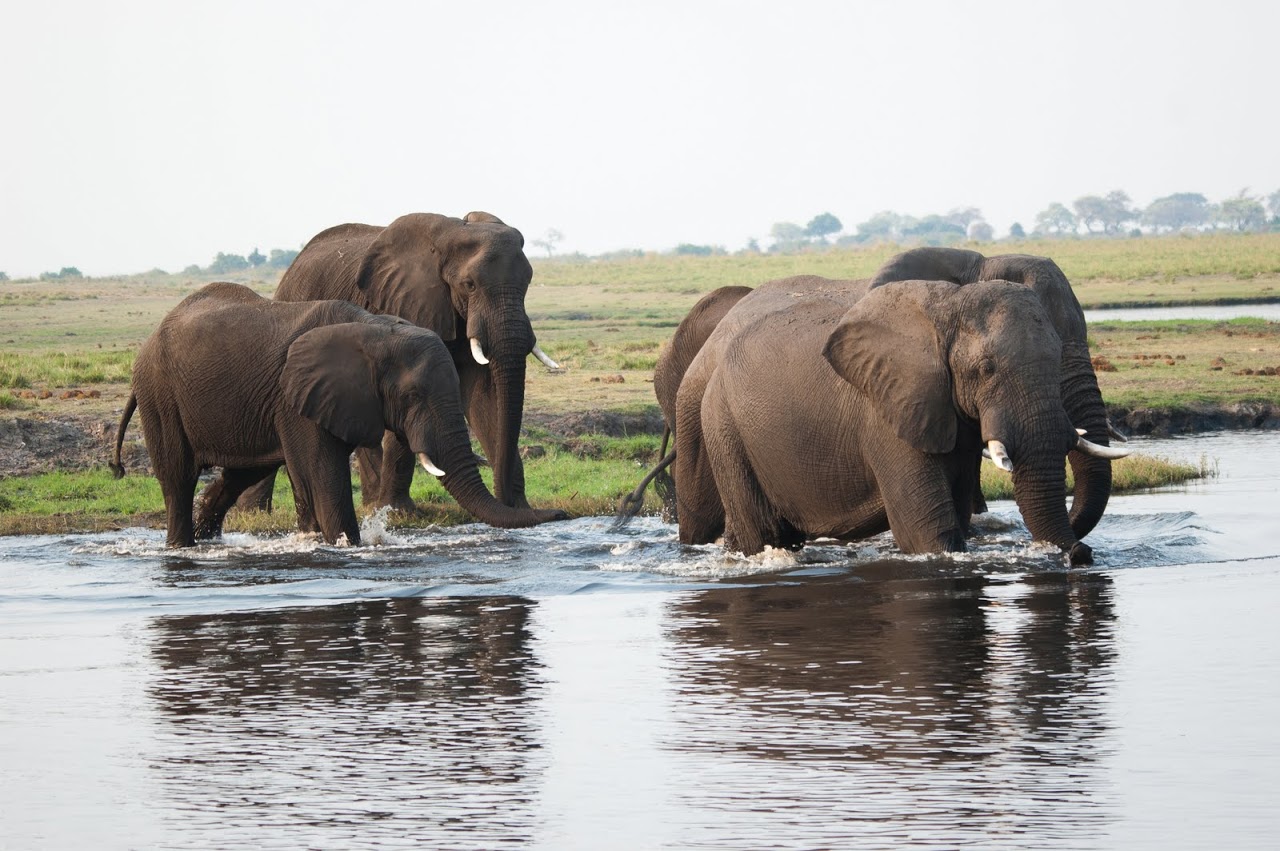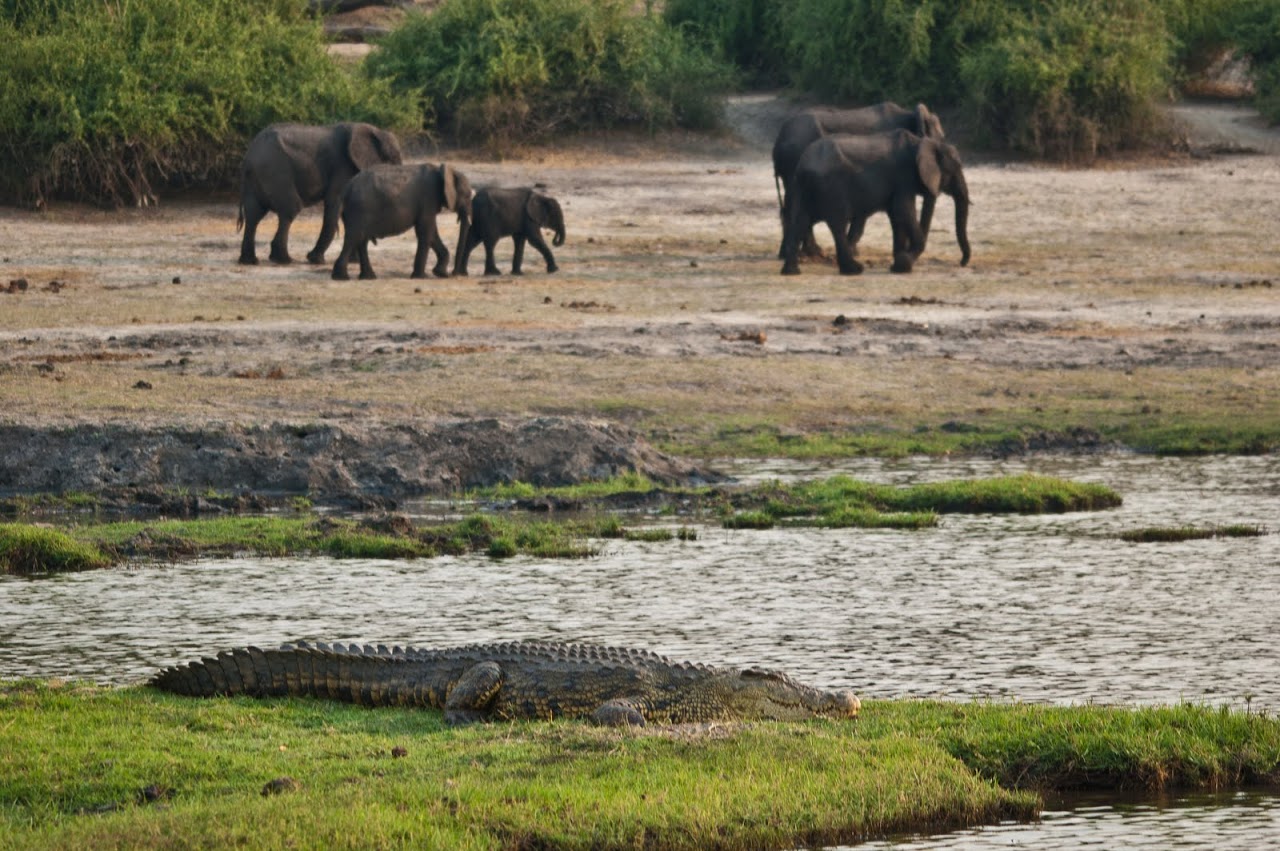 Elephants crossing the river, crocodile in front of elephants at the banks
But, all this is beside the point.  Yes, those multi-colored, striped, half-wet/half-dry, gorgeous pachyderms that swam and then walked across the river directly before our boats are all beside the point.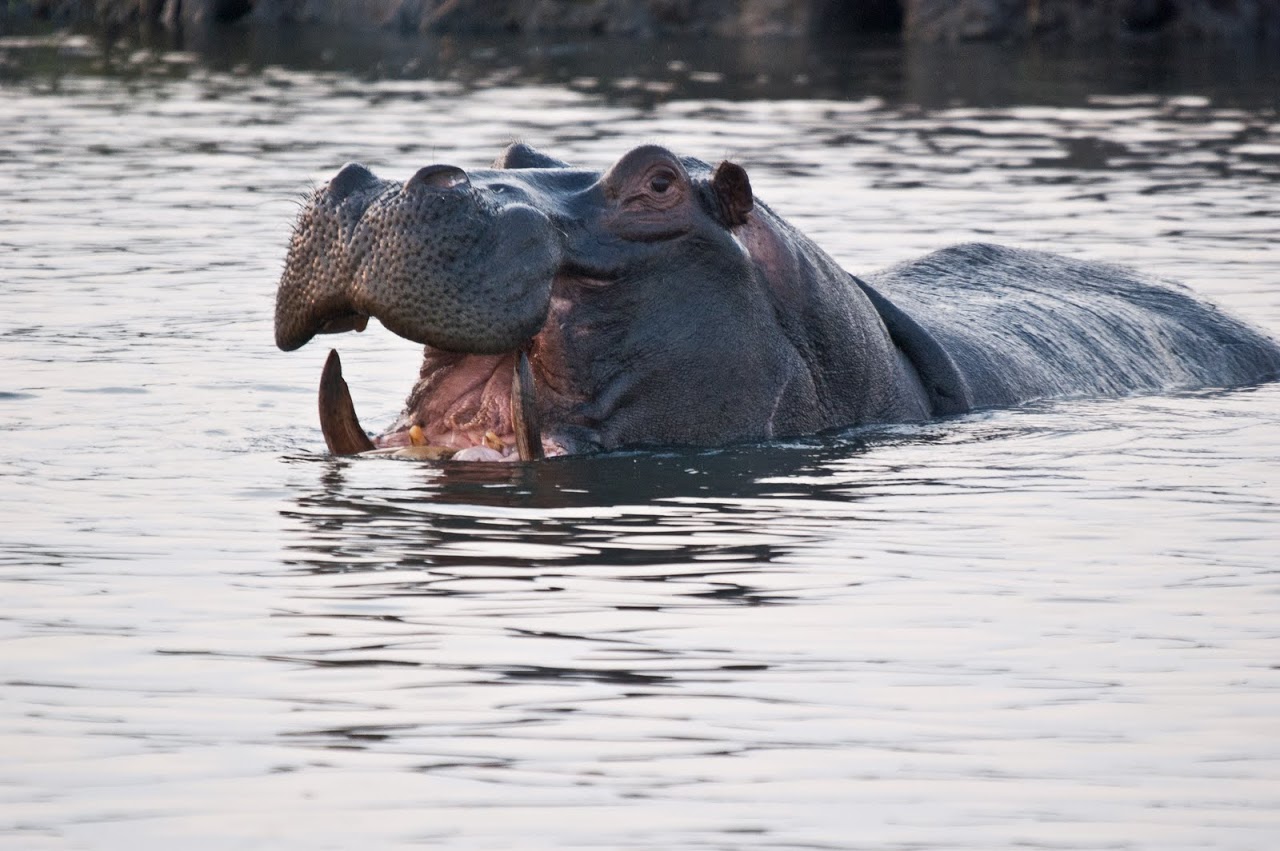 Hippo beginning a yawn
This is the point.  We saw this guy next to the boat opening his mouth and all of us got super excited.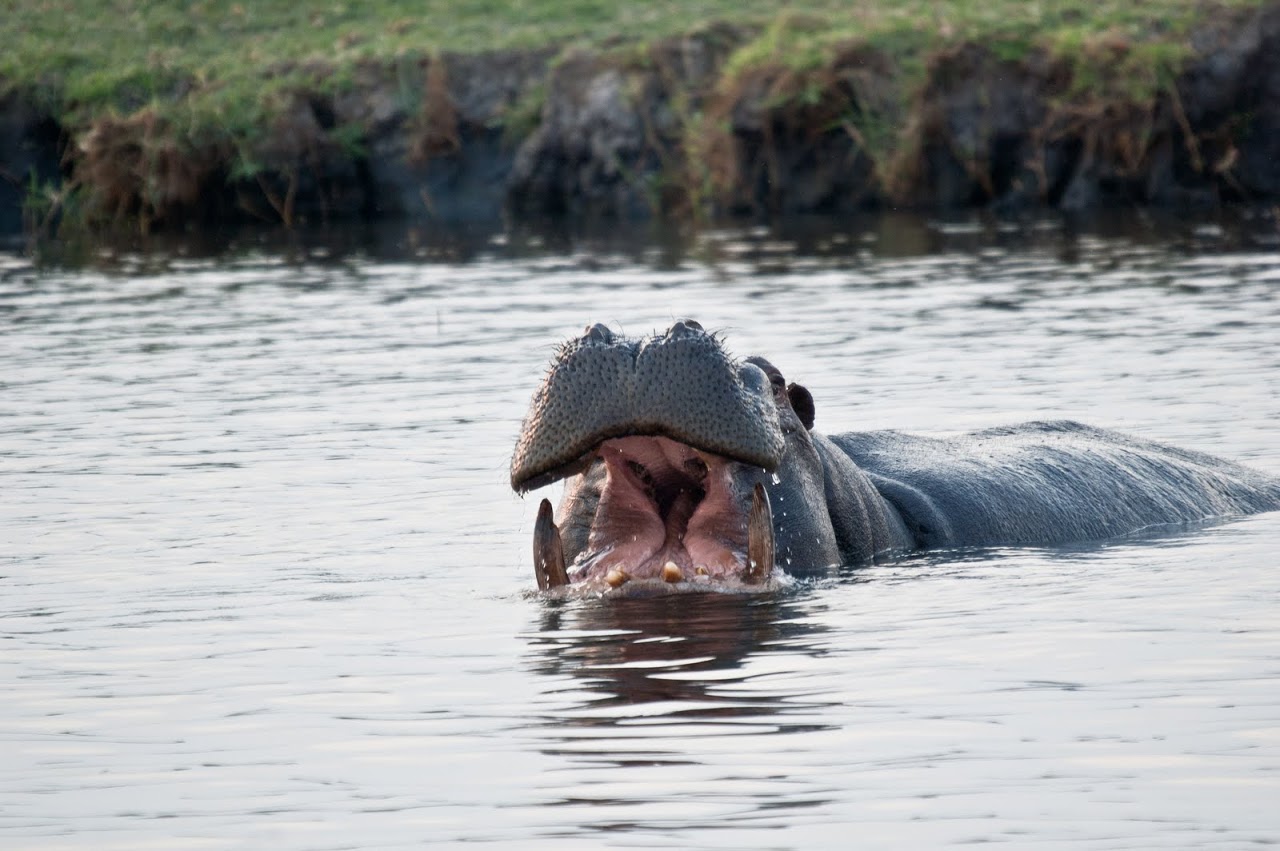 Hippo with mouth open
That turned to this.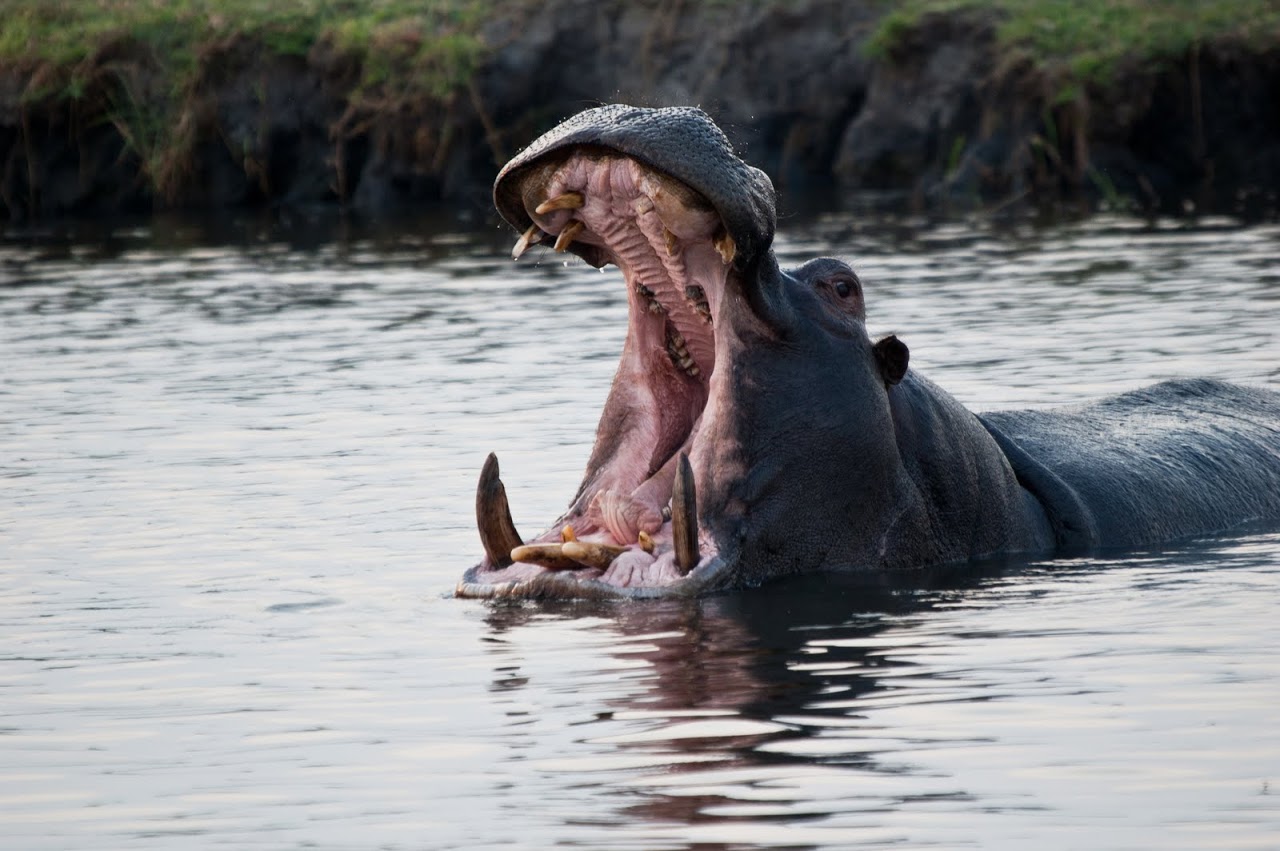 Hippo wide open mouth
Which turned into this.  Just look at those chompers.  I could probably fit my whole head in there . . . not that I would want to, of course, because, really, who would want to put their head into a hippo mouth?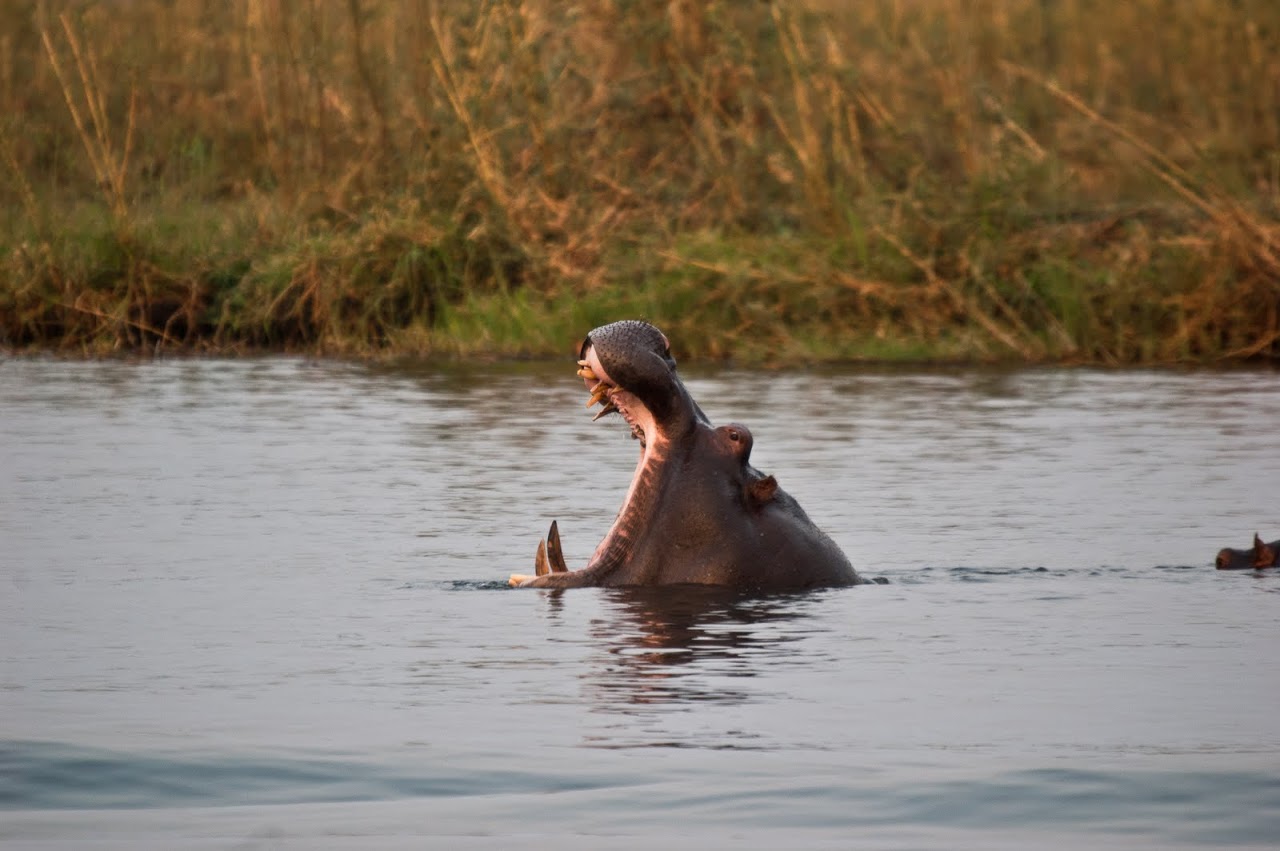 Hippo yawning
Maybe Siegfried and Roy would, actually.  Do they still put their heads in lions' mouths or did they quit doing that?   (A quick Wikipedia search revealed that, in fact, they did quit doing that after Roy's severe tiger injury in 2003.)  I've never been quite clear as to why people find it fascinating for other people to put their heads into large animals' mouths but that is all beside the point.  The point of this whole blathering spiel is: we got the shot.  Happiness!
* Our trip was sponsored in part by Africa-in-Focus but they did not ask us to write this post or any part of this post.  As always, our opinions (both good and bad) are our own.  If you are interested in our perceptions of the expedition in general, check out our Overlanding 101 post where we provide a detailed review of the trip.