Wrap up video (3 weeks in 4 minutes) - If you like wildlife, you should watch this
What we did: Took the Africa-in-Focus Desert & Water Wanderer 21 day overland expedition from Cape Town, South Africa, to Livingstone, Zambia, hitting the following highlights: 2 days at the Orange River and Fish River Canyon ; 3 days at Sesriem and Sossuvlei ; 2 days in Swakopmund; 1 day through the Cape Cross seal colony to the Brandberg mountains ; 1 night at the Otjitongwe cheetah camp ; 3 days at Etosha wildlife reserve; 2 days bush camping in the Okavango Delta ; 2 days in Chobe National Park ; and 1 day at Victoria Falls (which I'll tell you about later).
Would we do it the same way? Yes.  Because this was our first trip through Namibia and Botswana and we wanted to travel cheaply, this overland expedition was right for us.  It is certainly possible to travel independently through these countries but, because the towns are small and far apart and transportation is expensive, traveling with a group helped us keep costs down.  In addition, if we had to do it over again, we would pick Africa-in-Focus because we thought their truck was the most comfortable on the road and we liked the focus on photography.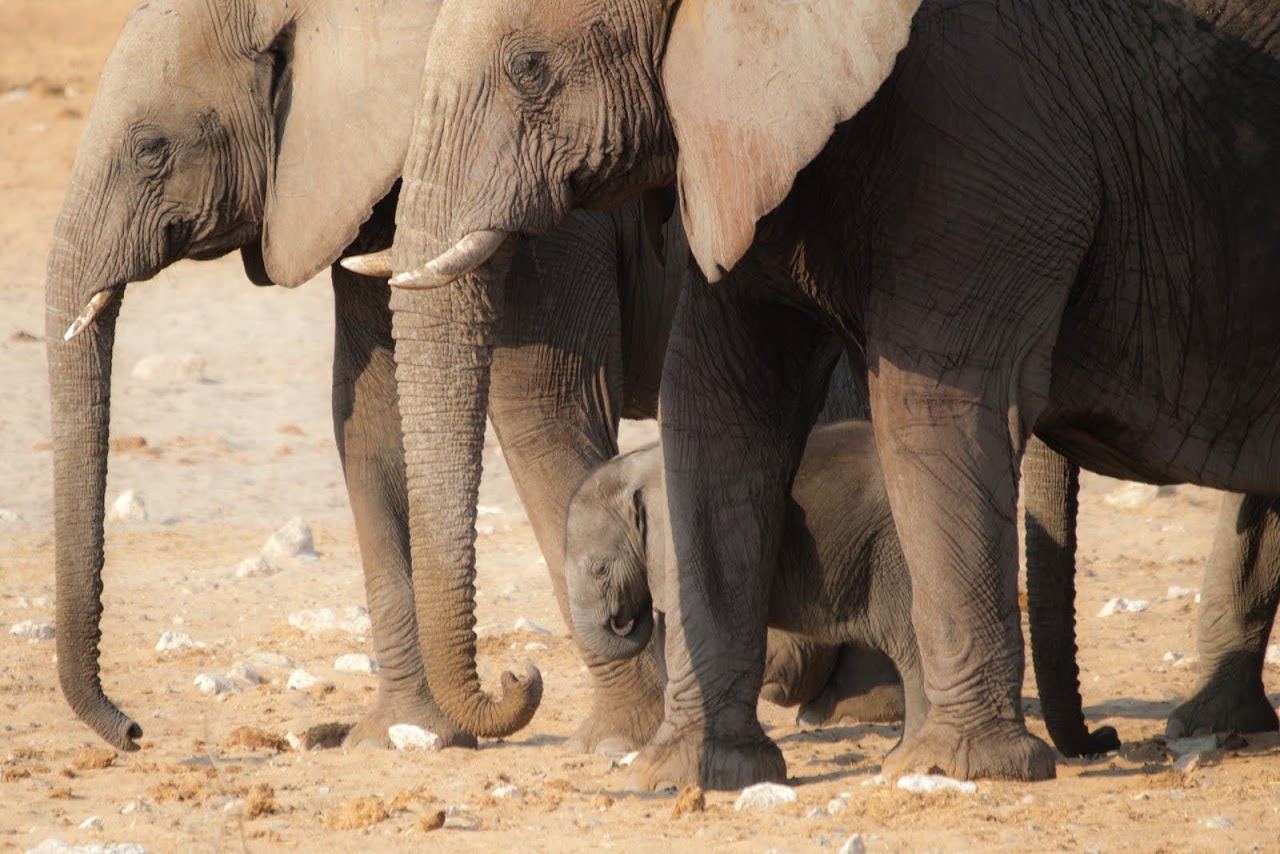 Elephants' trunks
Favorite place: Etosha Game Reserve.  The astounding waterhole at Okakueje , the 25 lions we saw in 24 hours , and the elephant families were highlights of our entire overlanding trip.
Least favorite place: Fish River Canyon .  It wasn't that there was anything wrong with the canyon but, in comparison with the rest of the trip, it was the least awe-inspiring.
Best food: The awesome puddings that Ebron made over the campfire with thick custard.  We always looked forward to a night with puddings and cakes (but not to dish duty on those nights).
Worst food: Though it wasn't bad food, we quickly tired of eating the same lunch---sandwiches with vegetables and deli meat---every day.  It was always refreshing when Ebron served brunch or made a potato or egg salad to change up the routine.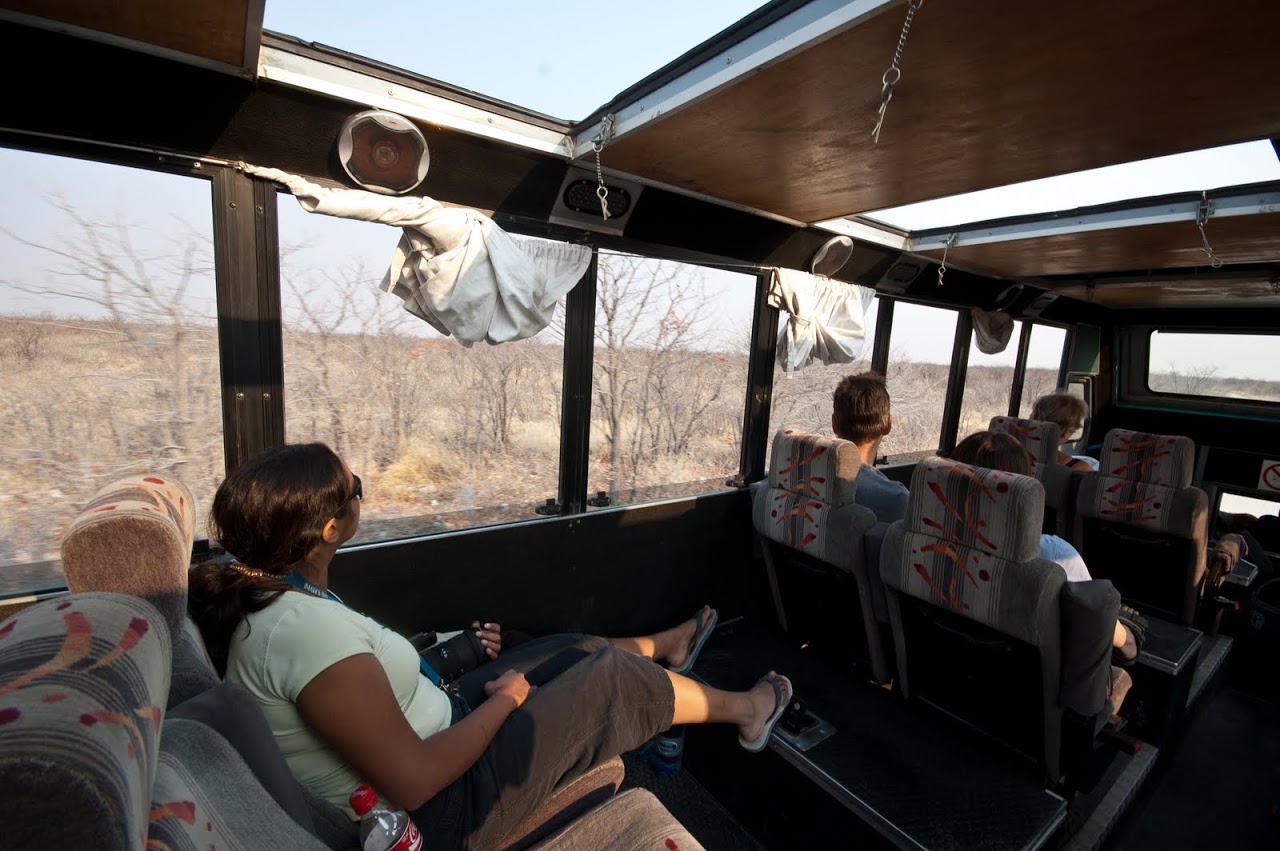 Africa-in-Focus truck
Our favorite part of the overland excursion: The comfort and spaciousness of the truck.  I've said before that the Africa-in-Focus truck is the best on the overlanding circuit .  It is.  When it pulled up to our hotel on the first day, we couldn't believe its size.  We reveled in the luxury of foot lockers to stretch our legs and store our photographic equipment, huge windows, and private under-truck storage.
The worst part of the overland excursion :  The packed, fast-paced schedule.  Because we were always on the move, we woke up very early on most days, got into camp late, and spent many long days on the truck.  This is not a problem unique to this excursion but is true with most (if not all) overlanding excursions.  If you're looking for a slow, leisurely way to see these countries with a great deal of privacy, overlanding should not be your choice.
Indispensable item/gear: Headtorch.  We woke up early most mornings and arrived at camp late in most evenings which meant that we were often putting up and taking down our tents in the dark.  Invest in a good headtorch; you'll need it.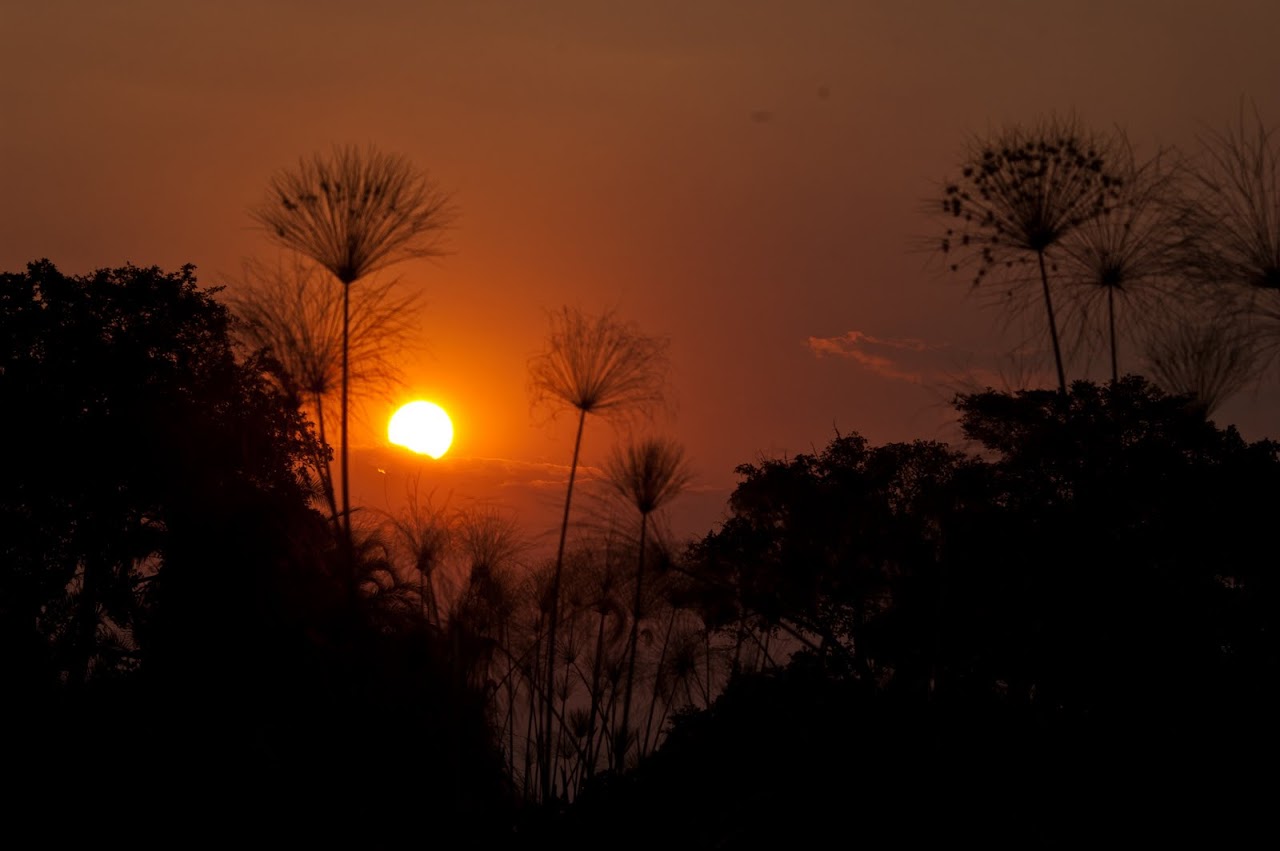 Sun setting over the Delta
Best new experience: Drifting through the serene wildness of the Okavango Delta in mokoros.
Worst new experience: Freezing in our warm-weather sleeping bags in the tent on the first night in South Africa , and thinking that every night afterward would be just as cold.  As soon as we got out of South Africa, the weather warmed up considerably and we were so happy that we had lightweight sleeping bags but, on that first night, we both wore every piece of clothing we had and still shivered.
The must see attraction: The mountain-high red sand dunes at Sesriem .  Hiking through the cool, soft rust-colored sand in the early morning is a great introduction to the wonders of Namibia.  Be sure to leave shortly after sunrise because the sand quickly gets hot.
Most overhyped attraction : The White Lady at Brandberg mountain .  Maybe we just didn't get the full sense of historic proportion, but we weren't all that impressed by the old bushmen painting.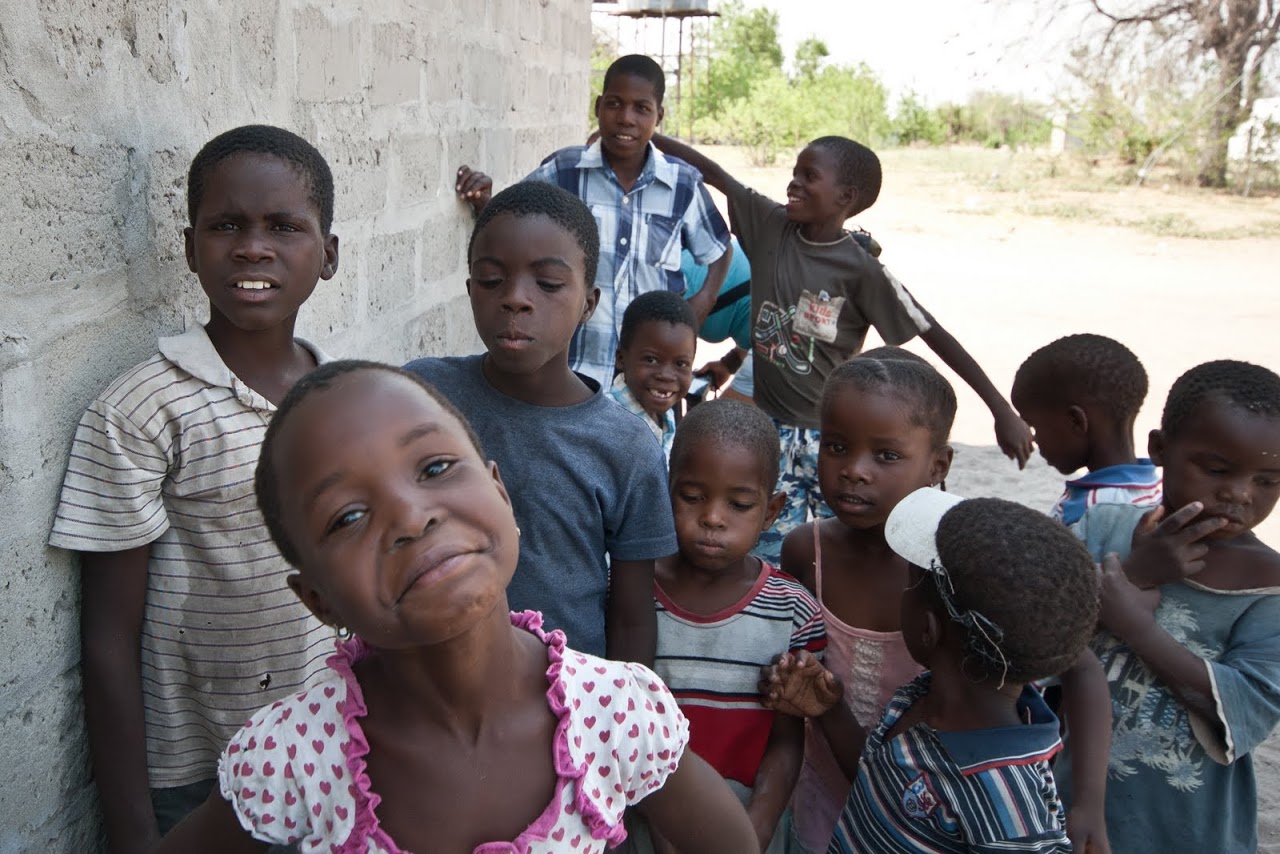 Little diva posing for pictures outside the Okavango
Biggest surprise: How much we liked our crew and the other travelers.  To be honest, we were worried that we would be irritated dealing with the same people day in and day out for 21 days.  We liked the variance in age and nationality and that every person on the trip had traveled extensively, worked on his/her photography, and were nice and interesting people.  Traveling for 21 days with people you don't like would certainly be a chore but we enjoyed our trip in large part because we enjoyed our crew and the other travelers.
Biggest disappointment: The amount of time spent driving from place to place in the truck.  Maybe we should have realized this beforehand, but there were four to five very long days out of the 21 where we just spent in the truck, looking out at a relatively boring landscape.  Several of us discussed that we would have liked an itinerary with less time spent in the truck, even if that meant that we had to skip certain stops or end in Namibia rather than Victoria Falls.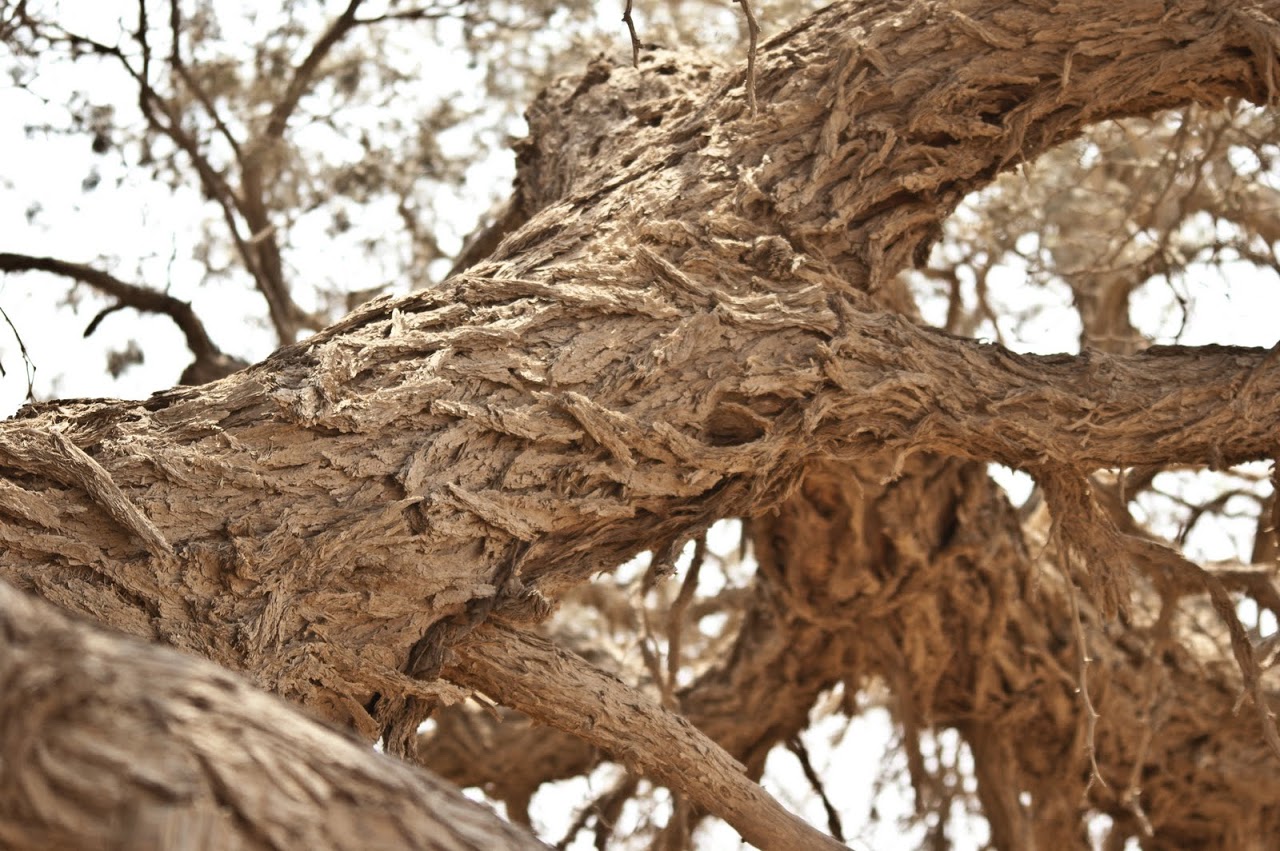 Tree in the Namib desert
Would we do another overland excursion? Yes, if it is the right overlanding group that focuses on providing comfort at the slowest paced itinerary, and traveling independently would otherwise be prohibitively expensive or difficult.  For example, if we go to Mongolia, we might consider traveling via overland.

Would we go back to Namibia and Botswana? Absolutely.  We loved both of these countries and think that they are unspoiled gems for the intrepid tourist.  Because we were with a group, we did not get much of a chance to interact with the locals this time, but got the impression that they were warm and welcoming people.  We can't wait to discover more highlights of these countries when we travel independently through them.
And, now we're off to: Back home to the United States.  (Actually, we've been back since October, but who's keeping track, right?)  I still haven't posted about our five weeks in South Africa, so I'll be writing about sharks, wine, zebras, and all sorts of other fun (and not so fun) stuff.  We're going to be taking on an Old South city tour for the next three months, including Atlanta, Savannah, Charleston, and Asheville, plus we're getting ready for our 15 month trip through Europe so I'll be writing about our plans and preparations for that trip.  Long story short, I looked at my blog posting calendar (yeah, I'm obsessive like that) and I have posts planned for the next five months.  Whew!
* Our trip was sponsored in part by Africa-in-Focus but they did not ask us to write this post or any part of this post.  As always, our opinions (both good and bad) are our own.  If you are interested in our perceptions of the expedition in general, check out our Overlanding 101 post where we provide a detailed review of the trip.