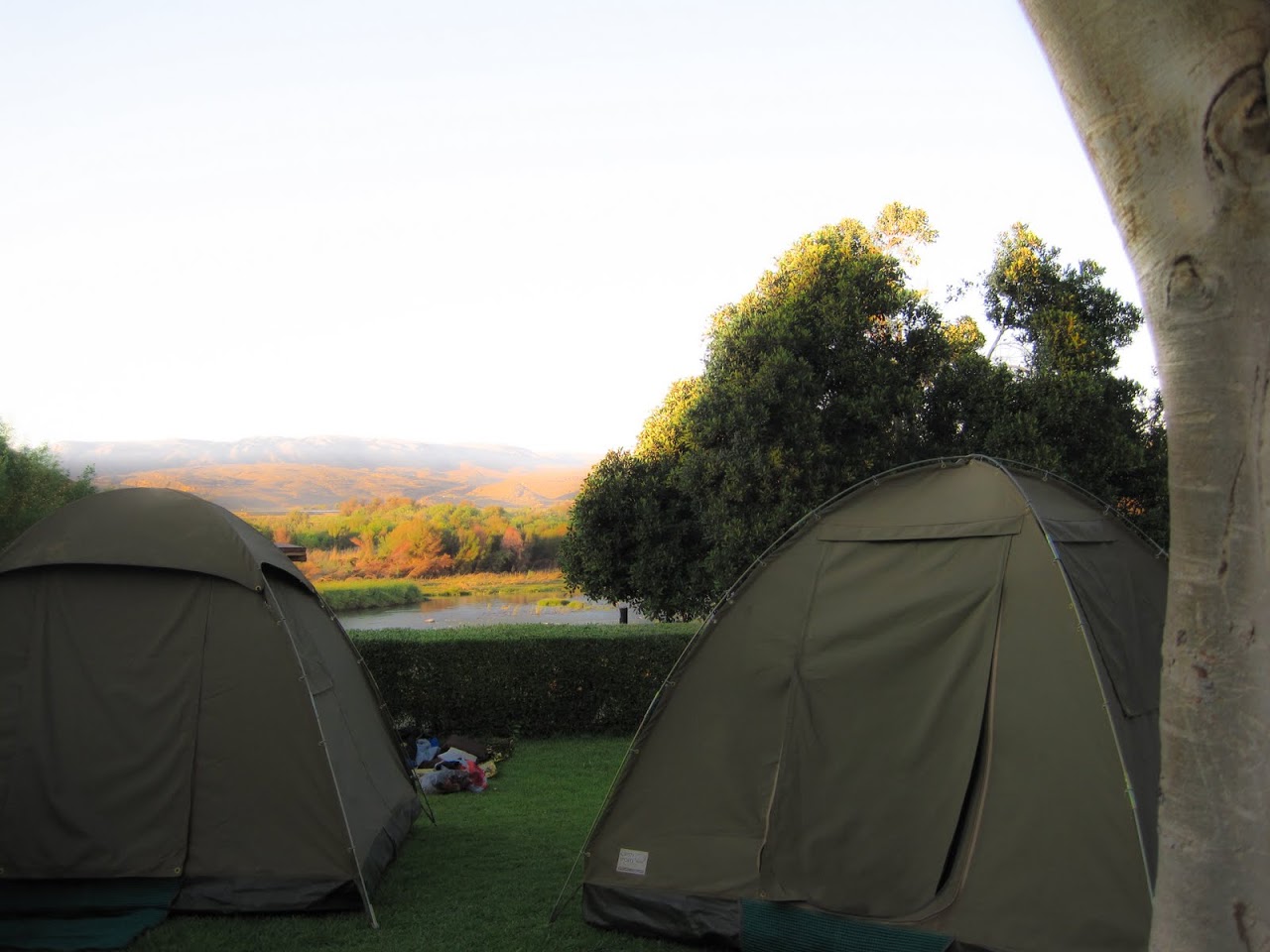 Campsite at the Orange River
We spent three weeks on an overland expedition from Cape Town to Victoria Falls with Africa-in-Focus .  This is an hour-by-hour description of the third day on our trek, our day traveling from the Namibian border to Fish River Canyon to give you an idea of a typical day on an overland expedition.  If you are curious about overlanding in general, check out our Overlanding 101 post.
1:30 a.m.: I wake up, freezing, despite my thermal underwear and fleece jacket. I wish I had bought heavier sleeping bags.
2:15 a.m.: An enormous moon and twinkling stars accompany a visit to the restroom.
7:30 a.m.: Camp starts stirring.
8:00 a.m.: Check status of laundry hung the night before. Hurray! Laundry is dry because of the arid Namibian climate.
8:02 a.m.: Pack bag and load in our giant personal locker on Benji, the truck. Move mattresses into communal locker.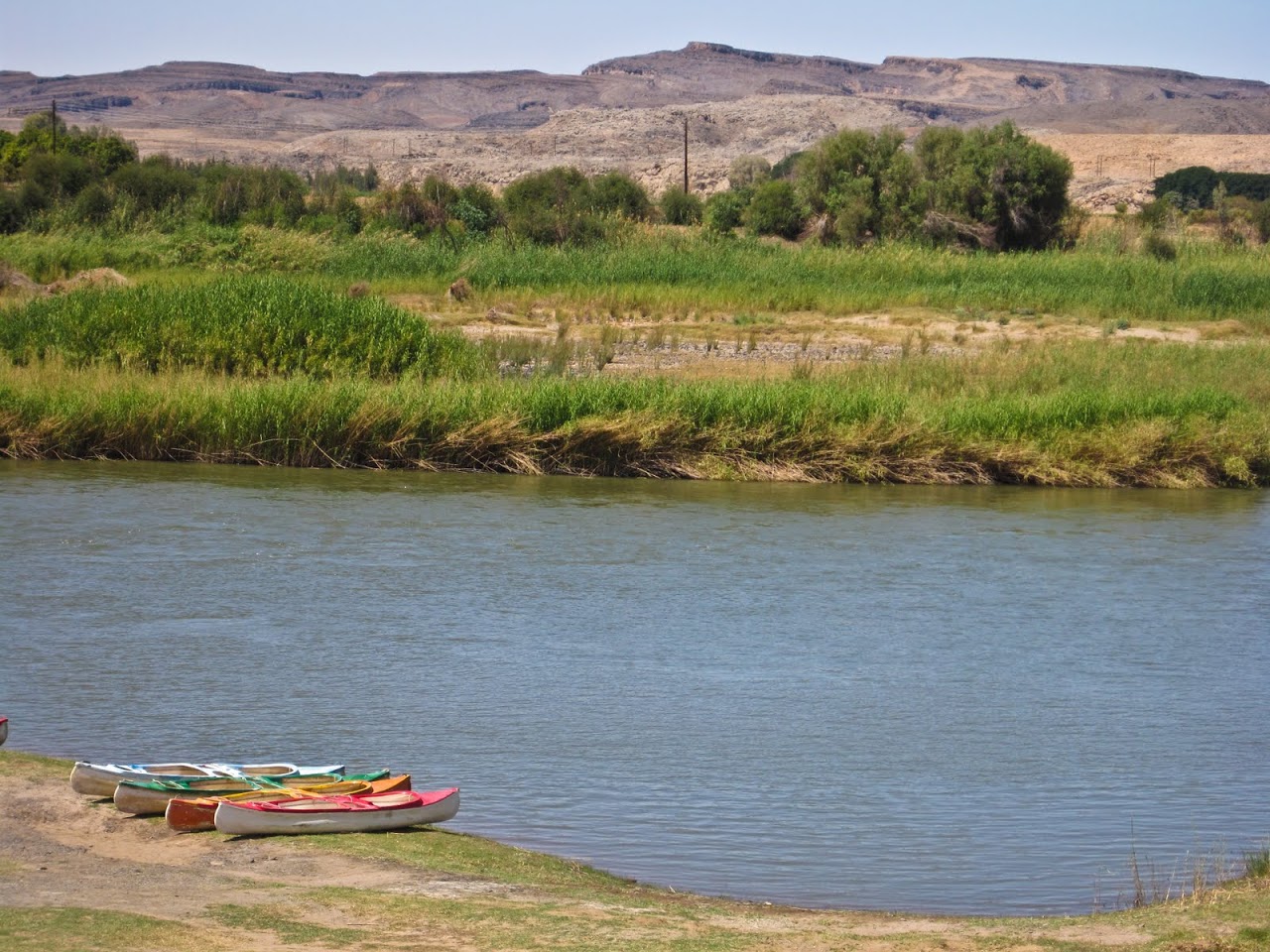 View of the river from the campsite
8:10 a.m.: Take tent down, roll into tent bag, and load into tent locker.
8:20 a.m.: Breakfast of cereal and bread with jam.
8:30 a.m.: Folks on dishwashing duty clean dishes while Akila and her group, on truck cleaning duty, sweep up the truck.
8:40 a.m.: I visit camp store. We have been suffering from headlamp envy, as we had not previously discovered the usefulness of this amazing gadget, and I buy two immediately.
Us standing on the bakkie, views from the bakkie of the Namibian landscape
9:00 a.m.: First group is taken to the canoeing site at Orange River, named for King William of Orange.
9:30 a.m.: The bakkie --- basically, a pickup truck---comes and picks up the rest, and the group stands in the back of the truck on the way there.
9:33 a.m.: With the air whipping through their hair and the truck going bumpety bump on the road, the group could be mistaken for day laborers out on a job.
Our green canoe and us canoeing down the Orange River
9:45 a.m.: We pick a green canoe to kayak down the Orange River.
10:20 a.m.: The sun is bright, the air is clear, the water is refreshing, but the canoe won't go straight, leading us zig-zagging down the river, struggling to keep up with the rest.
10:30 a.m.: Get a quick tutorial from Jacques, the tour guide and leader, who tells them that I need to be steering and Patrick is just the motor.
10:45 a.m.: All going well and both are pleased as punch by how fast they are moving along.
10:50 a.m.: Stuck on a rock bed on the left side of the river while the rest of the group rapidly passes by them.
10:53 a.m.: Unstuck from rock after much bickering.  We decide that, especially after our last venture into kayaking , kayaking/canoeing isn't our thing.
11:20 a.m.: Spot a flock of cormorants and a huge heron by the side of the river.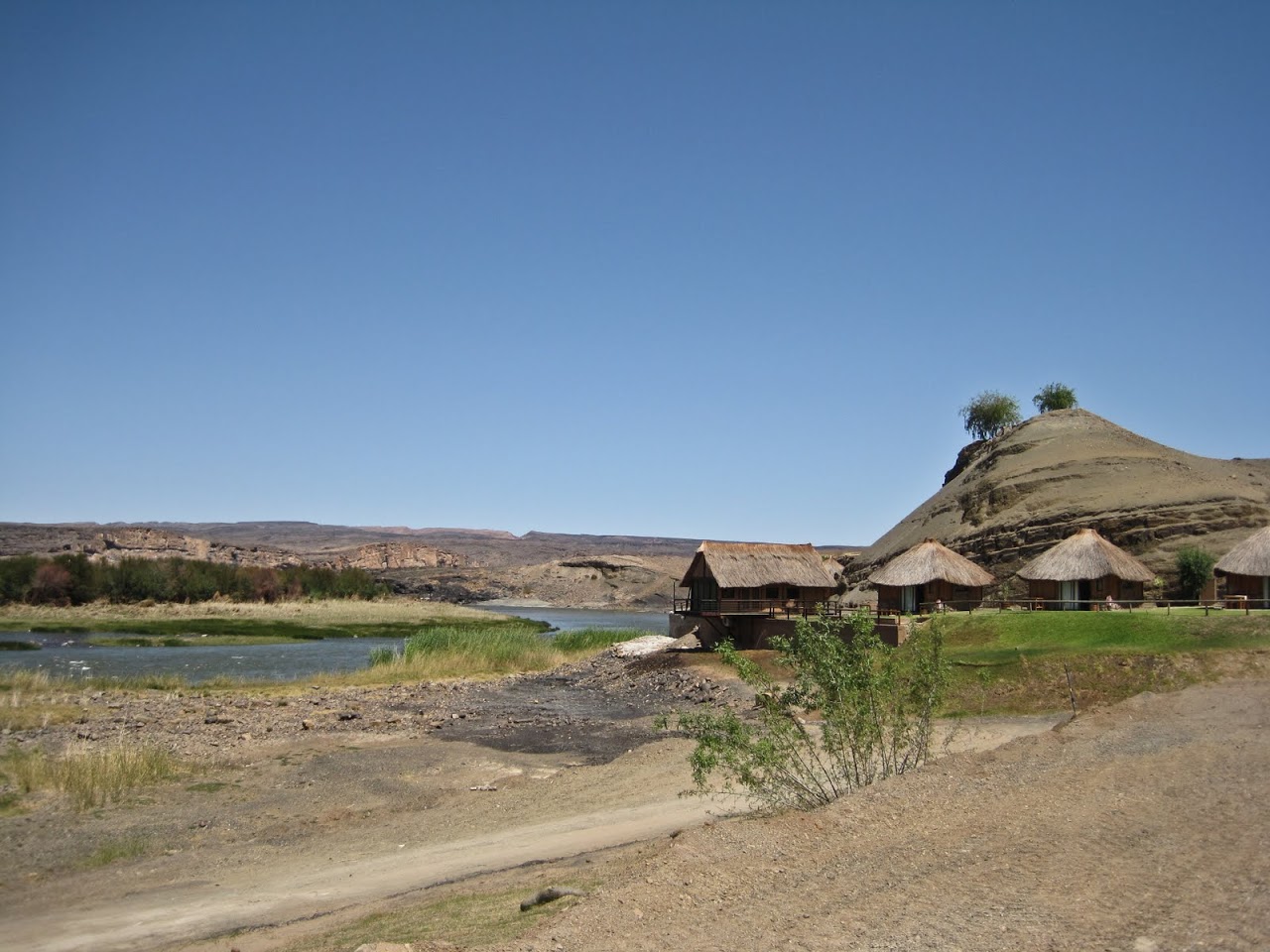 Orange River campsite
11:21 a.m.: Tummies starting to grumble and arms getting tired but camp is in site.
11:40 a.m.: Pull up at camp and hop in the showers.
12:00 a.m.: Lunch of sandwiches and an apple and lettuce salad.
12:45 a.m.: Food and chairs are packed away on the truck and everyone gets ready to head to the Fish River Canyon.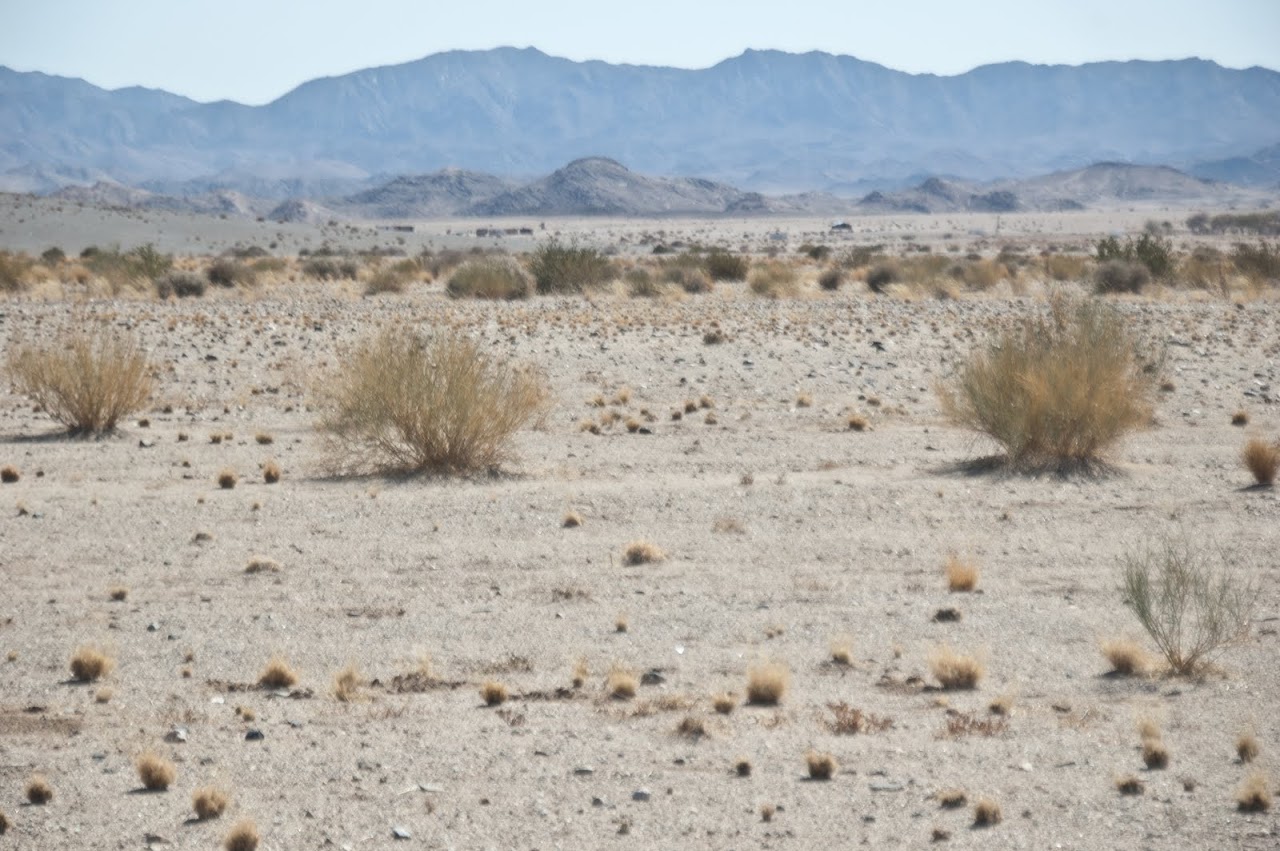 The Namibian landscape: the scenery for hours on end
1:20 p.m.: Jacques gives the second photography tutorial, describing how depth of field relates to aperture, shutter speed, and ISO.
2:15 p.m.: I finally understand how aperture and shutter speed relate to each other to create perfectly exposed, interesting photos.
3:30 p.m.: A loud thumping, scratching noise halts the truck. The grate has fallen off one of the lockers and is scraping through the dirt road.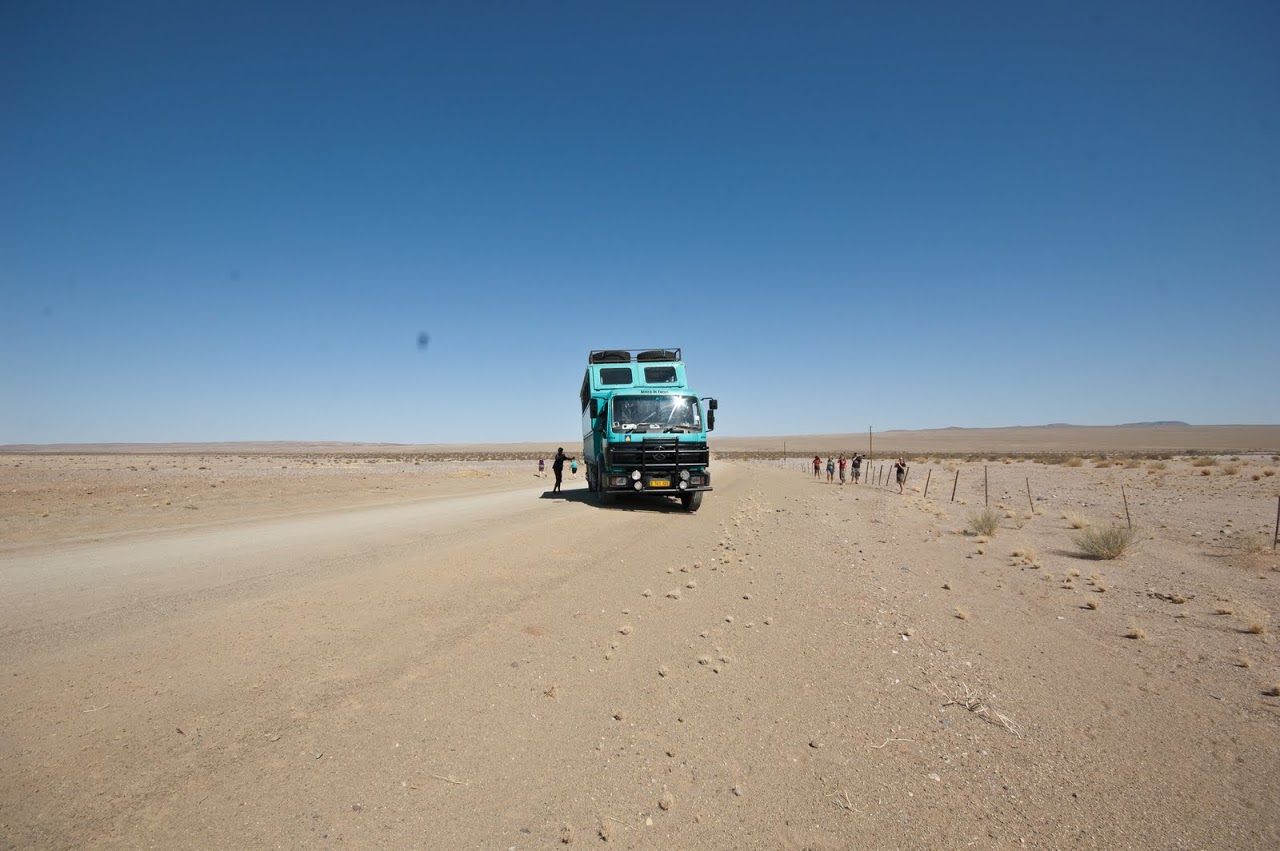 Namibian restroom
3:32 p.m.: Restroom break by the side of the road. Ladies behind the truck, men in the front, everyone searching for the best scrub bush in the poorly concealed desert landscape.
4:30 p.m.: Arrive at camp by Fish River Canyon.
4:40 p.m.: Set up tent, organize sleeping bags, and luggage.
5:00 p.m.: Back on truck to go for afternoon walk through Fish River Canyon.
5:20 p.m.: Large rock hits into underside of truck, later revealed to have caused damage to one of the lockers.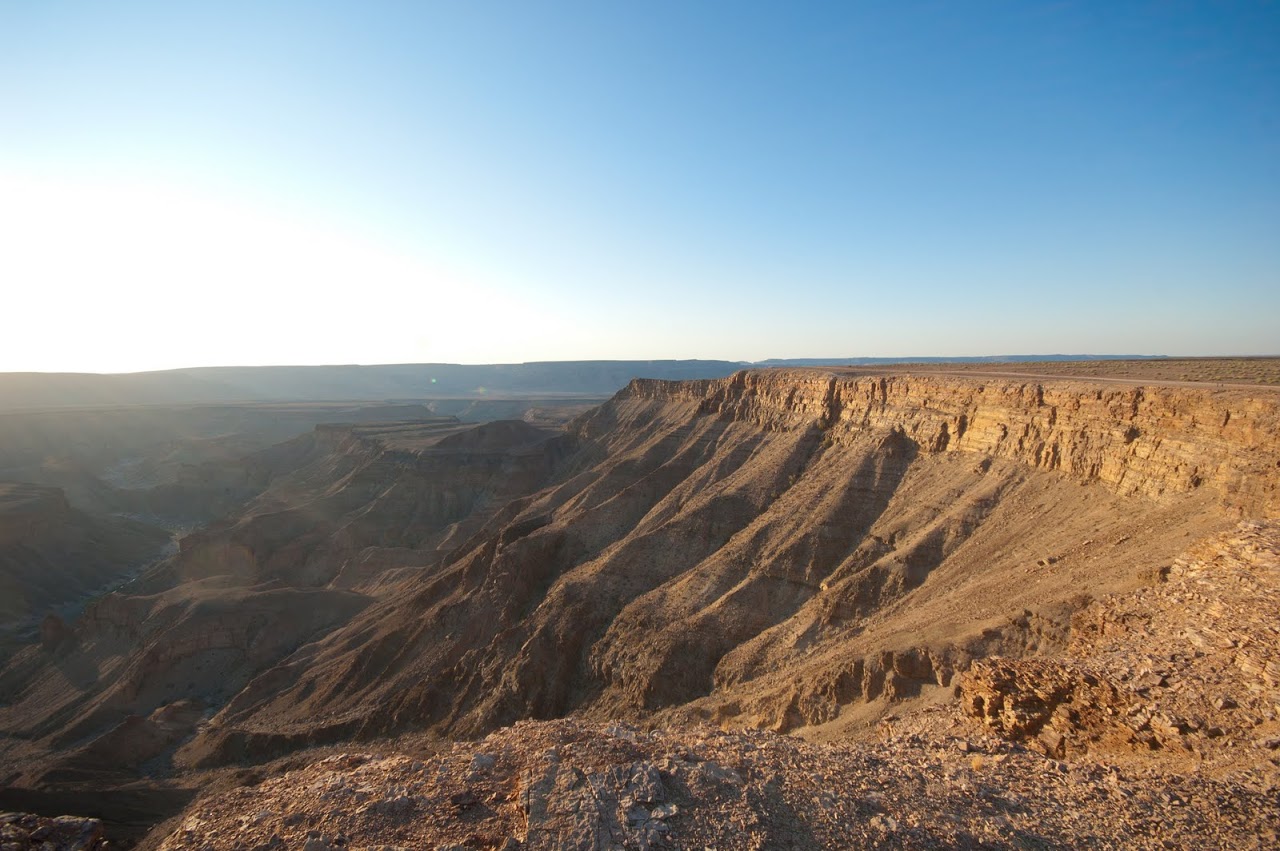 Fish River Canyon
5:30 p.m.: Arrive at Fish River Canyon, the second largest canyon in the world, and take photos at first viewpoint.
5:45 p.m.: Drive to second viewpoint for more photos. The light is at the wrong angle for good photographs, leaving canyon looking flat and full of shadows.
6:00 p.m.: Everyone settles down on camp chairs with wine and beer to watch the sun set.
Siilhouettes at Fish River Canyon
6:10 p.m.: Patrick decides to shoot some silhouettes of me in front of the setting sun.
6:15 p.m.: I ask Patrick if I can stop modeling but now other people want to take silhouette shots. I start to feel a little silly holding her hands up in the air on a canyon in Namibia.
6:50 p.m.: Peter, the driver, talks to a group about how much he loves working for Africa-in-Focus because, unlike some other overlanding companies, they give him enough vacation time to spend months with his family rather than driving back and forth from Nairobi to Cape Town all year long.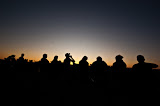 Silhouette
7:00 p.m.: Back on the truck and ready for dinner.
7:20 p.m.: Patrick builds a tower of plugs to charge camera and computer equipment.
7:30 p.m.: Eberon, the fantastic cook, sets out dinner: chargrilled honey-mustard glazed steaks, cinnamon carrots, baked zucchini, potatoes and garlic, and for the vegetarian (me), macaroni and cheese.
7:35 p.m.: Silence abounds as the group revels in the good meal after a long day.
8:00 p.m.: Dishwashing duty crew cleans dishes while everyone else sits back and chats. Patrick, me, a couple from Australia, and Jacques discuss the racial divide in South Africa.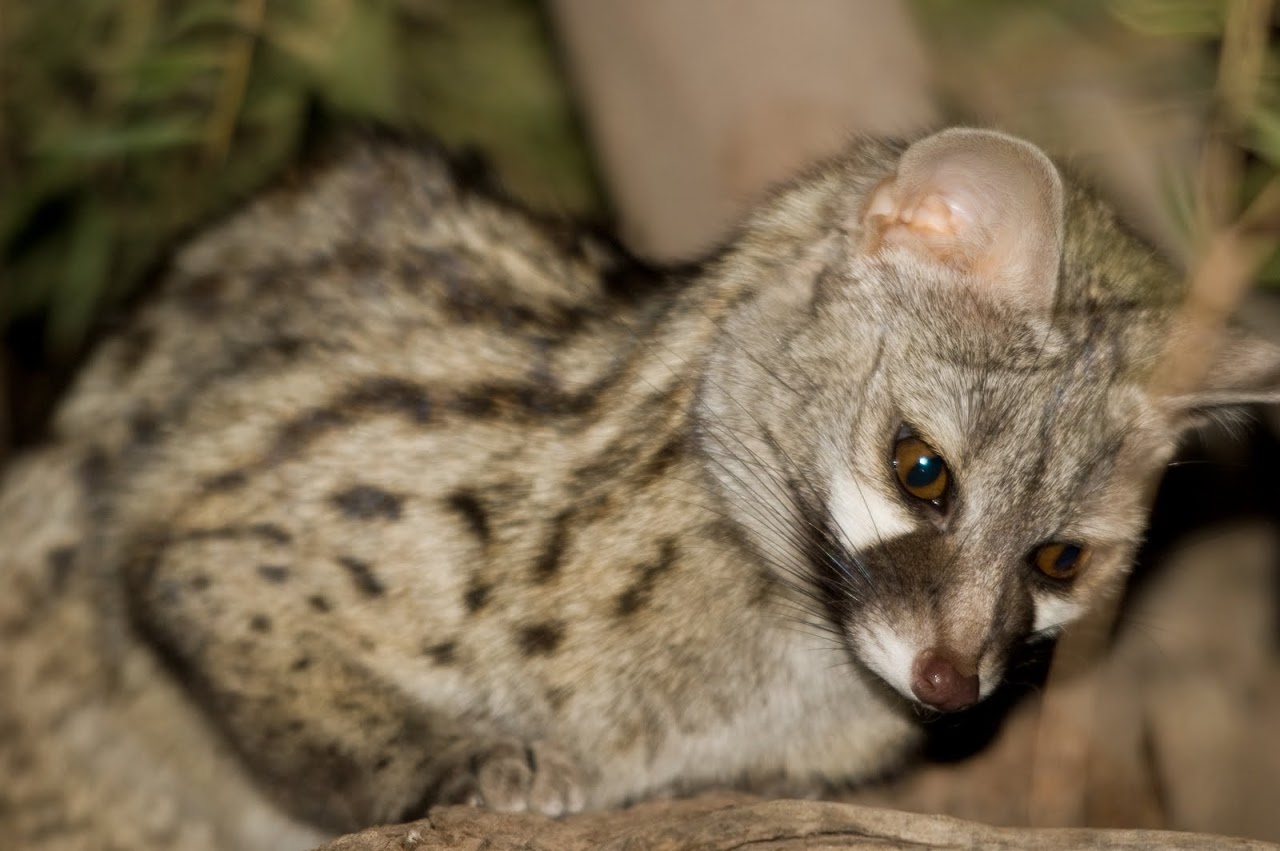 Civit
8:15 p.m.: Conversations are interrupted when Jacques spots a civit, a type of wild cat, crawling into camp to hunt through the garbage cans.
8:20 p.m.: The civit crawls away from the camp.
8:30 p.m.: Patrick fetches his camera in case the civit comes back.
8:35 p.m.: The civit comes back and then leaps into a tree. Patrick and others stand around the tree, taking pictures, probably blinding the poor creature with the gigantic flashes.
9:30 p.m: Head to bed. Wake-up call in the morning will be at 4:30 a.m. Yuck.
10:00 p.m.: Lights out.
* Our trip was sponsored in part by Africa-in-Focus but they did not ask us to write this post or any part of this post.  As always, our opinions (both good and bad) are our own.  If you are interested in our perceptions of the expedition in general, check out our Overlanding 101 post where we provide a detailed review of the trip.