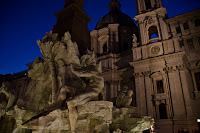 At Piazza Navona
Until two weeks ago, my mother-in-law had never stepped foot outside the United States.  She had never been off the East Coast (excepting a four day stint in Vegas twenty years ago).  She was terrified to fly over the ocean.  She didn't like to try new foods.  She didn't know if she could travel abroad.
And, yet, two weeks ago, she came to meet us in Rome.
We were, to be honest, worried.  A month before the trip, she called Patrick and asked if she needed to protect herself from packs of thieving children.  In her defense, she found an article on Frommers about these types of attacks and Patrick --- the wise a** that he is --- promptly suggested that she bring her brass knuckles.  On the day that she landed in Rome, we walked a short kilometer from Campo de Fiori to the Pantheon --- a walk that Patrick and I think nothing about --- and she worried that she wouldn't be able to finish out the trip because of the pain in her legs.  When we got onto the first bus that was packed to the gills with Italians, her eyes widened to two round saucers.  We worried about what would happen if she got lost or separated from us, forgetting for the moment that she was savvy enough to raise two children, and one of them happened to be the son who was ushering her around.  (But, isn't that always the way we feel about our own parents?)
It was a week of firsts.
The first time Linda ate bufala mozzarella and really good artichokes, rather than the bland awfulness they sell in cans in the United States.
The first time she rode a bus since college.
The first time she had a cappuccino served by someone who knew how to make it (and it was the first of *many* cappuccinos.)
The first time she saw ruins, monuments, and art that touched on the very greatest of man's accomplishments in this world.
And, it was the first time we saw international travel from the perspective of someone for whom everything is a first.
It occurred to me, as we watched her experience Rome, that this is what I love about traveling.  I am so grateful for the firsts.  There is something exhilarating, ground-shaking, and mind-shattering about waking up and not knowing exactly where you are, how to communicate with the people, how to buy milk and bread, and what to see and do.  There is joy in learning a place and determining that the differences between each country and culture are not so great as the media might have us believe.  There is understanding in being a part of this immense world and realizing that no matter how long we travel or live, we can only grasp the smallest knowledge of its magnitude.
Today is my first Thanksgving in Europe and tomorrow will be our first time crossing the Eurotunnel from Calais to England.  Next month, I will travel with my mother through Europe for the first time. And, in two months, we will drive to Eastern Europe, heading into a whole new set of firsts as we figure out how to communicate, eat, and live in Croatia, Hungary, Bulgaria, Romania, and Turkey.
Too soon, though, each first becomes a second, a third, and then a fourth, until they are commonplace and unexciting.  Our first time driving our right-handed car in left-driving England was an adventure; now it is mundane.  By the end of our week in Rome, Linda was old hat at using the metro, even venturing out by herself on her last day in Rome to shop.  She did not bat an eyelash when we suggested that we walk out of our way to find the best cannolis in Rome and she jauntily "grazie-d" and "buongiorno-ed" her way through the city in her final days.  As it turned out, we didn't need to worry at all; she's a born traveler (I guess that must be where Patrick gets it from).
When Linda returned home, she wrote on her Facebook wall: "Knowing and understanding is comfortable, but that doesn't mean it's the best.  I'm a better person and woman for having done this: traveling across the ocean to a different country and coming back home."  I couldn't put it better myself.
I say all this about travel because, in the last few years, we have experienced so many firsts associated with our wanderings.  But, today, my Facebook wall was crowded with thankfulness for other firsts: for the birth of a child and his/her first words, for a first day at a new job, a first step into a new home, and a first car.  I suspect that the Pilgrims almost four hundred years ago were thankful for surviving their first years in a hard and unknown world.
All of these firsts --- in our travels and our lives --- crowd eagerly into the mind, snatching coveted portions of our memories, carving themselves indelibly into the hopes for our futures, and demanding our thankfulness.
(Happy Thanksgiving.)