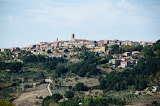 Radicondoli
Roses bloomed outside my childhood bedroom window.  I waited eagerly each year for the thorny vines to transform and mirror the pink rose-themed wallpaper on my wall.  Sometime around June, just in time for my birthday, they changed from tiny closed buds into full-petalled flowers whose fragrance wafted into my room.
My mother stopped growing roses years later --- they are a time-consuming plant, after all.  I didn't miss the roses, really.  I had a computer, a stereo system, books, and friends who interested me more than flowers and trees.
I found flowers again a year after Patrick and I bought our first house in Atlanta.  They were a means to an end: a way to beautify our ranch-style home, to ensure that it met our standards for beauty, to help the resale value, and to match the other houses on our block.
I don't ever remember stopping to smell those flowers.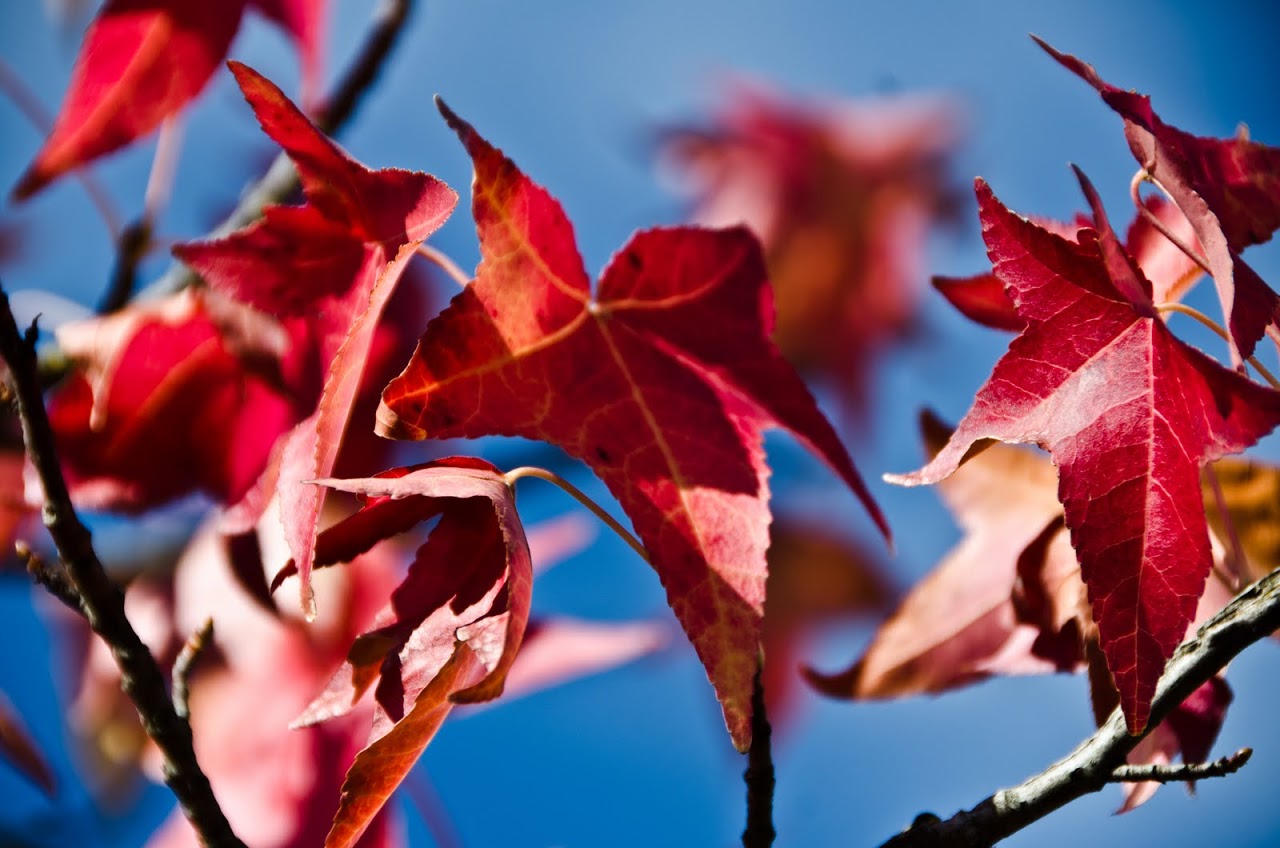 Scenes near our Radicondoli apartment
I rediscovered flowers when we started traveling full-time.  I can't tell you exactly when: it might have been as early as Sydney at the gorgeous Botanical Gardens or in South Africa where the fynbos blossomed into the most gorgeous and alien flora I'd ever seen .  But, suddenly, I was booking our itineraries to coincide with flower festivals , Patrick was taking pictures of flowers everywhere we went, and we found ourselves going up to trees and smelling the flowers.
Yes, we were literally stopping to smell the flowers.  I noticed us doing this the other day when we were on a hike in the Bulgarian mountains.  We're trudging along up what seemed like a never ending hill, my calves screaming out in pain, and Patrick picks a flower from a neighboring tree, sniffs it, and hands it to me to smell.  As I inhaled its mild fragrance, I thought to myself, "Really, who does this?"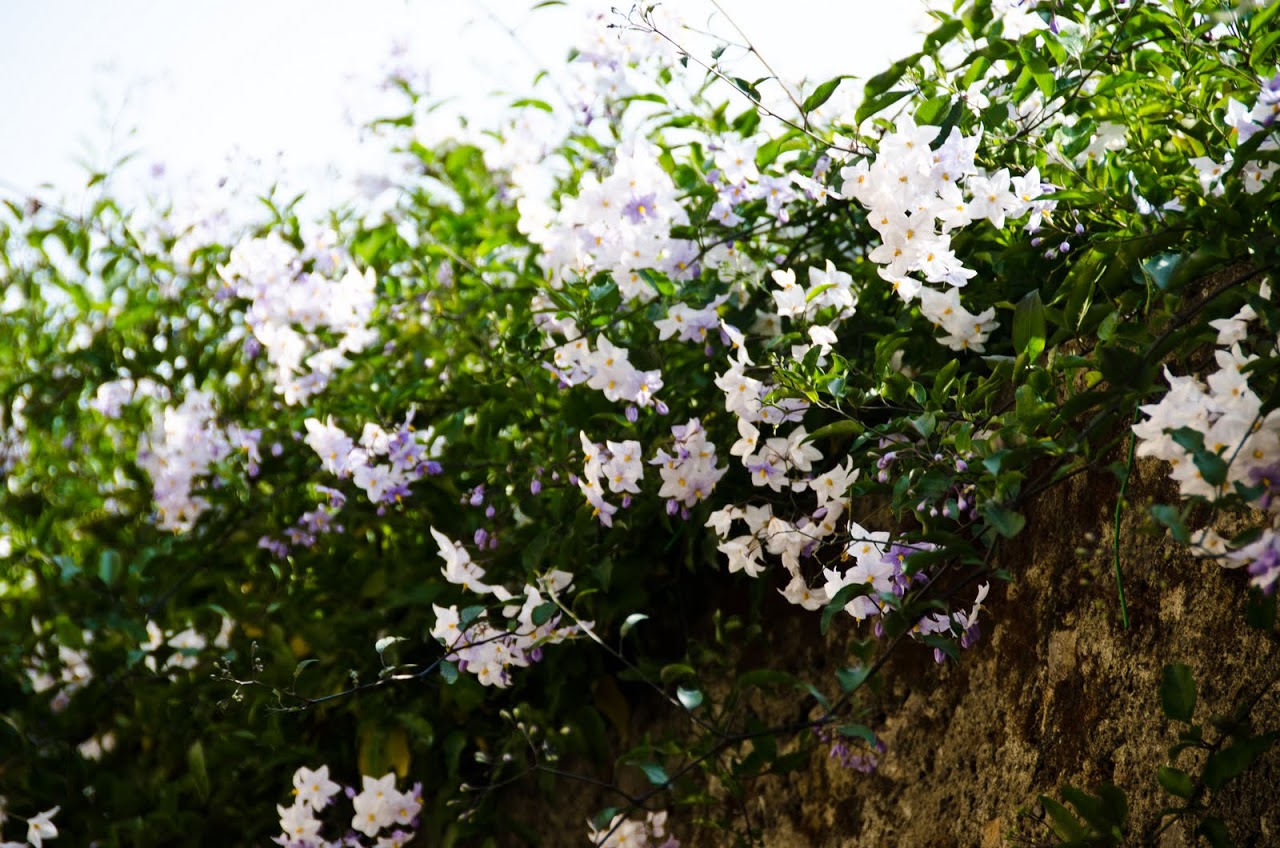 Flowers on a vine over a Tuscan wall
I think, though I'm not sure for certain, that this flower-smelling phenomena is associated with our persistent traveling.  I see us sometimes taking in things differently than most other people --- looking up at the top of a building when everyone else is looking down, winding away from places where most congregate, and searching for quietness.  We haven't become hermits (at least not yet), but we find ourselves needing a respite from the crowds after a few weeks in a city.  We need to breathe in the fragrance of flowers and trees.
Scenes from our neighborhood (and, yes, those are the views right near where we lived)
It was this that brought us to Radicondoli in Italy after two months in bustling Madrid, Barcelona, and Cannes.  Radicondoli is a fly-speck place in the midst of Tuscany, surrounded by acres and acres of olive groves and vineyards.  It is quiet here, so quiet that the chatter of birds seems to shatter the stillness.  At night, we call Abby home in the pitch black darkness from her travels among the olive groves.
We wake in the mornings and send the dogs running through the vineyards and olive groves.  Some people speak English here and, for the ones who don't, my halting Italian is enough.  As October ends, men and women go out into the fields with what looks like electric rakes to bring down the olives from the trees, collect them, and take them to the cooperative olive oil pressers, so that they will have fresh olive oil for the remaining year.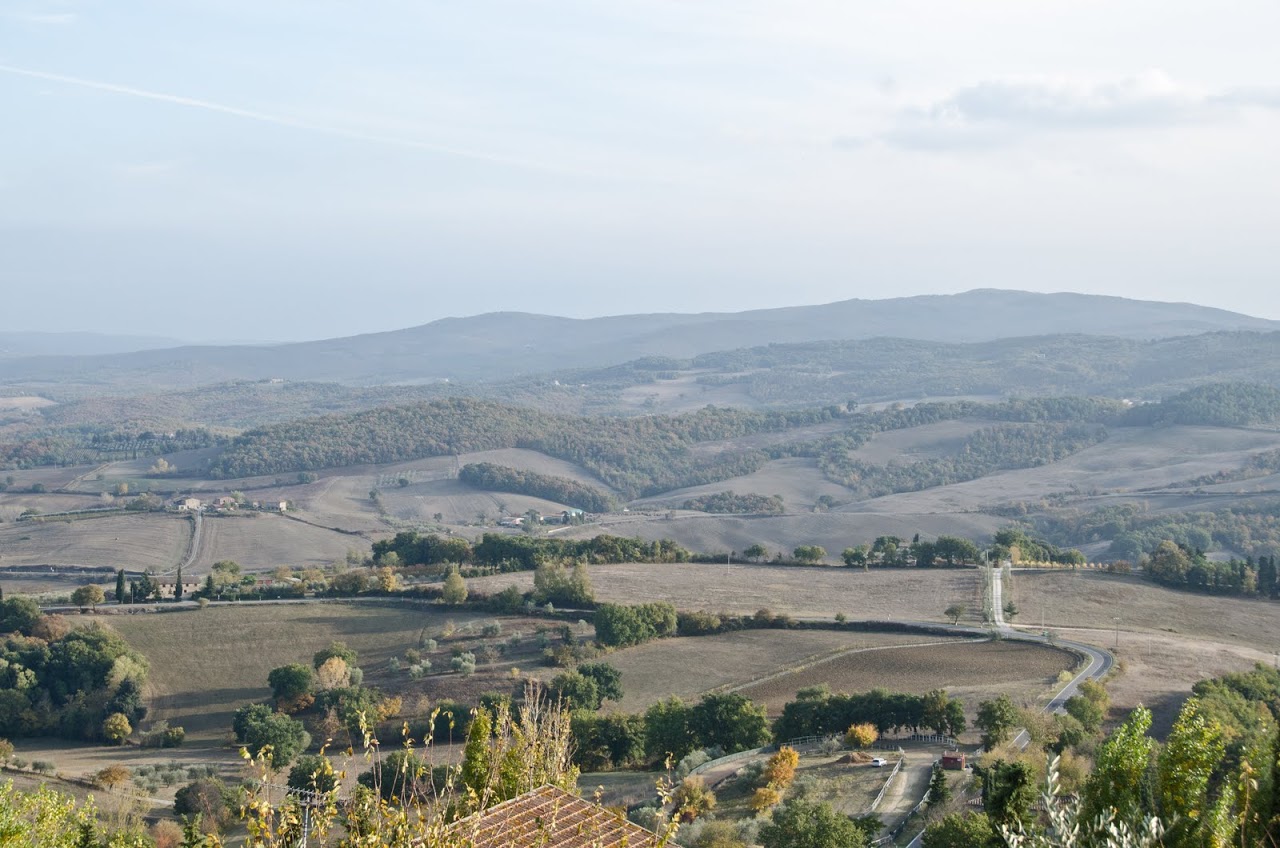 Views from Radicondoli
In the evenings, people leave their fields and head into the town of Radicondoli.  There are two restaurants and a cafe/bar.  There are opening hours posted on the front door of the cafe/bar saying that it is open every day except for Thursday.  The sign lies.  Frequently, without explanation, the cafe/bar is closed and we sit on the wooden bench outside and try to snag their WiFi juice.
The main restaurant named La Pergola serves crisp wood-fired pizzas and bright yellow limoncello produced by a farmer nearby.  In the evenings, it's packed with locals and, in the summers, the marvelous patio opens.  In November, they shut down for a month and, at the same time, the cafe/bar closes for a month, as well.  For one month, the town stands still, waiting for the restaurants to reopen in time for Christmas.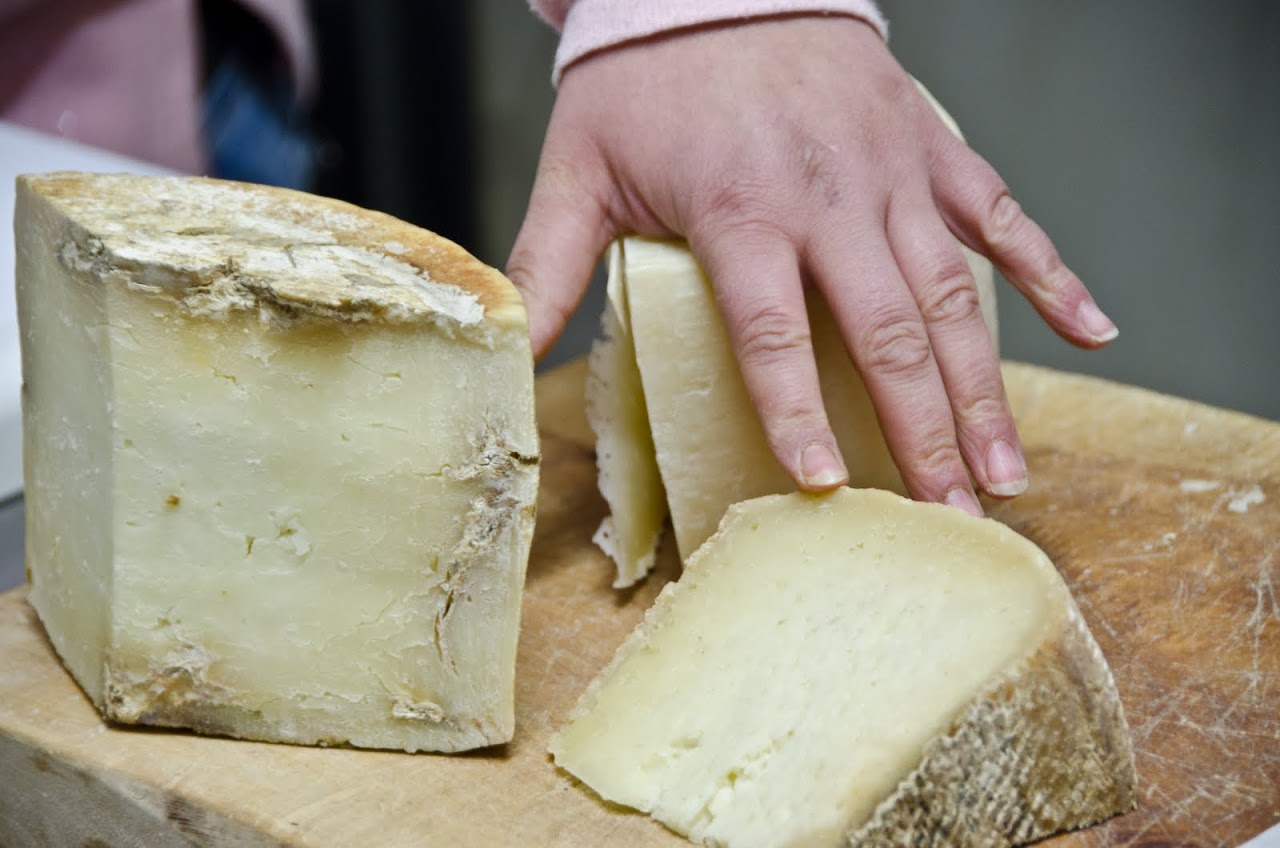 Cheese-making at Podere Paugnano in Radicondoli
One afternoon, we go with Karen, the English-speaking tourist office guide, to Podere Paugnano , where Giovanna and her daughter make organic pecorini cheese.  Giovanna is a lovely woman, as passionate about making cheese as we are about eating it.  She uses an artichoke-based vegetable rennet and milk from the family's herd of sheep to produce their pecorino.  There are many different varieties --- young, old, aged for 6 months, and some aged for longer than a year..  The best of the bunch is an amazing crema pecorino, made by melting down the pecorino scraps with sheep's milk, turning it into a pecorino paste that I could keep eating and eating slathered on bread.
Olives on tree
We take the cheese we bought home along with vegetables purchased at the weekly market, fresh pasta found at a nearby grocery store, wine from the Chianti region, and fresh olive oil pressed that week at the cooperative.  We open the patio door and let the dogs run outside as we make dinner.  In the evening, we work on our laptops, read, and play with dogs.  In the morning, we will wake among the olive trees and take them for a walk.
And, when we see flowers on the branches of trees and bushes, we will stop to smell them.