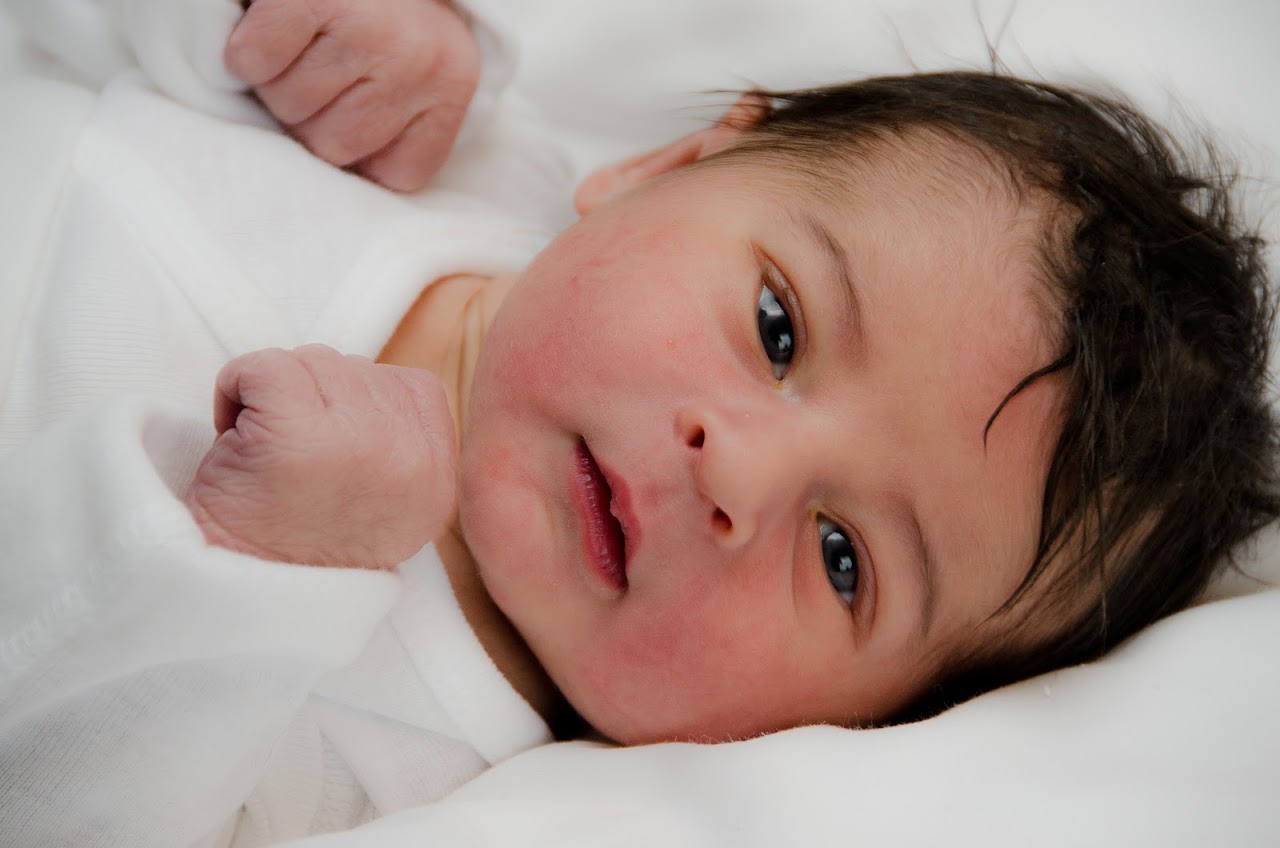 Amara Subha McConnell arrived on March 21, 2013, at 5:37 p.m., weighing 7 pounds 5 ounces, at 18.5inches tall. More on her nursery below.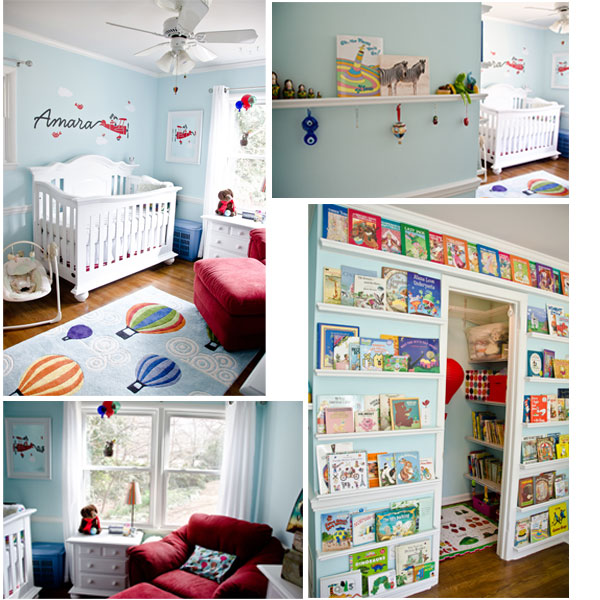 Amara's Oh The Places You'll Go Nursery
After three years of roaming the world and four+ years of storing all of our things in a gigantic storage facility, in late December, we moved into a place.  Our place . . . a settled, permanent home with our furniture, our books, our knick-knacks, and the assorted conglomeration of our old lives and our new one.  I've mentioned before that we don't buy many things when we travel because, frankly, we don't have the space, but, when we found out that we would be having a baby, we started picking little things up here and there.  And, all these little things make up Amara's Oh The Places You'll Go! nursery, which is, without a doubt, our favorite room in our house.  Given that this blog is all about travel, I thought that y'all would like to take a sneak peek into her travel-inspired space.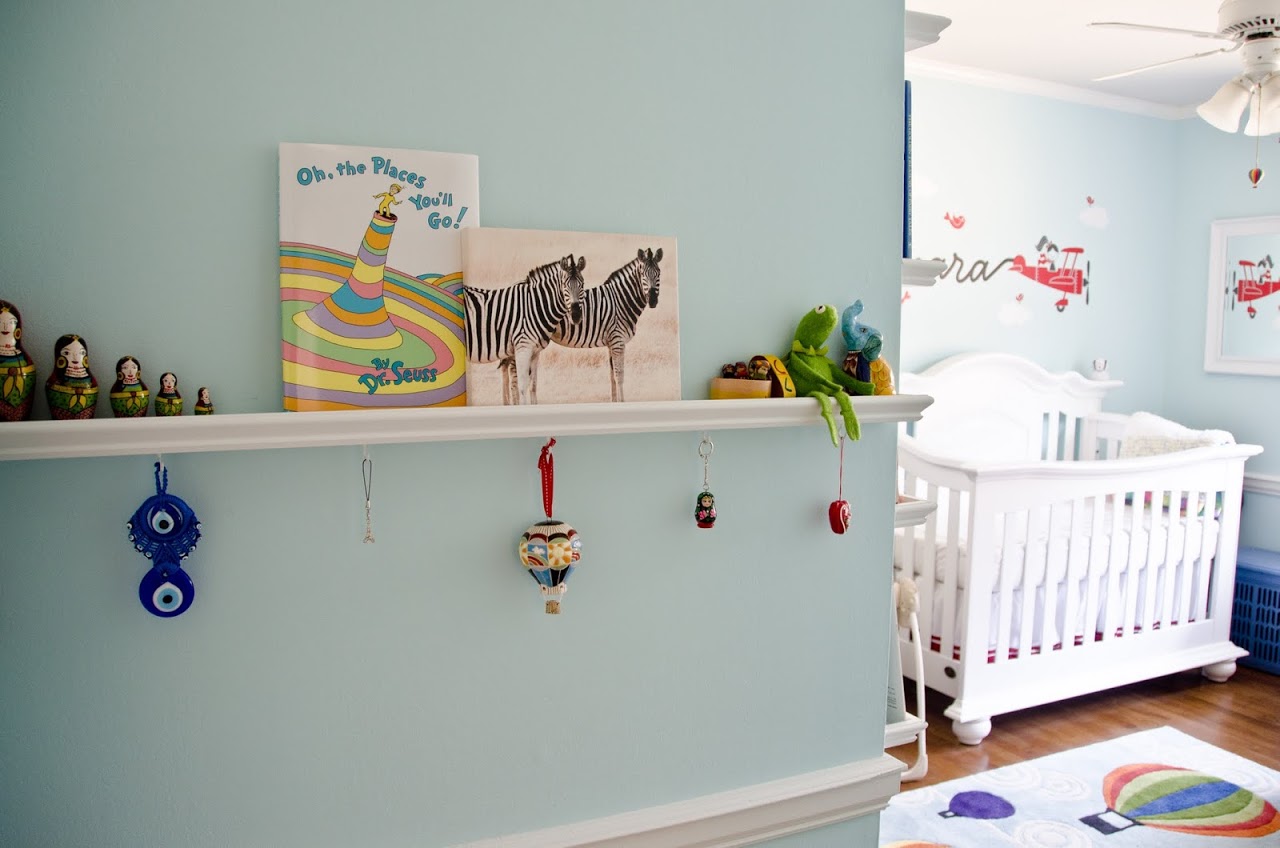 Walking into her room
One of my favorite features of the room is that almost every item in it came from somewhere special to us --- there aren't a whole lot of items that are from big-box stores.  Each of the hanging ornaments came from a different country (Turkey, France, Czech Republic, Hungary, and Croatia) though my favorite is the ceramic hot air balloon which we purchased the day after we found out I was pregnant in Prague, as we were still reeling from shock and surprise.  My grandmother gave me the stacked Indian dolls when I was a little girl and Patrick had an identical Kermit the Frog toy when he was a baby.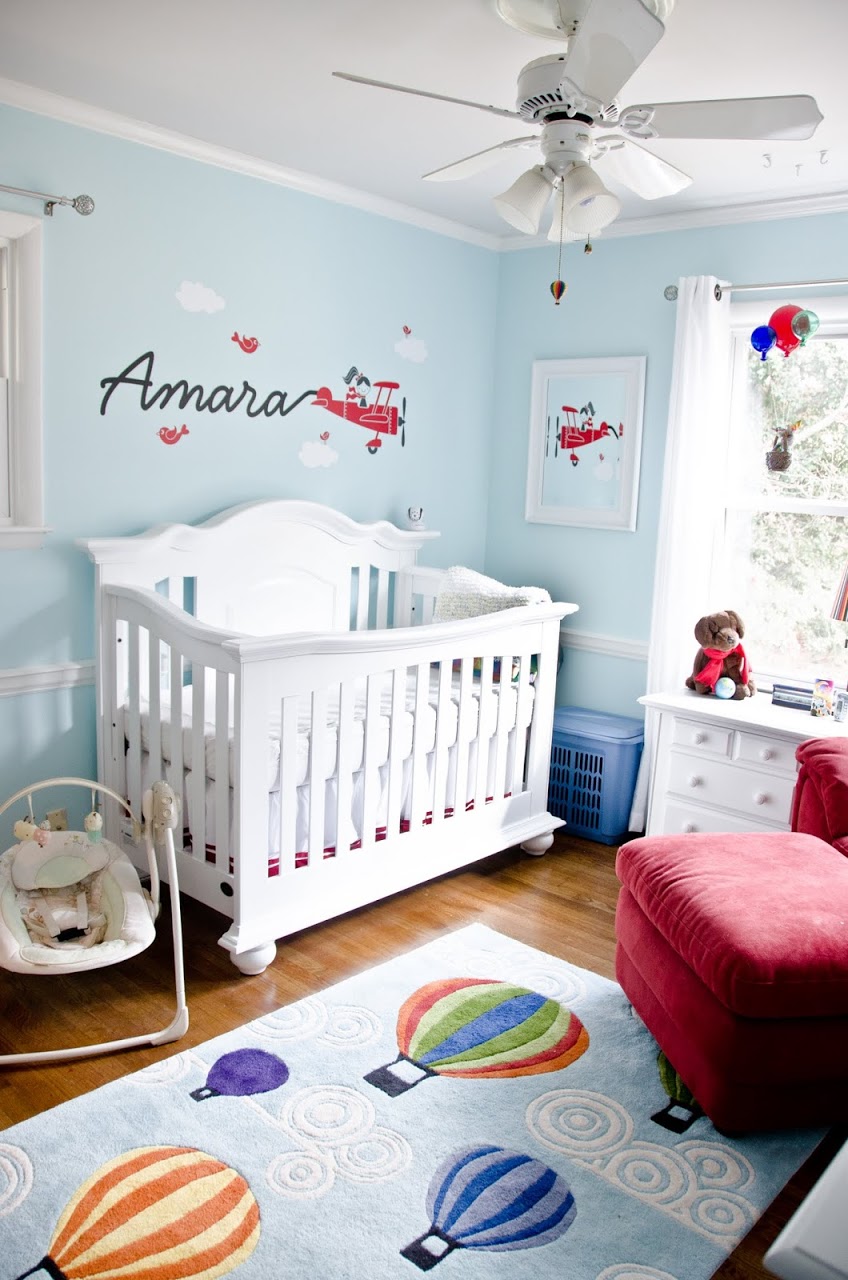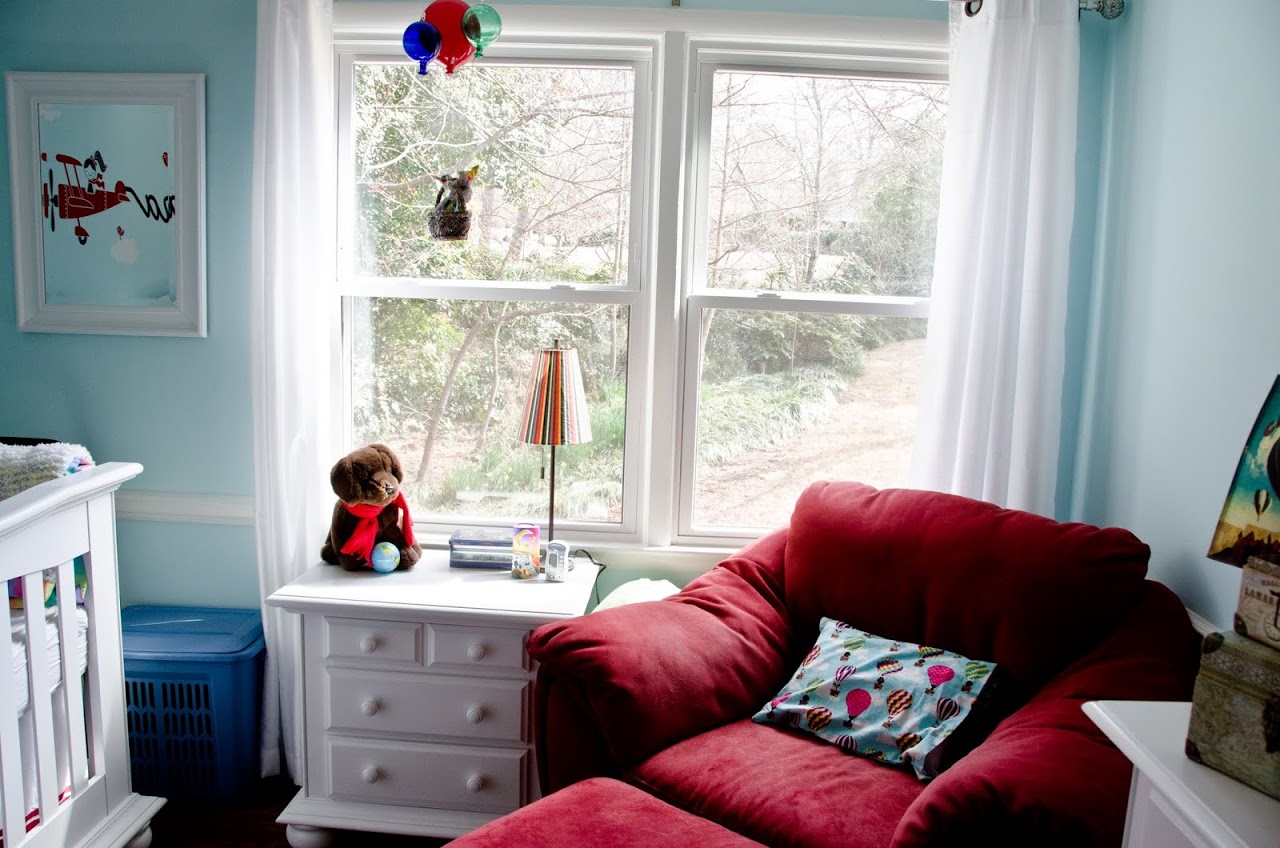 Looking at her crib and armchair
When we first started planning out the nursery, I looked at a lot of inspiration pictures of other nurseries on Pinterest and other sites and kept coming back to this one .  I loved the light blue walls and the awesome Etsy decal, but we knew that we wanted a brighter, sunnier look for Amara's room.  So, we used a lot of bright white in the room to make the aqua and primary colors really jump.  The glass balloons above the nightstand come from Venice, the box on the nightstand comes from Paris, and the candle is from Santorini.
Wall of books
Another inspiration nursery had this amazing wall of books which, at first, I thought would be impossible to recreate.  I showed the picture to Patrick and he said, "Easy."  Aside from being our brilliant web designer and all around great guy, he also has mad carpentry skills and he put together all this shelving in two weekends, using pine 2x4s and crown molding.  The bookshelves might just be my favorite part of the room.  My mom, mother-in-law, and sister-in-law had saved all of our books from our childhood as well as my nephew's childhood and we feel so fortunate that Amara is starting out her life with an immense library of over 300 books!  Because the nursery has such a big walk-in closet, we decided to turn it into a mini playroom space without any doors so that she can spread out and grab a book to read or play with toys.  We hope that, as she gets older, her closet will turn into one of her favorite reading nooks.
Dresser/changing area
The dresser and changing area has a maneuverable arm on a hinge so that we can put hanging toys above the changing pad and then slide the arm back against the wall when we don't need it.  The canvas print is one of our pictures taken from when we were hot air ballooning in Cappadocia and brings back fond memories of one of our favorite days of travel .
And, really, that's what I love about this room: there are so many pieces of our travels from the last three years spread all around it and we hope that our little girl will learn, as we have that:
"The more you read,
the more things you will know.
The more that you learn,
the more places you'll go."
- Dr. Seuss
In case you're interested, here's a list of where we bought some of the items in her room.  We either owned everything else already and had it sitting in storage (such as the armchair) or the items were purchased abroad:
- Crib, dresser, and nightstand: Echelon Diya collection
- Rug: Momeni Lil Mo Hot Air Balloon Rug
- Plane decal: Etsy GraphicSpaces store
- Ceiling fan pull: Hot air balloon fan pull by Clementine Designs
- Pictures on canvas prints: Our pictures printed from Easy Canvas Prints
- Luggage boxes on dresser: From Michael's craft store
- Travel-themed toy above changing pad: Mamas and Papas stroller toy, purchased at Babies R Us
- Hot air balloon toy attached to luggage: Maclaren Stroller Hanging Toy
- Changing pad cover: Etsy Sweet Mia Boutique store (loved working with her - she customized everything for us based on a picture of the room!)
- Hot air balloon paper lanterns in closet: from Oriental Trading Company and used as decorations at our baby shower