Japanese food in video (yum!)
What we did: 29 days in Japan split up as follows: 4 days in Tokyo, 8 days in Kyoto, 2 days in Nikko, 3 days in Nagano, 2 days in Nara, 3 days in Hiroshima, 3 days in Aso, 4 days in Fukuoka.
Would we do it the same way? Yes, except that we would have done Nikko as a day trip from Tokyo and Nara as a day trip from Kyoto. Otherwise, we felt that we spent the right amount of time in each place though we could have spent a whole month in Kyoto alone with all the things to do in that city.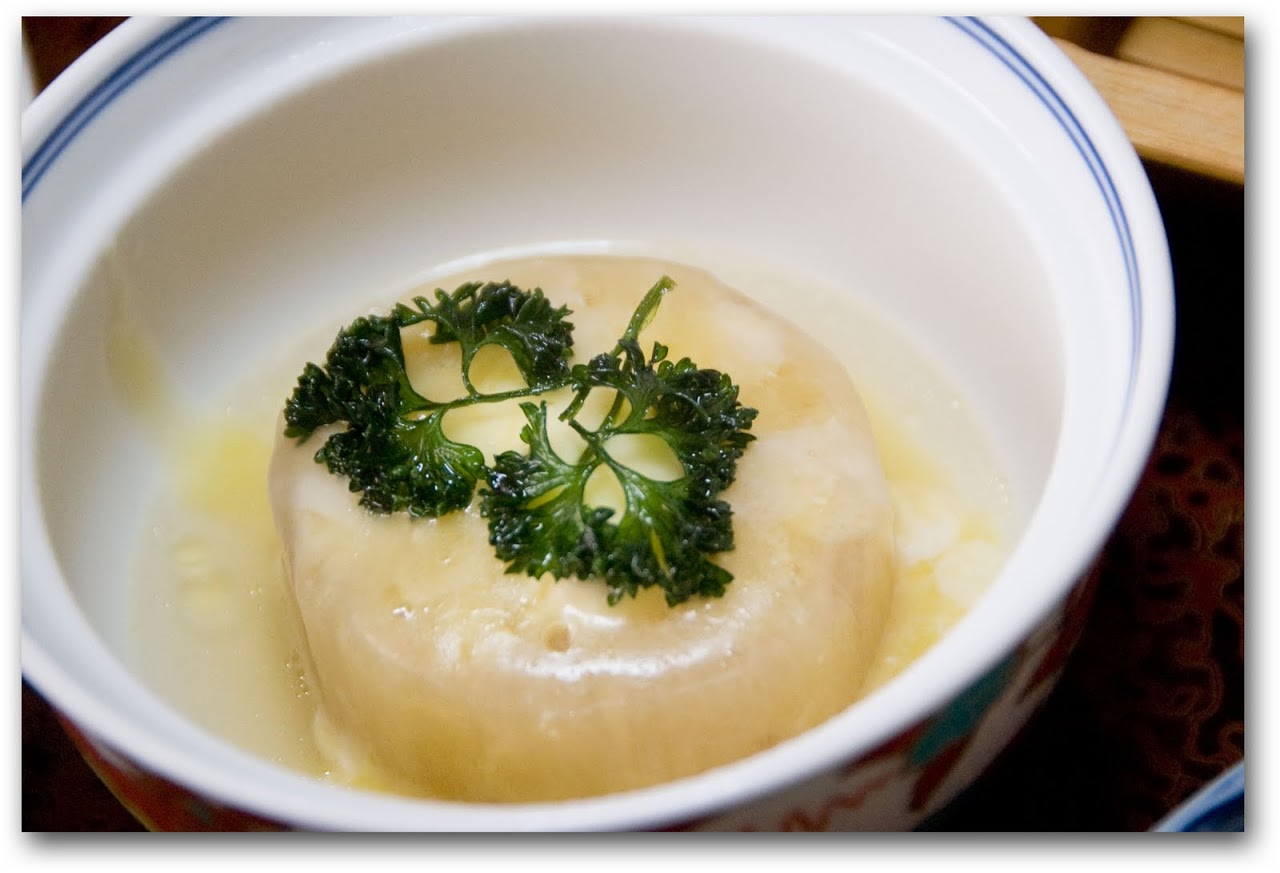 Daikon radish with goat cheese
Best food: Usually, this is an easy question for us to answer because there is always a standout but the food was just so good in Japan. If we had to narrow it down, Patrick would pick the sushi at Tsujiki Fish Market and I pick the vegetarian kaiseki meal we had at Kamesei Ryokan in Chikuma City.
Worst food: Japanese eat whole dried sardines as snacks. We were offered some by a very nice gentleman but both of us nearly gagged when we smelled them. They didn't make it into our bellies.
Our favorite part of Japan : The beautiful, unexpected, delicious food. I mean, I wrote four posts --- on tofu , budget cuisine , splurge cuisine , and desserts --- because the food amazed and entranced us.  Instead of creating a video on the whole country, this wrap up video just focuses on food (but, also, check out our video on the beauty of Japan .)  We are a bit mesmerized by Japanese cuisine.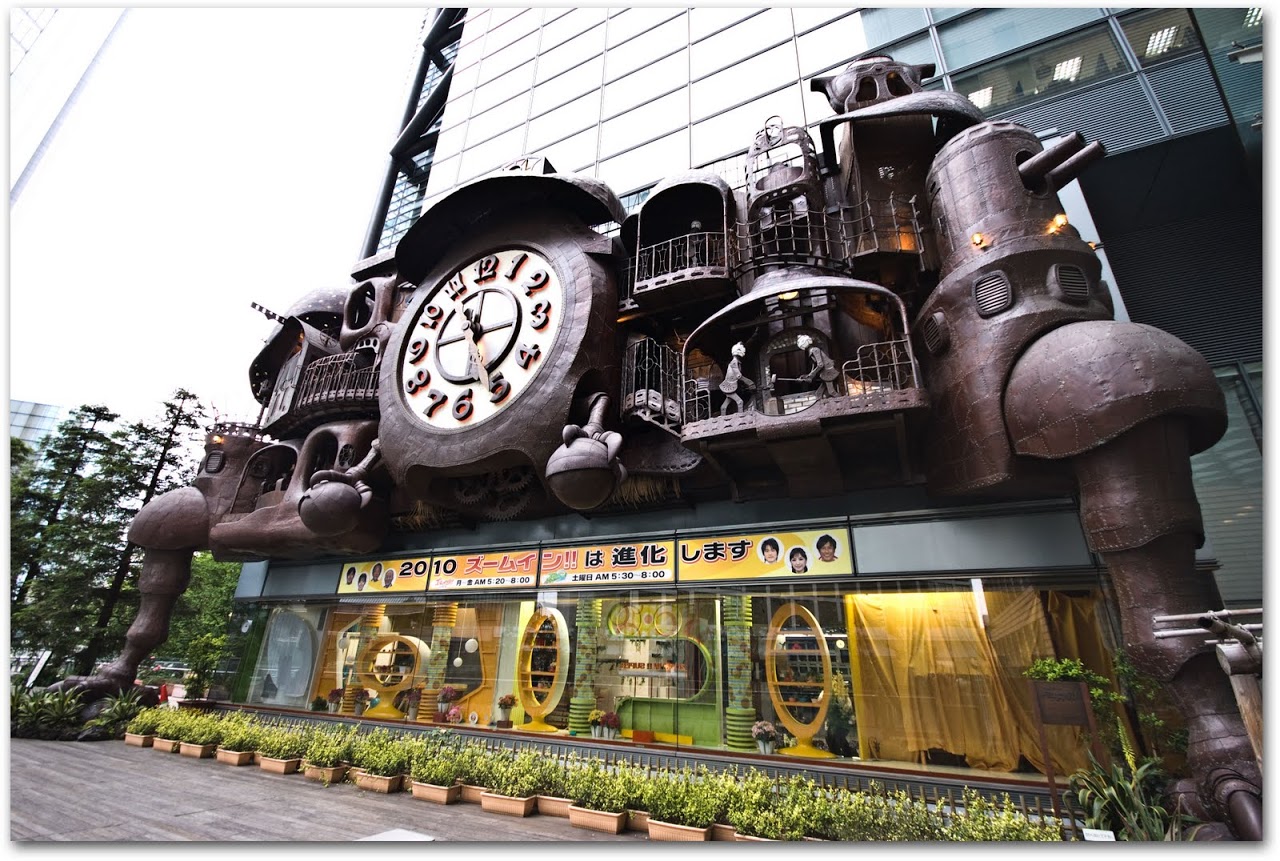 Storefront design in Tokyo
The best deal: The Japan Rail Pass .  We saved over $300 each by purchasing it before we left the United States.
The big rip off: Sodas. A can of Coke at a convenience store cost $1.50 USD and at a restaurant runs around $4.50 USD. I drank water most of the time we were in Japan because I couldn't stomach the cost of sodas, alcohol, and juices.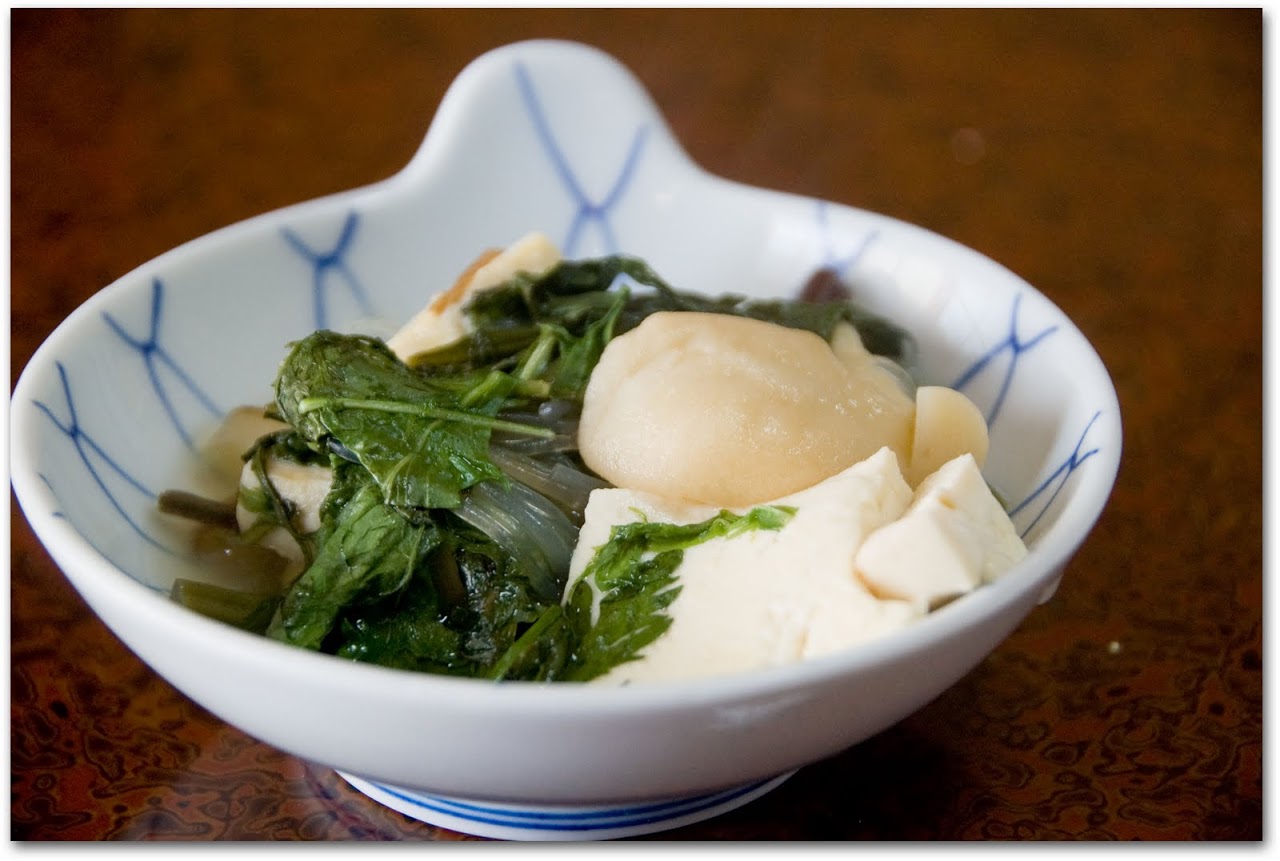 Tofu with winter greens and wheat gluten dumplings
Best new experience : Discovering tofu . We had no idea that tofu could be so earth-shatteringly good. We are proud tofu converts.
Worst new experience : At the beginning, the sheer alienness of the culture . Because of the formality and language barriers, we struggled to find the "real" Japan. It took us about two weeks of wandering in smaller cities to make connections with the local people but, once we did, we never looked back.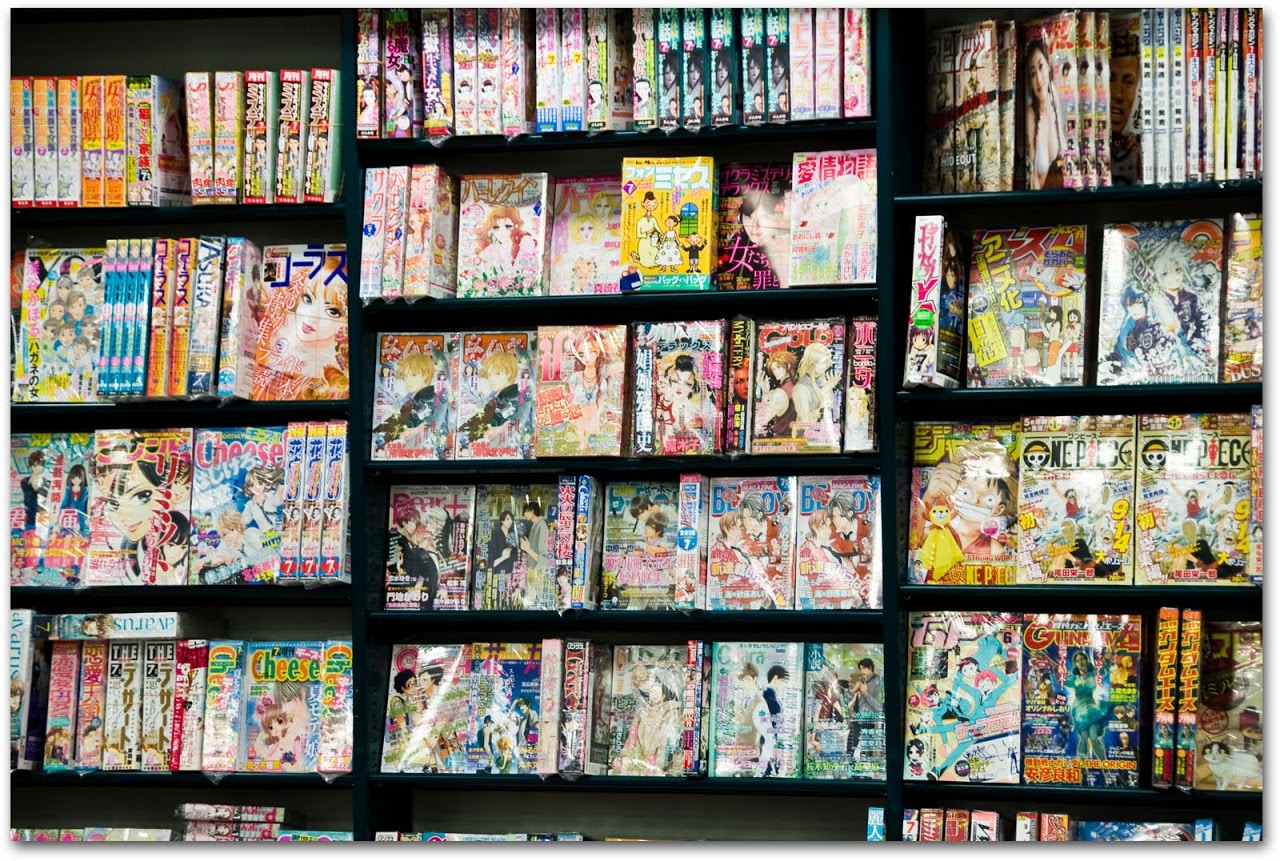 Manga
The must see attraction : Hiroshima Peace Park . I think this should be essential viewing for anyone who wants to understand the ethics, responsibilities, and effects of war and nuclear weaponry in the past and today.
Most overhyped attraction: Mount Aso volcano . Mount Aso has one of the largest calderas in the world but we weren't able to hike the volcano because it was belching ash. We heard that this is a common occurrence and the volcano is frequently closed to visitors. There isn't much to do in the Aso-San area and Patrick got a bad stomach bug from one of the restaurants in the city so, all in all, it was our least favorite stop in Japan. If you hit the timing right and are able to hike up the mountain, then you woud probably have a much better experience.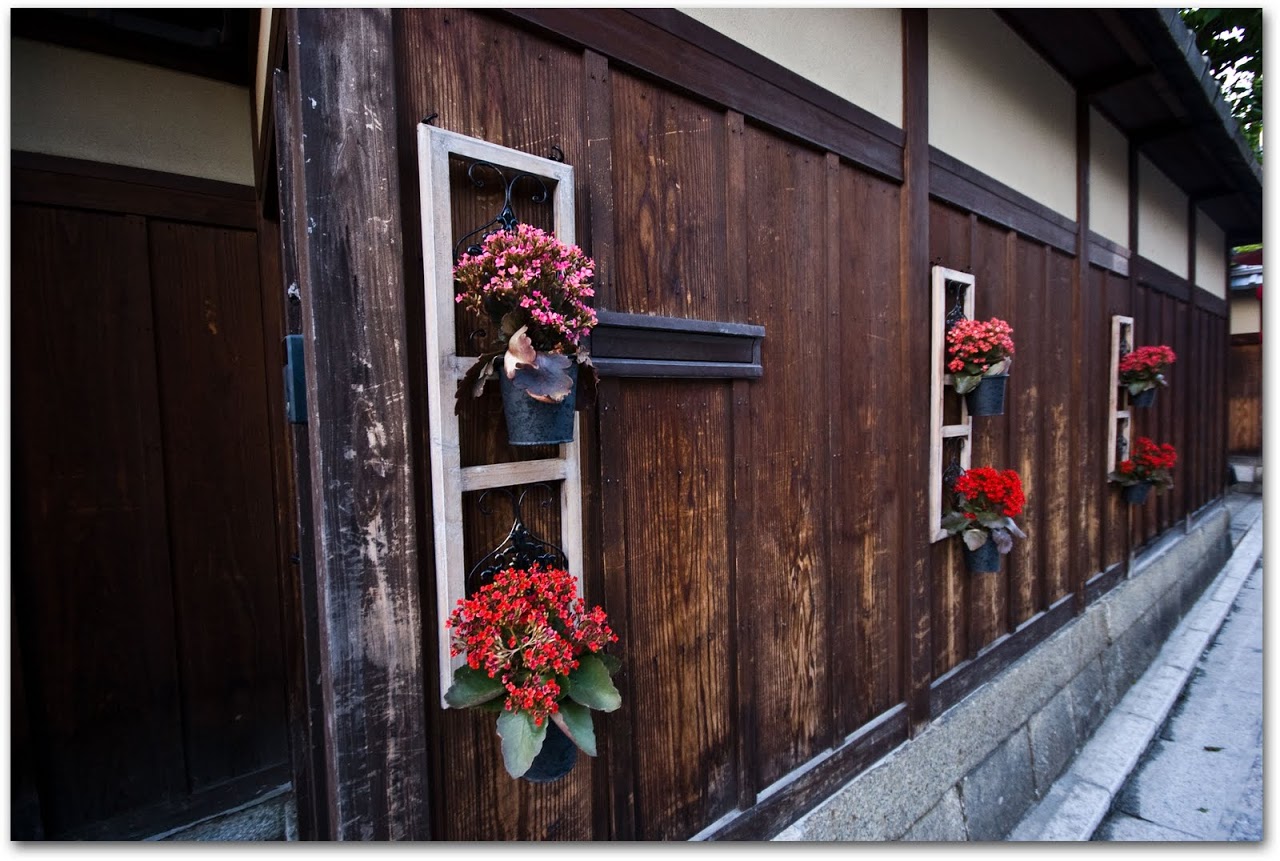 Kyoto Gion district house
Best city: Kyoto . Kyoto basically had everything we could ask for in a city: gorgeous temples, green space, cute walkable neighborhoods, excellent restaurants, good public transportation, and no shortage of things to see. We could have stayed there for two to three weeks and not seen all of the sites and neighborhoods.
Worst city: Nikko . The temples of Nikko are beautiful but between 5:00 p.m. and 10:00 a.m., the city goes to sleep, leaving very little open for those who stay overnight. It's a city built for daytrippers and finding food or entertainment after dark is difficult.
Us hanging out with the Japanese (we aren't in the top picture, but, afterwards we took a picture with all of them)
Best surprise: How much we ended up loving the country and its people. Once we began to understand the reasons for their dissimilarities, we appreciated the formality and silliness of the country.
Second best surprise : We had heard that the transportation system was efficient but we didn't know the meaning of efficiency until we used the Japanese train system. We made 5-minute connections on a frequent basis because the trains arrive and depart exactly on time at every station. You can set your watch to the trains in Japan.
Biggest disappointment: The lack of flowers in the gardens. We *just* missed cherry blossom season in Honshu island, azalea season in Kyushu island, and were too early for hydrangeas in either location. The gardens were beautifully green and lush but we were sad that there were no blooming flowers between May and June.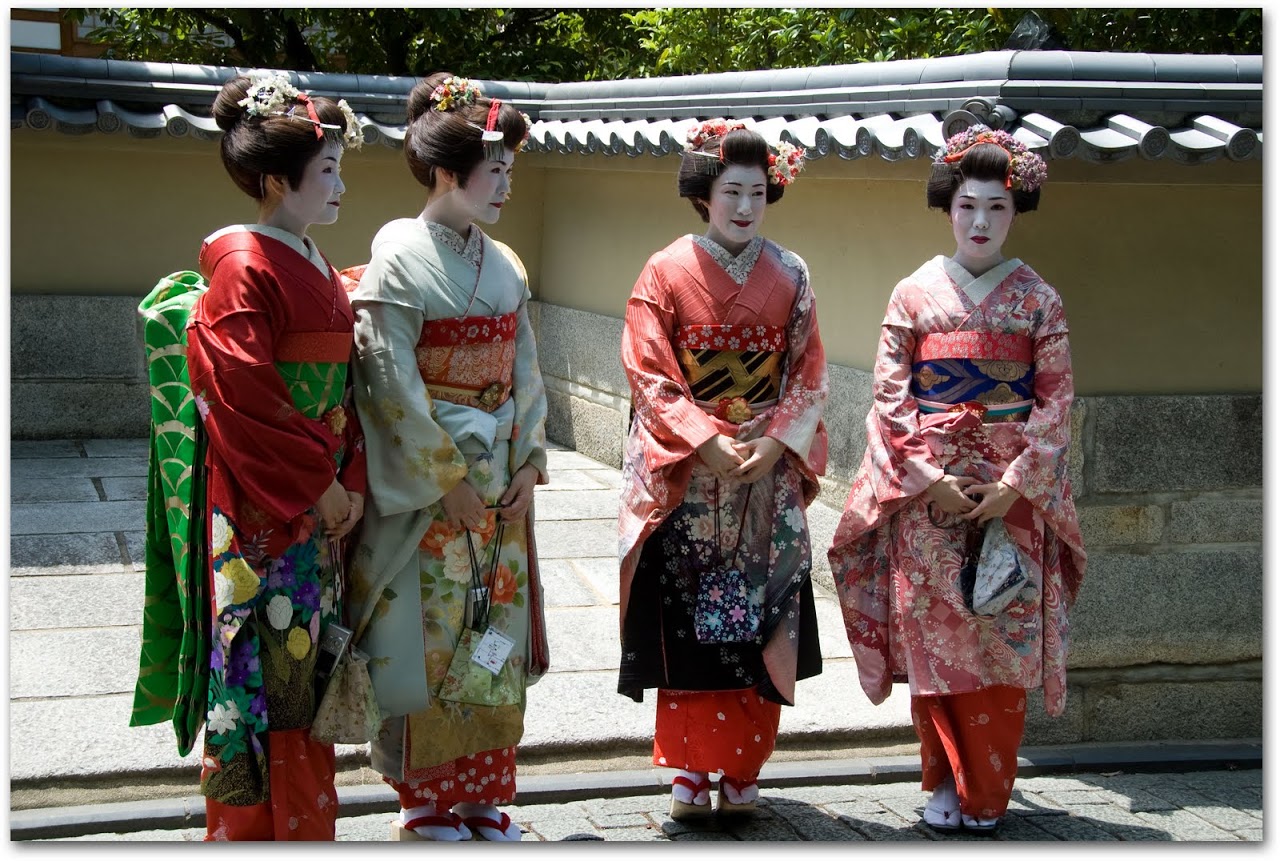 Geisha
Biggest tourist misconception: Understanding the role of female sex workers in Japan.  In Japan today, there are generally three types of women who entertain male clientele: geisha, bar girls, and prostitutes. We heard many tourists confuse the concepts so we talked to several locals about the differences.  Here's the deal: a geisha is a woman who entertains men with dancing, jokes, and music, to help make formal business meetings more relaxed and interesting. Geisha undergo rigorous training in years as an apprentice to become the embodiment of the "ideal Japanese woman": refined, cultured, beautiful, and sensual. They do not sell sex but rather sell beauty in the form of a woman. There are around 2,000 active geisha in Japan and many are in Kyoto and Chikuma City in the Nagano Prefecture. We saw several off-duty geisha, that is, geisha who were not in full dress, talking with and entertaining men at a local restaurant in Chikuma City.
Bar girls/hostesses are provocatively dressed women who stand in front of bars and convince men to enter the bar and spend oodles of money. Technically, they do not sell sex, either, though acts of exploitation have been known to happen. Prostitution is, of course, just what you think it is but Japan has an interesting view towards it. Unlike most countries who prohibits the sale of all sexual acts, Japan only prohibits the sale of certain sex acts making others legal. Because of that, over 150,000 non-Japanese women---many from Southeast Asia and other poor countries---join the Japanese sex trade, making Tokyo one of the largest centers for prostitution in the world.
Aside from these outlets for sexual interest, Japanese men are extremely unlikely to cat call or otherwise try to aggressively pick up women, a welcome change from most of the rest of the world.  In fact, due in part to an increasing marriage age and long work days, Japan has a steadily declining birth rate, leading to advertising campaigns in billboards and train stations that it is every couple's "patriotic duty" to have a child.  We noticed that South Korea and Hong Kong have similar problems based on the unusual combination of an intense work ethic, male dominated societies, and traditional notions of female modesty.
| | |
| --- | --- |
| | |
Bottles and Tokyo tower
Watch your manners: Never stick chopsticks vertically into a bowl of rice; do not walk and eat or walk and smoke; collect your trash with you and throw it away at the end of the day - do not litter; take your shoes off when entering a house or hostel; don't enter a shop with a dripping umbrella; never ever jaywalk - wait at the crosswalks; noodles should be slurped; a quick head bob to show respect is often appreciated
Language lesson: konichiwa = hello; domo arigato = thank you; sumimasen = excuse me (essential for talking to wait staff at restaurants); irasshaimase = welcome (frequently heard when you walk into a restaurant as the waiters greet you); yasai = vegetables; bejetarian = vegetarian (though most wait staff do not use this term; asking for a dish with yasai usually works better); gaijin = white person (though often applied to other foreigners)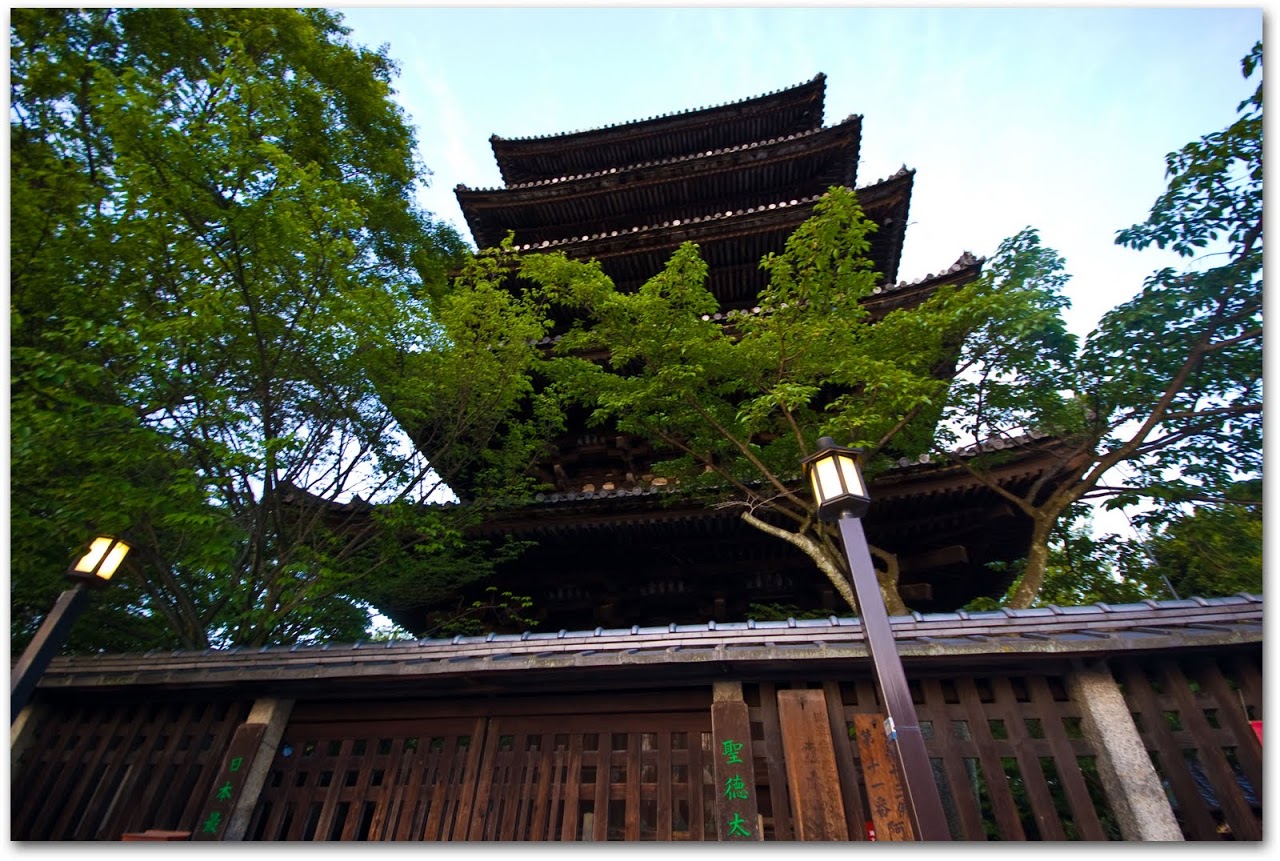 Kyoto temple
The big test, would we go back? Yes but, next time, we want to go in either cherry blossom season or the fall leaves season.  We would go back to Kyoto then head up to Takayama and go north into Hokkaido Island next time.
And, now we're off to: South Korea for 1 week.  This is a quick stop over trip before we head to China.  We were originally planning on flying from Japan to Beijing but can't afford the astronomical $1000 one-way fare from Tokyo to Beijing so we hopped down to Fukuoka and are taking the 3-hour ferry to Busan, South Korea and then heading up to Seoul to fly to Beijing.