about
We are Akila and Patrick. Our minds (and waistlines) expand as we travel, cook, and eat our way around the world with our two dogs.
Our travels inspire our cooking. Join our feast around the world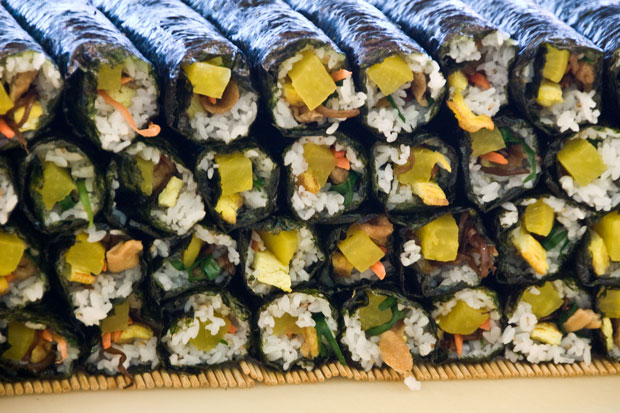 the transnational fast food theorem
The deliciousness of chain restaurants is inversely related to the distance from its home location. South Korea was our proof.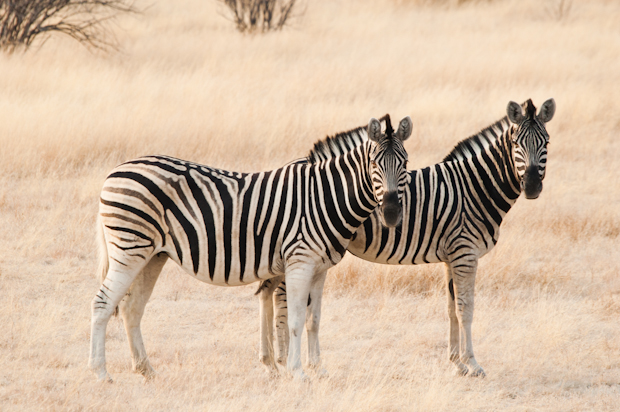 down by the watering hole
The ups and downs of finding wildlife at Etosha's watering holes.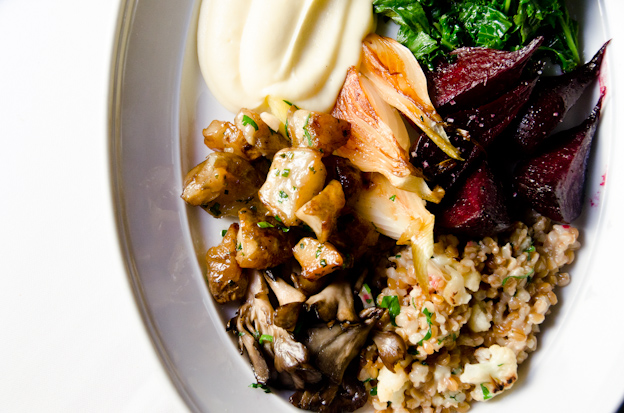 fig charleston
One of the best meals we have had in the last year.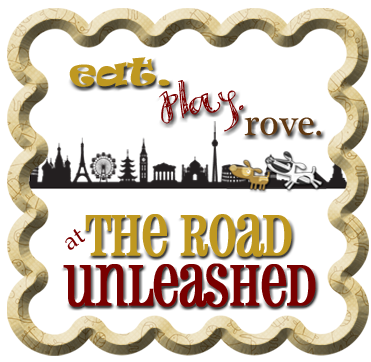 Five Random Links from our Blogroll :

Movable Feast
Eating Asia
Man on the Lam
As We Travel
Homesick Texan
January 1, 2010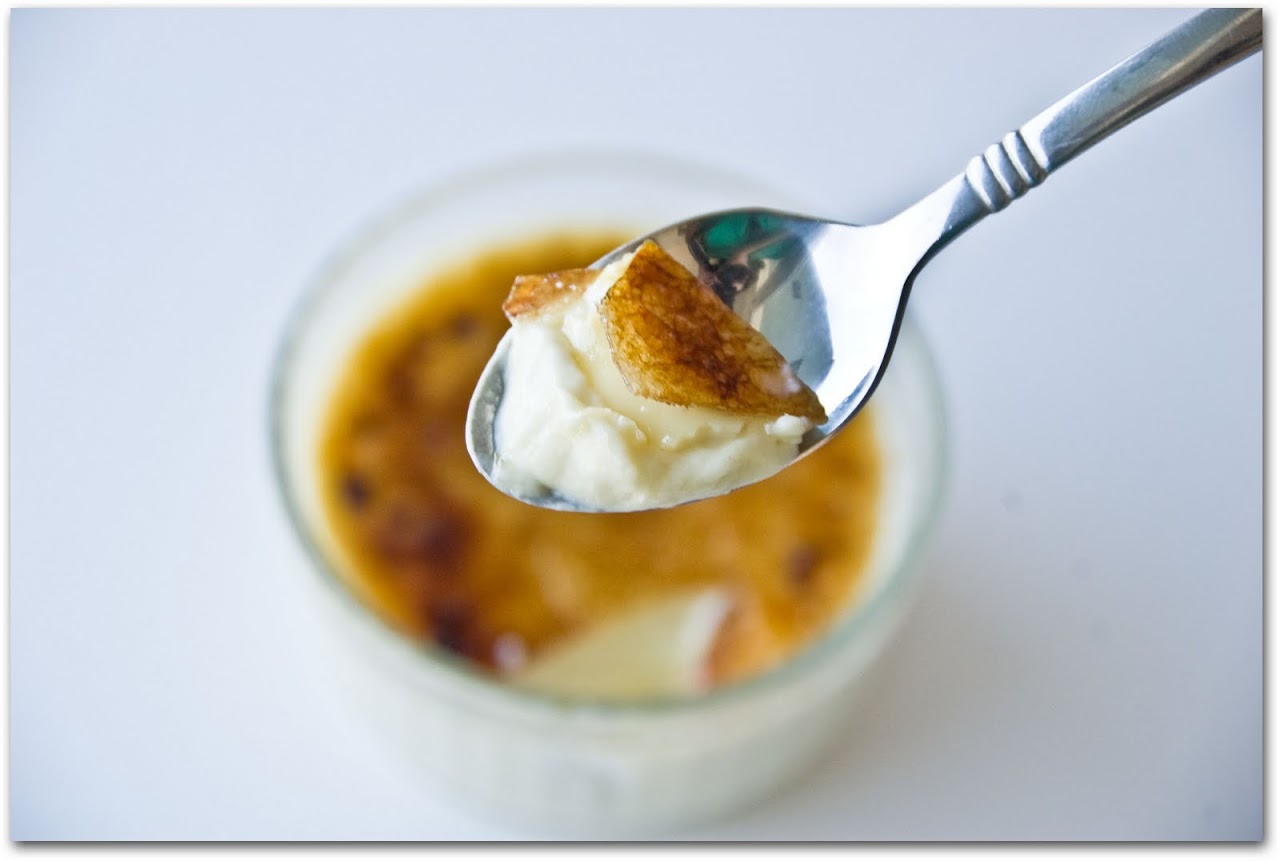 Lavender ginger creme brulee
One year ago, we were in Jacksonville, Florida, dreaming, planning, and preparing for our round-the-world adventure.  In April, we took our first tangible step when we purchased plane tickets to Sydney.  Then, there was no turning back and we rushed into the trip headlong, worried about the risk to our careers, the financial burden, and the "scary, unknown, and consequential" journey we were about to take.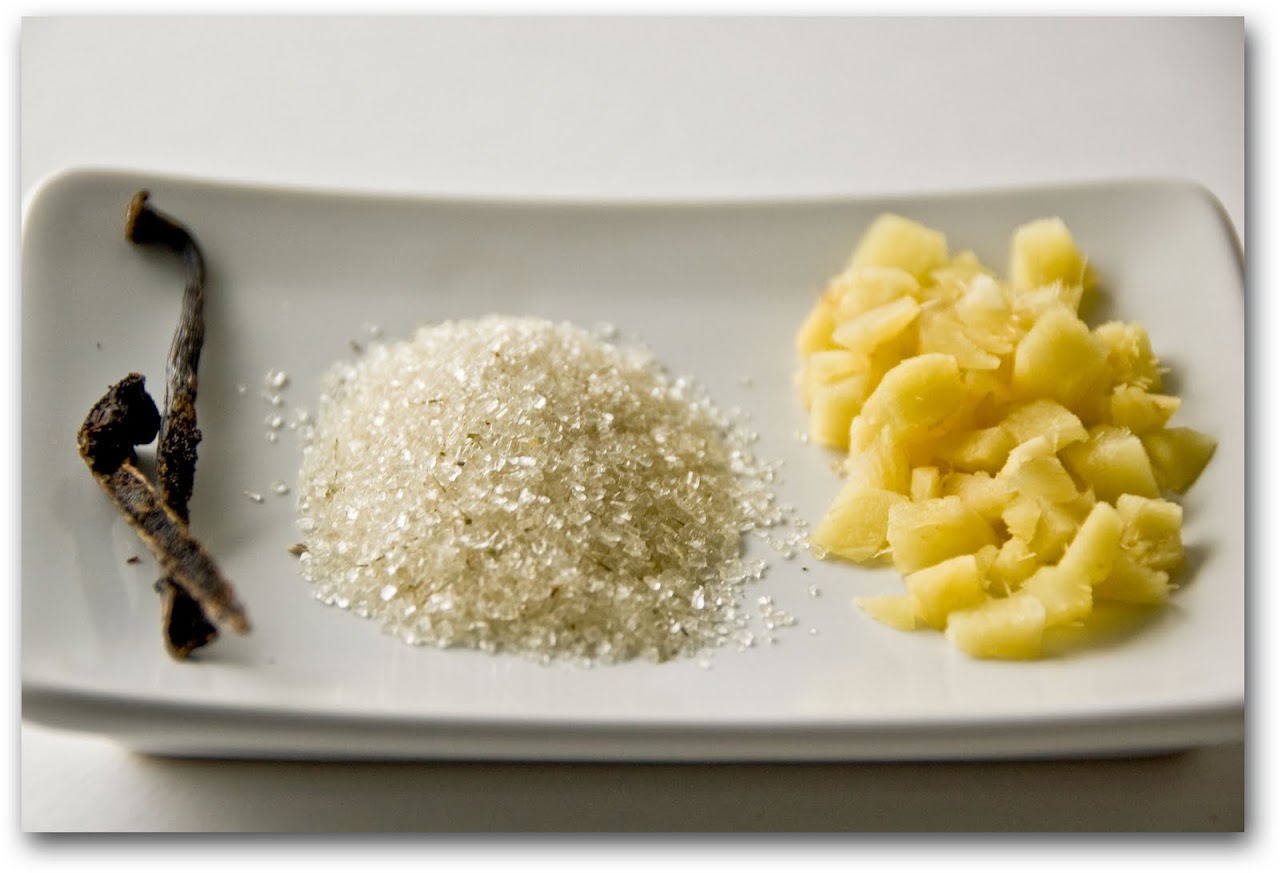 Vanilla, lavender sugar, and ginger
But, once we left in September, those fears melted into the Australian sun.  We just stopped stressing.  That doesn't sound like an earth-shattering event but, for us, it was.  I, the quintessential Type A personality known to my friends as the planner , found myself walking into towns without reservations or agendas and simply an open mind.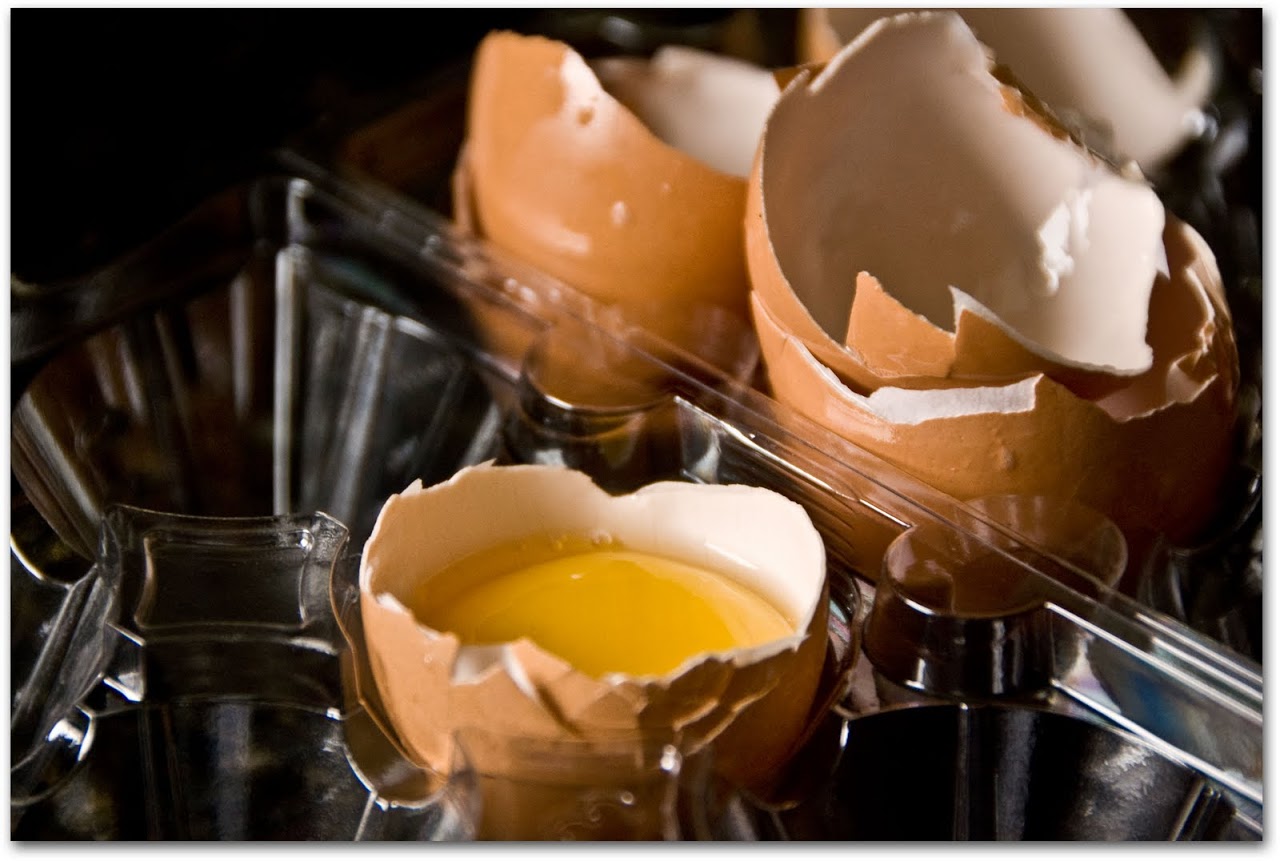 Cracked eggs
I stopped worrying that our careers wouldn't wait for us because we are able to make money while on the road.  Instead of hours spent on treadmills or using our Wii Fit, we hiked mountains hanging over brilliant blue lakes.  Through Skype, the internet, and this website, we felt close to our family and friends though we were thousands of miles away; we even were able to "talk to" our puppies, Chewy and Abby , via Skype webcams.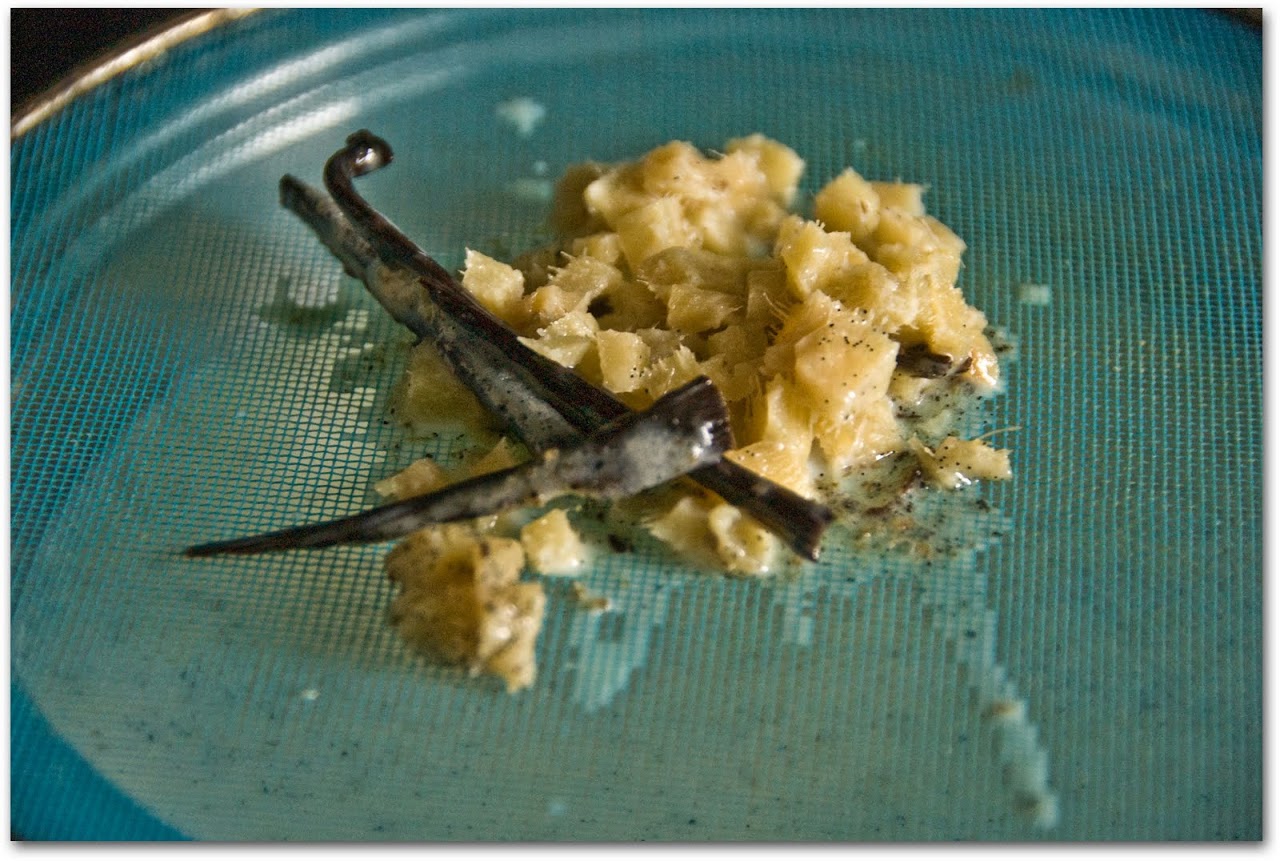 Ginger and vanilla strained
Despite the worries we have for friends and family hit by the recession, we are happy.  Really, really, gosh darn happy.  So, yesterday, I struggled to find a dessert that would be light and joyful, yet serious enough to express the enormity of the changes that we have made in the last year and expect to find in the next year.  It's a lot to ask of a dessert, right?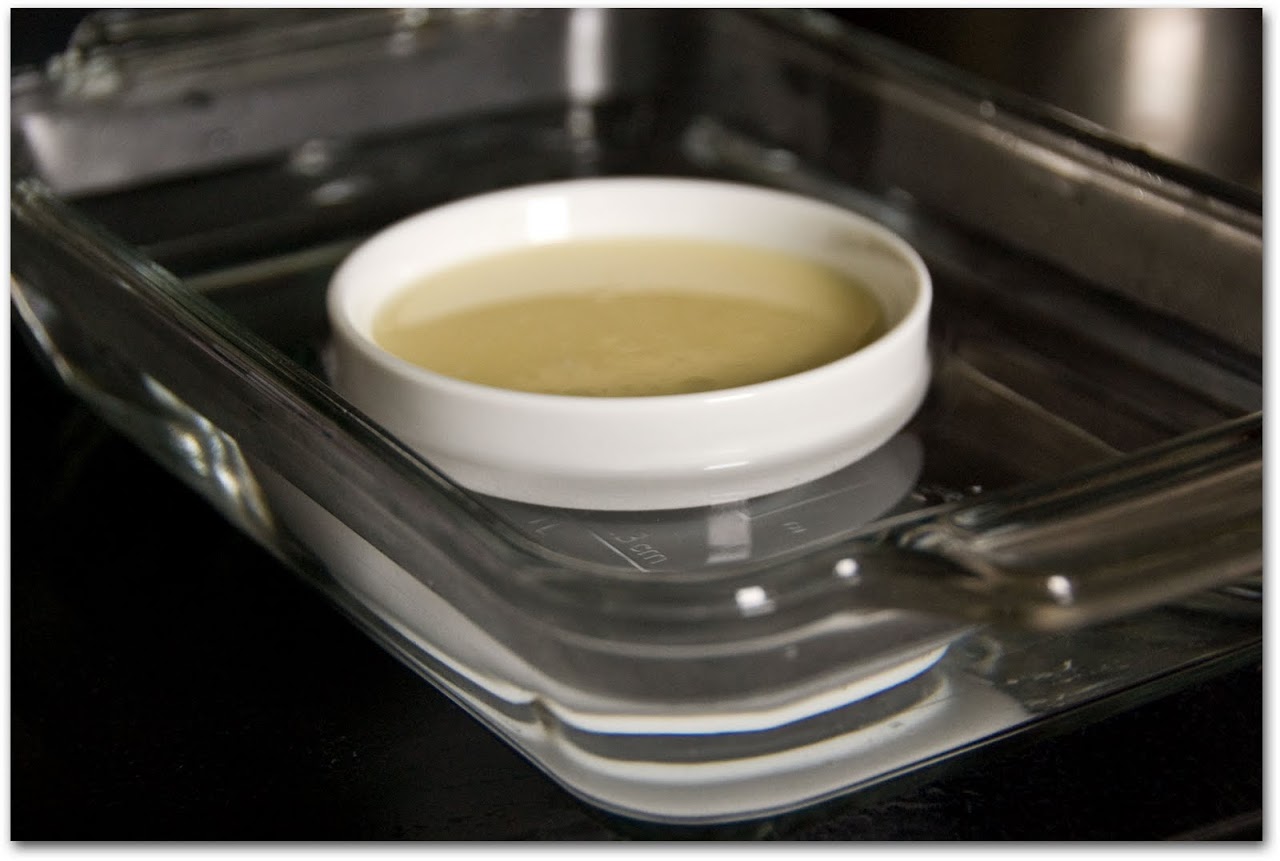 Custard before baking
But, I think I have found it in this lavender ginger creme brulee.  I wish we had smell-o-internet because the cosiness of those spices made me want to curl up in front of a warm fire and a movie.  At first, we tasted only the creaminess gliding through our mouth.  Then, that ginger and lavender hit our tongues, packing a solid punch of spice without overpowering the creaminess of the dessert.  This isn't a creme brulee for the timid but for those who love strong, gorgeous flavors.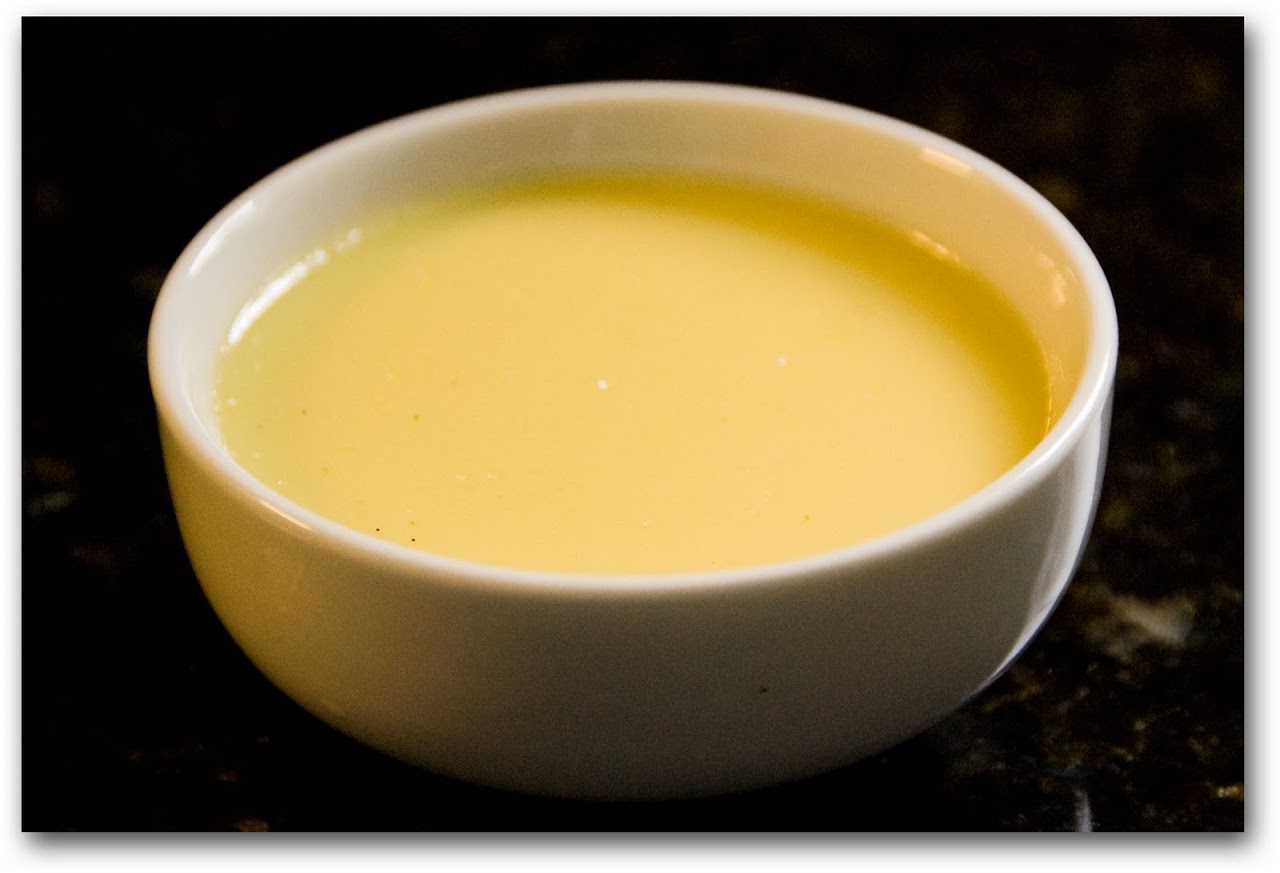 Baked custard
As you can tell by now, we like our lives full of spice and 2010 looks to be no exception.  It is hard to believe that we started this website seven months ago because blogging fast became an obsession for me and Patrick rediscovered his love of CSS.   In the last two weeks, we have completed a much needed redesign of the front page of our website and have now incorporated a super cool flash map (at least, I think it is super cool) into the world trip page .  We are delving into video editing this year and will keep on bringing you stories and photography of amazing places and food in 2010.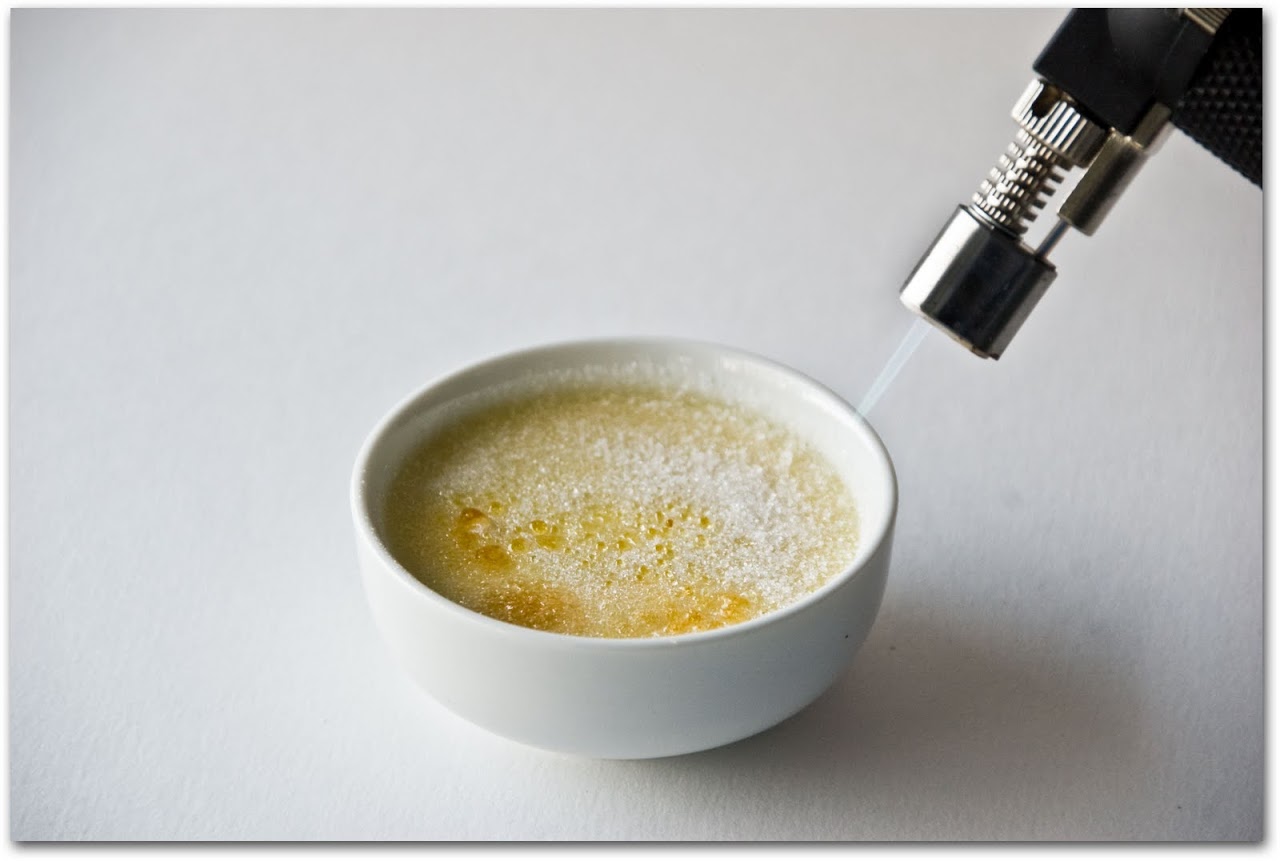 Torching custard
As far as our travels, we leave for Southeast Asia and India next week and then will be in Japan and China in May and June.  After that, we plan to head to Africa and the Middle East.  And, after that, who knows?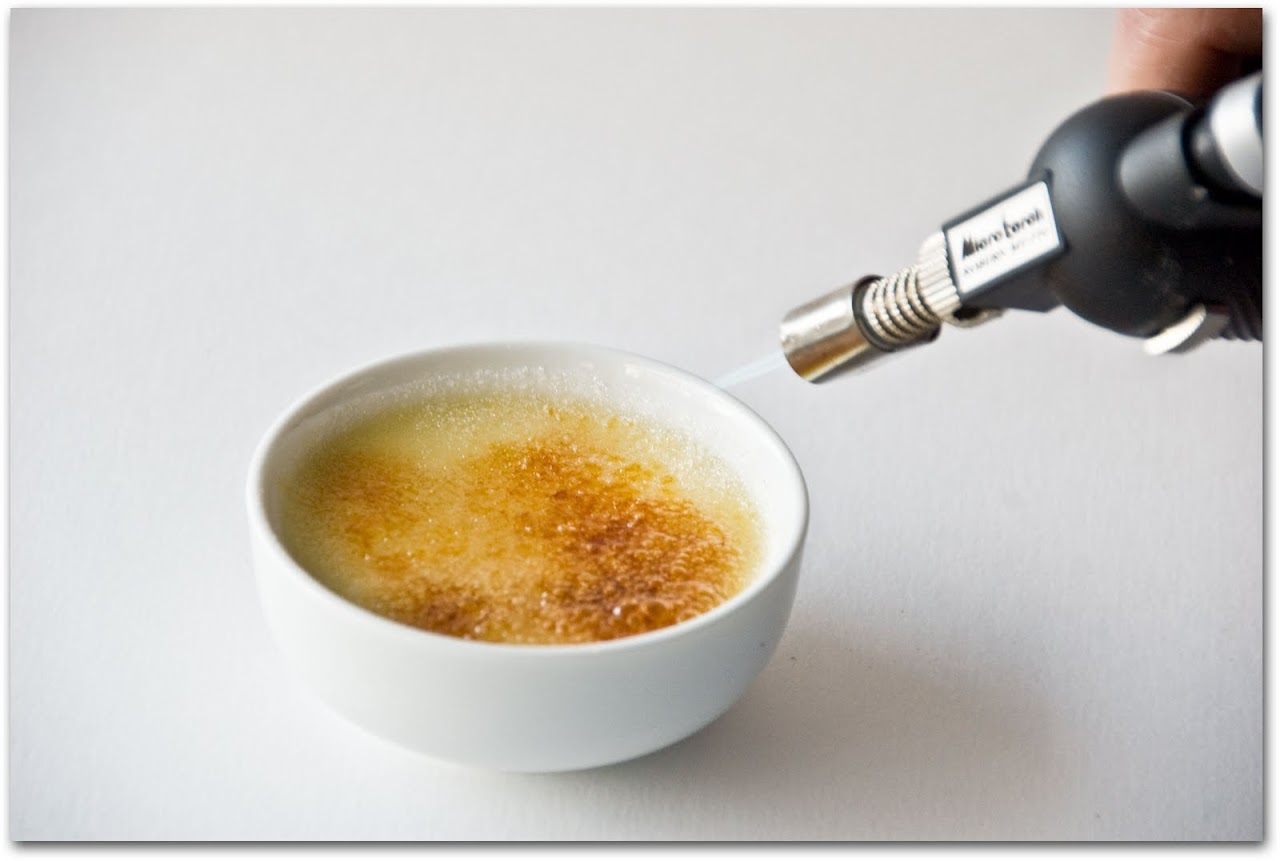 Creme brulee
Last night, as 2009 passed into memory, I was right where I wanted to be: cuddled on the couch with Patrick, Chewy, and Abby, watching the blue moon light the sky above the lake that straddles my parent's house.  Today, as 2010 starts, I am right where I want to be: with my eyes wide open and a future filled with moments of craziness , silliness , and fun .  I hope for all of you the same sort of happiness as this new year begins.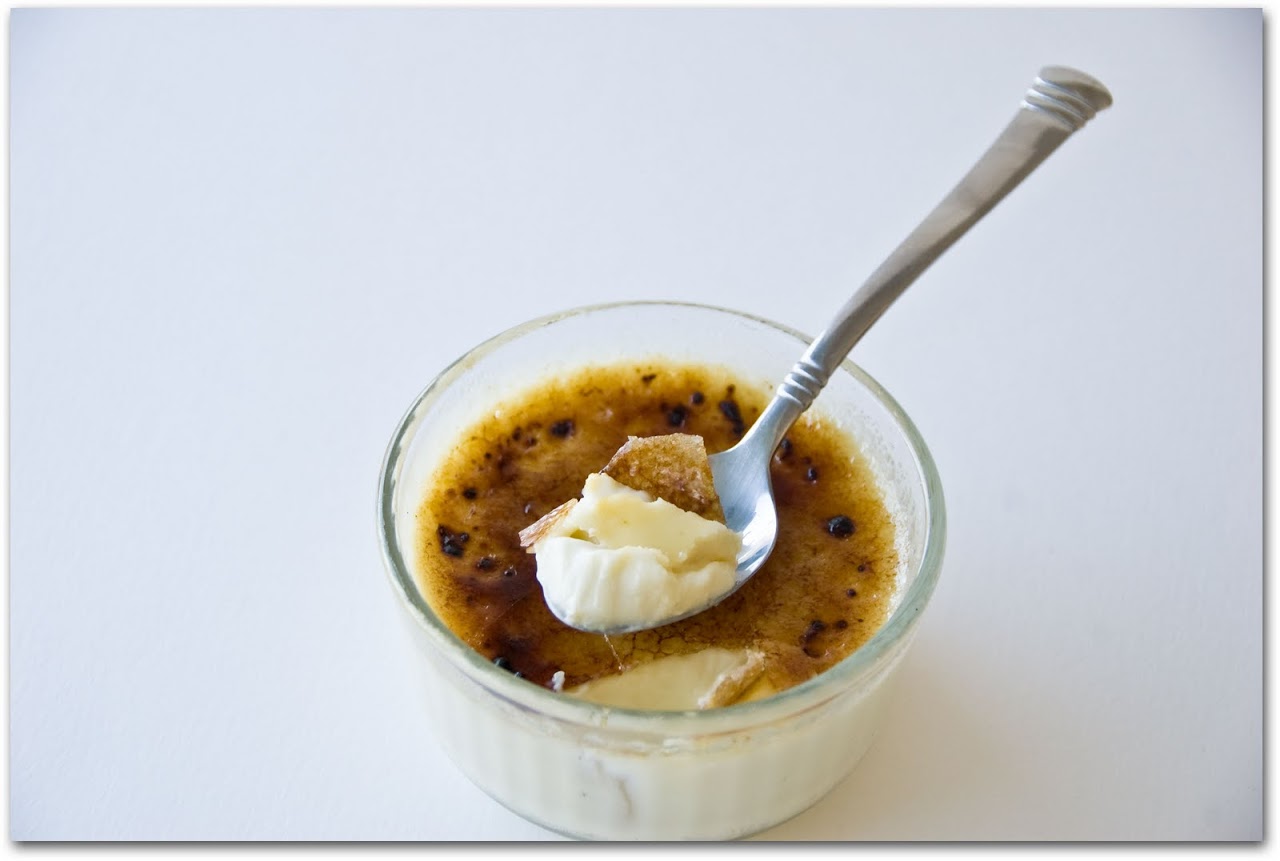 Lavender ginger creme brulee
Lavender Ginger Creme Brulee
Adapted from Epicurious Ginger and Vanilla Bean Creme Brulee
Time: 30 minutes active time; at least 3 hours to refrigerate
Serves: 6 people
Ingredients
2 cups whipping cream
1/4 cup white sugar
1/4 cup lavender sugar*
2 tablespoons chopped peeled fresh ginger
1 vanilla bean, split lengthwise
5 large egg yolks
Directions
1.  Preheat oven to 325°F.
2.  Place three 4-inch-diameter fluted flan dishes in one 13 x 9 x 2-inch baking pan or place six 3/4-cup ramekins in pan.
3.  Mix cream, sugar, lavender sugar and ginger in heavy medium saucepan. Using small sharp knife, scrape seeds from vanilla bean. Add seeds and bean to saucepan.
4.  Stir over medium heat until sugar dissolves and mixture comes to simmer. Cover pan, reduce heat to very low and simmer gently 10 minutes to infuse flavors.  Strain through fine sieve into large measuring cup.

5.  Whisk yolks in medium bowl until well blended. Gradually whisk in hot cream mixture just to blend.
6.  Divide custard among ramekins or bowls. Pour enough hot water into pans to come halfway up sides of dishes. Carefully transfer pans to oven.

7.  Bake custards until almost set in center when pans are gently shaken, about 30 minutes for fluted flan dishes and 35 minutes for ramekins.  (My oven runs a little cold and it took almost 40 minutes for the fluted flan dishes).
8.  Using metal spatula, transfer custards in dishes to work surface; cool 30 minutes. Chill at least 3 hours and up to 2 days.

9.  Sprinkle 2 teaspoon sugar evenly over each custard.  The easiest way to do this is to sprinkle the sugar in the middle of the custard and then gently shake the ramekins so the sugar is evenly distributed across the custard.
10.  If you have a blowtorch:  Working with 1 custard at a time, hold blowtorch so that flame is 2 inches above surface.  The sugar will melt and brown.  If you do not have a blowtorch:  Turn broiler to low and place custards about 2 to 4 inches from the broiler.  Keep a close eye on your custards because they should turn brown within 30 seconds to 1 minute.

11.  Refrigerate until custards are firm again but topping is still brittle, at least 45 minutes but no longer than 3 hours so that topping doesn't soften. (The original recipe recommends refrigerating for 2 to 4 hours before eating but we thought the topping was crunchiest after 45 minutes in the refrigerator and became soft at the 3 hour mark.)
* I used Ali'i Kula Lavender Sugar, one of our souvenirs from our trip to Maui , but we have also seen lavender sugar at Whole Foods.  Or, you can substitute the lavender sugar with 1/4 cup sugar and 1/2 tablespoon dried lavender.