about
We are Akila and Patrick. Our minds (and waistlines) expand as we travel, cook, and eat our way around the world with our two dogs.
Our travels inspire our cooking. Join our feast around the world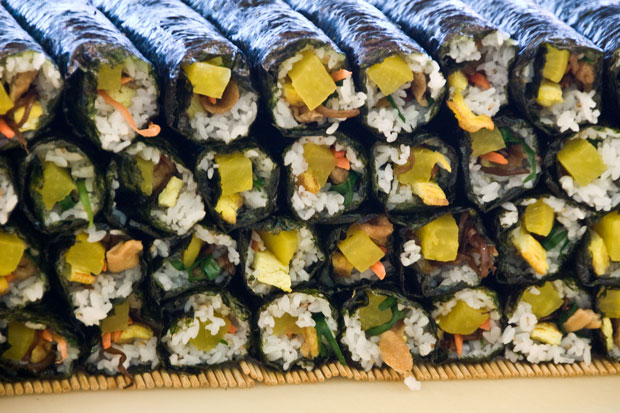 the transnational fast food theorem
The deliciousness of chain restaurants is inversely related to the distance from its home location. South Korea was our proof.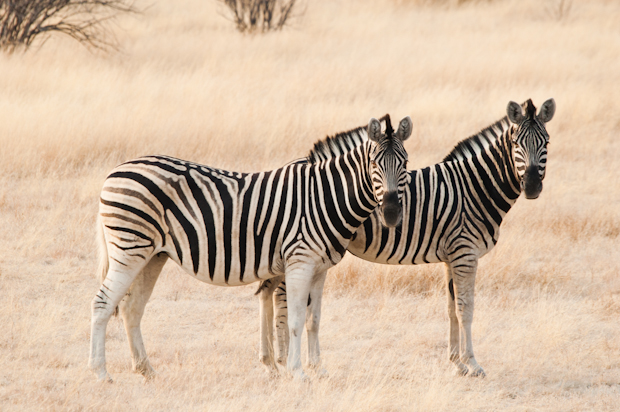 down by the watering hole
The ups and downs of finding wildlife at Etosha's watering holes.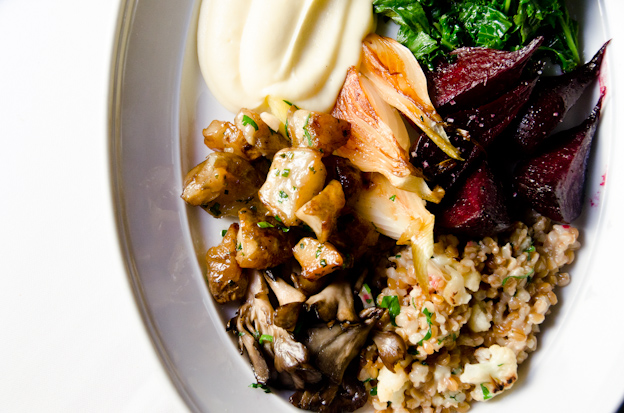 fig charleston
One of the best meals we have had in the last year.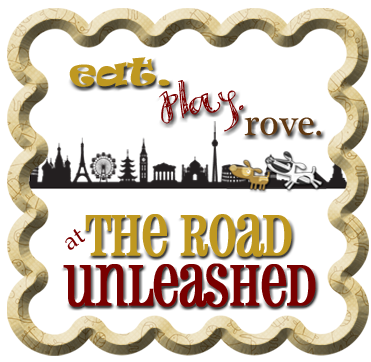 Five Random Links from our Blogroll :

Carolina Nomad
MyKugelhopf
Travel Writers Exchange
Darn Good Digs
Homesick Texan
November 22, 2011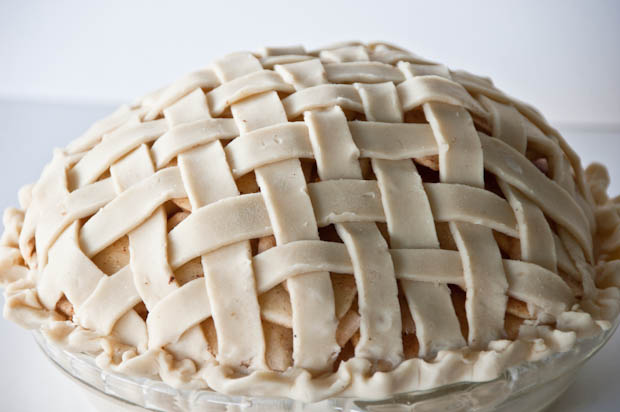 Grandma Ople's Apple Pie, prebaking
These are pictures from last year's Thanksgiving.  Actually, they could be pictures from any Thanksgiving we've had in the last thirteen years because this is my standby, must-have, Thanksgiving-would-not-be-Thanksgiving-unless-I-made-this pie.  This year, we are driving back from Rome to England and will be stuck in a hotel outside Calais on Thanksgiving day.  But, if we were at home --- or if I had a kitchen --- I would be making this pie.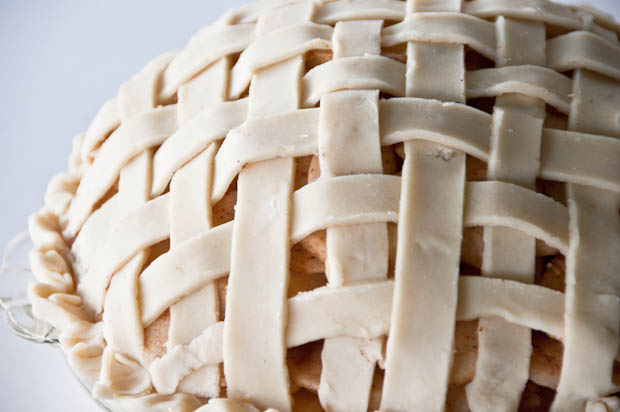 Grandma Ople's apple pie pre-baking
Remember way back when food and recipe websites were fledgling entities limited to CakeRecipes.com, PieRecipes.com, and FoodTV.com?  I was one of the early adopters, absolutely amazed with this idea of being able to share recipes with people all across the world, and one day, while searching for an apple pie recipe, I found Grandma Ople's Apple Pie .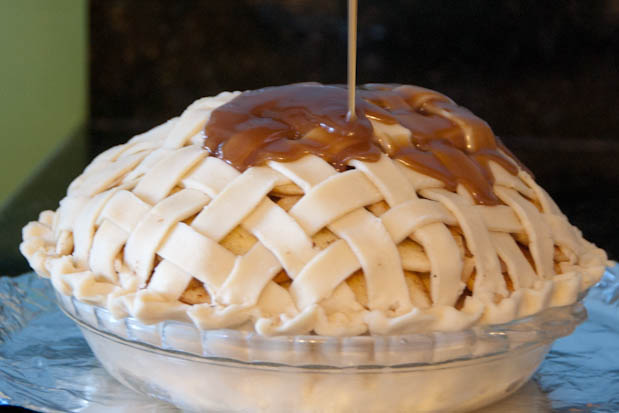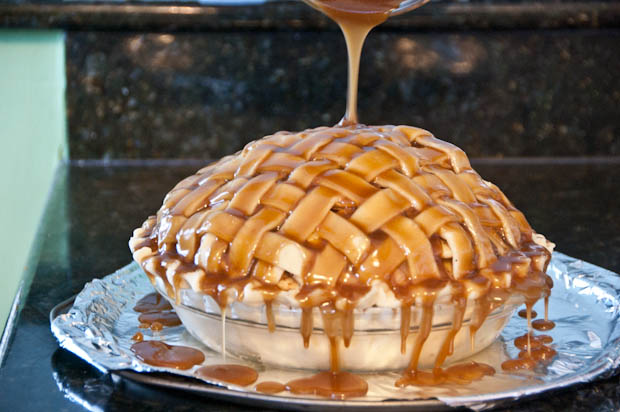 Pouring the caramel on top
Well, years have come and gone, gray hairs have been found, weight has been gained and lost, and countries have been traversed, but this recipe has stuck it out on our Thanksgiving table.  It's one of those pies that gets demolished near instantaneously despite the fact that everyone claims that they're too stuffed to have even one more bite on Thanksgiving Day.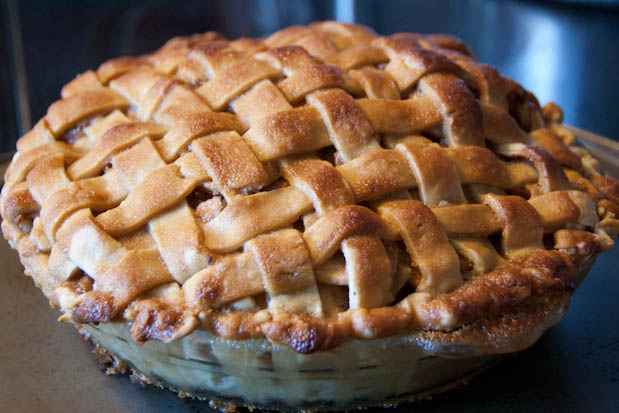 Grandma Ople's Apple Pie, baked.
What I love is that it is simple, can be made the day before, yet remains a show-stopper on the big day.  (See that up there?  Show stopper, right?)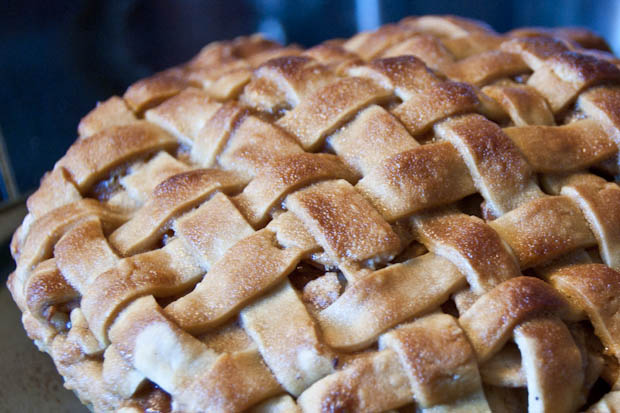 Grandma Ople's Apple Pie baked
From start to finish: thinly slice apples; mix said apples with cinnamon, nutmeg, cloves, and allspice; heap apples into a pie crust; create a lattice crust on top; make a ridiculously indulgent caramel sauce; pour caramel sauce on top; bake.  Stare at your beautiful creation.  Pretend that you are the world's greatest master chef and speak in loving tones of the legendary Grandma Ople .  Eat.  Receive praise.  Blush modestly while you describe the agonies you took to make this creation.  Eat some more.  Watch covetously as the last Polite Piece (that's the piece that everyone wants but worries will be impolite to eat) goes into the refrigerator to be consumed by some intrepid pie-thief before braving the throngs on Black Friday.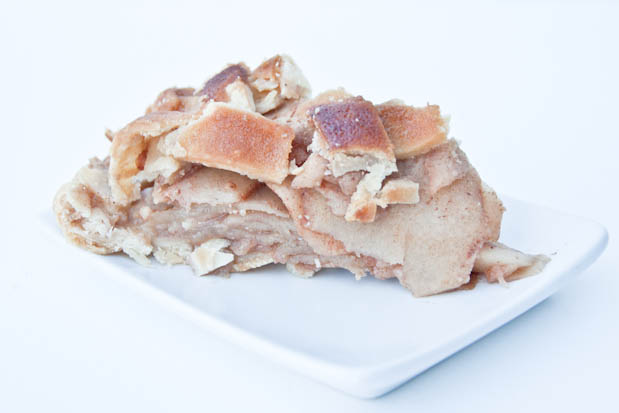 Last year's Polite Piece
Yeah, I'm going to miss Thanksgiving this year but I hope that all of you have a wonderful, wonderful holiday celebrating with the people you love and the food that makes us hunger.
Grandma Ople's Apple Pie
Adapted from Grandma Ople's Apple Pie at Allrecipes.com
Time: 1.5 hours (depending on how much of a perfectionist you are with lattice-making)
Serves: 8 people

Ingredients
1 recipe pastry for a 9 inch double crust pie*
5 Granny Smith apples**
2 Golden Delicious apples
1 Red Delicious apple
1/2 lemon, juiced
3 tablespoons cinnamon
2 teaspoons freshly ground nutmeg
1 teaspoon allspice
1 teaspoon cloves
1/2 cup unsalted butter***
3 tablespoons all-purpose flour
1/2 cup white sugar
1/2 cup packed brown sugar
1/4 cup water

Directions
1.  Peel, core, and very very thinly slice all the apples.  You want your apples to be in slices about 1/8 inch thick.  (I find that a food processor with the slicer blade works well and fast for this task.)  Place apples into a large bowl.
2.  Mix apples with lemon juice (to prevent browning), cinnamon, nutmeg, allspice, and cloves.  Mix well so that the spices cover all the apple slices.
3.  Melt butter in a saucepan at medium-low heat.  Stir in flour to form a paste.  This will take some time but keeping it at medium-low heat will help you get a beautiful caramel topping.  Add white sugar, brown sugar, and water; bring it to a boil at medium-low heat.  Reduce temperature and simmer for at least 5 minutes or when the caramel coats the back of your spoon.
4.  Meanwhile, butter the bottom of a 9-inch pie pan lightly.  (Please use glass or ceramic pie pans --- aluminum foil pie pans will not hold up the weight of the apples.)  Place one pastry crust into bottom of the pie pan.
5.  Mound apples on top - your apples should create quite a heap.  Create a lattice work crust with the remaining pie crust.****
6.  Place your pie on an aluminum-foil covered cookie sheet.  (Please, for the sake of your hands and your cookie sheet, cover it with aluminum foil because the caramel WILL drip off.)  Gently pour the caramel over the pie crust.  Pour slowly and steadily so that the caramel evenly covers the entire crust.

7.  Bake 15 minutes at 425 degrees.  Reduce temperature to 350 degrees and continue baking for 35 to 45 minutes or until the pie is a lovely golden brown.
* I have used this pie recipe which is pretty basic stuff --- flour, butter, salt, and ice cold water --- but, often I cheat and use Pillsbury's Refrigerated Pie Crusts which you can roll out onto a work surface and smooth out.  The homemade crust has a better flavor and flakier texture BUT I find that Pillsbury's version stands up better to the hot caramel poured on top.  If you're in a timecrunch, Pillsbury's is a perfectly acceptable substitute for this particular pie.
** The original recipe calls for 8 Granny Smith apples but over years of experimentation, I have found that we prefer mixing Granny Smith, Golden Delicious, and Red Delicious.  The Golden Delicious apples become quite mushy while the Red Delicious and Granny Smith retain their firm texture, creating a lovely mix of applesauce and apple slices in the finished pie.
***I have tried substituting margarine for unsalted butter and found that the caramel did not form as well with margarine rather than butter.  Stick with butter.  It's only Thanksgiving once a year.
****A latticework crust is one of those incredibly simple things that looks extraordinarily difficult to make (like creme brulee ).  There is a very good instruction explanation here , but what I do is cut my pastry crust into long strips and weave the strips back and forth across the pie, as if I were weaving a basket.  I keep the weaves quite loose until I get to the end, at which point I pinch all the "connections" so that the lattice crust looks pretty and stays together while baking.